If you don't always work in the same exact spot, using a desktop computer can be challenging. You either need to use a multi-display setup, or constantly move your monitor around. Thankfully, there are ways to make this process less painful. A monitor arm allows you to attach your monitor to a fixed point. From there, it can be tilted and moved around. If you go from sitting to standing, or from one side of the desk to the other, your monitor comes with you.
There are a number of designs available, and we'll discuss them in more detail shortly. There are even flexible stands for multiple monitors, such as these triple monitor stands. Today, though, we'll be focusing on basic single monitor arms.
We're about to review three of the best choices available today. We'll compare their construction, design, and extra features. We'll look at their weight capacity, and what can be mounted to them. First, we'll look at the ATUMTEK Single Monitor Arm with Desk Mount. This is a large, aluminum arm that supports a wide range of monitors. Next, we'll examine the EleTab Single Monitor Desk Mount Stand. This mobile stand uses gas pistons for better stability. Last, we'll review the North Bayou Monitor Desk Mount. This is a lighter-weight gas piston mount, with a protective cable guide built into the arm.
Choosing the Right Monitor Arm
Before we dive in, there are a number of factors you should take into consideration when choosing a monitor arm. You need to look at mounting types, flexibility, durability, VESA compatibility, and the size of monitor it will hold. Aesthetics are also a concern, if a secondary one. Let's go over each of these criteria.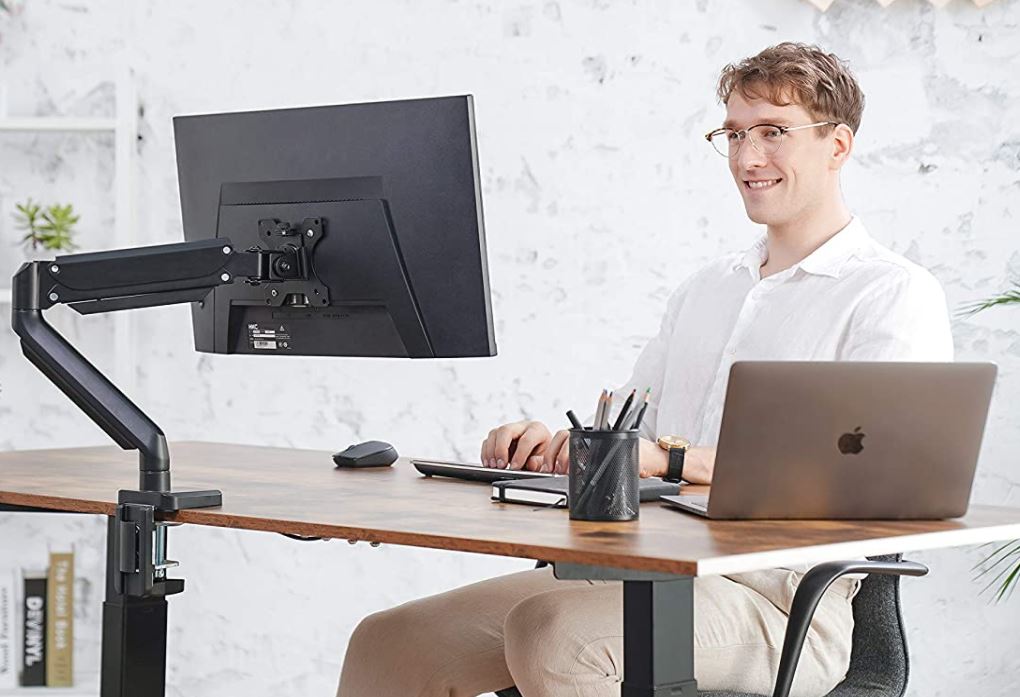 Types of Monitor Arms
Perhaps the most important consideration is how you're going to mount the monitor arm. The most basic mounting method is a simple, freestanding arm. This design requires a heavy base, or it's not going to work right. Otherwise, the monitor could easily tip over. For this reason, we haven't included any of this type of stand on our list. That said, they're easy to use, because no mounting is required. They're also suitable for glass desks, where other options may not be as suitable.
Another common design is a clamp-down arm. As you might expect, these are simply clamped onto the edge of your desk or table. As long as the clamp is well secured, the arm isn't going anywhere. The downside of a clamp mount is that it requires a sturdy desk in order to remain stable. It can also only be attached to the side of your desk, not in the middle.
The most secure option of all is a bolt-down arm. This type of arm gets bolted down to your desk, so it's permanently installed. The downside here is obvious. Your desk now has holes drilled through it. On the upside, you can position a bolt-down arm anywhere. It doesn't have to be clamped on the edge of the desk.
Another option is to use a wall mount bracket with a flexible arm. These are typically used for TVs, but can also be used for oversized and curved displays.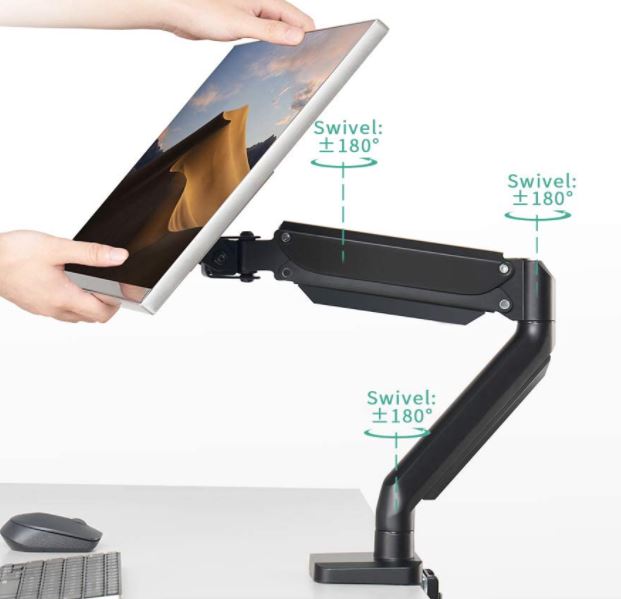 Flexibility
A good single monitor arm needs to have several points of articulation in order to be effective. For instance, does the base swivel or not? How about the head? How many articulation points are there? Now look at where the monitor attaches. Will it swivel to put you in portrait mode? All of these factors will affect how much you can use your monitor. To be fair, not everyone is going to need all types of movement. But think about how you need your monitor to move, and make sure your stand will move that way.
Durability
Durability is another significant concern. After all, you don't just need your arm to last — you're also counting on it not to drop your monitor. Avoid arms with a ton of plastic components, at least if those parts are meant to bear any kind of load. Metal arms are ideal, although the type of metal is a matter of opinion. Most stands are aluminum to maintain light weight. Steel is significantly heavier, but also stronger. For this reason, many stands use steel for high-stress components. For most monitor sizes, weight capacity shouldn't be a major issue. But if your monitor is 30 inches or larger, you'll want to double-check the weight to make sure.
VESA Compatibility
Back in the early days of flat screen displays, everybody had their own ideas about how they should be mounted. This led to a variety of mounting standards, and it could get confusing. Nowadays, pretty much everybody uses VESA mounting, and it's what you should be looking for. The fact is, if your monitor doesn't have a VESA mount, it's probably old. If you want your monitor arm to be future-proof, you really, really want a VESA mount.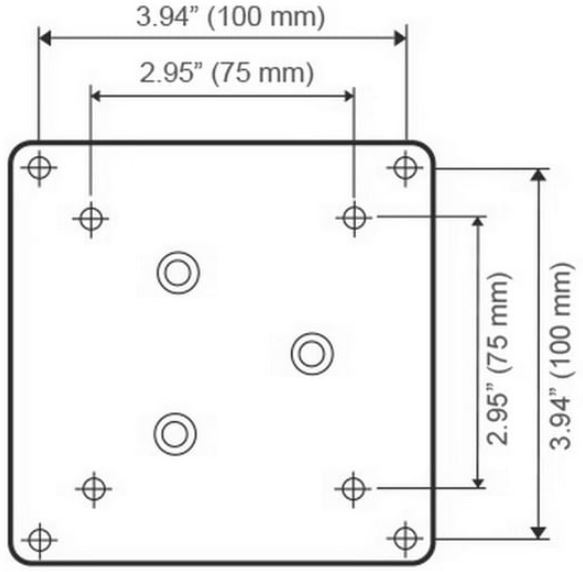 It's at the point where you'll have trouble finding anything else, though. Aftermarket adapters are usually available, so you should be able to get your old monitor mounted. As always, though, check to make sure adapters are available before you pull the trigger on a monitor arm.
Monitor Size
Different monitor arms are made to accommodate different sized monitors. For example, most arms will support a 27-inch panel, but there's a lot of variation. That can be the low end, the high end, or somewhere in the middle. Before you buy, make sure the arm you want will actually work with a monitor of your size. Again, this is easier with VESA mounts, since the sizes are all standardized.
Monitor Arm Aesthetic
Admittedly, the look of your monitor arm shouldn't be your first, or even second consideration. At the same time, you're going to have to look at it every day. If you have a shared workspace, other people are going to have to look at it every day. At the very least, it should be inoffensive. Thankfully, it's pretty hard to make an ugly monitor arm. Just look for one with a finish that matches your office decor, and you'll be ready to go.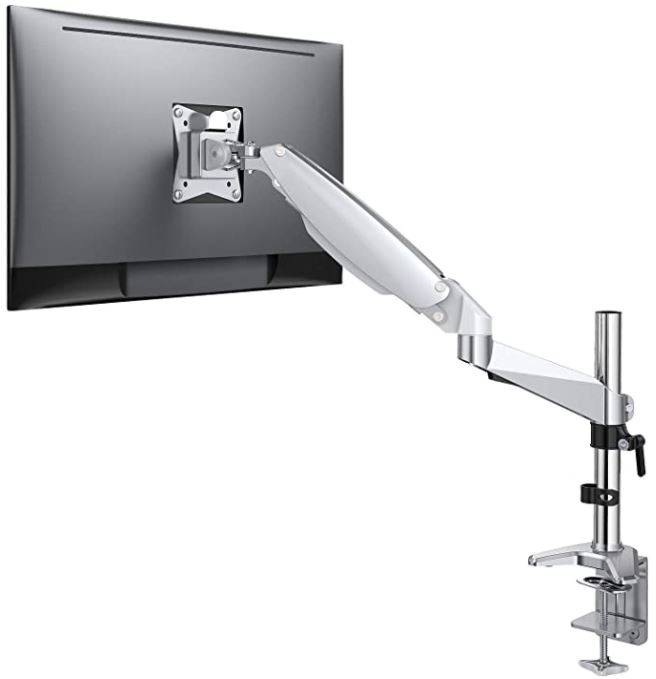 ATUMTEK Single Monitor Arm with Desk Mount
The ATUMTEK Single Monitor Arm with Desk Mount is a durable aluminum monitor arm. The aluminum has a plain, silver finish, and is die cast for better rigidity. It's articulated in two places: in the middle of the arm, and right at the back of the monitor. It also swivels freely on the base, so you can move your monitor a full 360 degrees. Furthermore, it's also easy to reposition. The heavy duty clamp on the base can be removed and replaced at will. If you prefer, there's also a set of grommet mounts. The clamp can attach to up to a 3.35-inch desk, while the grommet supports up to 2.56 inches of thickness.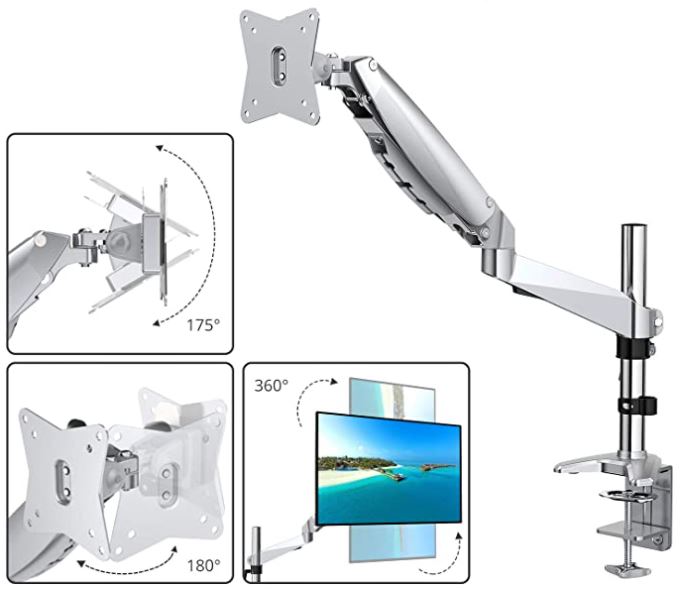 Height adjustment is smooth and easy, thanks to the built-in gas springs. These springs are more rigid than mechanical springs, so they don't wobble as much when rattled. They also move smoothly when you're adjusting your screen. You don't have to worry about any herky-jerky movement. The VESA mount supports a wide range of screen sizes, from 15 to 32 inches. This covers most common sizes, so most people shouldn't have any issues. The VESA mounting pattern supports two different sizes: 75mm x 75mm, and 100mm x 100mm. These are the most common VESA sizes found on mid-sized monitors. The weight capacity is also fairly generous, at 19.8 pounds. If your monitor weighs more than that, it's probably already bigger than 32 inches.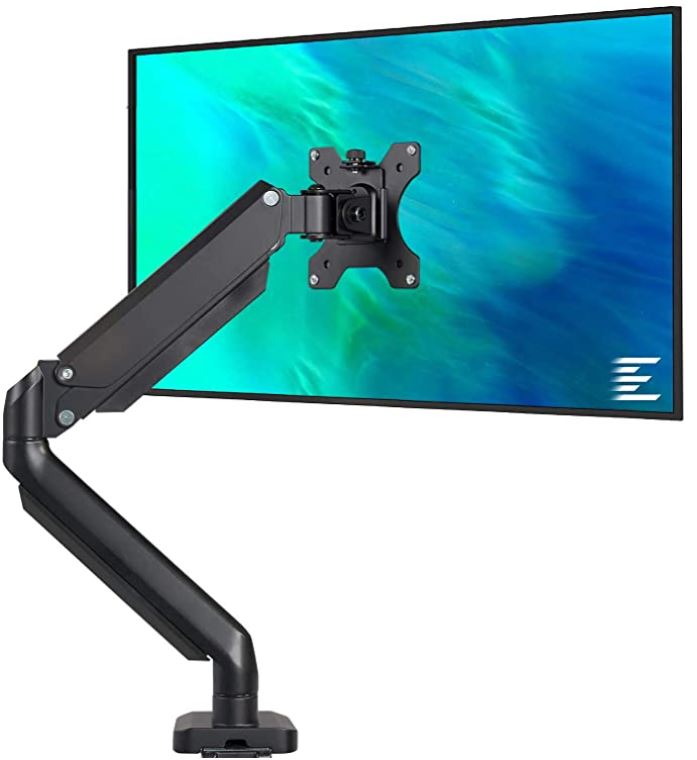 EleTab Single Monitor Desk Mount Stand
At first glance, the EleTab Single Monitor Desk Mount Stand is less flashy than the ATUMTEK. This is true, but don't let its formal, black appearance fool you. This is an impressive stand that fits screens from 17 to 32 inches, and with 75mm or 100mm VESA mounts. The EleTab stand will support a 17.6-pound monitor, so weight shouldn't be much of an issue. The default mounting option is a grommet mount, but there's also a C-clamp available in the kit. It can mount on any desk from 0.4 to 3.5 inches thick, which is a reasonably good range. It also sports gas springs, just like the ATUMTEK.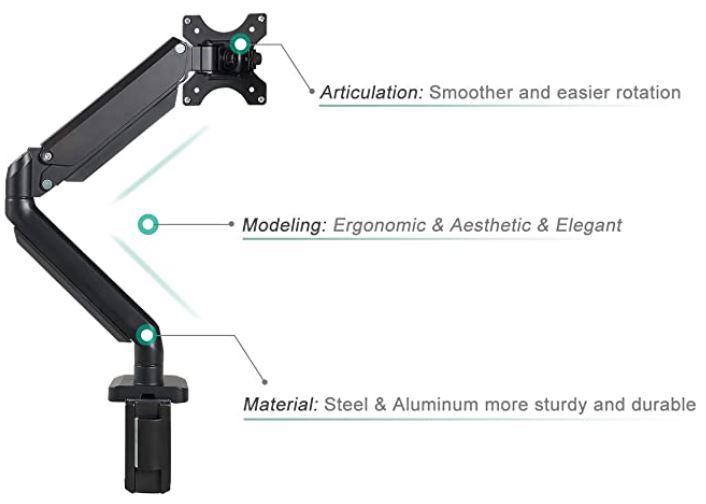 The main area where the EleTab monitor arm shines is mobility. It has a swiveling base, as well as two articulated points, at the head and halfway down the arm. The head can also be rotated 90 degrees in either direction. This means you can easily switch between portrait and landscape mode without re-mounting your monitor. Because of all this movement, cable management is essential, so EleTab includes a set of cable clamps in the package. These discreet clamps are reusable, and keep your cables from getting pinched or twisted.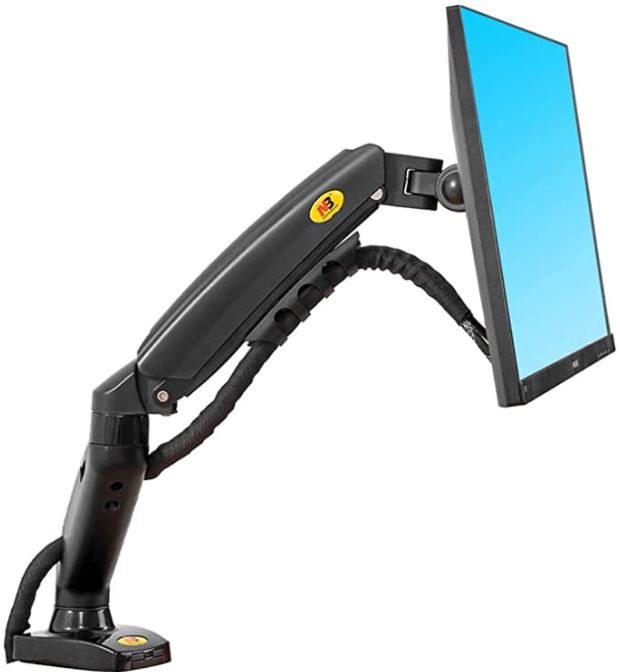 North Bayou Monitor Desk Mount
The North Bayou Monitor Desk Mount is similar in construction to the EleTab mount, with a black aluminum build. However, some of the joints are reinforced with steel, so you get a bit more strength. The North Bayou Mount can support monitors of up to 19.8 pounds, from 17 to 30 inches in size. This is the narrowest range of any of our arms, but it still works with both 75mm and 100mm VESA. Like the last two mounts we looked at, there's also a gas piston system, which keeps movement smooth. You can mount the North Bayou arm on most desks, with either a clamp or a grommet.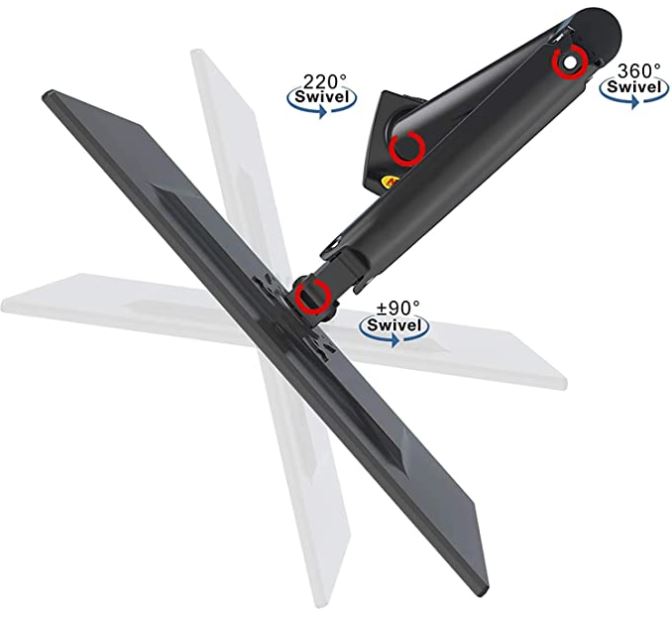 Similar to the EleTab, it can swivel in any direction, as well as tilt at two articulation points. However, the head doesn't rotate, so switching between portrait and landscape mode can be a challenge. There's plenty of accommodation for movement, though. A nylon cable guide protects your cord, so you can run it without worrying about damage. There's also a USB hole on the base for a pass-through connection.
Final Verdict
At the end of the day, each of these monitor arms has something to offer. About the only thing none of them will do is support a laptop. If that's what you need, the UGREEN X-Kit is a great choice. It's an ergonomic laptop stand that includes a built-in USB hub. With that said, here's a quick summary of what we've learned.
We started out by looking at the ATUMTEK Single Monitor Arm with Desk Mount. This is a plain silver aluminum stand that looks great with brighter office decor. It's also the most versatile stand on our list, with both grommet and clamp mounts. This means it's suitable even for desks that don't include a pre-drilled grommet hole. The size range is also reasonably wide, supporting monitors of 15 to 32 inches. With its versatile mounting options and wide compatibility, the ATUMTEK arm is a solid choice for most people.
Where the ATUMTEK offers versatility, the EleTab Single Monitor Desk Mount Stand offers mobility. Its rotating head allows you to use your monitor in any orientation, without re-mounting. Not only that, but it has some cable clamps included, so you don't need to worry about wrecking your cables. It's also reasonably versatile in its own right, with grommet and clamp mounts. The size range is less than the ATUMTEK's, at only 17 to 32 inches. That's still enough for most monitors, though, since most people with small monitors are using 17-inch models.
Last of all, we reviewed the North Bayou Monitor Desk Mount. This is the least versatile mount, with a 17 to 30-inch size range. However, it still has both a clamp and a grommet mount, and offers plenty of mobility. While it won't rotate like the EleTab, the North Bayou does have a nifty cable guide. This gives you a bit of extra protection, albeit at the cost of some aesthetic value. Still, it's a solid choice for anyone who's worried about cable damage.