Teble Baby Monitor
Pros
Excellent video quality with vibrant colors.
Sound detection and two-way audio modes.
Very long lasting battery.
Stable, secure wireless system.
USB-C charging is nice to have.
Cons
Camera unit needs to be plugged in.
No smartphone companion app.
Mounting camera requires drilling with supplied mount.
When you become a parent, all of your priorities change. Instead of your job, your pet, or your house, your biggest priority is the tiny human you just created. Needless to say, we go to great lengths to keep our kids safe. We put them in car seats – more than one as they grow up. We child-proof the house, cover the power outlets, and keep our sharp objects out of reach. In addition, we invest in expensive baby formulas, and pamper our kids in all kinds of ways. Obviously, this means keeping a close eye on your baby. But even the most vigilant parent has a life to live. You need to do dishes, and take care of the laundry, and cook dinner, and clean the house. Normally, the easiest time to do these things is when your baby is sleeping.
In theory, this should be easy. You put your baby to sleep, you go about your business, and you come get them when they wake up. But even if you've got "mom ears," you might be out of earshot. Maybe you're in a noisy laundry room on the other end of the house. Maybe you're running the vacuum cleaner. Or, maybe you're in the back yard, working on your garden. In these and other circumstances, you need a way to keep an ear on your baby from a distance. That's where a good quality baby monitor comes in. These devices have been around for decades, at least in their audio-only version. But modern monitors also incorporate video, which gives you an added way to keep tabs.
Today, we're going to review the Teble Video Baby Monitor. This is a combination video and audio monitor with a 720p display. It utilizes an advanced frequency-hopping wireless connection for security and stability. And it has two-way audio and lullaby modes, so you can soothe your baby remotely. But there's a lot more to a good modern baby monitor. We need to look at the physical design, and how the camera is positioned. We need to talk about the video quality, as well as the display. Battery life is also a concern, as you might expect. After we've considered all of these various factors, we'll know everything we need to know. Let's dig in, and see what we discover!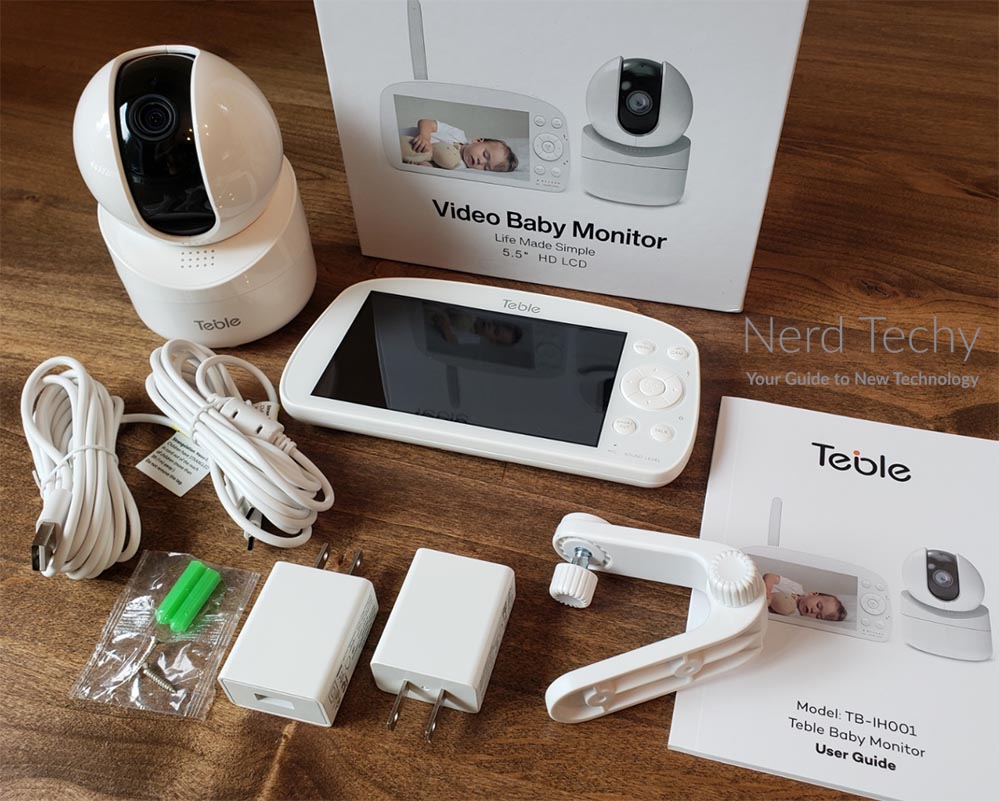 Overall Design
Like any baby monitor, the Teble Video Baby Monitor consists of two main components. There's the camera unit, which sits near your baby's crib, and there's the monitor you carry with you. The monitor itself is rectangular in shape, and has an easy-to-clean matte white finish. The plastic is comfortable to grip, with a slightly curved profile that's surprisingly ergonomic. As for the screen itself, it measures 5.5 inches on the diagonal, which is larger than many similar monitors. On the screen, you'll see more than just your baby. You'll see the remaining battery level, as well as the temperature in your baby's room.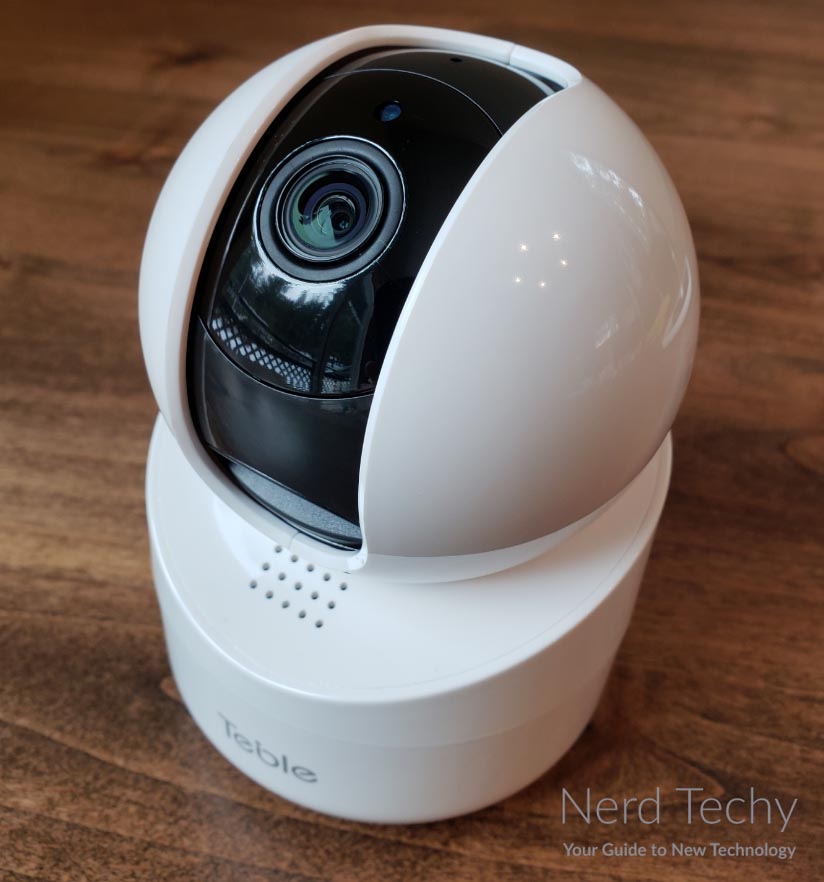 To the right side of the display, there's an array of buttons for controlling the monitor. There's a zoom button, and arrow buttons for panning and scanning. These same buttons can also be used to navigate the monitor's menu. There's a separate button for activating the two-way audio function. And there's a shortcut button which can be used to access a number of other features. The back of the housing has a white plastic antenna, which can be flipped up to get a better signal. Right in the middle, you'll find a kickstand that can support the monitor easily on a desk or table.
The Teble monitor unit has an internal battery, which charges via USB Type-C. Charging takes less than two hours, so charging overnight, or even during the day, isn't a big deal. How long the battery lasts will depend on how you're using the monitor. If you're using both the audio and the video feeds, you can expect 10 hours of performance. If you're using audio only, this will extend to around 17 hours. Most people will use some combination of the two, so your battery will likely fall somewhere in the middle.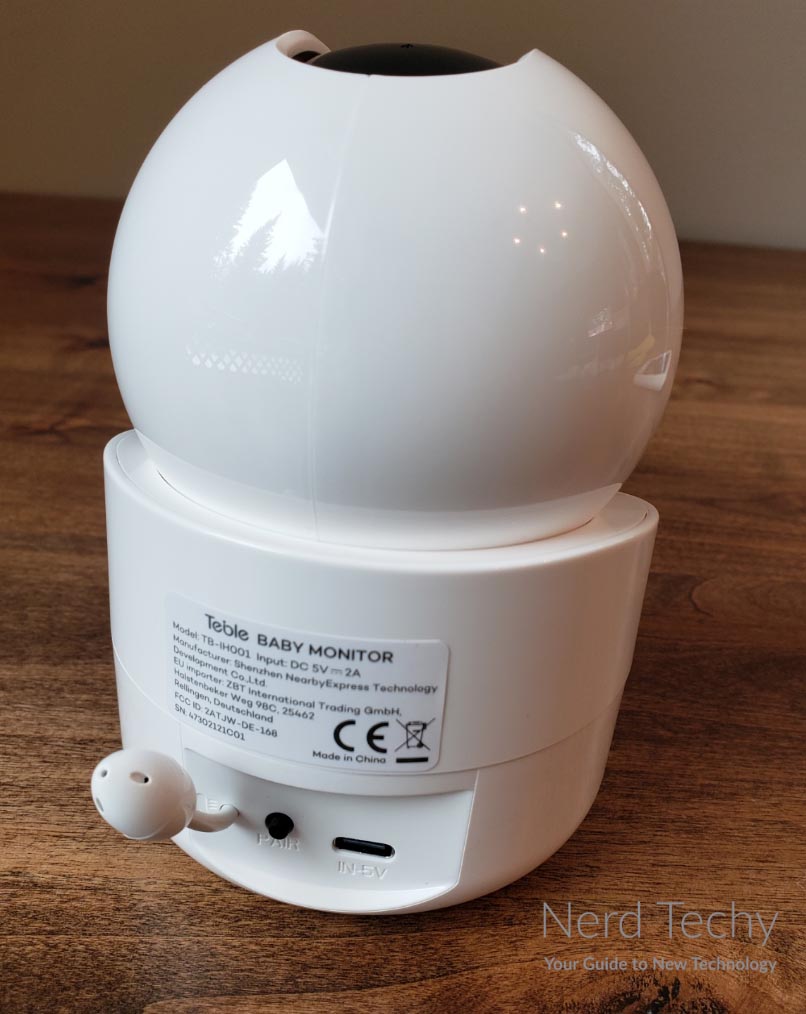 The camera looks like a little sci-fi robot, with a circular base and a spherical main housing. It's constructed from the same white matte plastic as the monitor, so it's reasonably durable. There's a black vertical gap in the front, where you can see the actual lens. This same area also houses the light sensor and infrared bulb. The base actually has a small motor inside, which can be used to manipulate the spherical housing. It can rotate 340 degrees horizontally, and tilt 90 degrees along a vertical axis. This is all done via the control buttons, which makes it easy to change your view remotely. If your baby moves around in the crib, you can change the camera angle accordingly.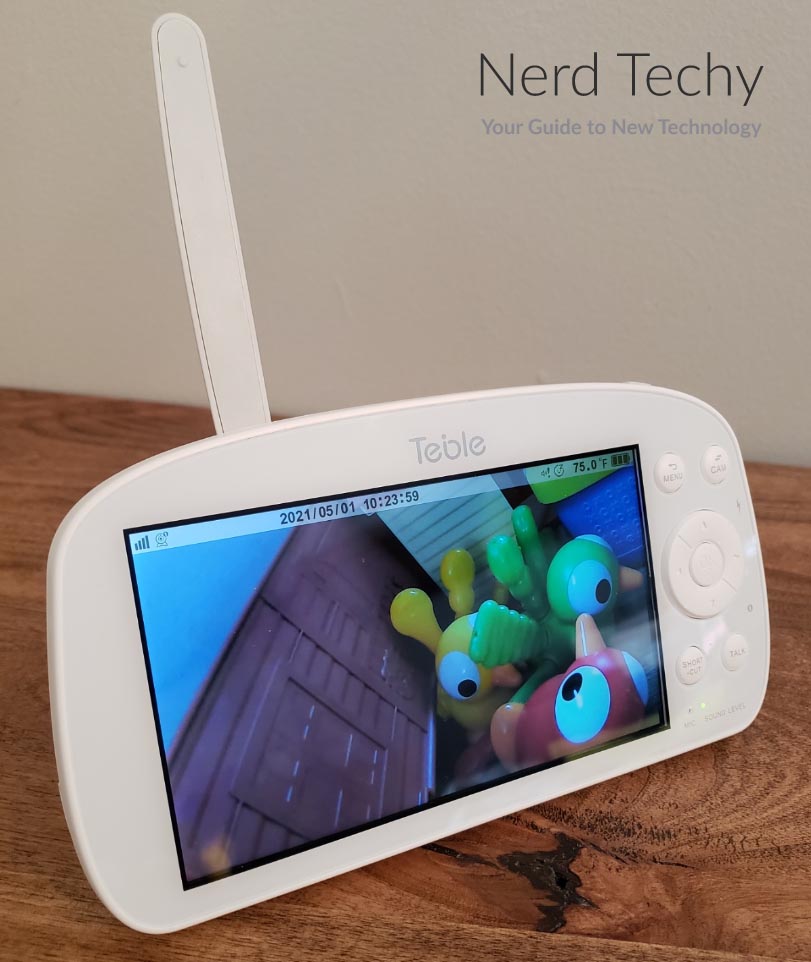 The Teble monitor is designed to be positioned in two different ways. To begin with, the bottom of the base is flat, so it can sit on a flat surface near your baby's crib. Alternatively, the kit includes a little plastic bracket that can be screwed onto your wall. This allows you to wall-mount your camera anywhere in your nursery. Just keep in mind that you'll need to be near a power outlet. The camera unit is powered by USB Type-C, and the kit includes a cable and wall adapter.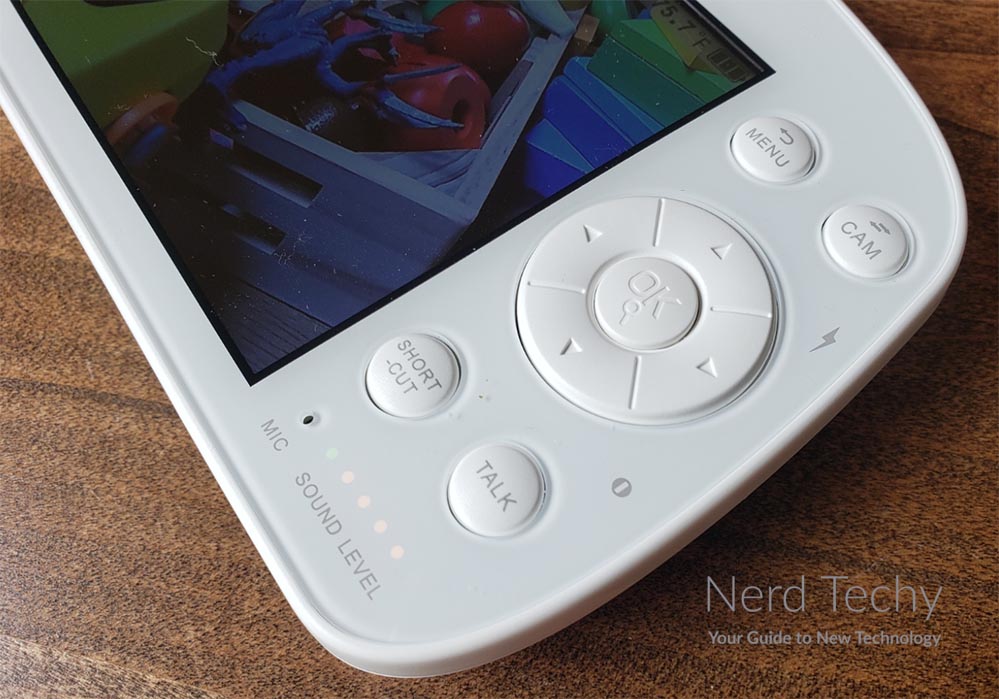 If you're looking primarily for a mounted monitor, there are additional options. For example, take a look at the Simshine Baby Pro. This camera mounts on a bracket over your crib, and points directly down at your baby. It provides ultra-detailed 2K video, and you monitor it on your phone using the companion app. On the downside, it needs to be plugged in at all times, and the video can consume a lot of data.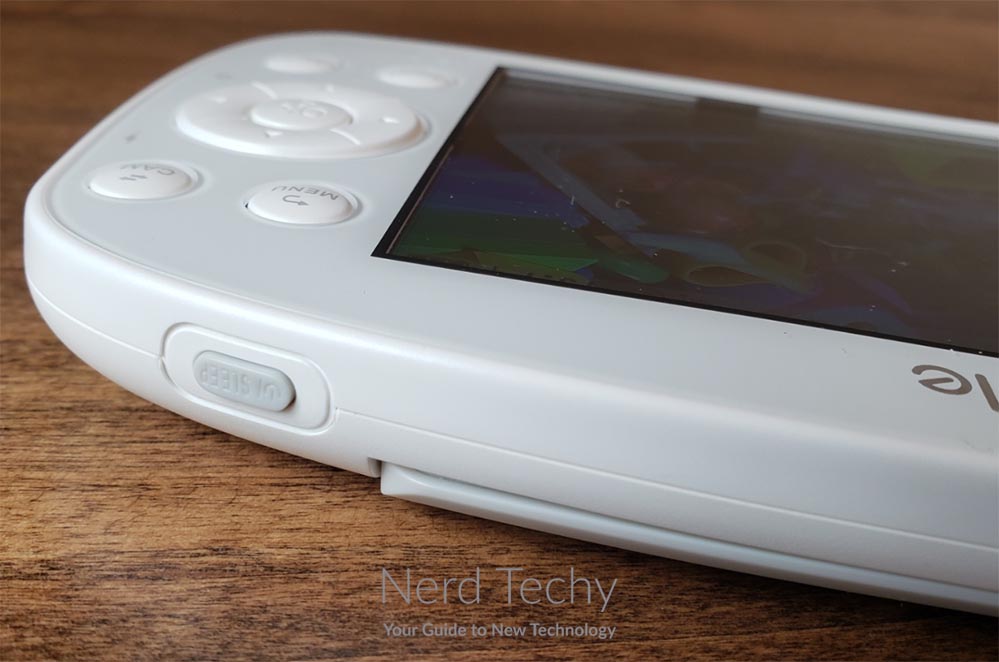 Monitoring Features
The Teble Video Baby Monitor captures and displays your video in 720p. At first, that might seem disappointing in today's world, where 1080p is often the bare minimum. But consider how small the screen is. At only 5.5 inches, you're not going to see any significant difference between 720p and 1080p. As an added bonus, you can zoom in to 4x, if you want to get a closer look at your baby. And no good baby monitor can function without night vision. How else will you keep tabs on your child in the dark? This monitor has black and white infrared night vision. It might not show color, but the picture is very crisp, not grainy like a lot of night vision cameras.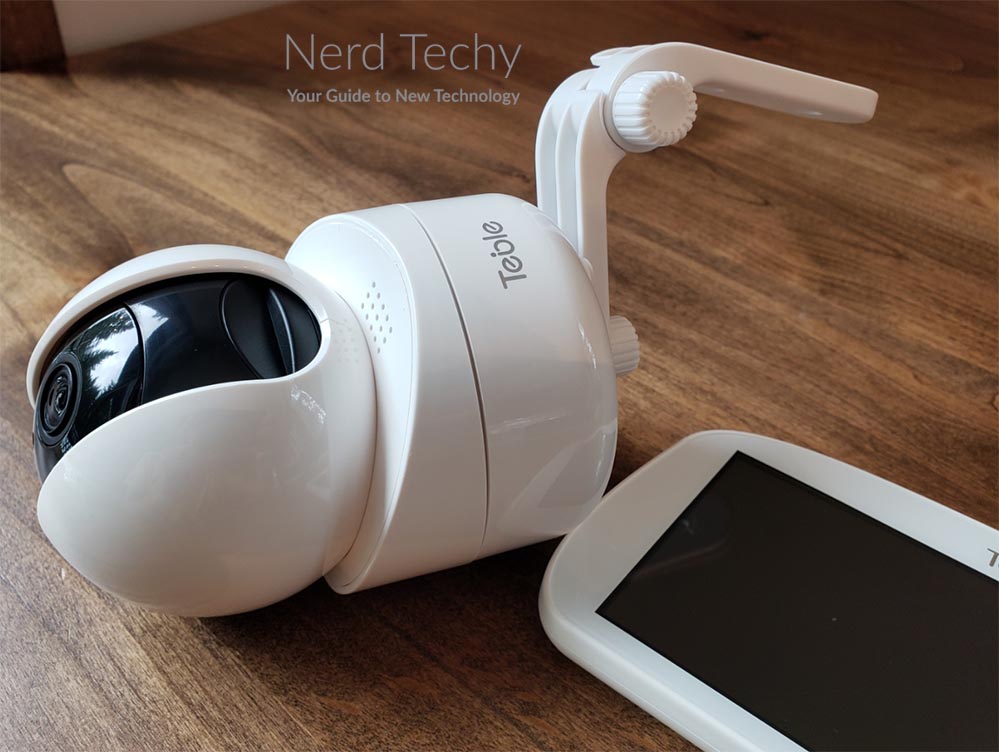 As we mentioned, the monitor can be used in audio or video mode. However, you can also set it to Vox Mode. In this mode, the screen will remain off when your baby is quiet. When your baby starts to make noise, the display will automatically activate. You can adjust the volume somewhat, to control how loud a noise will trigger the display. You can also choose to have the monitor sound a loud alarm when your baby wakes.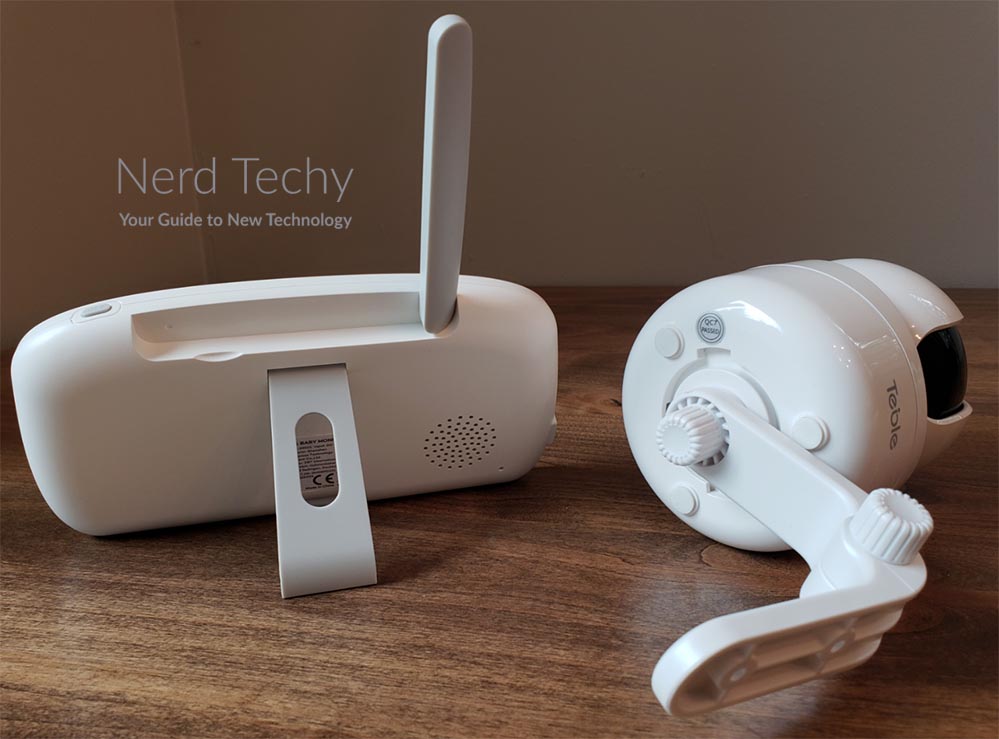 If you're in the middle of something or several rooms away, you don't have to wait to soothe your baby. For one thing, there's a two-way talk feature. You can talk or sing to your baby remotely, and calm them with the sound of your voice. There are also four soothing lullabies pre-programmed into the unit. If your voice doesn't help calm your baby, maybe a calming song will.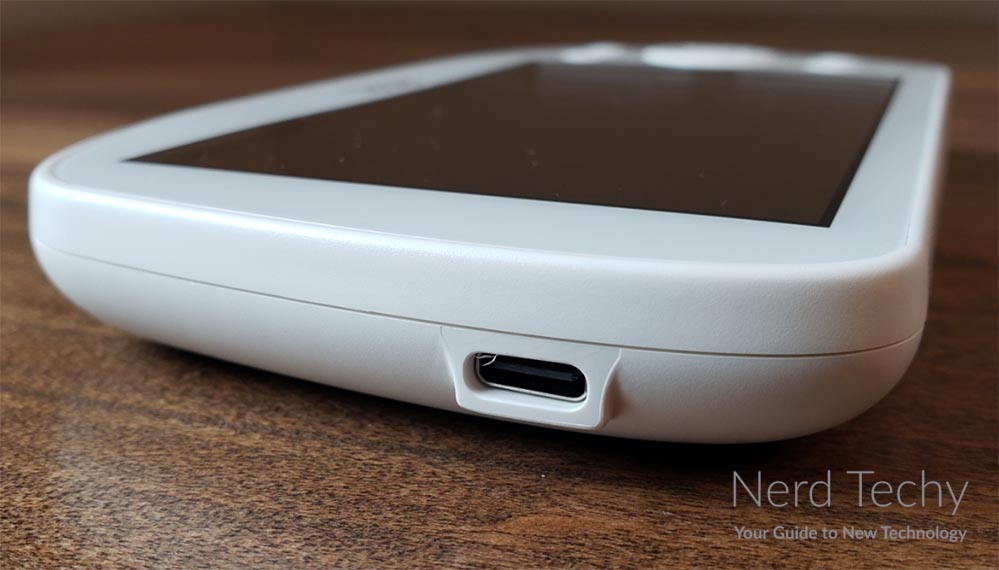 Connectivity & Extras
One unique feature of the Teble Video Baby Monitor is its wireless technology. Most baby monitors either use WiFi or a simple 2.4GHz wireless signal. This is just fine as far as it goes, but it's not terribly secure, and it can be prone to interference. Instead, this monitor uses a technology called Frequency-Hopping Spread Spectrum (FHSS). FHSS uses multiple frequencies across a wide brand. The monitor and the camera use the same algorithm to hop from one frequency to another simultaneously.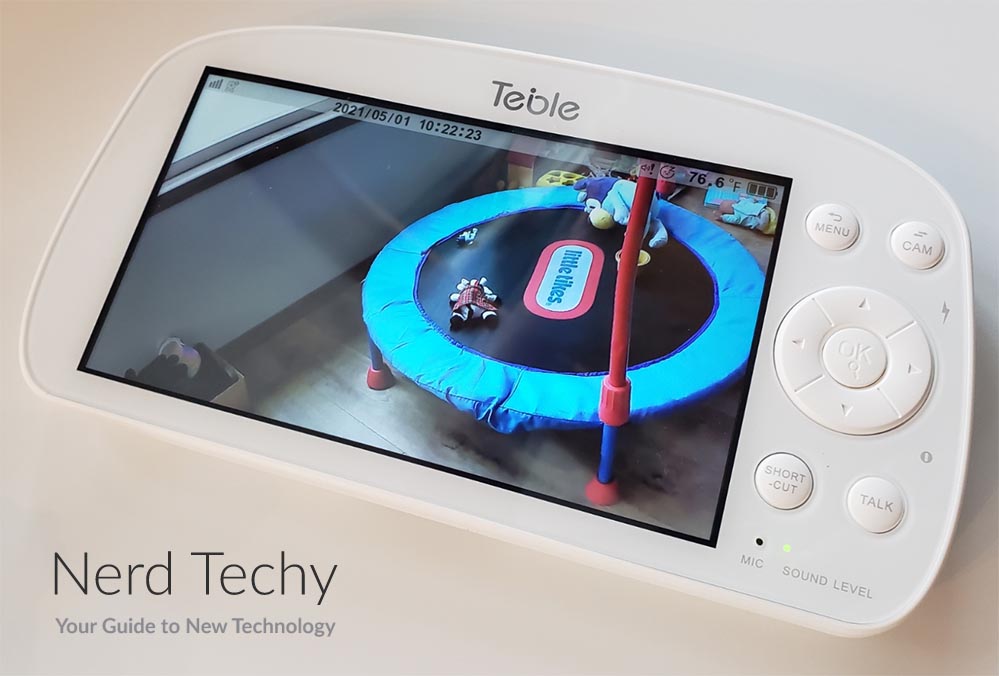 The primary purpose of this technology is to prevent interference. Since the signal is constantly switching frequencies, any interference will only be momentary. 2.4GHz wireless, by comparison, is a crowded band, and you can get a lot of interference. FHSS is also significantly more secure than other types of technology. Since the frequency-hopping appears to be random, it's virtually impossible to "listen in" from another device.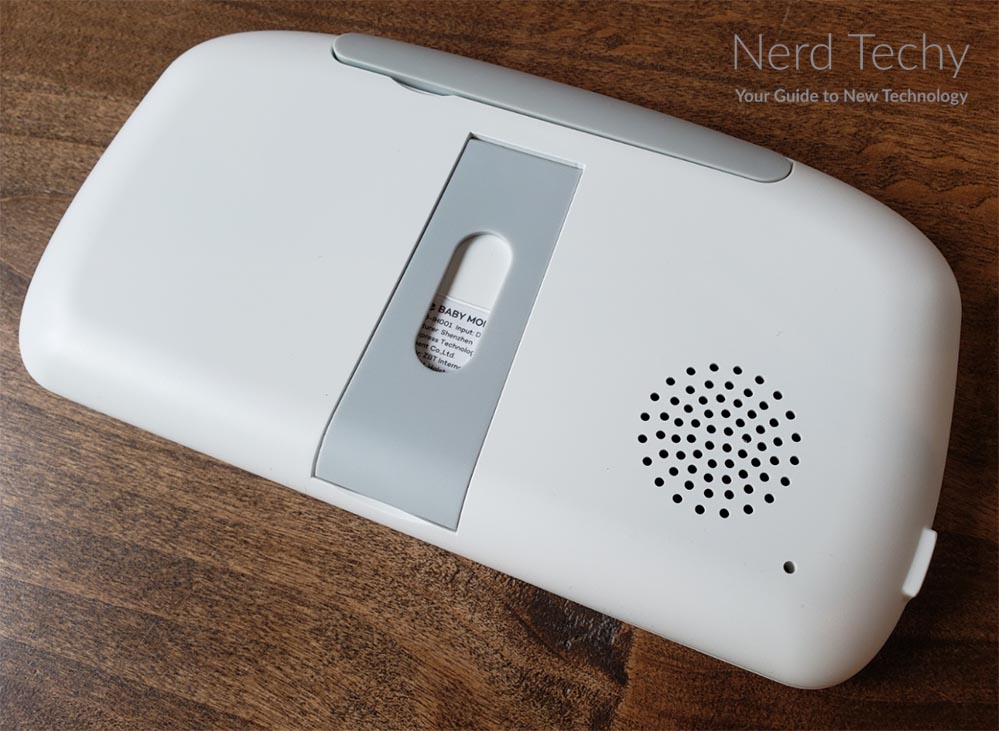 Before we wrap up, there are a few extra features we should talk about. To begin with, we mentioned earlier that the camera can sense the ambient temperature. This isn't just so you can look it up on your screen. You can also set a maximum and minimum temperature for your nursery. If those limits are exceeded, an alarm will sound on the monitor. You can also set a monitor alarm for specific feeding times. This ensures that the alarm goes off wherever you are, so you don't miss it. If that's not enough, you can even pair a single monitor unit with up to four cameras. This is a great feature if you're caring for multiple children.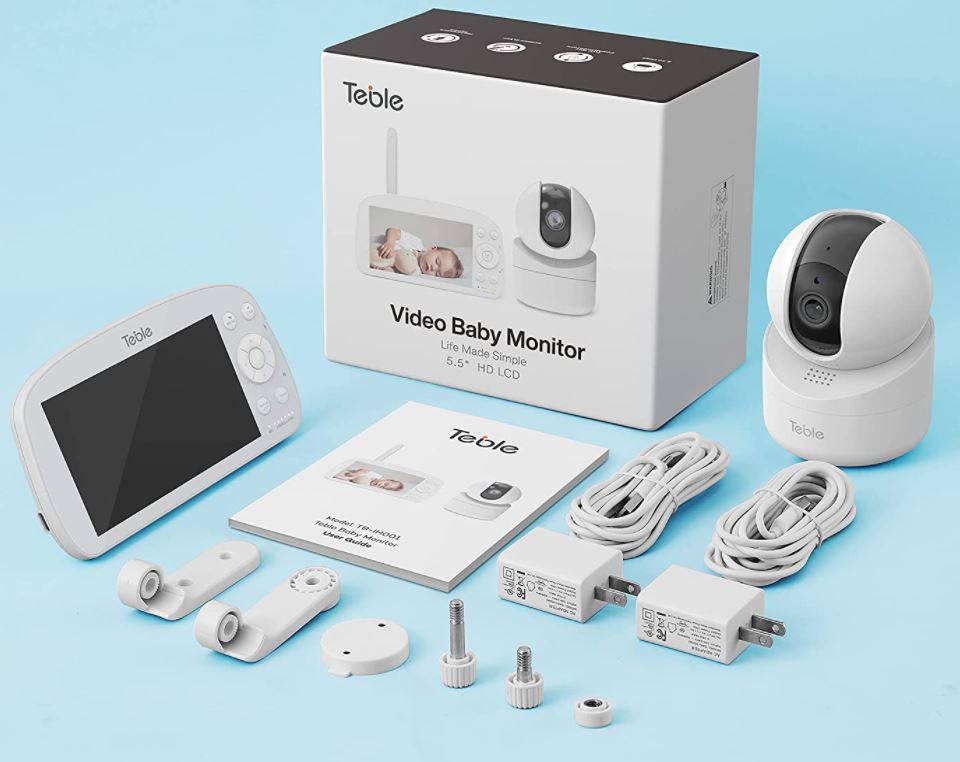 Final Verdict
The Teble Video Baby Monitor is a well-engineered monitoring system that's easy to operate. The FHSS wireless technology is at the top of its class, both secure and interference-free. You can pan and scan the camera as needed to keep an eye on your baby. And with multiple alarms and alerts, you'll never be caught off guard when your baby wakes up. Overall, it's a well-featured, highly functional baby monitor with great video quality.
Meet Derek, "TechGuru," a 34-year-old technology enthusiast with a deep passion for tech innovations. With extensive experience, he specializes in gaming hardware and software, and has expertise in gadgets, custom PCs, and audio.
Besides writing about tech and reviewing new products, Derek enjoys traveling, hiking, and photography. Committed to keeping up with the latest industry trends, he aims to guide readers in making informed tech decisions.