Everybody loves a party. But a good party requires a festive atmosphere. Before your guests arrive, you want to make sure your space is tricked out.
There are any number of ways to do this, and party planners have all kinds of ideas. You can decorate with streamers, add festive lighting, and set up themed decorations. And a party isn't a party without some music.
Note: At no extra cost to you, we may earn a commission for purchases using our links. Learn more.
But why not take advantage of technology to take your party to the next level? These days, there are any number of ways to make your party unique and memorable. One idea? Get a set of light-up balloons.
LED lighting is very popular, and is used in all kinds of decorations. And balloons are more or less synonymous with festive occasions. There's a saying "goes over like a lead balloon," which means something that's poorly-received. An LED balloon, on the other hand, is anything but. People love them.
Choosing the Best Light-up LED Balloons
Today, we're going to review three of the best light-up LED balloons we could find. These are all meant to be easy to use, so you can set themselves your up. That's important, because battery life is limited. You don't want to have to set them up a day in advance. They also come in multi-packs, with enough balloons to outfit your entire party.
Of course, there's a lot more that goes into finding the right set of light-up LED balloons. To find out which is best, we're going to have to take a much deeper dive into their features.
We'll have to talk about the material of the balloons, along with their color and appearance. We'll need to discuss the LED lighting, colors, and patterns. And we'll have to find out how much battery life each one offers. After that, we'll have a clearer picture of what we're dealing with. At that point, we'll sum up what we've learned and render our verdict. Let's begin!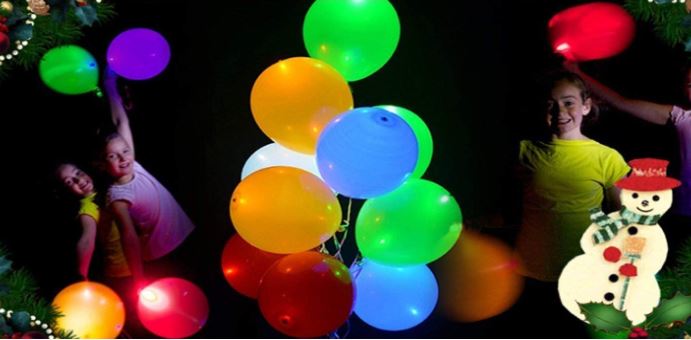 CEAGGDY LED Light Up Balloons
The CEAGGDY LED Light Up Balloons look like standard 12-inch latex balloons at first. They come in a 20-pack with assorted colors. You'll get four each in red, blue, green, white, and yellow. Blow them all up and you'll have an attractive multicolored array of balloons.
There are two different versions of this balloon, and they're radically different. The first has colorful LEDs that blink in a cycling pattern. As a result, your balloons will constantly keep changing color. The other option uses white LEDs that shine at a consistent rate. With this style, the blue balloon will always be blue, the green one will always be green, and so on. There also won't be any blinking or strobing effect.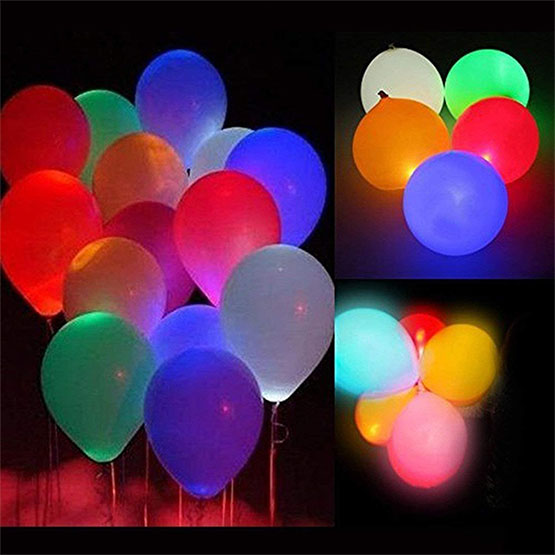 If you want to throw a truly impressive party, why stop with LED balloons? Not long ago, we reviewed the best floating solar LED pool fountains. These are great for backyard fish ponds, bird baths, and even swimming pools.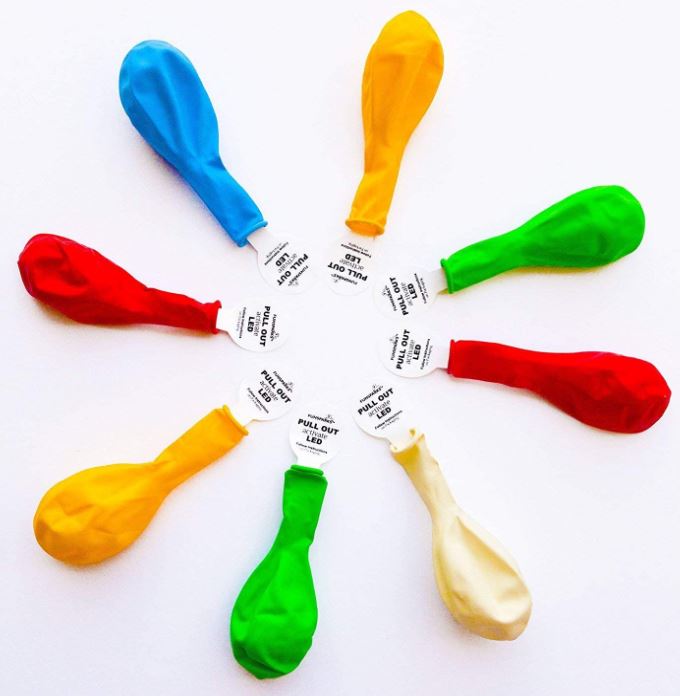 How it Works
Because these are ordinary balloons, they're easy to inflate. You can blow them up by mouth without any helium tank or air compressor. That said, a compressor can make things faster. And you'll need helium if you want the balloons to float; there are no shortcuts. Be careful not to overinflate them. Go much further than 12 inches in diameter, and they'll burst.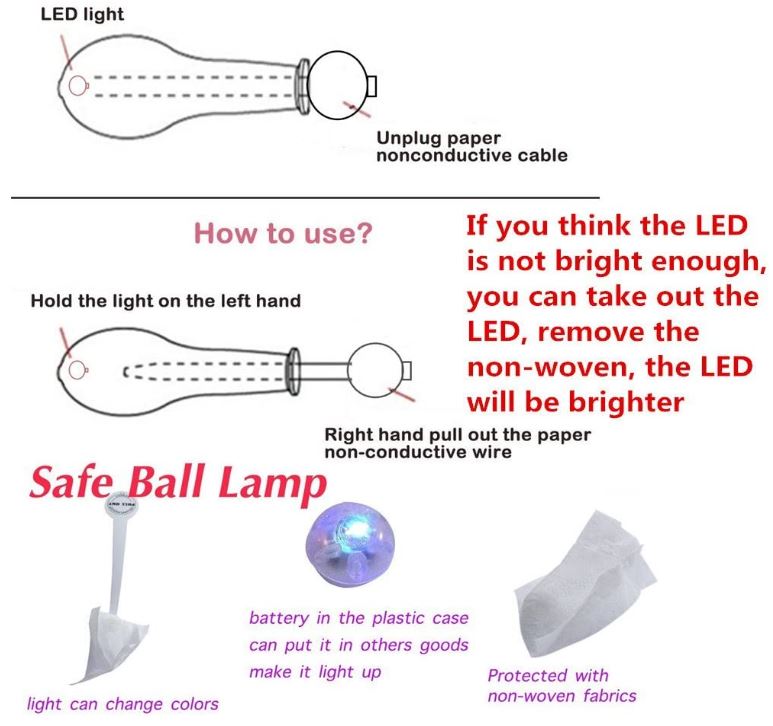 The LED lights are very easy to operate. Each balloon is entirely self-contained, with a tiny battery unit inside. To control it, there's a simple pull tab at the bottom of the balloon. Remove it, and the LED will be activated. However, this has a drawback. Since you can't fill the balloon without removing the tab, you'll need to time things well. Inflate your balloons too soon, and you won't have enough battery life.
Each internal battery will run for up to 24 hours. However, there's some wiggle room there. For the first two hours, the LEDs will be exceptionally bright. Up until 12 hours or so, they'll be very bright, but not to that extent. For the last 12 hours, they'll be visible, but not as bright. The LEDs and batteries remain cool throughout, so they won't cause heat damage to your balloons.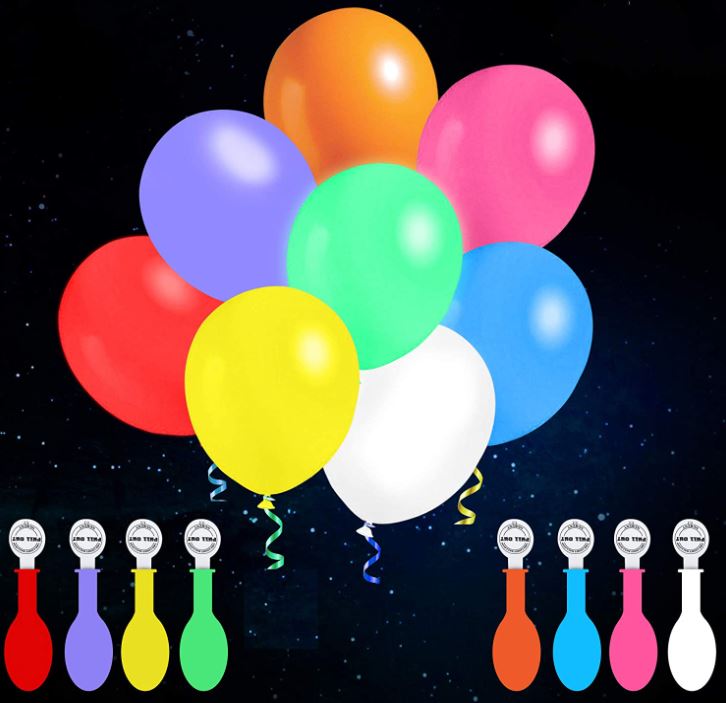 iFUNow Flashing LED Balloons
The iFUNow Flashing LED Balloons are similar to the last ones in a lot of ways. To begin with, they're also 12-inch latex balloons, the standard type you buy in party stores. However, they come in a 32-pack instead of a 20-pack. Given the only slight increase in price, this offers a superior value.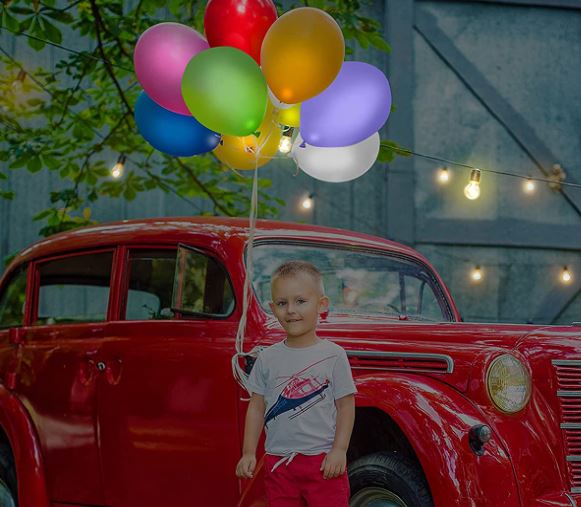 You also get a wider selection of colors. Each pack contains four balloons each in red, green, blue, white, yellow, pink, purple, and orange. The LED lights are a soft white, and blink in a slow pattern. Because the light is white, your balloons will not change color when the light blinks.
While you're being festive, why not spice some things up with some LED signage? An LED heart sign is a perfect accessory for weddings and many other special occasions.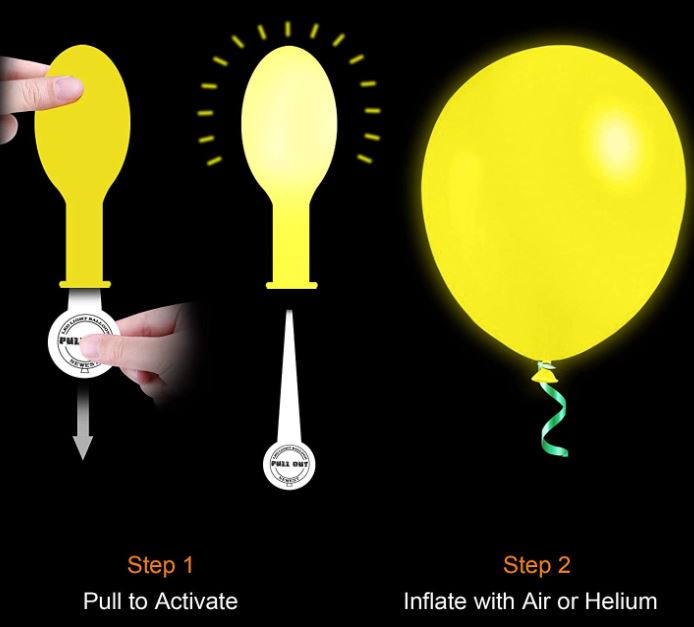 How it Works
Much like their superficial appearance, the iFUNow balloons work almost identically to the CEAGGDY lights. You pull a tab to activate the LEDs, then fill them up with air or helium. They're easy to inflate, and you can fill them by mouth.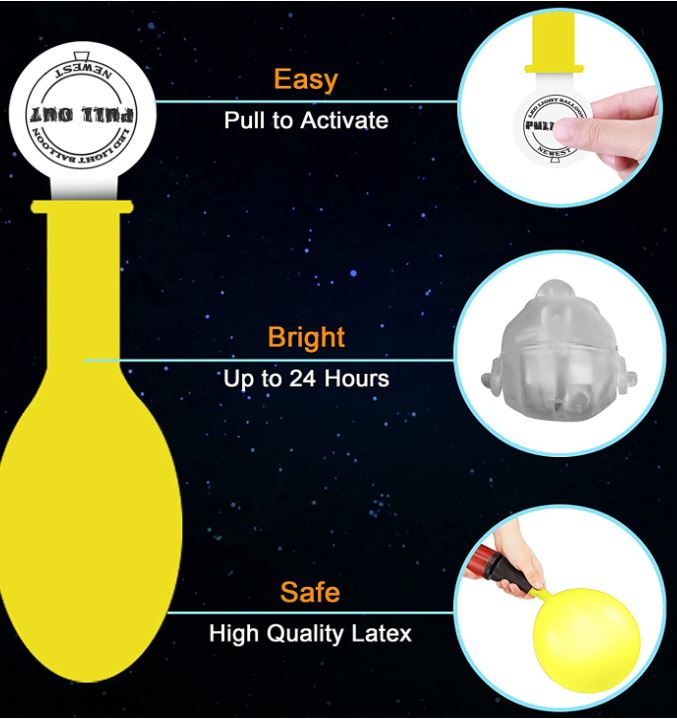 The LED lights aren't initially as bright as the last balloons we looked at. However, the battery life is similar, and the light level is more consistent throughout. You also get the benefit of a 12-month manufacturer's warranty. We're not quite sure who's filing a warranty claim on a balloon, even an LED balloon. But at the very least, it's an indication that iFUNow has faith in their product.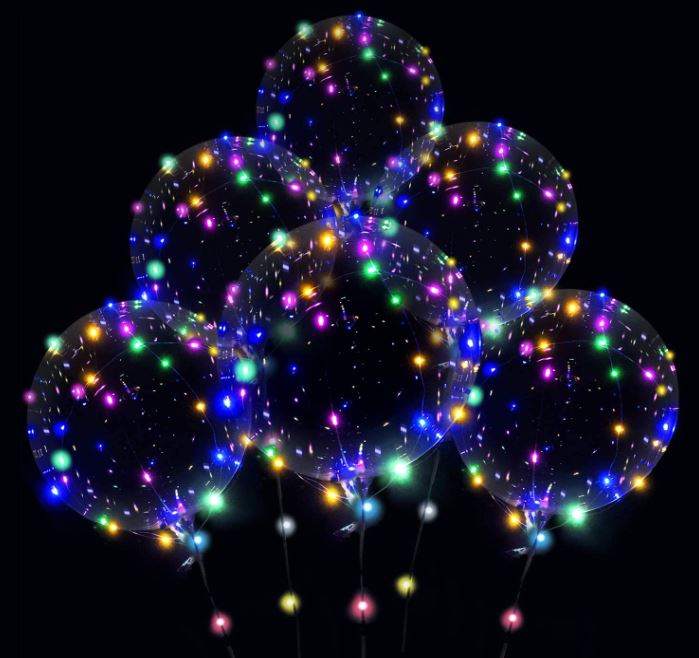 LED Light Up BoBo Balloons
The LED Light Up BoBo Balloons are entirely different. They're made from TPU, not vinyl, which allows for a larger size. They can inflate to 24 inches in diameter, and are almost entirely spherical. They're also transparent, which allows the light to play along the surface and diffract through the balloon.
These balloons come in a 15-pack, along with various sets of fairy lights. The lights always have a soft, pleasant cast. However, you can order them in all white or in a multicolored pattern. Normally, you get 10 light strands in each pack, to go with the 15 balloons. However, the colorful version also comes in an alternative version with 12 light strands.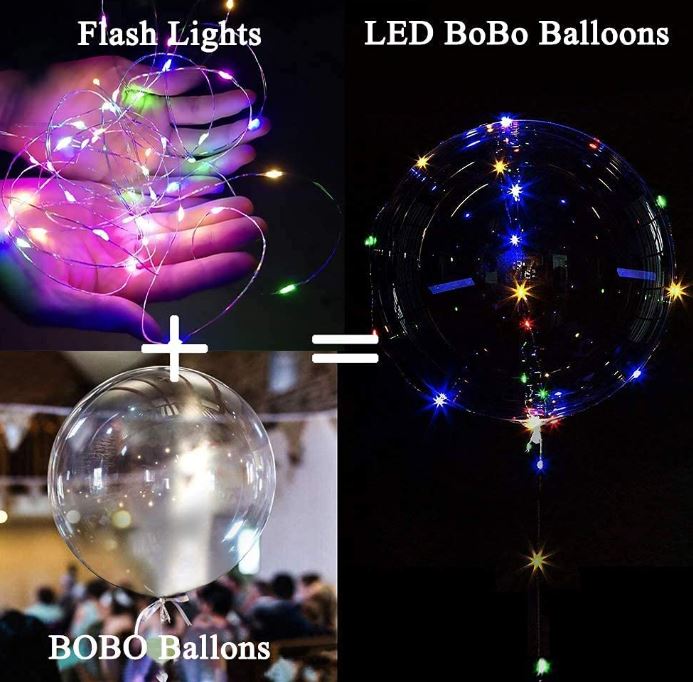 Each light strand ends in a little clip, which connects to a small battery pack. This battery pack can then be concealed discreetly somewhere in the area of the balloon.
How it Works
Because the TPU material is less stretchy than latex, you can't inflate these balloons by mouth. You'll need to use a helium tank or an air compressor. That said, they're easy to fill by machine, and the opening is very easy to tie off.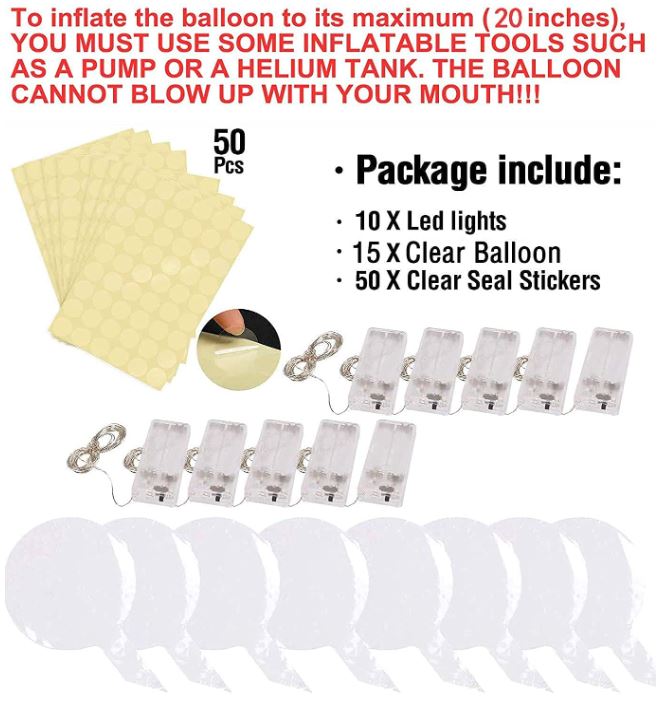 To set them up, you'll have to wrap the LED string around the balloon. The kit includes a sheet of 50 clear stickers to make this easier. You'll also need a pair of AA batteries for each balloon, which will add to your expenses. On the plus side, the batteries will last for weeks, and they can be replaced. If you don't need extra battery life, try the colorful version with 12 lights. It has small battery packs with CR2032 batteries that last for around 72 hours.
What Makes a Good LED Balloon?
Before we hand over our verdict, let's take a second to talk about what makes a good LED balloon. What is it that makes one balloon better than another? Here are some things you should think about while you're shopping around.
The first thing to think about is the material. In general, balloons come in three materials. First, there are latex balloons. This is the most common variety that you can blow up by mouth or by machine. TPU balloons are more durable, and are also great for people with latex allergies.
However, they have to be blown up with an air tank or compressor. Mylar is also a popular choice, and can retain helium for days. However, it has a solid color, so it's a poor choice for LED balloons. As far as heat-resistance goes, that's not a concern for the material. As long as the LED diodes are designed to run cool, your balloons won't spontaneously pop.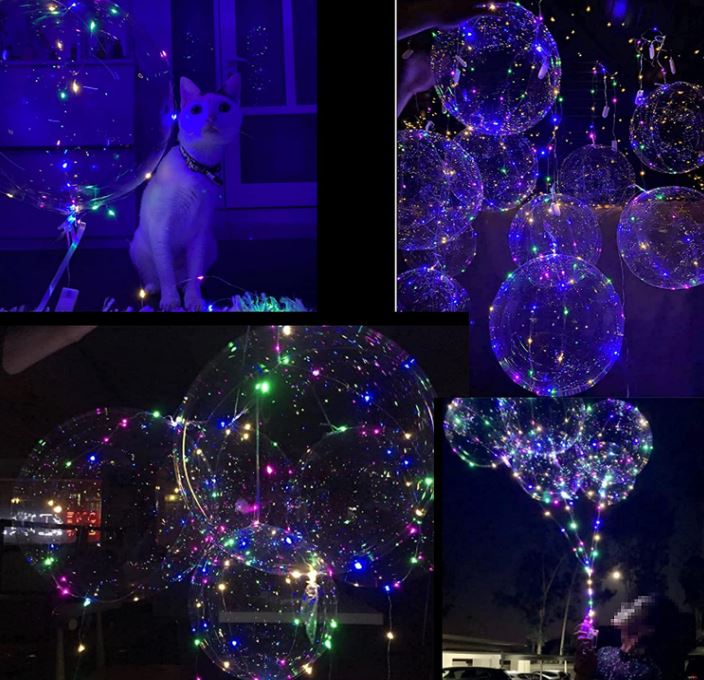 Size, shape, and color are all cosmetic considerations. Bigger balloons go better in larger spaces, while smaller balloons are better for use in your house. The color is another concern. In some cases, you might want specific colors that are meaningful for the occasion. That said, you'll probably want a multi-pack in most situations. This makes for a more colorful, cheerful display.
Along with the balloons themselves, think about the LED lights. Do they shine white, or are they multi-colored? Do they shine constantly, or is there a blinking pattern? There's no right or wrong answer. But you want something that creates the right "feel" for your event.
Finally, make sure you're getting enough battery life. Most LED light balloons will be limited by the size of their battery packs. But you'll need to take this into consideration when you're deciding when to set them up.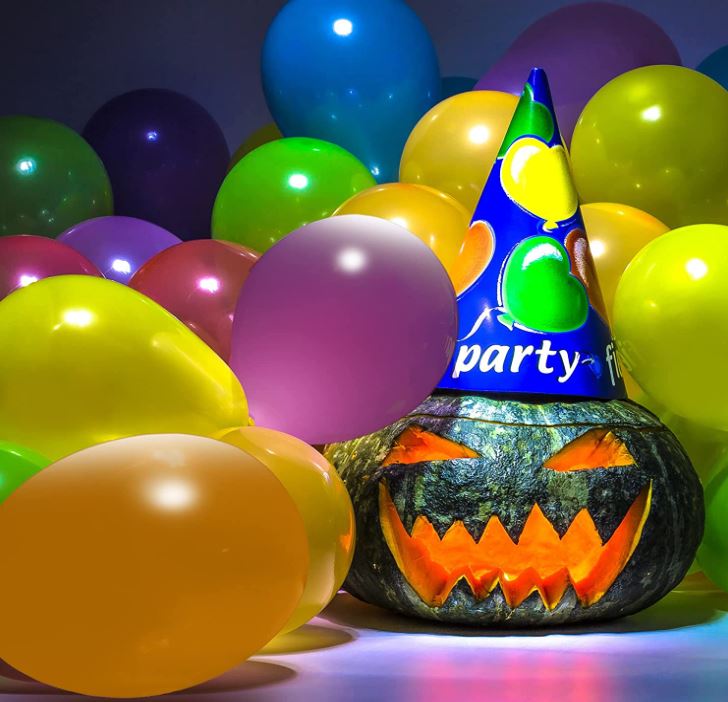 Final Verdict
These are all great balloons in their own right. But which ones should you choose for your next event? Let's recap what we've learned about each one, starting with the CEAGGDY LED Light Up Balloons. These are a lot like standard latex balloons, with a 12-inch diameter. They're easy to blow up, and the pull tab operation is a no-brainer. We also liked the different color and flashing options.
Next, we reviewed the iFUNow Flashing LED Balloons. These are similar latex balloons with pull-tab operation. However, they come in a 32-pack, not a 20-pack, which makes them a better value. They also come with a one-year warranty, which makes us a bit more confident in their reliability.
Last but not least, we evaluated the LED Light Up BoBo Balloons. These are ideal for events that are being held in a larger venue. They're big and beefy, and can create an impressive display. They're a bit of a pain to set up, and you need a compressor or helium tank to inflate them. That said, they're truly stunning, and the external battery packs make them very versatile.
Please consider sharing:
Note: At no extra cost to you, we may earn a commission for purchases using our links. Learn more.