No matter how you cut it, the main purpose of a backyard pool is relaxation. After you've had a rough day, you want to kick back in the water.
Or maybe you just want to sit on the deck and relax with a book. Thanks to the power of evaporative cooling, the entire area around a swimming pool is cooler. This creates a relaxing, calming atmosphere that's perfect for taking the edge off on a hot day.
By itself, a swimming pool is nice. But relaxation is about more than a hole in the ground with water in it. It's about atmosphere. When a swimming pool is part of a larger, more soothing ecosystem, you've created atmosphere.
That's why people like to decorate their pool decks, and surround them with attractive elements like flowers. It's a major reason people invest in pool lights. Even if you're not in the pool, a well-lit pool is more appealing.
But why stop there? With modern technology, there are many ways to spruce up your swimming pool. An LED fountain is a good example. The water makes a soothing sound as it falls back into your pool. Meanwhile, colorful lights illuminate the showering water, making the droplets sparkle.
LED fountains aren't just for swimming pools. Fountains can decorate fish ponds, and will also aerate the water to keep your fish healthy. Even bird baths can benefit, if you use a small enough fountain. Basically, if you have standing water, you can turn it into a well-lit fountain.
Choosing the Best Floating Solar Pool Fountain with Lights
We're about to review four of the best floating solar pool fountains with LED lights. These fountains are designed to float on the surface of the water, and shower water up into the air. They also have built-in LED lighting, which provides illumination as well as atmosphere.
That said, there are significant differences between these four fountains. We'll need to talk about the physical design, and how they're put together. We'll need to consider how they're powered, and for battery-powered units, how long they will last. Also, we're going to need to discuss the lighting options, colors, and controls. Once we've considered all of these factors, we'll have a full picture of what we're dealing with. Let's get going!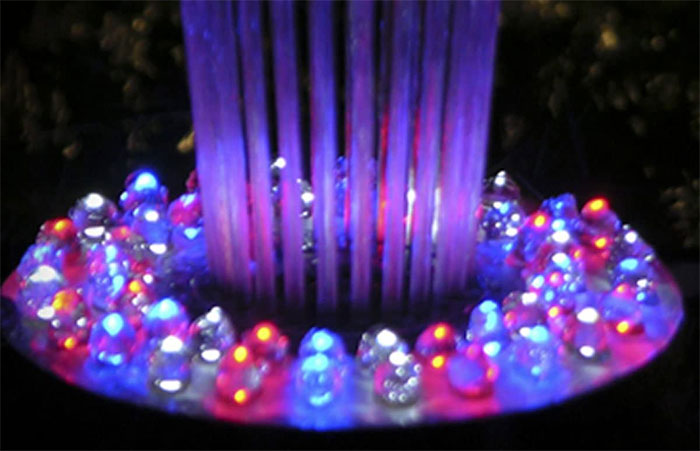 Alpine Corporation LED Floating Spray Fountain
The Alpine Corporation LED Floating Spray Fountain has a black plastic housing that's shaped like a simple disc. The housing measures 12 inches in diameter, with a thickness of around three inches. The actual round fountain element is shiny chrome, and sits on top in the center. This elevates it slightly from the water, and gives the fountain a total height of six inches.
The pump sits underneath the main housing, fully submerged in the water. It connects to the bottom of the fountain with a clear hose, which is included in the kit. It's also surprisingly powerful, with a strength of 550 gallons per hour. The spray rises three feet in the air before spreading out in a 2.5-foot arc and falling back to the water.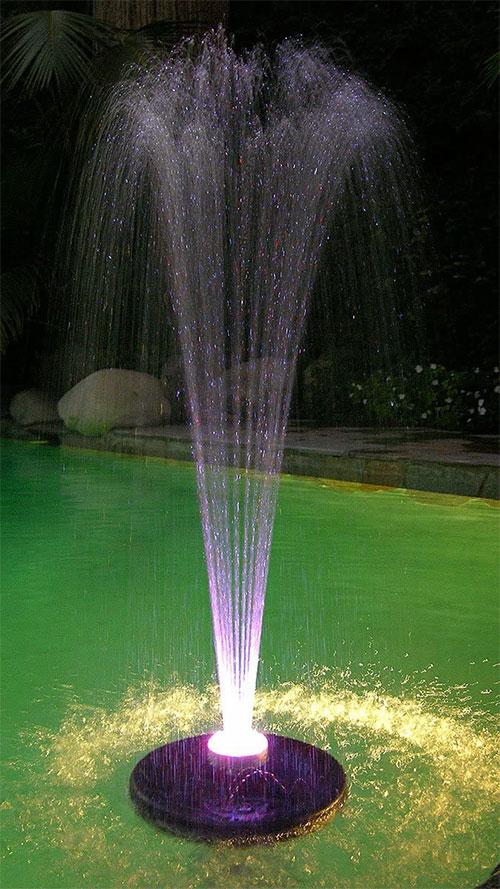 Out of the box, the Alpine fountain will float freely around your pool. However, there's a 1.3-pound weighted anchor included in the package. Attach this to the bottom and it will limit how far the fountain can float.
Everything in the package is covered by a 12-month manufacturer's warranty. If there are any defects in materials or labor, you'll get a refund or a free replacement.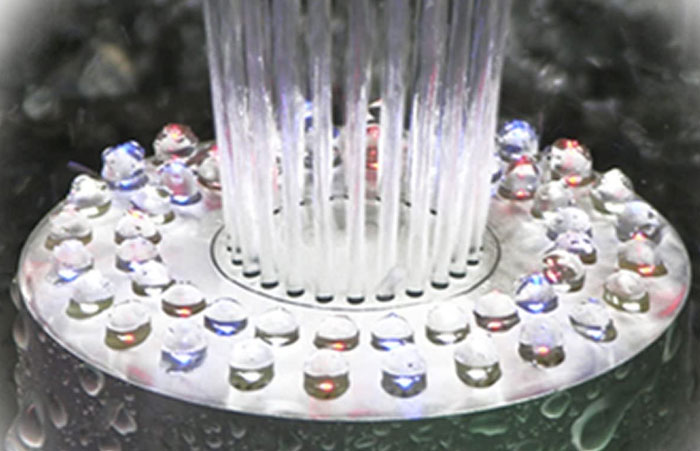 Power & Lighting
The Alpine Corporation fountain is powered by a 33-foot power cord. As a result, you don't have to worry about batteries or charging. As long as it's plugged in, it will be operating. On the other hand, the corded design makes it ill-suited for a swimming pool that's in active use. This is better for ponds and decorative pools.
One thing we liked is how easy it is to control the fountain's functions. The cord has separate plugs for the lights and the function. You can run the fountain alone, the lights alone, both, or neither. Just plug and unplug the two functions as needed.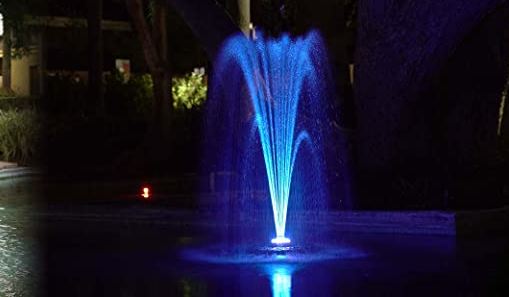 In the top of the fountain head, you'll see 48 LED light bulbs, ringed around the outside. These are a blend of red, white, and blue, and will cycle through colors to create an attractive display. They're bright enough to provide full illumination along the height of the water column.
Of course, you need more than decorations to make the most of your backyard pool. If you haven't already, consider an automatic pool leveler. They monitor your water level, and add more water as needed as it evaporates. You can go on a month-long vacation and come home to a completely full pool.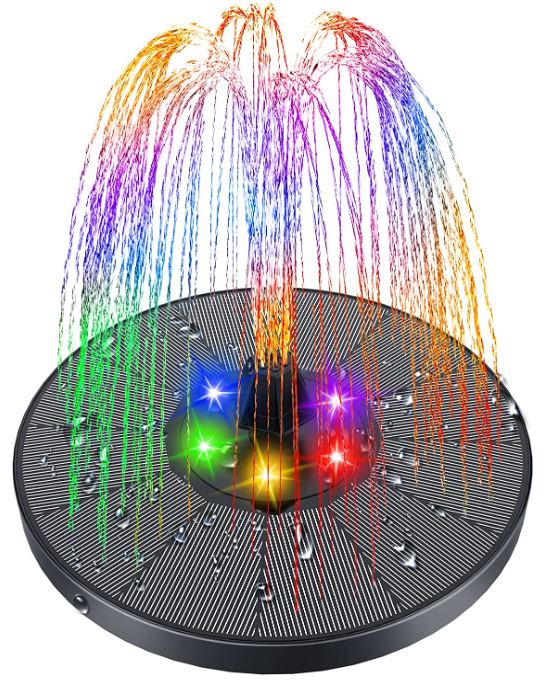 AISITIN 3W Solar Fountain with LED Light
The AISITIN 3W Solar Fountain with LED Light is much smaller than the Alpine Corporation fountain. Instead of being designed for swimming pools or fish ponds, it's a miniature fountain built for your bird bath. When not in operation, it looks pretty unremarkable. It's just a little black plastic disc with a nozzle in the center and white hashes around the edge.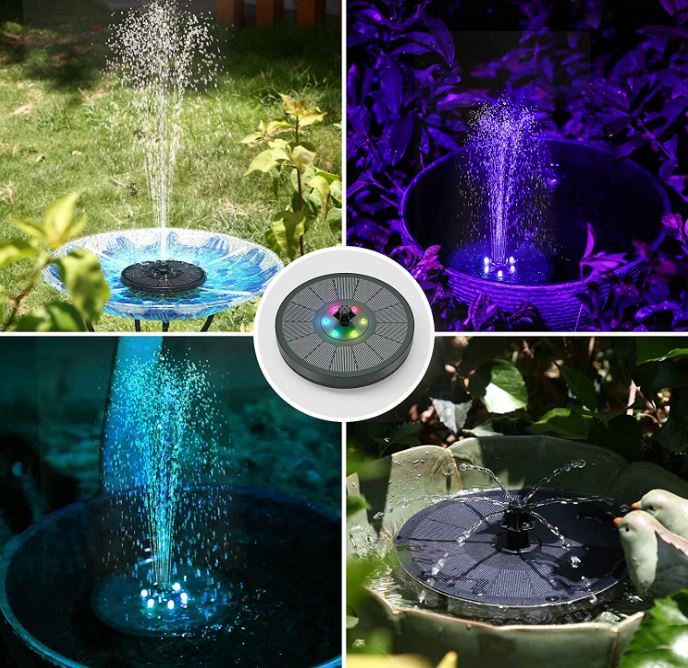 Water is supplied by a slim, compact pump that hides underneath the fountain. You can choose from 7 different fountain nozzles, each of which has its own spray pattern. There can be a single stream or multiple streams. You can have a taller or a shorter spray. At highest, the water will go up about a foot before falling down. This keeps splashing to a minimum, and ensures that the water goes back into your birdbath.
Of course, you want your birdbath to be functional while the pump is running. To this end, there's a set of four buckle straps that hold it in the center of your birdbath. It leaves the edges clear, so birds are free to land and access the water. Along the same lines, there's an auto-shutoff function that will stop the pump when the water level gets too low. Between evaporation and thirsty birds, that's inevitably going to happen at some point.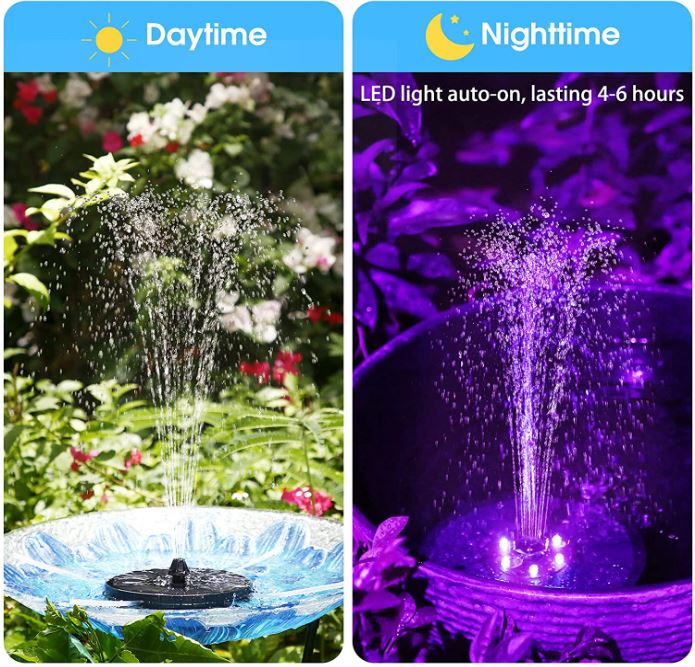 Power & Lighting
As you may have guessed from the name, this is a solar-powered fountain. The white hashes that cover most of the top are actually a solar panel. As long as the sun is shining, your fountain will operate. At night, the fountain will continue running for around four to five hours. That's assuming you have a full battery. If you had a cloudy day, the battery might not be 100% charged.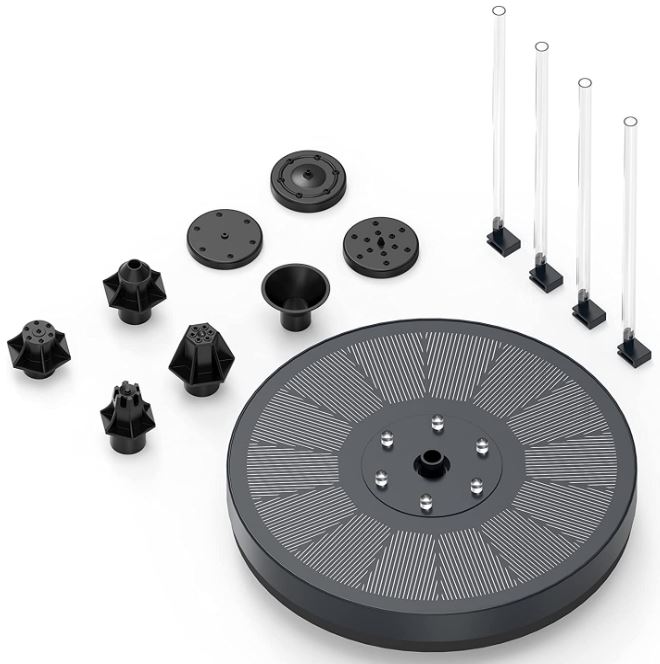 At the center of the housing, right around the fountain head, you'll see a set of six LED diodes. These automatically turn on when it gets dark, and rotate through seven colors. When it's light out, the LEDs remain off to conserve power.
If you were looking for a pool light that provides a lot of illumination, there are better choices. Take a look at our list of the best wireless LED pool lights. These install on the sides of your pool and provide plenty of illumination for swimming.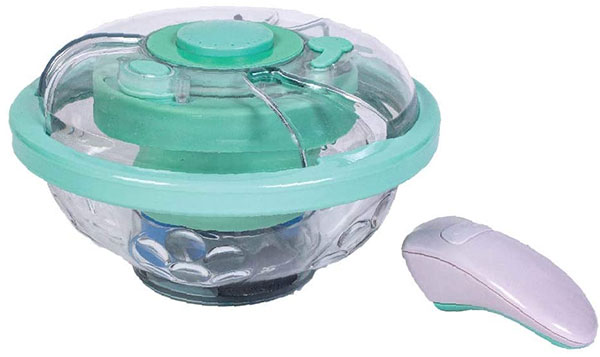 GAME Underwater Light Show & Fountain
The GAME Underwater Light Show & Fountain is a fully self-contained unit. Unlike the last two, its pump sits inside the housing, which is shaped like a bowl with an arched lid. It's constructed from clear plastic, with a few light green elements. It's also designed to float around. There's no anchoring or tethering system, so don't expect it to stay in one place.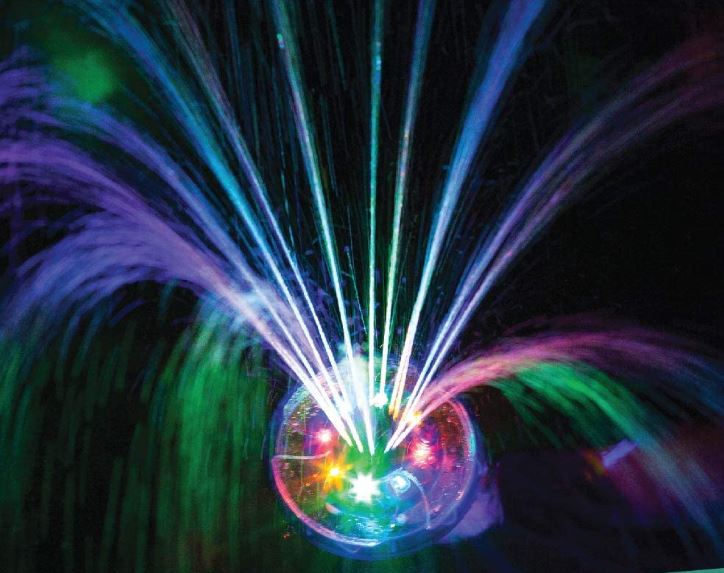 The plastic spray head is located in the top center, and is a pale blue-green in color. There's a button next to the head that can be used to control the light and fountain modes. At the highest setting, the fountain will spray water 3.5 feet in the air. That's a big enough shower to look right at place even in a large backyard pool.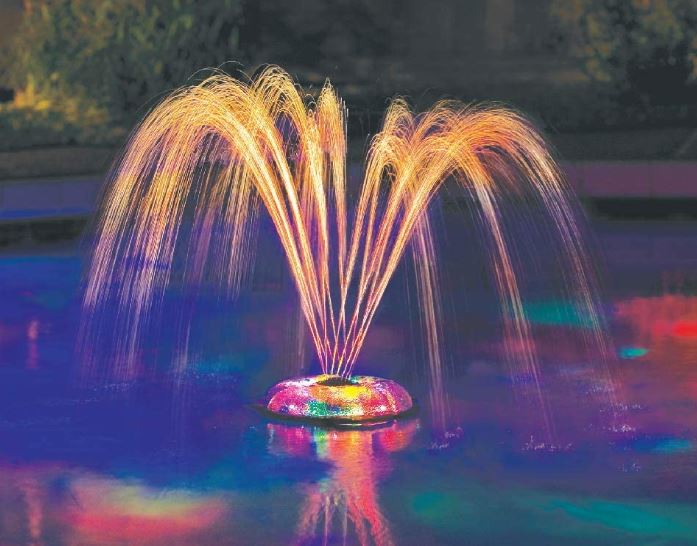 Power & Lighting
The GAME fountain has a rechargeable battery, which charges via USB. There's a USB port on the top of the housing, with a rubber plug that protects it when not in use. Make sure to replace this when you're done charging! When the battery is fully charged, it will run for approximately three hours. That said, there's an auto-shutoff function that kicks in after one hour to save power. This is no big deal, since you can just turn it back on.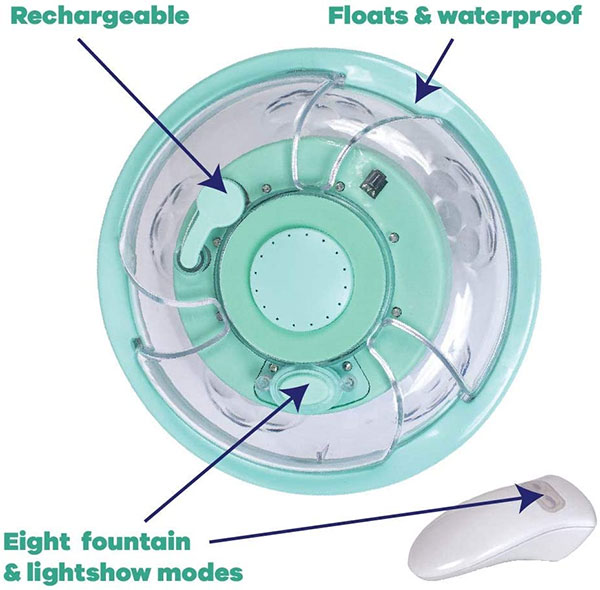 There are six LEDs inside the housing, and they shine down as well as up. This creates a colorful light show on the bottom of your pool. You can choose between eight different combinations of lighting and fountain modes for different effects. In addition to the on-board controls, you can also do this with the handheld remote. It's a small white handheld fob with a power and mode button, and works via line of sight.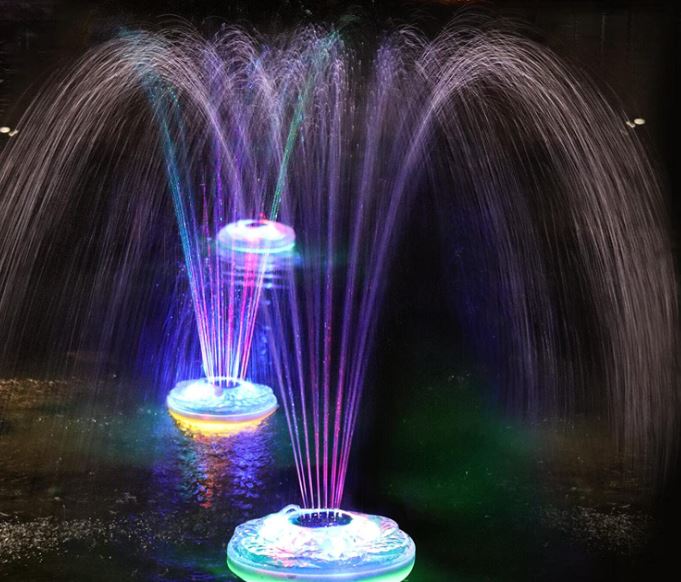 ChlorStar Floating Pool Fountain with Light Show
The ChlorStar Floating Pool Fountain with Light Show has a similar form factor to the last one. It's bowl-shaped, with a slightly domed top. It's also fairly compact, at only 3.9 inches high and 5.5 inches in diameter. The top portion is completely transparent, while the bottom portion is a translucent white.
The spray nozzle itself is blue and circular, located directly in the top center. It shoots water up to 36 inches high, depending on your settings, with multiple individual streams. To the front is a pair of buttons, which change the spray height and light settings. You'll also find a little loop with an optional tether attachment. This allows you to hold the fountain in place.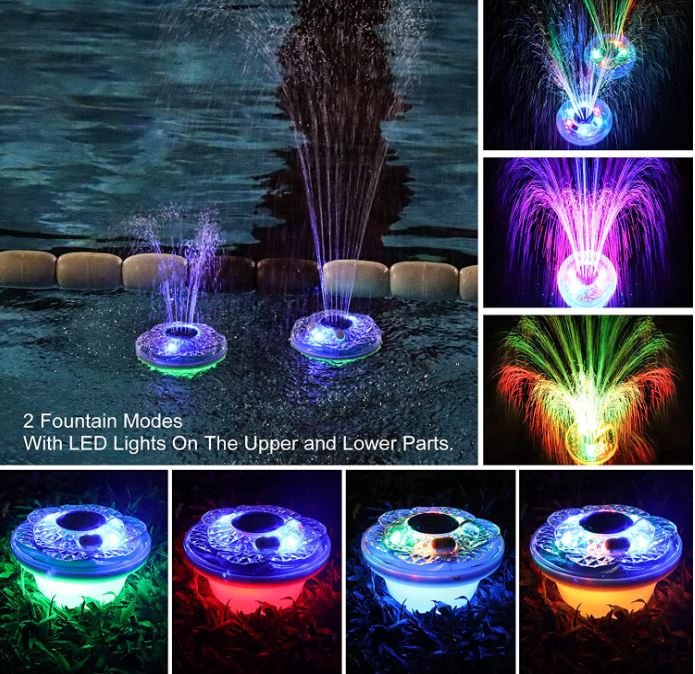 If you've recently had your pool installed, you probably need several accessories. One of the most useful is a solar pool ionizer. These reduce chlorine levels, which can be handy when you've just done a shock treatment.
Power & Lighting
The ChlorStar pool fountain is battery-powered, and will run for up to five hours on a single charge. An auto-shutoff feature will kick in after two hours in order to save batteries. A DC charging cable is included in the package, and charging takes less than two hours.
The spray button can select between two different spray modes. Press it once for a variable spray where the water column rises and falls. Press it a second time to turn the fountain height to maximum. A third press will turn it off.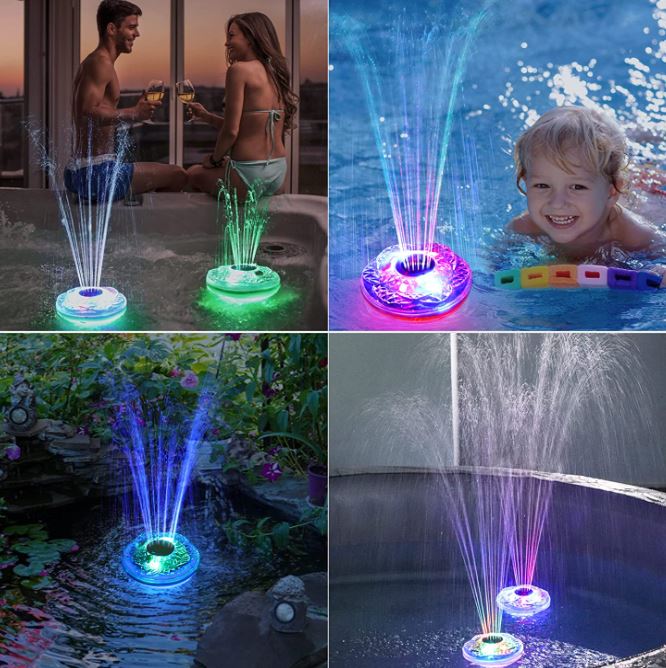 The second button cycles through light modes and turns the LEDs on and off. There are six lighting modes altogether. In addition to the LED lights at the top, the bottom of the housing also glows. It shines a solid color, while the lights on top are multi-colored.
Final Verdict
As you can see, all four of these fountains are well-engineered. But which one is the right choice for you?
We started out by reviewing the Alpine Corporation LED Floating Spray Fountain. This corded fountain is an ideal choice for fish ponds or anywhere else you want a permanent installation. It's also surprisingly powerful, and can legitimately be used for aeration purposes.
Next, we looked at the AISITIN 3W Solar Fountain with LED Light. This fountain is different from the others because it's designed for bird baths. At this size, it would look silly floating around in your swimming pool. But it's great for small-scale applications, and it gets all its energy from a built-in solar panel.
After that, we checked out the GAME Underwater Light Show & Fountain. This is a battery-powered fountain that charges via USB. It creates colorful patterns on the bottom of your pool in addition to shining upwards. And a handheld remote lets you easily control the fountain and light functions.
Finally, we reviewed the ChlorStar Floating Pool Fountain with Light Show. This is similar to the GAME fountain in some respects, but the bottom is solid and glows one color. It also has longer battery life, with up to five hours per charge.
Meet Derek, "TechGuru," a 34-year-old technology enthusiast with a deep passion for tech innovations. With extensive experience, he specializes in gaming hardware and software, and has expertise in gadgets, custom PCs, and audio.
Besides writing about tech and reviewing new products, Derek enjoys traveling, hiking, and photography. Committed to keeping up with the latest industry trends, he aims to guide readers in making informed tech decisions.