AOHI Magcube
Pros
Ultra-compact design.
30 watts of charging power.
Durable build with metal-reinforced charge port.
Safe, efficient GaN circuitry.
Very affordable.
Cons
Prongs don't fold down for transport.
Only compatible with USB Type-C devices.
Cable not included.
Phone chargers have come a long way over the last couple decades. Back in the days of flip phones, every manufacturer had their own proprietary standard. If you had a Nokia phone and your friend had a Motorola, you couldn't share a charger. This was infuriating when your charger broke, because you couldn't buy one off the shelf. You'd have to buy the specific charger from the original manufacturer. It was a pain, and it could seriously complicate things if you were on the road.
USB charging has changed that, for the most part. These days, smartphones almost universally use USB. Most Android phones use USB Type-C, while a few cheaper models still use Micro USB. Apple's Lightning cable, while proprietary, plugs into an ordinary USB port. As a result, there's been a rush to produce more and better USB chargers.
Note: At no extra cost to you, we may earn a commission for purchases using our links. Learn more.
This couldn't have happened too soon, because the way we use our phones has also changed. With an old-school flip phone, you only used your phone for calling and texting. As a result, you could go for two or more days without charging, depending how much you used the phone. But today's phones are packed with apps that we use constantly. We use navigation apps to find our way around, and streaming apps to listen to music. We have apps for banking, ordering food, and sending money. And we have bright LCD screens that draw a lot of power.
Even with today's much more powerful batteries, you need reliable charging more than ever. It's not uncommon for people to have several around the house for charging in different rooms. Just make sure to do your research before you make a purchase. You don't want to get stuck with a clunker.
AOHI Magcube 30W USB-C Mini Fast PD Charger
Today, we're going to review the AOHI Magcube 30W USB-C Mini Fast PD Charger. This is a compact, lightweight charger that's designed to be carried in your pocket. It provides 30 watts of USB Type-C power, so you can fast charge most Android phones. It also boasts an efficient Gallium-Nitride (GaN) chipset.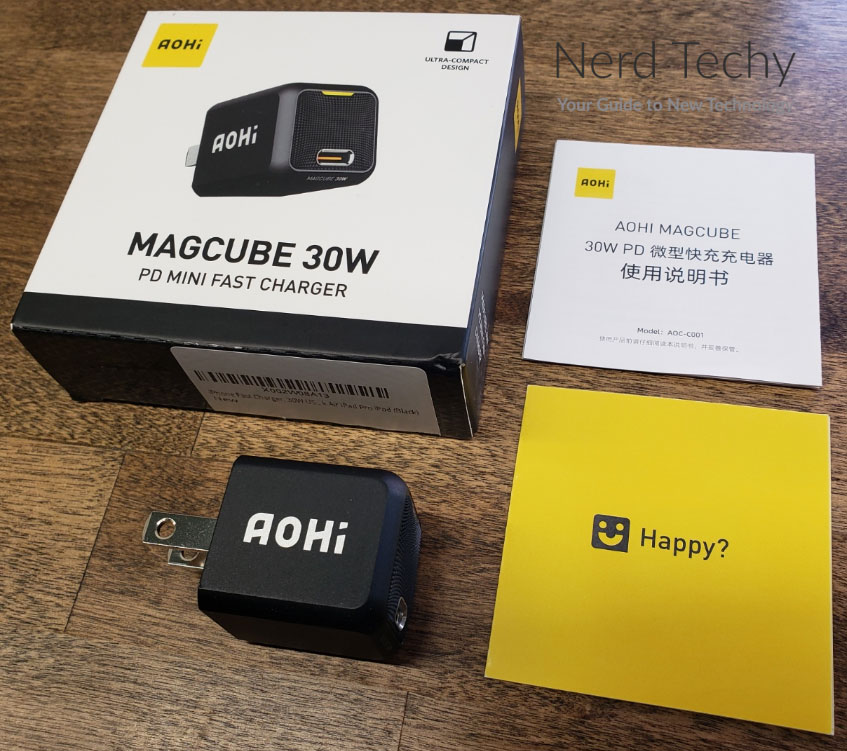 But there's a lot more that goes into making a good quality USB charger. To give this one a fair evaluation, we'll have to look at a number of features. We'll have to talk about the design and the physical construction. We'll evaluate the charging capability, and discuss which phones it's compatible with. Additionally, we'll also go over the circuitry and safety features. After that, we'll deliver our verdict. Let's begin!
Overall Design
The AOHI Magcube 30W USB-C Mini Fast PD Charger is constructed from a matte black plastic. The housing is easy to keep clean, and it doesn't collect any fingerprints. It's rectangular in shape, with rounded-off corners and edges. This eliminates any hard edges and makes the housing more durable.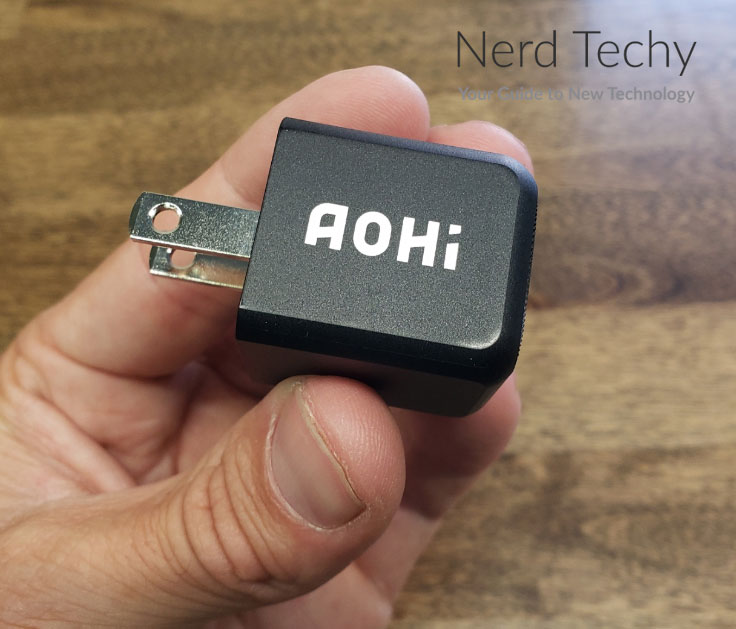 The sides, top, and bottom of the housing are entirely smooth. The word "AOHI" is printed in large silver letters on both sides. The front surface has a diamond texture, with the word "MAGCUBE 30W" printed in small white letters at the bottom. The overall size is 1.1 inches wide, 1.26 inches tall, and 1.26 inches thick. It weighs less than 1.5 ounces, so portability is not a concern.
On the front of the housing is a single USB Type-C port, located at the bottom center. It has an attractive yellow tab, and is reinforced with metal around the outside. This makes it more durable than most USB ports. At the top of the front of the housing is a LED bar. This bar lights up blue during normal charging. During fast charging, it flashes amber. During trickle charging, it turns green. We've seen indicators on small chargers before, but never one that gives this level of detail.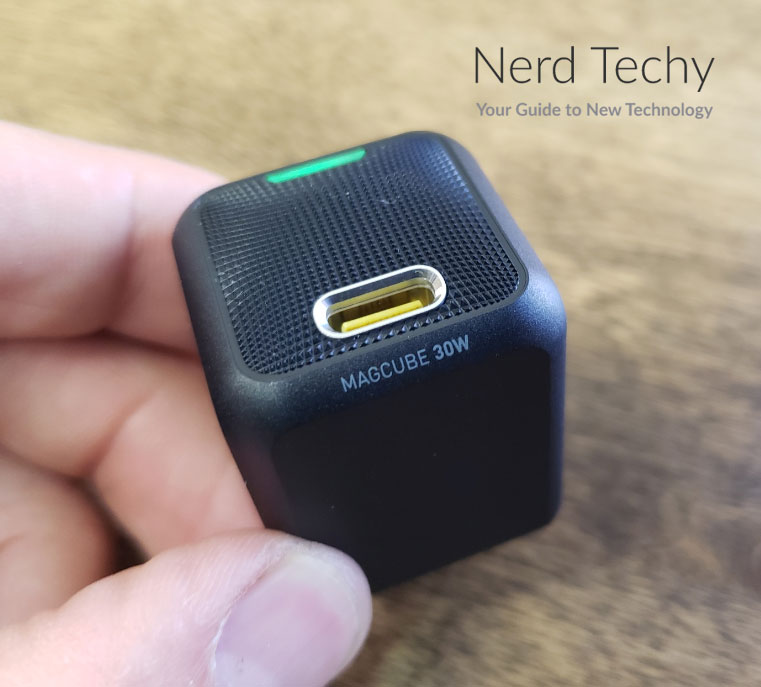 You can order the charger with or without a cable. The cable is 3 feet long, with a black nylon construction that makes it virtually tangle-proof. It also has yellow highlights on the tips to match the tab in the charger.
One thing we didn't like was the design of the prongs. They don't fold down, which exposes them to potential damage when you're traveling. If this is a deal-breaker for you, check out the Topvork TV-PC006. It sports dual USB Type-C ports, along with a pair of collapsible prongs. It also provides more charging power, but at the expense of a larger form factor.
Use code "AOHI30WB" for a 10% discount when you order the AOHI Magcube on Amazon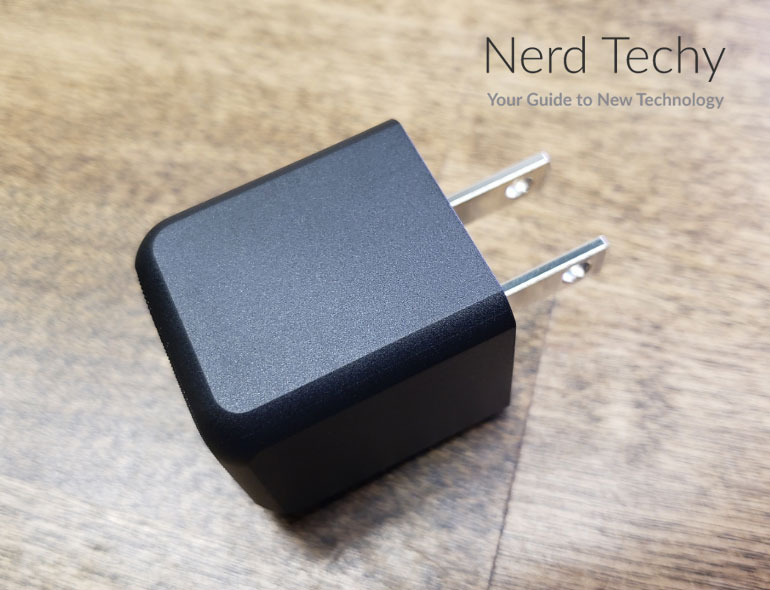 Charging Capability
The maximum capacity of the Magcube is in the name – it can deliver up to 30 watts of power. To put that in perspective, a standard USB Type-A port delivers 12 watts. With 30 watts, you can charge your smartphone substantially faster. Obviously, the exact speed will depend on the phone. But for a typical modern phone, you'll get a full charge in about 90 minutes. You can also get a half charge in around a half-hour. So if you have a fully dead battery, you'll get a useful amount of charge in a hurry.
That said, the Magcube doesn't have to provide 30 watts. Some electronics aren't capable of charging at that rate, and can even sustain damage. The internal circuitry will automatically detect your device's charging capacity, and adjust itself accordingly. If your device only accepts 12 watts, you'll get 12 watts. You can even supply a slow 3.3-volt, 3-amp trickle charge for smaller devices like watches.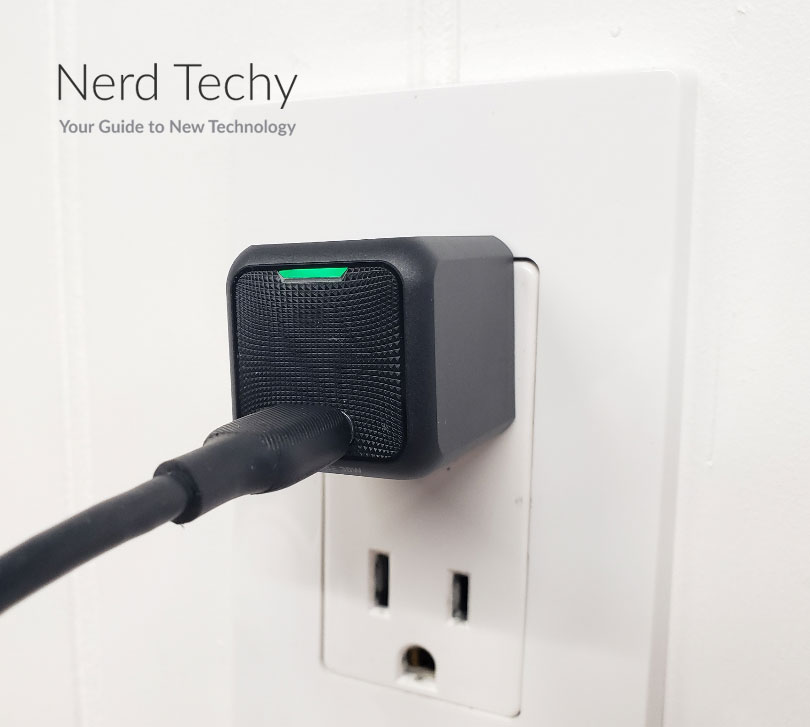 As you can see, this is a pretty flexible charger. But what if you want something even more powerful? In that case, the Lion Eclipse is an excellent choice. It's a powerful charging block with three wireless charging pads. It also sports a pair of 12-volt USB Type-A ports, and a USB Type-C port that delivers up to 85 volts. That said, it's big and bulky, and not convenient for travel.
Compatibility
This charger has only a single USB Type-C port. That's both a good thing and a bad thing. On the one hand, it's the most compact charging port there is. Even a USB Type-A port, while small, is larger.
Furthermore, more and more devices are switching over to USB Type-C charging, because it's faster. These days, the vast majority of Android phones have ditched Micro USB and switched over to Type-C. Laptops like the Microsoft Surface and MacBook Air use USB Type-C. With 30 watts of power, you won't be able to use a laptop while it's charging. But you'll be able to charge it just fine as long as it's powered down.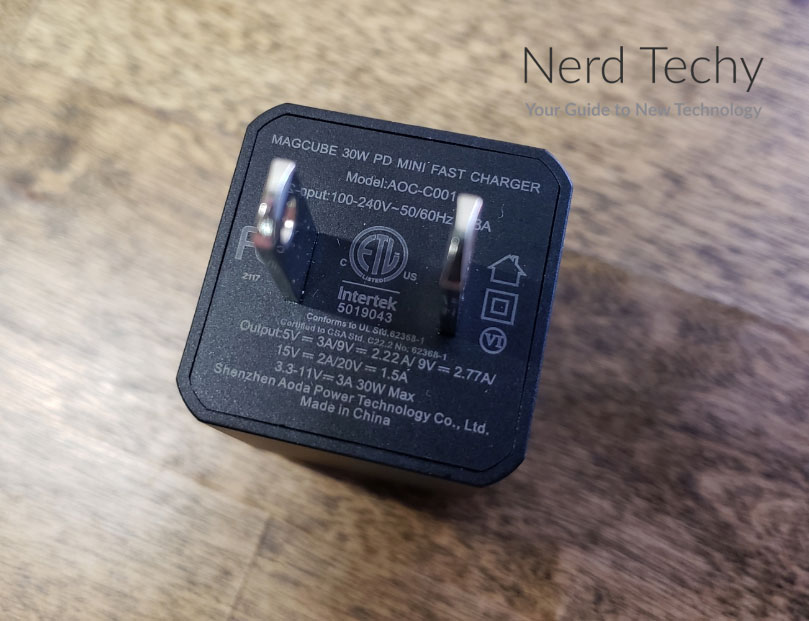 That said, there's a major fly in the ointment: Apple's iPhone. Apple has stubbornly refused to switch to USB Type-C, and clung to their old Lightning chargers. That's not to say you can't use the Magcube with your iPhone. But you'll either need an aftermarket USB Type-C to Lightning cable, or an adapter. In most cases, it would just be easier to get a different charger.
Safety and Extras
One thing we liked about the AOHI Magcube is its internal circuitry. Instead of traditional silicon, it's made from Gallium-Nitride (GaN). GaN circuitry was first developed for solar panels. Simply put, designers needed the most efficient circuitry possible, so they came up with a new material. Because GaN circuitry is more efficient, it wastes less electricity. You'll spend less money every time you charge your phone.
GaN circuitry is also known for its safety. While AOHI doesn't specify any precise safety protections, the GaN engineering is a definite plus. For what it's worth, the charger also doesn't seem to get too warm while it's in use.
If you're looking for a different alternative, consider the Voltme Revo 100. It has a pair of USB Type-C ports, each of which can deliver up to 100 watts of power. There's also a USB Type-A port, which delivers up to 60 watts. On the downside, it's not pocket-sized like the Magcube.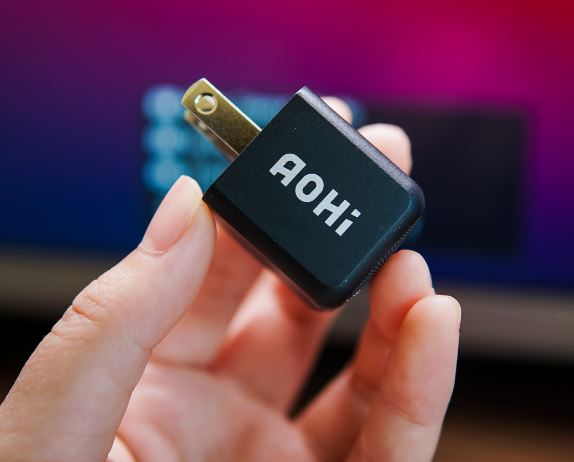 PD Power Basics
Before we deliver our verdict, let's take a minute to talk about USB Type-C Power Delivery (PD). PD power is the most advanced type of USB charging available, and can deliver up to 100 watts. In order to work, it requires a compatible port and cable. It won't work with just any equipment.
USB technology was first developed back in the late 90s by a group of technology manufacturers. The goal was to create a universal data cable and port that would work on any device. That's where the term USB comes from; it's actually short for "Universal Serial Bus." By design, USB wasn't intended to carry power. But like any pair of copper wires, a USB cable is able to deliver a charge.
At first, USB-powered devices used extremely low power. You could barely get a watt of power over an original USB 1.0 cable. But manufacturers immediately saw the potential. With enough power, you could run something like an external hard drive. This in turn led to higher-powered cables and ports. Eventually, you had enough power to charge a smartphone.
PD power was a response to demand for even more powerful USB chargers. For a laptop or other larger device, a standard 12 watts isn't going to cut it. But with up to 100 watts of power, PD chargers can handle these higher-powered devices. It's exciting to think of what the next generation of USB chargers will be capable of!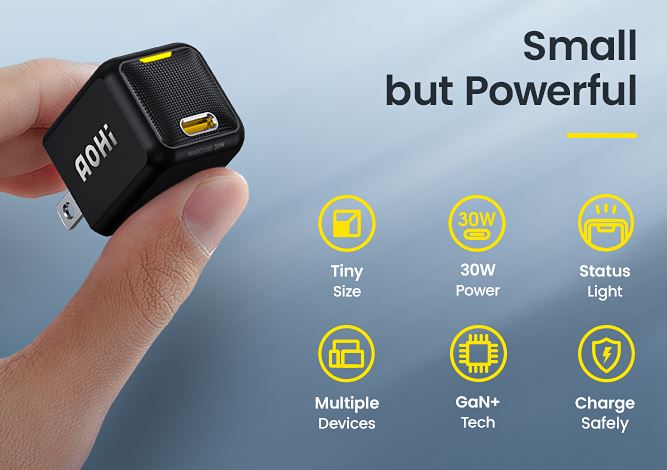 Final Verdict
The AOHI Magcube 30W USB-C Mini Fast PD Charger is a surprisingly powerful little device. With 30 watts of charging power, it can fast charge any modern smartphone in no time at all. You can even power USB Type-C laptops and tablets. It's also capable of charging lower-powered devices like watches and earbuds.
The design isn't perfect. The prongs don't fold down, which is something we typically look for in a portable charger. You'll also need an adapter if you want to charge an iPhone. But for the post part, this is a well-designed compact charger. All things considered, we give it a thumbs up! Don't forget to use code "AOHI30WB" for a 10% discount when you order the AOHI Magcube on Amazon.
Please consider sharing:
Note: At no extra cost to you, we may earn a commission for purchases using our links. Learn more.