These days, we count on our electronic devices to pull a lot of weight. Just think of all the things you do with your smartphone. Sure, you use it to keep in touch with friends and family. But if you're like most people, it's probably full of apps you use throughout the day. We use our phones for banking, watching movies, and sending money to our friends. We use them for ordering food, and for catching an Uber or Lyft ride. And if you're a fitness enthusiast, you probably have a fitness app and smart watch. And let's not forget your favorite music streaming service, and the attendant wireless earbuds.
Point being, this is a lot to keep charged. A few years back, you only had to plug in your smartphone now and then. But today, you need to charge your phone, watch, and earbuds on a daily basis. This can be inconvenient under the best of circumstances. Even if you've got a multi-port charger at your disposal, you'll have wires running everywhere. Thankfully, most newer devices support wireless charging. While wireless charging is slower than wired charging, it has one major advantage; there aren't any wires. All you have to do is set your phone, watch, or earbuds on the charging pad, and let it do its thing.
The Lion Eclipse 3-in-1 Wireless and USB Charger is a powerful charging tool with many functions. For one thing, it has three wireless charging pads. This allows you to charge your phone, smart watch, and earbuds simultaneously, without any cords. For another thing, it has three wired charging ports, for charging devices that aren't wireless-compatible. It also has an internal power bank with a 27,000mAh capacity. But how does it work, and what can you expect from it? To find out, we'll take a thorough look at all aspects of the design. We'll discuss the physical construction, and how it's put together. We'll talk about the charging power from each of the charging methods. Additionally, we'll also talk about safety, and the long-term performance of the battery. At that point, we'll know everything we need to know to give a fair judgement. Let's get started, and see what we discover!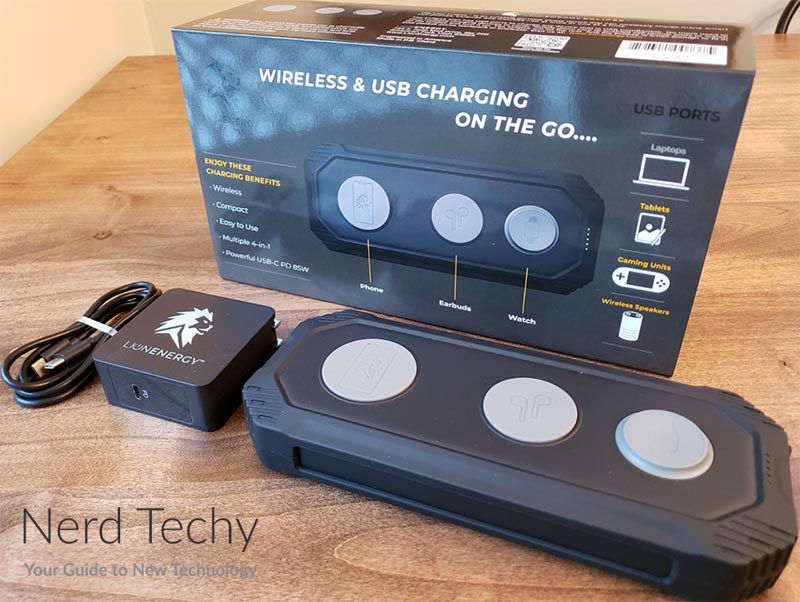 What is PD Charging?
Before we go any further, we're going to be dealing with USB Power Delivery, or "PD" for short. USB PD is an enhanced version of USB that delivers more power than standard USB. But what exactly is the difference?
The earliest versions of USB didn't actually deliver any power. USB was originally designed as a data transfer-only format. But where there are wires, you can send a current. And although the earliest USB ports only delivered a trickle of power, some devices could run on it. With the release of USB devices, the USB Promoters Group built more power capacity into later USB versions.
Nowadays, most USB drives are one of two types: USB 3.0, and USB 3.1. USB 3.0 delivers 5 volts at 2.4 amps, which works out to 12 watts of power. USB 3.1 is a little more robust, and supplies 15 watts. That's enough for modern smartphones, even when the phone is in use. But if you're using a more powerful device, like a laptop, you'll need more power. That's where USB Type-C PD comes in. With PD technology, you can deliver up to 100 watts, enough for a 96-watt MacBook Pro 16".
That said, keep in mind that not all USB PD ports and cables are the same. Some only support as little as 18 watts. If you're using a 45-watt power bank, you'll only ever get 45 watts, no matter how much your device can draw. That's why it's important to do your research beforehand. You need to know whether a given PD power source is powerful enough for your device.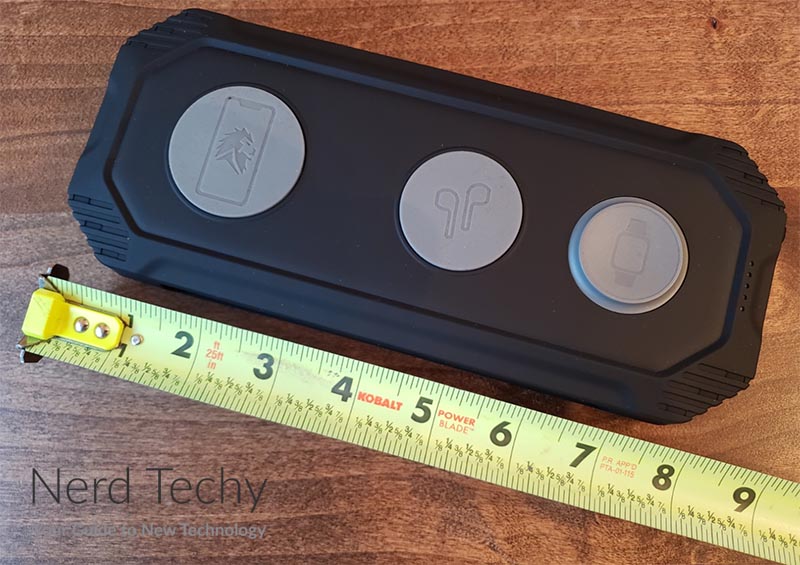 Overall Design
The Lion Eclipse has a rectangular housing that's cut off at the corners. It's constructed from black ABS plastic, with a matte finish that won't show any fingerprints. The total length is 8.5 inches, with a width of 3.5 inches and a thickness of 1.3 inches. That's a bit bigger than most power banks with this capacity, but it's necessary to fit the wireless charging components. The overall weight is surprisingly light for the size, at only two pounds. So while this isn't exactly a pocket-sized power bank, it's small enough to carry with you in a laptop bag. For most people's purposes, that should be more than sufficient.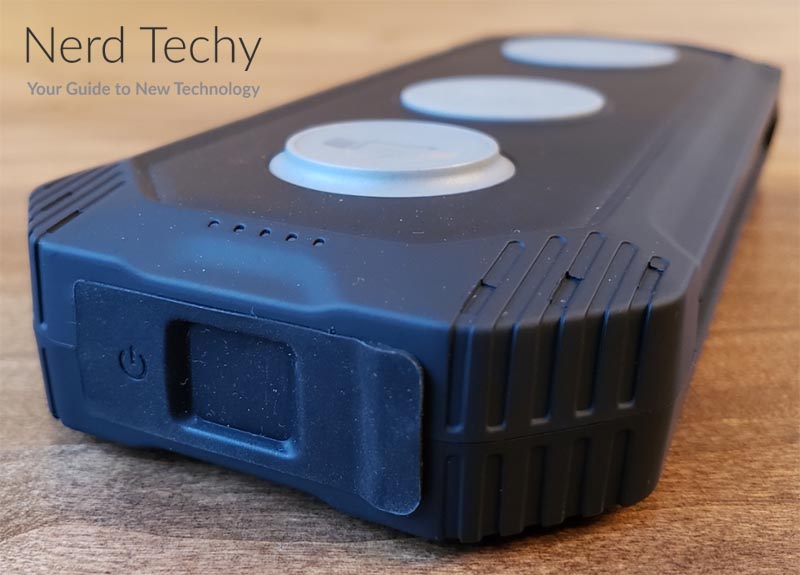 If size is a concern and you want something that's easier to transport, check out the iWALK Link Me 4. This is a miniature power bank that plugs directly into the bottom of your smartphone while you talk. That said, it only works with USB Type-C phones, and the capacity is correspondingly small.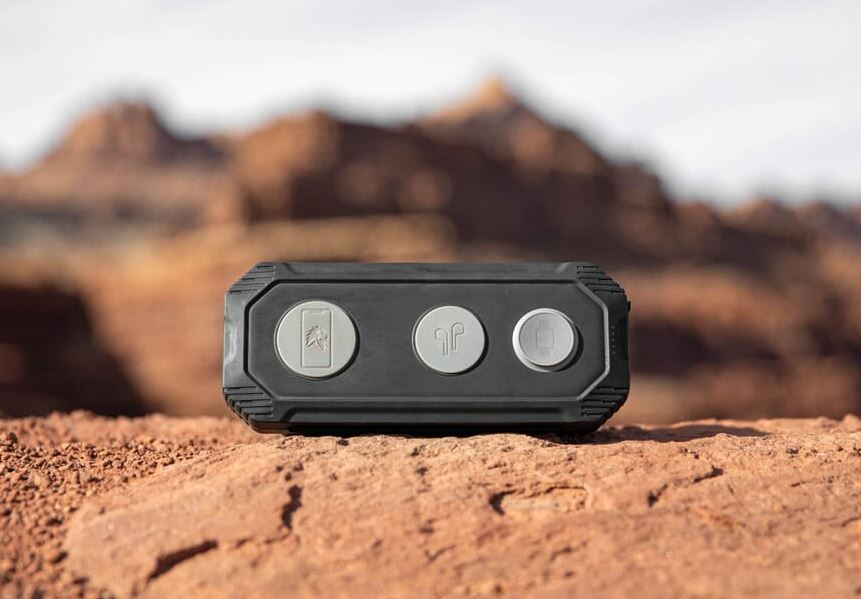 On the top of the Eclipse's housing, you'll see a row of three grey wireless charging pads. All three are round, but they get smaller as you go from left to right. The largest, left hand pad is for your smartphone. The medium-sized, middle pad is for your earbuds. The smallest, rightmost pad is for your smart watch. There are appropriate symbols embossed on each pad, so you can remember what's what. This isn't to say you can't charge a smartphone on the earbud pad or vice-versa. But as we'll see, the charger works best when it's used as intended. To the far right of the top surface, there's a row of five small white LED pips. These light up when the charger is in use, and indicate the current battery level.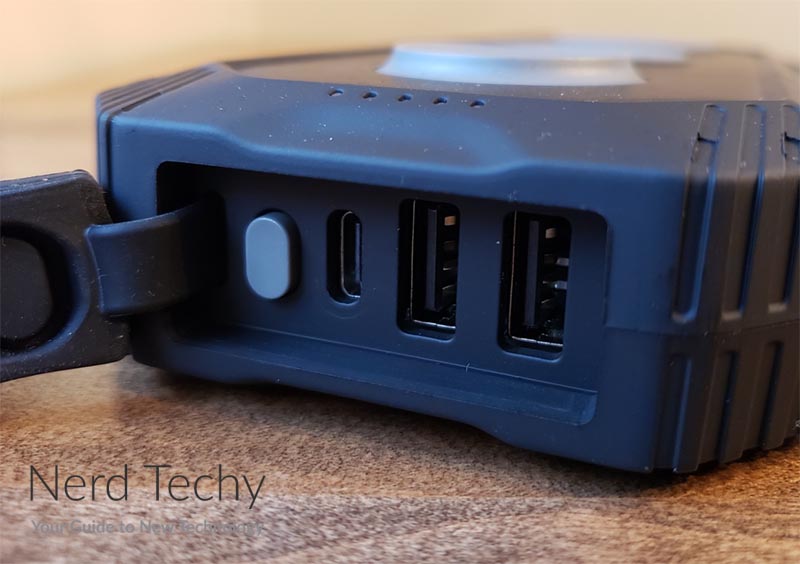 On the end of the charger, at the same end as the lights, you'll find the power input and output ports. These are recessed in an indent in the housing, which keeps any inserted plugs from being easily damaged. Towards the top, there's a pair of USB Type-A ports for charging your devices. Next, there's a USB Type-C port, which is also for charging your devices. After that, you'll find the power button, which turns the power bank on and off. If you're plugged in and not getting a charge, press this button. On the other side of the power button is a second USB Type-C port, for charging the Eclipse itself. The opposite end of the housing is entirely bare, as is the back.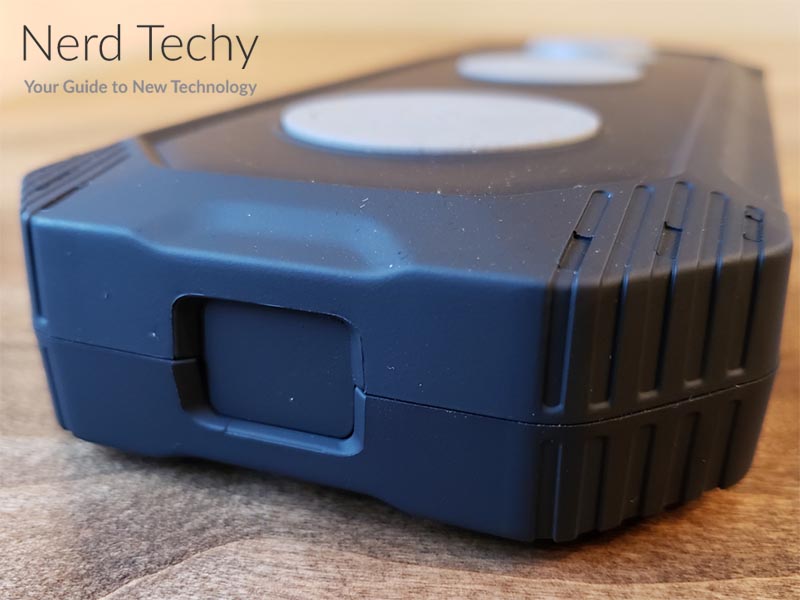 Charging Power
So, we've seen that the Eclipse is a well-built charger with a straightforward design. But what can it actually charge? Let's start with the basics. The battery has a capacity of 27,000mAh, which is enough to charge the average smartphone around 10 times. For earbuds, this goes up to 45 times, which is again a rough average. For smart watches, you could get a full 75 charges. Keep in mind, though, that earbuds and smart watches are low-wattage devices. If you're trying to run a laptop, on the other hand, you'll only be able to get a full charge on a smaller machine.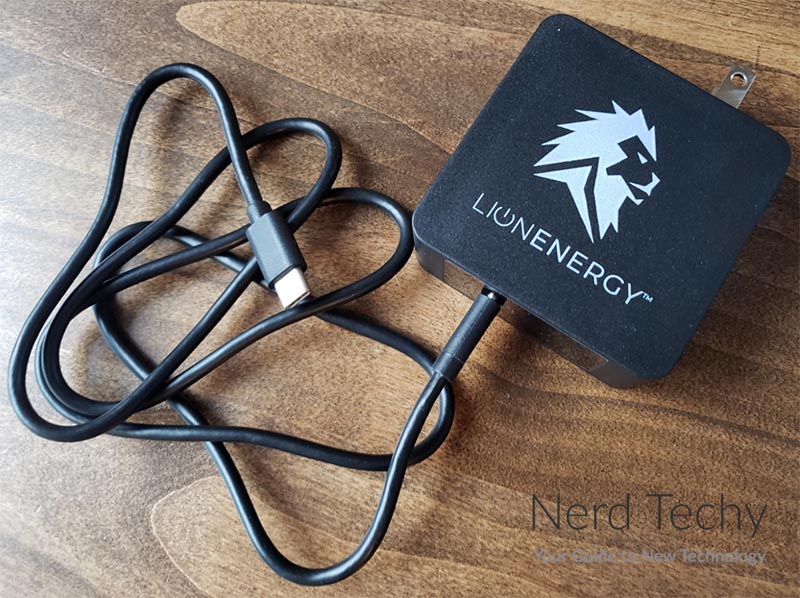 Recharging the internal battery is easy, via USB Type-C. When using a 60-watt PD power source, it will recharge in only 90 minutes. This will take correspondingly longer if you're using a slower AC adapter. For example, if you're using a traditional 12-watt charger, it will take more like 7 ½ hours. That's still not bad, but you'll obviously get better results with a better charging adapter.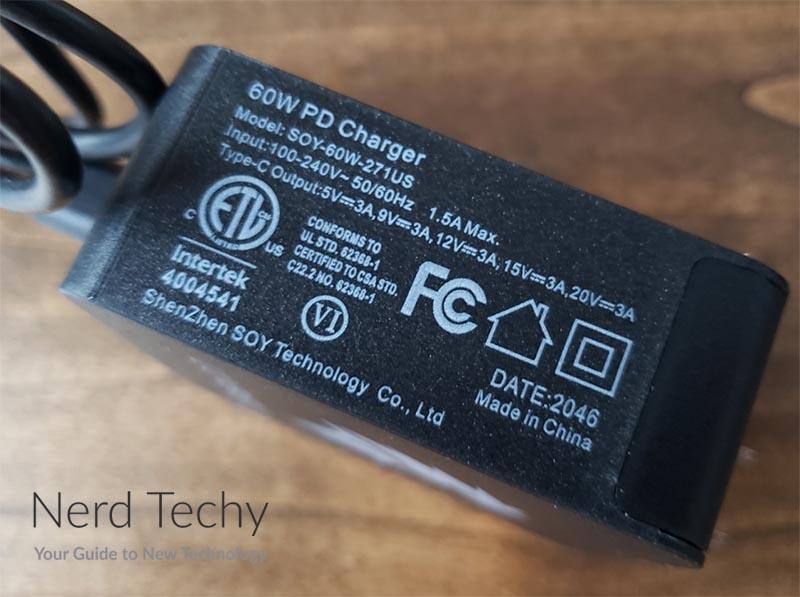 The rate at which your devices charge will depend on which port you're using. The two USB Type-A ports are standard 12-watt ports, nothing special. They'll work fine for any USB device, and you can get maximum charging speed on lower-wattage device. You just won't get any kind of fast charging performance. The USB Type-C port, on the other hand, is a true PD power port. It has a charge speed of 60 watts, enough to charge even most laptops at maximum speed.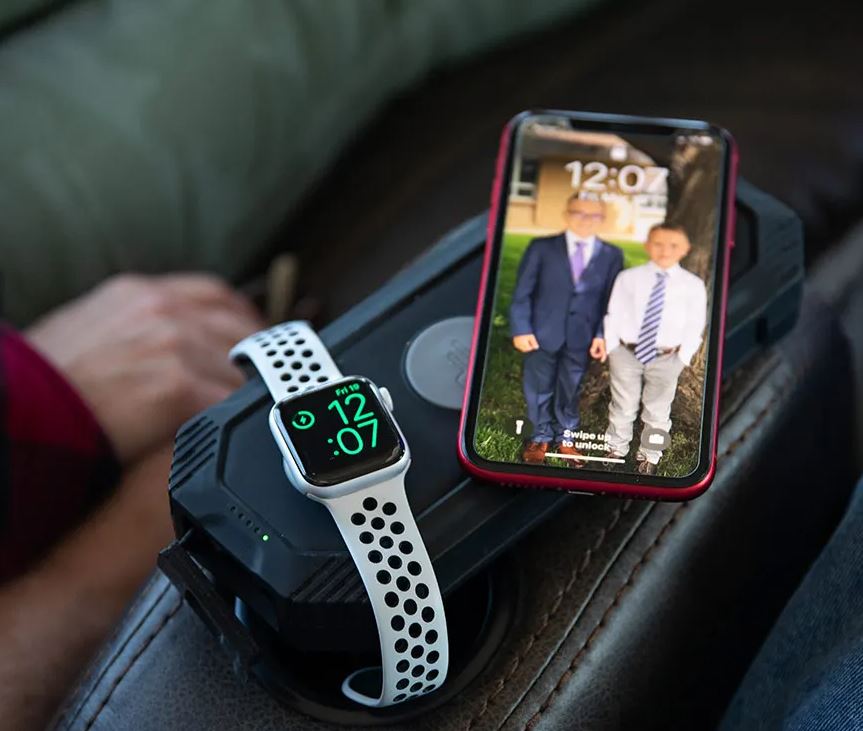 The three Qi wireless charging pads also charge at different speeds. The largest one charges at a rate of 10 watts, the middle at 5 watts, and the smallest at 2. Keep in mind that your actual performance will depend on your device. The latest iPhones, for example, support a maximum charge speed of 7.5 watts. So even on the 10-watt pad, you'll only charge at 7.5 watts. As you can see, it makes a big difference which pad you use. If you were to put your phone on the tiny pad, it could take several hours to charge.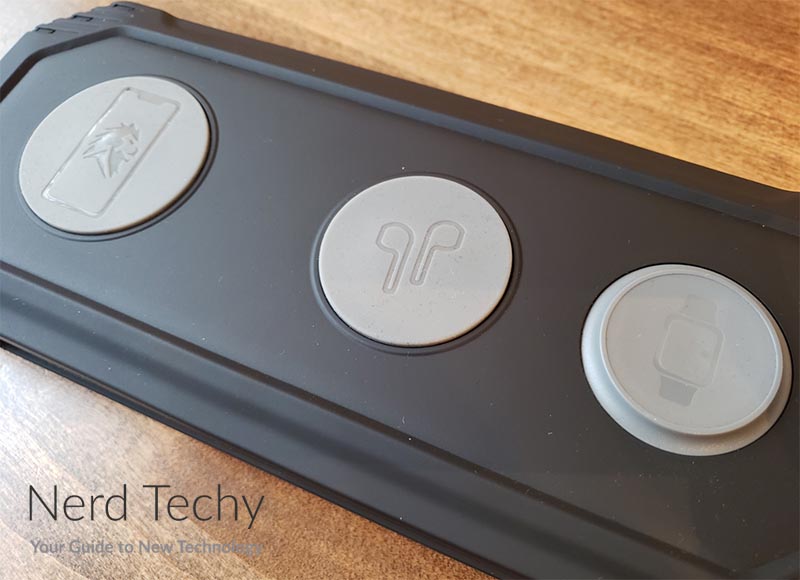 Travel and Safety
The Eclipse seems to have been built specifically with air travel in mind. Despite its relatively bulky size, the battery carries a total charge of only 99.9 Watt-hours (Wh). The TSA maximum for air travel is 100Wh, so you're all set up to fly. Then again, you might still prefer a power bank with a smaller profile. In that case, consider the UGREEN PowerDot. It's slimmer and more compact, and works with any smartphone. That said, there's no wireless charging, and the overall battery capacity is lower.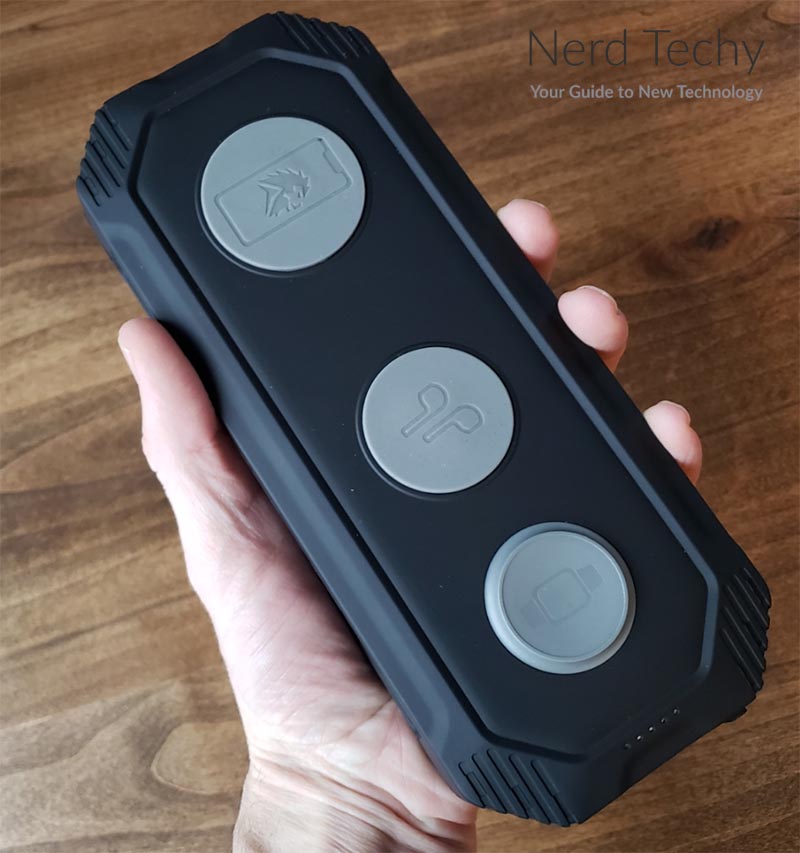 The Lion Eclipse uses all the safety measures you'd expect from a modern wireless charging station. It has protection from overcurrent, short circuits, and over-voltage. This ensures that your devices won't get damaged due to an excessive electrical charge. In addition, the battery is a Lithium Iron Phosphate (LiFePO4). LiFePO4 batteries are the latest in lithium technology, and offer superior reliability to older varieties. This one is rated for 1,000 duty cycles, which is a pretty impressive number. That means that after 1,000 full charges and discharges, you'll still have 80% of your original capacity.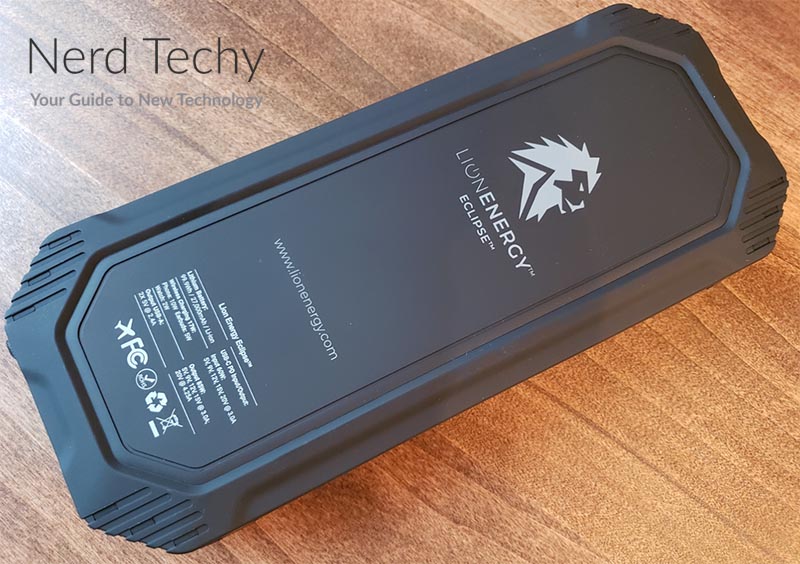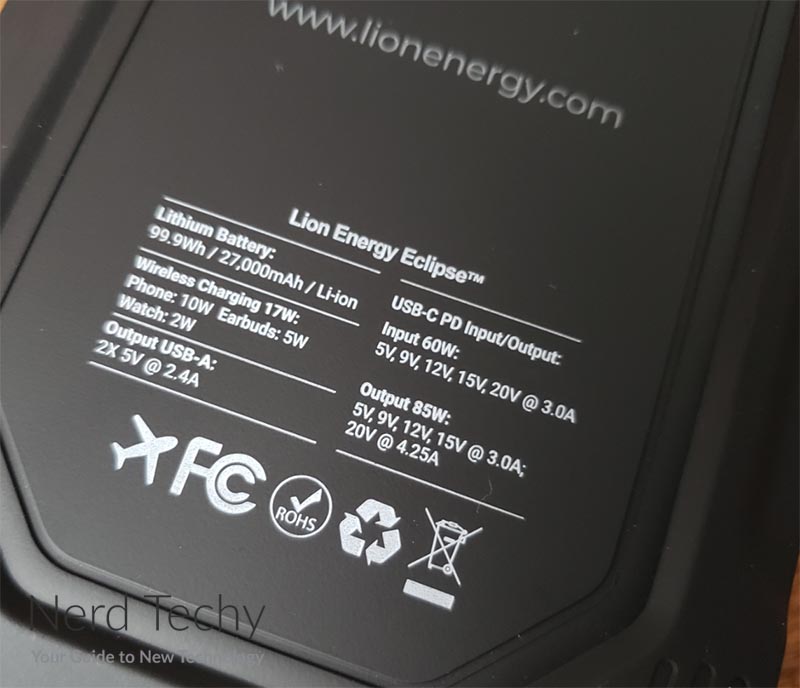 Final Verdict
The Lion Eclipse 3-in-1 Wireless and USB Charger is a powerful, versatile power bank. With 27,000mAh of capacity, it was a bit disappointing for the size. But even so, it packs enough power to recharge most smartphones at least 10 times. Moreover, the slightly limited power keeps it under the threshold for air travel, a crucial feature for many people. You can charge wired or wirelessly, so you have plenty of ways to keep your devices powered up. And with a rugged design and LiFePO4 battery, you have a power solution that can last for years.
Meet Derek, "TechGuru," a 34-year-old technology enthusiast with a deep passion for tech innovations. With extensive experience, he specializes in gaming hardware and software, and has expertise in gadgets, custom PCs, and audio.
Besides writing about tech and reviewing new products, Derek enjoys traveling, hiking, and photography. Committed to keeping up with the latest industry trends, he aims to guide readers in making informed tech decisions.