Lankey U-AIR4
Pros
Rich audio with good bass.
Excellent ergonomics and very comfortable.
High-capacity charging case doubles as a power bank.
Impervious to water.
Also available in pink.
Cons
Need to press cable hard to plug in.
Underwhelming battery life.
Finding a good pair of wireless earbuds can be a challenge. It's not that there aren't enough options; on the contrary, there are too many. The reason for this is straightforward. There are tons of small startup companies that want to break into making electronics.
But when you're a small company with a limited budget, what do you start with? Something big and complicated, like a stereo system? Or something small and relatively simple, like a pair of earbuds?
Note: At no extra cost to you, we may earn a commission for purchases using our links. Learn more.
As a result, there's an absolute torrent of new wireless earbuds on the market. Run a quick Google search, and you can find literally thousands of options. This leads to a sense of overload.
How can you possibly look at them all? And if you can't, how do you know you're getting the best choice for your needs?
The best way to make a decision is to start by eliminating your options. Think of the features you need, and look for earbuds that fit that profile. This will considerably reduce the number of earbuds you need to choose from.
One good example is ergonomics. Maybe you're not using the earbuds that often and you'll mostly be using them in one ear.
In that case, ergonomics won't be at the top of your list. But what if you have sensitive ears or want to wear your earbuds for long periods? In those situations, ergonomics will be very important.
Lankey U-AIR4 Wireless Earbuds
We're about to review the Lankey U-AIR4 Wireless Earbuds. These are compact, in-ear buds that are designed for excellent ergonomics. They also offer surprisingly good audio quality, especially considering how affordable they are. And with IPX8 water-resistance, you don't have to worry about moisture damage.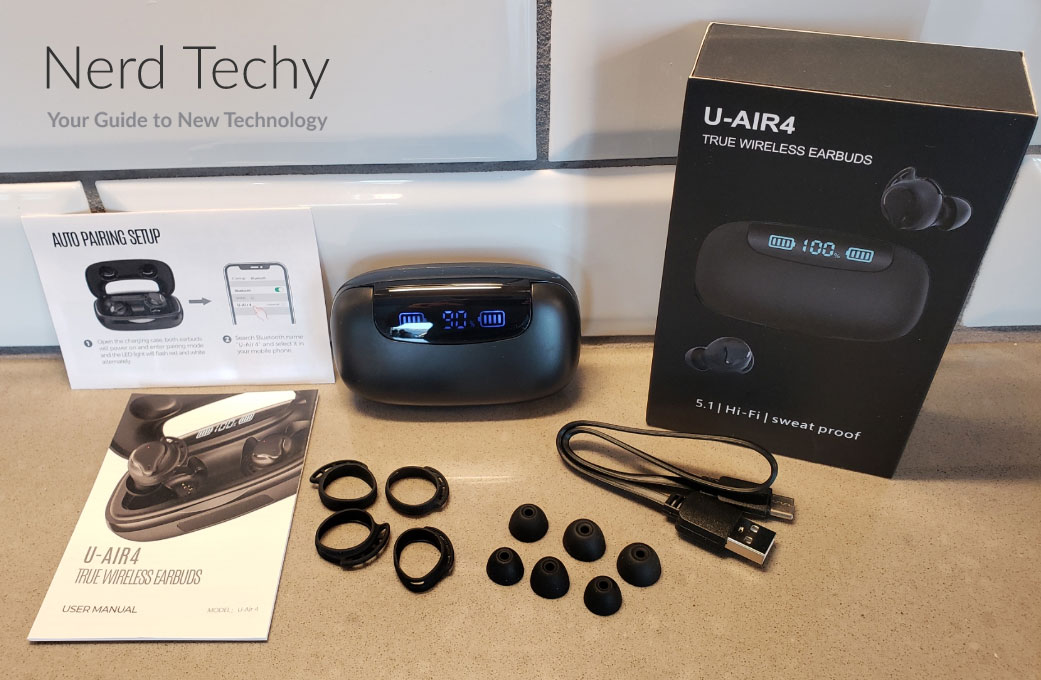 But there are many other features that go into a good pair of wireless buds. To fully evaluate these earbuds, we'll have to look much closer. We'll need to discuss the design and the physical build, as well as the aesthetics. We'll discuss the Bluetooth performance and battery life, along with any relevant extra features. After that, we'll have a clear picture of what we're dealing with. Let's begin!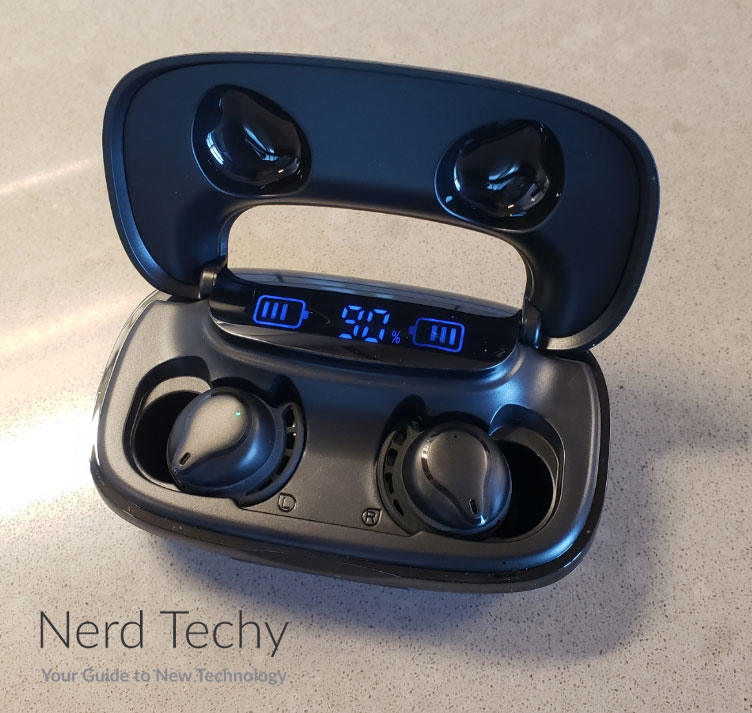 Overall Design
The Lankey U-AIR4 Wireless Earbuds are compact little buds with glossy plastic shells. They're available in black or pink to fit a variety of tastes. The shape is almost entirely curved, so the bud fits easily into your ear. There are no downward-hanging studs or other protrusions.
The backs of the earbuds break from this curvy aesthetic, and are instead entirely flat. These areas serve as soft touch controls, and are easy to operate. You can answer and end phone calls, play or pause your music, and skip tracks forward and backward. You can also adjust the volume and access your phone's voice controls. The flat design, meanwhile, makes the controls easy to locate. You won't have to fumble around for them.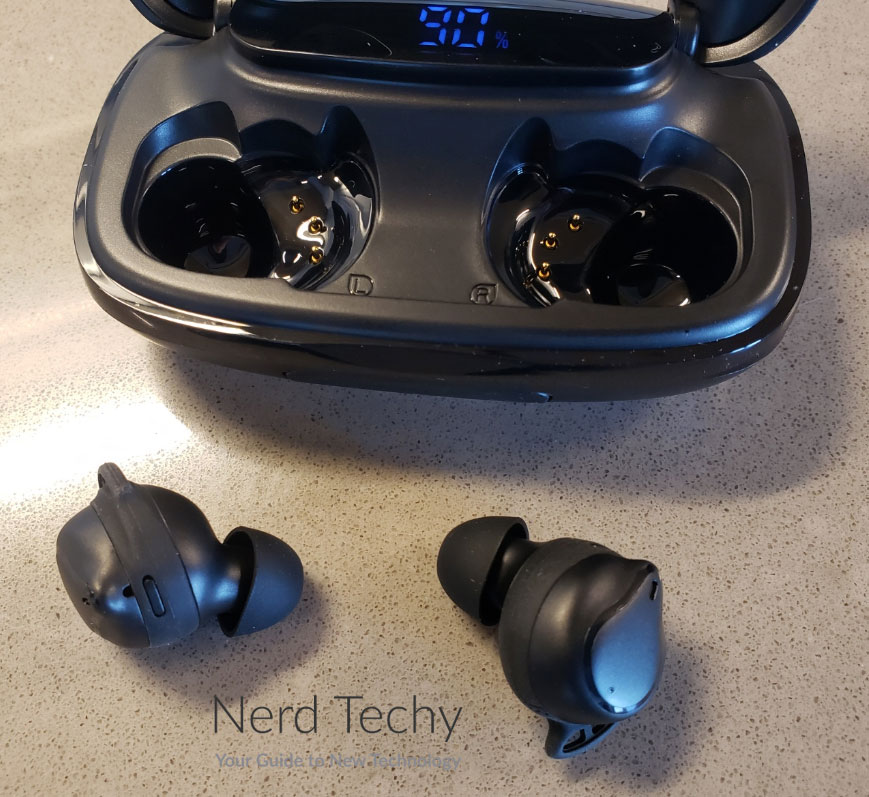 The U-AIR4 earbuds come with a water-resistance rating of IPX8. This is the highest rating available, but it's hard to say what it means because it involves custom testing. What we can say for sure is that it exceeds IPX7 performance. This means it can be submerged at a depth of 1 meter for a minimum of 30 minutes. In other words, you could technically take it swimming.
Along with the earbuds, you get a charging case that's constructed from a matching glossy plastic. It's broad and flat, with a roughly-rectangular profile. It's also slim enough to easily slip into your pocket. The earbuds are magnetized, and snap right into a pair of molded wells for charging. You don't have to worry about them failing to make proper contact.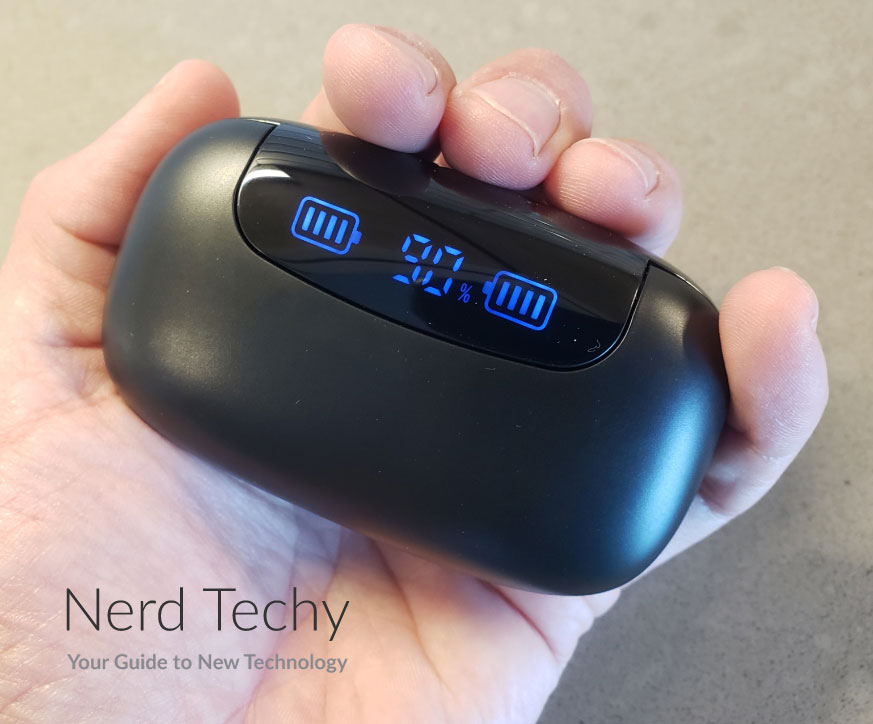 The lid has a clamshell-style design, with a cutout at the top center. This cutout leaves room for a built-in LCD display, which you can read whether the lid is open or closed. To the left and right, the display sports a pair of classic four-bar battery meters, one for each earbud. In the middle, it shows the status of the charging case battery, displayed as a percentage.
Fit and Comfort
The U-AIR4 earbuds are very comfortable in almost any ear. The silicone tips at the front are nice and soft, and slip comfortably into your ear canal. Meanwhile, there's a curved rubber fin on the back side of each bud. The fin helps keep the earbuds in your ears, even if you're running, jumping, and exercising.
The kit includes three sets of tips and three sets of retaining fins. They're sized large, medium, and small, and you can mix and match different fins and tips. Out of the box, the medium fins and tips will be installed. But they're easy enough to swap out to get a comfortable fit.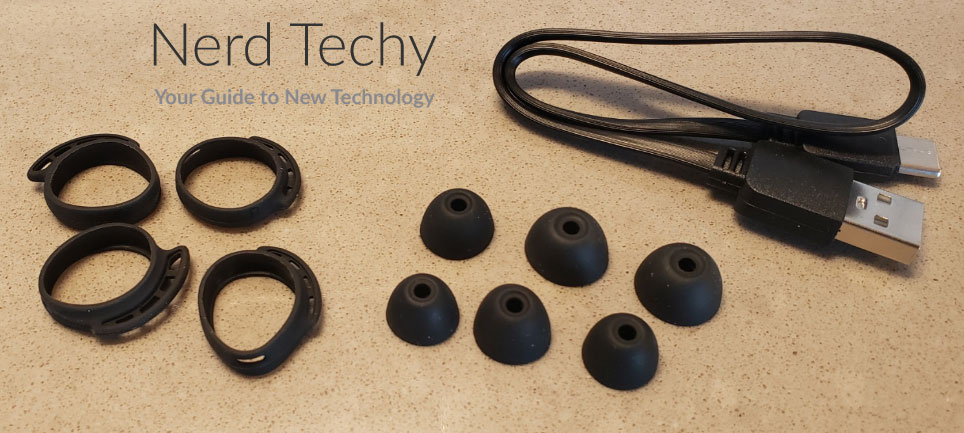 It's well worth your while to play around with different sizes and see how they work. Number one, your earbuds will be more secure. For another thing, you'll be more comfortable. But you'll also get a better seal. When the silicone seals against the insides of your ears, it goes a long way to blocking out outside noise. So it's not just about fit and comfort – it's also about maximizing your listening enjoyment.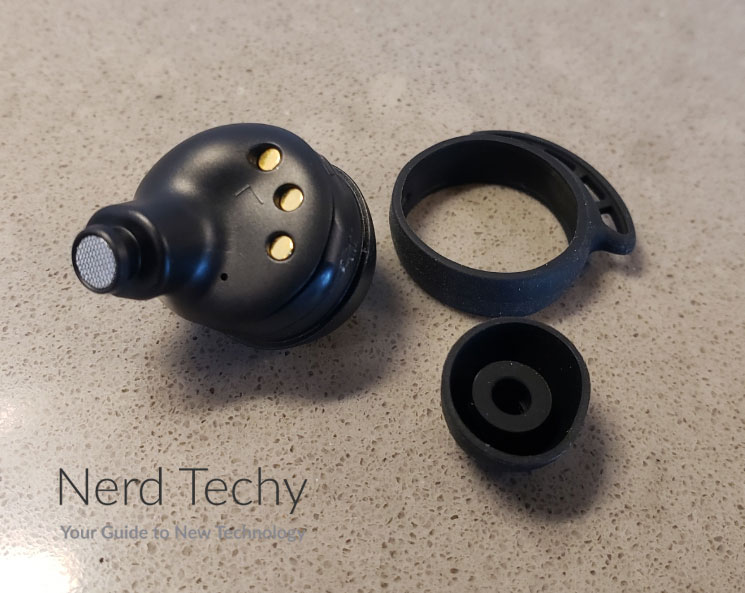 Pairing
The Lankey U-AIR4 earbuds utilize a Bluetooth 5.1 chipset. This is an upgraded version of the current standard, Bluetooth 5.0. It's far superior to USB 4.2 for a few reasons. To begin with, the signal is more stable. You don't have to worry about random connections or disconnections.
For another thing, Bluetooth 5.1 has lower latency – even less than Bluetooth 5.0. This means your video and your audio will be in better sync. You won't notice any difference when you're watching videos. But if you're playing games that rely on quick reaction speeds, you'll see a slight improvement.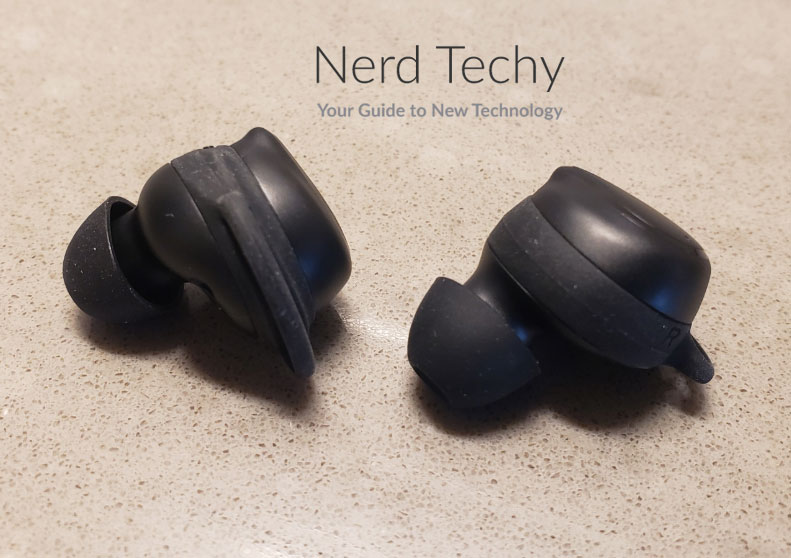 Finally, Bluetooth 5.1 has more bandwidth. You can listen to higher-quality audio than you could on Bluetooth 4.2. If you want to listen to high-definition music, you can.
One thing these earbuds don't do well is mono mode. If you'll frequently use only a single earbud, consider the SoundPEATS Air3 Deluxe, instead. It works well in stereo or mono mode, so it's great for phone calls. It also has rich audio for the price. On the downside, the hard plastic tips aren't comfortable for extended wear.
Battery Performance
On a single charge, the U-AIR4 earbuds will run for about 5 hours. That's assuming you're listening at medium volume. If you're listening at higher volumes, 4 hours of battery life is more realistic. This isn't exactly impressive, but it's not terrible, either.
That said, the charging case has more than enough capacity. It has enough charge for an additional 175 hours for a total of 180 hours. Even at top volume, you're looking at an insane 150 hours of listening time.
The case charges via USB Type-C, and a short charging cable is included in the kit. It works well, and charges in around two hours. That said, the plug has a very tight fit. Double-check to make sure you've inserted the plug all the way.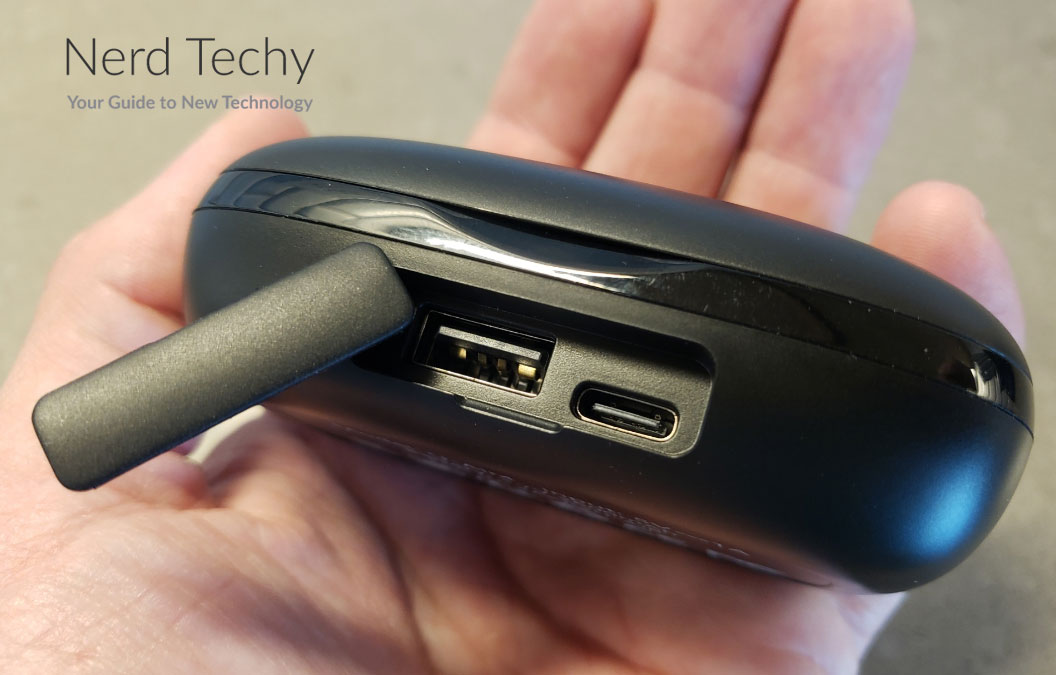 If you want a longer-lasting pair of earbuds, check out the SoundPEATS Air3 Pro. These are active noise cancelling (ANC) earbuds, with an AirPod-style design. During normal use, the batteries will last around 6 hours. But with ANC mode on, they'll be comparable to the U-AIR4 buds.
Audio Quality
These earbuds boast a pair of 8mm graphene drivers. That's only slightly larger than average, but it's impressive considering the small size of the shells. You'll get good response across all frequencies, from the lowest lows to the highest highs. We were particularly impressed with the bass, which is tight and surprisingly strong. At this price point, bass tends to be rumbly or muddy, and Lankey has done a great job.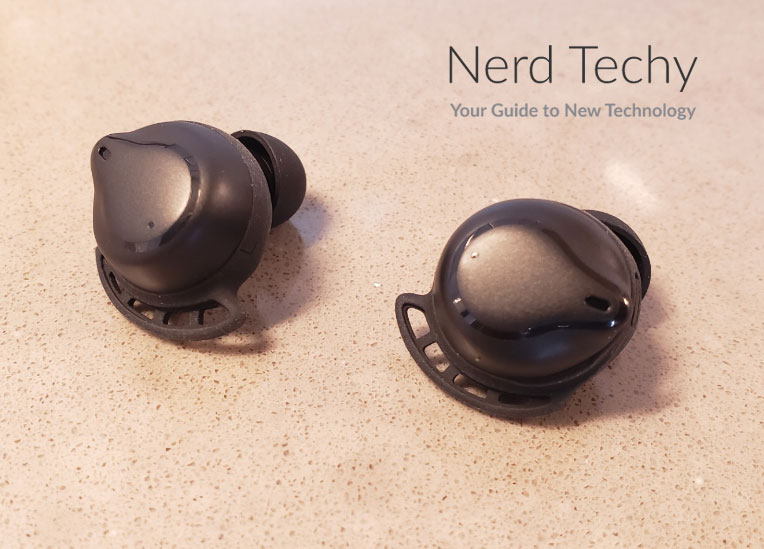 You also get a wide soundstage. There's a real sense of separation between different instruments in the track. Again, this is an improvement from most affordable earbuds, where the instruments can be squished together. Instead, it sounds like you're sitting in a room with the musicians. The same is true for movies and gaming. You'll get the complete stereo experience.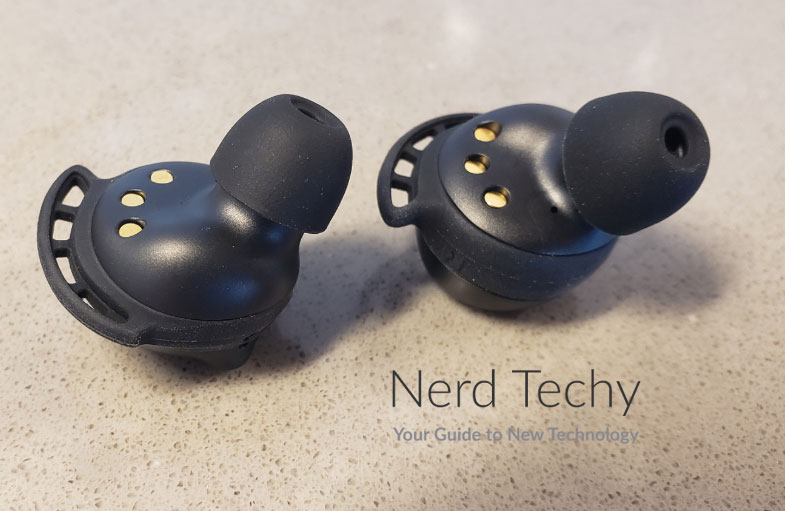 One thing the U-AIR4 buds don't offer is ANC functionality. While the ear tips provide a good seal, you'll still hear some outside noise. If ANC is important to you, the Enacfire A10 is an excellent set of buds. In addition to ANC, they offer rich audio quality and similar ergonomics. Then again, the battery life is even shorter than the U-AIR4.
Extra Features
In addition to keeping your earbuds charged, the U-AIR4's charging case serves another function. Plug a phone into it, and it will work as a portable power bank! This is great if you get into a jam and need to top off your phone battery.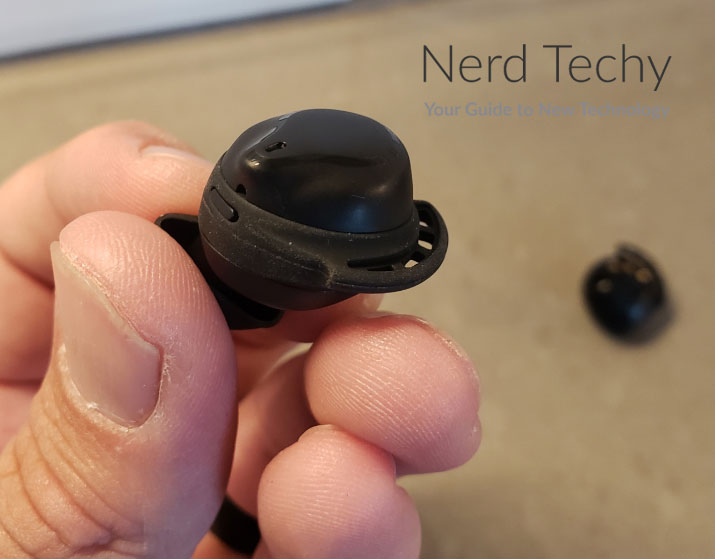 We should be clear that this shouldn't be your primary power bank. It has a capacity of 2,600mAh, compared to the iPhone 13's 3,227mAh battery capacity. In other words, you won't even get a complete charge, even if the charging case is completely full. But as an emergency backup, it's a great extra feature.
Lankey backs the U-AIR4 with a 180-day manufacturer's warranty. That's only around six months, and it's not terribly impressive. On the other hand, it's better than nothing, and it's nice that Lankey is willing to back up their promises.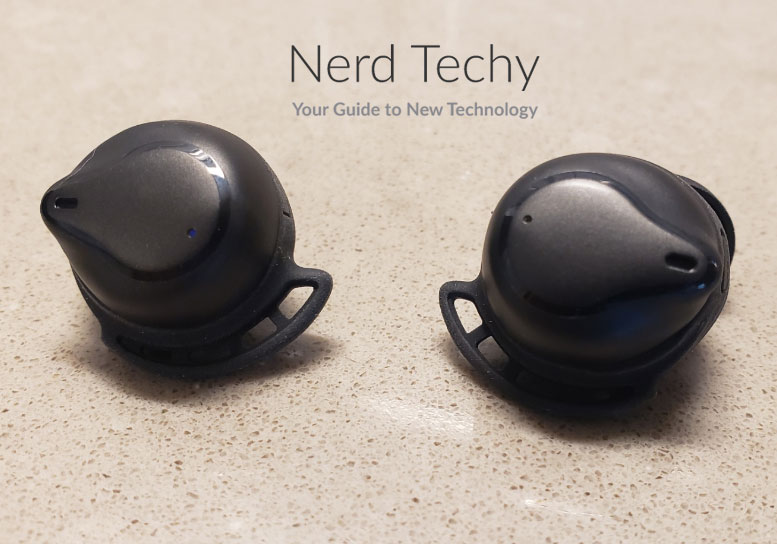 Final Verdict
As you can see, the Lankey U-AIR4 Wireless Earbuds are very well designed. For one thing, we absolutely loved the ergonomics. Between the ear tips and the fins, you'll get a fit that's both secure and comfortable. We also liked the fact that you can use the charging case as a power bank.
No earbuds are perfect. We would have liked to see a little bit more battery life from the U-AIR4 buds themselves. That said, you're getting very good audio quality for the price. You also get easy pairing, easy charging, and a reliable Bluetooth connection.
Please consider sharing:
Note: At no extra cost to you, we may earn a commission for purchases using our links. Learn more.