ENACFIRE A10
Pros
Very good audio quality for the price.
Powerful ANC performance with transparency mode.
Rated for full submersion in water.
Very comfortable and form-fitting.
Case offers wireless charging.
Cons
ANC mode drains batteries quickly.
Battery life is not as accurate as advertised.
Only available in black.
Searching for a good pair of headphones isn't always easy. In fact, it can be more painful today than ever before. The reason for this is that there are far more choices than before. A few years ago, you had few choices other than Apple's AirPods. Of those, you either went with a brand name option, or accepted relatively poor quality.
But as the saying goes, nothing succeeds like success. With the AirPods' explosive sales, other manufacturers took notice. And with small electronics being relatively cheap to produce, a flurry of companies have rushed to the market. Now, an internet search for wireless earbuds returns literally thousands of options. Even Covid hasn't put a stop to this trend, and the wireless earbud market continues to boom. This explosion of options has flooded the market with duds. It can be difficult to determine what's what until you've already spent your money.
At the same time, though, increased competition has led to more features at lower prices. If you know what you're looking for, you can find some excellent value. This is particularly true if you stick with brands you know and trust, like ENACFIRE.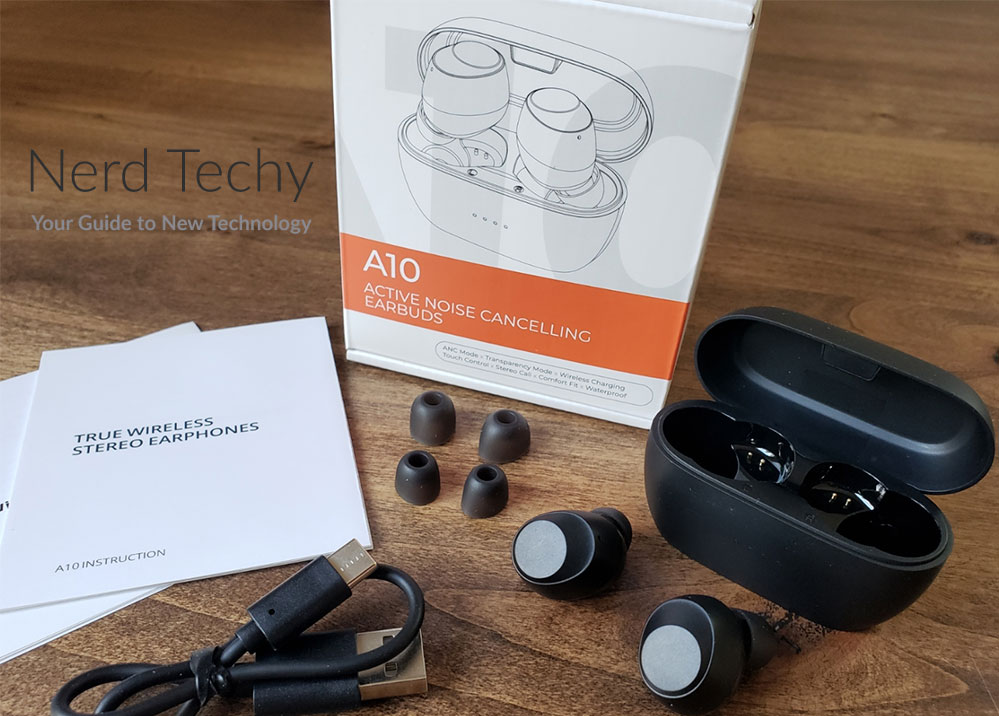 Now, we're going to review the ENACFIRE A10 ANC Wireless Earbuds. These are generic-style earbuds with an in-ear design. But they come with a lot of the latest features, including some you might not expect. To find out how they perform, we'll look at their design, their battery life, and the wireless connection. Before we wrap up, we'll also talk about the audio quality, and how well the noise cancellation works. Let's take a closer look!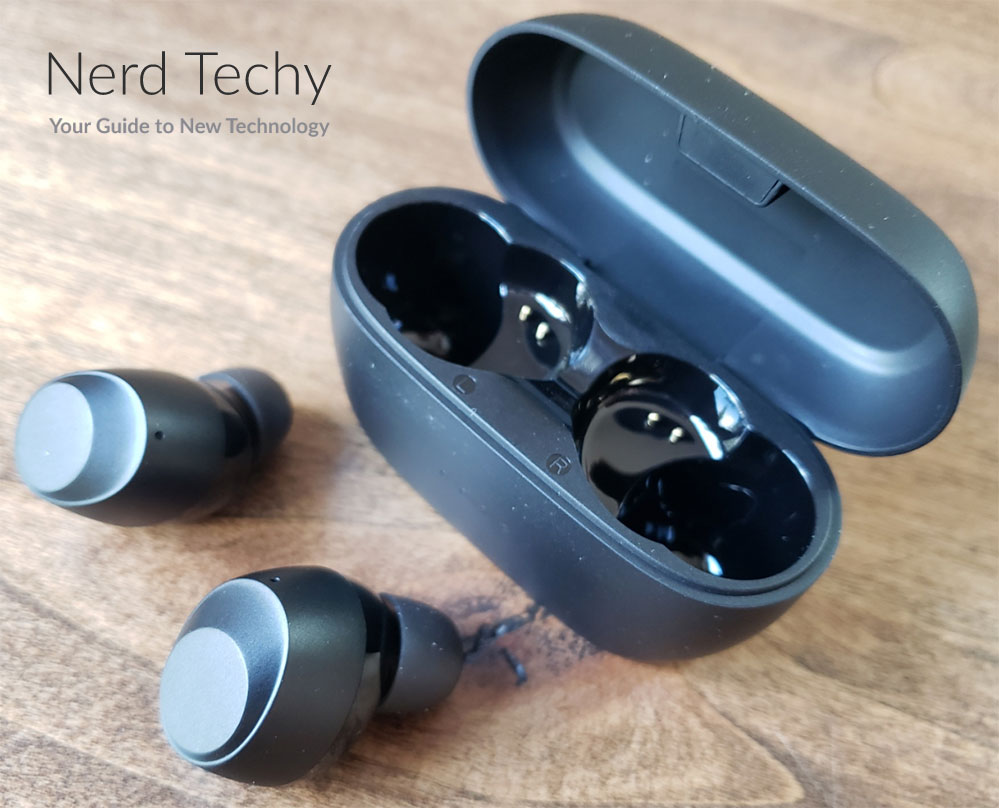 Overall Design
The ENACFIRE A10 ANC Wireless Earbuds are a stylish pair of earbuds with a black shell. They're fairly generic-looking, which we actually really enjoy. It's nice to see that they went with a minimalist design without any logo or graphics.
The drivers rest inside your ears, with silicone tips that protrude outward. Because of the unique, contoured shape, they tend to stay in quite well, even with a fairly loose fit. That said, a tighter fit provides better noise isolation, allowing you to enjoy your music in peace. Whether you prefer a looser or a tighter fit is a matter of preference more than anything else. That said, ENACFIRE includes three different sized tips in the package. This makes it easy to find the perfect fit, no matter what your preferences.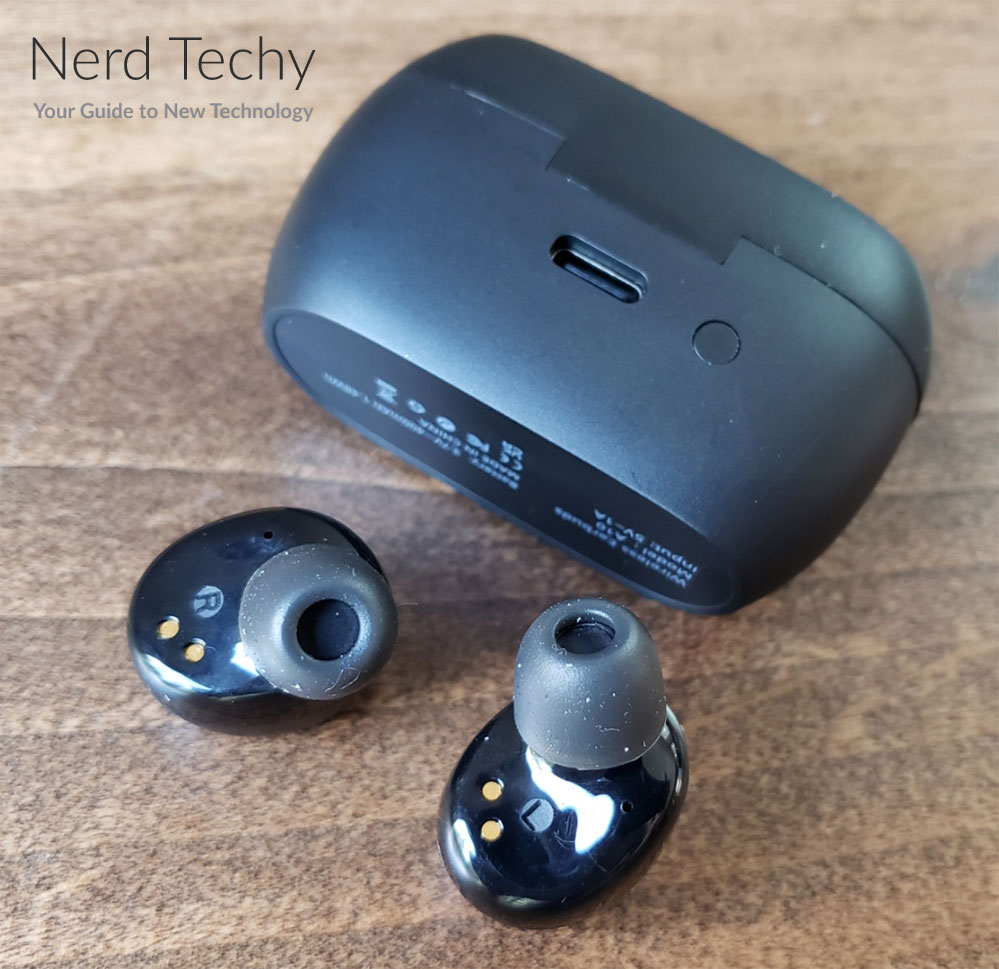 The backs of the A10 earbuds function as soft touch controls. With a tap, double-tap, or hold, they perform various commonly-used functions. When listening to music, you can skip tracks, adjust your volume, and play or pause your songs. For hands-free calling, you can answer and end calls, or reject them outright. You can also access your phone's voice assistant to utilize even more features.
The earbud housing has a water-resistance rating of IPX8. This means it's submersion-proof as well as splash-proof. Forget about a little sweat or even a post-workout shower. You can submerge these buds for half an hour, and they'll still keep playing. Not that we'd recommend actually doing that. But more realistically, if you drop them in a puddle, they're not going to get ruined.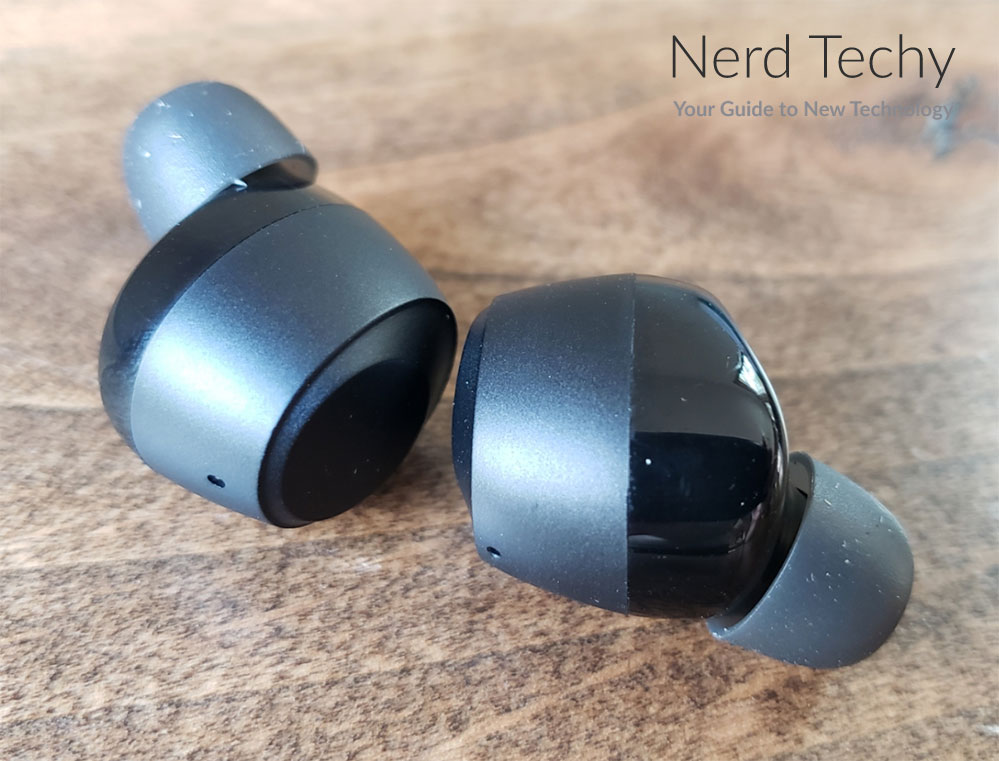 The charging case has a basic, clamshell design, so the earbuds just drop inside. They fit in molded wells, with the left and the right buds shaped for their side of the case respectively. This design ensures that the charging contacts remain properly aligned during storage. The earbuds are held in place via a magnetically clasped lid, which snaps open and shut with ease. It's firm enough not to pop open by accident, but you can still pop it open easily enough with just your thumb.
The front of the case sports four white LEDs, which lets you know the remaining battery life of the case. For topping off the batteries, you use a USB Type-C cable, which is included in the package. That said, it's nice to see that USB-C was is used rather than older standards like micro USB.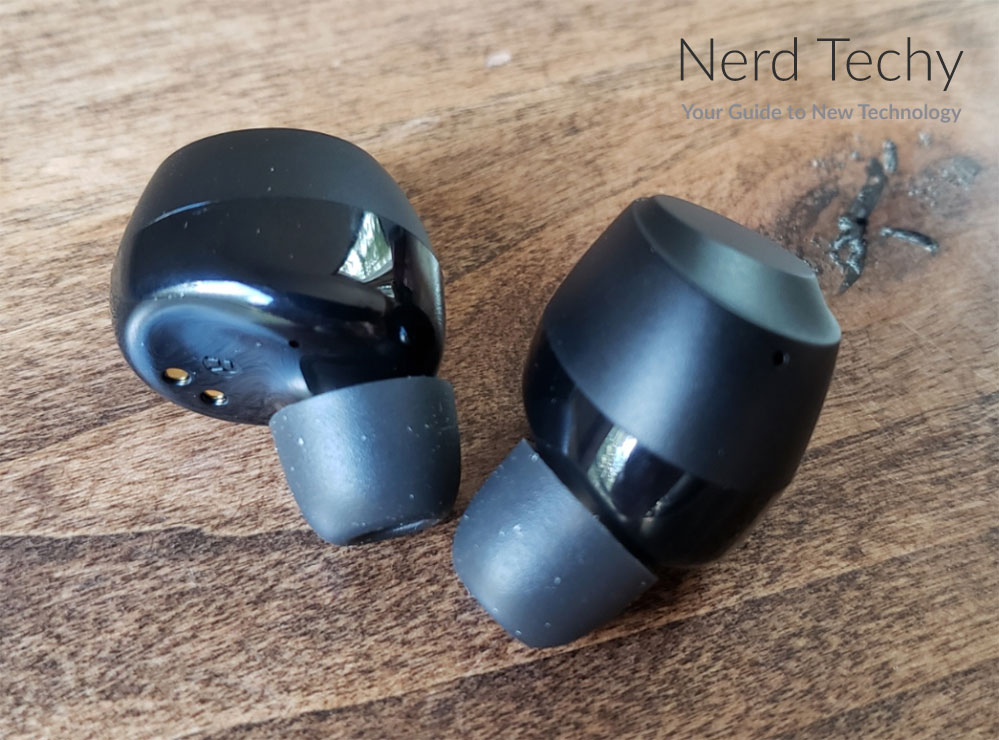 Battery & Connectivity
The ENACFIRE A10 earbud batteries will last for roughly six hours on a full charge. However, there are a handful of caveats to this. The first is that the six hour rating is based on manufacturer testing, which assumes half volume. If you're listening to your music at full volume, you'll run out of juice a bit faster, as soon as about 4.5 hours. There's also a further assumption that you're not using active noise cancelling. If you have the ANC turned on, your battery life will drop as far as 3.5 hours. That's not stellar, but it's not terrible for a set of ANC buds.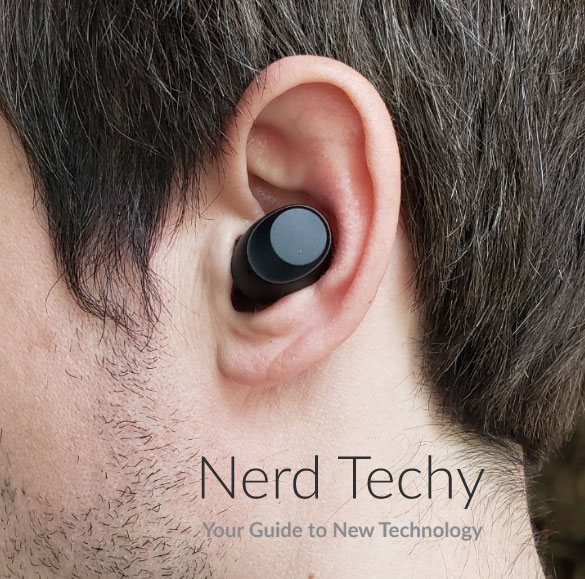 The case can be used to charge your earbud batteries an additional three to four times. This means you get a total of about 32 hours of battery life, or 12-13 hours at full volume with ANC. Of course, you'll need to set the earbuds in the case periodically, but they fully charge in less than 90 minutes. Not only that, but the charging case itself also charges quickly, in less than two hours via USB Type-C. For most people, you'll be able to plug in at least once a day, so battery life should never be a concern. The only way you'd have trouble is if you spend a lot of time off grid.
Best of all, the case is compatible with wireless chargers. Simply place it on any inductive charging surface and there's no need to manually plug-in the USB-C cable for charging.
If you do need a longer-lasting battery, consider the Enacfire Future Plus. The Future Plus charging case provides enough juice for 100 hours of use, and even doubles as a power bank. That said, the bass isn't as powerful as you'll get from the A10.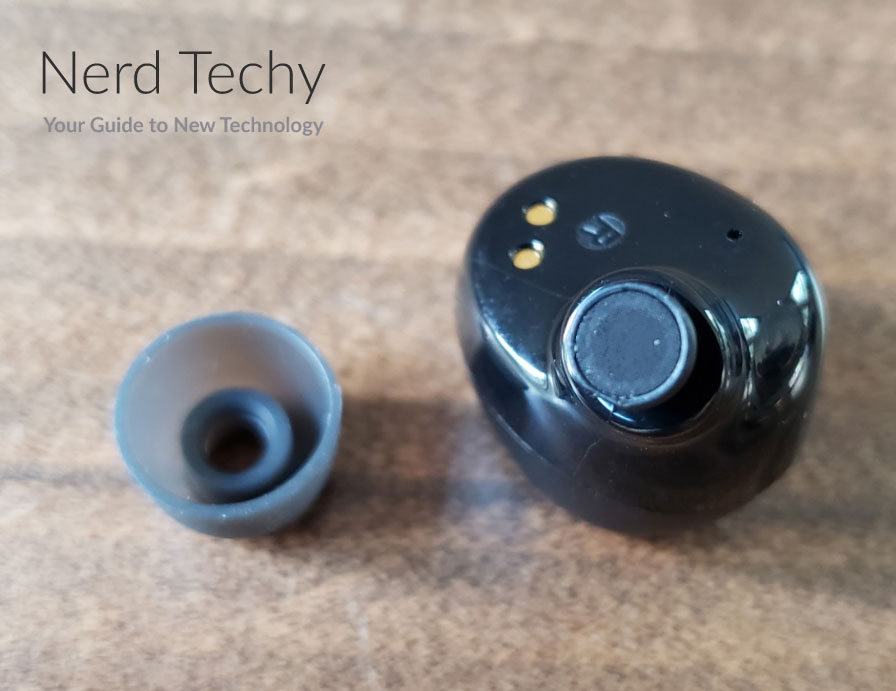 These buds connect to your phone via the Bluetooth 5.0 protocol. This version of Bluetooth is the current standard, and is in widespread use in wireless earbuds and smartphones. It's also reverse-compatible with older standards. With Bluetooth 5.0, you get a more stable signal, resulting in fewer dropped calls and skipping tracks. The signal is also lower-latency, which means audio is better synced with video. You can game or watch movies without everything going out of sync. Finally, you get more bandwidth than older Bluetooth protocols, so you can listen to HD audio without any wires.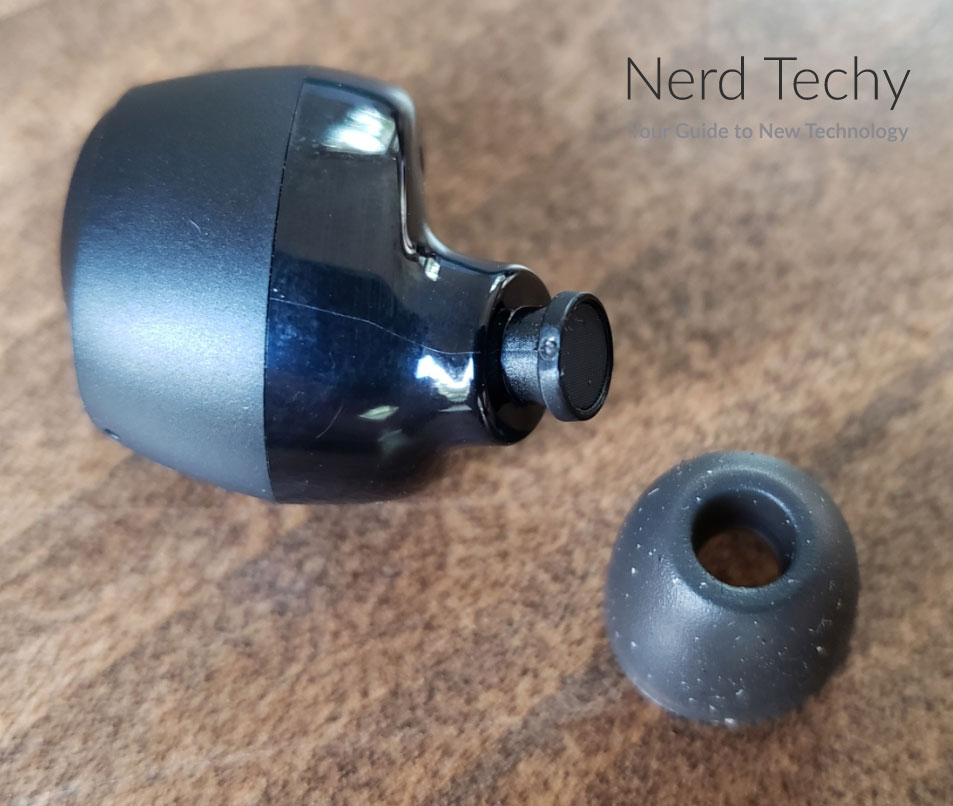 Audio Quality
The ENACFIRE A10 earbuds contain large, 10mm drivers that are beefier than your average buds. This wide diameter makes them suitable for producing a wider range of sound at higher volumes. The audio quality is well-rounded, without any particular emphasis on one frequency. The bass is rich and fully present, and the mids have plenty of separation. You don't have to worry about the vocals getting muddied by loud bass. The highs have plenty of sparkle, and the overall profile is neither too dark nor too bright.
The soundstage is reasonably wide, creating some separation between the instruments. This gives you a real sense of space. When a guitar is supposed to be in the right channel, it's actually on the right. It's not squished somewhere in the middle with everything else.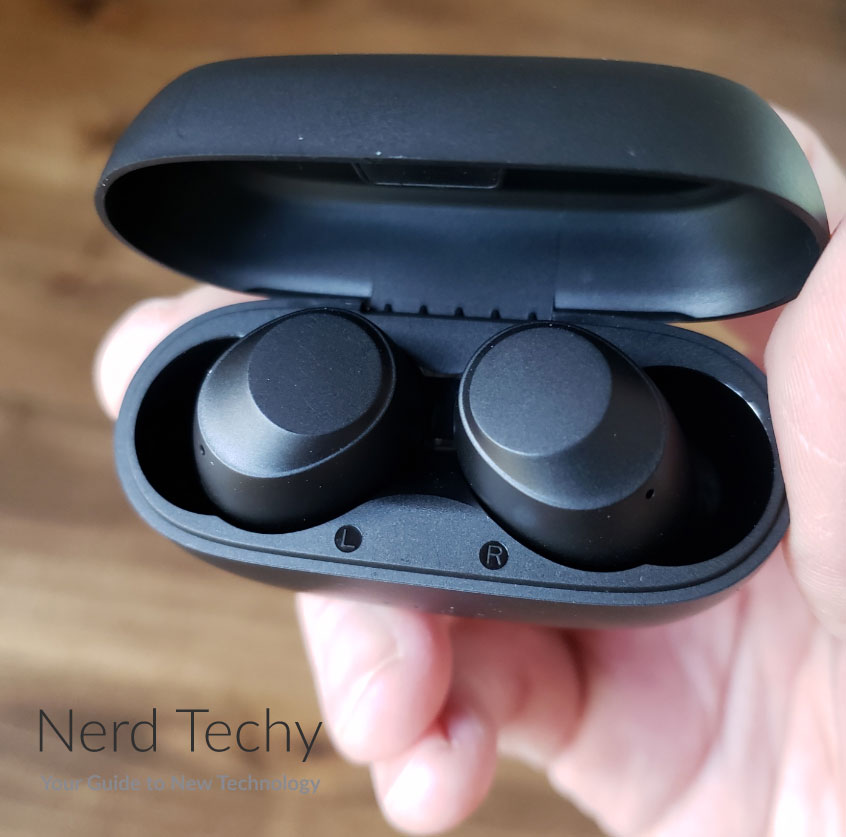 With all of that being said, many people prefer a more bass. In that case, the Enacfire E90 and Geek Wireless Earbuds provide a different alternative. They both have plenty of punch, albeit with some drop-off in quality in other frequencies.
The A10 earbuds have an ANC feature that reduces background noise by up to 28dB. Keep in mind that ANC technology isn't magical. It's responsive, not instantaneous, so it works best with steady sounds. Sharp, sudden sounds can still cut through, at least for a few milliseconds. But airplane engines, crowded terminals, and busy offices will be reduced nearly to the point of disappearance. Remember, though, that ANC drains the batteries faster. You might want to turn it off via the app when you're not using it.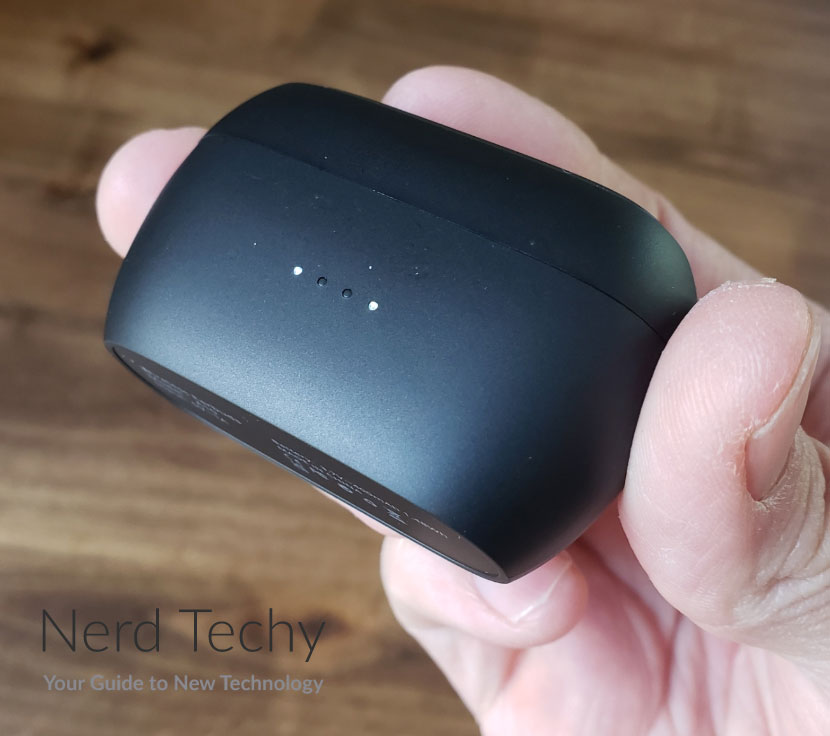 Transparency mode is another useful option that takes advantage of the external ANC mics. Instead of blocking out outside noise, transparency mode amplifies it and plays it along with your music. This makes it easier to hear your surroundings, and even engage in conversations. The downside, of course, is that you might miss some of your favorite playlist. But depending on your need for situational awareness, this may be worth the trade-off.
In addition to all that, the A10 buds come with voice isolation for easier phone calls. The external mics work to isolate your voice, while internal software cuts out background noise. It's not perfect, but it goes a long way towards improving your phone calls. At the very least, the other person won't have trouble hearing you due to wind or engine noise.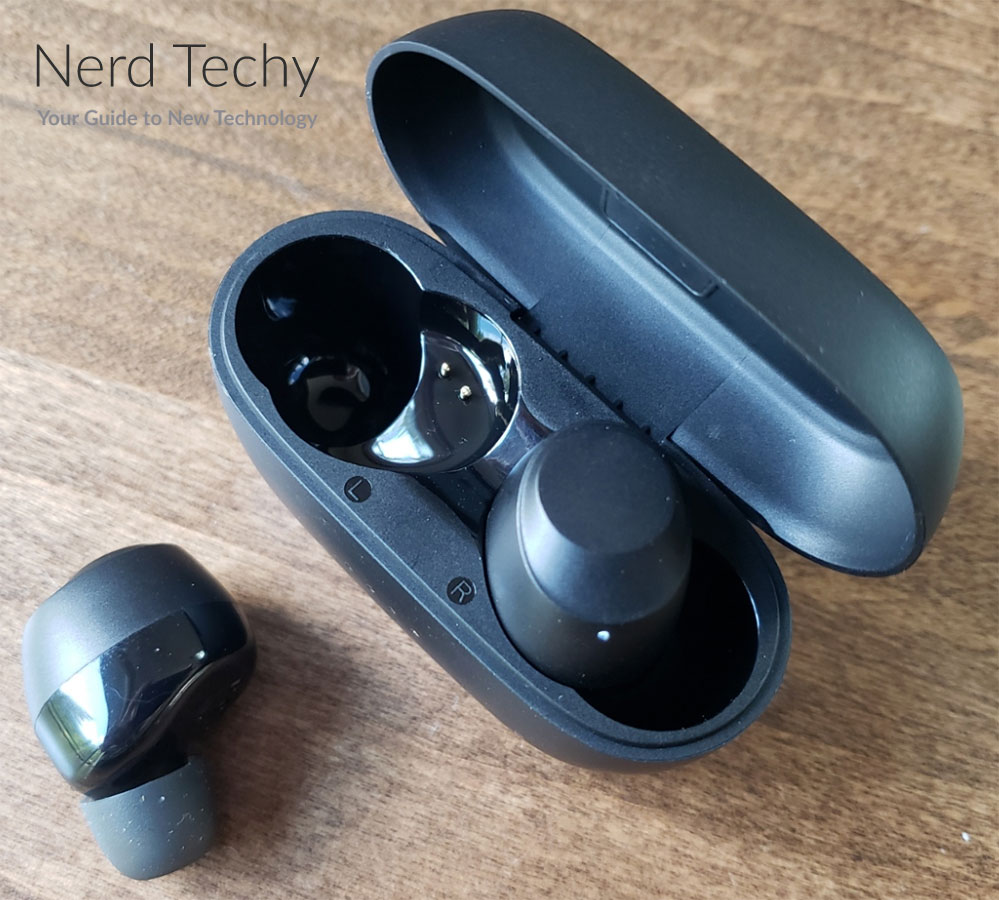 Final Verdict
All in all, the ENACFIRE A10 ANC Wireless Earbuds are some of the better buds in their price range. For one thing, you get an affordable ANC function that actually works the way it's supposed to. It even goes the extra mile by offering transparency mode, a feature that's fairly new to even flagship brands.
In addition, we liked the physical design. To be fair, we would have liked longer-lasting batteries, or at least a better charging indicator. But the overall package is still well worth your time. Not only that, but the sound is also pretty good. You're looking at a well-rounded pair of earbuds without a lot of downside.