MOJAWA MOJO1
Pros
Good sound quality, especially while using earplugs.
Very comfortable, ergonomically friendly fit.
Fully waterproof and sealed for dust ingress.
Allows you to be more-aware of your surroundings.
Average battery life.
Cons
Uses a proprietary charging cable.
Do not work well with glasses.
Only available in one color scheme.
Wireless headphones are all the rage these days. To say that there are several different pairs available is an understatement. However, when it comes to bone conduction headphones with an open-ear design, there are much fewer options.
Bone conduction headphones are much different than standard in-ear buds or over-ear headphones. Rather than relying on a tight seal, they rest on the outside of your ear and around your head. By applying a minimal amount of pressure and positioning them right next to your ear canal, you're able to listen to music without physically plugging your ears. The result is an open soundstage that allows you to be more aware of your surroundings.
Nowadays, many music-lovers are now opting for bone conduction headphones rather than standard headphones. They utilize subtle vibrations from two actuators, placed in close proximity to your ear canals, but not in them. Their open-ear design is an ideal choice for many scenarios. For example, for construction workers who wants to listen to music but still requires earplugs, they are the perfect solution. In addition, anyone wanting an open-world of awareness, they're an ideal choice.
MOJAWA MOJO1
If you've already scoured the web or researched your options, you likely already know about several different brands available. However, a new, up and coming brand known as MOJAWA recently set-out to develop and create their own take on them. With their new MOJO1 bone conduction headphones, there's a lot of promising features to look forward to. At first glance, they carry a standard open-ear design, but on-paper they have a lot going for them.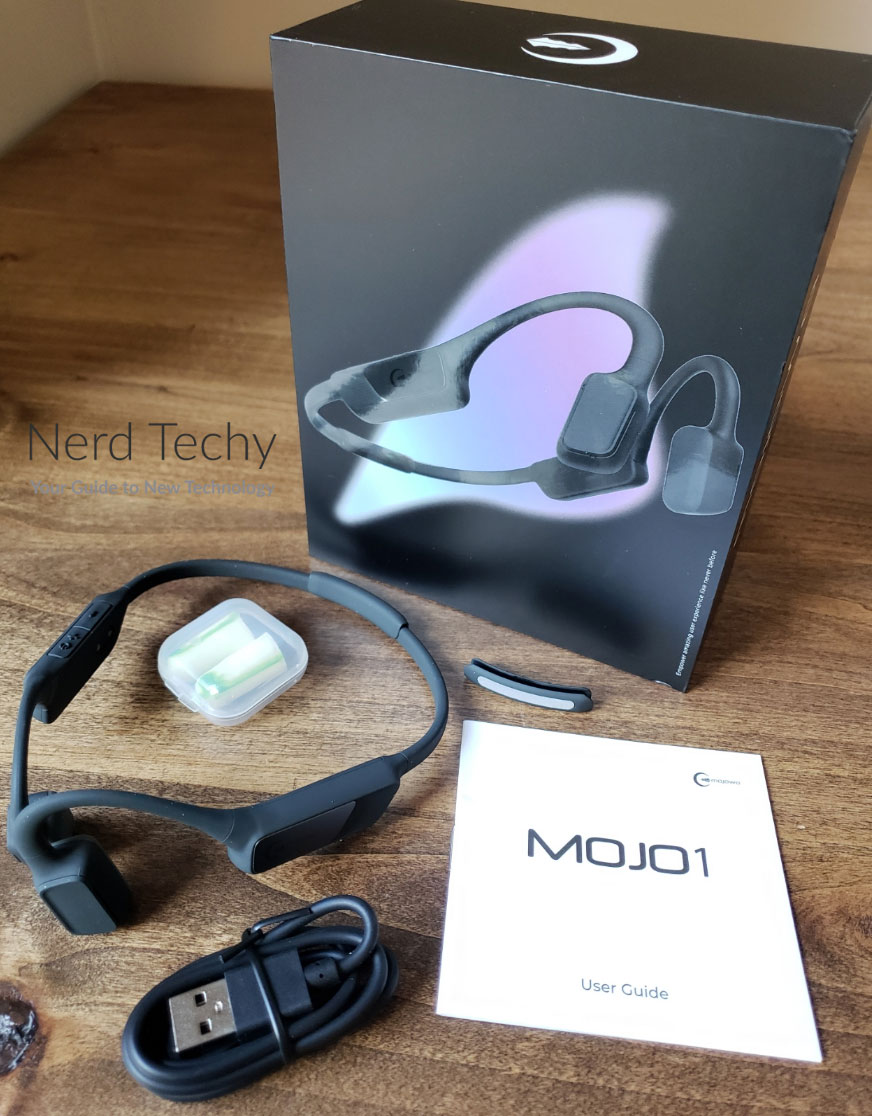 Recently, we were invited to try them out for ourselves. After the company sent us a free pair, we knew we had to put them to good use. Today, we're going to take a deep dive and test them out for ourselves. We'll take a close look at each feature, test them out in several different environments, and ultimately determine if they're worthwhile of your investment or if they should receive a hard-pass. Although we did receive them free of charge, we're going to take a non-biased, honest approach. Let's get right into it.
First Look
At first glance, you'll immediately notice the unique design of the MOJAWA MOJO1 Bone Conduction Headphones. They come packed in a box with their headband tightly wound. It's obvious that the springy-nature of the headband is ideal for providing a snug yet cozy fit.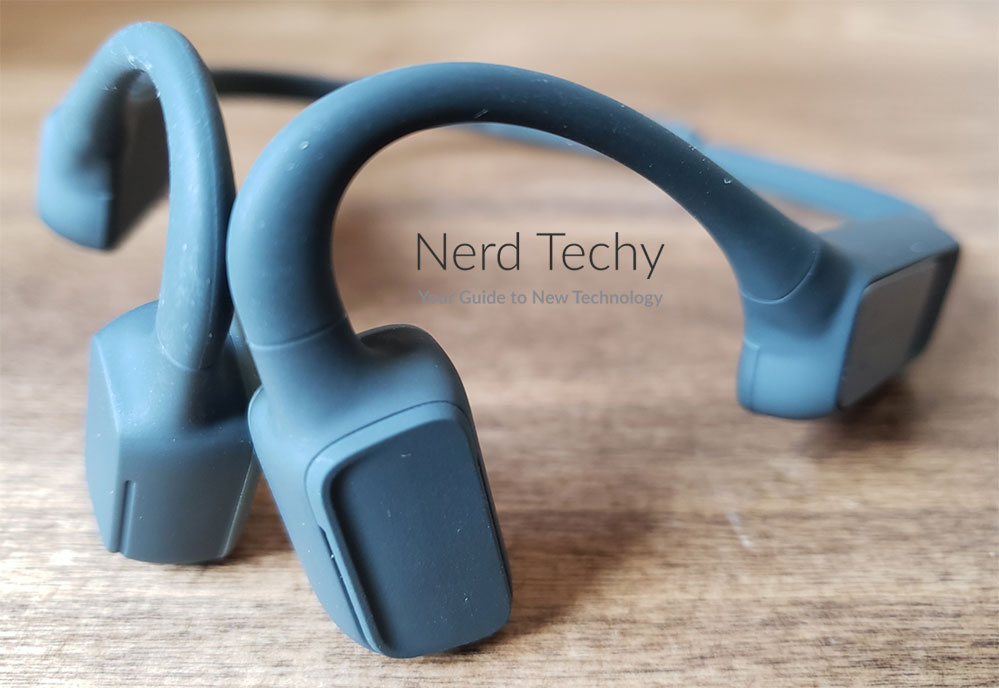 Upon removal from the box, they're supposed to be positioned around your neck with each actuator placed near the top of your ears' tragus. This is the tiny protrusion of skin and cartilage semi-covers the opening of each ear. When properly positioned, it uses incredibly small vibrations rather than injecting sound directly into your ear canals. The result is an open soundstage that allows you to hear while simultaneously leaving each ear open. In the end, you're able to listen to music without being unaware of your environment.
In the box, there's a USB charging cable, instruction manual, earplugs and of course, the MOJO1 headphones themselves. When you pick them up, it's obvious that they were made with careful attention to detail. They're soft and supple to the touch and built with a flexible headband with a dark gray, matte appearance.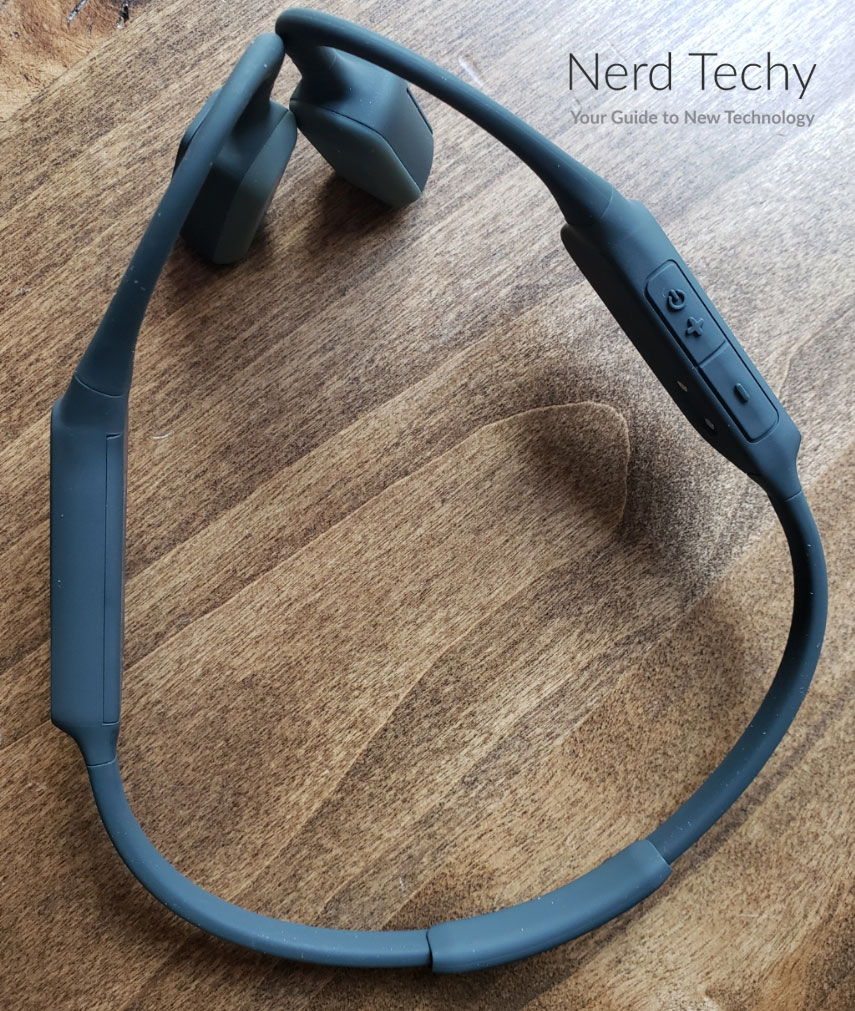 There's two blocky parts on each side, both with the MOJAWA logo externally visible. The right "block" has a physical power button and volume up/down buttons located conveniently on the top. Inside and against your head, are the two gold contacts that magnetically clasp with the included charging cable. The left "block" has a physical but unobvious button located on the external side. One press pauses/plays music while a long-press activates your voice assistant through your paired smartphone or tablet.
The backside of the headband is also equipped with a small reflector. By the looks of their advertising photos, it almost looks like an LED, but it certainly isn't. However, it offers a decent amount of reflection, perfect for nighttime visibility when you're jogging or walking down the street.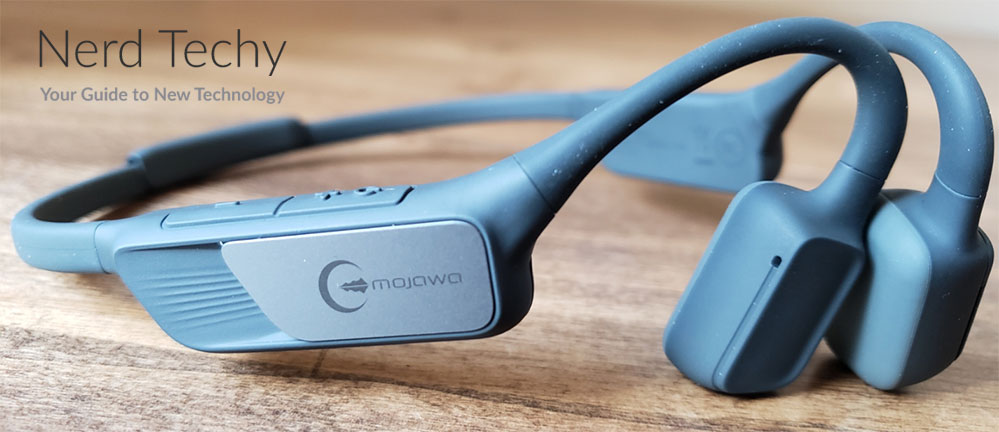 Comfort & Fit
If you haven't worn bone conduction headphones before, the MOJAWA MOJO1 will likely surprise you in regards to how comfortable they are. Weighing in at just 34.5 grams, they're incredibly lightweight and compact.
The exterior is soft against the skin while the headband provides a slight amount of pressure around your head. The result is a cozy, unobtrusive fit. In reality, they can easily be worn for several continuous hours without any discomfort. In fact, since they don't physically stick inside your ears, they're much more comfortable than the majority of earbuds or headphones.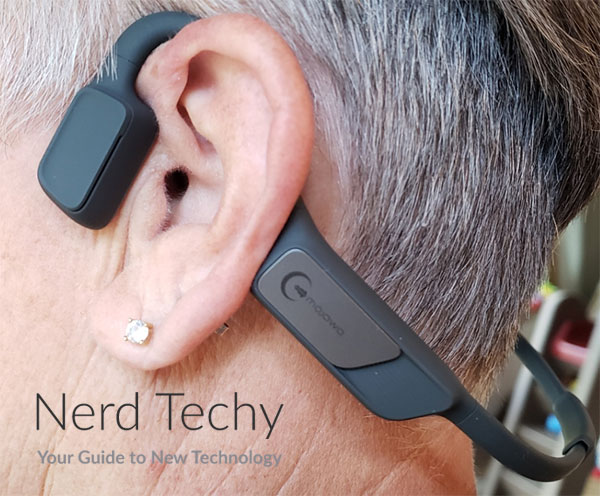 Although there's no way to adjust the size of them, they seem to provide a universal fit, regardless of your head size. In fact, the headband has ample length between the two actuators so they're compatible with folks of all sizes and shapes.
The MOJO1 come included with a pair of earplugs. Yes, actual earplugs that block 100% of incoming sound. That said, they can be worn simultaneously with any earplugs. Ultimately, this makes them an ideal choice for those around loud noise who still want to enjoy music while simultaneously protecting their eardrums.
However, keep in mind that people who also wear glasses may not have as great of a time with them. The one major drawback is that the headband interferes with each arm of your glasses. This isn't to say that they're impossible to use with glasses, there's just a bit more finagling to do in order to keep them worn correctly.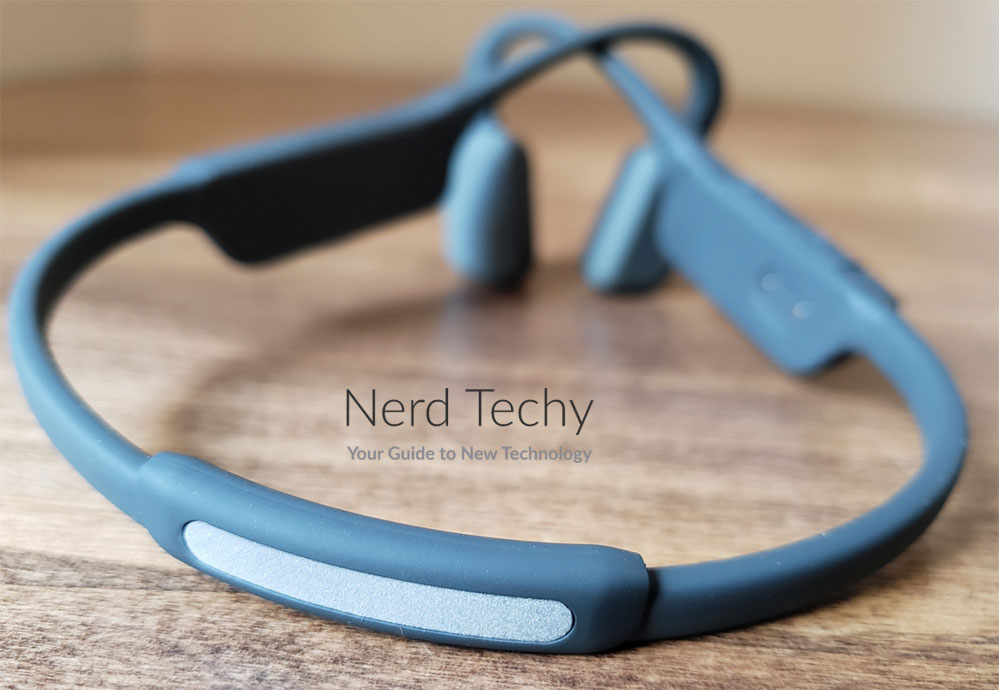 Sound Quality
Although the MOJAWA MOJO1 don't actually insert into your ear, the soundstage they provide is overall, quite excellent. As long as they're properly worn and aligned correctly to your ears, you can expect accurate sounds, clarity and vividness.
High, medium and low tones are enjoyable, although the bass is a bit underrepresented. That's not to say it isn't present. You still get thumping bass, it's just a bit more muffled than we're used to. All genres of music seem to be equally appreciated by the MOJO1's. Regardless of if we listened to classical rock, jazz, R&B or heavy metal, the music was true to sound and audibly pleasing.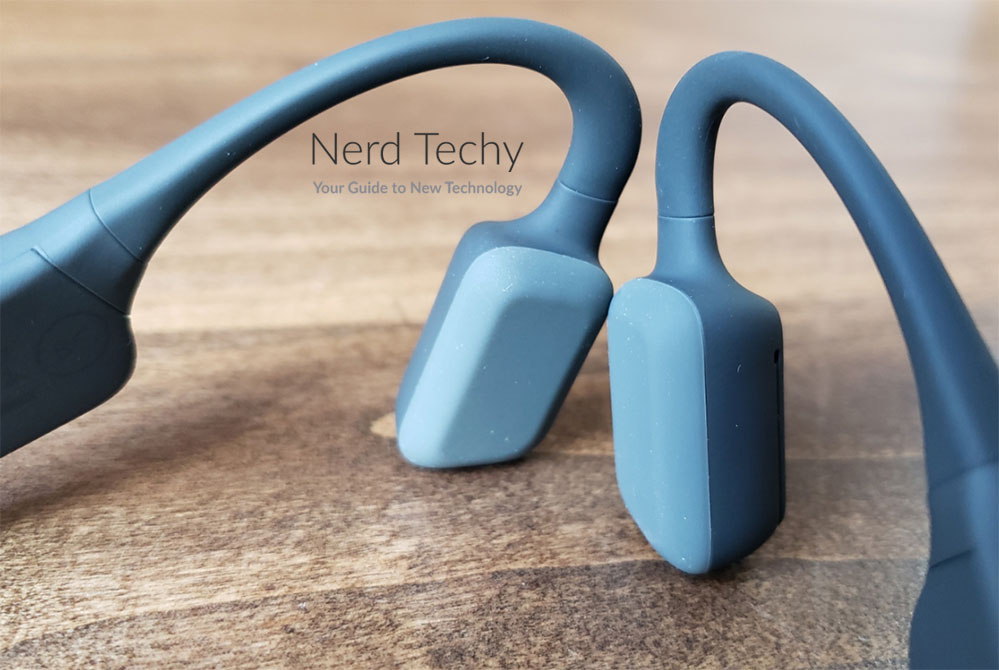 The headphones are equipped with an updated noise cancelling feature that seems to work quite well. While they don't provide any physical noise isolation like traditional earbuds or headphones, they utilize a high concentration of vibrations in a very low frequency range. The result is minimal sound leakage and noise cancellation that's a vast improvement when compared to other open-ear headphones.
While they don't have active noise cancellation like traditional headphones, the integrated noise cancellation feature seems to work very well. And since they have an open-ear design, you're still able to hear your nearby surroundings. One may think this is a bit contradicting, but the soundstage is surprisingly focused when they're worn correctly. However, if you wear the earplugs simultaneously with the MOJO1 headphones, the sound they deliver improves even more.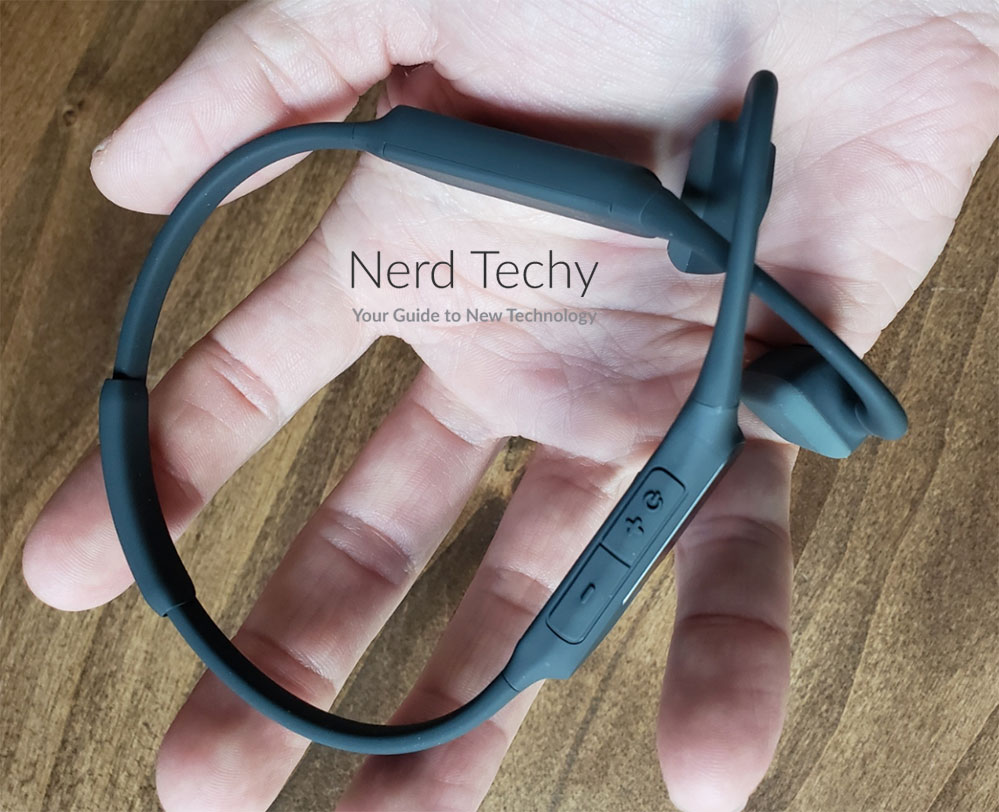 Call Quality
Built directly into the right actuator, there's a tiny microphone. Its main purpose is to use with phone calls, so we knew we had to test them out while calling. Regardless of if the phone call was incoming or outgoing, the microphone seems to pick-up an accurate representation of your voice. The result is excellent call clarity without any serious drawbacks.
Our voice on the other end of the call was heard loud and clear, even when we were in a busy environment. We tested three separate outgoing phone calls; one in a restaurant, one in the bus and another during a brisk walk to the office. In all scenarios, we were pleased with the amount of detail and clarity the microphone offers.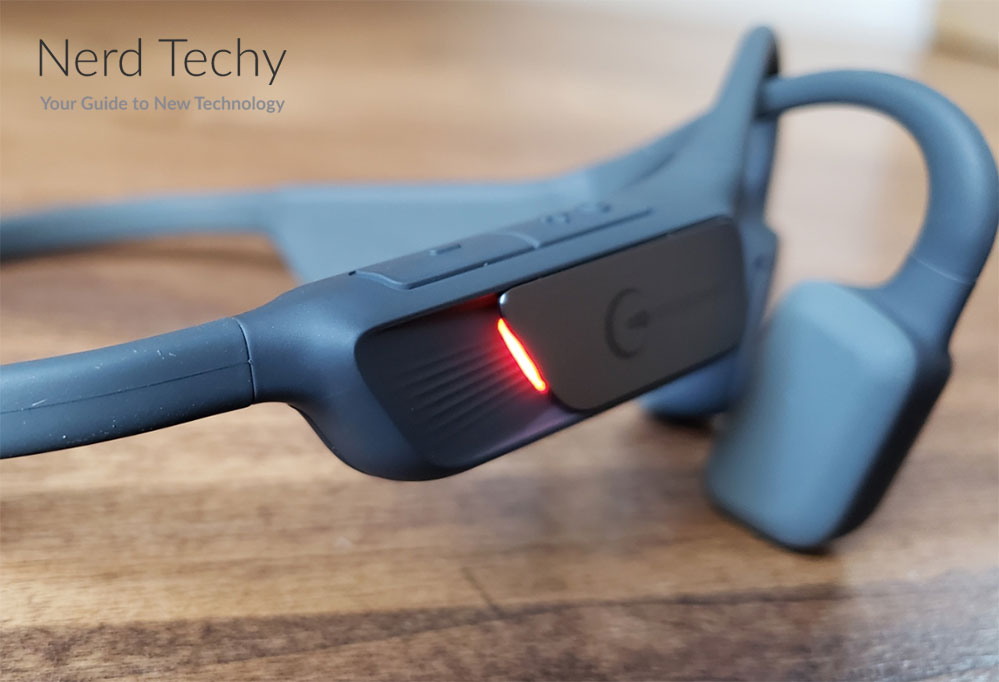 Durability
Feeling the MOJO1 open-ear headphones in your hands, you'll notice tight seals all-around. Simply put, they're rated as IP67. This is a waterproof rating that means they're able to withstand any physical intrusion like dirt, dust or other small particles. In addition, they're fully waterproof and able to withstand temporary submersion at depths up to 1 meter. While they're not meant for swimming, you can rest assured if they get wet or sweaty. As a result, rain, snow and natural moisture have no effect on their durability or longevity.
While they weigh just over 1 ounce, they actual seem quite durable. While there's no carrying case included, they stow away easily. Their springy headband keeps the form-factor incredibly small, making them easy to travel with.
Battery Life & Charging
Inside the MOJO1 headphones is a rechargeable 500mAh battery. It offers a supposed 8 hours of battery life, per charge. However, there are several factors that contribute to the estimated battery life. At 50% volume, we experienced around 7 hours of battery life.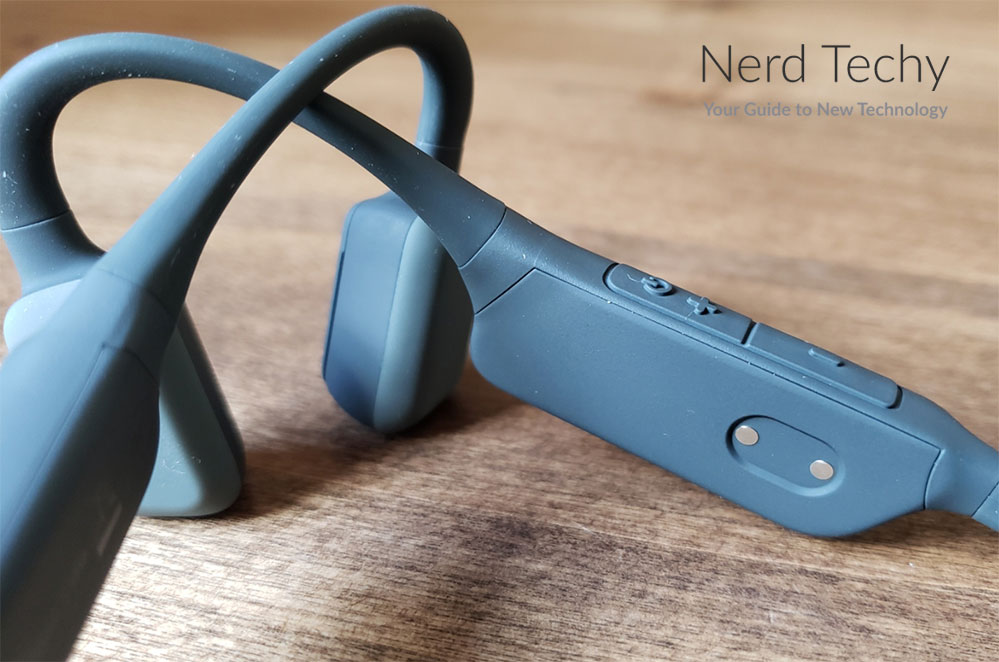 We notice when you listened with the volume cranked up to 100%, the battery life was much less. In fact, at 4 hours we were already re-charging them. Still, this is typically enough capacity to satisfy most listeners. And realistically, most people won't keep the volume beyond 70% or so.
For charging, they can plug into any USB charging port. However, the connection to the headphones is proprietary. The cable provides a magnetic connection to the headphones via two metal contacts, while charging.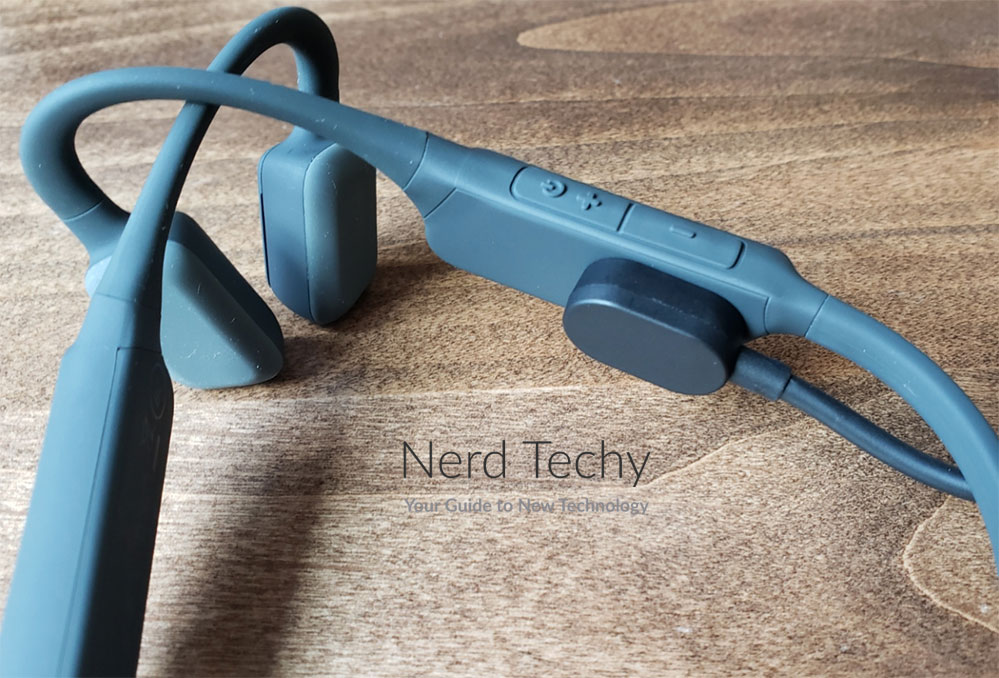 While this keeps things sealed up for water-resistance, it's kind of a bummer if you lose or break your charging cable. It's not like you could use any standard USB-C charging cable; you'd have to go online and re-order one. Since the headphones only come with one cable, buying a backup cable might be something you should consider.
Final Thoughts
Overall, the MOJAWA MOJO1 Headphones are a very-nice pair of open-ear, bone conduction headphones. They're lightweight, compact and built well. The sound quality they provide is wonderful, with only slightly dissapointing low-tones. But if you put in the provided earplugs, the sound really improves and the bass is much more pleasing. Additionally, call quality is on-point with clear voice through the built-in microphone.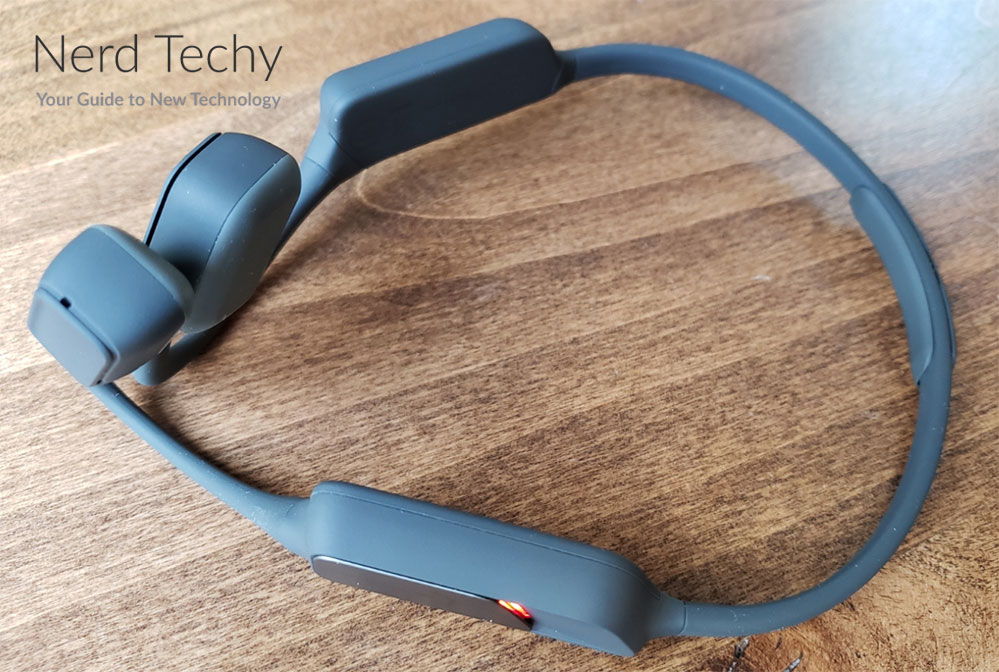 While the proprietary charging cable is kind-of a bummer, it's definitely not a deal-breaker. If you haven't tried open-ear headphones, they're a nice treat for your ears. They offer improved environmental awareness over standard wireless earbuds, with the benefit of being able to wear them with earplugs. All in all, you're looking at a nice pair of open-ear headphones at a very fair price.
Meet Derek, "TechGuru," a 34-year-old technology enthusiast with a deep passion for tech innovations. With extensive experience, he specializes in gaming hardware and software, and has expertise in gadgets, custom PCs, and audio.
Besides writing about tech and reviewing new products, Derek enjoys traveling, hiking, and photography. Committed to keeping up with the latest industry trends, he aims to guide readers in making informed tech decisions.