Jya Fjord
Pros
Powerful filtration and sterilization capabilities.
Ultra-quiet operation.
Easy to set up, use and move around.
Built-in UV purifier.
Beautiful physical design and appearance.
Cons
Touchscreen controls are a bit finicky.
Only available in one color.
Filters can be expensive in the long-term.
These days, it's only natural to be concerned about the purity of your home's air. For one thing, we've all become more health-conscious than we were in the past. We're aware of the dangers of mold, volatile chemicals, and smoke.
But our homes' air is actually harder to keep clean than it was in days past. Prior to the invention of air conditioning, people had all their windows open in the summer. For half the year, your air was as clean as the air outside. Nowadays, most people's windows remain closed during the summer while their air conditioners do the work.
At the same time, our homes are also becoming better sealed. Today's houses have all kinds of weatherstripping, double-layered windows, and Tyvek wrap. When your doors and windows are closed, you might as well be in a hermetically-sealed chamber.
This saves money and energy, which is good news. But it also means your home's air isn't getting exchanged. Instead of getting cycled out into the atmosphere, contaminants continue to build up. As a result, your home's air may be dirtier than the air outside.
A good home air purifier can help you solve this problem. It can scrub away mold spores, dust mites, and even volatile chemicals. Find an efficient, effective filter, and your home's air will be cleaner than ever. Air purifiers also remove odors, which can be welcome even in the cleanest of houses.
Jya Fjord Air Purifier
Today, we'll be reviewing the Jya Fjord Air Purifier. This is a mid-sized air purifier that's fairly powerful for the size. It sports a powerful H13 HEPA filter, along with a built-in UV sanitizer. The filter is easy to change, and the motor is ultra-quiet when it's running. It even has little casters on the bottom for moving it around.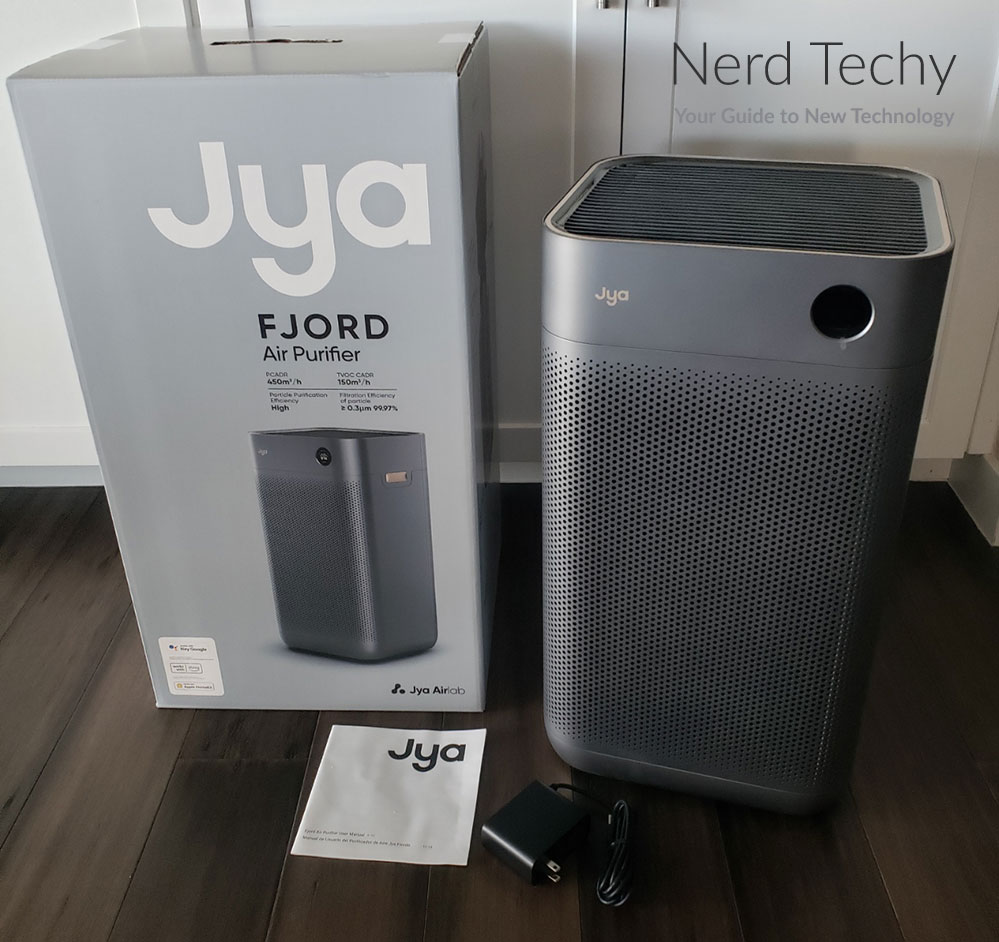 That said, there's a lot more that goes into making a good air purifier. To find out if this one is up to our standards, we'll take a deep dive into its design. We'll talk about the physical construction and how you interface with it. We'll look at the filter canister and how it functions. Additionally, we'll take note of any bonus features. At that point, we'll be able to make a fair judgement. Let's begin!
Physical Design
The Jya Fjord Air Purifier is constructed from a matte grey plastic. It stands 21 inches tall, with a width of 11 inches and a depth of 10 inches. The corners are rounded off rather than sharp, so you don't have to worry about walking into them.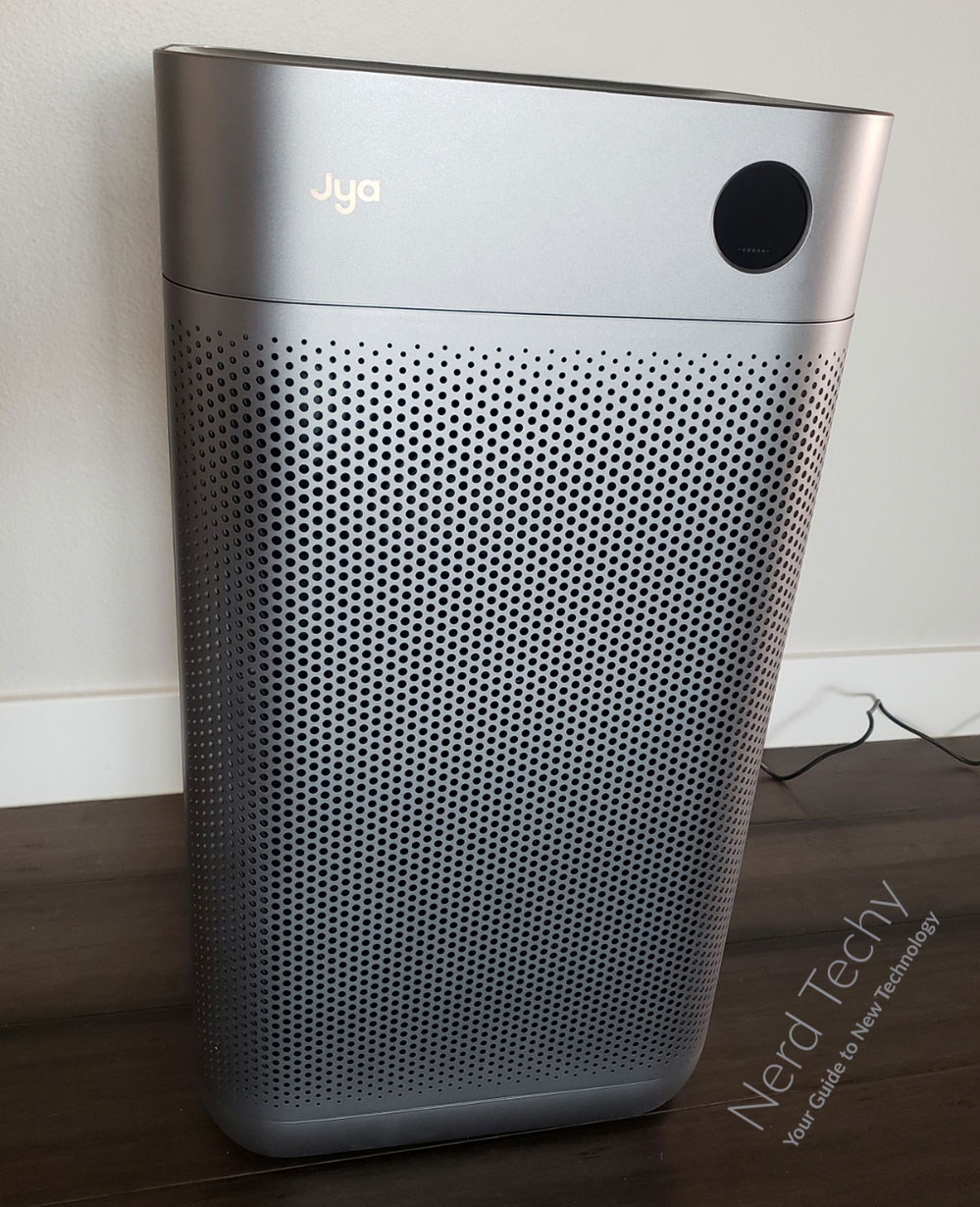 At 14 pounds, the unit is surprisingly heavy for its size. Even so, it's not like it weighs a ton. You can carry it around under one arm if you want to. Alternatively, you can take advantage of the four casters underneath and roll it around.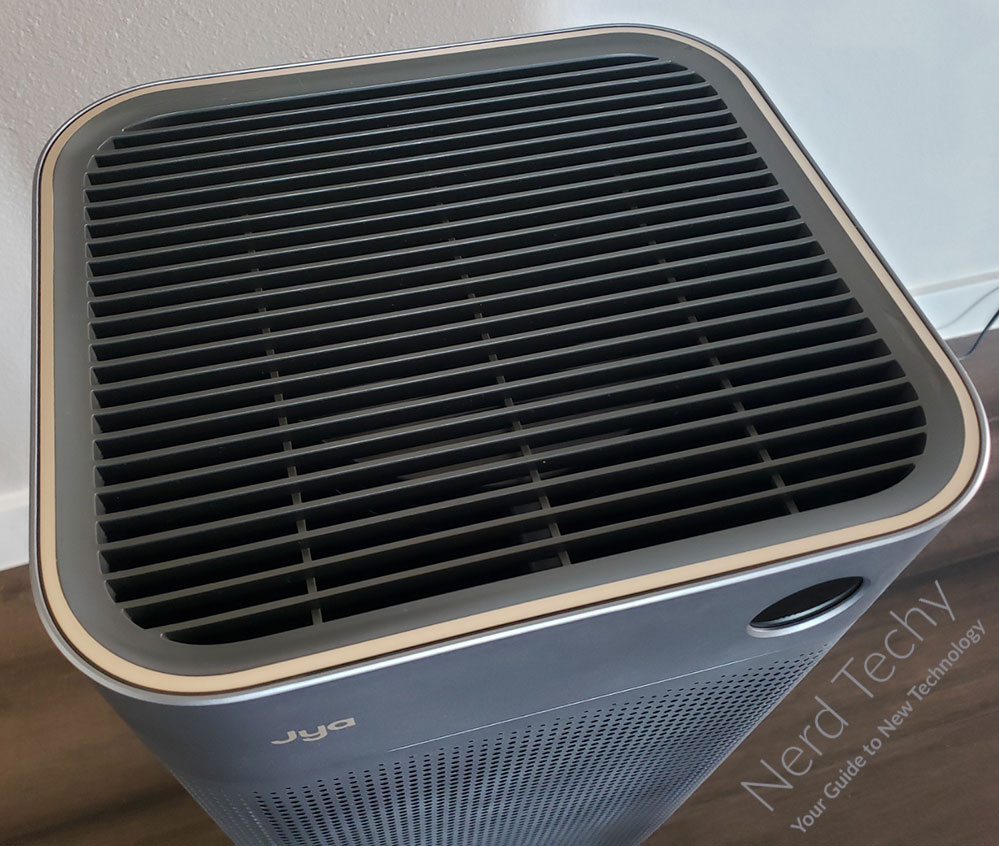 The front and the back are perforated, with an offset grid of round holes that allow for air flow. The black top panel is also vented, but with horizontal louvers instead of holes. Air flows in through the front and the back and then out through the top. For this reason, it's important to keep the back, front, and top clear of obstructions. Otherwise, you won't be cleaning your air at peak efficiency.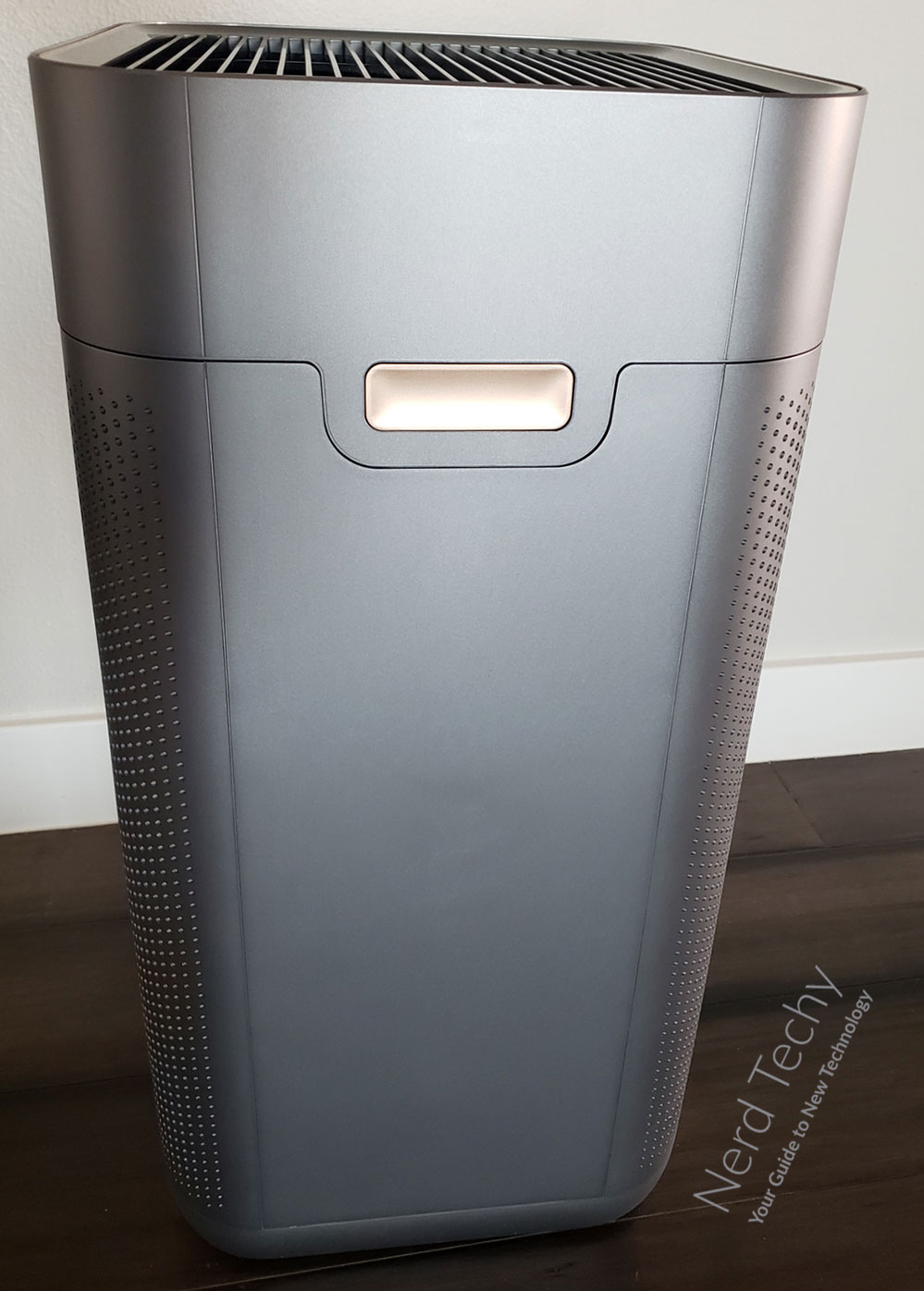 Operation is very quiet. On the lowest "sleep" mode, it produces only 18.8dB of sound. You'd literally have to put your ear up to it to hear it running. Even on higher settings, it's not inordinately loud. You won't have to raise your voice to have a conversation around it.
Power is supplied by an AC power adapter. It's a small block that plugs into your wall outlet, with a cord terminating in a barrel-style plug. The plug inserts into a port at the bottom back side of the housing.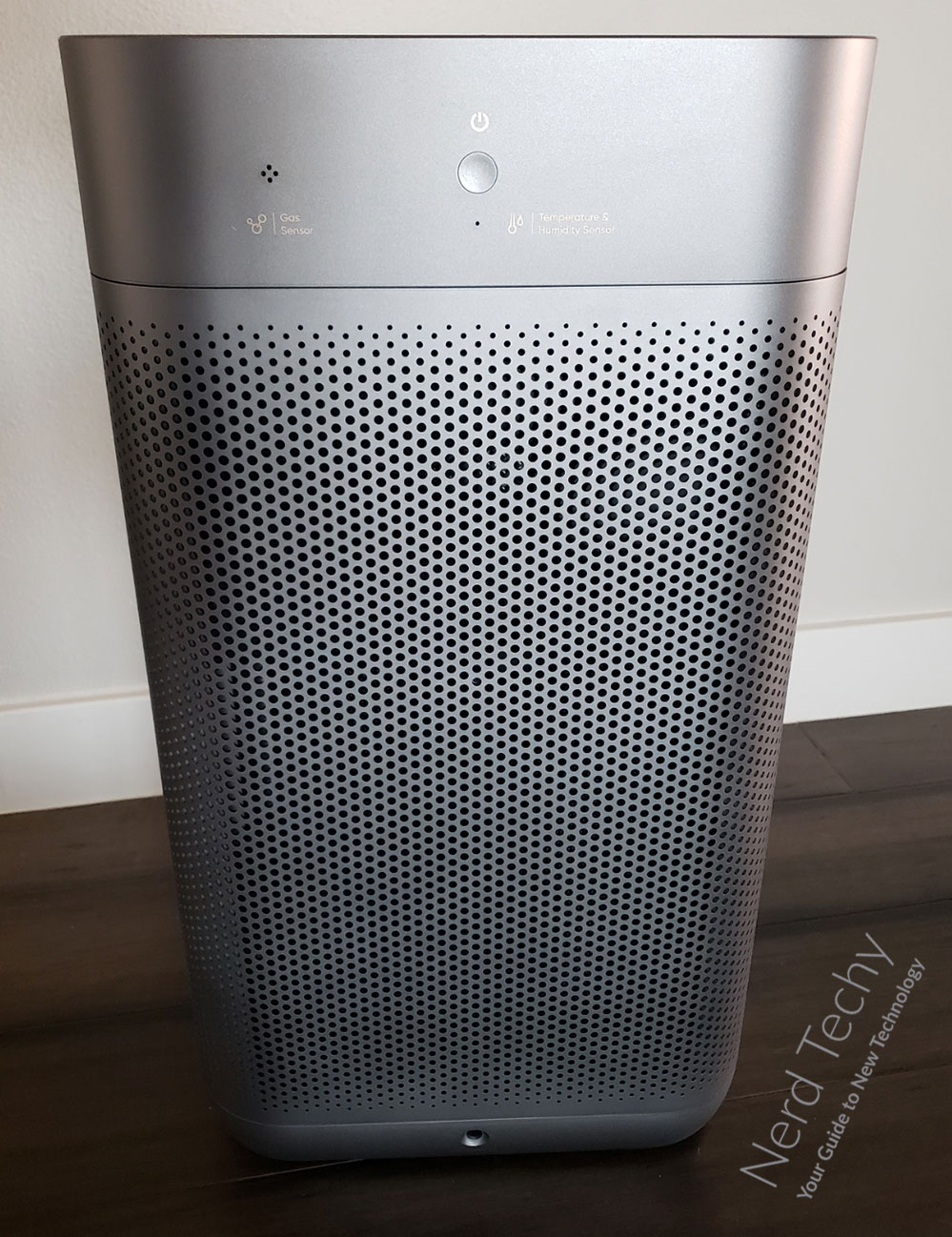 All of this is covered by a two-year manufacturer's warranty. If there are any defects in parts or labor, you'll be protected. This was reassuring, since most home air purifiers come with a shorter one-year warranty.
Controls
The Jya purifier has a unique control scheme. You turn it on and off by pressing a small button at the top back center. The rest of your controls are on a little round touchscreen on the top right corner of the front panel.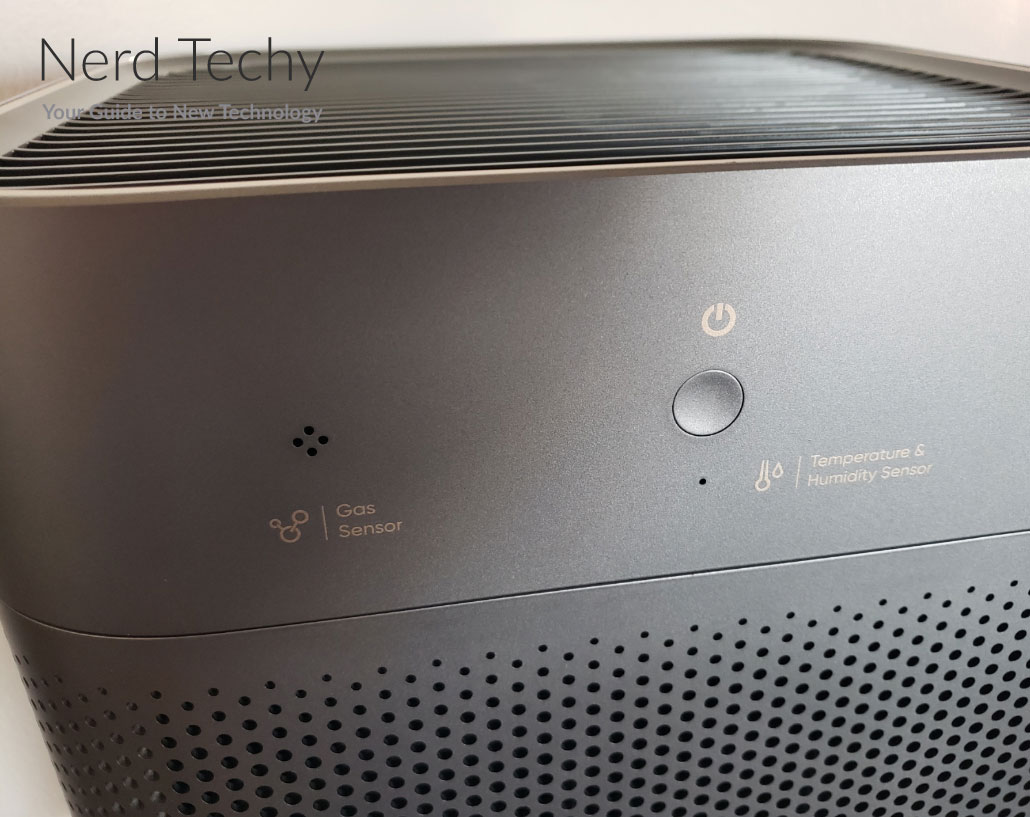 Here, you can adjust all of your settings. Swiping left and right reveals different sets of controls. Primarily, you can adjust between four different power levels. You can also view the filter life, adjust your WiFi settings, and even change the screen brightness.
When you're not using the controls the screen will display the air quality by default. You'll see a few metrics, which are outside the scope of this article. There's a specific numeric reading for your PM2.5 level. Your PM10 and TVOC levels are displayed on little visual meters. You can also adjust the screen to show the temperature in humidity instead. This is a nifty little feature.
All in all, the touchscreen is a neat control scheme. Unfortunately, it's a bit twitchy. It doesn't always register your swipes and taps correctly. If you'd prefer a different method, you can download the smartphone app for free. We'll talk more about that in a couple minutes.
If you want a purifier with a more traditional control scheme, consider the AirExtend Air Purifier. It has an easy-to-use ring of soft touch buttons around the top, with an attractive LCD display. It also boasts a 24-hour timer function. Then again, there's no ultraviolet sanitizer.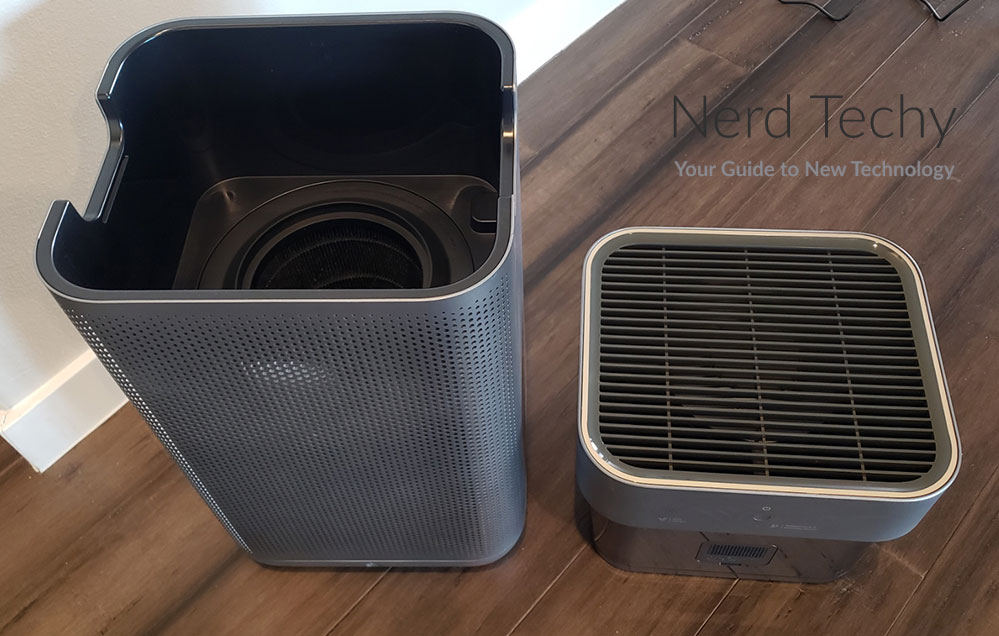 Filtration System
The Jya Fjord has a three-layer filter system, similar to the filters in many home air purifiers. The outer layer is a fine mesh that filters out dust, pet hair, and other larger junk. Inside of this is a HEPA H13 filter.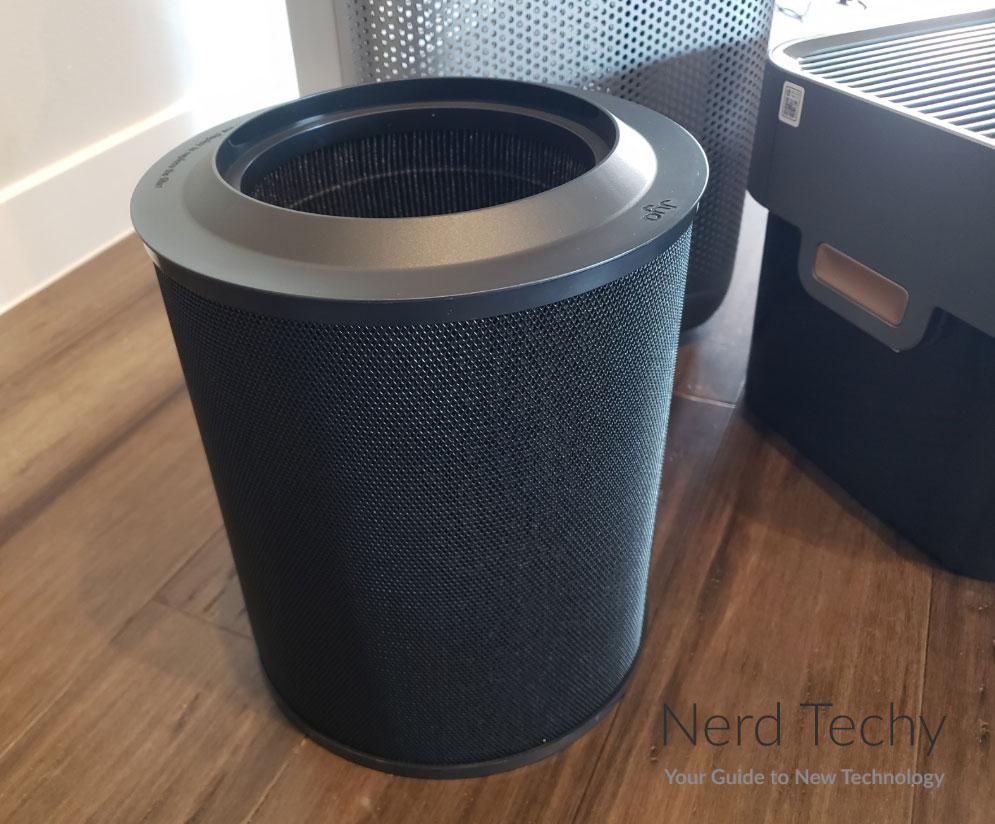 This is the workhorse part of the filter that does the bulk of the work. It catches the smaller contaminants the pre-filter didn't. The inner layer is an activated carbon mesh. This material doesn't remove any physical debris, but it does absorb odors and some chemicals.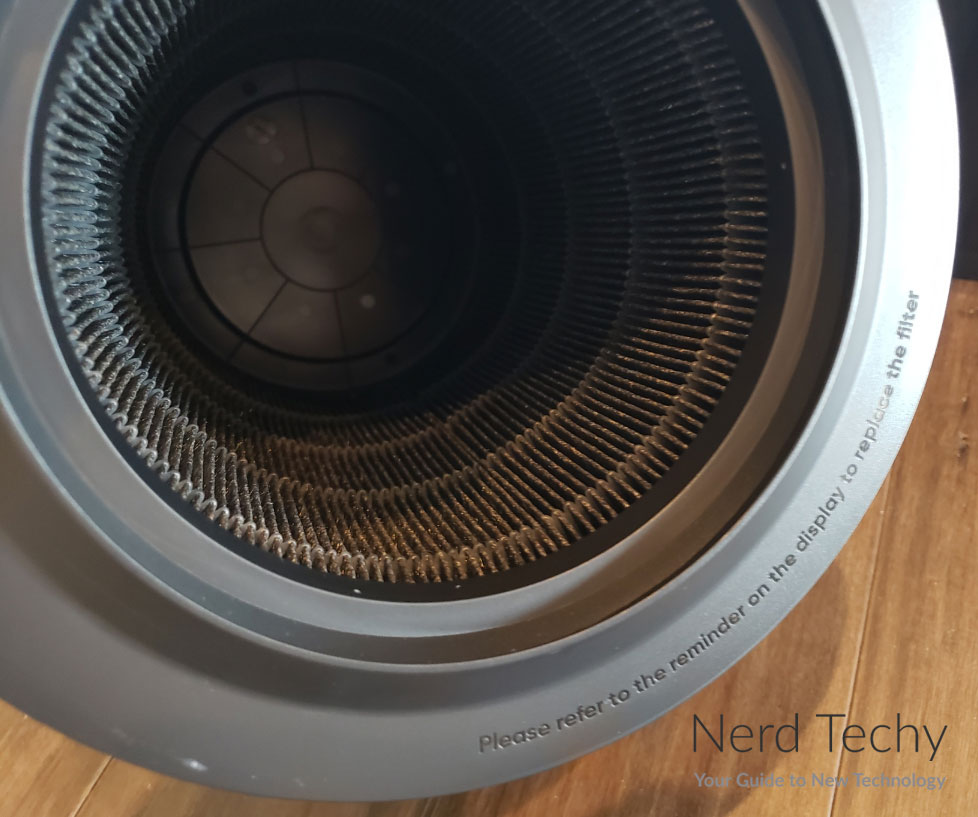 One thing we appreciated about the Fjord's design is the way you change the filter. There's a set of buttons on the sides of the housing, about two thirds of the way up. Press them down and left the top part of the machine that includes the motor. The filter is a single large cylinder that sits inside underneath. Lift it out, drop in your replacement filter, and put the top back in place.
Depending on how hard you use the purifier, the filter will need to be replaced every 6 to 12 months. The built-in air sensors will detect when the filter is saturated and alert you that it needs to be changed. Replacements are readily available, and it's wise to order one in advance before you need it.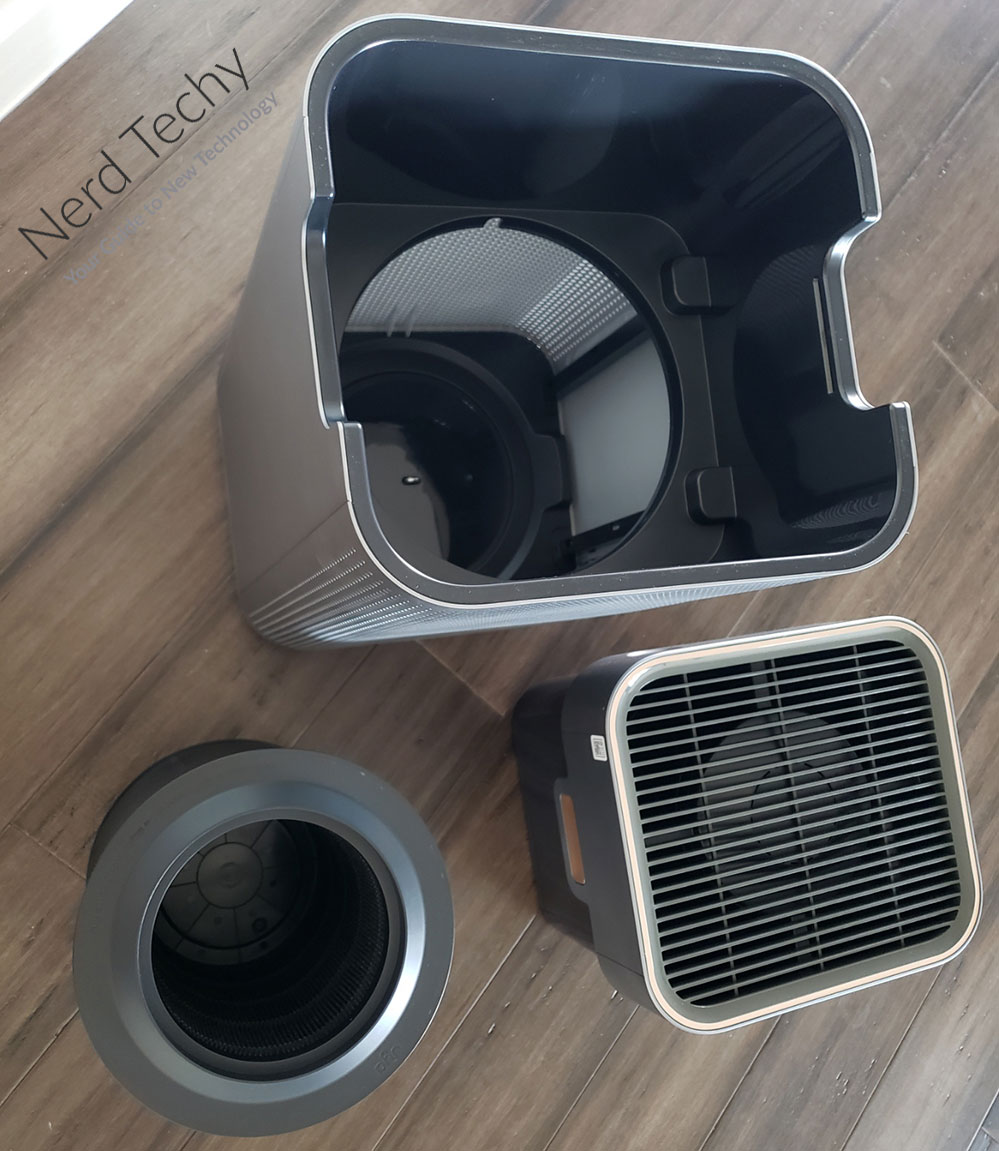 What is the Jya Ford Capable of?
This air purifier is engineered for areas of between 334 and 581 square feet. As with any purifier, this assumes a standard 8-foot ceiling. If you have cathedral ceilings, you'll be able to cover less square footage. Conversely, if you have a room with a shorter ceiling, you can cover more.
The H13 HEPA filter has the same accordion-style design as your typical HEPA filter. But most home HEPA filters are of the H12 variety. H13 filters are a cut above, and can remove 99.95% of all particles measuring 0.2 microns or more in diameter. This includes mold spores, pollen, bacteria, and even many viruses.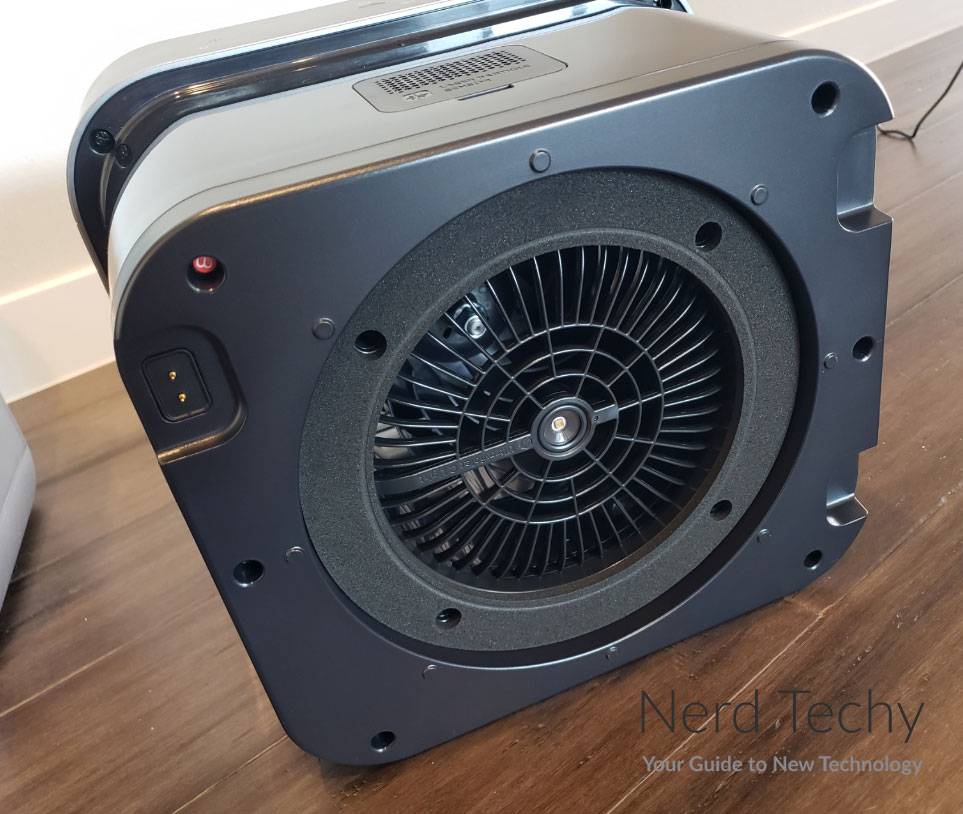 For most people, 581 square feet will be plenty. That's enough for a few rooms, or even a one-bedroom apartment. If you want to filter an even larger area, check out the Okaysou Apollo 718. It can cover up to 800 square feet, and it comes with a similar H13 HEPA filter. On the downside, it's big, bulky, and loud.
In addition to the four speed settings we already discussed, the Jya Fjord also has an automatic mode. In this mode, the air quality sensors will control the motor. When the air is clean, the motor will run on a low setting. When the sensors detect higher levels of contamination, the motor speeds up. This keeps your air completely clean while also saving you power.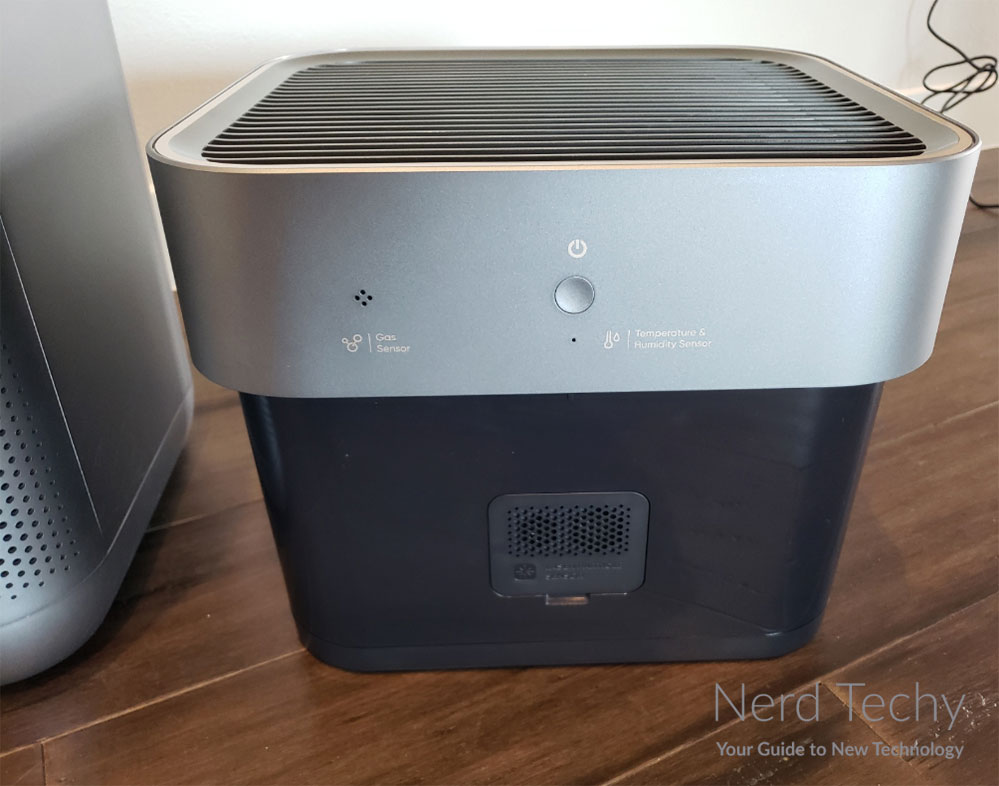 Extra Features
Besides physical filtration, the Fjord has a built-in ultraviolet sterilizer. After the air passes through the filter, it goes through a powerful UV beam. This beam kills viruses and any bacteria that have slipped through the HEPA filter. It doesn't make this a medical-grade filter; medical-grade filters require additional features. But it still provides you with some peace of mind.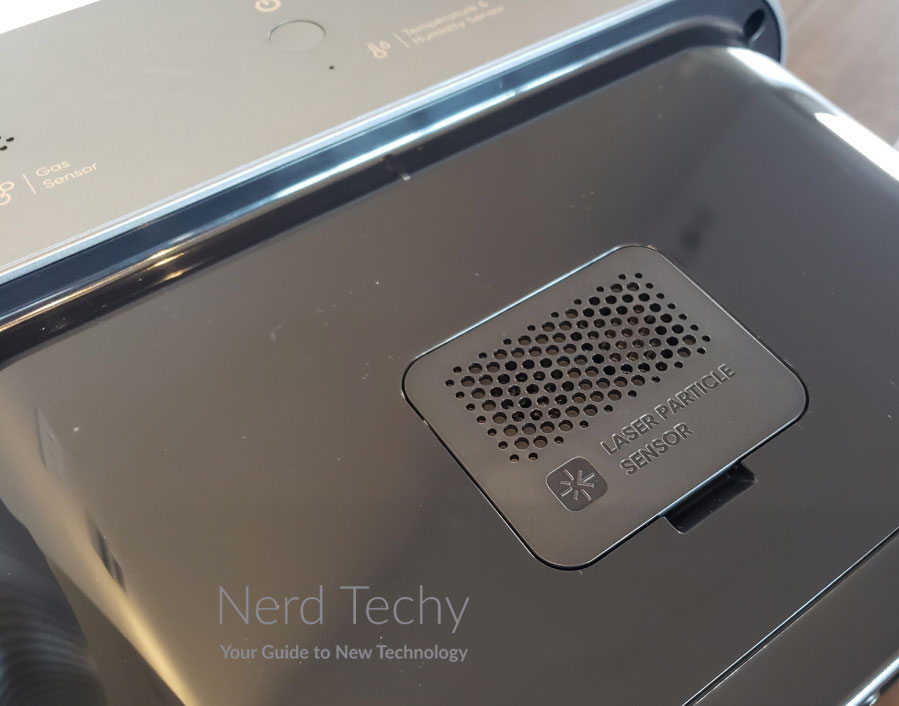 As we mentioned earlier, you can control the purifier with an app as well as the physical controls. The app is called "SmartMi," and is available for free on iOS and Android. For the most part, it offers all the same functions as the on-board controls. However, it also has a built-in logging system where you can track your air quality levels over time. Moreover, you can program a custom speed and power setting.
In addition, you can use the app to pair the air purifier with your voice assistant. It's compatible with Amazon Alexa, Google Assistant, and Apple HomeKit. This makes it easy to control your purifier with no manual input whatsoever.
Last but not least, the base of the unit is equipped with 4 inset caster wheels. This enables you to freely move it about without the need to physically lift it up.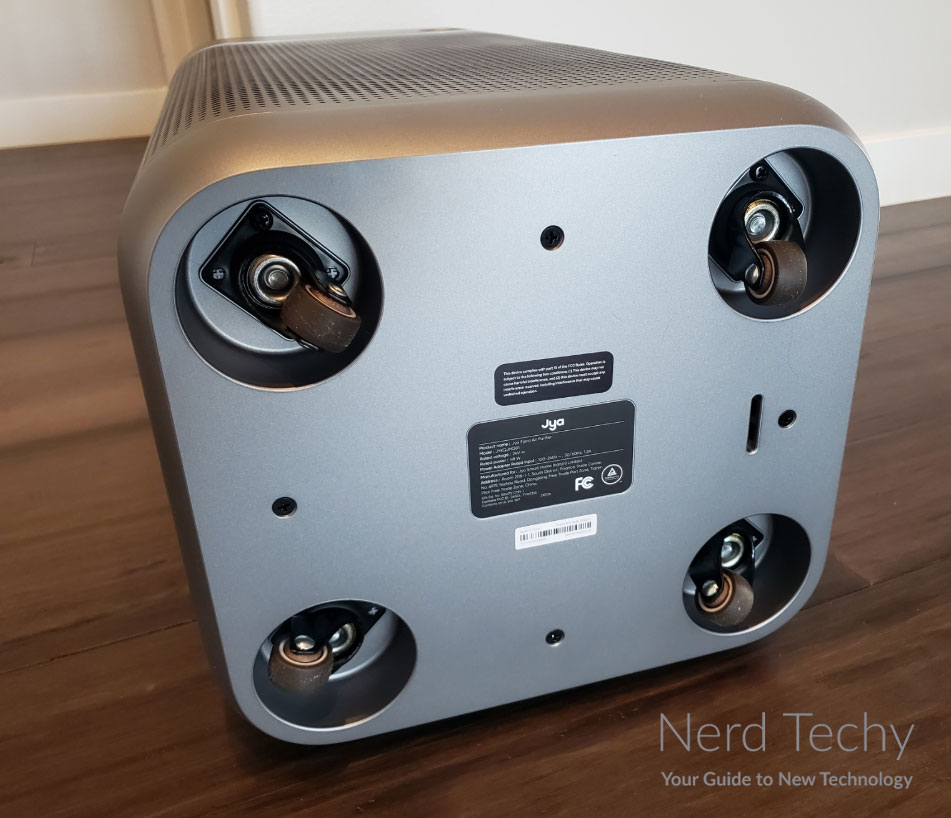 Final Verdict
The Jya Fjord Air Purifier is one of the better purifiers you'll see at this size and price. It's easy to use, and the H13 HEPA filter removes more contaminants than most home purifiers. Meanwhile, the UV sanitizer destroys most hostile microbes. And with nearly 600 feet of coverage, you'll have plenty of coverage.