EcoFlow Power Kit
Pros
Modular design that's easy to upgrade later on.
Provides up to 15kWh of capacity.
Simple installation process.
Fantastic build quality.
Regular firmware updates provide fixes for any issues.
Cons
Relatively expensive.
5kWh batteries are 90lbs. each.
Battery heating does not self-activate.
The recent explosion in remote work has allowed millions of people to spend their work days at home. But without being tethered to a physical office, people aren't just rethinking work. They're rethinking what "home" means. For many, home can mean the freedom of the open road.
RVing used to be mostly the realm of retirees and hippies. If you worked a regular job, it wasn't a practical lifestyle. With remote work, you can take your RV or modified van anywhere you want. At the same time, you're going to need to run some electronics. That's why it's important to wire in a power system with backup batteries.
Note: At no extra cost to you, we may earn a commission for purchases using our links. Learn more.
Today, we're going to review the EcoFlow Power Kit. EcoFlow is well-known for their travel-friendly gear, such as their popular EcoFlow Wave portable air conditioner and a multitude of portable power stations such as the Delta Max.
It's an all-in-one power solution that's ideal for RVs, camper vans and off-grid tiny homes. Today we're going to examine each feature and analyze a few pros and cons. Let's get right into it.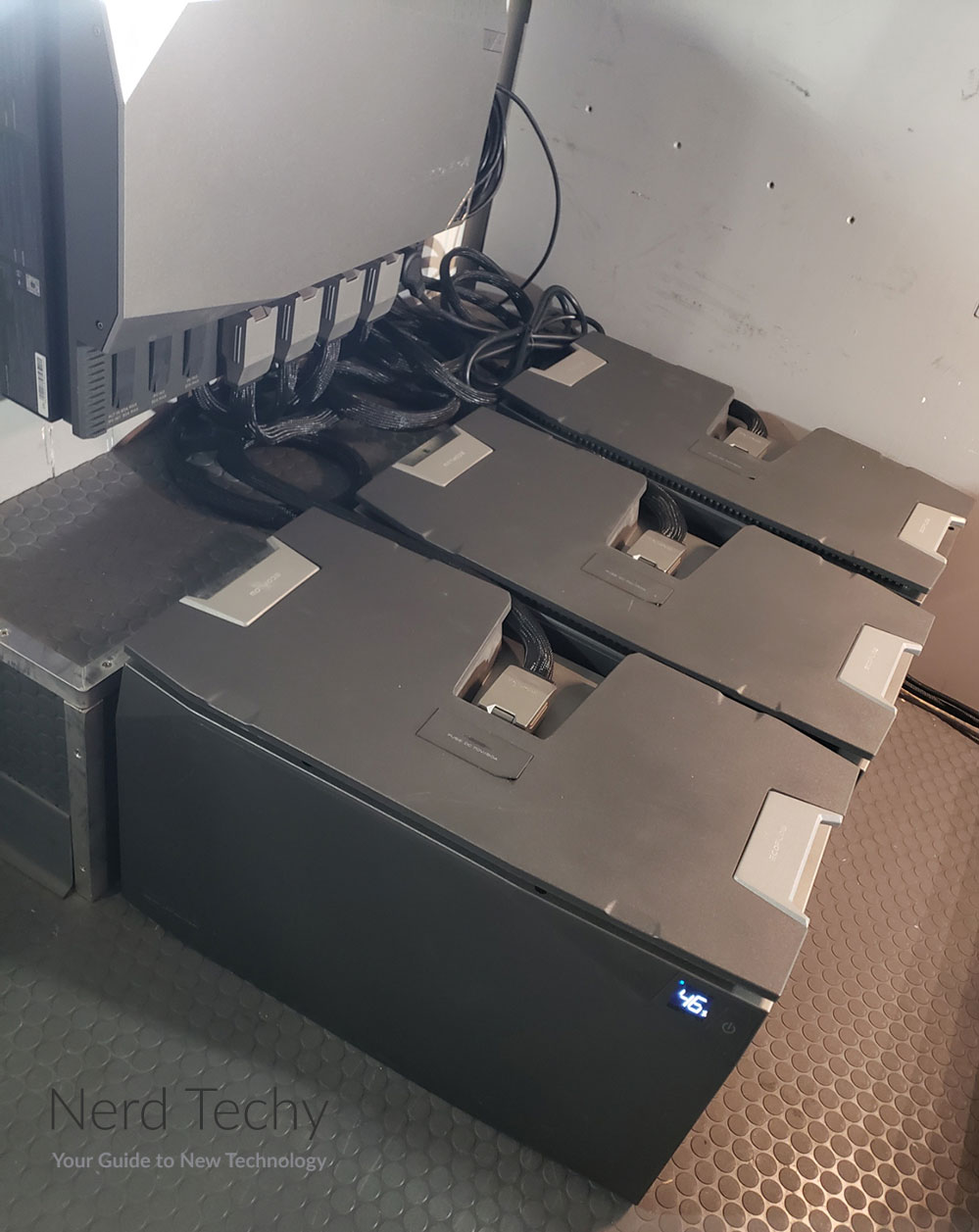 Design & Durability
The EcoFlow Power Kit isn't a single device. It's a modular system designed to store power in your RV, van or tiny home, then deliver that power as needed. There are three primary components, beginning with the battery, which itself is modular. We'll talk more about the battery and capacity in a couple minutes.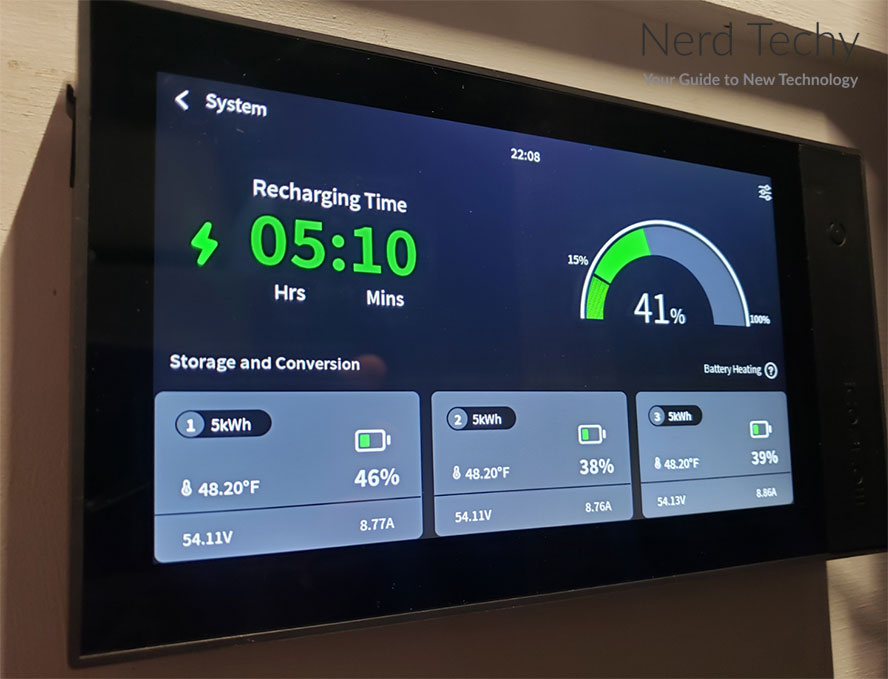 The second main component is the Power Kit Console. This is an attractive 7-inch touchscreen display in a housing that's 8 inches wide, 4.5 tall, and 0.9 deep. The display will show your current battery level, power input/output, charging status, and other useful info. If you have multiple batteries, you'll even be able to view their status individually. You can use it to adjust certain settings, independently control AC and DC power and more. Best of all, you can put it almost anywhere in your van or RV, regardless where the batteries and hub are located.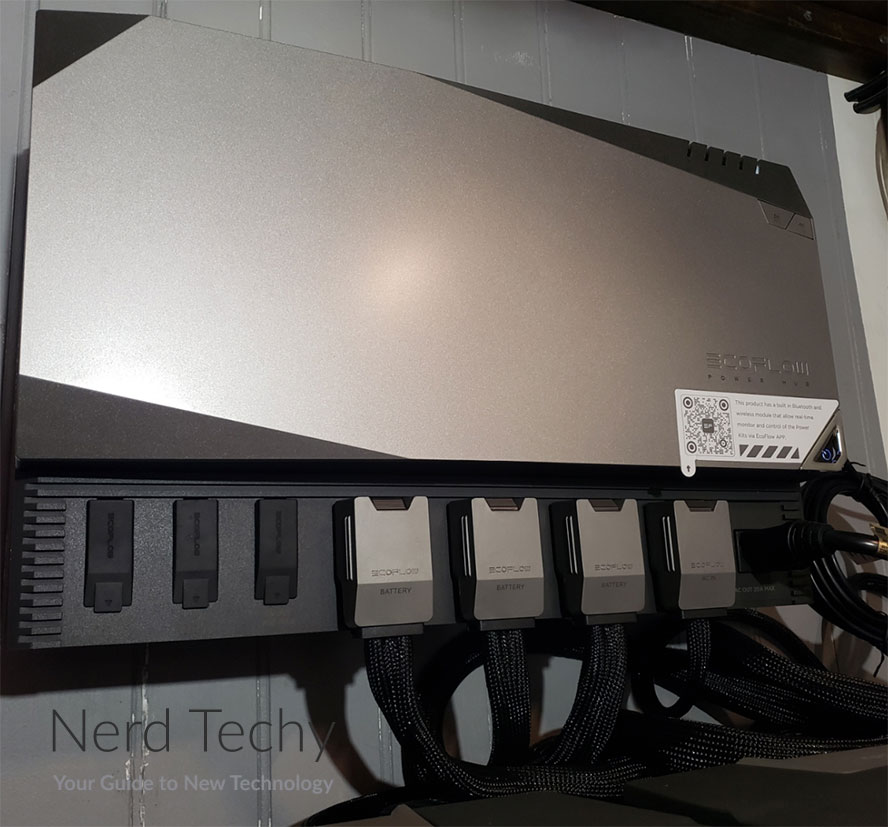 The third main component is the Power Hub. This is an all-in-one pure sine wave AC inverter, solar MPPT controller, and DC-DC step-down converter. It's extremely heavy-duty, and measures 18.9 inches wide, 11.8 inches high, and 5.5 inches thick. This makes it small enough to mount just about anywhere with the included hardware, but there's a caveat. EcoFlow recommends at least 10cm of clearance at the air inlet and 20cm at the outlet. That's about 4 and 8 inches respectively, to allow for proper air flow. Otherwise, you may run into issues with overheating.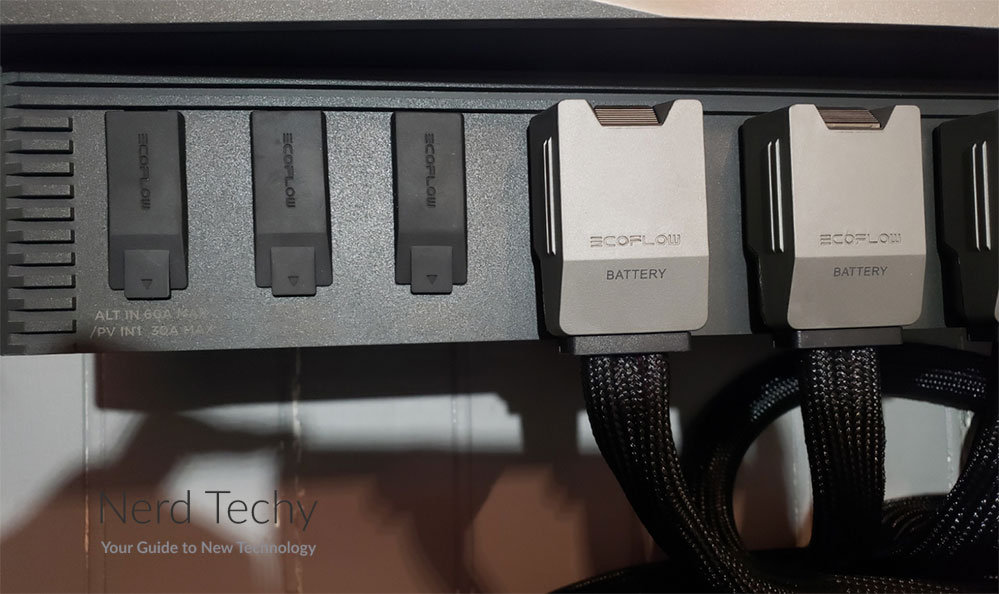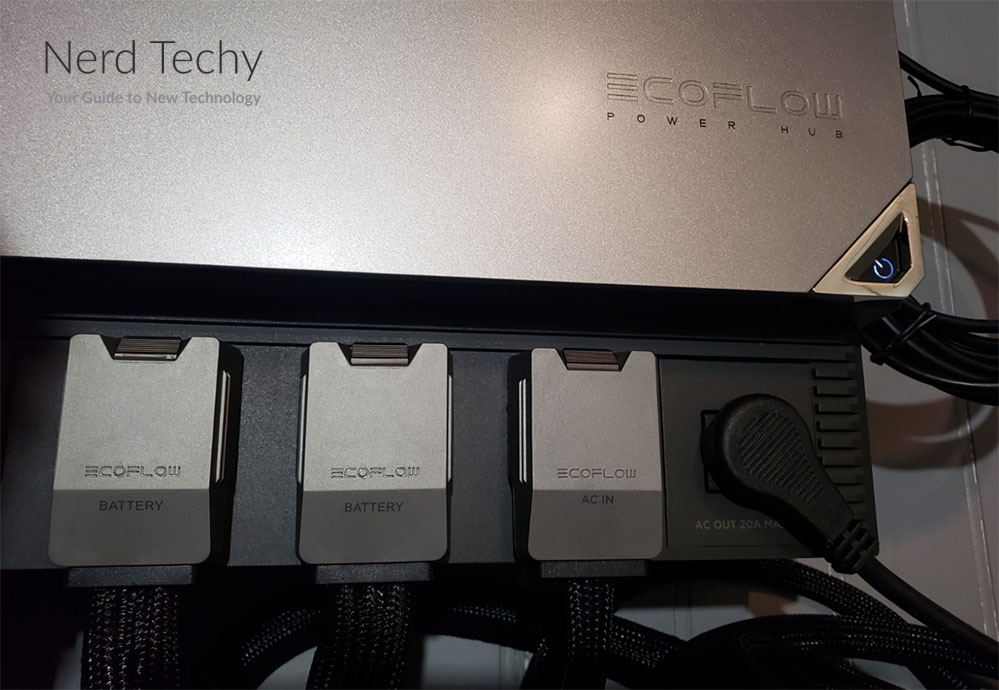 There's a row of ports across the bottom of the hub where you connect other components with the included, proprietary cables. At the left is a single charging port for alternator power. The next two ports are for connecting (PV) solar panels. Next are three triangular sockets that allow you to connect up to three batteries. At the right is a single AC power outlet, where you can plug directly in for AC inverter power. On the right side of the housing is another controller, where you plug-in an Ethernet cable that goes to the touchscreen controller.
EcoFlow backs the Power Kit and all its components with a five-year warranty. If it fails during that time period, you'll be asked to either send it in for repair, or you may even receive a replacement for the defective part. That said, be sure to keep any of the original boxes in case this occurs.
Battery Capacity
As we already mentioned, the battery portion of the EcoFlow Power Kit is modular in and of itself. To begin with, you can choose from two different batteries. The first has a capacity of 2kWh, and weighs 37 pounds. It measures 13.7 inches wide, 11.2 inches deep, and 7.8 inches thick. The second is a larger 5kWh battery, which weighs in at a hefty 90 pounds. It has a width of 19.7 inches, a depth of 11.8 inches, and a thickness of 10.2 inches.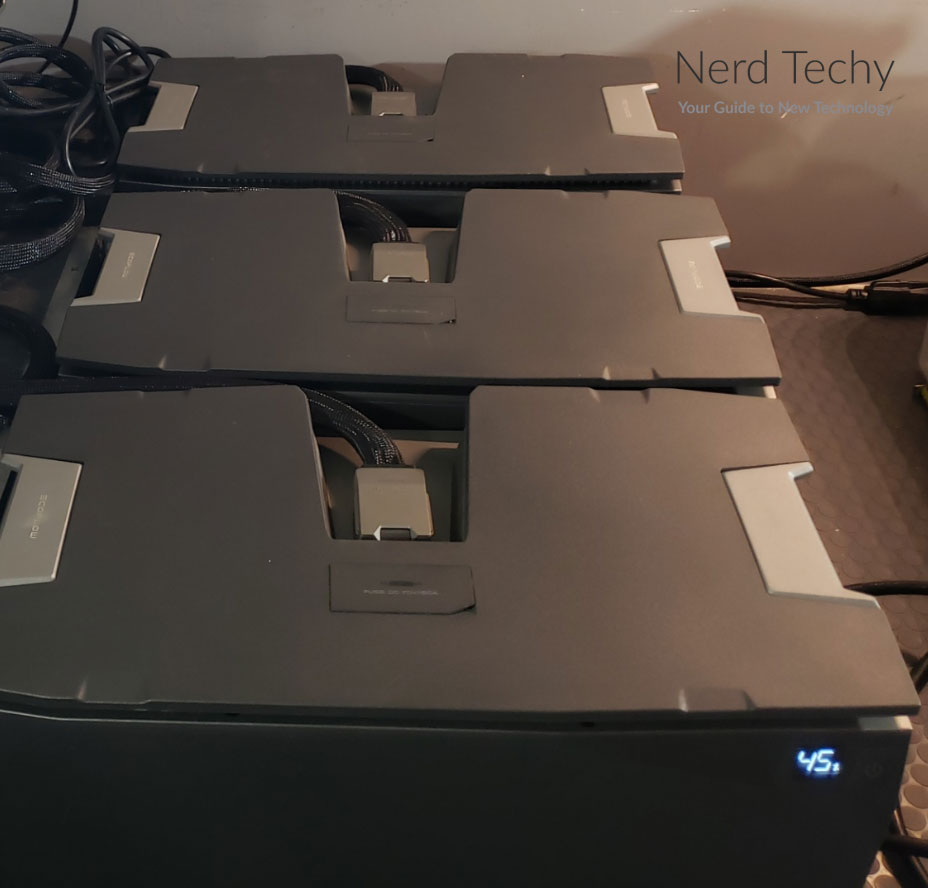 You can use up to three batteries together, and they're designed to be stackable or rest side-by-side. One sits neatly on top of another, and can be mounted with the included hardware, securely in-position. By doubling or tripling your capacity, you can opt build a 4kWh, 6kWh, 10kWh, or even a 15kWh backup system. Be careful, though. You don't want to mix and match 2kWh and 5kWh batteries. For one thing, they're different sizes, so they won't stack properly. For another thing, you can actually damage the battery cells by mixing different capacities.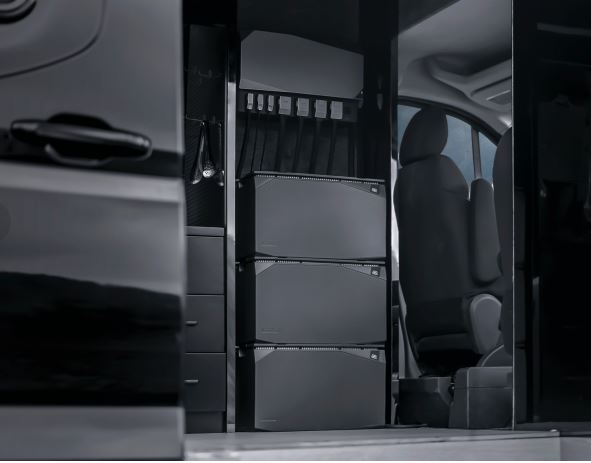 So, how much capacity does this translate to? In the US, the average household draws 29kWh to 30kWh of power per day. But that's for a full-sized house. A house or even an apartment will draw a ton of power for air conditioning. Not only that, but you're probably driving your RV or van much of the time. That means you're running on alternator power for a lot of the day. In practice, even the big 15kWh setup is going to be overkill for most people.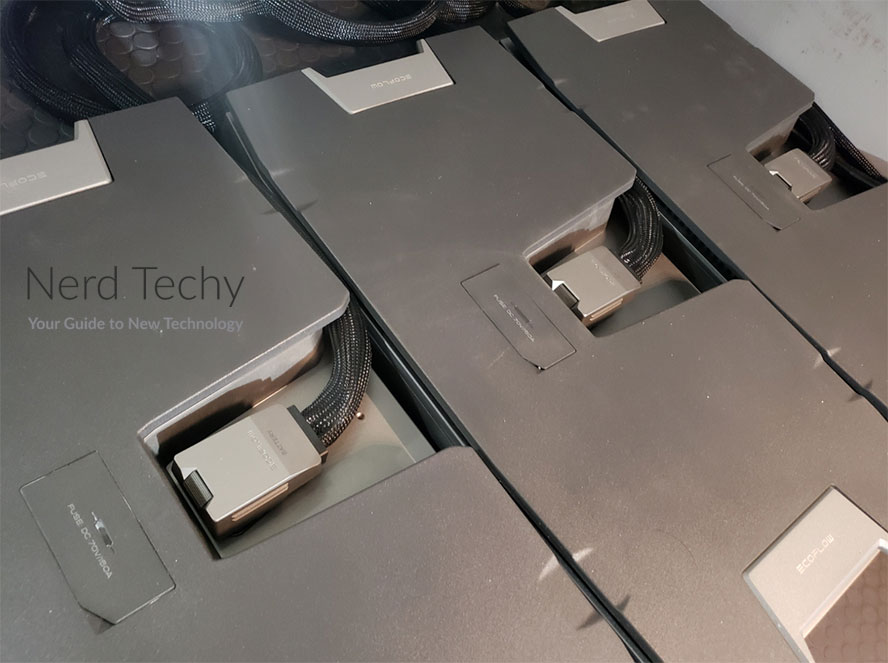 Before you order, it's wise to look at all your electronic devices, including lights and air conditioning. Add up the total wattage, and multiply that by the number of operating hours without the engine running. This will give you your total energy requirements for the day. Make sure to work 10% to 20% of extra capacity into your design. The last thing you want is to plug in a toaster or hair dryer and overload your entire power system.
Charging Capabilities
There are four ways to charge the EcoFlow Power Kit, each with its own costs and benefits. The most powerful option is solar power, which you can supply at a rate of up to 4,800 watts. That's enough to fully charge a 15kWh battery array in a little over three to five hours. Of course, we're talking about big, powerful solar panels, with 2,400 watts supplying each input port. On the other hand, you could set up rooftop solar panels and charge the batteries whenever there's sunlight.
The next option is to use a vehicle alternator input. This can supply up to 1,000 watts of charging power. That said, charging from your alternator is a lot like charging from a solar panel. The actual performance will depend on your output. Assuming you get the full 1,000 watts, it would take 15 hours to charge a maximum-sized battery array. For a 6kWh setup, charging would take around six hours.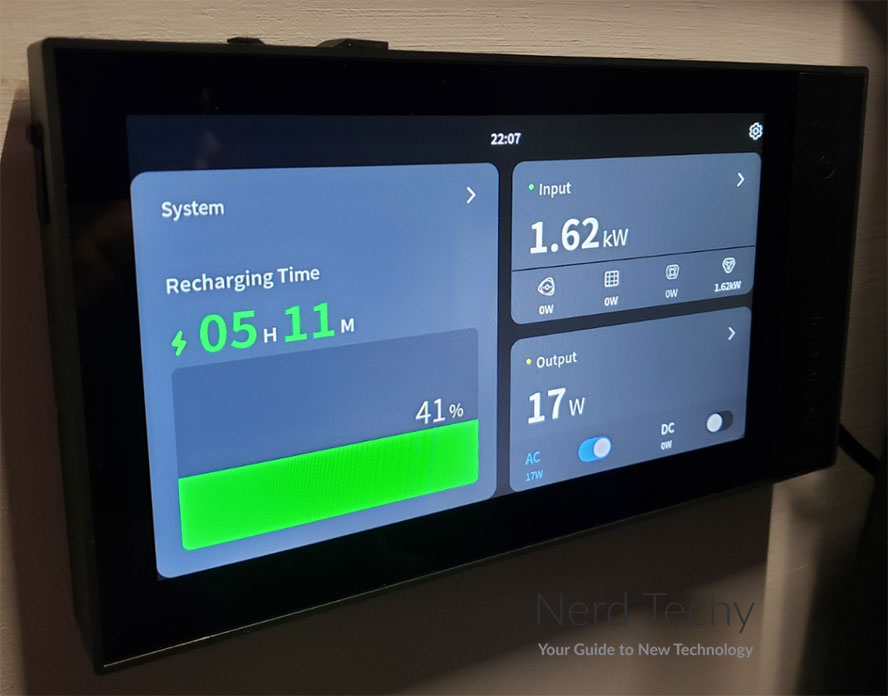 The third way to charge the Power Kit is with a shore power input. Via shore power, you can draw as much as 30 amps of power. That's enough to charge a 15kWh battery array in only five hours. On the plus side, this method is simple. You're plugging into shore power anyway, and you don't need to take any extra steps. On the downside, you won't always have access to shore power. If you're spending days in a row away from any supply, you'll need a different charging method.
Finally, you can use the EcoFlow Smart Generator. The Smart Generator is a traditional gas-powered generator that works with the EcoFlow app. With the app, you can fine-tune the rate of power delivery, monitor your fuel levels, and more. The generator can supply up to 1,800 watts, which charges the maximum size battery array in just over eight hours.
Installation
Typically, setting up and configuring a complete off-grid power system is a huge undertaking. Not only do you have to spend thousands of dollars on specialized components, you need the knowledge to properly put it all together. This is truly where the Power Kit sets itself apart.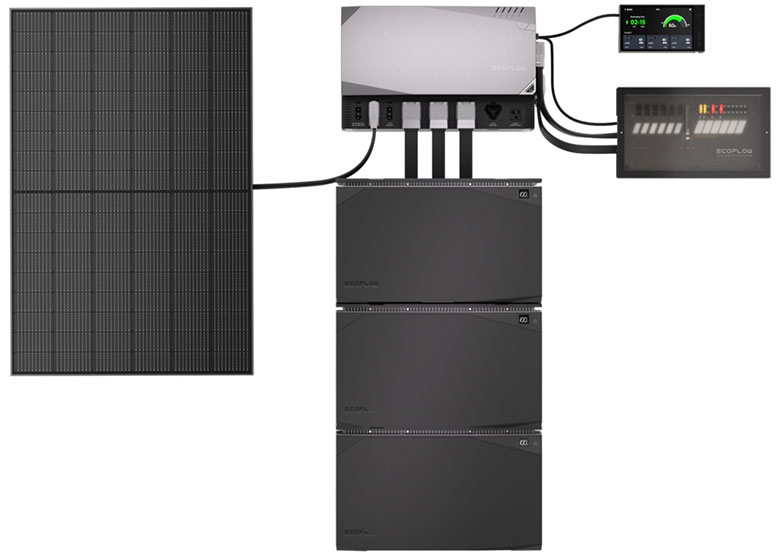 Installation is very easy, even for those with little or no knowledge of electrical. EcoFlow has done a fantastic job at creating an all-in-one solution to install total off-grid power without the specialized skillset. Everything is plug and play. Ultimately, everything, even down to the cables that connect each component is included.
There's no need for manual cable crimping other than a couple different instances. You may need to wire some low-voltage DC wires if you decide to utilize the DC distribution panel. Also, the shore-power cable does not come pre-configured with a plug. It's easy to acquire one of these aftermarket, but it's definitely something to be aware of.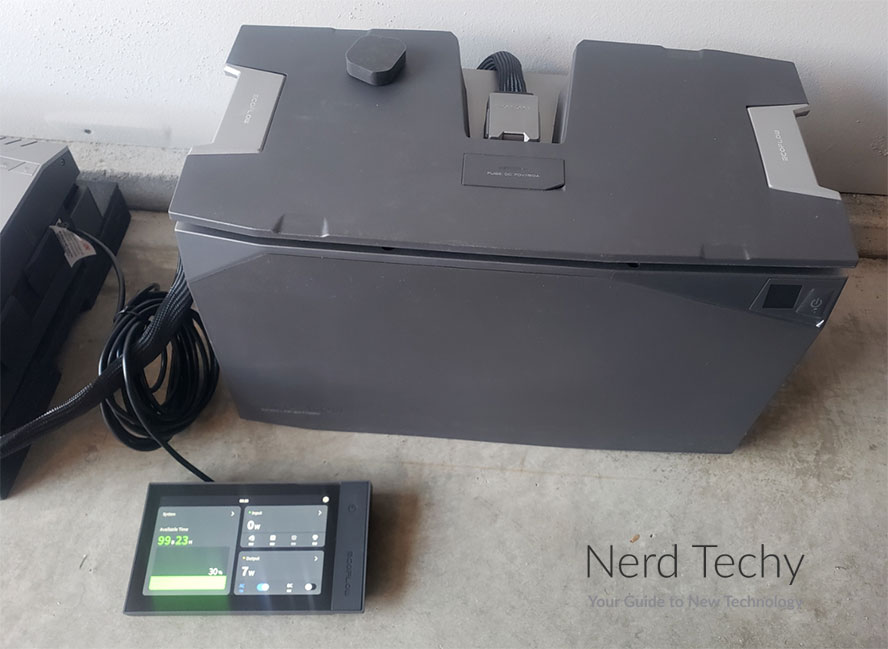 Before you actually install it in your camper van or off-grid home, simply lay everything out next to each other. Next, plug the batteries and console into the Power Hub. At that moment, the real-time battery life will be displayed and you can begin freely using it. Having the ability to pre-setup everything before a permanent installation is a smart idea.
Lugging around the batteries and finding a secure place to install them is probably the biggest caveat. While they aren't necessarily that bulky, you still need a dedicated space in your RV, camper or tiny home to place them. This is why we recommend pre-configuring everything onsite before a relatively permanent install.
Compatibility
The Power Kit gives you a couple of ways to deliver power. To begin with, there's only one output terminal for connecting AC circuits. This can be split with the use of an extension cord, or you can wire this into your RV's existing circuitry, or build in new outlets if there are none already. The AC circuit can supply a maximum of 20 amps, so you can run larger appliances. This can come in handy if your RV has appliances such as a microwave, induction cooktop, etc.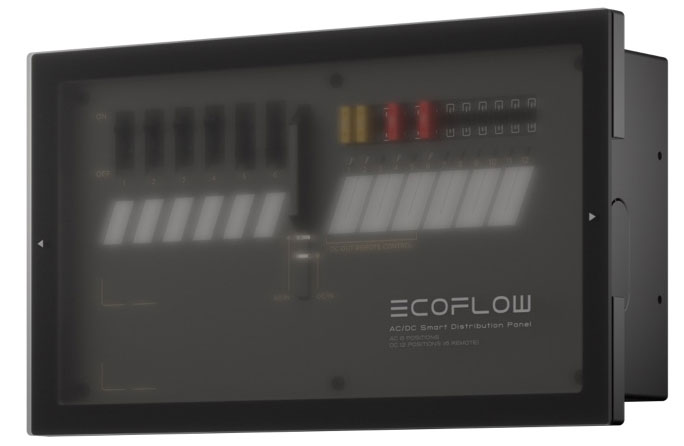 In addition to AC power, the Power Kit also supplies DC power. By using the optional DC distribution panel, there are 12 sets of DC power poles, each with its own fuse. This allows you to power most devices that are designed for use in vans and RVs. You can wire in a 12-volt DC water pump for your sink, shower, or toilet. Meanwhile, the fuses provide an added layer of safety protection. You don't have to worry about a single defective device blowing out your entire kit.
This combination of power supply poles gives you plenty of ways to connect. Even if you have a large RV, you shouldn't have any shortage of power ports. The real only downside is that all of this power costs a small fortune. You could buy a used car for the price of the 10kWh bundle.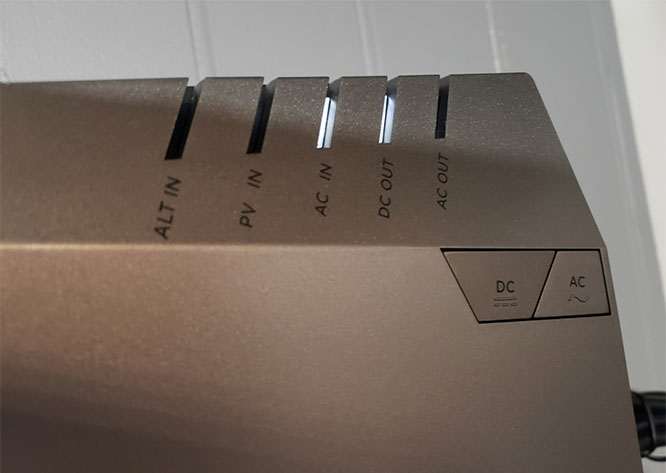 Safety & Extras
The Power Kit can operate safely under almost any conditions. The Power Hub has a rated operating temperature of -13 to 140 degrees Fahrenheit. The batteries, meanwhile, can be safely used between 32 and 122 degrees. Even above 122 degrees, they will continue to safely retain charge up to a maximum of 140 degrees.
Keep in mind that the entire kit is housed inside your RV or camper van. As long as you haven't completely run out of power, you should have climate control available. If it's too cold or too hot, you can just fire up the engine and run the heat or A/C for a few minutes. This should bring the environment to an acceptable working temperature.
Thankfully, each battery has its own built-in warmer, if conditions ever get down to freezing level. However, it doesn't automatically kick-on. On the console touchscreen, a prompt will appear that will ask you if you'd like to start warming the batteries. Unfortunately, this isn't automatic. At least not yet. Future firmware updates may make the battery heating feature kick-on automatically.
Besides the touchscreen control, you can operate the Power Kit with the EcoFlow app. Once connected to a 2.4GHz WiFi network, the app gives you real-time insight into your power usage, charging status, and other valuable data. You can even view your historical statistics and power usage over time. This can help you identify any inefficiencies in your system or power-hogging devices.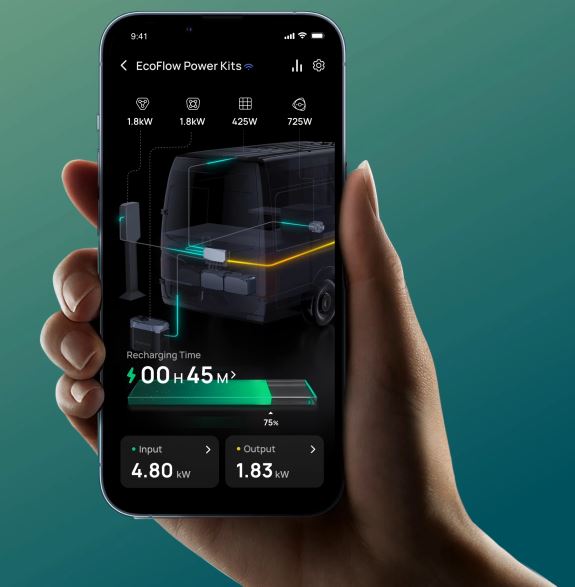 Within the app, you can also control six of the DC power circuits directly. Let's say you want to remotely control your RV's water pump. You can wire them into one of the remotely-controlled circuits and operate it via the app. As a result, you'll have far more control over your RV's systems than you otherwise would.
Best of all, the app lets you update the firmware when needed. Since the Power Kit is relatively new, some features are added or tweaked with each update. When we first received the entire kit, we had two issues with it.
The first was trouble with the batteries discharging at variable levels. One of our batteries was at 95% while the others were below 40%. The next was the AC power automatically shutting off after two hours of inactivity. Soon after, we told EcoFlow's customer support about these issue. To our surprise, they provided a firmware update that fixed both of these issues, and now it works perfectly, as it's supposed to. That said, if you discover a bug or problem when using your kit, contact support and they'll likely offer a remedy within a few days.
Final Verdict
The EcoFlow Power Kit is a highly effective way to supply electricity to your RV, camper van or off-grid home. We particularly loved the ease of use the Power Hub offered. In most systems, you'd need a separate MPPT, DC-DC step-down converter, and AC inverter. EcoFlow has built all of this into a single compact device that's easy to install in a small nook.
The power kit console is straightforward and easy to use. The touchscreen operation is intuitive, and you can mount it anywhere in your van or RV. And with modular batteries, you can choose your own power reserve. Save money by building a modest 2kWh system, or go all-out on a 15kWh behemoth. It's all up to you.
With four charging options, you never need to worry about running out of juice. Up to 4,800 watts of solar power can charge even the largest battery setup in just a few hours. Alternator charging allows you to power your batteries directly from your engine. You can charge via shore power any time you plug in your RV. And if worse comes to worst, you can even charge with EcoFlow's smart generator.
20 amps of AC power allow you to operate full-sized appliances in your RV. And with 12 DC circuits, you can wire in all your ordinary 12V components. Smartphone controls make it easy to control individual circuits, and you can use the system in almost any weather. Other than the price – which is understandable – we had zero complaints. Overall, EcoFlow did a fantastic job in creating an easy power system that anyone can utilize, even if they have little to no electrical knowledge.
One last thing worth noting, the cables for the batteries will ship separately. When your entire kit ships to you, it'll often arrive in a variety of boxes. So if you receive everything but the cables to connect the batteries to the Power Hub, give it a few more days before reaching out to customer service.
Please consider sharing:
Note: At no extra cost to you, we may earn a commission for purchases using our links. Learn more.