If you're sensitive to the air around you in your home, chances are you've heard of an air purifier before. These devices take in the air surrounding you, filter it out, and put it back without all the dust, mold, pollen, and more that can cause harm.
But are they just for those with sensitivity and allergies? Nope! These are great devices for anyone to have in their home. If you're new to them, there are a few questions you likely have before actually picking one up for yourself. Let's talk about a few of them.
What do air purifiers do?
Air purifiers take in air from their surroundings and run it through a filter or series of filters. These filters take out a majority of the particles in the air that can harm your lungs and cause allergies to flair.
Homes with lots of dust, mold, or pollen are common places to use an air purifier. Once the harmful particles are filtered out, the air is pumped back out into your home for you to breathe safely.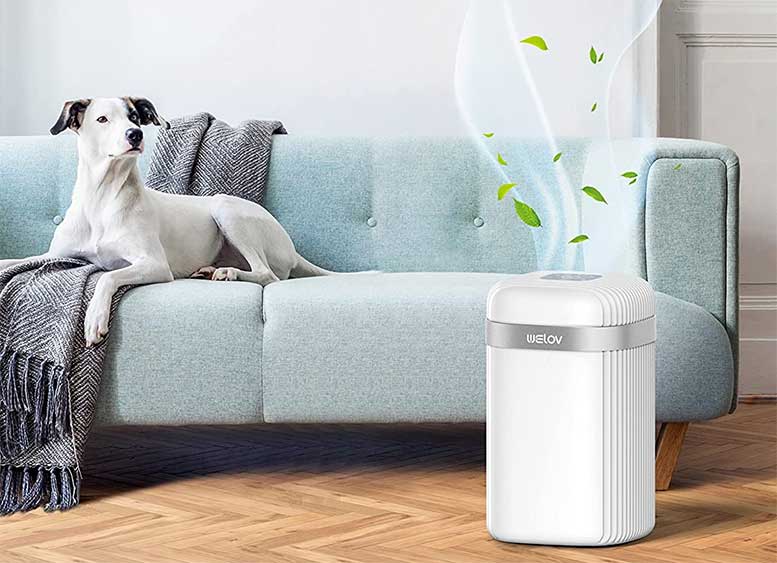 Are air purifiers loud?
Many of them are designed to be extremely quiet. Typically they range from 20-50 decibels while in use depending on how hard you have them working. For reference, 20 decibels is quieter than a whisper, and 50 decibels is about the same level as a quiet refrigerator.
So regardless, you shouldn't notice much noise at all while in operation. That being said, some of the options featured in our list have modes that produce white noise. This helps those who like a bit of background noise while going to sleep.
Can an air purifier purify my whole house?
Most likely the answer will be no. These featured purifiers all cover maximum areas of around 1000 square feet. For the most effective use, you may want to put your purifier in your larger, more commonly used rooms such as a bedroom or living room.
Why do I want a HEPA-specific air purifier?
HEPA stands for high-efficiency particulate air filter. These standards are set by the US Department of Energy. To be considered HEPA, the filter must remove at least 99.97% of particles such as dust, pollen, mold, bacteria, and other airborne particles. You would want to use a HEPA air purifier because of how effective it will be at removing particles and purifying the surrounding air.
1. WELOV P100 Air Purifier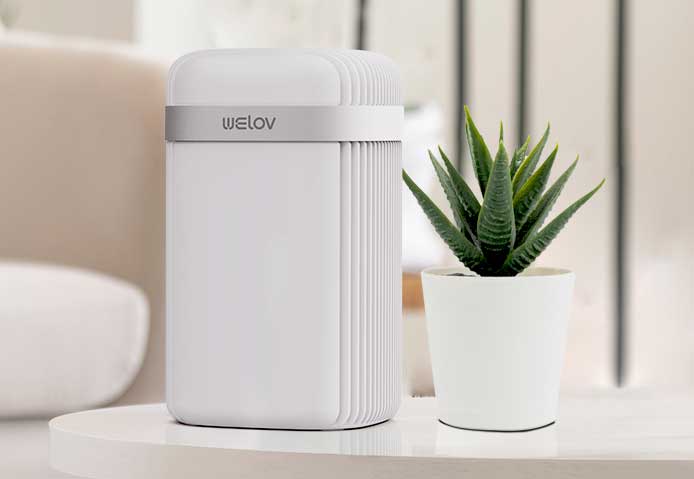 Key Features:
Sq. Ft: 966 square feet of coverage
Sound: 23 decibels at the lowest sound
Extra: 3-stage filtration
The WELOV P100 Air Purifier is a device that does its job well and comes with some cool extra features. It can capture airborne particles as small as .1 microns in size. Using its 3-stage filtration system, it can produce clean air for a maximum area of 966 square feet.
Air is first filtered through a pre-filter, then an H13 True HEPA Filter, and finally an Active Carbon Filter. To reach its maximum area, it takes 60 minutes. In only 12 minutes it can purify an area of 161 square feet, making it a solid option for individual rooms. For smaller rooms, it can completely refresh the air up to 6 times per hour, giving you quality air to breathe.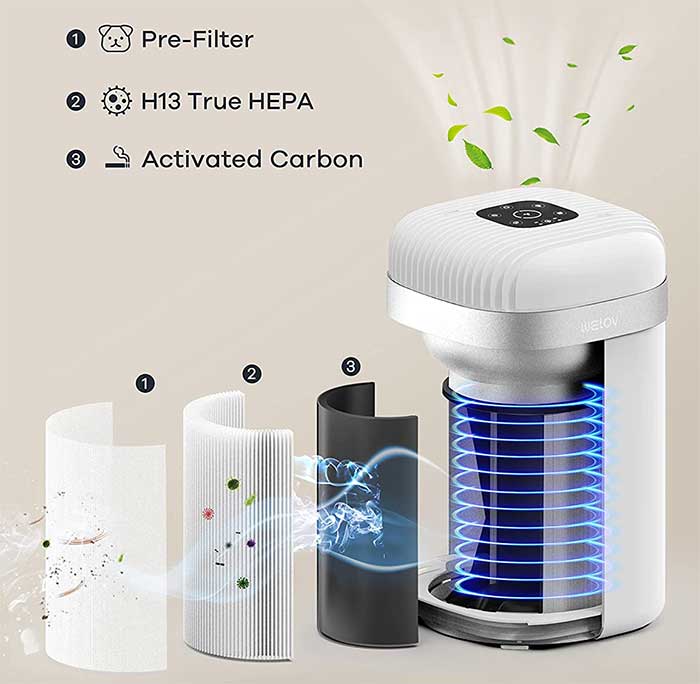 An important aspect of any air purifier is the level of sound it produces. The WELOV P100 is library quiet, operating at as low as 23 decibels while in sleep mode. At maximum power, it can reach as high as 40 decibels. However, neither of these are very loud levels and shouldn't become obnoxious in your home. Various settings will change the amount of noise produced. With three fan speeds and various time settings, you have plenty of customization choices to match your lifestyle.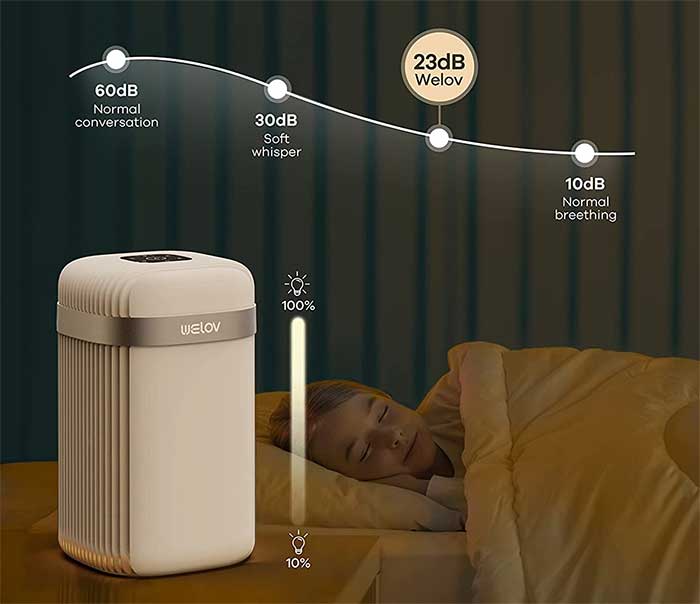 While some devices in your home may stick out like a sore thumb, the WELOV isn't one of them. It's designed to be compact, with dimensions of 8 x 8 x 15 inches. Aesthetically, it's only available in white. This color choice should still allow it to blend in naturally with the design of most rooms. Additionally, it comes with a built-in night light to give it dual-purpose while in use at night. The top of the air purifier is where all the controls are housed, making it easy to set it how you want it to operate.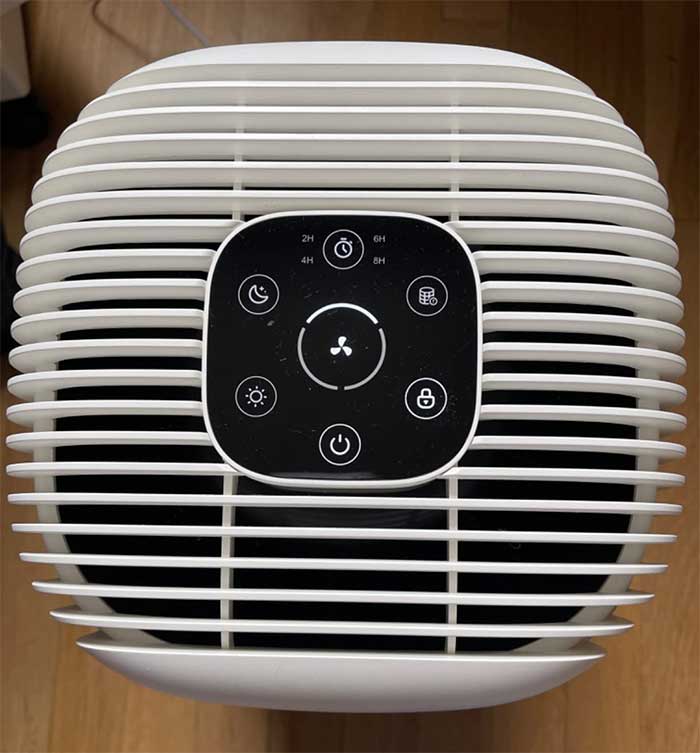 One great additional feature is its energy efficiency. The WELOV is energy star certified, using only .35 kilowatt-hours of electricity while in use for a whole day. Using a price of 13.9 cents per kilowatt-hour, it will only cost you about $1.50 per month to run it on maximum settings continuously. Not a bad price to pay for purified air and peace of mind.
Given its effectiveness at purifying air and its additional features like a nightlight and affordable cost of operation, the WELOV P100 is a solid choice to consider.
Pros:
Built-in nightlight
Affordable to operate
Purifies 966 square feet in 60 minutes
Cons:
2. BLUEAIR Blue Pure 511 Air Purifier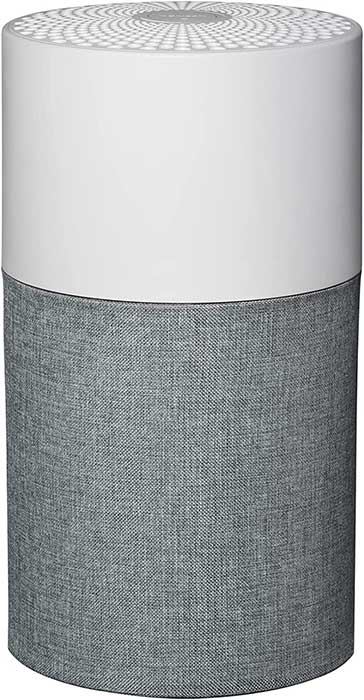 Key Features:
Sq. Ft: Up to 431 square feet of coverage
Sound: 24 decibels at the lowest sound
Extra: 3 filter color choices
The BLUEAIR Blue Pure 511 Air Purifier is a great choice for compact living spaces. At its highest coverage, it can purify an area of up to 431 square feet. This makes it ideal for dorm rooms, studio apartments, or individual rooms. To purify this amount of space it will only take 30 minutes. Small rooms around 180 square feet only take 12.5 minutes to purify. Using dual filtration technology it can remove particles as small as .1 microns from dust, pollen, pets, and more.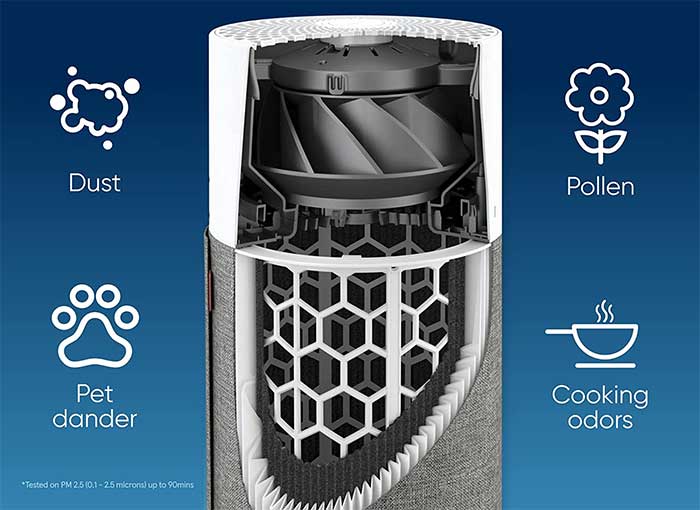 As for sound, the BLUEAIR is whisper quiet. At its quietest, it only reaches 24 decibels on its low setting. At its loudest, it can reach up to 49 decibels on its high setting. This makes it comparable to the option from WELOV and won't be overly noticeable while in use.
Following the trend of compact design, the BLUEAIR won't take up too much space. Its dimensions are 17.2 x 9.7 x 9.5 inches in a cylindrical design. Even though it's small, BLUEAIR takes it a step further to blend into your style by offering three different color options. The top of the purifier is always a standard white color. However, the bottom portion is a washable pre-filter available in blue, dark grey, and light grey.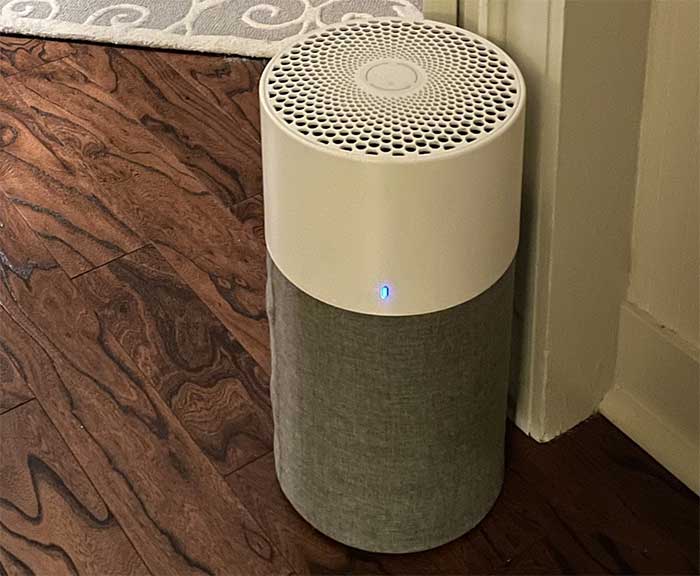 Even though it can purify less space than the WELOV, there is an advantage to that. When it comes to energy consumption, it uses less power than a lightbulb. Additionally, for the space it does purify, it does it extremely quickly. We would recommend the BLUEAIR to anyone looking to purify smaller spaces.
Pros:
3 color choices of pre-filter exterior
Maximum purification only takes 30 minutes
Cons:
Only purifies 431 square feet at maximum
3. AROEVE MK04 Air Purifier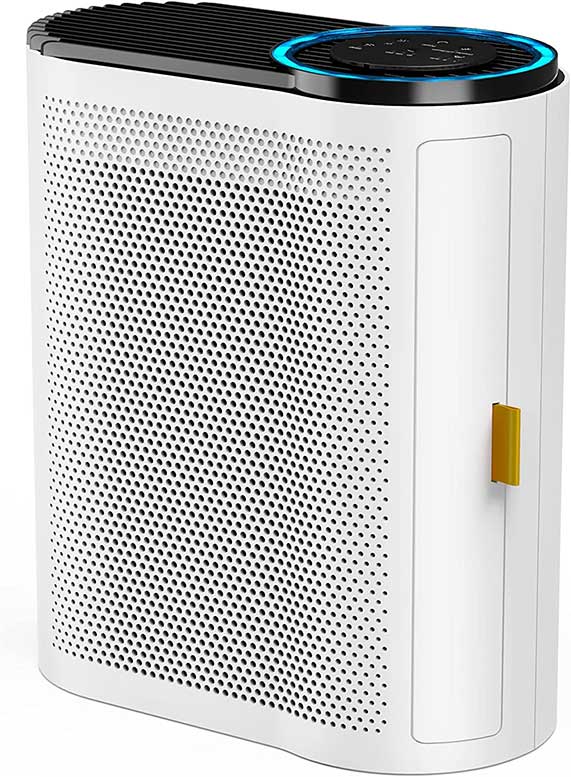 Key Features:
Up to 1095 square feet of coverage
As low as 22 decibels for sound
Easy change filter design
The AROEVE MK04 Air Purifier is a quality choice with a good amount of coverage. At full power, it can purify a space of up to 1,095 square feet. To do so it will take one hour. Using its H13 air filter, it can filter out particles as small as .3 microns. Best of all, it purifies using UV-C light as well. This allows it to purify the air even better to give you amazing air quality.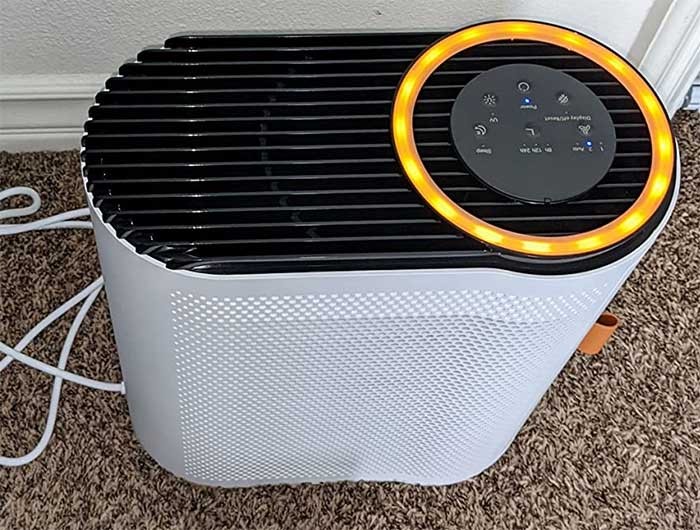 The AROEVE is a very quiet device while in use. At its quietest operation level, it will only reach 22 decibels. Additionally, there is an included sleep mode. This keeps it running at low noise levels to ensure you won't be disturbed by sound ramping up during the night.
This purifier takes on a unique design that still keeps things compact. The dimensions are 7.5 x 13.5 x 17.25 inches. While it's longer than the cylindrical design other options have, the narrower size lets you put it behind furniture or up against walls easier to keep it out of the way. As for color options, you can either get black or white. Either way, this is an easy-to-disguise air purifier.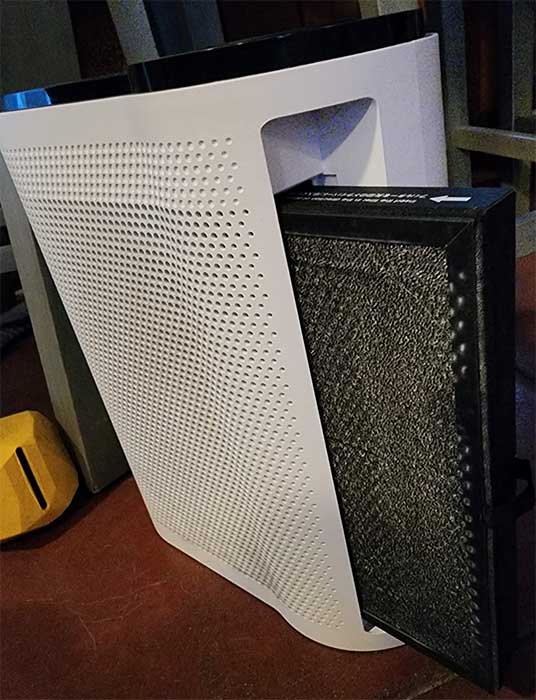 One awesome feature of the AROEVE is its air quality indicator. On the top of the device is a very noticeable light. This light can be three different colors depending on the quality of the air in the room. Blue indicates good, yellow indicates moderate, and red indicates poor. This lets you easily see if you need to change settings to bump up the air quality.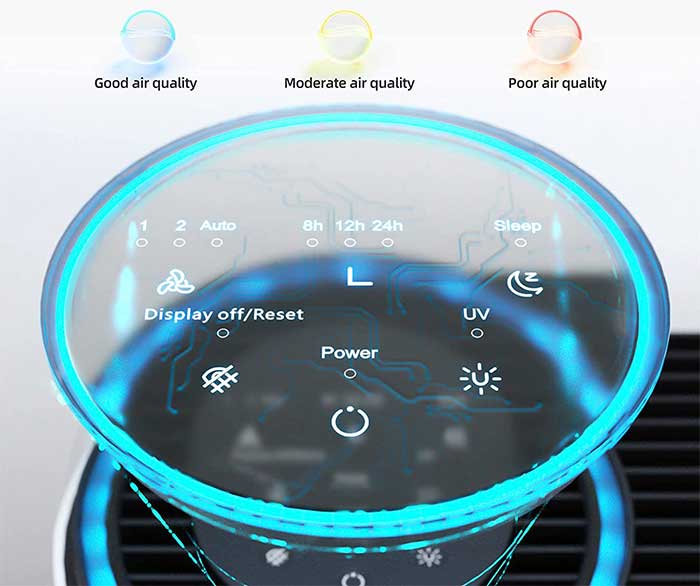 Additionally, the air filter is designed to be very easy to change out. With multiple ways to purify the air, awesome extra features, and a great design, the AROEVE is a solid option.
Pros:
UV-C purification
Air quality indicator light
Purifies space up to 1095 square feet in an hour
Cons:
Only filters out particles as small as .3 microns
4. Germ Guardian AC4825 Air Purifier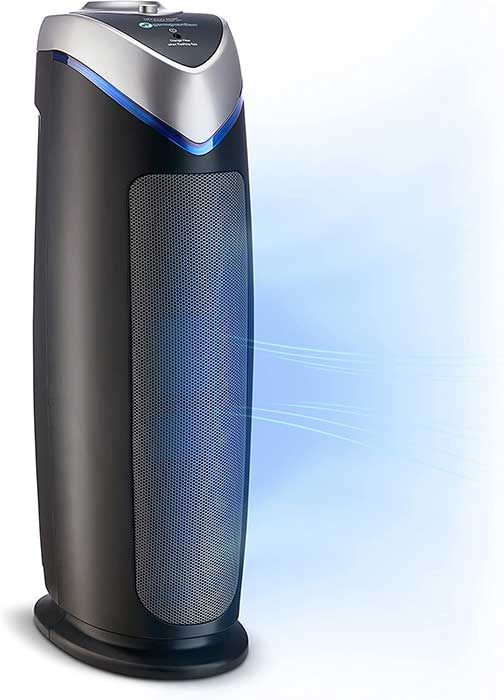 Key Features:
Purifies up to 743 square feet
White noise level for sleep
3-Stage filtration
The Germ Guardian AC4825 Air Purifier utilizes multiple stages of filtration to clean the air around it. It's able to purify spaces up to 743 square feet in one hour. For smaller rooms around 153 square feet, it can purify 4.8 times per hour. It purifies using a 3-stage system, starting by deodorizing with an active charcoal pre-filter. Then it purifies using a true HEPA filter. Finally, it sanitizes using a UV-C light system.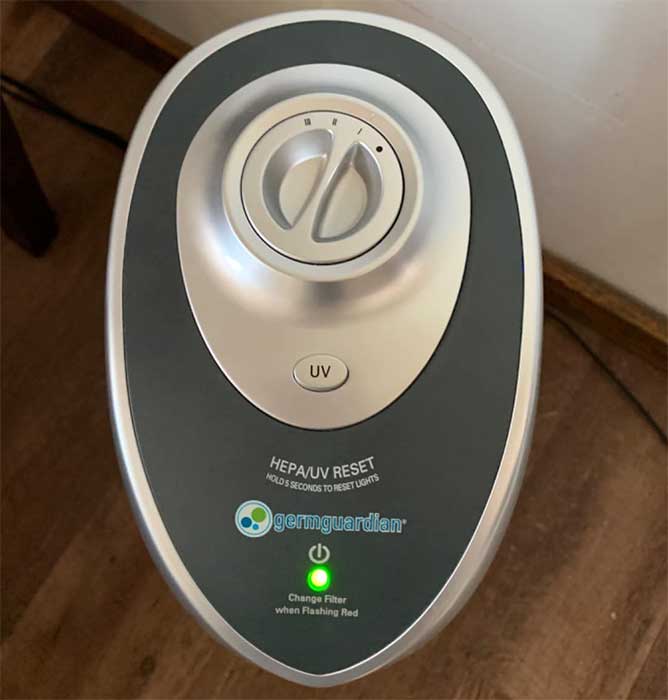 The sound created by the Germ Guardian is also very quiet. At its lowest setting, it can even be used to create a gentle white noise. This makes it ideal to put in bedrooms to purify the air at night and help you stay asleep.
The design of the Germ Guardian is a tall cylinder shape. It's 10.25 x 6.75 x 21.5 inches. That makes it the tallest option on our list. While it will stick out due to its height, it's narrow enough that you can still keep it out of the way. As for colors, it's available in white and black to give you options that match your aesthetic.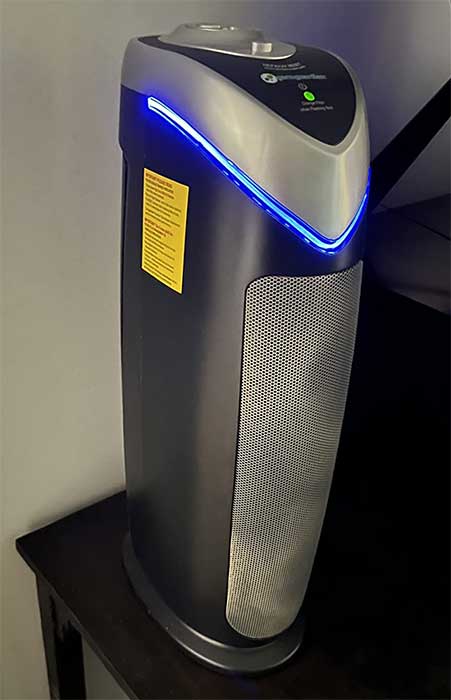 One great aspect of the Germ Guardian is its deodorizing capabilities. The charcoal filter reduces bad smells from pets, smoke, cooking fumes, and more. This keeps your air smelling great while also being safe to breathe.
Pros:
Odor reducing filter
3-stage filtration to purify and sterilize air
Most affordable option on the list
Cons:
Height may make it hard to hide
5. LEVOIT Core 300 Air Purifier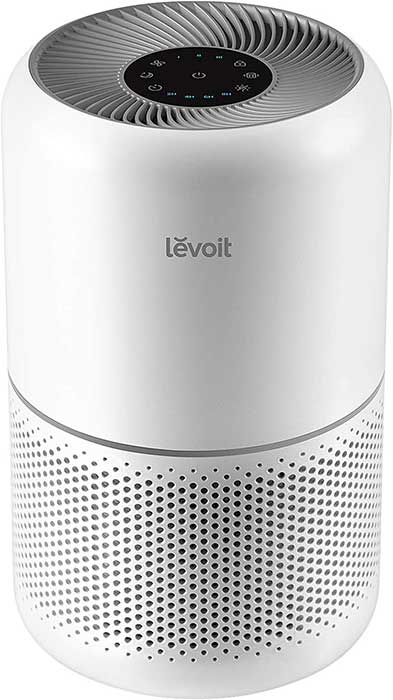 Key Features:
Purifies up to 1095 square feet
Sound as low as 24 decibels
Multiple filter options
The LEVOIT Core 300 purifies up to 1095 square feet of space in one hour. This purifier can bring in the air in a full 360 degrees, allowing it to do a fantastic job of cleaning the air. It uses a 3-stage system consisting of a pre-filter, HEPA filter, and carbon filter to filter our particles as small as .3 microns.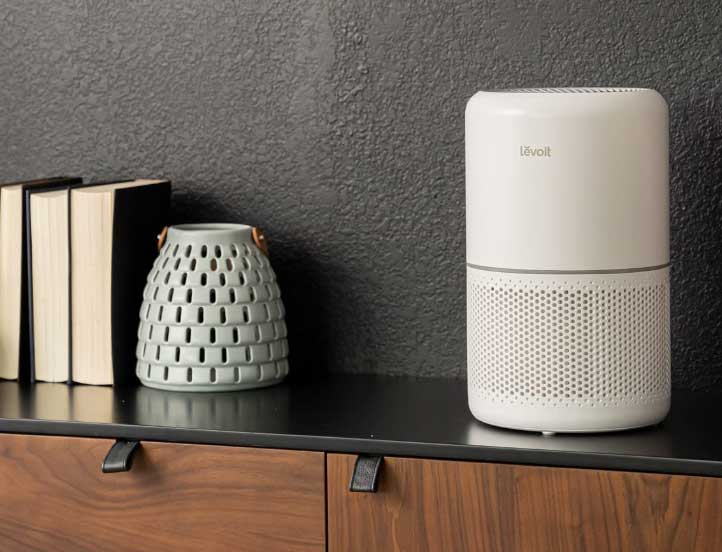 As for sound, the LEVOIT is comparable to other choices listed so far. At its lowest, it can reach levels of 24 decibels. This level of sound is achieved by turning on the sleep mode function.
When it comes to the design of the LEVOIT, it's sleek and compact. Coming in at 8.7 x 8.7 x 14.2 inches in a cylindrical shape you can easily tuck this away in a room out of sight. It's available in both black and white to help blend in even further. If there isn't a great way to disguise it, the style should still make it look nice in most rooms.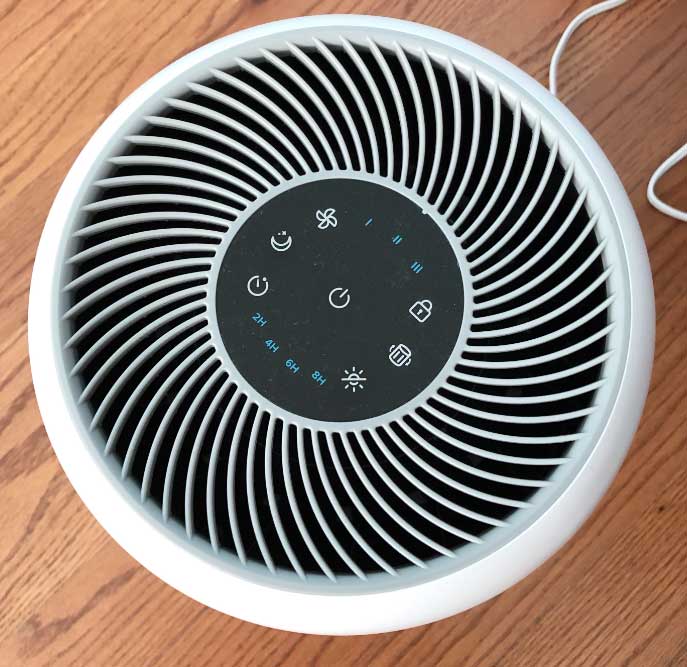 The coolest feature of the LEVOIT Core 300 is its multiple choices for air filters. This purifier can be used with four different filters. They are distinguishable by their different colors. A yellow filter is for pet allergies, blue for smoke remover, green for toxin absorbing, and white for standard. This helps you customize your filtration to the environment around you.
Pros:
4 filter types
A large area of purification is possible
Great looking design
Cons:
Only filters out particles as small as .3 microns