Overall Design -

8.5/10

Cleaning Effectiveness -

9/10

Ease of Use -

8.5/10

Battery Life -

9.5/10
Summary
Bitvae's S2 Sonic Toothbrush and Water Flosser combo offers an outstanding home dental care solution with impressive cleaning performance, smart features, and a variety of brush heads. With long-lasting battery life and easy customization through the smartphone app, users can maintain optimal dental hygiene with ease. Although there is a slight learning curve and the toothbrush is bulkier than traditional options, the benefits of this powerful oral care duo far outweigh these minor drawbacks.
Pros
Exceptional cleaning performance
Customizable through smartphone app
Long-lasting battery life
Wide variety of brush heads
Cons
Slight learning curve
Bulkier than a traditional toothbrush
When it comes to oral hygiene, having the right tools can make all the difference in the health of your teeth and gums. But dental visits can get pricey and aren't exactly what comes to mind when you think of ways to spend your time.
Fortunately, Bitvae aims to provide a comprehensive solution that you can do from home with its S2 Sonic Toothbrush and Water Flosser. We put both to the test to determine whether they are viable options for home dental care.
Bitvae S2 Sonic Toothbrush
First up, the S2 Sonic Toothbrush. As you will see, we spent a good amount of time in our pursuit to see how this tool stacked up to the competition. A lot of features are packed into the S2, so let's start with what most would consider the biggest one – cleaning performance.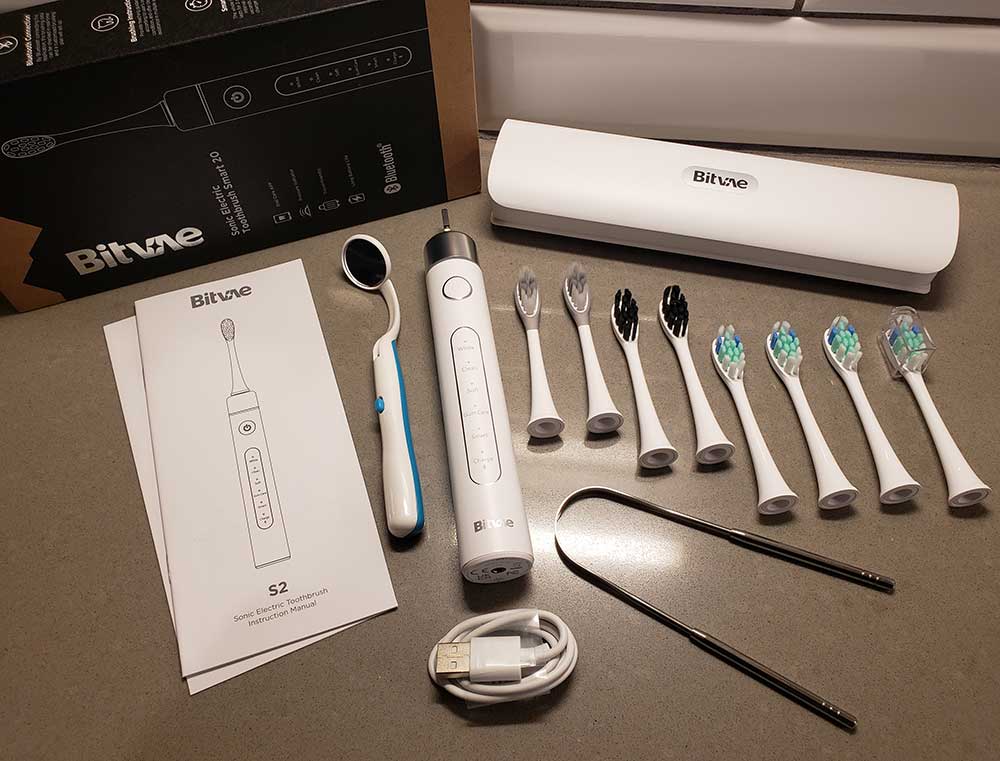 Powerful Cleaning Performance
During our testing of the Bitvae S2 Sonic Toothbrush, the 42,000 magnetic levitation motor consistently delivered impressive cleaning performance across all five cleaning modes – White, Clean, Soft, Gum Care, and Smart. Each mode is specifically designed to cater to different oral care needs. We took our time to carefully evaluate their effectiveness.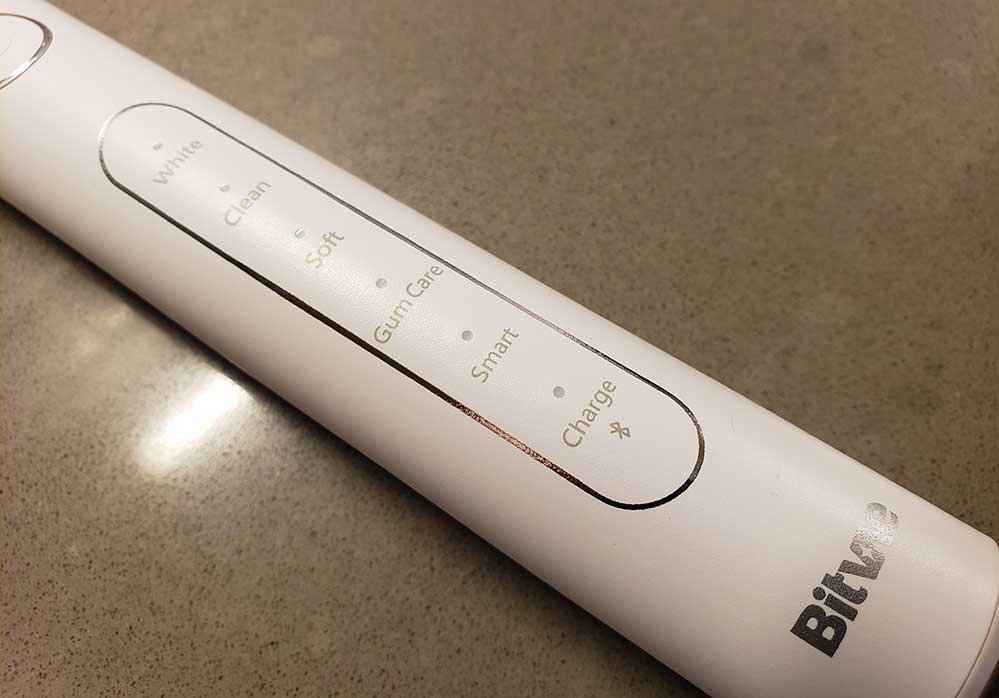 White Mode: In the White mode, the toothbrush tackled stubborn stains, such as those caused by coffee, tea, or tobacco, with ease. After just a few days of use, we observed a noticeable difference in the brightness of our smiles. The powerful motor, combined with the high-frequency sonic vibrations, effectively broke down and removed surface stains, resulting in a visibly whiter appearance.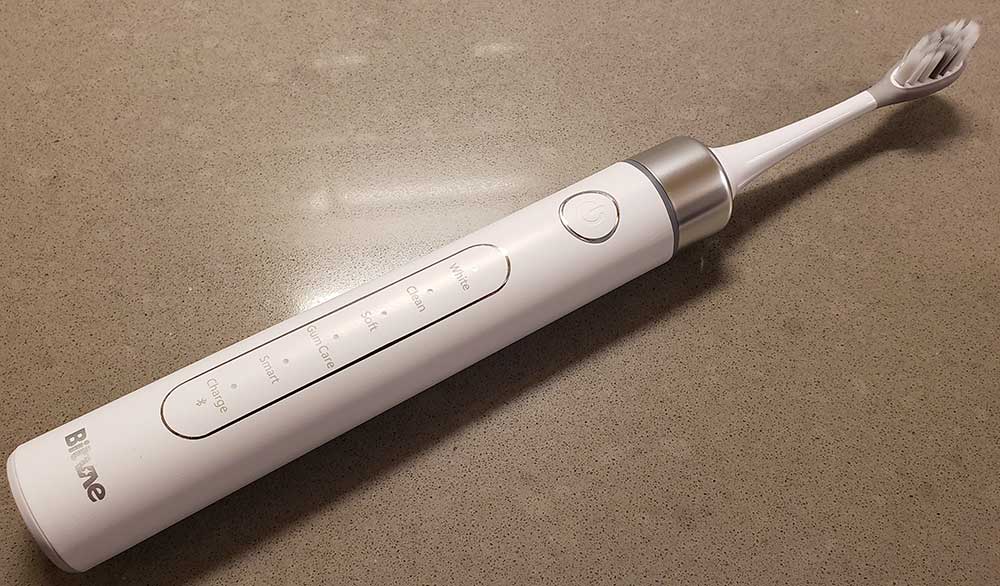 Clean Mode: The Clean mode provided a comprehensive and thorough cleaning experience. It removed pesky plaque buildup and food debris from every corner of the mouth, leaving our teeth feeling smooth and clean. The powerful motor and well-designed brush heads worked together to cover all areas of the mouth, ensuring a comprehensive cleaning experience.
Soft Mode: The Soft mode is specifically designed for those with sensitive teeth and gums or for individuals undergoing orthodontic treatment. Despite the gentle cleaning action, the toothbrush still removed buildup and debris without causing discomfort or irritation. Our testers with sensitive teeth appreciated the gentle yet effective cleaning experience provided by this mode.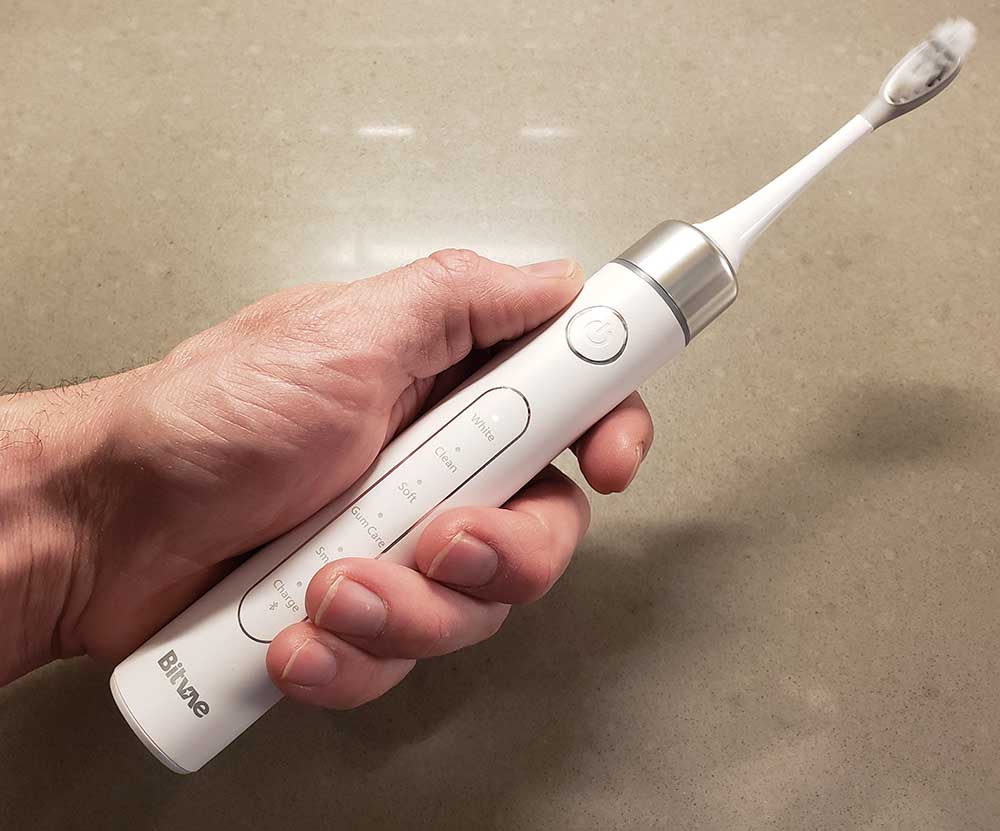 Gum Care Mode: Gum health is crucial for maintaining overall oral hygiene, and the Gum Care mode proved to be highly effective in this regard. The toothbrush massaged our gums with a combination of high-frequency vibrations and lower-intensity brushing action. This mode serves to improve blood circulation in the gums, promoting healthier gum tissue and reducing the risk of gingivitis and periodontal disease.
Smart Mode: The S2 sets itself apart with its Smart mode, which allows users to fully customize their brushing experience. By connecting the toothbrush to a smartphone app via Bluetooth, you can adjust the intensity levels and brushing time to suit your individual preferences. The app also provides real-time feedback on brushing habits and progress, ensuring a personalized and effective oral care routine.
Each mode worked as intended. We like how the S2 "remembers" the last mode you set upon shutdown. The next time you turn it back on, that mode is activated and ready to use. This is a smart brush in every sense of the term, and we were very pleased with its performance. The smartphone connectivity works well, too, as you'll see in our testing below.
Customization via Smartphone App
One aspect that truly sets this one apart from its competitors is the ability to customize the toothbrush using a smartphone app. We tested the Smart mode and connected the toothbrush to the app via Bluetooth.
The app allowed us to choose the intensity level of each mode and adjust the brushing time from the default 2 minutes up to 4 minutes. This customization enabled us to create a personalized brushing experience based on our unique oral hygiene needs.
Variety of Replacement Brush Heads
Included are 8 different replacement brush heads, which we found to be a valuable addition. Here's what we discovered in our testing:
"W" Shape Design Bristles: Six of the replacement brush heads feature a unique "W" shape design, which we found to be highly effective in reaching deep between teeth and cleaning hard-to-reach areas. The innovative design allows the bristles to adapt to the contours of each tooth, ensuring a comprehensive clean that helps prevent plaque buildup and tooth decay. Our testers reported that these brush heads made a noticeable difference in the overall cleanliness and smoothness of their teeth.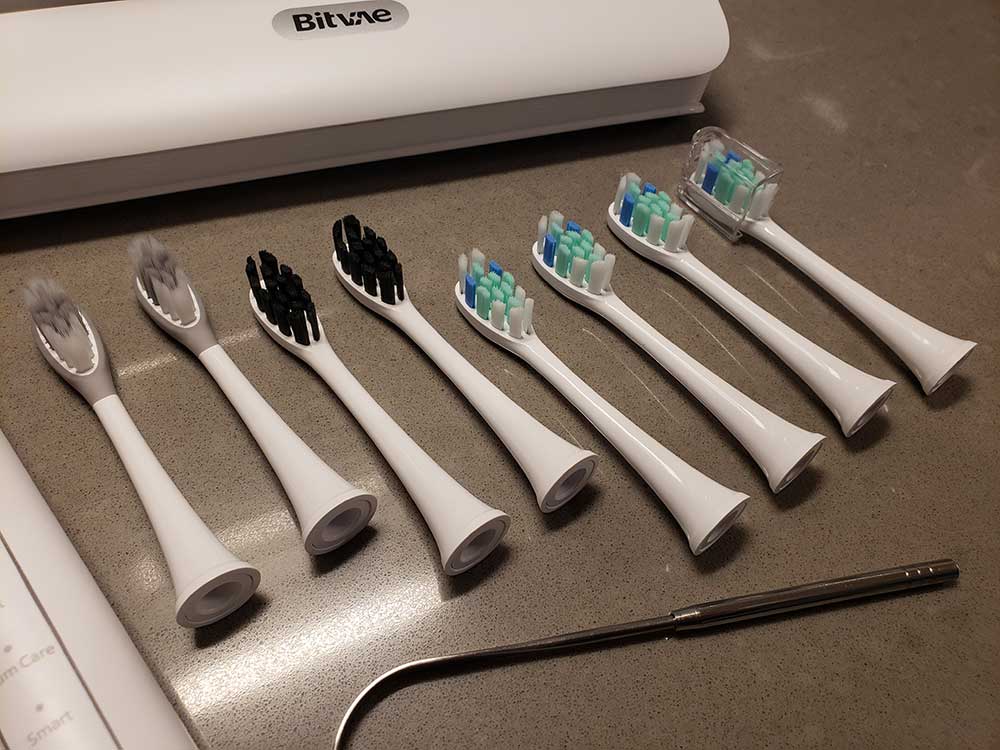 Sensitive Care Brush Heads: Also included are two sensitive care brush heads, specifically designed for users with sensitive teeth and gums. These brush heads are gentle enough to provide a comfortable cleaning experience without causing irritation or discomfort while still effectively removing plaque and debris. Those on our team with sensitive teeth greatly appreciated the delicate yet efficient cleaning provided by these brush heads.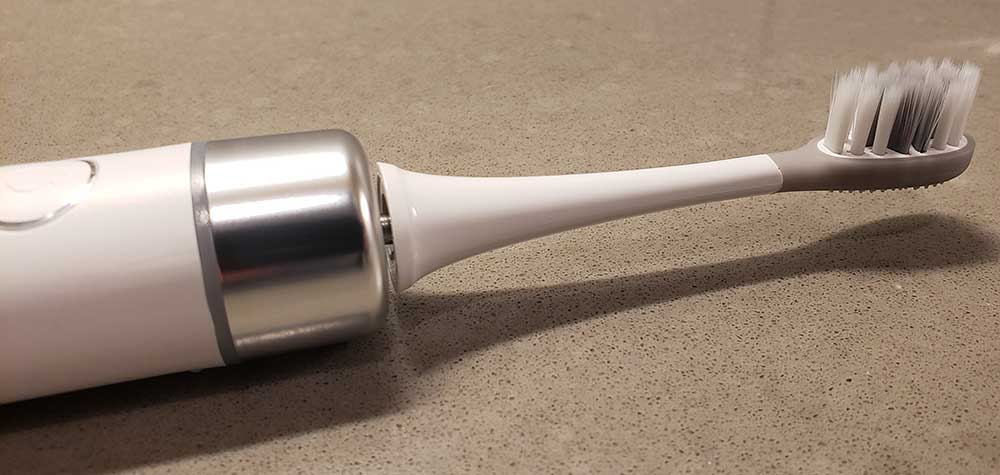 Silicone Tongue Cleaning Backs: In addition to the sensitive care bristles, the two sensitive care brush heads also feature silicone tongue cleaning backs. This added feature ensures a thorough tongue cleaning, which is essential for anyone trying to maintain fresh breath and prevent the buildup of bacteria. We found this feature to be a welcome addition, as it lets you address multiple oral care needs with a single brush head.
With an estimated lifespan of 24 months, the variety of brush heads included here ensure users have a long-lasting supply. This diverse assortment of brush heads caters to different oral care needs and preferences, providing a customized and effective brushing experience for every user.
Bluetooth Technology and Additional Features
The built-in Bluetooth technology connects the toothbrush to an app, which provides users with valuable information about their teeth and gum conditions. As mentioned, the app helps you improve your brushing techniques by offering useful feedback. It does this in a few different ways.
There's a red pressure indicator on the toothbrush that illuminates whenever you apply excessive force, protecting your teeth from potential damage. There's also a built-in 2-minute timer with 30-second pauses. This feature serves as a helpful reminder to change brushing areas, ensuring a comprehensive cleaning experience.
Impressive Battery Life and Portability
With a battery life of up to 100 days on a single 4-hour charge, it's perfect for travelers or those constantly on the go. We tested the toothbrush's battery life over several weeks and can confirm that it holds its charge remarkably well. Rarely should you have to charge it. What's more, the compact dimensions (9.33 x 4.72 x 1.85 inches) and lightweight design (1 pound) make the toothbrush easy to carry and store.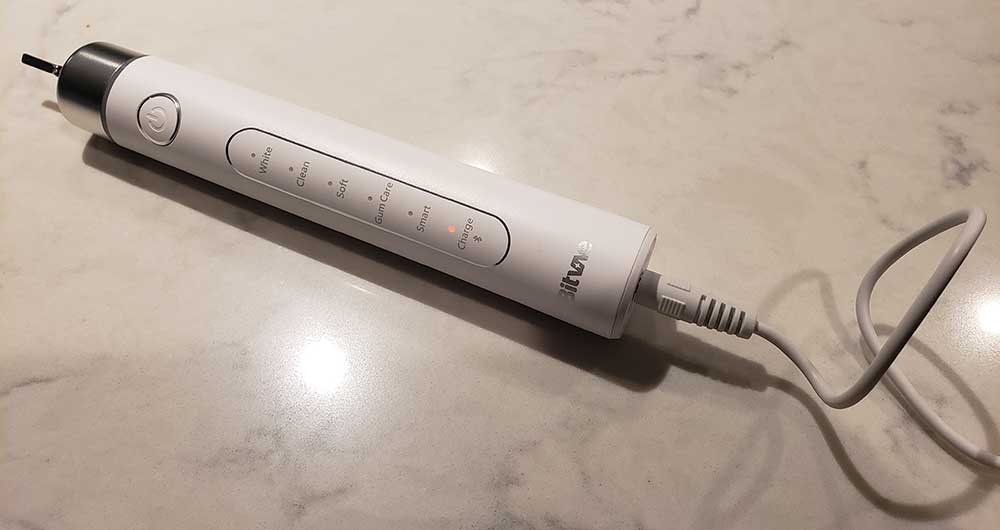 The included travel case is a convenient addition, protecting the toothbrush and brush heads during transit. The IPX7 waterproof rating allows for safe use in the shower and makes rinsing the toothbrush hassle-free. If you've never used anything beyond a traditional toothbrush, you will likely need some time to get used to the way this feels.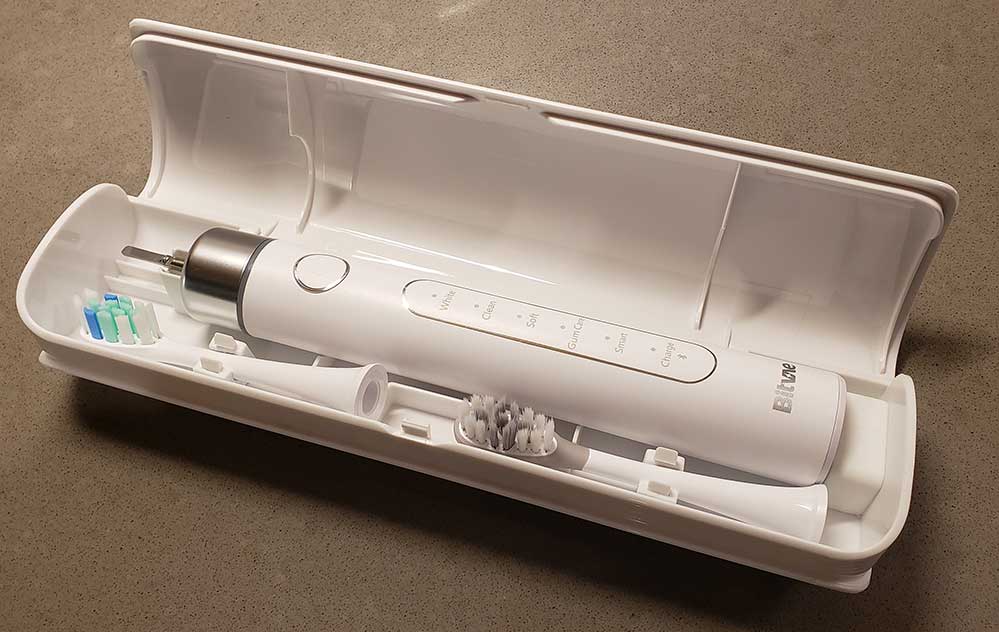 Although lightweight and compact for the market it's in, it's still considerably heavier and larger than your everyday toothbrush. But give it time, and you'll soon get used to the added weight and bulk. Considering all that the S2 does for your teeth, the minor learning curve is well worth it.
Bitvae Water Flosser
In what is the ultimate companion to the S2, Bitvae's Water Flosser is an outstanding tool for effectively cleaning between teeth and below the gum line. It offers a comfortable and thorough cleaning experience and is a massive upgrade over conventional flossing methods. Our extensive testing of the flosser on three pressure settings, ranging from 30-100 PSI, demonstrated its adaptability to various oral care needs and user preferences.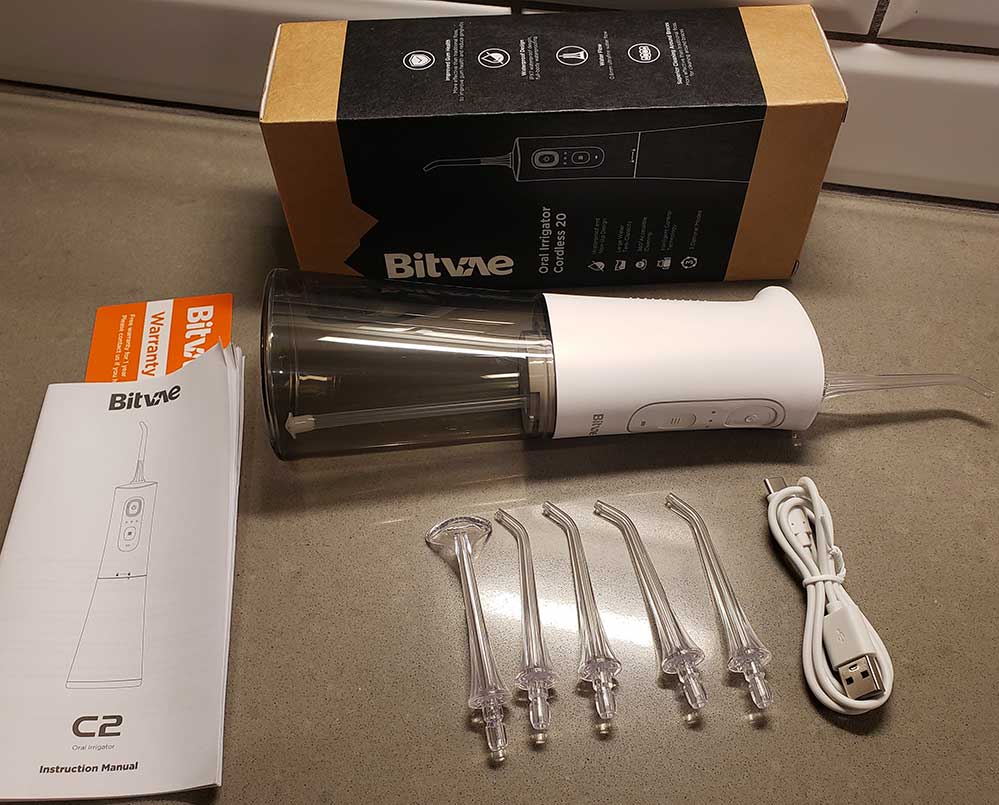 Versatile Nozzles: The flosser comes with six easily interchangeable nozzles, including a tongue scraper, which rotate 360° for optimal cleaning angles. This versatility allows users to target specific areas of their mouth, such as between tight spaces or around dental work, ensuring a comprehensive clean.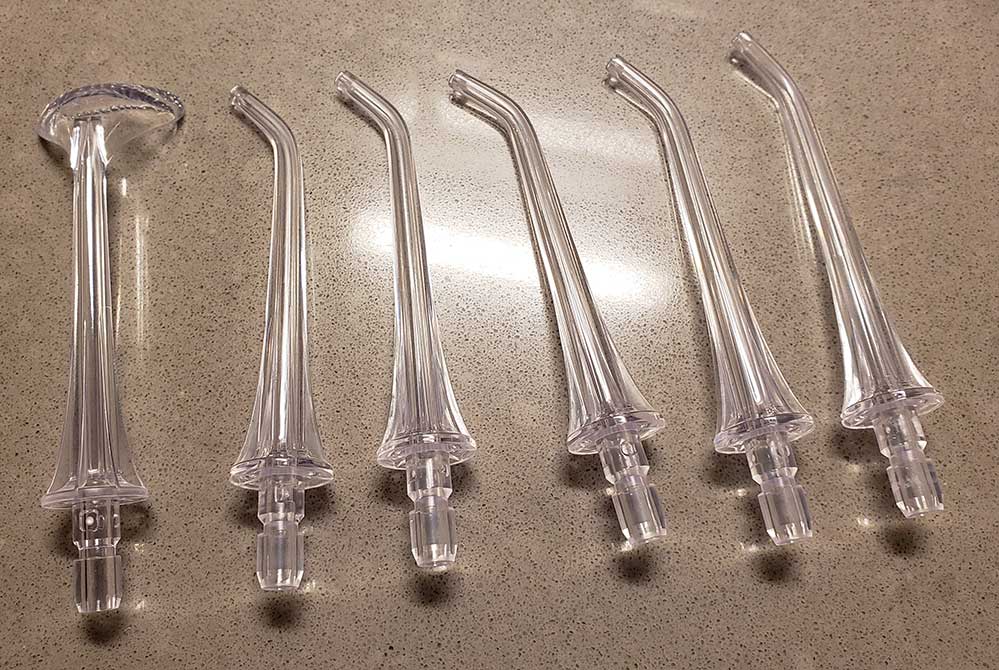 Large Capacity: Also included is a large capacity water reservoir, which holds enough water for a 60-second full mouth clean without the need for refills. This convenience enhances the overall user experience by eliminating the need for constant interruptions during the flossing process.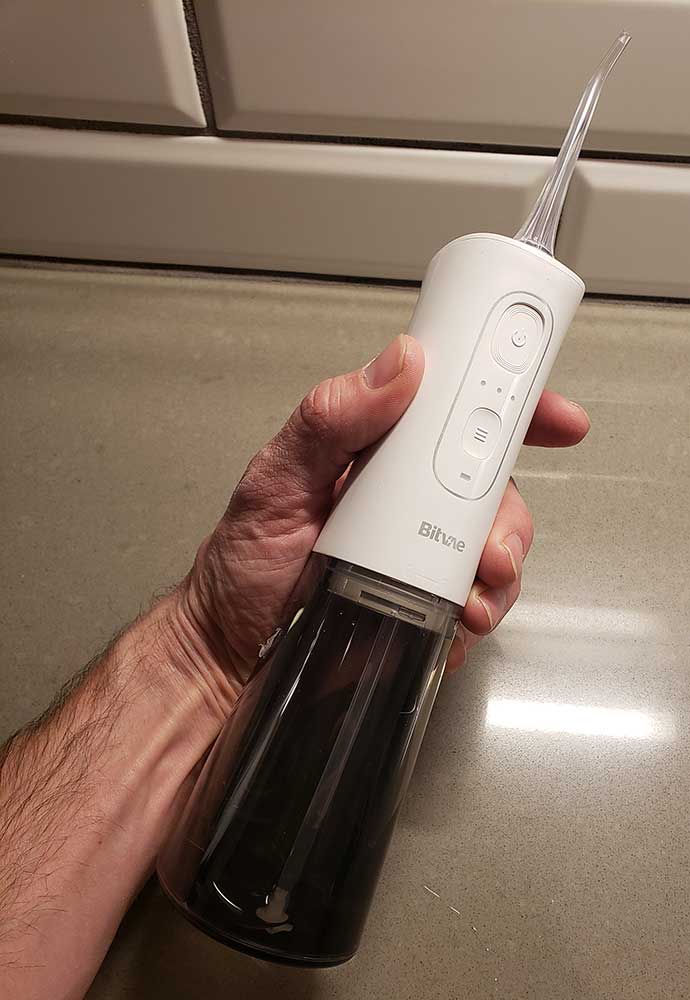 Easy-to-Clean, Detachable Reservoir: The flosser's detachable wide-mouth reservoir makes cleaning the device simple and efficient, ensuring that the flosser remains hygienic and free from water fouling. This easy-to-clean design is a significant advantage over traditional water flossers with small-mouth reservoirs, which can be challenging to maintain.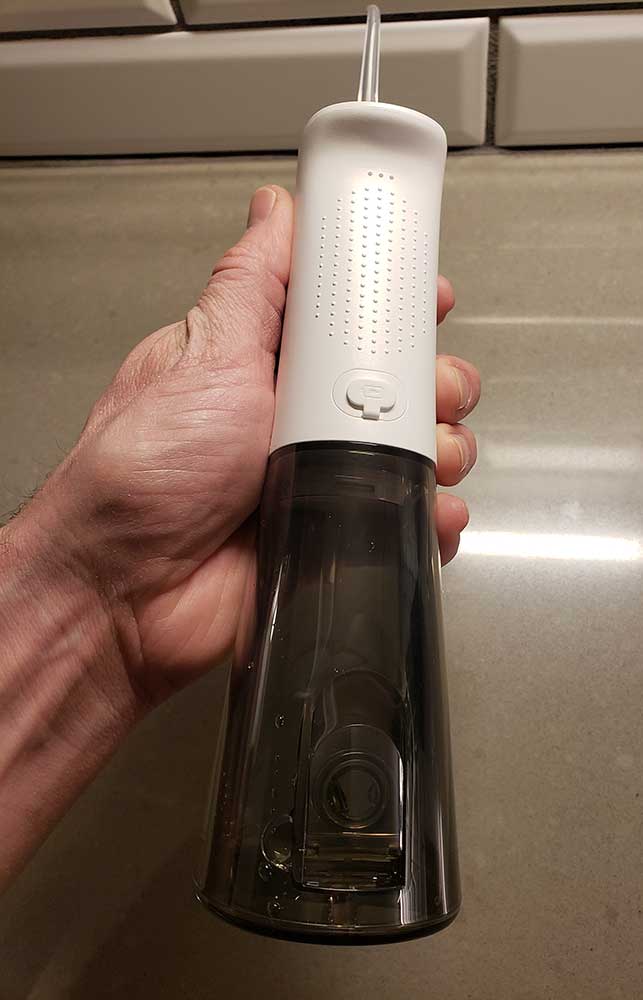 Extended Battery Life: The Water Flosser boasts an advanced 40-day battery life, significantly outperforming many similar devices that last only up to 10 days. Its cordless design and universal USB cable make it convenient for use at home and while traveling, providing users with a dependable oral care solution regardless of their location.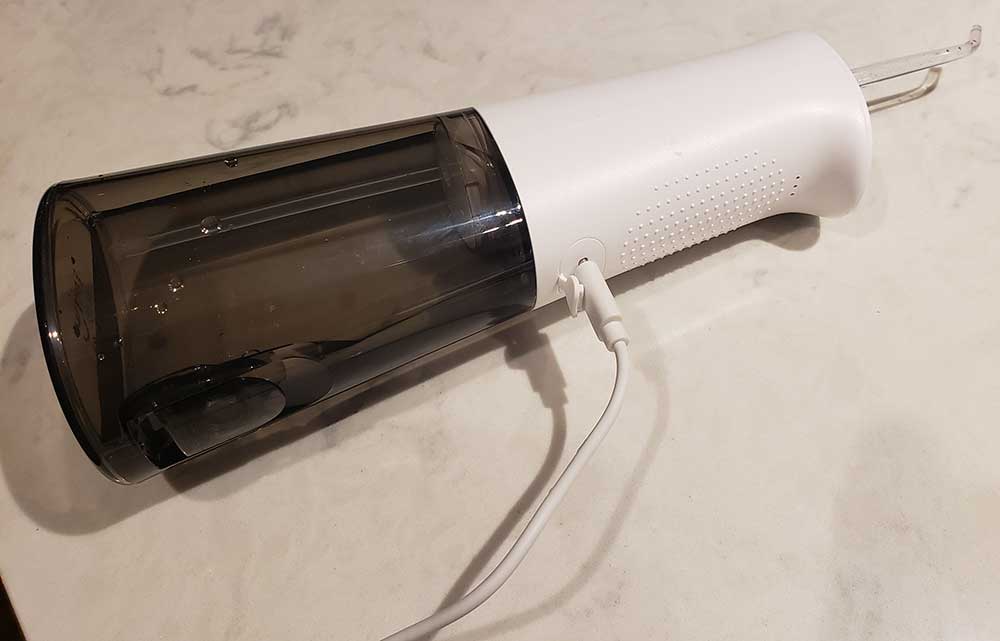 Quiet, Waterproof Operation: With an IPX7 waterproof rating, the flosser is safe for use in the shower, adding an extra layer of convenience to users' daily oral care routine. It also features a silent design, ensuring a discreet and non-disruptive experience for users and those nearby.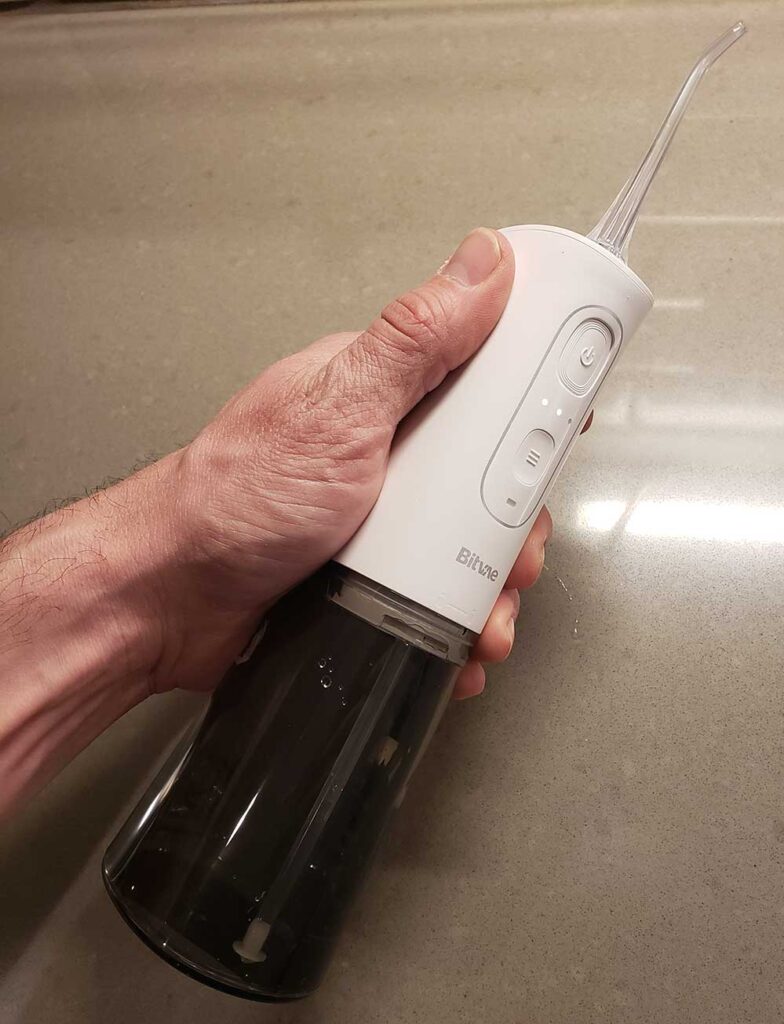 Ergonomic and Portable Design: Thanks to an ergonomic design that measures 8.7 x 3.74 x 2.68 inches and weighs 13.12 ounces, it's comfortable to hold and ideal for small bathrooms and travel. Plus, its compact size and lightweight construction ensure users can maintain their oral care routine with ease, even when on the go.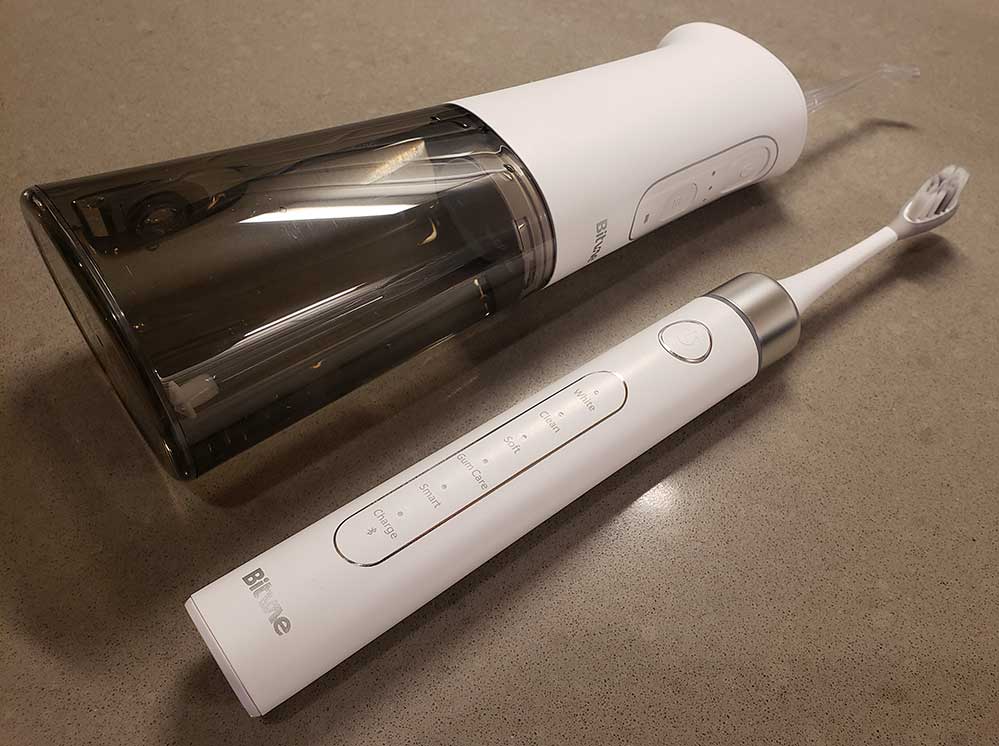 Together, Bitvae's S2 Sonic Toothbrush and Water Flosser deliver a comprehensive home dental care solution. Even better, you can get both without breaking the bank. Gone are the days when you had to spend a small fortune on high-quality dental care at home. So pick up this effective combo and see for yourself the difference they can make.
Final Verdict
Bitvae's S2 Sonic Toothbrush and Water Flosser combo offers an outstanding home dental care solution with impressive cleaning performance, smart features, and a variety of brush heads. With long-lasting battery life and easy customization through the smartphone app, users can maintain optimal dental hygiene with ease. Although there is a slight learning curve and the toothbrush is bulkier than traditional options, the benefits of this powerful oral care duo far outweigh these minor drawbacks.