Wireless has become an indispensable part of our lives. But what happens when you travel across borders, and suddenly your devices can't connect? Because different regions of the world use different wireless standards.
In order to join those networks, one option is to obtain regional SIM cards for every place you want to visit. That's not such a bad option. But you do end up having to buy and then juggle a bunch of tiny cards. And that can be restrictive for people who are crossing national borders more than once.
Picking the Best 4G LTE Car WiFi Systems
Fortunately, finding a good 4G LTE Car WiFi system is pretty simple when you keep a few things in mind. The most important categories you really need to focus on are mobility, battery lifespan, and connectivity.
Connectivity
Where can you connect to local networks? Only in the Americas? Only in Europe and Asia? Different devices have different degrees of regional compatibility. Usually it's not tough to find a WiFi system that can access over a hundred countries. But what about the ones you can't find?
You might also look to see if SIM cards can be added to the WiFi system. That way, if you do end up in a country that doesn't have native support, you can still connect to the net.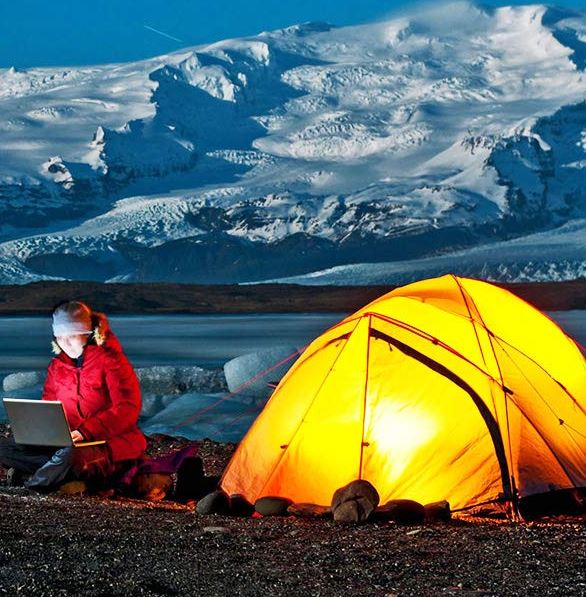 Going Mobile
For any travel-oriented device like an LTE Car WiFi system, portability will be something you can almost take for granted. But you will need to think about getting a local data plan. Sometimes the 4G LTE WiFi system you select will offer their own service.
Some offer more data than others, and some are more reliable. As with any service provider, it helps to take a moment to investigate what's going to work best for you. Because it's not always the case that one is simply better than others. Other times, the WiFi system will not have its own native service provider, and you'll have to choose one on your own.
Battery
Portable 4G LTE systems will need to draw power somehow. Many of them can be powered by USB, and many have internal batteries to allow them to be made portable. It's a good idea to look for a system that can accommodate at least 12 hours of total online time between charges. With stronger batteries, you'll find as much as 24-hours of playtime. You may also find the ability to use the WiFi system's battery to recharge your other stuff.
NETGEAR Nighthawk M1
The Netgear Nighthawk M1 is a tiny travel router which has been granted a number of strong WiFi and Ethernet offloading capabilities. It supports LTE CAT 16, LTE advanced, 4×4 MIMO, and 256QAM. Plus, the M1 allows you to connect as many as twenty WiFi devices together while on the move.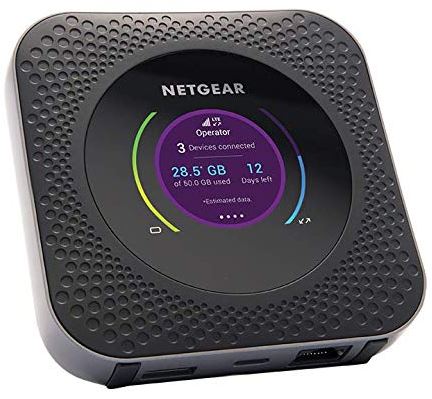 At times, it can be hard to believe a router this strong can be made so small. The M1 lets you share your connection for business and travel use. Part how it manages that is a high performance 5040mAh battery is supposed to be able to last through an entire day without an issue.
Design & Layout
The Nighthawk M1 measures 4.15 x 4.15 x 0.8 inches, and it weighs around half of a pound. The topside of the unit has a large circular LED display which takes up the majority of that surface. The display allows you to see how many devices are currently connected to the network, how much bandwidth is being used, the amount of battery capacity remaining inside the unit, and so forth. You can even get data estimates when you're concerned about going past certain bandwidth limits.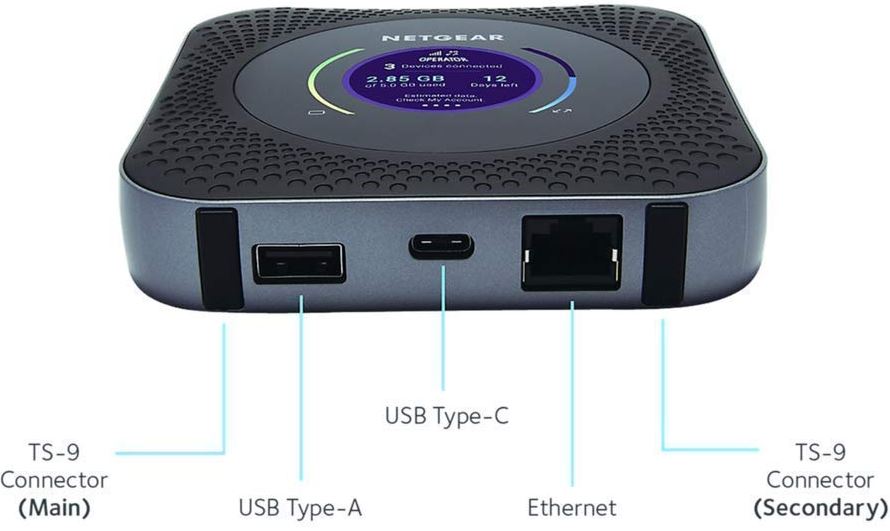 As with most routers, most of the actual configuration goes on through software on the PC end of things. That's the case with the M1 as well. And even though this is a smaller router, it's still got pretty much the full range of customization features you'd find from almost any of the Nighthawk routers. That includes the ability to create guest networks, micromanage VPN settings, run child safety filters, and so forth.
Network Connectivity
The dual band 2.4 GHz and 5 GHz connection allows for concurrent use of both bands. Maximum download speeds reach out to 1 Gbps, which is probably a touch more than you'll need from a mobile router. But it's a nice bit of room for growth as well. Of course, upload speeds aren't quite as grandiose, reaching a maximum of about 150 Mbps. That's still much higher than the average American is getting from their internet provider, so it's not a low ceiling.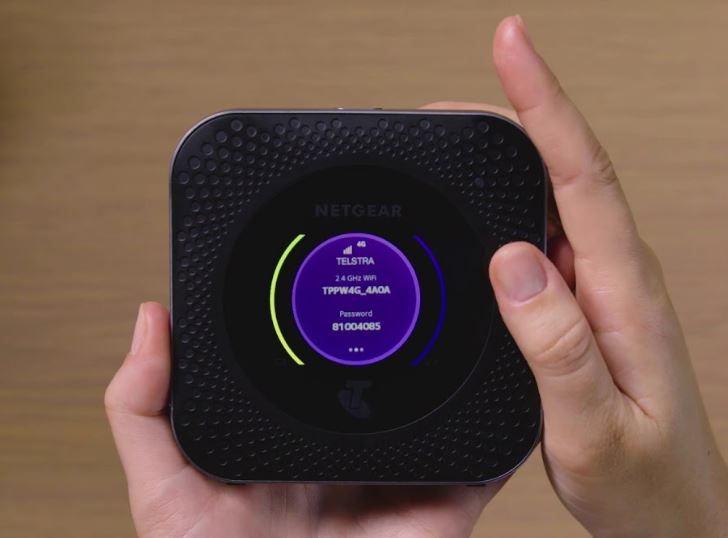 Other Considerations
The Improved JumpBoost feature allows you to recharge smartphones and smaller portable USB devices from the onboard battery. And you can use the router while it's plugged in and charging, or you can use it independently.
The M1 is able to support most LTE/4G bands, including 1-5, 7, 12, 14, 29, 30, and 66. It also supports a total of three 3G bands, including 2, 4, and 5. Basically, everything is on the table when it comes to expansion.
Skyroam Solis
The Skyroam Solis is supposed to be easy. That includes easy to connect with, and easy to maintain connections while moving between different regions. It includes coverage for more than 130 countries across Europe, Asia, Australia, Africa, North America, Central America, and South America.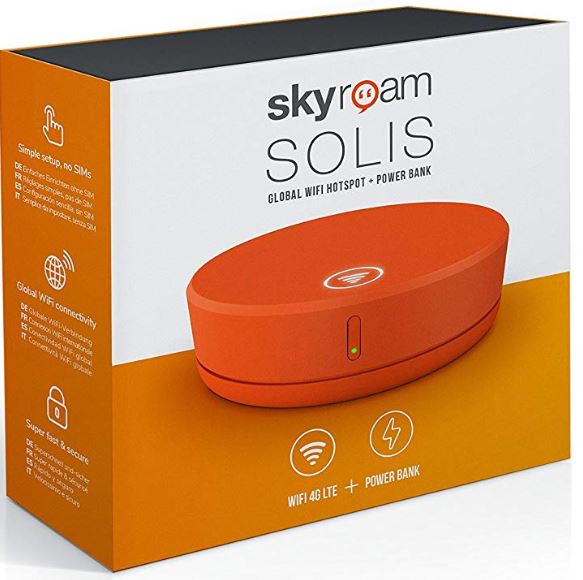 This device is using a virtual SIM tech that allows the Solis to emulate a SIM card without actually having dozens or hundreds of SIM cards inside of the device. That way, it can connect to whatever is the best available mobile network wherever you happen to be. The general idea seems to be letting you avoid SIM cards, roaming charges, equipment rentals. So how well does it work in practice?
Design & Layout
The Skyroam Solis measures 3.7 x 3.7 x 1 inches and weighs about six ounces. Aesthetically, the Solis must get its name from its vague resemblance to the sun. It's a bright orange disc. Inside, it's not quite as powerful as the sun. But it's still pretty strong. The lifespan works out to around sixteen hours of total support time.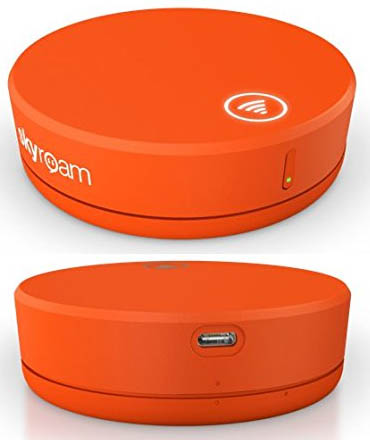 And the 6,000mAh battery can also be used as a power bank. So if your smartphone is low on power, you can connect with the Skyroam Solis and help top off. It's worth noting that your connection to the Solis has to be USB-C. Using this device as a power bank will naturally drop amount of time it's going to be able to serve as a router. With one recharge from your phone, you could easily be looking at closer to 8-hours of total network connectivity.
Network Connectivity
As it supports 4G, the capacity of this router is about 150 Mbps download speeds and 50 Mbps upload speeds. That throughput can only be spread across five devices. That five-device limit is also present for security purposes. Because the Skyroam Solis is only able to keep five devices encrypted.
Using their service, you can get access for about $9 with a day pass, and use those day passes only when you actually need to connect to the net. But there is one catch to their seemingly cheap day-pass program. That catch is that you end up with a data cap, something around 500 MB. After you've gone through that 500 MB, you'll have your speeds throttled down towards 2G, which is excruciatingly slow.
But if you're not expecting it chew through data, their service still makes a lot of sense. You really have to move off the beaten path before you'll find a country where coverage might be an issue.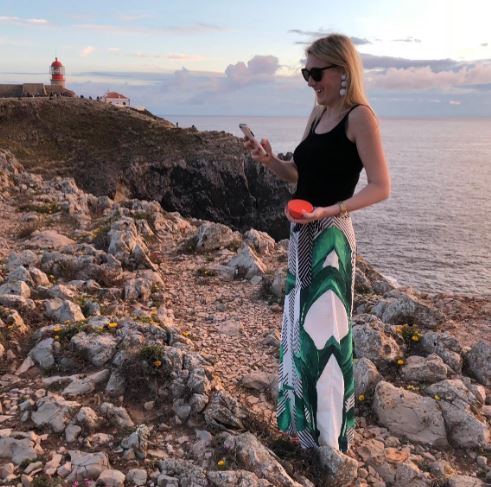 Other Considerations
Though the Solis doesn't come with a bunch of extras, it should be noted that this device can be switched between 110V and 210V as needed. So if you need to recharge while moving internationally, the Skyroam Solis won't leave you hanging.
GlocalMe G3
Similar to the Skyroam Solis, the GlocalMe G3 is powered with a type of Cloud Sim technology. The idea is to allow users to access the web from basically anywhere in the world without needing the regional SIM card, or needing to endure gross roaming charges. Except in this instance, everything is managed through a pretty user-friendly app. That app includes support for data tracking, monitoring the balance in your account, and so forth.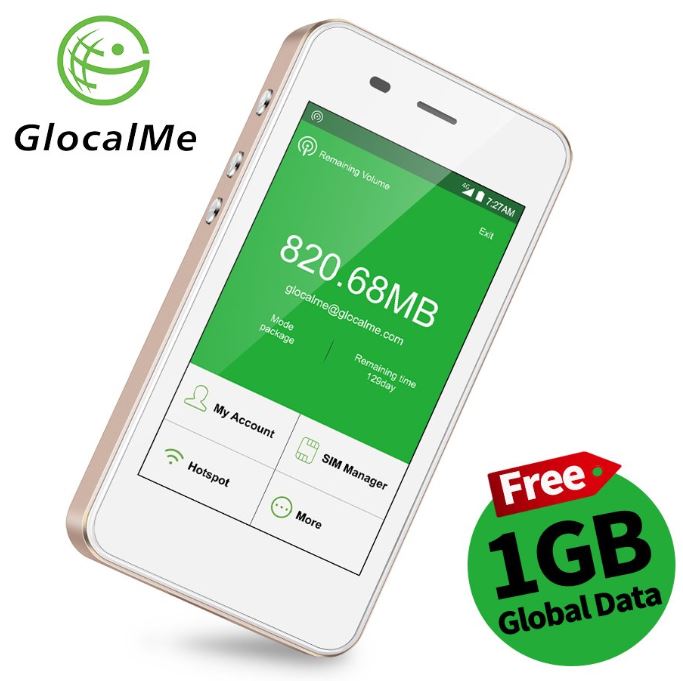 Design & Layout
The G3 measures 5 x 0.8 x 2.6 inches and weighs around nine ounces. The device itself looks a lot like a smartphone. Especially due to the bright LED display that allows you to toggle between various options by touch. There are also a pair of volume buttons on the side of the device, as well as a power button. Fairly standard stuff.
On the adjacent side, a micro USB charging port, and the SIM card slots. The base of the unit hides away the last port in its assembly — the USB port output port. It's a USB Type-A connection. Since there are those SIM slots, the G3 can also be used as a regular unlocked WiFi hotspot.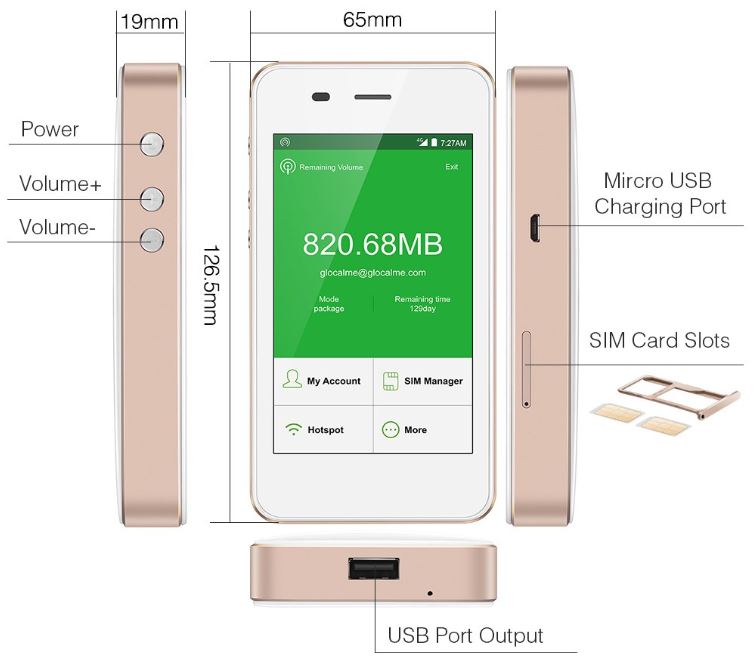 The unit is built around a pretty respectable 5350 mAh lithium-ion battery. It's supposed to be able to provide 15 hours of persistent use. Since it's a bit large, and there aren't any rapid recharge features, it takes about 4.5 hours to recharge the battery. Fortunately, the device can still be used while it's being recharged.
Network Connectivity
For network speeds, you're looking at 50 Mbps upload speed an 150 Mbps down. As with the Solis, you're restricted to five devices. And there are several different packages, between Asia, Europe, North America, South America, Oceania, and Africa. Depending on the package, rates of service are a bit higher or lower. But all of them are in the neighborhood of $10 for a 1 GB data pass. Reasonably affordable.
Every G3 includes a 1 GB initial global data package, which is supposed to be valued at something like $36.You can also get data plans as little as $1.50 per day for internet access, though the prices do vary by region. And they do provide you with some bandwidth limitations. There's support for more than 100 countries.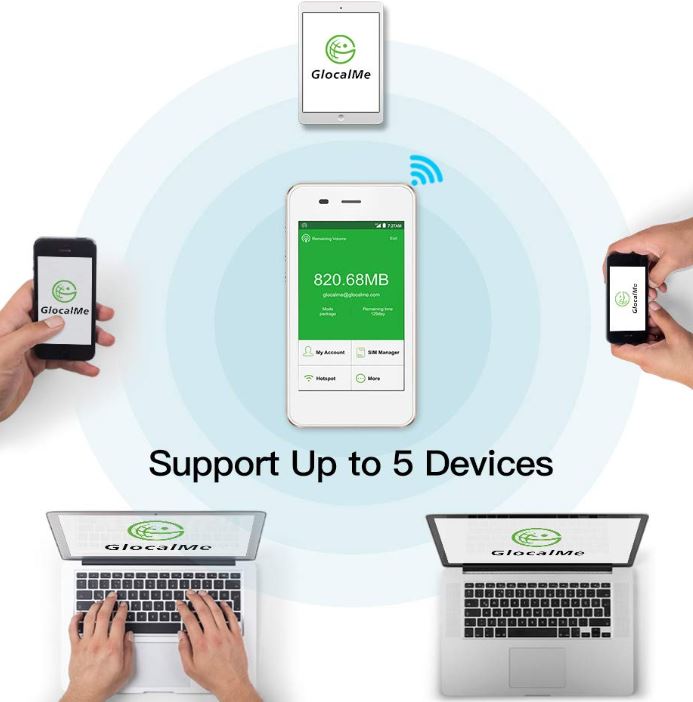 Other Considerations
The G3 can also be used as a power bank. When you start using it as a power bank, that's going to change how much time you can squeeze from the G3. But as long as you're not running a flagship smartphone with an amazingly large battery, you can probably expect to get about 3 full recharges out of the G3's battery. If you are running one of the fancier smartphones, you might get closer to 1.5 charges.
Choosing Between 3 of the Best 4G LTE Car WiFi Systems
The GlocalMe G3 combines a lot of smart ideas into one design. It can be used as a power pack to recharge your mobile devices, which is handy. And it has enough regional support for you to travel most of the world without having to think twice about connectivity. Technically, the battery capacity is the lowest on this list. But it's only a hair behind the Solis. For people who need both a portable LTE hotspot and mobile router in one device, this fits the bill.
The Skyroam Solis has the second most powerful battery on this list. It has slightly wider connectivity than the G3, though they both share some of the same limitations. More specifically, both the Solis and the G3 only allow for five simultaneous connections on their network. If portability matters above all else, and you're going to be fine with a simpler data plan, the Solis will save you a lot of money and frustration simultaneously.
How about the NETGEAR Nighthawk M1? In order to get on a service provider network, you'll need to buy a micro SIM card and then purchase a data plan. Netgear isn't going to help you out with that, which means added steps. But it also means you have an unlimited choice of service providers. And in terms of raw bandwidth, the M1 is leagues ahead of the other devices on this list. With both MU-MIMO support as well as 1 GB of bandwidth potential, this router could easily serve as someone's every day home router. For people who aren't network novices, the M1 can be worth the extra effort.