In theory, a solar system is simple. You take a couple 12 volt panels and hook them up to a 12-volt battery. In between the two sits a solar charge controller. When the battery needs to be charged, it allows the current to flow into the battery. When it's full, it disconnects the panels.
But the solar charge controller is much more than a fancy electronic switch. It's taking the electrical signal from the panels and converting it into something that can be used to properly charge your batteries. When you're connecting a 12-volt panel to a 12-volt battery, this might seem simple. The problem is that your panels aren't really 12 volts. They can range anywhere from 9 volts all the way up to 17 volts. It all depends on how bright the sun is, and how the panel was designed.
To make matters even more complicated, your 12-volt battery won't charge at 12 volts. It requires anywhere from 13 volts all the way up to 14.7 volts. It all depends on how full the battery is, and the rate of charge.
If these numbers have your head spinning, rest assured that finding a high quality solar charge controller is easy and affordable. Although it's one of the most important decisions you'll make, the on you choose depends entirely on how your system is being used, and how much capacity you need. To help you make this choice simple, we'll be taking a look at the three best solar charge controllers on the market. We'll explain the differences between them, so you can decide which one is right for you.
GHB 20A Intelligent Charge Controller
GHB is the cheap and cheerful alternative to expensive charge controllers. Although it's priced in line with most entry level controllers, it offers some functionality that make it ideal for smaller systems. It has all of the safety and regulatory requirements you need to maintain proper battery condition, and provides a handy interface that helps you understand what is going on with your system at all times.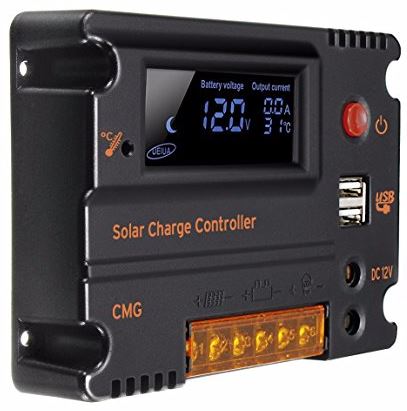 Design
The GHB 20A Intelligent Charge Controller comes in a stylish black case that will look good in any system. The focal point of the design is the large LCD display. This is an inverted style display, adding to the sleek appearance. While your batteries are charging, it shows you the charge current so you can understand how much power your panels are producing. It also shows the voltage of your batteries, giving you an indication of how much battery life you have left.
One of our favorite features of this controller is the ability to see the output current. You can connect several DC devices to the charge controller and get at-a-glance information to see how much power they are drawing from your system.
All of the electrical terminals are covered with a yellow fold-up panel. This keeps your connections visible, but protects them from being shorted. On the right side of your controller you will find two DC outputs, and two USB ports. These can be used to charge your phones or other electronic devices, providing a 5V 1A output.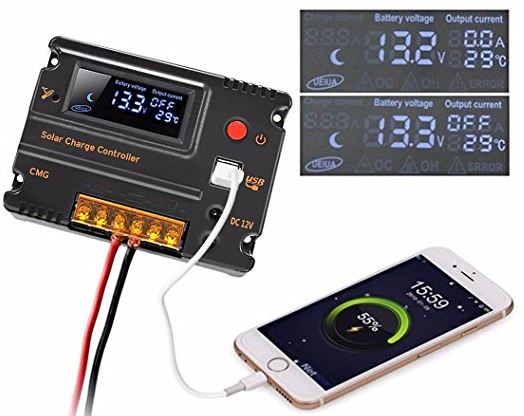 Capacity
This 20A charge controller has a maximum input power of 240 watts. It's good practice to leave some headroom, so we wouldn't recommend connecting this controller directly to 240 watts of solar panels. We recommend a limit of 200W. That being said, it's very efficient. Even if you have a 100 watt or smaller system, the controller would still work as needed with minimal loss.
One area where the controller is a little restricted is the output capacity. You cannot connect more than 20A of load to the "load" terminals. But there is no reason why you couldn't connect these items to the battery. If you wanted to run demanding loads like a coffee maker, refrigerator, or an inverter above 250 watts, you cannot use the load terminals on this controller. Your system will still function as normal, you just won't be able to see the power draw.
The controller can be used with both 12V and 24V systems, however they must be matched. You cannot connect a 12V panel to a 24V battery bank, and vice versa.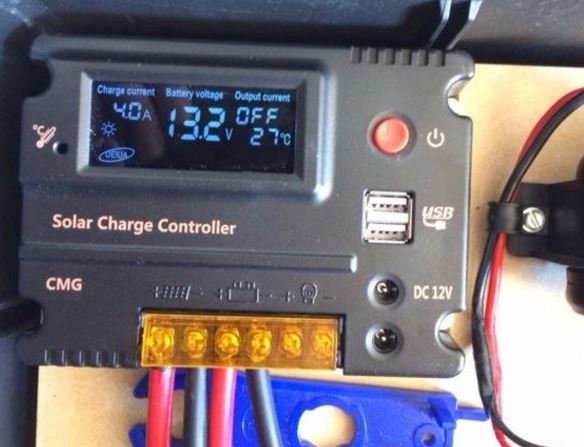 Safety
One of the main reasons we like this charge controller is the safety features. Overcharging your batteries can damage them (in the case of valve regulated batteries) or release explosive and toxic fumes (with flooded cell batteries.) This controller will prevent batteries from being overcharged. As they reach 99% full, it will disconnect the solar panels. It can automatically detect problems like a shorted solar panel or over voltage condition, shutting the system down to prevent danger.
While personal safety is a minimum, there are also several safety features that will prevent your equipment from being damaged. This controller performs the proper three-stage charge required by lead acid batteries. It provides bulk charge (up to 80% of the batteries capacity,) float charge (the final 20% of the capacity,) and an equalization charge, which is used to balance your batteries cells and extend the life. If you are purchasing batteries with a warranty, using a charge controller that doesn't have this feature will void your warranty.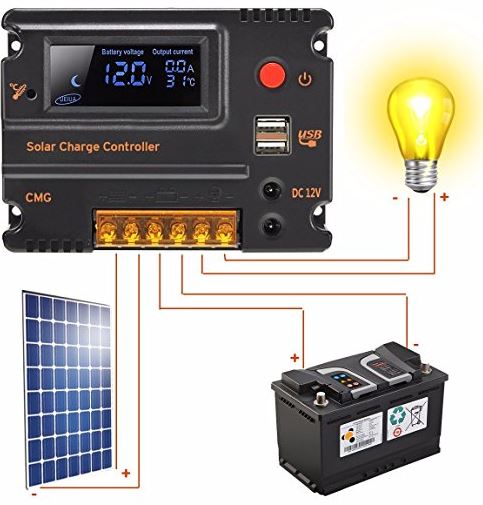 Efficiency
The GHB 20A is a PWM charge controller, which stands for pulse width modulation. During bright sunlight, your solar panels are producing a very high voltage. Similar to a PWM fan hub, this controller properly steps the voltage down to reach the charge level required by your batteries. This is not the most efficient controller on the market, but it's more than adequate for smaller systems. The main issue is the display. It draws about 0.5A at 12V while running. For a 240 Amp Hour system (typical two battery installation) you're losing about 5% of your daily capacity to run the display. For us, we found that the ability to know how much charge we had left was a fair trade off for a small amount of power. But if you're trying to squeeze every last drop of power out of your system, this isn't the one we'd recommend.
Renogy Wanderer
Renogy has made a name for themselves a manufacturers of high quality solar equipment. They were one of the first to the consumer market with the latest batch of high efficiency monocrystalline panels, and consumers consistently turn to them when they're looking for efficiency.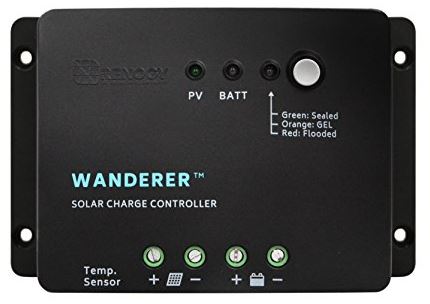 Design
The Wanderer has a simple, modern design that will look good in any system. The black enclosure is smooth and sleek, with slightly rounded edges that contrast with the sharp borders. There are three LED indicators along the top. The green light is illuminated to indicate that your solar panels are powered up, and the red light is illuminated to indicate that your batteries are charging. It's important to note that this light is only on to show you that the batteries are actively charging, not that they have any charge. If you see the solar light but the battery light is off, you know that the batteries are fully charged.
This charger has slightly different charging profiles for different types of batteries. Pressing the white button will change the final LED color so you know that you've got the correct profile selected. The light is green for sealed batteries, orange for gel cell (agm) batteries, and red for flooded cell batteries.
On the base you have four screw-in terminals to make your connections. These terminals will accept 14 AWG wire, and there are connection for both your panels and the batteries.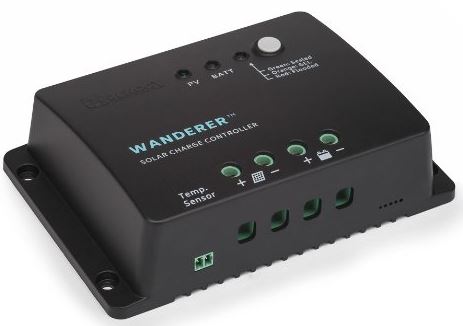 Capacity
The Wanderer is rated at 30A. This allows you to use up to 360 watts of power for a 12 volt system. For safety reasons, we recommend using no more than 300 watts to give yourself a little headroom for those bright sunny days.
If you're using a specialized battery system, you'll be able to squeeze a little more capacity out of this controller. Both sealed and AMG batteries support slightly higher voltages, which this controller supports. This allows you to get the full rated battery capacity where other controllers wouldn't be able to take advantage of this system.
Safety
This charger is unique in the sense that instead of a three-stage charging cycle, it actually has a four stage charger. During the final stage of charging, most controllers provide a consistent voltage during the final 20% of the charging cycle, as this is the area where batteries can be damaged. However, in ideal conditions these batteries would be started off at a very high current, which drops off in a linear manner as the voltage increases. This means that the final 20% of charging often takes 8 hours or more. This controller supports this linear shift in charging current, which Renogy calls the "boost" cycle. This means that the controller can charge your batteries faster than 3 stage chargers, without harming your batteries or causing gasses to vent.
There is also a comprehensive internal diagnostic circuit that will prevent the controller from operating if there is wiring issues. It can check reversed polarity, so accidentally flipping two wires around won't cause problems. It can also detect ground faults, which usually occur when a positive wire is making contact with something it shouldn't be.
It also protects against several battery fault conditions including over-charge, over discharge, and short circuiting.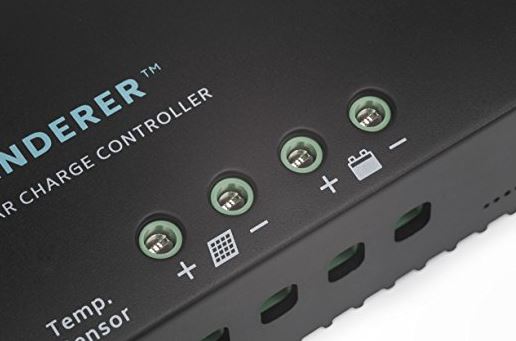 Efficiency
Like most affordable charge controllers, this one uses pulse width modulation to regulate the charge conditions. As long as the solar panels voltage is higher than that of the batteries, it will be able to adequately charge them. Although there are very few indicator lights on the face of the controller, this means that there is virtually no power loss from using it. If the solar panels are not producing power, no lights will illuminate, preventing self-discharge from occurring.
Another asset to this controller's efficiency is the support for negative grounding. This is a style of wiring that is most commonly used in automotive applications. Only the positive wire is connected to the circuit, while the negative wire is connected to an earthed ground or the vehicle chassis. This can save a lot of money on wiring, especially for longer runs.
Last, but certainly not least, this charge controller supports temperature regulation. If batteries weren't already complicated enough, their charge and discharge power requirements change along with the temperature. When it's cold, they have lower capacity. When it's hot, they have higher capacity. This controller will compensate for the temperature. Without this, it would be possible to overcharge your batteries in very cold conditions. The controller would read the batteries as being 80% full, when in reality that is the maximum charge they can handle in the current environmental conditions. This controller knows when that's happening, shutting off the current at the adequate time.
Renogy Tracer 4210
Although this is the most expensive controller on our list, it's up to 30% more efficient than standard controllers. It's got several key features that make it the number one choice for anyone who needs a high capacity system, or relies on their solar system for essential needs.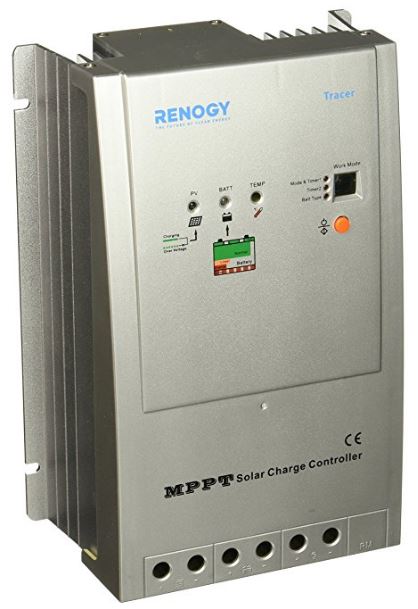 Design
The Renogy Tracer 4210 is much larger than the others we've looked at. But upon closer inspection, you'll realize that most of the space is occupied by the rear mounted cooling system. This controllers high performance technology can't get too hot without reducing the efficiency, so the cooling fins are a crucial component.
It's made from aluminum which is durable, lightweight, and attractive. It feels much more solid than the plastic controllers, but needs to be securely mounted. On the face, there are three LED indicators and one small display. The indicators show that the solar panels are producing power, the battery condition, and a temp light which indicates that the power is reduced due to extreme temperatures.
The LCD display on the right shows what mode the controller is operating in, the timer, and the battery type. This are not indicators you'll need all the time (they're primarily useful during setup) but we'll soon explain why this feature is so important.
On the bottom, you've got three sets of terminals. This is to connect the solar panels, the battery, and your load. The fact that your load goes through the controller is important. We've seen it once before on the GHB controller, but it's a much more powerful feature here.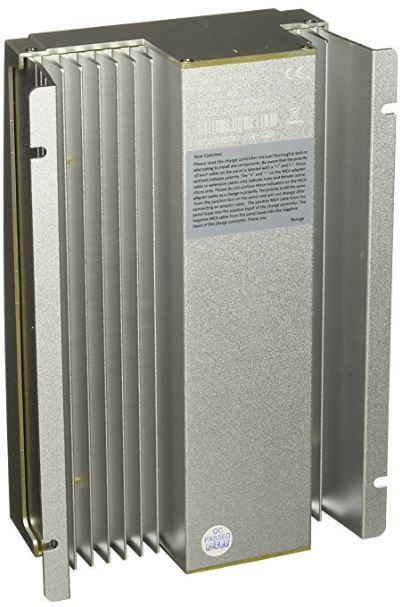 Capacity
Unlike the PWM controllers we've already looked at, this model uses MPPT technology. This means that the power rating is a little different than others. It's 40A rating is for the maximum discharge current into a 12V battery bank. This means that you can connect 400W of solar power with a 12V battery system or 800W of solar power with a 24V system. But these panels don't have to be matched. In fact, they cannot be matched. If you're charging a 12V battery bank, you need to have at least 24V or higher from your solar system. You could connect two 12V panels in series, or you can use a single 24V panel. Believe it or not, you can connect almost as many as you want. This controller will accept up to 100V of input.
What it does is take this extremely high voltage and step it down to the appropriate charging voltage. This gives you much more flexibility in how you design your system. Want to add another panel later? No worries! Just throw it up there. Want to run three panels? Perfect. Mix and match voltages? As long as you stay under 100V, you're good to go.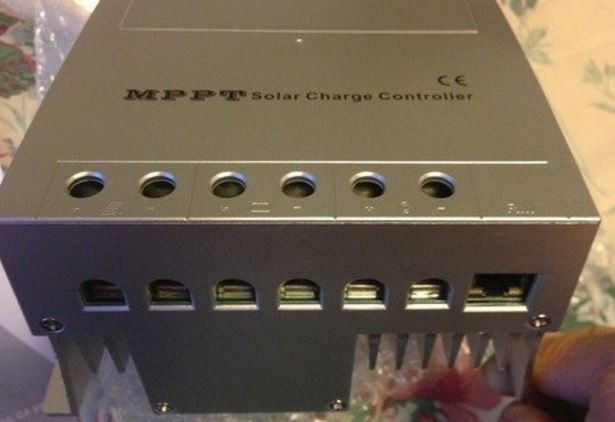 Safety
The safety features in this controller are fairly standard. There's an integrated ability to protect against over voltage, allowing you to go right up to the top of its 40A capacity. It'll also prevent your batteries from being overcharged and over discharged. Additionally, it can also prevent you from drawing too much power through the load, which could damage your wiring or batteries.
Remember that LCD display we mentioned earlier? One of these indicators includes a timer. You might be wondering what this is for. Let's say that your batteries have hit 100% charge. The controller will then disconnect the solar panels. But if the batteries are in use, your charge rate will quickly drop to 99%. The controller would then open, completing the charge in less than a minute. This can create a cycle where the charger keeps turning on and off, reducing its life span. The timer prevents the controller from being turned on for 30 minutes after the batteries are charged. This helps it last a long time, and prevents voltage spikes that can harm equipment.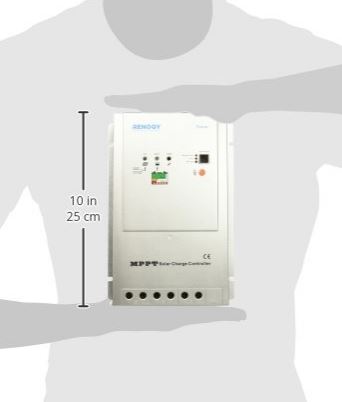 Efficiency
MPPT stands for Maximum Power Point Tracking. This is the most efficient way to find equilibrium between the batteries desired charging voltage and the solar panels ideal output. You'll remember we mentioned that PWM controllers 'step down' the power to the correct amount. This is a lossy process. Some of the current is lost to the internal resistance of the controller. At any given time, up to 30% of the power can be lost. MPPT controllers can actually convert the power to the desired output. This has 97% conversion efficiency.
But conversion isn't the only time this controller is more efficient. There are times when a 12V panel is producing less than 12V. This is usually during the morning or evening when the light is low. With a PWM controller, it will be impossible for the batteries to be charged because voltage cannot be increased. But you'll recall that this controller requires at least 24V of input. Because of the higher voltage, even the tiniest amount of sunlight will be used to charge your batteries. This results in 99% tracking efficiency, meaning that only 1% of the total daylight will be unusable.
Which Solar Charge Controller is Right for Me?
Which one you choose depends on the size of your solar system, and how much spare capacity you have. If you have 400 watts of solar power, or you're working with very tight margins where electricity is at a premium, the Renogy Tracer 4210 is well worth the money. You'll get upwards of 30% more charge from your solar panels every day, ensuring that your batteries are topped off every night. This charge controller is ideal for use in a home system where you will be running a fridge, microwave, heater, or other demanding equipment.
For smaller systems, such as the ones used to run a well pump or installed in an RV, we recommend the GHB 20A Intelligent Charge Controller. This controller has a display that we found to be incredibly handy. You'll always know exactly how charged your batteries are, and you can charge your phones directly from the controller. If you're charging small electronics, we would recommend that you add a 20,000 mAh Power Bank. These can be charged from the controllers built in input, giving you a little extra juice for those USB powered devices.
If you're more concerned with efficiency, a good middle of the road option is the Renogy Wanderer. This charge controller supports up to 300 watts of solar power, and uses very little standby current.
No matter which option you chose, you'll be glad that you chose a high quality solar charge controller over an economy model. These controllers are not much more expensive than their cheaper counterparts, but can save you thousands in unnecessary panels and dead batteries.
Meet Derek, "TechGuru," a 34-year-old technology enthusiast with a deep passion for tech innovations. With extensive experience, he specializes in gaming hardware and software, and has expertise in gadgets, custom PCs, and audio.
Besides writing about tech and reviewing new products, Derek enjoys traveling, hiking, and photography. Committed to keeping up with the latest industry trends, he aims to guide readers in making informed tech decisions.