If you're still using wired earbuds, you're doing it wrong. The cord gets tangled and limits your range, and it's easy to damage. Snag your cord on a door handle while you're walking, and you'll need a new pair of buds. Wireless earbuds help you to avoid this problem. The last remaining advantage of wired earbuds was better sound quality. But with the advent of True Wireless Stereo, the sound quality of wireless buds has vastly improved. Long story short, there's no good reason not to take the plunge.
That said, there are many wireless earbuds on the market, and not all of them are well-engineered. Some of them are marketed as affordable options, but don't actually have anything to offer beyond that. To help clear things up, we decided to review two of the latest options on the market. First up is the Vankyo X200. These earbuds come from an established electronics manufacturer, but they're some of their first earbuds. Next, we'll look at the Aufo Wireless Earbuds, which come from a newer, up-and-coming manufacturer. We'll take a look at the quality of construction, the ergonomics, the battery life, and, of course, the sound quality. Then we'll see how the two of them compare. Let's begin!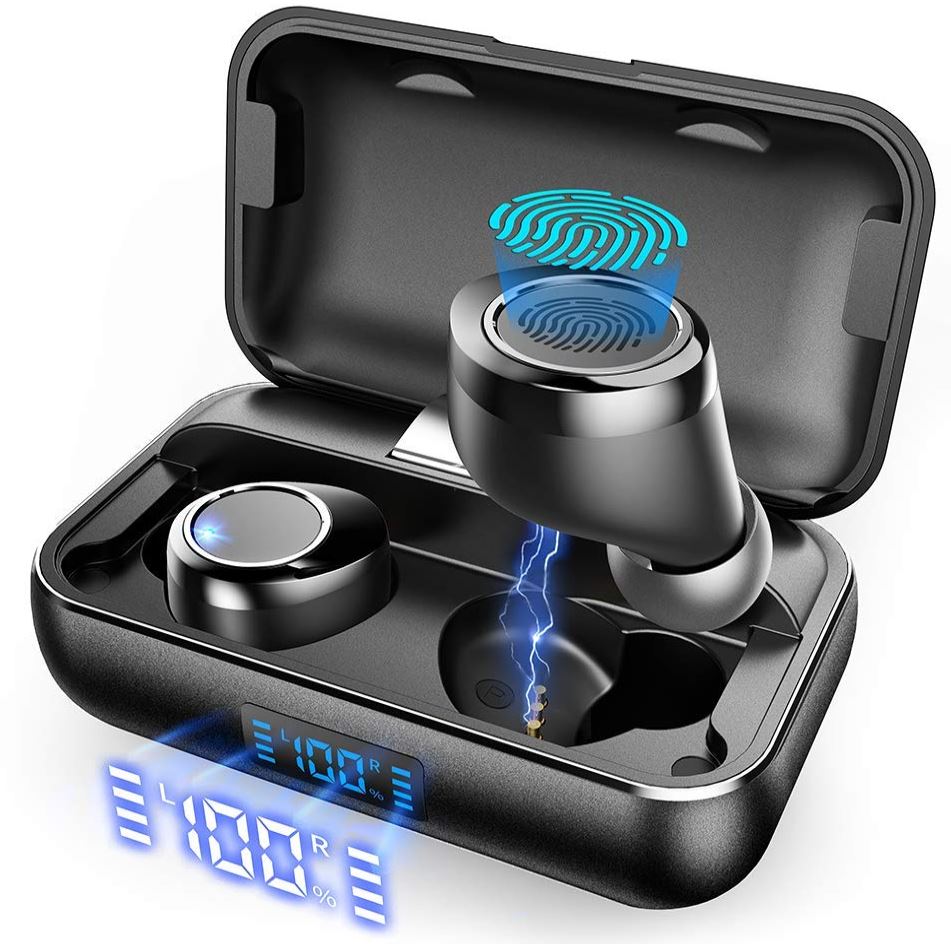 Vankyo X200
The Vankyo X200 earbuds have a compact design that's designed to sit firmly in your ear canal. They don't protrude very far, and they're both lightweight and comfortable. The black ABS plastic design is very sharp, and doesn't attract a lot of unwanted attention. On the back of each earbud, you'll find a soft touch button. These buttons can be used to play, pause, and skip tracks, as well as to answer and end phone calls. And because they're soft touch, they won't cause any discomfort when you press them.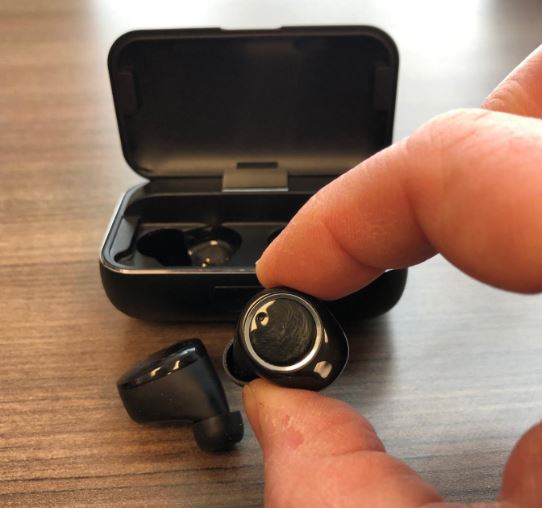 The X200 relies on passive noise cancelling to keep out extraneous noise. Essentially, this means that you need to have a good seal in order to get the best sound quality. To help you achieve this, Vankyo includes 3 extra sets of tips with their kit. Not only will a good fit improve your overall sound, it will also make the earbuds as comfortable as possible.
These earbuds have an IPX8 rating for water-resistance. IPX8 is the highest water-resistance rating an earbud can receive. It means that the earbuds can be submerged at 3 feet of depth for up to 30 minutes. Drop them in a swimming pool, and they'll survive long enough for you to retrieve them. And if you have any issues, Vankyo provides a 24-month warranty. This is one of the best earbud warranties in the business, and it adds a lot of value to the X200.
The X200 earbuds ship with a charging and carrying case, which is more or less standard for wireless buds. What's less standard is the rugged anodized aluminum construction, which is more durable than your average charging case. The case is about the size of a deck of cards, and is slim enough to fit in your pocket. It also has rounded edges and corners, which means it's not going to dig into your leg. The front of the case features an LED display, which lets you keep track of the current battery charge. There's an overall percentage in the middle, with left and right indicators on either side. This lets you know if one of your buds is drawing power faster than the other.
Vankyo's earbuds use the latest Bluetooth 5.0 protocol. This protocol is faster and more stable than the older 4.2 protocol. It allows for higher bitrates for your music, and fewer dropped calls when you're chatting with friends. The overall signal range is 33 feet. This isn't incredible, but it's enough to grab a glass of water without bringing your phone.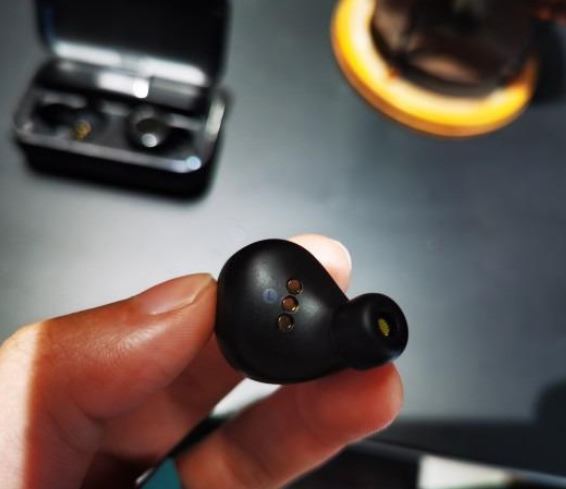 Battery & Sound Quality
The X200's case holds a total charge of 3500mAh, which is fairly substantial for such a small case. The earbuds themselves allow for 7 hours of playback per charge, or about 5 hours of talk time. The case allows for several recharges, up to 120 total hours. In addition, the case is capable of delivering a 1-hour charge in about 10 minutes. This is a great feature if your batteries die just before your workout. As always, we should clarify that these are manufacturer ratings, which are performed at half volume. Your actual results will vary depending on volume, bitrate, and even the ambient temperature. The case charges via Micro USB, and will fully charge in about 2 hours.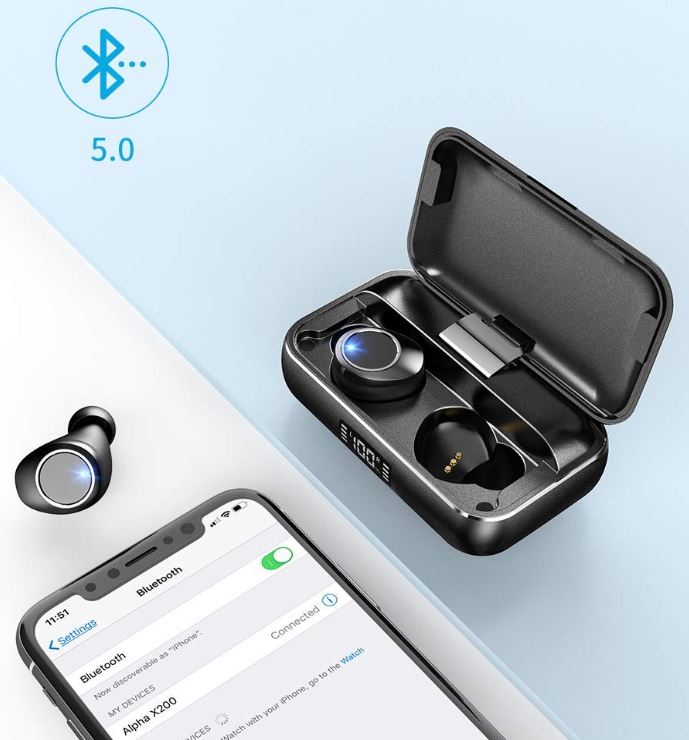 The drivers in the X200 measure 8mm in diameter, which is fairly large. Standard earbud drivers are typically around 7mm in diameter. This larger size allows for more clarity and separation, particularly at the lower end of the sound spectrum. Now, we're comparing apples to apples here. Obviously, you'll get better sound quality from a set of over-the-ear headphones with bigger drivers. But for earbuds, the quality is quite good. Audiophiles will not be disappointed.
Phone call quality is also fairly good. The other person's voice will come through crisply and clearly, as will yours. There's no noise filtering on your end, though, so the mics will pick up loud background noises. You can also make and receive calls via voice assistants such as Siri or Google Assistant.
One thing you can't do with the X200 is pair a single earbud. If you're primarily looking for hands-free calling, take a look at the Strauss & Wagner SW-TW401. They support single-channel use for better situational awareness, but the music quality isn't as good.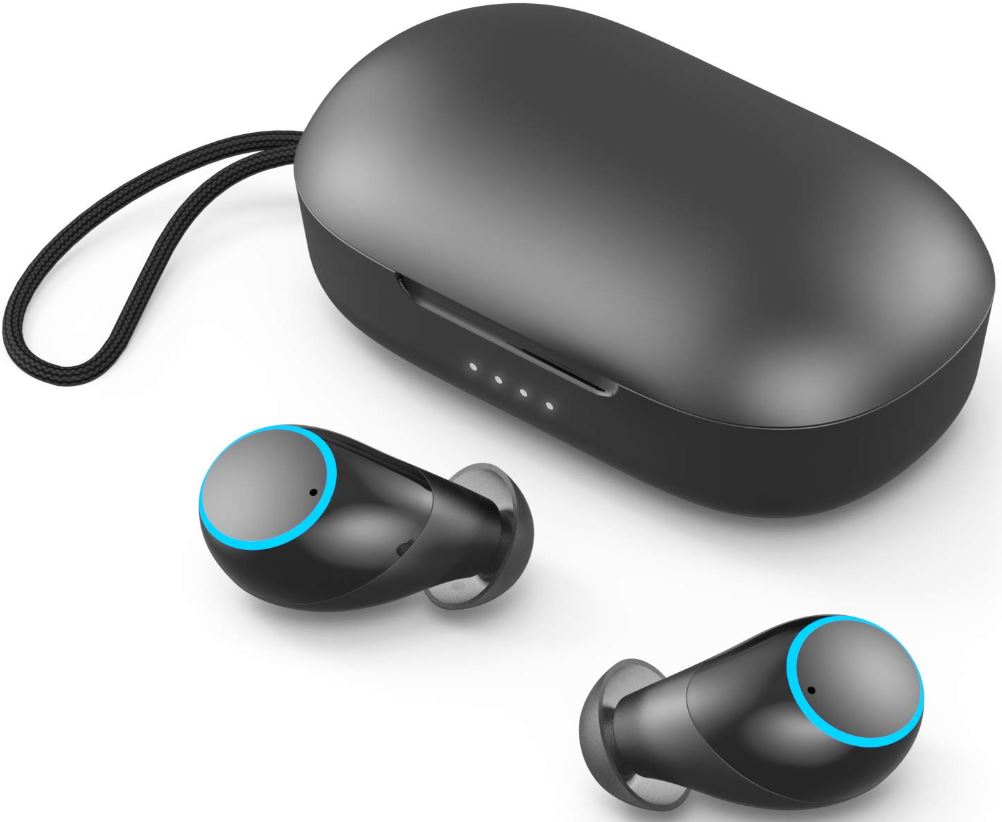 Aufo Wireless Earbuds
Aufo's wireless earbuds have a similar design to Vankyo's offering. They're designed to seat in your ear canals, and don't protrude far from your ears. However, they have a more slender design, with wider, flatter ear tips to provide a more secure seal. This is neither a good thing nor a bad thing. If you have a smaller ear canal, you'll prefer Vankyo's ear tips. If you have a larger ear canal, you'll prefer Aufo's fit. Aufo also includes 3 sets of ear tips in the kit, allowing for a secure, comfortable fit.
The Aufo Wireless Earbuds have soft-touch controls, which allow for comfortable operation. The controls can be used to play and pause music, skip tracks, and answer or end phone calls. The buds have a water-resistance rating of IPX7. This indicates resistance to streams of water, heavy rain, and anything short of full submersion. So, you can't drop them in the pool, but you can wear them in the shower without any issues.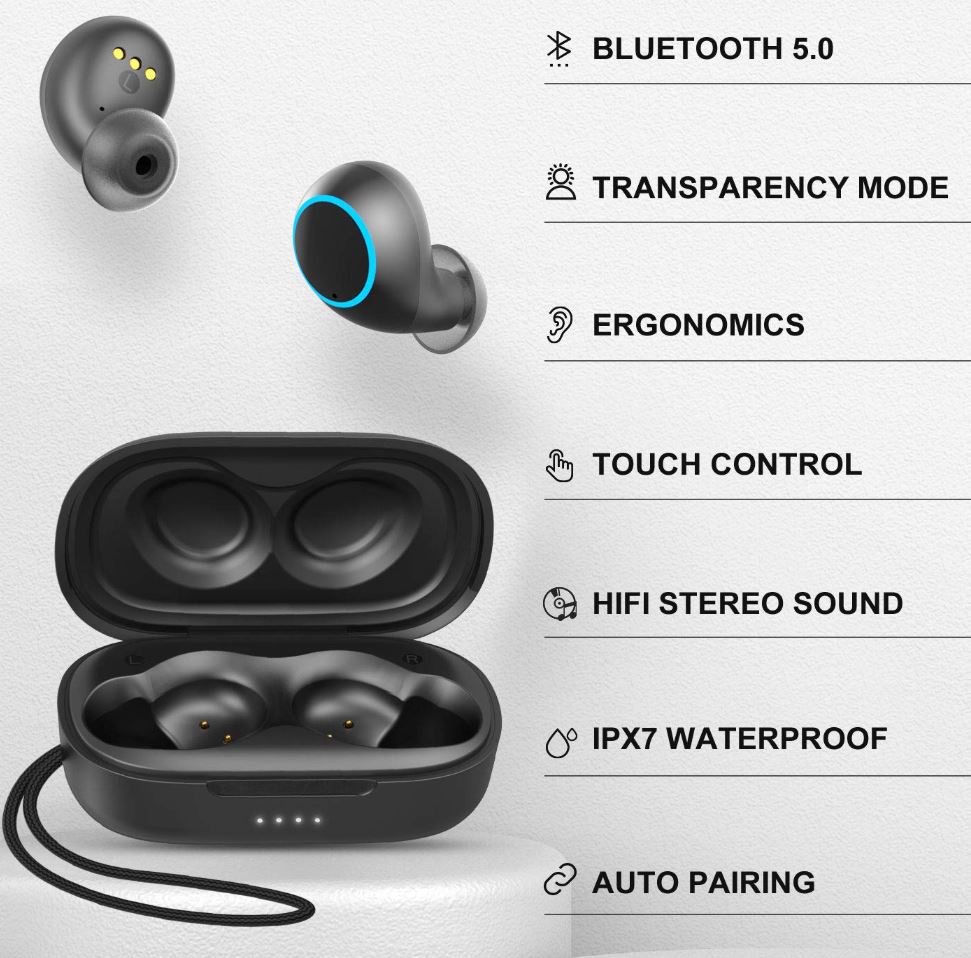 The charging case is constructed from black ABS plastic, and has a compact, rounded design. It measures 2.4 inches wide, 1.5 inches deep, and 1 inch thick. With an overall weight of 7.2 ounces, it's comfortable enough to carry and won't weigh you down. The lid is spring-loaded, which means it won't easily pop open by accident. It has a small cutout for your thumb, which makes it easy to open. Under the cutout, there's a row of 4 LED lights, which give you a rough idea of the status of the battery.
The Aufo Wireless Earbuds connect to your device via Bluetooth 5.0. Similar to the X200, this allows for high-bitrate audio, low latency, and stable phone calls. However, Aufo's earbuds have a boosted Bluetooth chip, which allows for stable connections as far away as 66 feet. However, this assumes a line-of-sight connection. In practice, you're still going to be most stable inside of 33 feet. If you do lose your connection, the earbuds will automatically reconnect once they get back into range.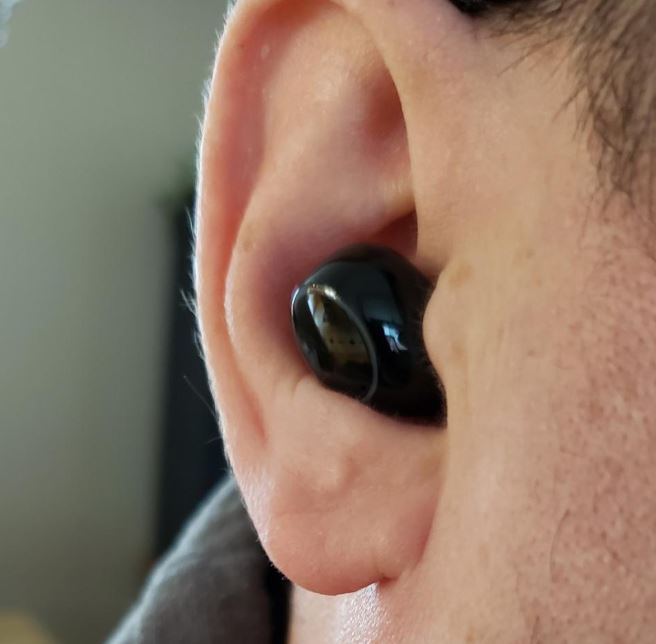 Battery & Sound Quality
Aufo's earbuds offer up to 4 ½ hours of playtime on a single charge. The case allows for 4 recharges, which provides a total playtime of 22 ½ hours. As before, these are manufacturer ratings, and your mileage may vary. The case recharges via USB Type-C, and will fully recharge in about an hour from a high-voltage power supply. Alternatively, you can charge from a wireless Qi charger. This will reduce your charging speed, but it's more convenient under many circumstances.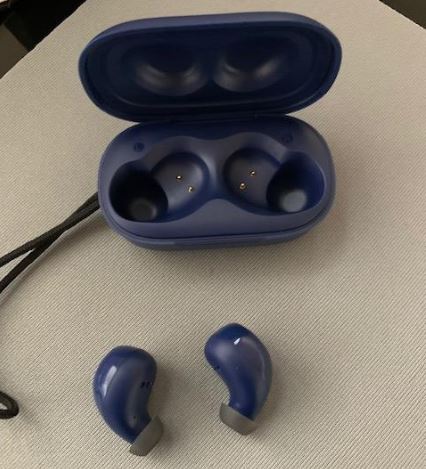 The Aufo Wireless Earbuds have standard, 7mm drivers. That said, they perform very well for mid-sized drivers, with plenty of clarity and separation. Highs, mids, and bass all have their own space, and all of them come through without any distortion. Aufo also includes a transparency mode, which allows outside noise to come through the earbuds. This is a great choice for situations where you need awareness, such as walking down the road. It's also useful for short social interactions. Step up to the coffee shop counter, turn on transparency mode, and place your order. Then turn it back off and get back to your own personal space.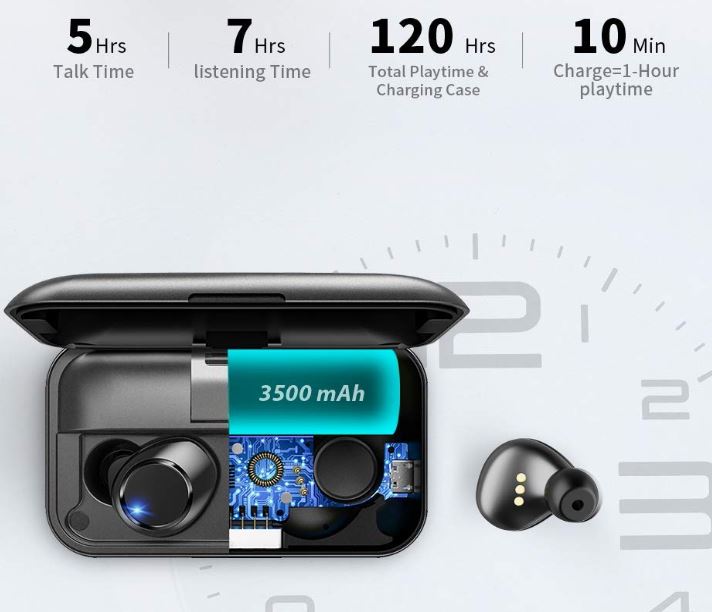 Call quality is about what you'd expect from a pair of small buds. It's not crystal clear, but the connection is stable thanks to the Bluetooth connection. Like the Vankyo earbuds, Aufo's buds also support Siri and Google Assistant for hands-free calling.
If your primary concern is call quality, consider the Xclear X1 earbuds, which have dual mics on long extensions. That said, they don't offer the same music quality as Aufo's earbuds.
Final Verdict
Both of these sets of earbuds have a lot to offer. But what makes them different? First off, Vankyo's are a little bit more durable. The anodized aluminum case is tough and rugged, and the 24-month warranty gives us a lot of confidence. They're also rated for submersion. That said, Aufo's earbuds are still IPX7-rated, which should be just fine for 99 percent of situations.
Vankyo's earbuds also come out on top when it comes to audio quality. Aufo's are no slouch, but the 8mm drivers on the Vankyo X200 are truly impressive. You won't get that kind of bass performance from the majority of wireless earbuds.
That said, the Aufo Wireless Earbuds allow for wireless charging, which is a big advantage for some people. In addition, the transparency mode is a nice touch. If you spend a lot of time walking in public, you might prefer a set of earbuds with this feature.