Your motherboard is the heart of your PC. Generally, you can upgrade other components as you go along. But once you reach the point where components are no longer supported by your motherboard, you need a new build. So if you're building a new PC, it makes sense to use the most advanced motherboard you can. After all, if you have the most advanced motherboard, you can upgrade other components later. We've reviewed several motherboard series in the past, including the TRX40 series and AMD's X470 series. Today, we'll be looking at the best Z490 motherboards on the market.
The Z490 series is the latest and greatest motherboard series for Intel's chipset. These boards support Intel's 10th generation Core i9 processors, so you can get the fastest speeds available. The new Core i9 uses the LGA 1200 socket, which isn't compatible with older motherboards. They support intelligent overclocking, to get the most possible power out of your new processor. Some also offer liquid cooling, and all offer plenty of power for your GPU and sound card. If you're looking to build the sickest gaming rig ever, you're looking for the right type of motherboard. But which ones are worth your investment? Let's review five different options, and see how they stack up.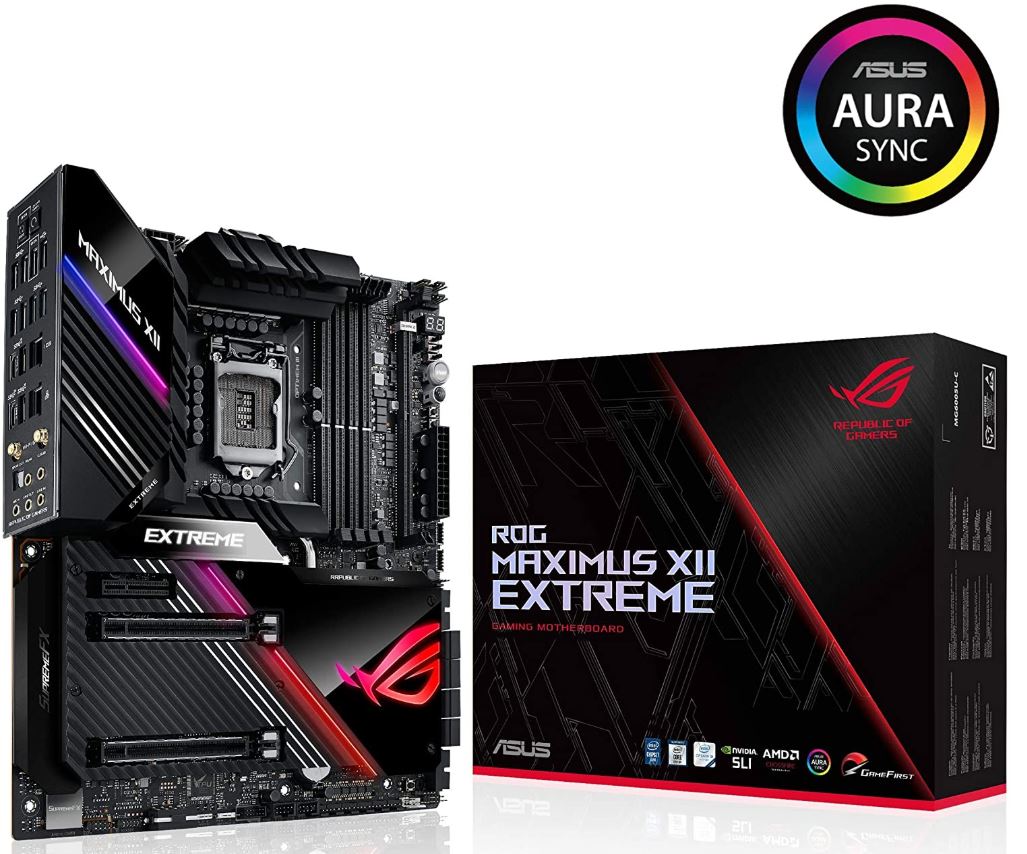 ASUS ROG Maximus XII Extreme
The ASUS ROG Maximus XII Extreme is one of a handful of motherboards in the ASUS ROG Maximus XII series. It boasts some impressive power capacity, with a total of 16 Infineon TDA21490 power stages. Each stage is rated to handle 90 amps, so you'll have plenty of power for all your components. Be sure to include a powerful power supply unit in your build if you want to take full advantage. The chokes are all constructed from durable, high-quality alloys, as are the capacitors.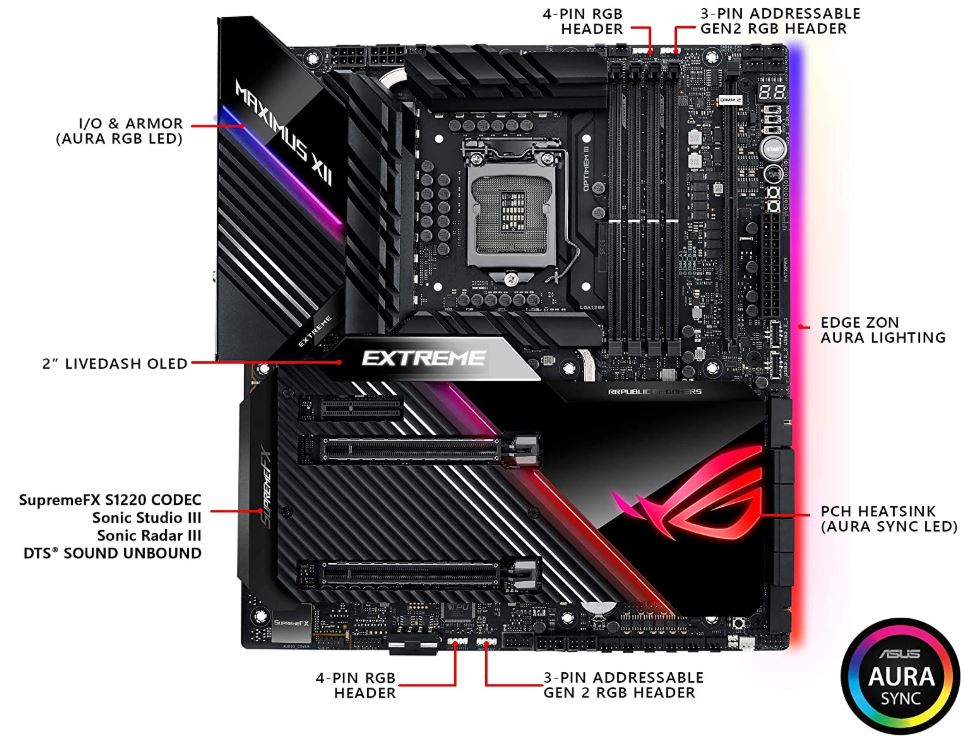 To go with all that power, you get extra-large heatsinks to keep your rig cool. You also get six fan headers, so you won't have to worry about airflow through your system. All the headers are bundled on a single extension card, complete with an AI controller. The AI is designed to reduce unnecessary noise, and will throttle back the fans when they're not needed. When you get into an intense Battlefield match and your GPU is cranking away, the fans will throttle up. The AI is rated to maintain a delta of 5° Centigrade, so overheating is simply not a concern.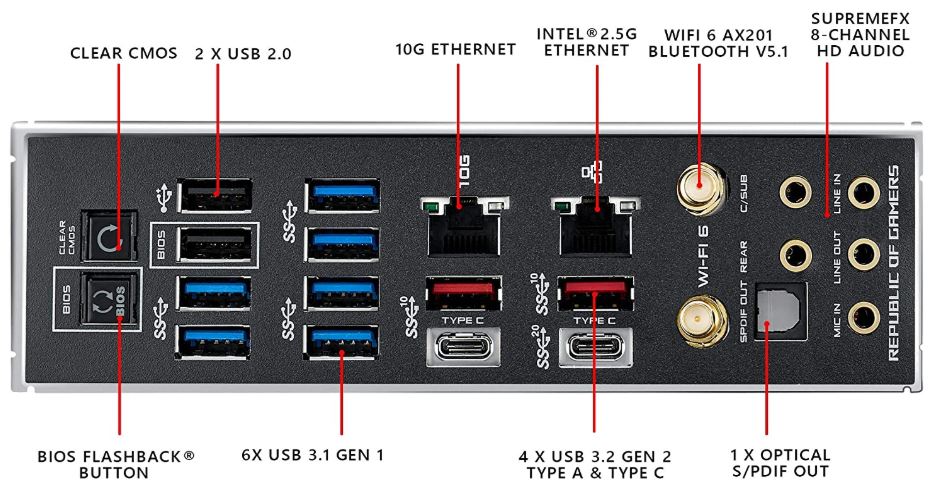 For connectivity, you get dual Ethernet, with one 10 Gbps port and a secondary 2.5 Gbps port. You also get a WiFi card that supports the latest WiFi 6 standard. You can install up to four RAM cards in the quad DIMM slots, for up to 256 GB total. By the time you need that much RAM, you'll be on your next gaming rig. Finally, you get a pair of USB 3.2 ports for connecting your accessories. And with all the power the Maximus XII Extreme supplies, adding more USB ports is not a problem. The audio is also excellent, with DTS Sound Unbound to provide immersive sound for your games.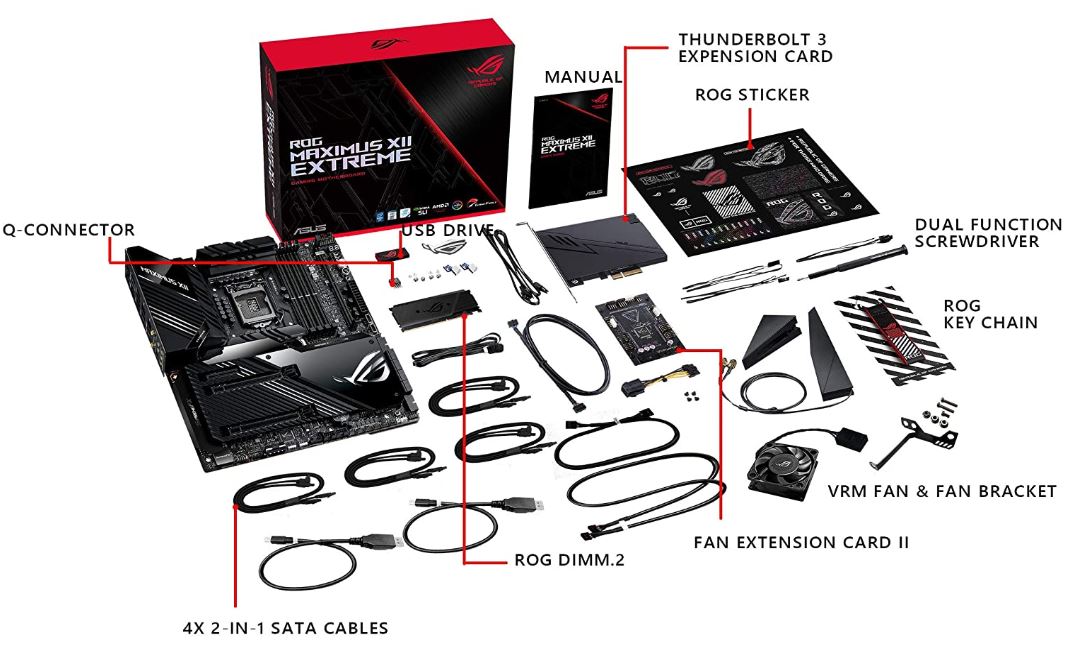 The Maximus XII Extreme is also no slacker when it comes to cosmetics. It sports a slick black finish, with stainless steel hardware that provides attractive highlights. In addition, you get ASUS' proprietary Aura Sync RGB lighting. Admittedly, cosmetics are a secondary concern when you're choosing a motherboard. But if you're building a gaming rig with a see-through case, you'll want a beautiful motherboard.
Along with the motherboard itself, you also get a few extras that add extra value. You get a fan extension card and bracket, along with a 40mm fan. So you're already ready to go with your first fan. You also get a Thunderbolt EX card for added functionality, and a multi-bit screwdriver for easy installation.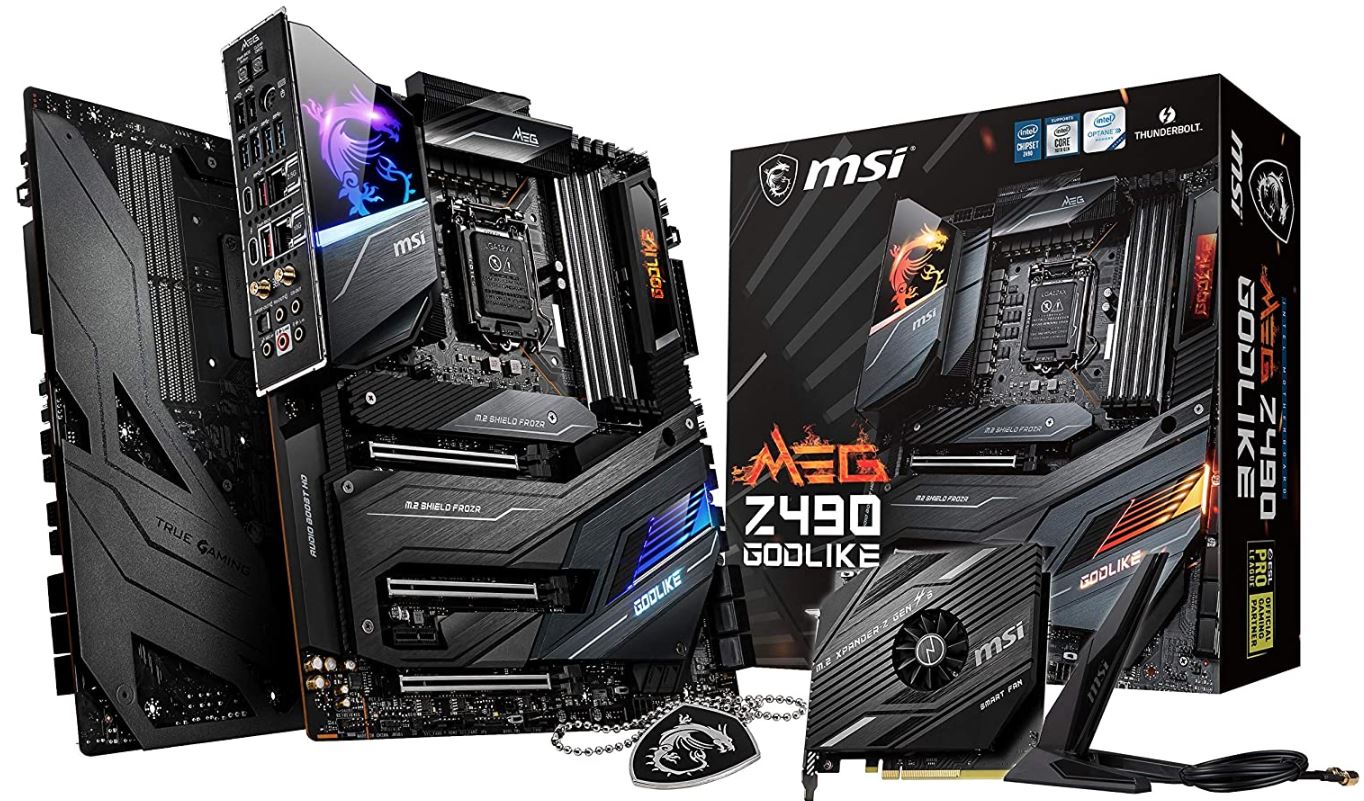 MSI MEG Z490 GODLIKE
The MSI MEG Z490 GODLIKE is designed to provide the maximum amount of cooling possible. While the Maximus XII Extreme does this by providing six fan headers, the MEG Z490 sports bigger heatsinks. The patented FROZR heatsinks are exceptionally large, extending the full width of the board. Throw in a pair of fans, and your rig will stay cool under even the most demanding of conditions. The back plates are also exceptionally large. Not only do they dissipate heat more efficiently than most motherboards, they're also attractive. Again, cosmetics is just a secondary concern, but it's nice when your hardware is easy on the eyes.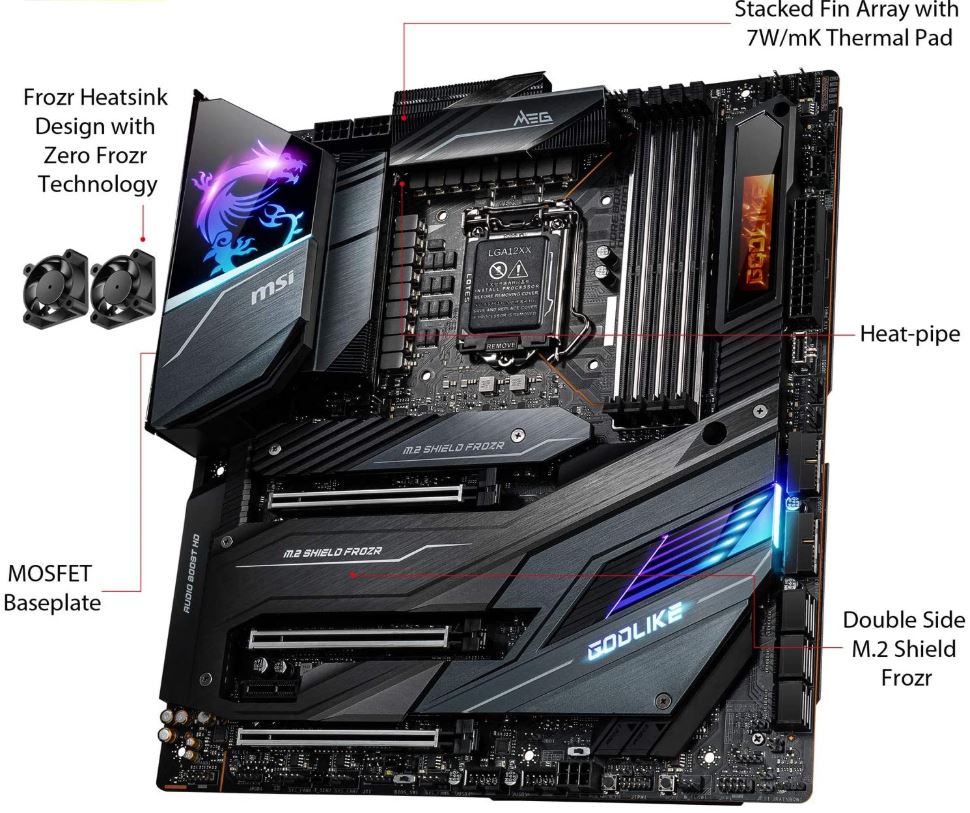 The RAM support here isn't quite as impressive as the Maximus XII Extreme. Instead of quad DIMMs, you only get two. Still, you're looking for enough capacity for 128 GB at a clock speed of 5,000 MHz. Considering that even 16 GB of RAM will get you through any modern game, 128 GB is more than enough. And the 5,000 MHz clock speed means you'll get ultra-fast load speeds. If you use fast RAM cards, you won't have to manually overclock them as with some other motherboards. The 5,000 MHz speed is native to the board, so you're ready to rock from day one.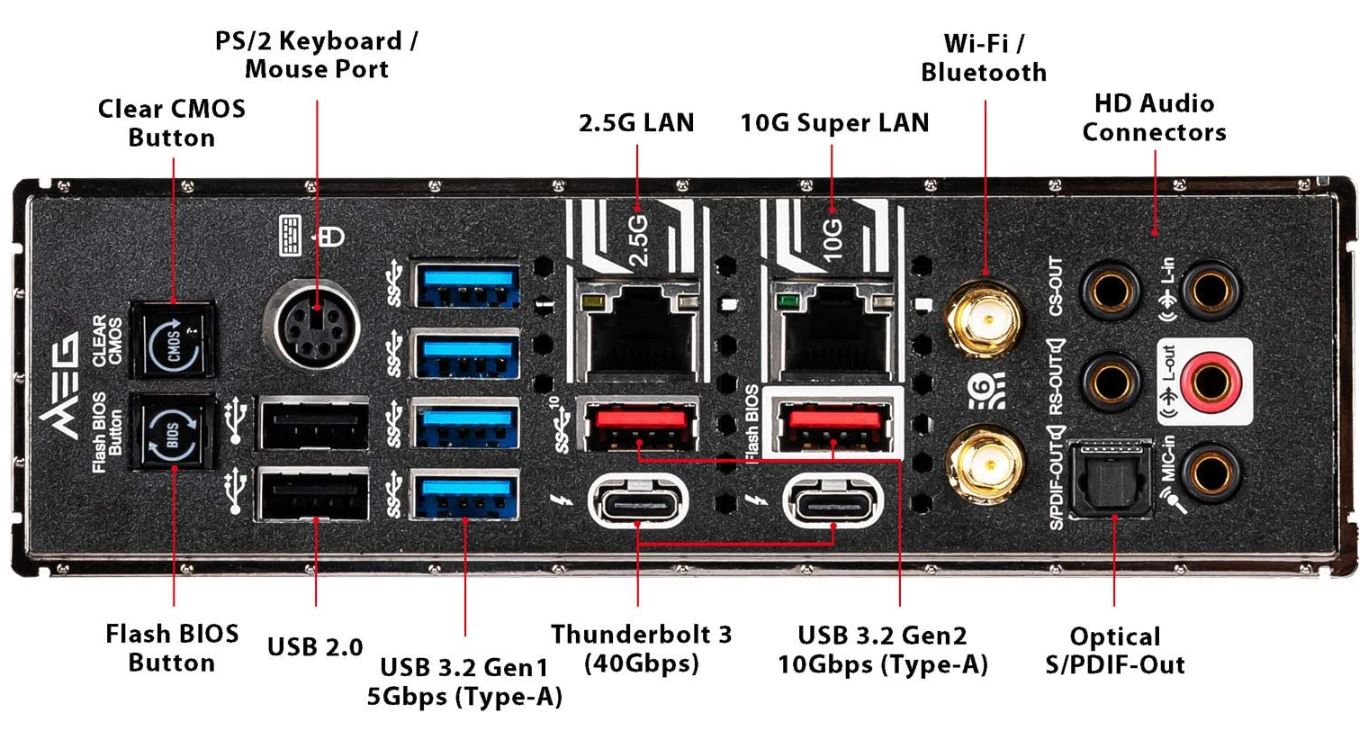 The storage capacity on the MEG Z490 GODLIKE is nothing short of remarkable. You get a pair of M.2 slots that offer up to 32GB per second of bandwidth. But the included smart fan also sports a pair of additional M.2 slots. If you want to keep your entire Steam library on your local system, you won't have any issues. Keep everything saved locally, and you won't have to wait for downloads before you play. Of course, you'll need to invest in four different drives to do this. But that's yet another upgrade you can add as you go along.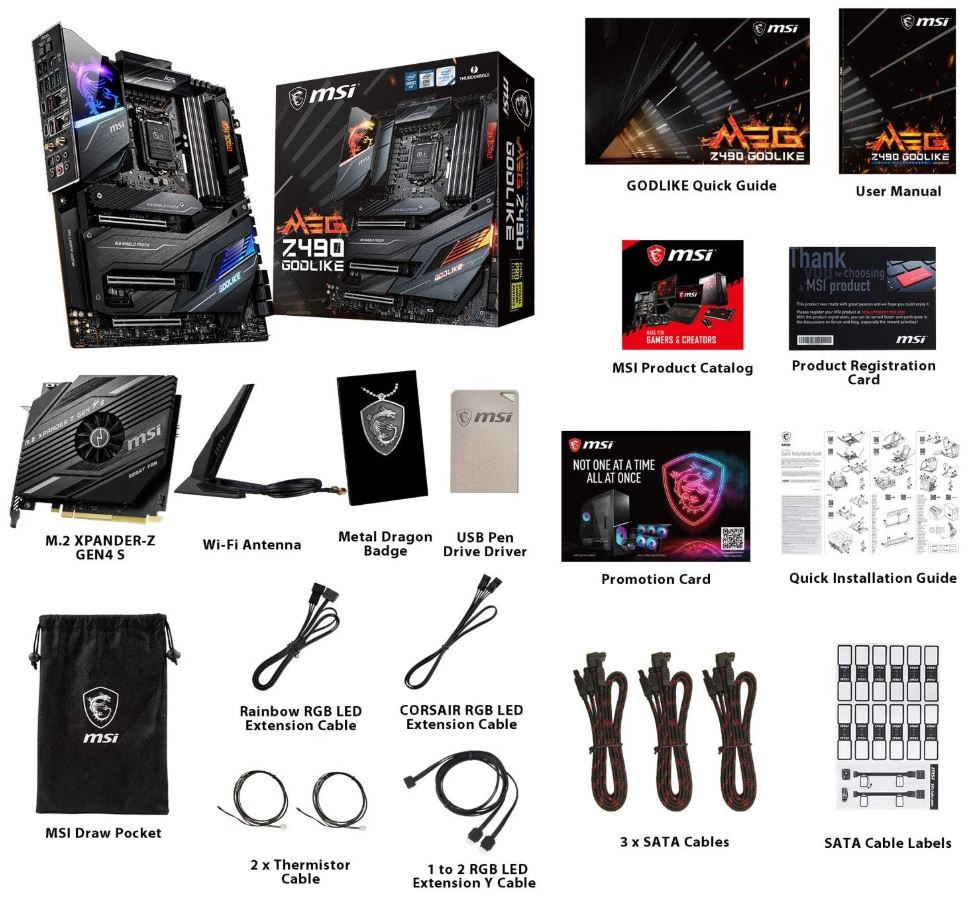 Connectivity is also well supported. The built-in Ethernet can support transfer rates of up to 2.5 Gbps. You also get support for WiFi 6, the latest version of the WiFi protocol. In addition, you get a pair of Thunderbolt 3 ports on the rear panel. These ports support transfer rates of up to 40 GB per second. Not only can you daisy chain a more robust USB hub, you can even connect a 4K display. 4K gaming might just be starting to come into its own, but you'll be well supported when the time comes. The MEG Z490 GODLIKE comes with everything you need to get started. You get three SATA cables with labels, two thermistor cables, and a set of RGB light cables.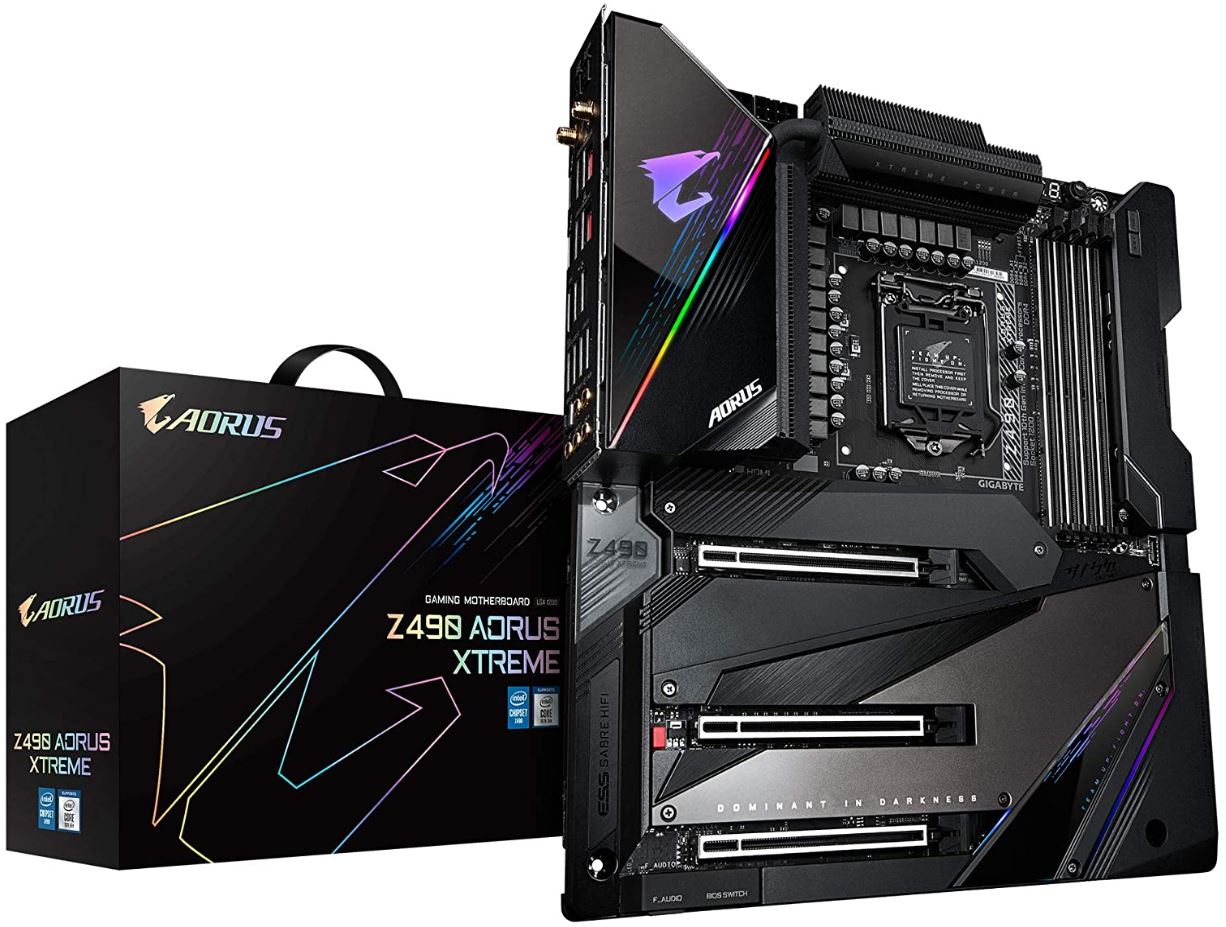 GIGABYTE Z490 AORUS Xtreme
Like the Maximus XII Extreme, the GIGABYTE Z490 AORUS Xtreme offers some impressive power capacity. It provides 16 power stages, each of which puts out an impressive 90 amps. This is enough for just about any hardware you want to add to your system. Add a powerful GPU, a sound card, multiple fans, and multiple hard drives. You'll be able to run them all at once, provided your power supply unit is up to the task. To support this impressive power supply, you also get three PCIe slots. You won't have any issues adding loads of extras to your Z490 AORUS Xtreme board. Moreover, these PCIe slots have the latest PCIe 4.0 design. With this design, you can use SATA power to supplement your slot's native 100-watt power. As a result, you can use even more powerful PCIe devices.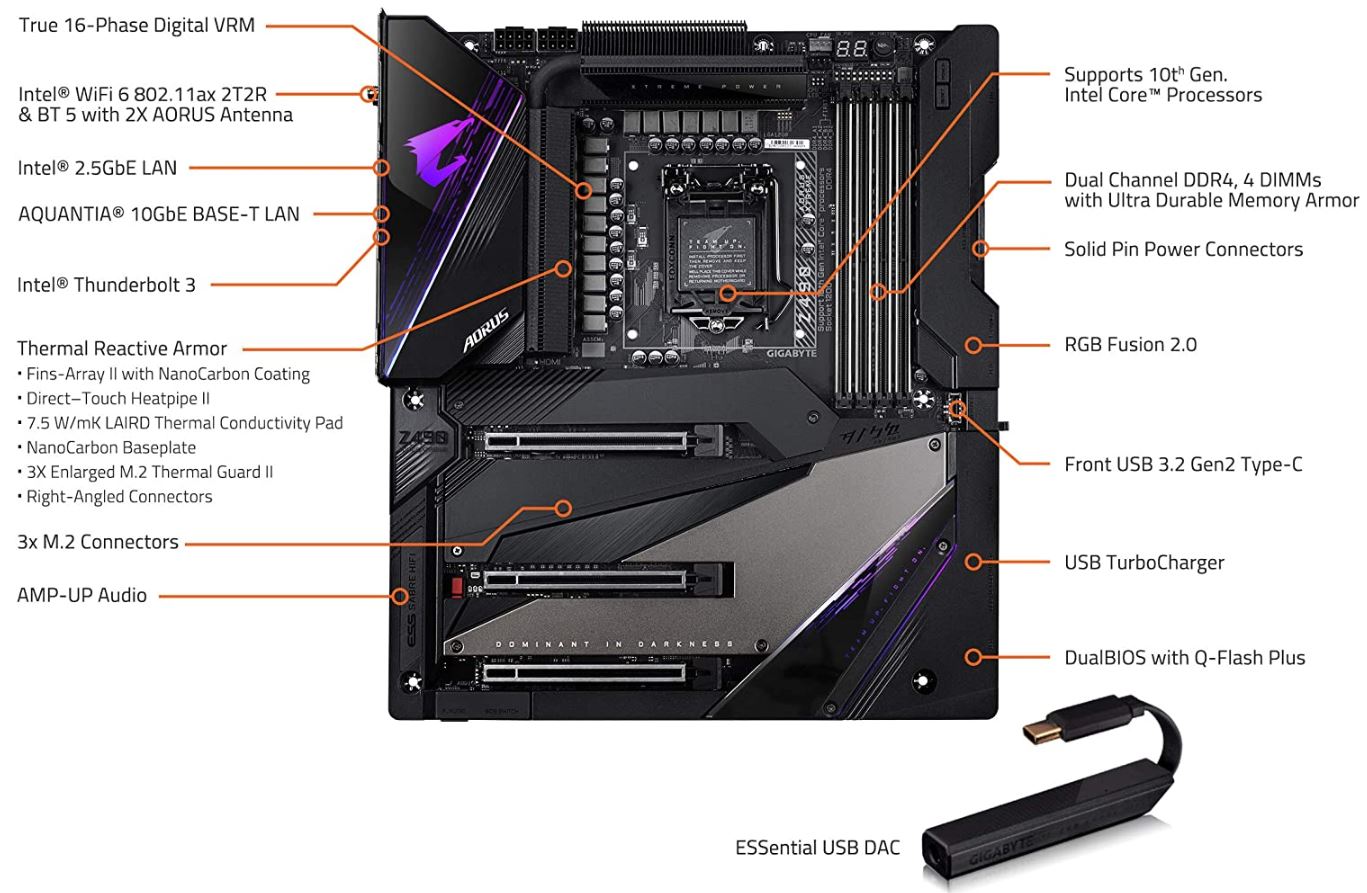 The hardware and connectors are all very well constructed. You get a capacitor array that's constructed from tantalum polymer. In addition, the cooling system is excellent. The NanoCarbon base plate provides plenty of heat dissipation. And the PCIe slots are surrounded by a large, robust heat sink that further improves the cooling. These cooling fins have a NanoCarbon coating, along with an internal heat pipe. The pipe spreads heat throughout the entire fin, so your fans can remove heat efficiently from the entire system.

For storage, you get three M.2 connectors, which allows you to install up to three internal HDDs or SSDs. In addition, you get four DIMMs for installing your RAM. This provides support for up to 256 GB of RAM, which is honestly excessive. You're simply not going to need that much RAM before the other features have become obsolete. But it's nice to have the option, just in case.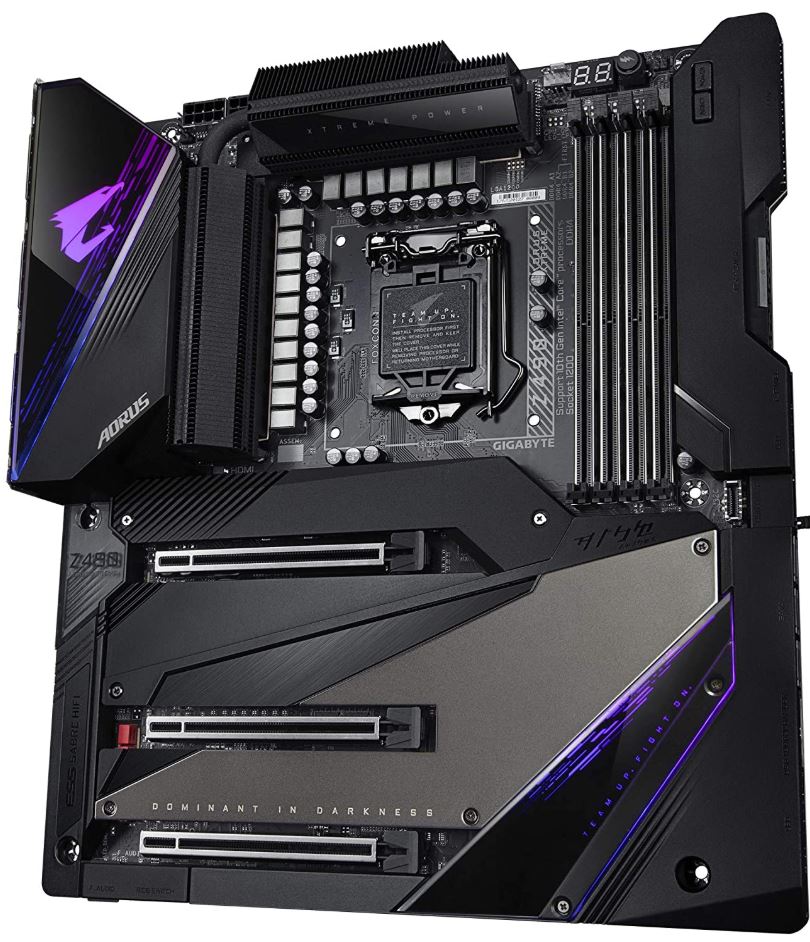 The most impressive feature of the Z490 AORUS Xtreme is the amount of connectivity it brings to the table. On the back, you'll find four USB 3.0 ports, as well as a pair of Thunderbolt ports for even more data transfer. On the front, there are two connectors for installing additional USB ports on the front of your machine. The Ethernet controller has two ports, one for 10 Gbps speed and another for 2.5 Gbps speed. And with support for WiFi 6, you'll be able to get the maximum speed from your new router. The on-board sound allows you to connect both standard speakers and a subwoofer. If you want to attach a powerful sound system, you're good to go.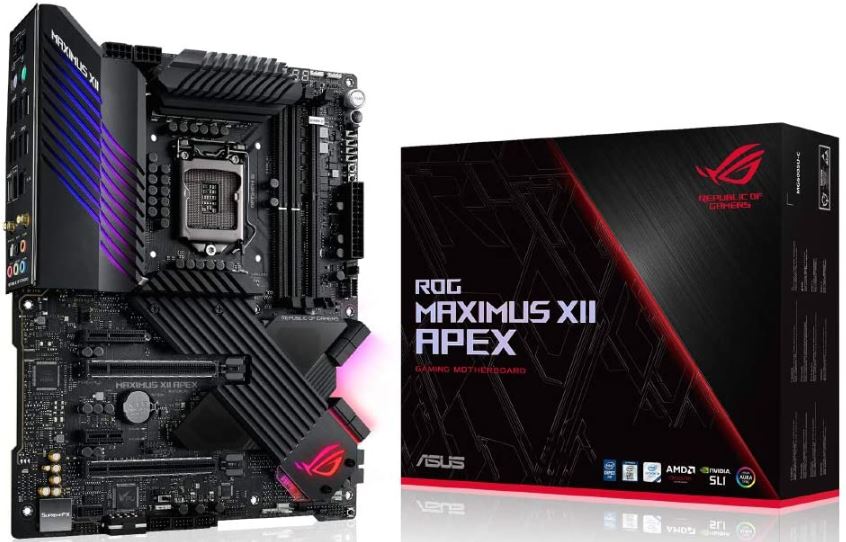 ASUS ROG Maximus XII Apex
We've already looked at one of ASUS ROG Maximus XII boards, but the Apex is also worth considering. It sports the same 16 power stage design as the Extreme, complete with the alloy chokes. Even under an intense power load, you won't have to worry about connectors overheating. You can overclock your PC to the maximum without worrying about damaging your other parts. To support this feature, the ROG Maximus XII Apex comes with a complete overclocking toolkit. There's even condensation detection built into the kit. If condensation starts to develop, the CPU will automatically throttle back to prevent permanent damage.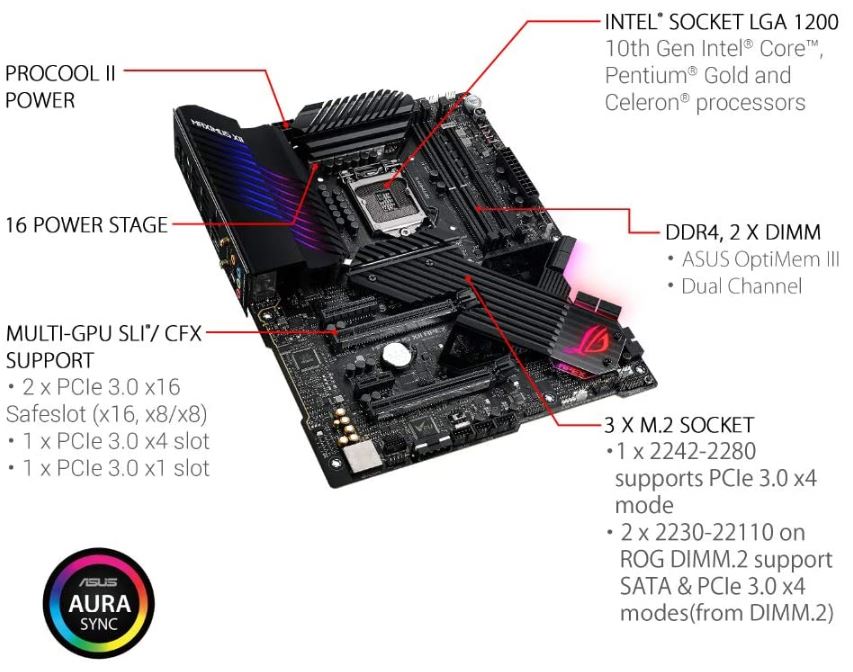 The cooling system on the ROG Maximus XII Apex's cooling system is also ideally designed for overclocking. It sports a large VRM heatsink over the back plate, along with a C-shaped heat pipe. There are additional heatsinks on the M.2 slots, as well as six fan headers. It also has similar cooling technology to the Maximus XII Extreme. With a maximum 5° Centigrade delta, your components will all stay cool while you're blasting away in multiplayer. And when your PC is under a lower load, the fans will automatically throttle down to keep the volume low.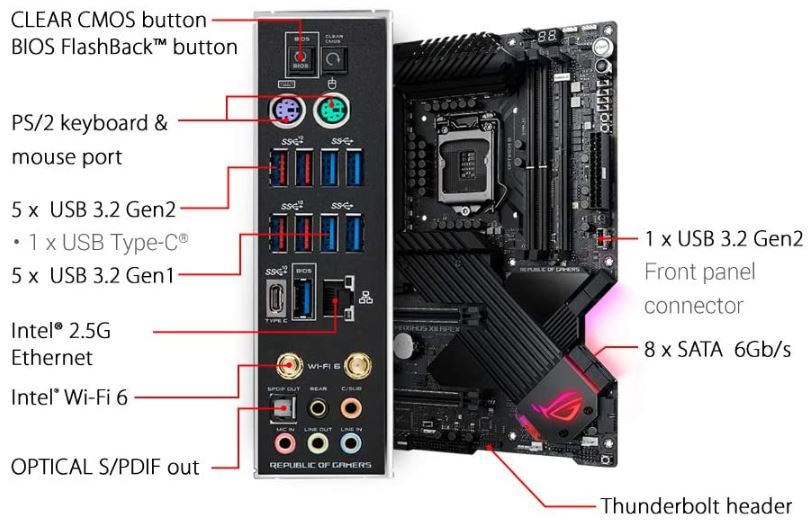 Like the Maximus XII Extreme, the Maximus XII Apex features ASUS' Aura Sync RGB lighting. You get a full set of cables in the kit, along with RGB headers and Gen 2 addressable headers. That said, the oversized heatsinks make the Maximus XII Apex less attractive than its brother. Audio is also excellent for gaming. The Maximus XII Apex utilizes DTS Sound Unbound, which provides clear audio on any sound system. This is particularly noticeable when you're playing a horror or survival game. You can immerse yourself in the environment, and feel like you're really sneaking through a post apocalyptic wasteland.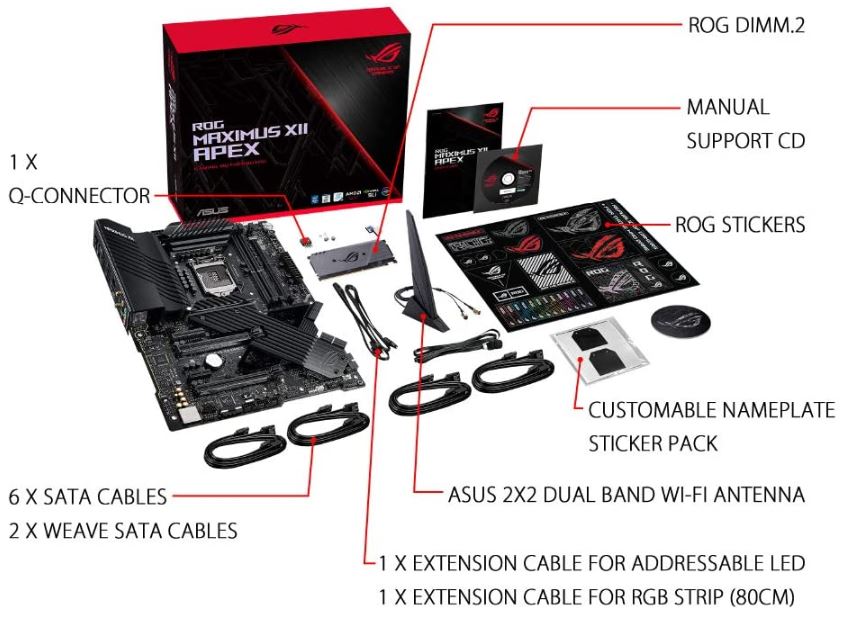 Other than the heatsinks, the main difference between the Maximus II Extreme and the Maximus XII Apex is the memory. Rather than supporting 256GB of RAM, the Maximus XII Apex "only" supports 128 GB across two DIMMs. The lower capacity is less of an issue than the fact that there are only two slots. For example, 32 GB of RAM on two slots will perform slower than the same amount of memory on four slots. You also get three M.2 slots for storage, and a pair of PCIe slots. The Ethernet performs at 2.5 Gbps, and you get full WiFi 6 support.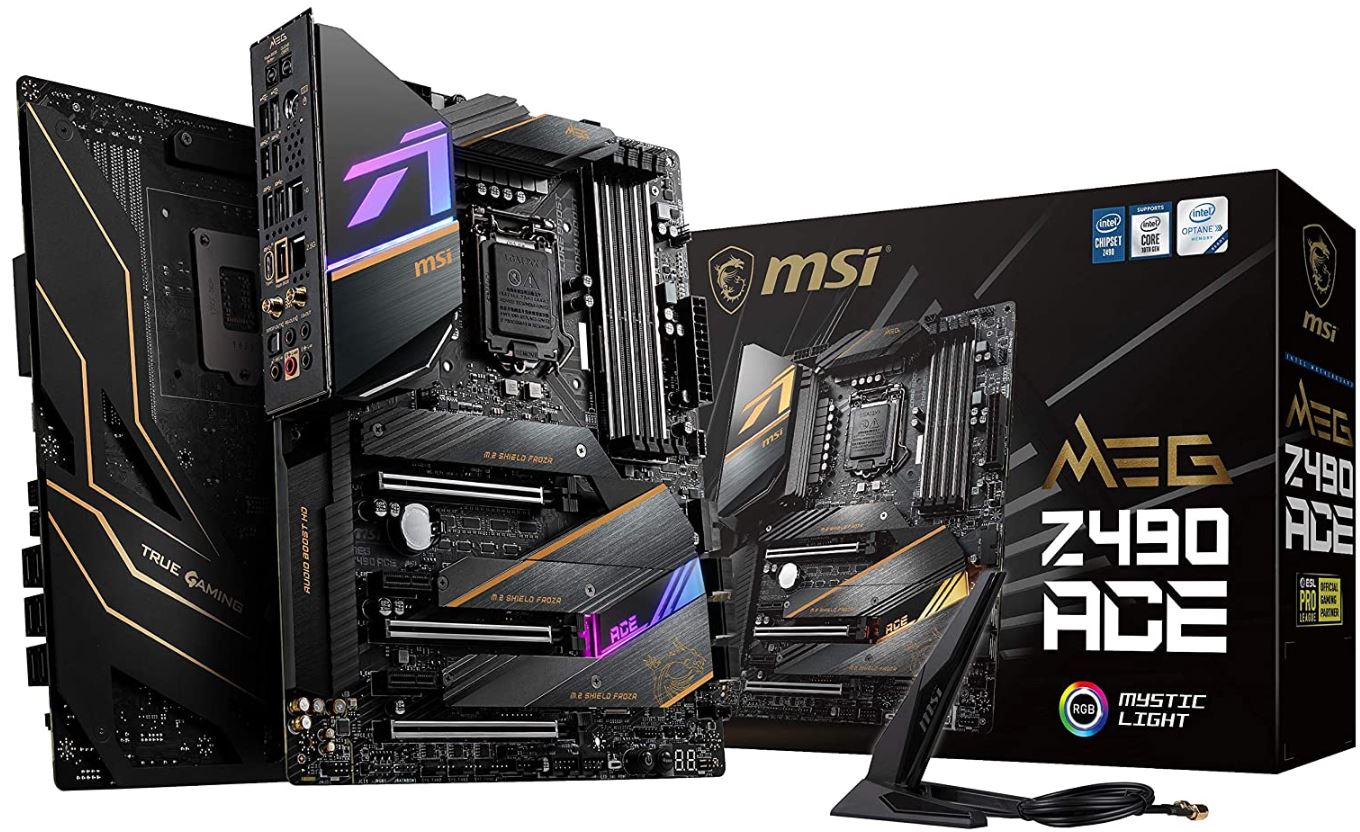 MSI MEG Z490 ACE
The MSI MEG Z490 ACE is similar in design to the MEG Z490 GODLIKE, since it's part of the same line. But the Z490 ACE has some important differences that are worth pointing out. To begin with, it's about half the price. Moreover, even at the lower price point, it still supports up to 128 GB of RAM at up to 4,800 MHz. This is only 200 MHz slower than the Z490 GODLIKE's performance, which is a trivial difference. In effect, you're getting equal RAM performance for a much lower price. This is mostly thanks to the fact that 128 GB capacity is spread across four DIMMs.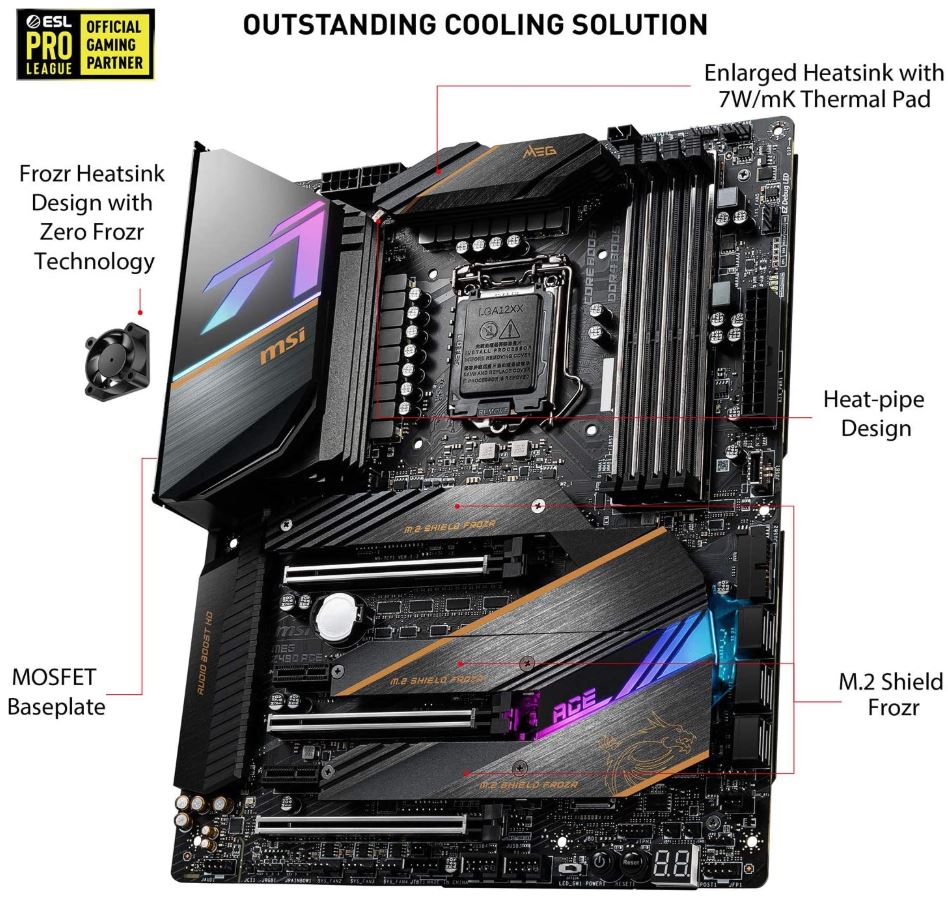 That said, you get less storage capacity than you get from the GODLIKE. Rather than four M.2 slots, you "only" get three. The transfer speed is also reduced, from 40GB per second to 32. Regardless, you're looking at excellent performance from your SSDs. And if you need more storage, you can always just connect a SATA drive or two. For other devices, you get three PCIe slots. This is enough to install dual graphics cards and a sound card, so your gaming rig is ready to rock. All of these slots are surrounded by pre-installed shielding which prevents shock damage.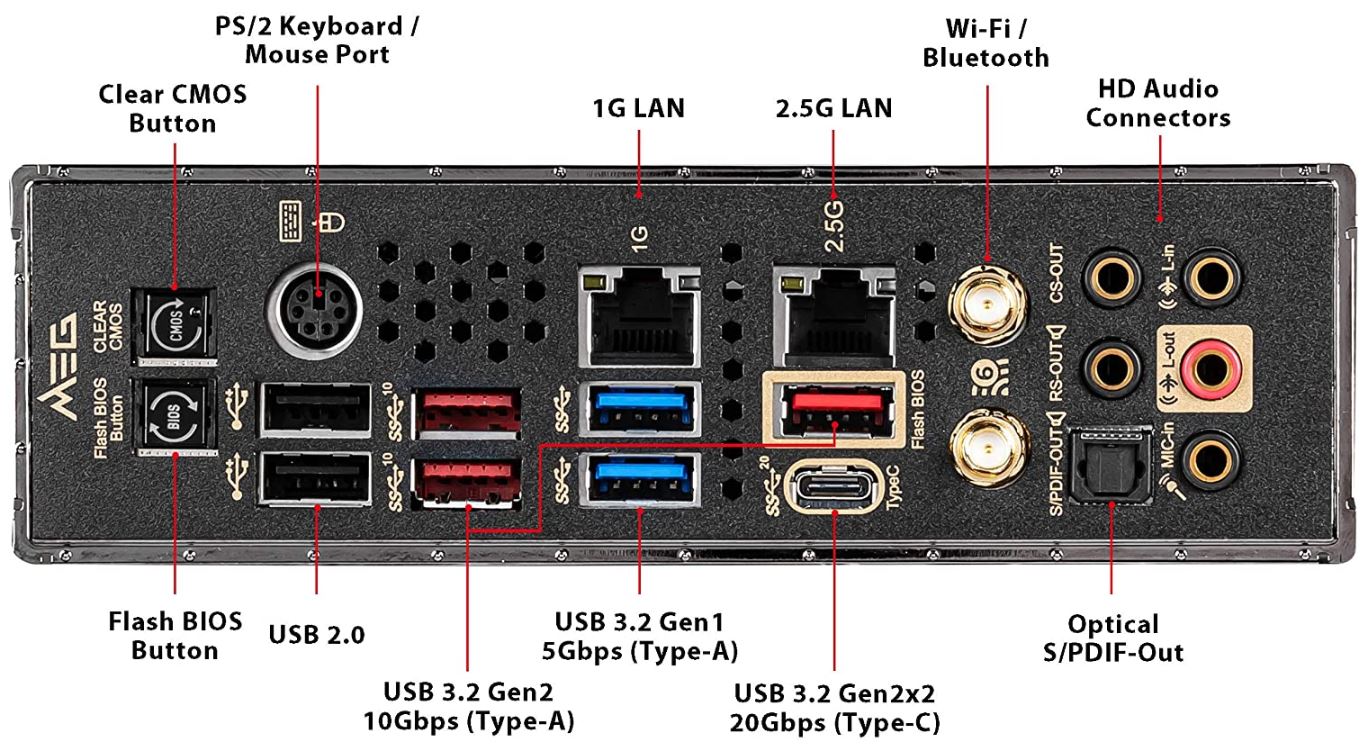 The I/O port is protected by similar shielding. It sports five USB 3.2 ports, along with a pair of USB 2.0 ports. There's no native Thunderbolt support, but that's to be expected at this price point. You do get support for 2.5 GB per second Ethernet, along with WiFi 6 support. And with HD audio jacks, you can rock even the best sound system without any compatibility issues.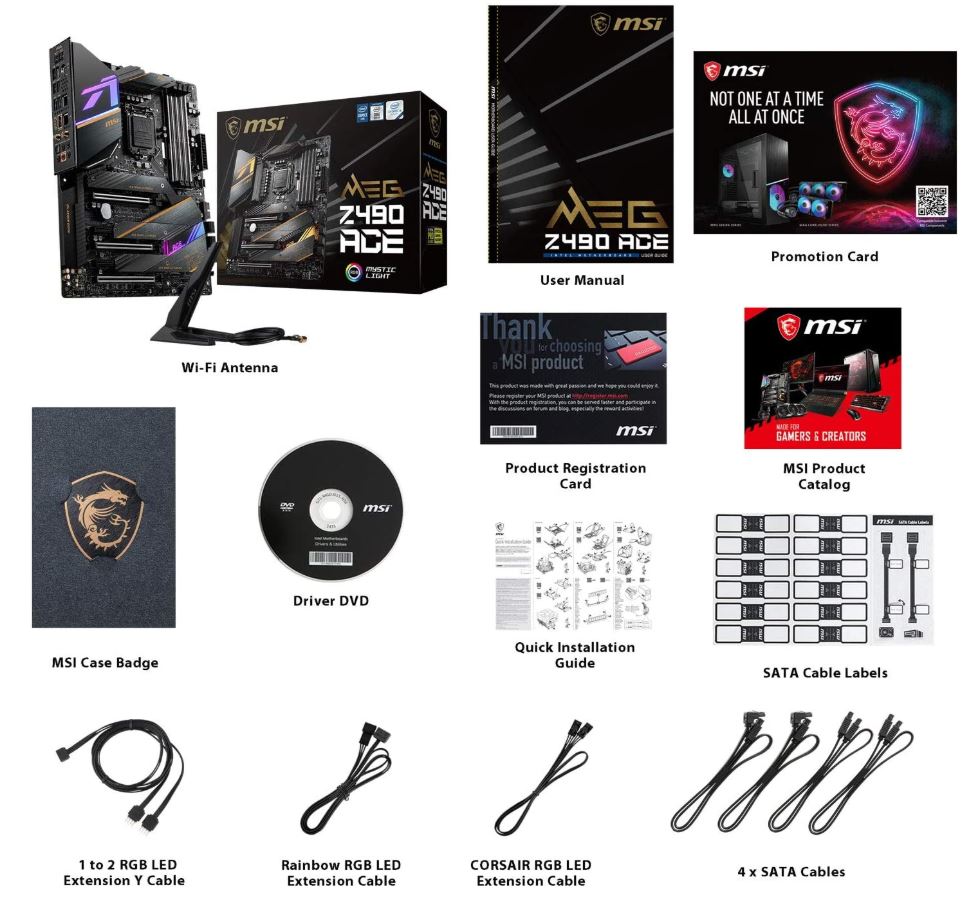 The MEG Z490 ACE offers excellent cooling performance. It sports the same Frozr heatsink as the last MSI board we looked at. The active cooling system features double ball bearings in the pump. Large heatsinks surround all the major slots, which will keep your GPU safe under the most demanding conditions. You also get RGB cables, so you can easily set up your own light system. In addition, you get four separate SATA cables with labels.
Final Verdict
So, which one of these motherboards is the best of the bunch? As is so often the case, it depends on what you're looking for. Are you willing to pay top dollar for all the bells and whistles? Or are you budgeting for a more affordable board that still supports the 10th gen Core i9 processor?
Let's start with the ASUS ROG MAXIMUS XII Extreme. In terms of raw performance, it's the best of the bunch. It supports an impressive 256 GB of RAM. It also has a smart cooling system with six fan headers, so overclocking will never be a problem. The built-in RGB lighting is a purely cosmetic feature, but it's a great added value.
The MSI MEG Z490 GODLIKE is a similar top-tier option. With four M.2 slots, it supports up to four high-speed internal SSDs. In addition, it offers up to 5,000 MHz of RAM clock speed, without the need for manual overclocking. And the exceptionally large heat sinks provide more than enough cooling to overclock your Core i9 as well.
The GIGABYTE Z490 AORUS Xtreme provides plenty of power for top-tier GPUs and sound cards. With 16 90-amp power stages, you'll never run out of juice. You also get four DIMM slots for up to 256 GB of RAM. Not only that, but the connectivity is excellent. The I/O panel sports four USB ports in addition to a pair of Thunderbolt ports.
If you want excellent performance for less money, the ASUS ROG Maximus XII Apex is an excellent choice. It features an overclocking kit for your CPU, along with a condensation detector that keeps your system safe. With six fan headers, it still keeps your rig cool under any conditions. And the RGB lighting makes it an attractive aesthetic choice.
The MSI MEG Z490 is another affordable option, but it's still no slouch. It supports up to 128 GB of RAM with a clock speed of 4,800 MHz. In addition, the pre-installed shock shielding provides protection against inadvertent damage during installation.