Portable power has come a long way over the past decade. Gone are the days of noisy, smelly, inefficient gas-powered generators. Slowly being replaced by battery technology, originally, heavy and cumbersome lead-acid batteries were the only alternative for several years thereafter. Then, lithium-ion (Li-ion) battery technology seemingly took over. However, there were a few main problems with Li-ion technology. For starters, there were longevity and safety concerns. Notably, they have the potential to overheat and even catch fire. Additionally, the amount of charge cycles Li-ion provided wasn't all that impressive. Ultimately, consumers needed safe and effective ways to store power, which is why LifePO4 came to the market shortly after.
Fast-forward a few more years and lithium iron phosphate (LiFePO4) is now the industry norm. With it, consumers found that LifePO4 was a huge improvement over Li-ion. Both in terms of cycle life and safety, you could achieve four or five times as many charge cycles without the risk of fire. Simply put, LifePO4 is much more efficient and a whole lot safer. But there's still one major problem; price. In fact, the rare raw materials needed to produce lithium iron phosphate keeps the price out of reach for many consumers. Sure, they last longer and are much safer, but the prices keep many at bay.
Now that we're in 2022, we're seeing a glimpse the next generation of energy storage; sodium-ion batteries. Popular brand-name manufacturer of portable power devices, BLUETTI, is now turning heads and yet again, making a name for themselves. They're the first manufacturer to make this new kind of technology available to the general public. With their CES 2022 announcement of the NA300, they're set to release the world's first Na-ion solar generator, with their compatible battery pack, the B480.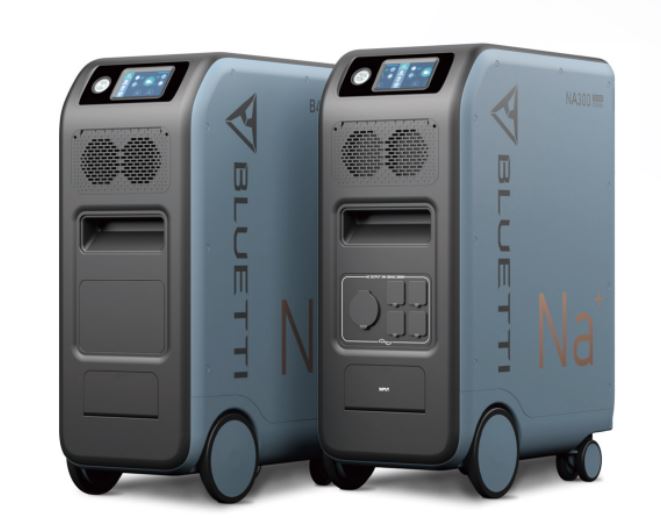 First Look
The BLUETTI NA300 seems to be a very impressive and promising piece of technology that's packed with some pretty impressive features. Although rather large and heavy, the NA300 tips the scale at around 175 lbs. It's large in size, measuring approximately 22.8 inches long, 11.8 inches wide and 29.9 inches tall. Additionally, it's equipped with four wheels on the base, two that pivot for maneuverability.
More importantly, let's see what's under the hood. On the front panel are four 20A plugs in addition to a single 30A L14-30 output port that's powered by the integrated 3000W (6000W surge) pure sine wave inverter. In addition, there's also one cigarette lighter port, and RV Port 12VDC/30A, as well as two standard USB-A ports, two QC 3.0 USB-A ports, two USB-C PD3.0 ports and even two Qi wireless charging pads. Several other unique features are also included such as short circuit protection with dual AC + PV charging, meaning that you can simultaneously charge from solar and with the standard AC charger.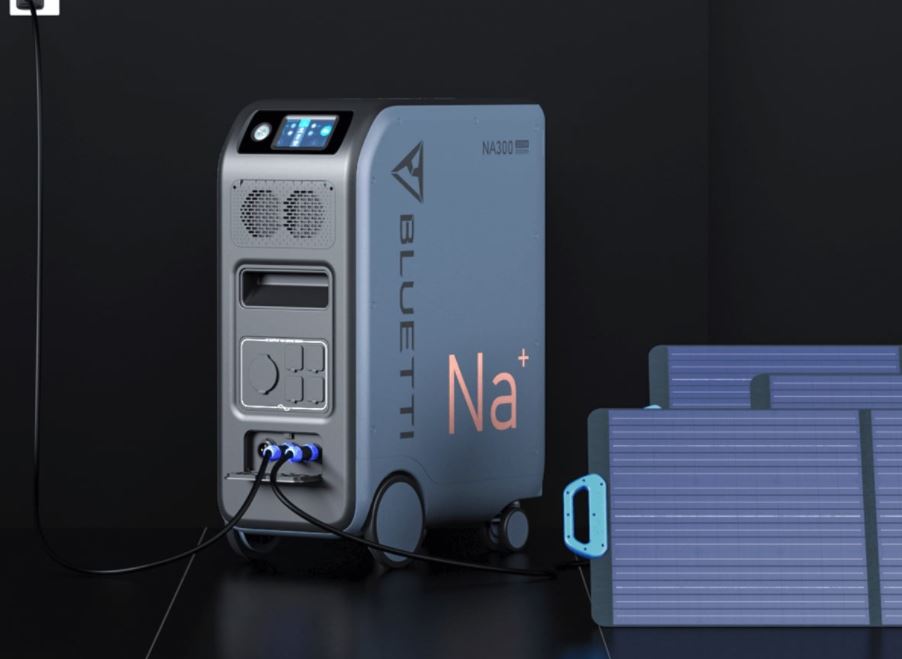 The appearance of both the NA300 and the B480 is nearly the same. Towards the top of the front panel is a small LCD screen that clearly indicates every crucial statistic. The only difference is the lack of charging ports and inputs on the B480. From first glance, you may agree with us that these devices look and stand similar to a desktop computer; tall, rectangular and heavy. Since these are larger-style units, it goes without saying that these are ideal for backup home or business power, or even an alternative to a gas generator.
We love the look and appearance of the NA300 and B480. We're happy to say that BLUETTI went with a sleek and modern matte black with a comforting light blue color. The style looks attractive and bodes well with their other popular releases that they've made over the past year.
BLUETTI's Largest Units Yet
The NA300 and B480 are a definite step-up from the current EP500 Pro, which is BLUETTI's current king when it comes to charging power and overall capacity. The EP500 Pro offers 2400W of solar input, whereas the NA300 promises 3000W. In addition to this, the NA300 will also be their fastest charging solar generator available. With the quickest re-charge times we've ever seen on paper, the NA300 is capable of going from 0% capacity to 80% capacity in a mere 30 minutes. It does this by combining AC charging with solar charging. That said, users are able to achieve insanely quick charge times with up to 3000W going through AC and an additional 3000W going through PV (solar).
Although the NA300 offers a smaller, 3000Wh battery than the EP500's 5100Wh capacity, users are able to "stack" up to two B480 units for an overall massive power capacity. Simply put, with the NA300's 3000Wh battery and each B480 adding an additional 4800Wh each, the NA300 paired with two B480s will give users a maximum 12,600Wh of total battery power. That's an insane amount of battery capacity; nothing like we've ever seen before!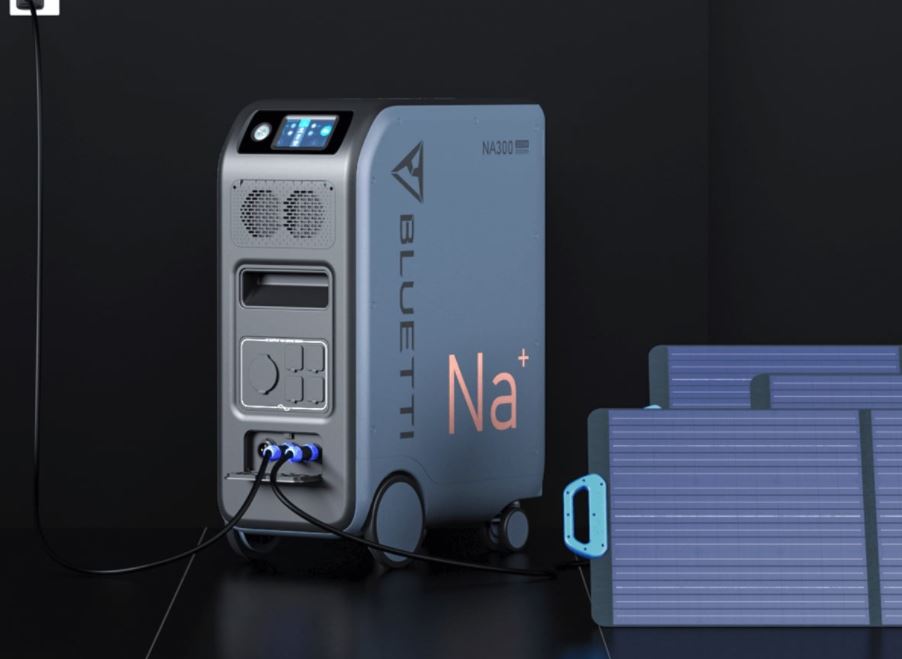 Practical Use?
Although prices and availability of the BLUETTI NA300 and B480 units has not yet come to fruition, it's easy to assume these units are going to be ideal for home use. They've created both products to power your entire house for multiple days. Whether you're trying to avoid frequent power outages or acquiring a bit of insurance against a faulty power grid, the NA300 and B480 modules seem to be a great addition. They're small enough to fit within an RV, but more-practical for home or business use as a fine alternative to a backup gas generator.
As 2022 proceeds, we'll see BLUETTI release more specifications and statistics on these units. For now, we highly recommend looking at their official website for the latest updated info. As they return from CES 2022 and work more on availability, it won't be long before you see the NA300 and B480 widely available to consumers.