iWalk LinkPod
Pros
Attaches right to the bottom of your phone.
Lightweight and portable.
18W PD charging.
Supports pass-thru charging.
Available in several colors.
Cons
Not compatible with iPhones.
Not as fast as some USB Type-C chargers.
Makes your phone a bit larger.
Keeping your phone battery charged is harder than it's ever been. Back in the days of flip phones, we didn't use them as much. A phone was for calling and texting, and that was it. Sure, you had to deal with annoying proprietary chargers. But you only had to charge your phone every couple of days.
Despite their more powerful batteries, modern phones require more frequent charging. That's because we ask them to do so much more. Look at your smartphone screen and count up all the apps. Now think about how much time you spend using them.
Note: At no extra cost to you, we may earn a commission for purchases using our links. Learn more.
If you're listening to music all day, it's going to drain your battery. If you're doing anything that requires the screen, your battery will drain even faster. This means more frequent charging, sometimes even when you're on the road.
This is even more problematic when you think about how much we depend on our phones. Suppose you rely on your phone's GPS function; if the battery dies, you might get lost. If you can't open your Venmo app, you can't send money to your friends.
In other words, it's importance to have a supply of power. Sometimes, this means a power cord. Other times, it means a power bank. With a power bank, you can charge your phone any time you want. If you're frequently away from power outlets, a good power bank is a smart investment.
iWALK LinkPod Portable Charger Power Bank
In this review, we'll be evaluating the iWALK LinkPod. This is a compact power bank that plugs directly into the bottom of your phone. You can use it even while you're making a call, which is one of the main attractions. It's also incredibly small; you can carry it in your pocket alongside your phone.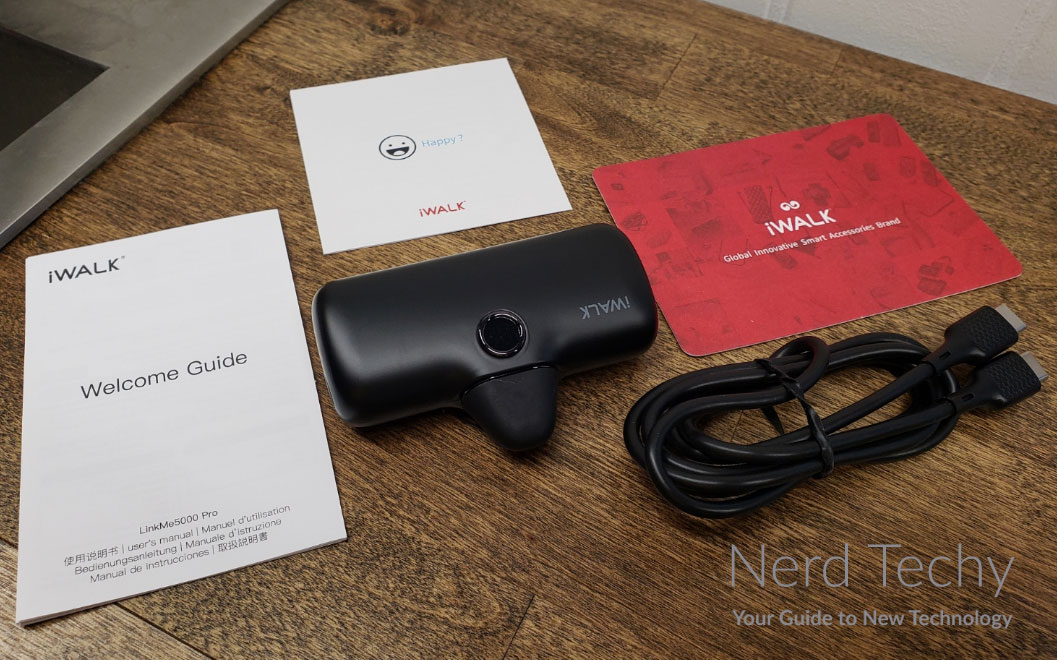 Of course, we'll have to consider a number of other factors. We'll have to talk about the charging capability and what kinds of phones it's compatible with. We'll have to look at the capacity, and how long it takes to charge. In addition we'll also have to think about how portable it really is. After we've examined these things in detail, we'll be ready to render our verdict. Let's begin!
Overall Design
The iWALK LinkPod Portable Charger Power Bank has a unique shape. Instead of a block, it's more of a flattened curvy wedge, with the narrower end towards your phone. It's available in three colors: black, pink, and white, with an iWALK logo in the front top right corner.
The material has a matte finish that's easy to clean and won't collect fingerprints. It feels durable to the touch, and it's hefty considering the small size. The total width is about the same as a smartphone and case, and it's not much fatter than a smartphone.
At the front, at the center of the power bank, is a USB Type-C tip. The idea is to plug the entire power bank into the bottom of your phone. You can leave it attached while you're talking or texting. Because of this, the tip is extra-long.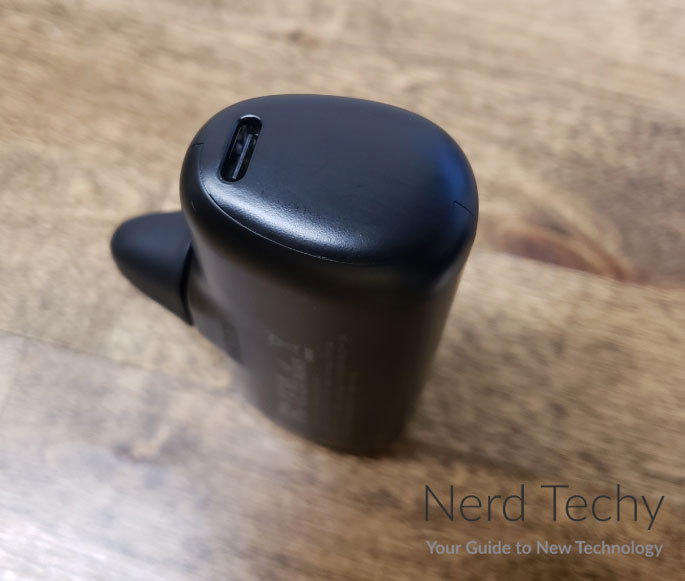 It's made to remain firmly seated, even if your phone has a thick case. To protect the plug when it's not in use, there's a little rubber cover that goes over it. The cover is attached to the power bank with a little rubber strap. This ensures that it won't get lost when you take it off.
On the front of the housing, just beneath the plug, is a round digital battery meter. This lights up when the power bank is being used, and shows the percentage of charge remaining. It's an attractive touch, and it's ringed with a decorative silver band.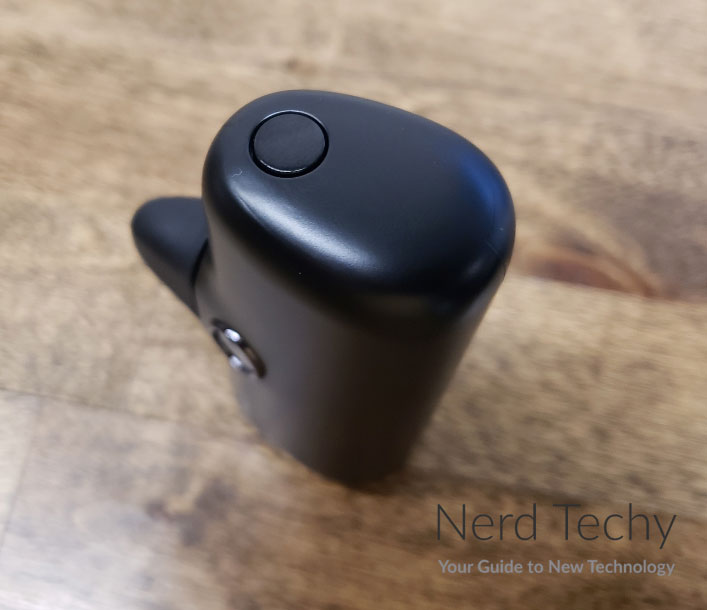 The right end of the housing sports a single plastic button. Double-pressing it will turn the power bank on and off. That way, the battery retains its charge better when it's not in use. There's a USB Type-C port on the left end of the housing. This can be used to charge the internal battery.
Charging Capability
The LinkPod provides 18 watts of charging power. iWALK advertises this as "PD" power, and that's technically correct. Standard USB ports deliver 12 watts of power, so 18 watts is an upgrade. Then again, most PD chargers will deliver more power. Some deliver as much as 100 watts.
Obviously, that would be overkill for a power bank that's only designed for phones. But some phones can charge at 30 watts or faster. Don't get us wrong; you're still getting better performance than standard USB. But keep your expectations realistic.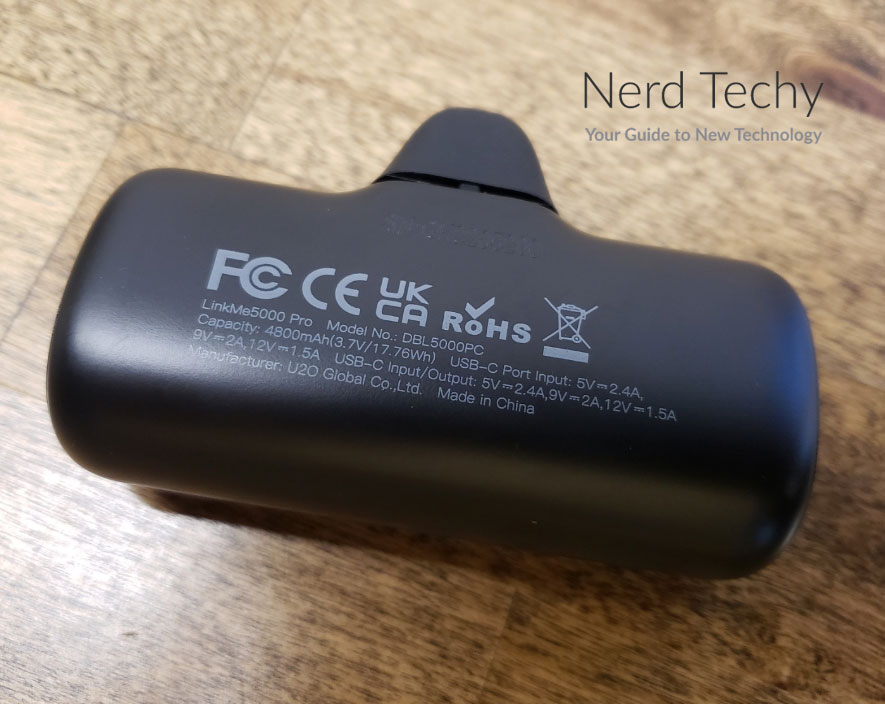 So, what qualifies as "realistic"? 18 watts at 5 volts is 3.6 amps of power. The Samsung Galaxy S10 has a battery capacity of 3,400mAh (milliamp-hours). By the raw numbers, you'd expect it to charge in a little under an hour. In practice, you're looking at more like 90 minutes. That's because charging gets significantly slower when the battery's charge level exceeds around 80%. Even so, you're talking about a pretty brisk charge on most modern smartphones.
Here's the catch. Because of its design, this power bank is only suitable for Android phones. Since it has a USB Type-C plug, it's not going to work with your iPhone. It also won't work with older Android phones that charge via Micro USB.
We suppose you could rig up a Micro USB or Lightning adapter. But the entire conceit of the LinkPod's design is that it attaches to the bottom of your phone. Using an adapter would defeat the purpose; you'd be better off with a different power bank.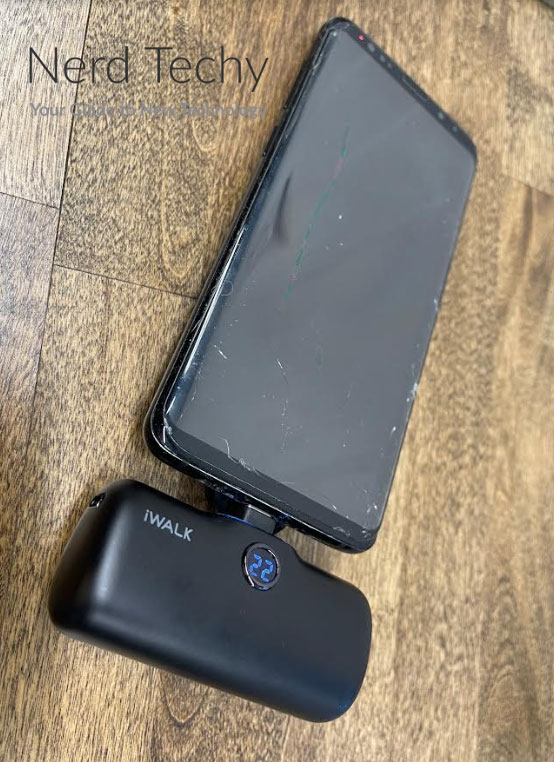 That said, iPhone users aren't totally out of luck. A while back, we reviewed the iWALK Link Me 4. It has a similar design, right down to the overall shape. However, it's available in both USB Type-C and Lightning variants. On the downside, it's a slightly older model with slightly less battery capacity.
Battery Capacity
The iWalk LinkPod has a battery capacity of 4,800mAh. Getting back to our example of the Samsung Galaxy S10, you can get a full charge plus around 30%. The point of this power bank isn't to spend weeks out in the wilderness. It's to get you through a day on the go when you won't have consistent power outlet access.
For that purpose, 4,800mAh is all you really need. Besides, the lower capacity helps keep the size and weight to a minimum. Meanwhile, the little bit of extra charge is great for topping up your earbud case.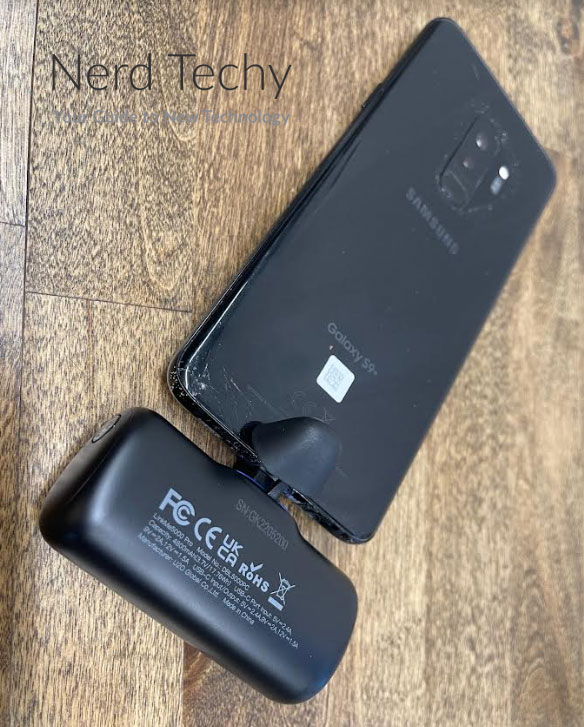 There are two ways to charge this power bank. First, you can plug it directly into a USB Type-C charging port. If you have a wall charging block, plug the power bank into it. Alternatively, you can use the USB Type-C charging port on the side of the housing.
This will require a cable, which is included in the kit. Interestingly enough, it's a USB Type-C to Type-C cable. If you have to charge from a regular USB port, you'll have to provide your own cord. But Type-C ports are common these days, so that should rarely be a concern.
When charging normally, the LinkPod will fully charge in a little over 90 minutes. That said, you can also take advantage of pass-through charging. Plug the power bank into your phone, then plug it into a USB charging port. The port will charge your power bank and your phone at the same time. Keep in mind that it will work more slowly when you're using this method.
If capacity is your main concern, you'll want to look elsewhere. Consider the iWALK Mini Power Bank. It has a relatively compact design, but almost twice the capacity at 9,000mAh. It can charge via USB Type-C or lightning, so it's suitable for Android and iOS devices alike. Then again, it doesn't attach to your phone.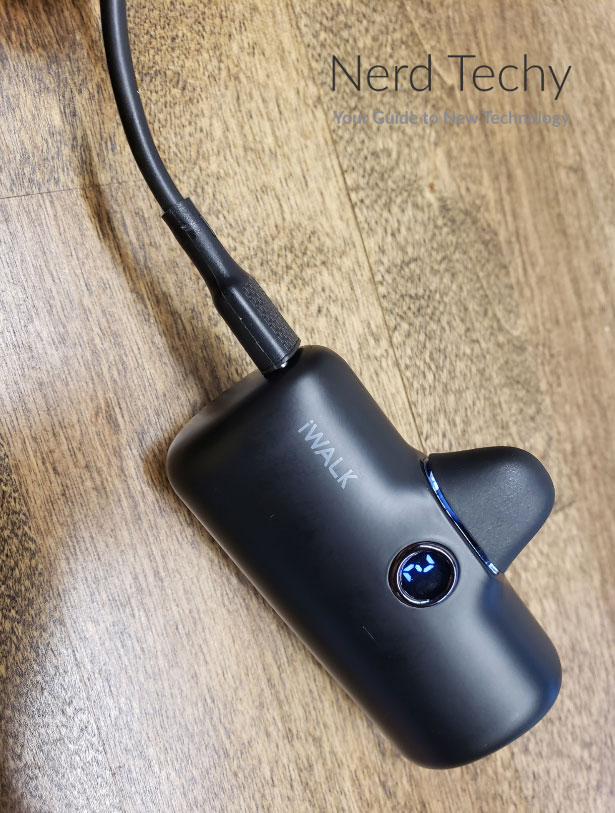 Travel and Safety
As far as travel is concerned, the iWalk LinkPod can go just about anywhere. Considering the tiny size and light weight, you can take it with you in your pocket. Not only that, but it's well below the capacity threshold for TSA approval. This means you can take it on an airplane without the need for any special waivers.
This power bank is safe for small devices as well as large. It will automatically detect your device's maximum charging capacity. Most earbuds, for example, charge at only 2.5 or 7.5 watts. When you plug in the power bank, it will supply the appropriate wattage. That way, it won't damage your earbuds.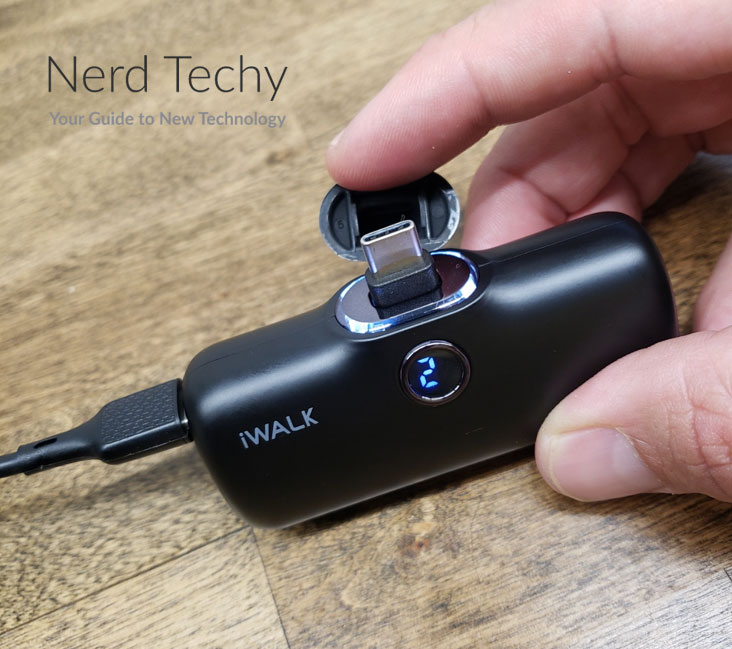 Speaking of safety, the LinkPod also has a unique application: VR headsets. When your headset runs out of juice, you normally have to take it off. There's no safe way to keep it charged. Imagine trying to play a game with a cable plugged into the side of your headset. With this power bank, you can simply attach it to the headset. It's light enough that you'll barely know it's there.
Power banks come in all shapes and sizes. If you're looking more for capacity than portability, check out the UGREEN "PowerDot" 20W PD Power Bank. It's somewhat beefier, albeit still acceptable for air travel. It also has a robust 10,000mAh capacity, and USB Type-A and Type-C charging ports. If you don't need a pocket-sized charger, it's a great choice.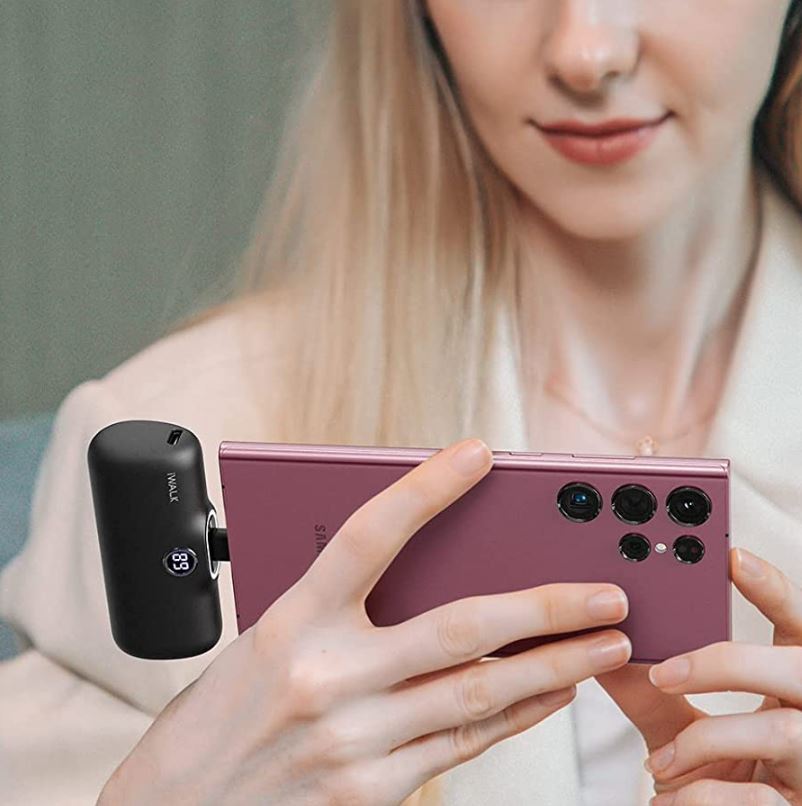 Final Verdict
The iWALK LinkPod Portable Charger Power Bank is an unusual little charger. Instead of connecting to your phone with a cable, it plugs right into the bottom. That was just fine with us. It's an incredibly convenient way to keep your phone topped up without any interruptions.
The capacity is modest, but it's enough for what the charger was designed for. The 18-watt charging speed provides a brisk charge on most phones. The little built-in battery meter is a great extra touch. All things considered, this is one of the better portable power banks on today's market.
Please consider sharing:
Note: At no extra cost to you, we may earn a commission for purchases using our links. Learn more.