Over the past few years, electric vehicles (EVs) have taken the market by storm. EVs have actually been around for almost as long as the automobile. In the year 1900, the majority of New York City's taxi fleet were electric. Range wasn't that much shorter than today's EVs.
One model, the American Morrison, had a range of 182 miles per charge. Unfortunately, EVs cost around $1,000 for a base model, which was a lot of money back then. When Henry Ford released the Model T for $500 in 1915, it marked the beginning of the EV's slow death.
It wasn't until the past couple of decades that EVs finally started to make a comeback. Hybrids like the Toyota Prius led the way, combining a short-range electric motor with an internal combustion engine. Tesla made electric vehicles cool, with luxury features that would make any automaker proud. Now, GM and other legacy automakers are also making the leap. Within a couple decades, gas-powered vehicles may be as outdated as the horse and buggy.
One upside of electric vehicles is that you can charge them at home. Depending on how much driving you do, you may not have to plug in anywhere else. That said, your typical home power outlet can only do so much. If your car's charging cable plugs into a standard wall outlet, you may be dissatisfied with your charging speeds.
But who says you have to use your car's stock charger? With a more powerful aftermarket charger, you can charge your battery much faster. If you're not getting a full charge overnight, it makes sense to invest in an upgrade.
Autel MaxiCharger Home Level 2 Electric Vehicle (EV) Charger
Today, we're going to review the Autel MaxiCharger Home Level 2 Electric Vehicle (EV) Charger. This is a powerful 240-volt charger that delivers double the voltage of an ordinary home charger. It also has double the amperage, which means you get four times the total wattage. That's a lot of extra power for your battery.
But there are many factors that go into making a good EV charger. We'll have to look at how this charger is built, and how it installs on your home. We'll need to discuss how much power it delivers, and what vehicles it can charge. Before we wrap up, we'll also discuss electric vehicle chargers more generally. Let's get started!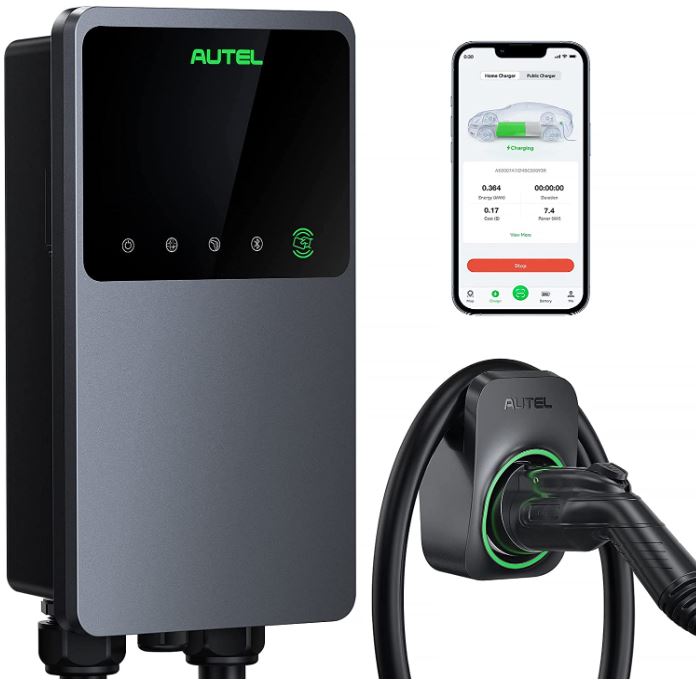 Overall Design
The Autel MaxiCharger isn't just a cable. This is a full-sized charging station that measures 13.23 inches tall, 7.36 inches wide, and 3.35 inches thick. It has a black PVC housing, with a charcoal grey faceplate that's slightly wider than the back portion. The look is clean and modern, and won't be out of place in your garage or on the side of your house.
The top of the front panel consists of a rectangular LCD display. The display is blank when you're not actively using the charger. When the charger is active, the screen will show you its current status. Across the bottom, there's a row of soft touch control buttons. You can use these to adjust the amperage, set the timer, or change your other settings.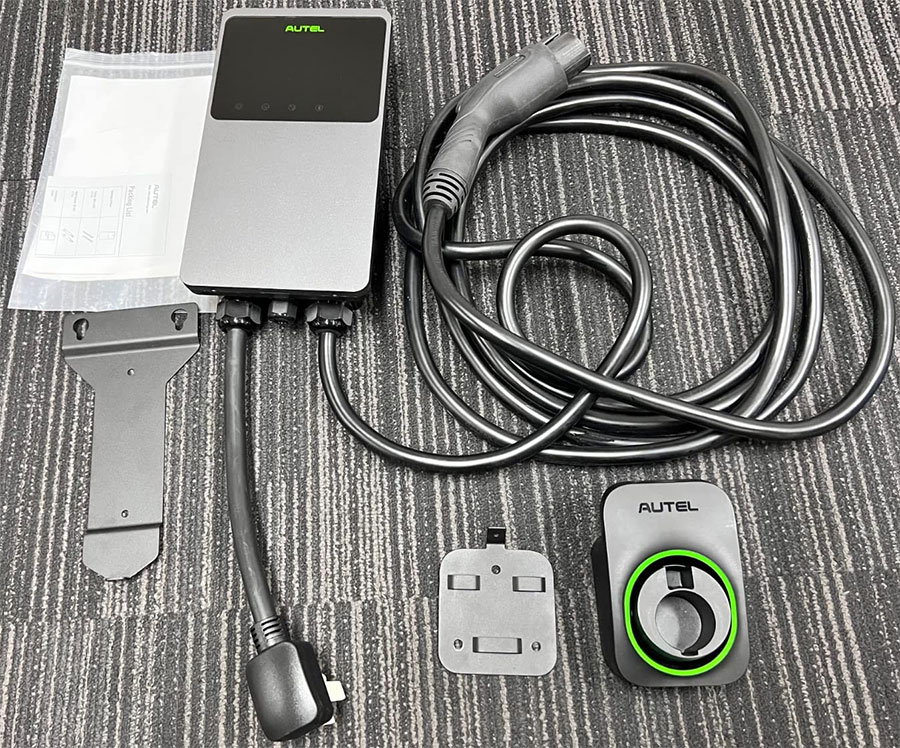 On the bottom of the housing, you'll notice a pair of large power connections. The cables are held in place by a pair of fat plastic screw-down collars. The left one connects to a short 240-volt power cord, which plugs into any compatible outlet. The right connector is where the actual charging cable hooks in.
The cable is 25 feet long, so you'll have plenty of flexibility. If you need to reach around to the other side of your car, for example, you'll be able to. It's exceptionally fat, which is what you expect from any 240-volt cable. But this cable is even thicker than normal thanks to its beefy insulation. It's designed from the ground up to take a beating. You could probably even drive over it, although we wouldn't make a habit of it.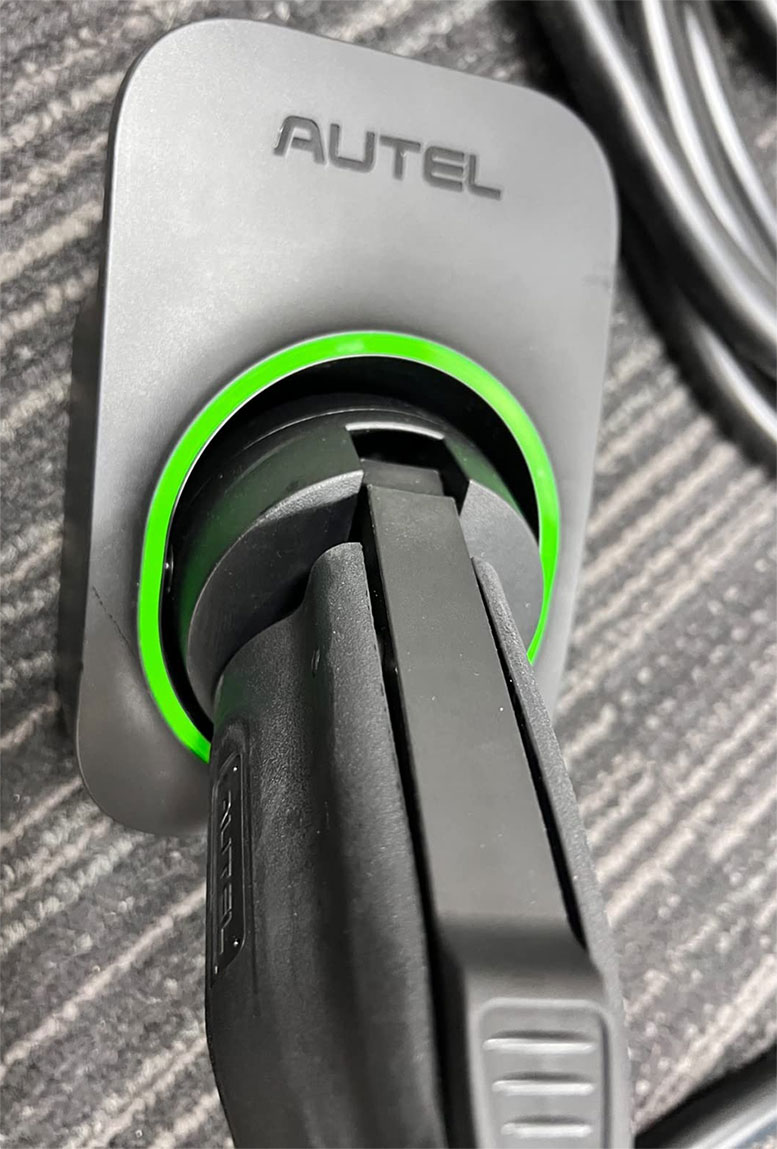 Along with all this, the charger includes a wall caddy where you can hang your cord. This way, you can neatly reel it up when it's not in use. There's even a little socket in the front of the caddy where you can insert the plug. This helps to prevent inadvertent damage to the electrical contacts.
Installation
Installation of the MaxiCharger is theoretically simple. It comes with an angled metal bracket which you screw into your wall. There's even a set of screws and anchors in the package. All you have to do is drill a pair of holes, screw the bracket in place, and hang the charger. Plug it in and you're good to go.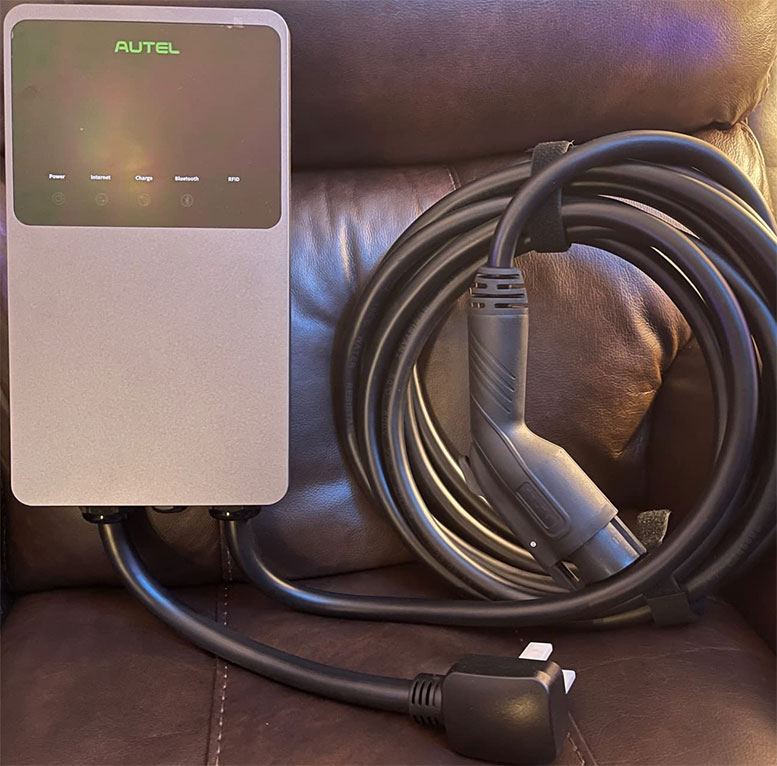 Unfortunately, the "plug it in" part is more challenging than it sounds. This charger requires a 240-volt, 40-amp outlet. That's the kind of outlet you'd use for an electric washer or dryer. Unless you have one nearby, you'll have to have it installed. This means hiring a licensed electrician, and spending a fair bit of money along the way.
On the plus side, Autel backs their charger with an impressive three-year warranty. You don't have to worry about any defects in materials or workmanship. You can also take advantage of Autel's 24/7 customer support. If you're having any issues with installation, they can help you out.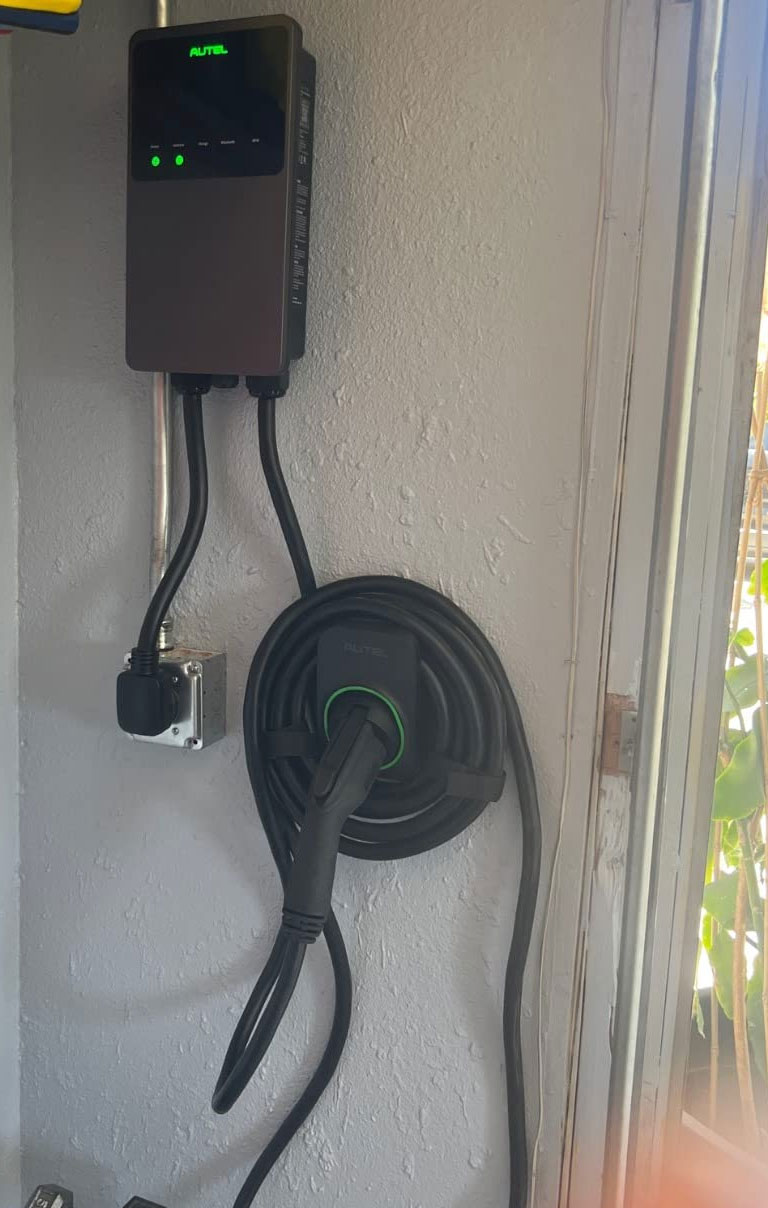 While you're outfitting a charger for your new EV, you might also want to protect it. In that case, check out our list of the best dual dash cams under $300. They're a great way to keep your investment safe when you're on the road.
Power Supply and Compatibility
The Autel MaxiCharger supplies a maximum of 240 volts and 40 amps. That's an impressive 9,600 watts of charging power. Put another way, after accounting for inefficiency, it's around 7 times as fast as a regular plug-in charger.
How does this translate to real-world performance? A lot depends on your EV and how efficient it is. If your vehicle is primarily designed for performance, it will require more power per mile. If it's designed primarily for efficiency, it will require less. That said, you can expect to get around 30 miles of range per hour, depending on your vehicle.
As for compatibility, that's not a concern. The plug at the end of the cord is a NEMA 14-50, which is the industry standard. All modern EVs use this same plug, so it will work with any vehicle. The amperage is also adjustable, so you can set it lower than 40 if needed for your vehicle.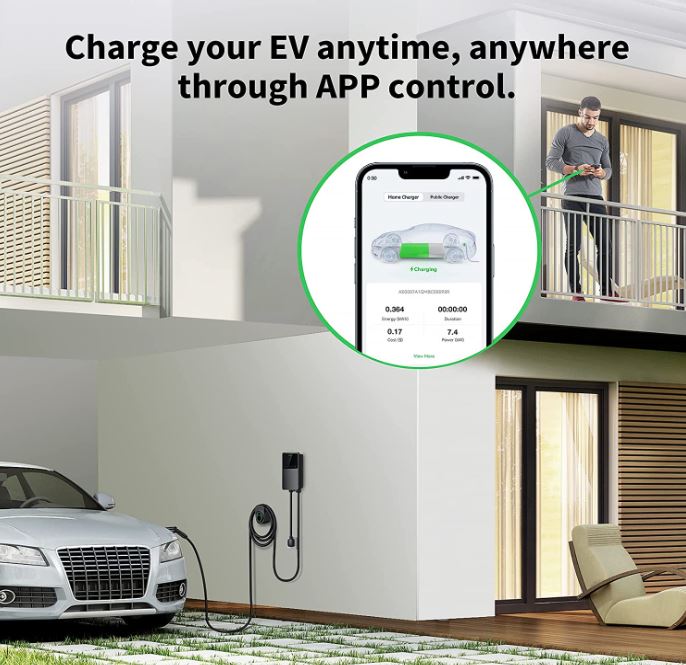 Extra Features
One thing we loved about the Autel MaxiCharger is the connectivity. In addition to changing your settings from the front panel, you can do it remotely from the app. The Autel Charge app is free on Android and iOS, and allows you to make many adjustments to your charger. You can start charging, stop charging, or program a charging schedule. You can also remotely monitor your energy usage.
The charger connects to your phone via Bluetooth, and you can use the app to connect it to WiFi. You can even wire it into your router via Ethernet if you want to. This gives you plenty of ways to use it. That said, the Bluetooth signal can be inconsistent. Once you've connected it to the internet, the WiFi connection is much more reliable.
When the MaxiCharger is online, it will automatically receive firmware updates as they're released. As Autel makes efficiency improvements later on, you'll be able to reap the benefit.
Understanding EV Chargers
When you bought your electric vehicle, it came with a charger. However, most manufacturers ship their EVs with what's called a Level 1 charger. These chargers are designed to plug into a regular 120-volt power outlet, so they work in any home. That's good news for compatibility and ease of use, but it's not so good for power. If your EV is your daily driver, you might find that your car's stock charger isn't up to the task.
A Level 2 charger is a charger that uses 240-volt power. This requires heavier-gauge wiring as well as professional installation, but it delivers much faster charging. Level 2 chargers are the most powerful type you'll typically find in residential use.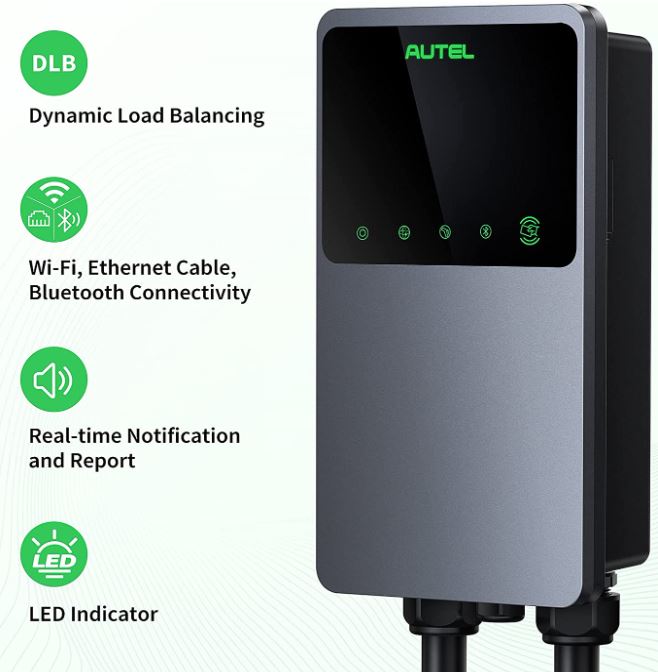 That said, there are more powerful Level 3 chargers such as Tesla's Superchargers. These rely on powerful DC transformers to deliver incredible amounts of energy. Unfortunately, the DC transformers aren't suitable for installation in a residential setting. For now, you'll only see Level 3 chargers in commercial installations.
Factors to Consider
So, what else should you consider when you're choosing an EV charger? Before we finish, let's look at a few important factors:
Does it plug in, or does it need to be hardwired? Either way, an electrician will need to do the job. But installing an outlet is typically cheaper than hardwiring.
Who owns the electrical supply? If your landlord of homeowners' association controls the electric box, you'll need their permission to install a charger.
Does your home have enough power? If your breaker box doesn't have room for a new 50-amp circuit, your installation costs will go up.
How long is the cable? Before you buy, make sure the charger's cable will reach from the install location to your car's charging port. Knowing this in advance can save you a lot of trouble in the long run.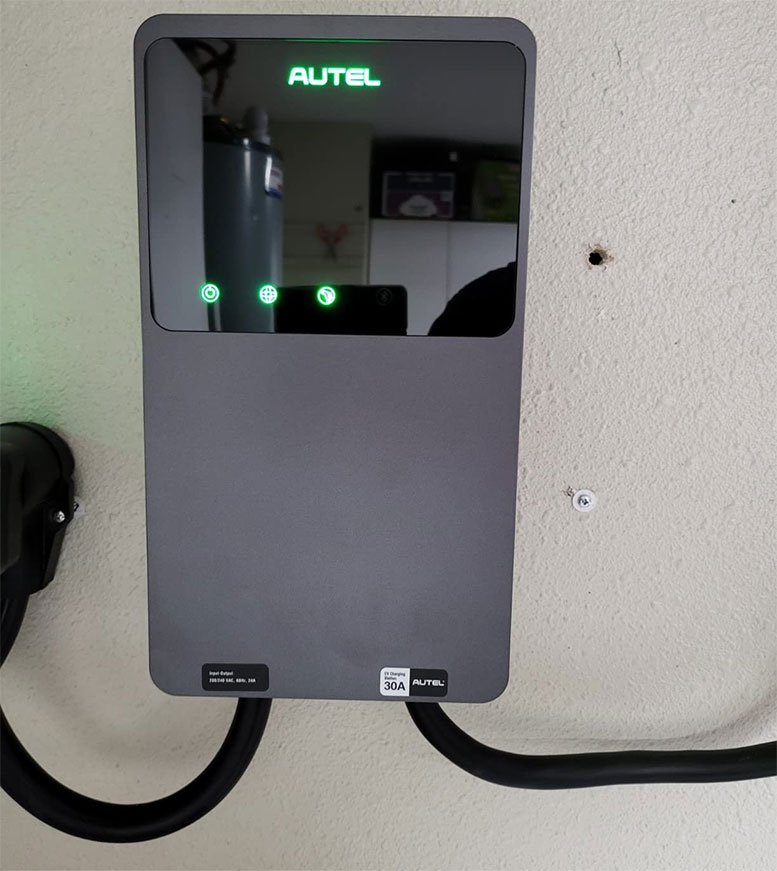 Final Verdict
The Autel MaxiCharger is a powerful piece of equipment. With 240 volts and 40 amps of power, it provides a rapid charge to any electric vehicle. If you already have the appropriate outlet, it's easy to install. Then again, if you don't, you'll have to hire an electrician.
That's par for the course with a 240-volt charger, though. And once it's installed, you'll be able to take advantage of a highly advanced charger. You can monitor and control it remotely, and even get OTA firmware updates. This is a great way to power your electric vehicle.
Meet Derek, "TechGuru," a 34-year-old technology enthusiast with a deep passion for tech innovations. With extensive experience, he specializes in gaming hardware and software, and has expertise in gadgets, custom PCs, and audio.
Besides writing about tech and reviewing new products, Derek enjoys traveling, hiking, and photography. Committed to keeping up with the latest industry trends, he aims to guide readers in making informed tech decisions.