HPRT MT810
Pros
No ink or ribbon required.
Compact, portable design.
Can print any length pages.
Sharp images for a thermal printer.
Available in 4 different colors.
Cons
Requires special thermal paper rolls.
Still need to wait for official release.
In today's digital age, it's easy to lose track of the importance of paper documents. After all, most of today's communications are digital. Nobody sends letters anymore. Important documents get emailed. Less critical communications take place via a text.
Maybe you catch up with your remote team via Zoom chat once a week. With all of these new technologies, the humble office printer is starting to feel its age.
That said, there are many scenarios where paper is better. Let's say you want to hand out a chart to a room full of people for a presentation. Even if you know everyone's email address, emailing them the chart would be inefficient.
Everyone has to keep their phone out, which means that they're exposed to distractions. By printing out a paper chart, you still communicate the same information, but your audience can stay focused. All of this to say that a good printer is still relevant in today's business environment.
But what if you need a portable solution? Maybe you want to print off paperwork in the airport or in a hotel room. In that case, you'll have to think beyond traditional office printers. Traditional printers are large by their very nature. They have paper feeders, ink cartridges, and bulky carriages.
They're great at what they do, but they're completely unsuitable for travel. If you want a compact printer, a thermal printer is a better option. Because there's no ink, you save a ton of space. This technology has been around for years on cash registers. Now, you can use it for full-sized documents.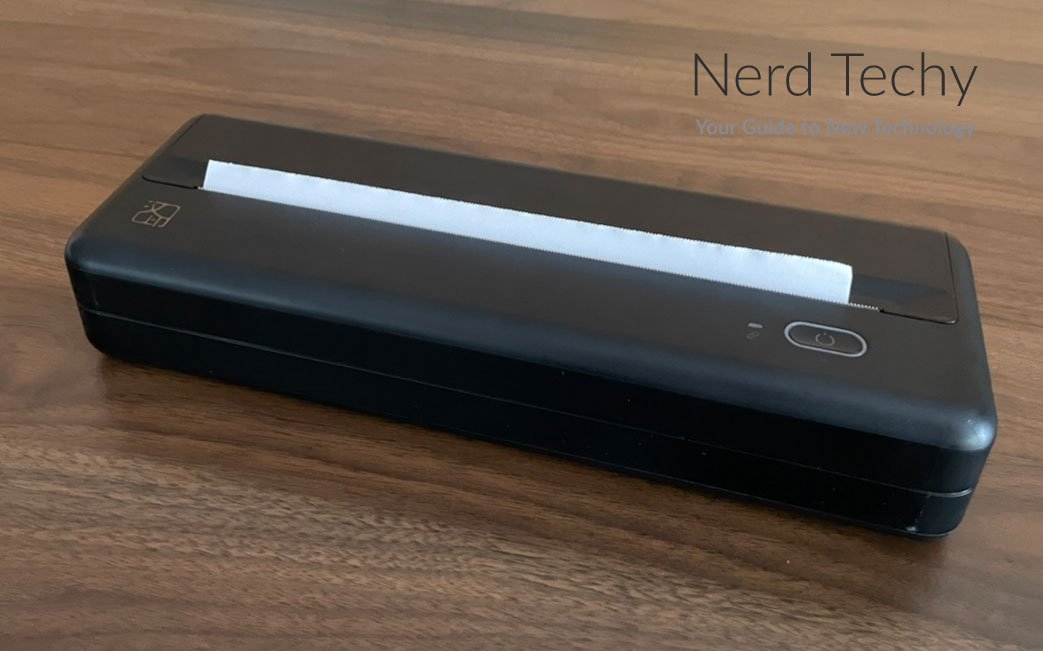 HPRT MT810 Printer
The HPRT MT810 Printer is a unique little machine. It's smaller than a laptop, with a paper reel that stores inside. You can use the software to adjust the print size to any length. In addition to standard letter-sized paper, you can print extra-long charts and graphs. It even runs on battery power, so you don't need to plug in.
There's currently an IndieGoGo campaign that recently went live. However, the full release is estimated to take place on Amazon in late August or early September.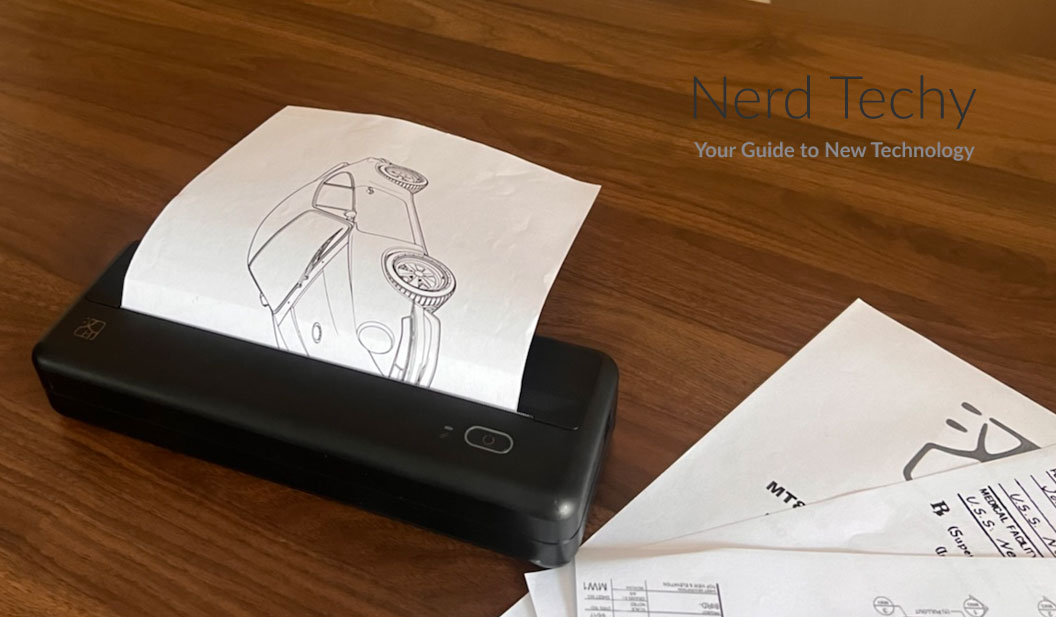 Overall Design
The HPRT MT810 Printer has a matte plastic housing that looks reasonably tough. It has a roughly-rectangular profile, with the corners rounded off for better durability. The total size is 11 inches wide, 3.74 inches deep, and 1.97 inches thick, so it's nice and portable. You can slip it into a laptop bag and barely even notice it's there. You'll also be able to choose from four different colors. The "midnight" is black, the "starlight" is white, and the "misty rose" is pink. The pearl white is exactly what it sounds like.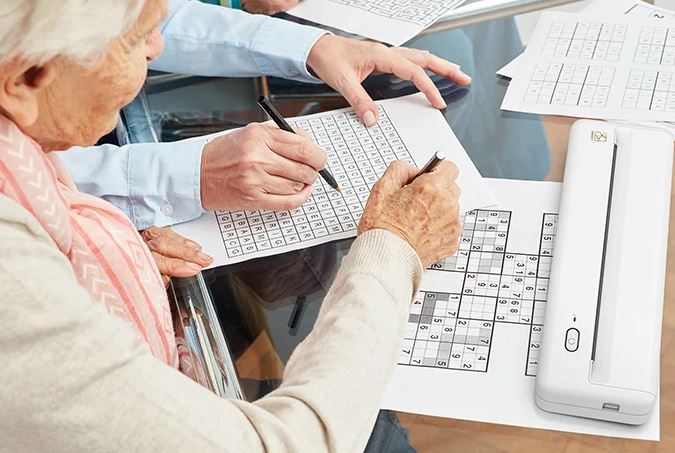 There's a power button on top of the housing, towards the right. It's oval in shape, slightly recessed, and offers good tactile support. There's an LED inside that lights up when the printer is active, and blinks while you're printing. To the right of it is a small indicator light that illuminates when the Bluetooth connection is active. At the right of the top is an HPRT logo. In between, you'll see a wide slot where your printed documents feed out. On the left side of the housing, you'll find the USB Type-C port. This is used both for charging and for connectivity.
There aren't many printers this small, and it would be unreasonable to expect anything smaller. That said, the Poooli is an excellent alternatice. It's small enough to slip into your pocket, and it's thermal, just like the MT810. However, it's only suitable for printing very small sheets, not full-sized documents.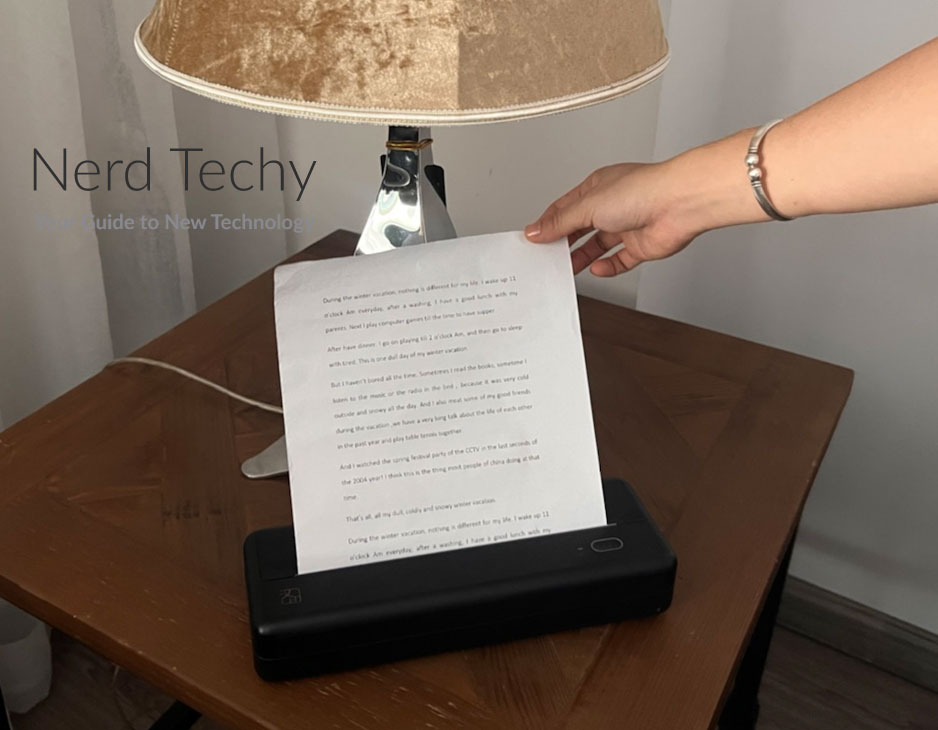 Accessories and Internal Parts
On both sides of the printer's housing, you'll notice a set of small tabs. Press down on these tabs simultaneously to pop open the lid. The lid is hinged at the bottom back, and extends up and across to the top center of the housing. The front half of the housing is fully enclosed.
Inside the back of the housing is a space for your paper reel. It looks like HPRT is planning to release two reel sizes: full width and half width. The full width is the size of standard letter-sized paper. When you insert the half roll, it doesn't go in the center. Instead, it will sit all the way to the left. Either way, it's a simple, drop-in process. You don't have to finagle the paper into place.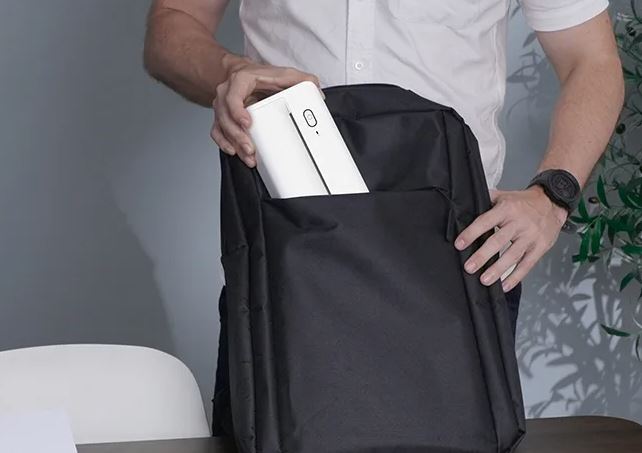 Look inside the bottom of the lid, and you'll find a narrow black roller that runs the width of the space. This helps feed the paper through during the printing process. The actual printing element seems to be located in the front half of the housing, just in front of the lid.
HPRT has yet to announce whether the MT810 comes with any accessories. However, we can assume that it comes with a USB Type-A to Type-C cable for charging and data. If HPRT's MT800 is any guide, you might also get a storage case. But we'll have to wait for more information to find out.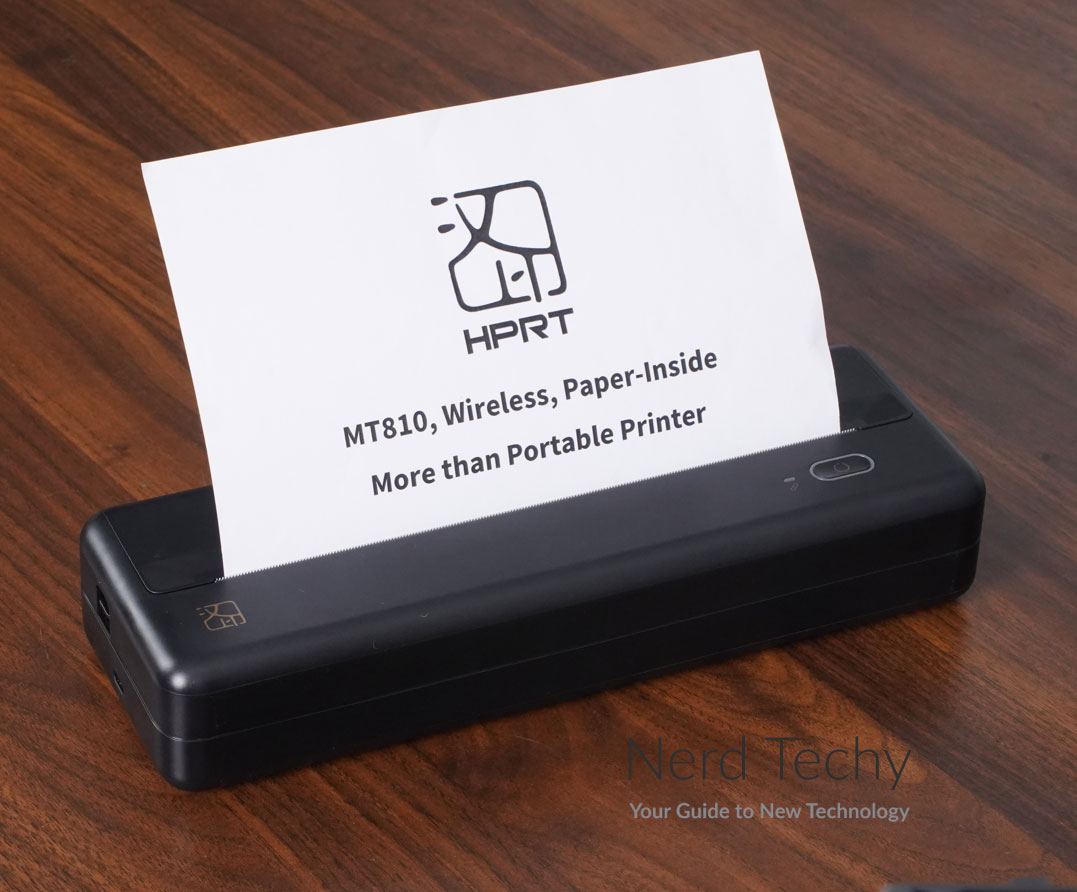 Connectivity
As of yet, HPRT hasn't released anything about how the MT810 connects. That said, there are a couple of clues. To begin with, they've announced that it's compatible with iOS, Android, Windows, and Mac. Furthermore, this printer is similar in many respects to the HPRT MT800, which is already on the market. Based on this, we were able to draw some extrapolations. What follows is our best educated guess on how the system works.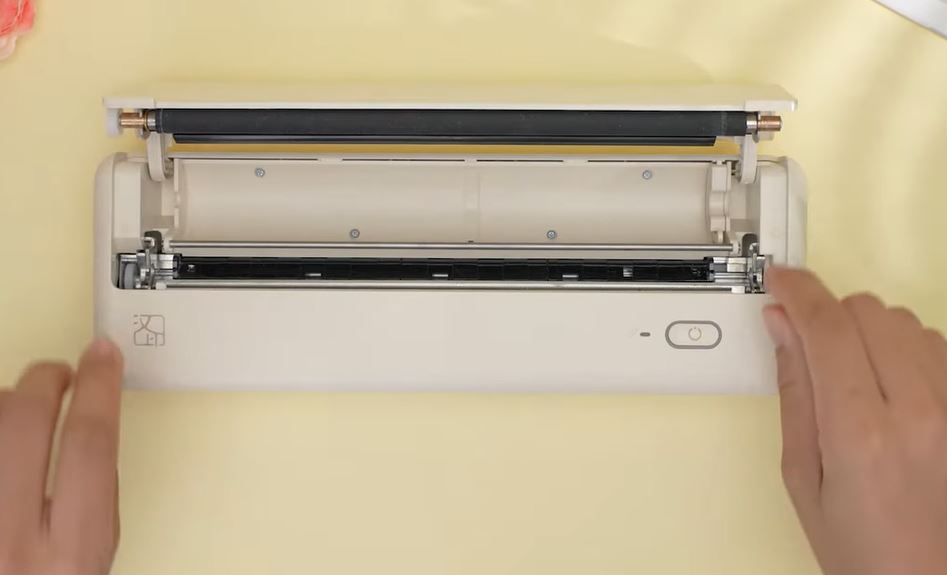 You can connect to a Mac, PC or Linux-based computer/laptop with the provided USB cable. Via Bluetooth, you can connect to a PC, iPhone, or Android phone.
On a computer, you print to the MT810 the same way you print to any other printer. Open your document in Word, Excel, or any other software and select it in the print menu. On a smartphone, you'll have to take additional steps. Download the HiPrint app, which is free on iOS and Android. Pair with the printer via Bluetooth, then open your document. Click on the button that says "open with." In some cases, this might be an icon that looks like a box with an up arrow in it. You'll see a list of apps you can open the document with. Select "HiPrint," and you'll be ready to print.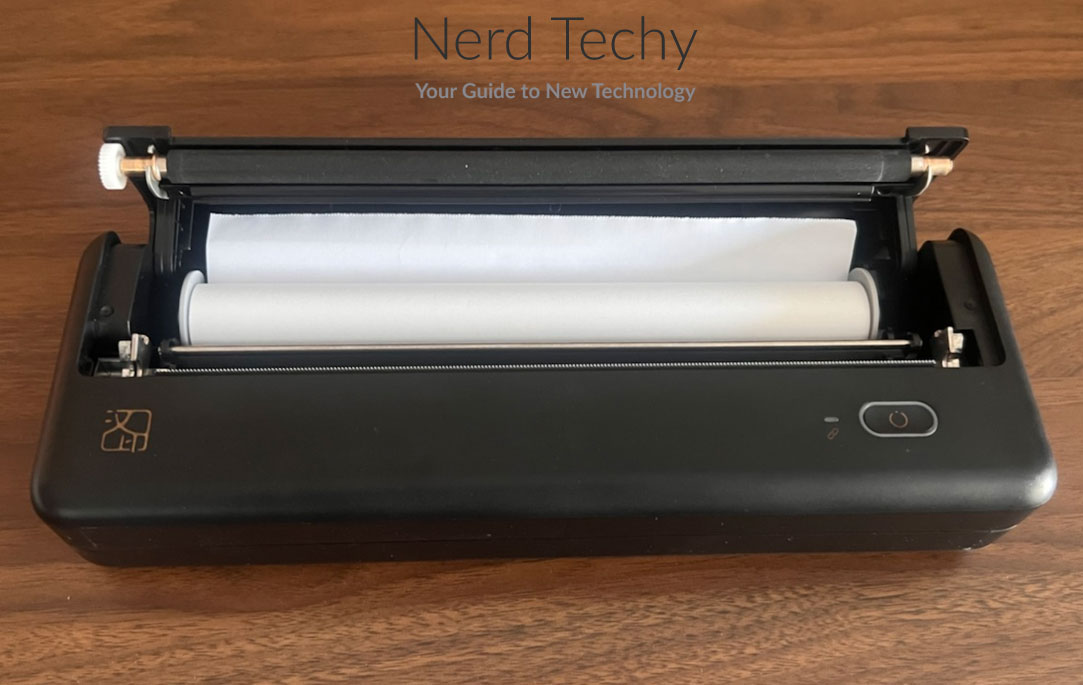 Ease of Use
The HPRT MT810 seems pretty simple to use. It's worth noting that you'll have to install drivers for it if you're using a PC or Mac. Then again, you have to do the same thing for many ordinary printers, so this isn't a big deal. Other than that, just hook up to the printer and hold the power button until the light comes on. Open your document, and print away.
The paper will feed out the slot in the top and you can tear it right off. There's a little blade inside the lid that ensures that you get a clean cut. This is great for small projects. However, if you're printing off multiple pages, you'll have to do a lot of tearing.
Printing Capabilities
When it comes to the MT810's battery life and capacities, we feel it's adequate. The built-in battery has enough capacity for 200+ prints once it is fully charged. With a capacity of 2600mAH, you can realistically use the printer for roughly 3-4 days (on a single charge.) In fact, it has the ability to print 1637 inches length of paperwork, which equates to more than 200 pieces of A4 paper.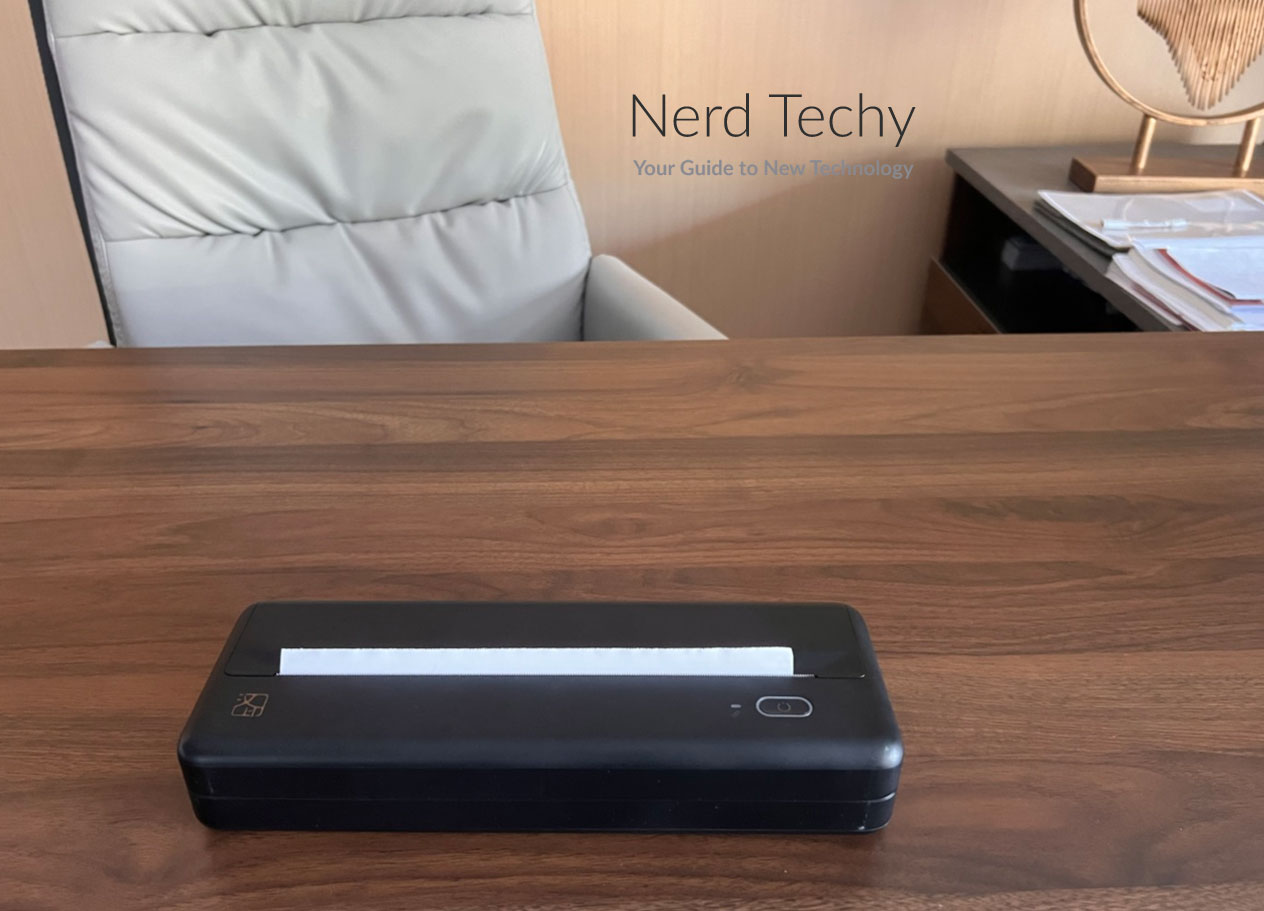 Within the app, you can choose any paper size. This is great news if you want to print off a long graph. It also makes it easy to print legal-sized paperwork. With the included paper, there are 7 meters per roll, around 24 sheets A4-large print.
As it stands, this is a great printer for small jobs. But what if you want to print off a lot of paperwork? In that case, check out the MUNBYN Thermal Shipping Label Printer. It's designed to work with folded sheets of shipping labels, and it works incredibly quickly? On the downside, it's too big for travel.
Printing Performance
The MT810 seems to have excellent resolution. With 203 DPI, the demo prints look fantastic – indistinguishable from a regular office printer. That said, keep in mind that this is a black and white printer. It's meant primarily for text, although it can produce crisp black and white charts. Unfortunately, it can't print in color; that's just the nature of thermal printing.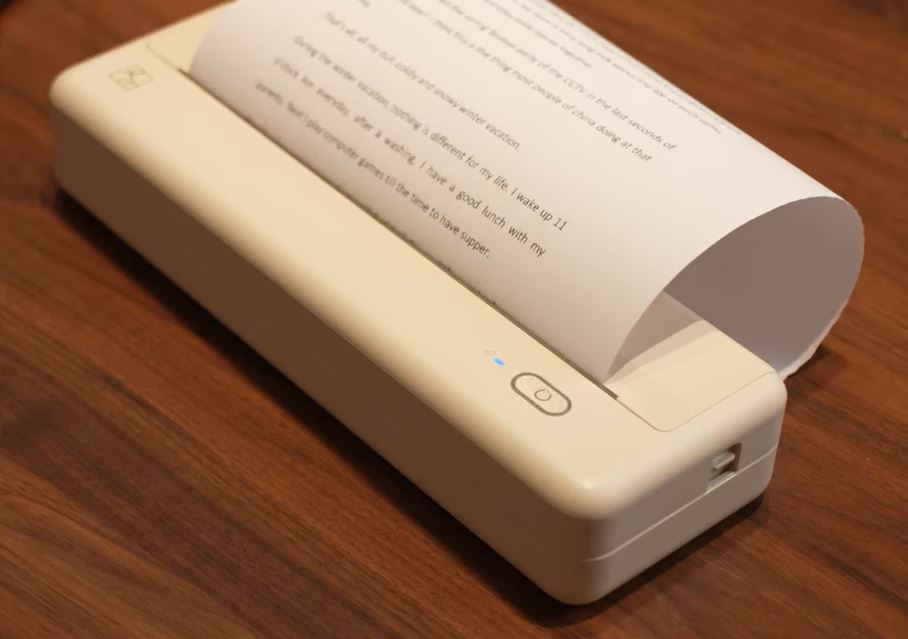 If you need to produce colorful prints, consider the Liene 4×6" Instant Photo Printer. It's a compact, portable printer that cranks out gorgeous color prints in a hurry. However, it requires ink, and the ink cartridge needs to be tiny to be portable. One cartridge will only get you through around 40 prints.
Final Verdict
As you can see, the HPRT MT810 has a lot of promise. The compact design is well put together, and we love the idea of being able to customize the page length. You can print from just about any source, which is great news when you're on the go.
Meet Derek, "TechGuru," a 34-year-old technology enthusiast with a deep passion for tech innovations. With extensive experience, he specializes in gaming hardware and software, and has expertise in gadgets, custom PCs, and audio.
Besides writing about tech and reviewing new products, Derek enjoys traveling, hiking, and photography. Committed to keeping up with the latest industry trends, he aims to guide readers in making informed tech decisions.