If you're trying to create a memorable piece of art, an engraving is a great way to do it. Suppose you want to honor an exceptional employee. An engraved plaque is a great way to do it. Maybe you want to create a set of custom mugs for your bowling league. Why not have them engraved with your team's logo? There are any number of possible applications.
When most people think of engraving, they think of quality and durability. Take a card or a written certificate, for example. These are pieces of paper that will break down quickly in the grand scheme of things.
Note: At no extra cost to you, we may earn a commission for purchases using our links. Learn more.
An engraved metal plate can last indefinitely. It's a long-lasting testament to whoever it was made for. This makes engraving suitable for high-quality applications. Fine glasses, large plates, and other expensive materials can be engraved to enhance their appearance. You certainly wouldn't engrave anything for a cheap throwaway application.
You might think that engraving needs to be done by a professional. This used to be the case. You needed advanced equipment and a lot of training in its use. But nowadays, you can buy an engraving machine for use in your garage or basement.
Using consumer software, you can convert ordinary digital images into beautiful engravings. Of course, you should still take proper safety precautions. But you don't need an entire specialized workshop just to engrave your plates.
MUNBYN Laser Engraver Machine
Today, we're going to review the MUNBYN Laser Engraver Machine. This is a large engraver with a generous 15.8" x 16.2" engraving area. It has a powerful laser head, capable not just of engraving but also cutting wood or acrylic plates. The resolution is impressive, as is the printing rate of 11,000mm per minute.
That said, we'll have to look a lot more closely to come to a fair verdict. We'll need to look at how the engraver is assembled, and the quality of the frame materials. We'll have to talk about the laser head itself and what it's capable of. Additionally, we'll also need to consider how you connect to your computer and what materials you can engrave. After we've discussed all these things, we'll have a clear picture of what we're dealing with. Let's begin!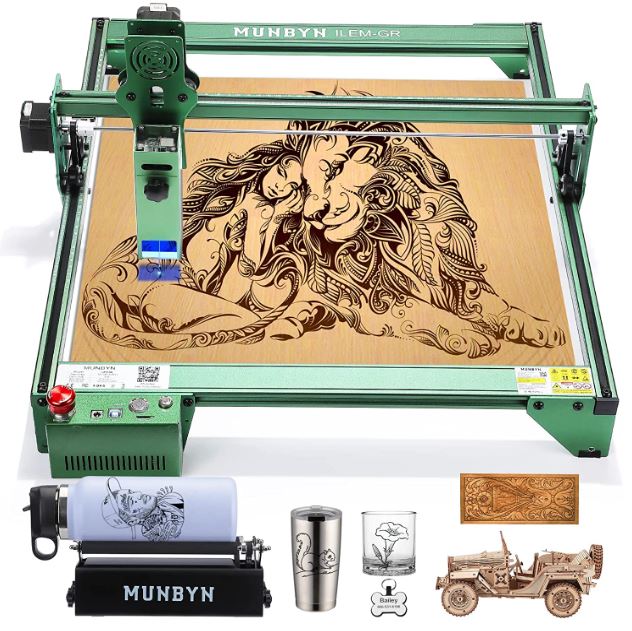 Frame & Gantry
The MUNBYN Laser Engraver is designed in a similar fashion to most modern engravers. It has a rectangular frame that sits on your table, with a gantry that sits over the top. The frame itself is constructed from a green anodized aluminum, with legs screwed into the corners. It seems fairly durable, and the little rubber feet keep it from scratching your working surface.
The area inside the frame measures 410mm x 400mm, or 15.8 x 16.2 inches. That's the largest engraving area of any engraver we've looked at so far, albeit by a small margin. You can engrave even a large piece of material, which opens up a world of opportunities. This gives you plenty of space to create oversized images with all kinds of fine details.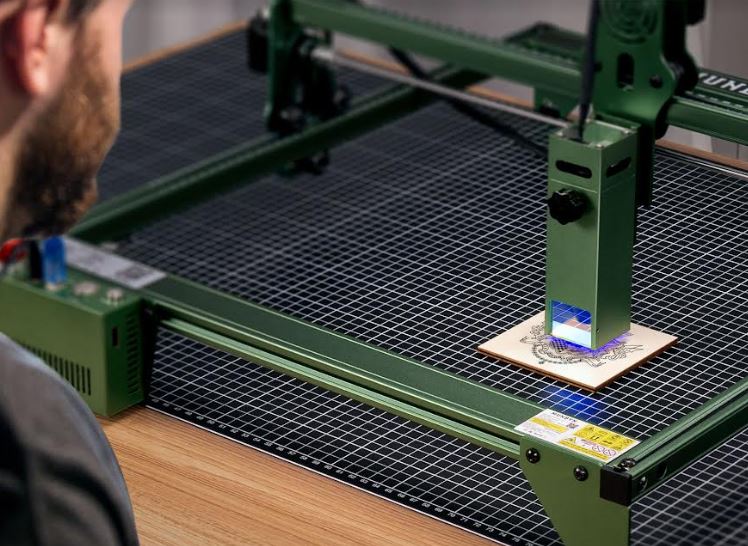 The gantry mounts on the sides of the frame, which act as a pair of rails. Wheels clamp down on the rails from the top and the bottom, and are fully motorized. This allows the gantry to move forwards and backwards along the frame. The laser head is also motorized. It mounts on the gantry with a similar wheeled clamp, and can ride freely from left to right. Between the motorized gantry and the motorized laser, you get full mobility along both axes.
Laser & Controls
One thing we liked about the MUNBYN engraver was the design of the laser head. Most engravers use plastic heads with a translucent red housing. The red plastic is designed to filter out UV light and prevent damage to your eyes. MUNBYN has gone a different route. Their laser head is built from the same aluminum as the frame.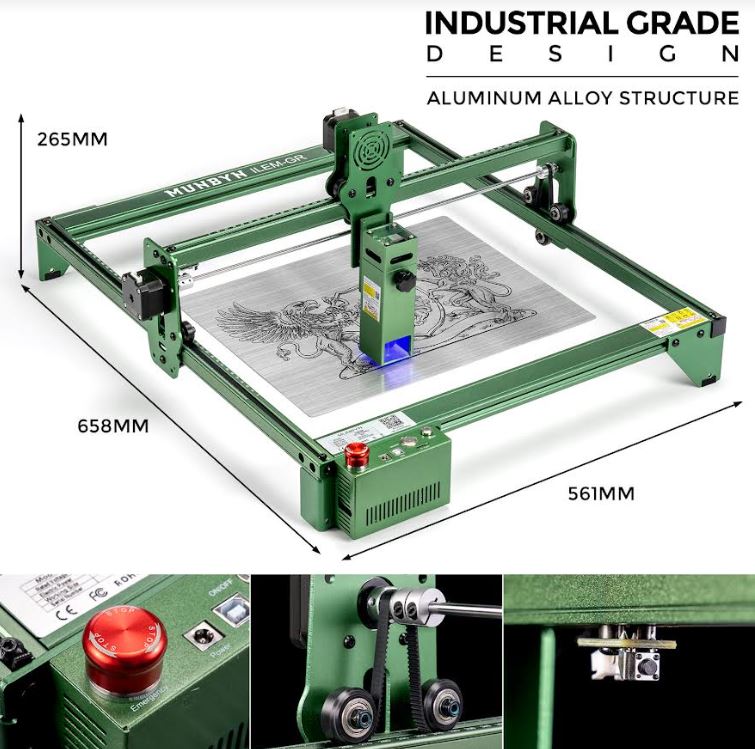 A small UV-resistant glass window, meanwhile, still allows you to see what you're doing. This design has tangible results, and filters out 97% of UV light. Compare that to the 63% reduction you'll get from most laser heads. In theory, you can use this engraver without UV goggles. In practice, you should still wear some, and there's a pair included in the kit.
Physical controls are fairly limited, since you do most of your work from a connected computer. In this sense, an engraver is a lot like a printer. The power button is silver in color, located on a small panel at the front left of the frame. In the same area, you'll find a smaller reset button.
To the left is a large emergency stop button that you can't miss. It's made for situations where the engraver has encountered an error. If the laser is stuck in place or won't turn off, the stop button will shut it down. Keep in mind that this will interrupt any engraving you're currently producing. Whatever material you're working on will essentially become scrap.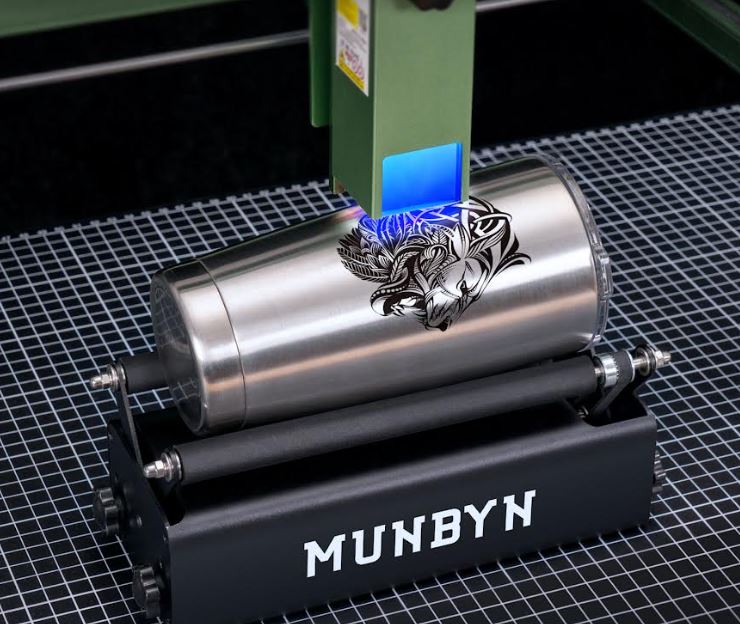 Connectivity & Setup
A lot of engraving machines come in pieces and need to be assembled. The MUNBYN Laser Engraver arrives pre-assembled, so you don't have to do any extra work. Just take it out of the box and find somewhere flat to put it. Plug in the power cable and connect it to your computer. There's a guide that walks you through the rest of the setup process.
In the control panel, near the power button, there's a USB Type-B port. The cable from the package will connect from this port to your computer's USB port. You can connect to almost any system. It supports Windows computers running Windows XP and later, and any recent version of Mac OS. You may have to install some drivers, but most computers will do that automatically.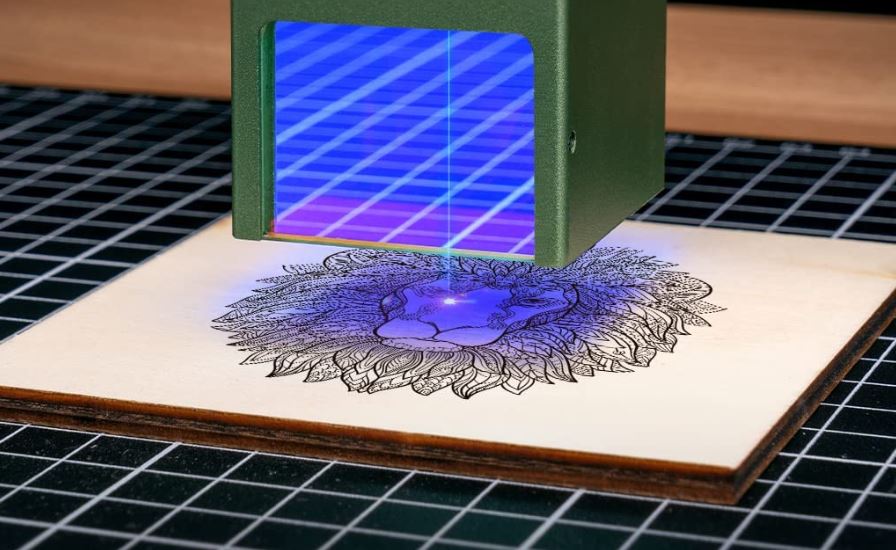 As far as software goes, you can use several programs. The two most popular are LightBurn and LaserGRBL. LightBurn is a professional-grade software that costs money but offers tons of advanced features. LaserGRBL is a more lightweight software that's geared more towards ordinary consumers.
This is a great engraver in most respects, but it's also somewhat pricey. If you want something a little more affordable, check out the Aufero Laser 2. It's also easy to set up, and the engraving area is almost as large. On the other hand, it's not nearly as fast or as powerful.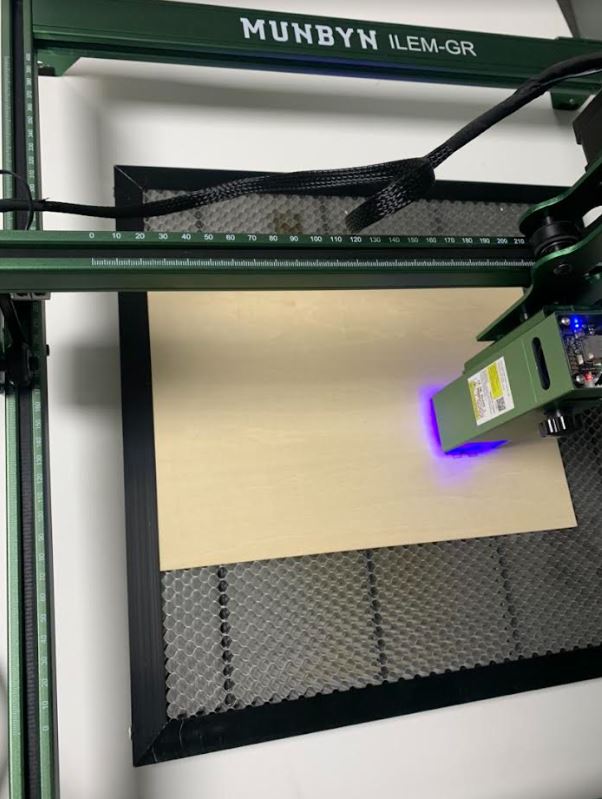 Engraving Performance
So far, we've talked a lot about the physical design and controls. But what is the MUNBYN Laser Engraver actually capable of? To begin with, this is a 10-watt laser. That puts it right in line with most home engravers in terms of raw power. However, it has an advanced design and high-quality lens, and it performs as well as some 20W lasers. Besides engraving, it's also capable of cutting. You can cut complex shapes through 20mm sheets of wood or 15mm sheets of black acrylic.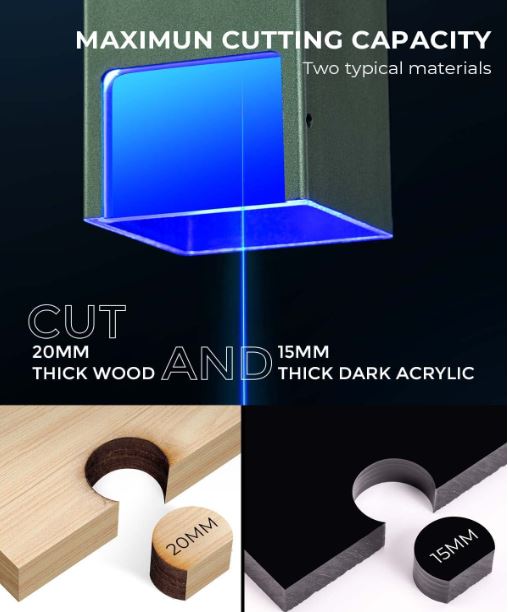 When engraving, it can operate at speeds of up to 11,000mm per minute. That's 11 meters, or a little over 36 feet in a straight line. The exact speed will vary depending on how bold the lines are. The laser moves slower when making bolder lines, so it will take longer. That said, you're looking at one of the fastest consumer engravers on the market.
Individual engraving lines are only 0.06mm across, which allows for ultra-high definition images. You'd need 17 passes just to make a line 1mm thick! You can also work with many different materials. This engraver can be used on wood, metal, stone, acrylic, or even glass.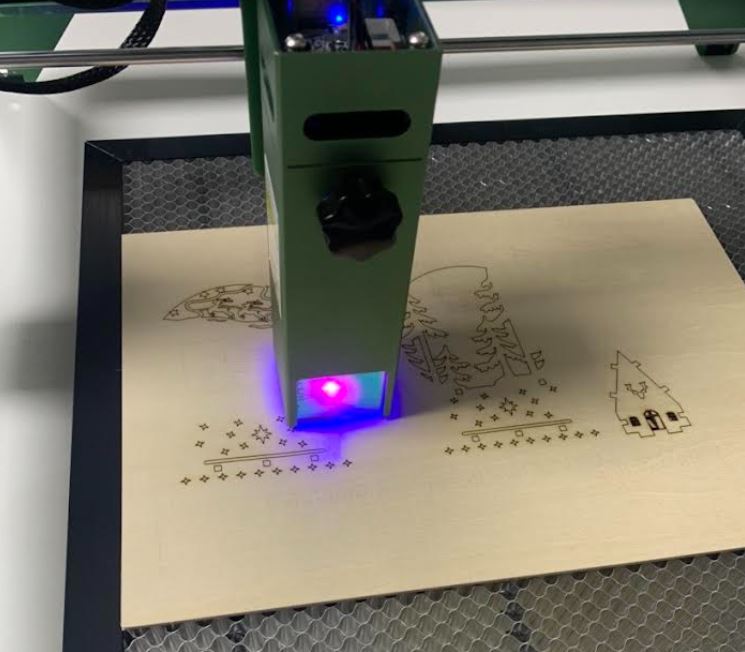 For safety, the X- and Y-axis both have built-in limit switches. When the laser moves too far off track, it will automatically come to a stop. In the event that something physically breaks on the engraver, this keeps it from starting a fire. Similar switches will kill the laser if the frame is tilted too far off level.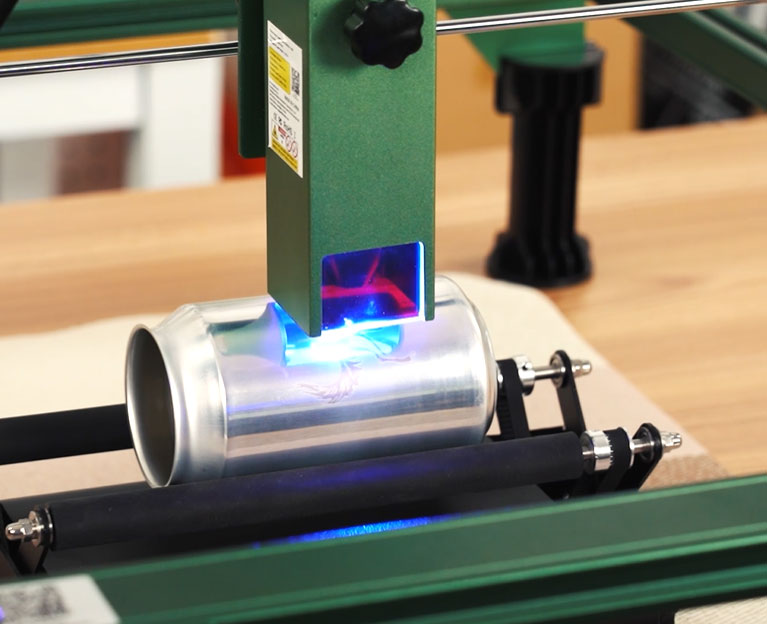 Accessories & Support
Along with the engraver itself, the kit comes with a rotary roller. This is a flat, motorized black platform with a pair of rollers on the top. When connected to the engraver, it can be used to engrave mugs and tumblers.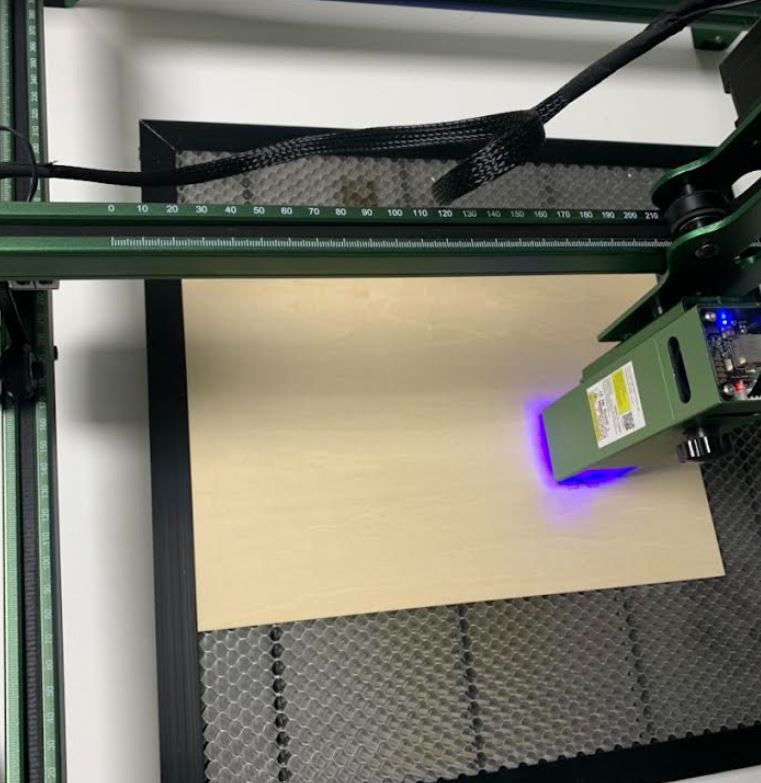 You place an object on the rollers, and they rotate it beneath the laser to provide Y-axis movement. The roller will work with objects as small as 4mm in diameter, or as wide as 100mm. There's also a set of tall feet in the package to lift the engraver while you're using the roller.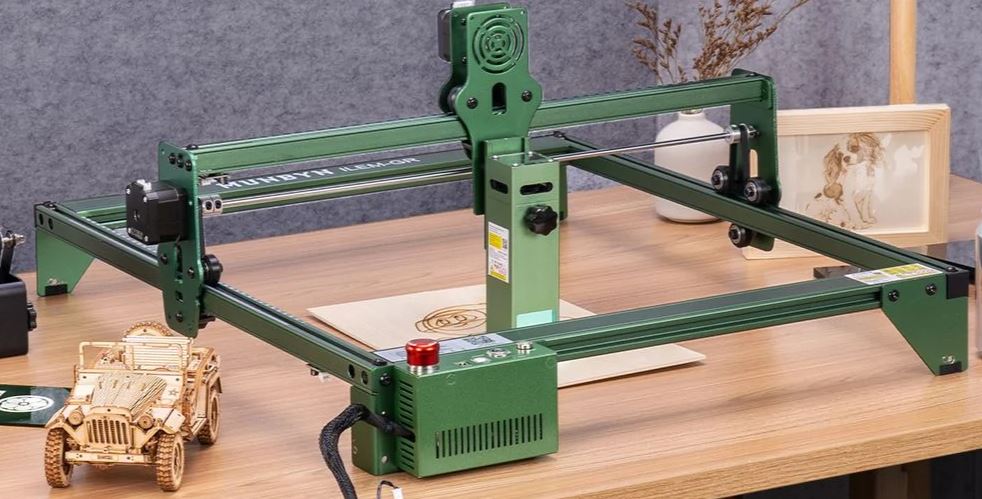 MUNBYN backs their engraver with a lifetime guarantee on belts and screws. They'll send you free replacements for as long as you use the engraver. You don't have to worry about a worn belt causing your entire gimbal to stop working. In addition, MUNBYN employs a US-based technical support team that's available 24/7. If you need assistance with setup or troubleshooting, you'll always have a reliable resource.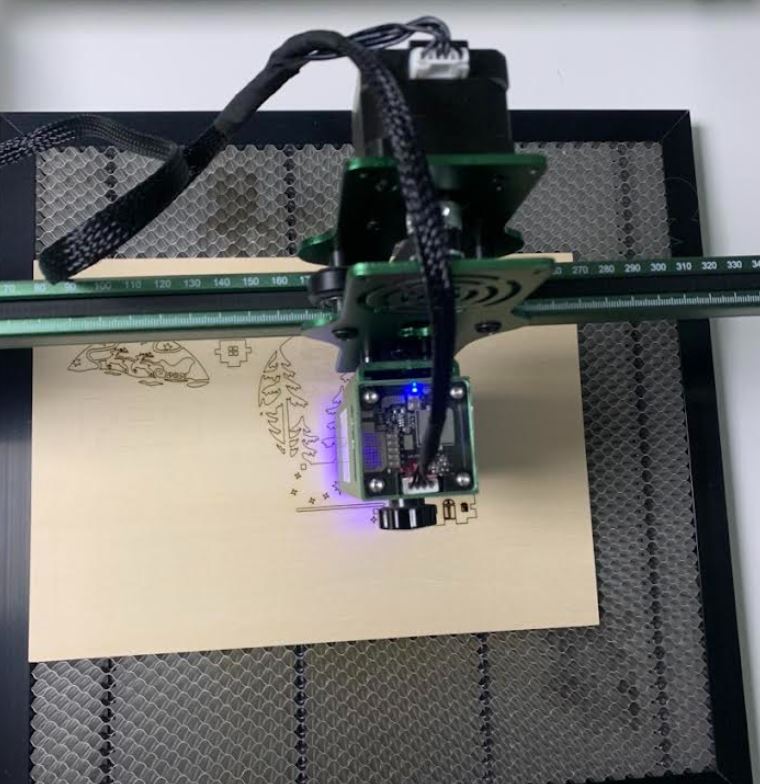 One thing the MUNBYN engraver doesn't have is any alternative laser heads. If you need different types of lasers, take a look at the ORTUR Laser Master 2 S2. It has a similar size and etching resolution, along with multiple laser options. On the downside, it's not as fast, and it requires some assembly.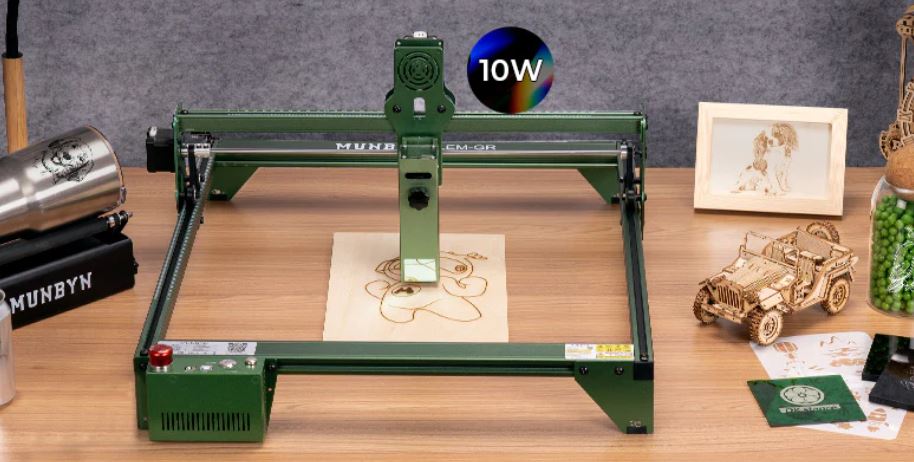 Final Verdict
The MUNBYN Laser Engraver Machine is a quality laser engraver that's easy to set up and use. It's compatible with most computers, and has an ultra-wide working area. The included roller is a great touch, and the laser itself is very powerful. We were also impressed with the fast speed and high resolution. There's a lot to like about this machine.
Please consider sharing:
Note: At no extra cost to you, we may earn a commission for purchases using our links. Learn more.