Car repair has changed a great deal over the past few decades. Not that long ago, you could diagnose any of your problems with everyday mechanical tools. If your timing was off or your fuel pump had failed, you could look at all the symptoms and deduce the cause. But modern cars are a lot more complex.
Today's cars rely on a number of sensors and computer systems to operate smoothly. There are pressure sensors in your tires, O2 sensors in your motor, and on and on and on. This has been beneficial in some ways. Sensors help computerized systems fine-tune things like your fuel-to-air ratio to optimize your performance. But when they detect a problem, they trigger your Check Engine light. To figure out which of hundreds of possible problems is the issue, you need an OBD2 scanner.
Note: At no extra cost to you, we may earn a commission for purchases using our links. Learn more.
Today, we're going to review the MUCAR CDE900 OBD2 Scanner. This is a versatile scanner that can scan almost any car on the road. But an OBD2 scanner is a complex device and needs to perform a number of functions. Is this the right choice for you, or do you need to find a better option? Let's take a closer look, and find out!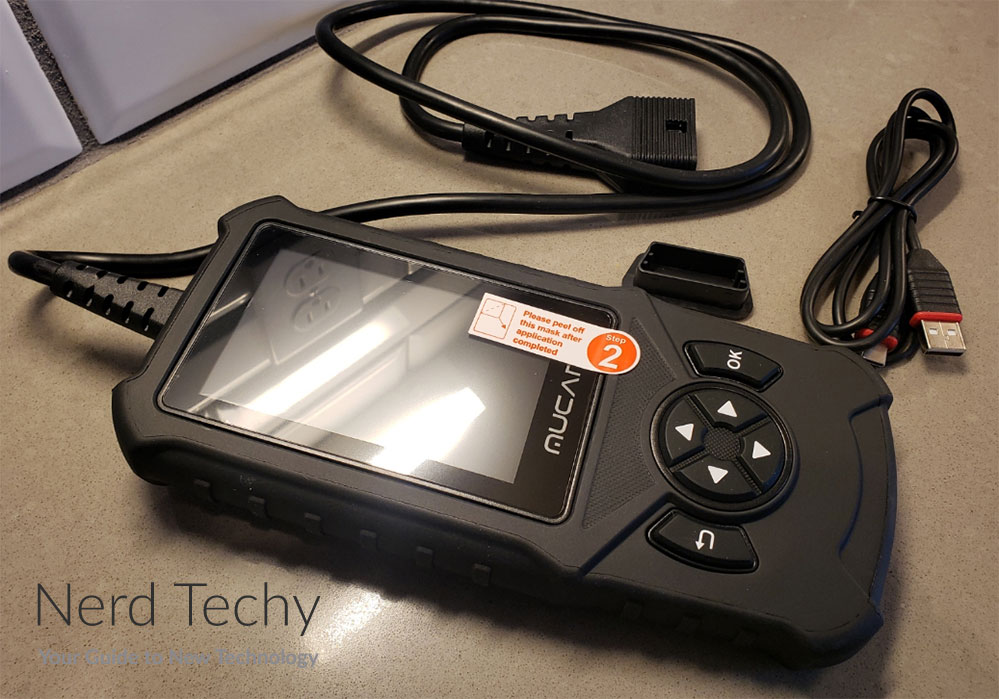 Overall Design
Like most OBD2 scanners, the MUCAR CDE900 OBD2 Scanner is a handheld device. It has a black plastic housing that seems reasonably rugged, with an easy-to-clean matte finish. The overall size is 8.2 inches long, 3.8 inches wide, and 1.2 inches thick, with a 4-inch touchscreen. The sides of the housing are ribbed, which makes them easy to grip. Even if you've got some grease on your fingers, it's not going to slip out of your hands. And at just 1.3 pounds, weight is a non-issue.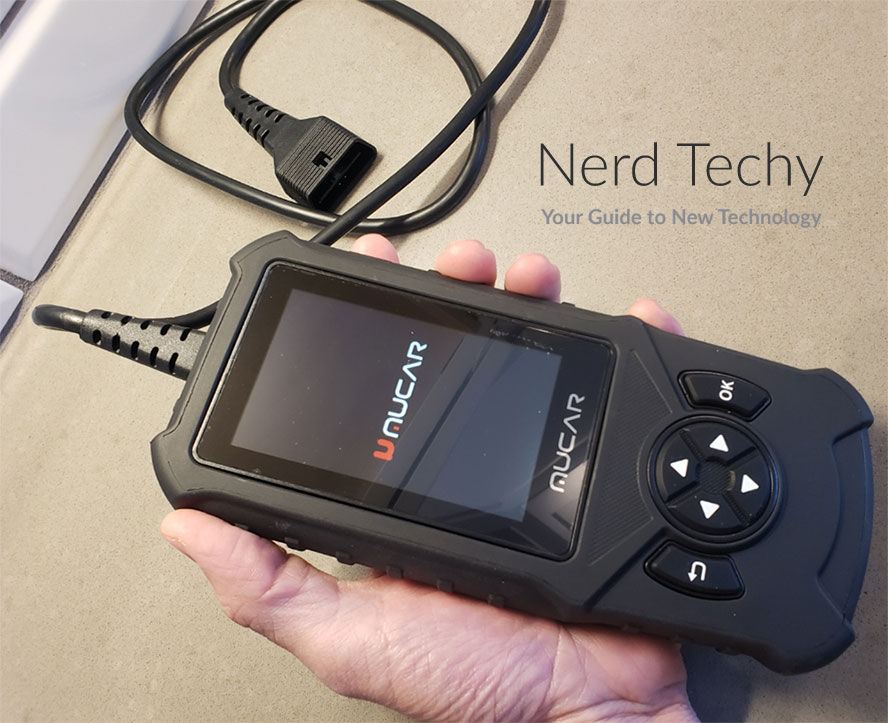 The scanner comes with a 4-foot OBD2 cable that plugs into the top of the housing. It has a reinforced base, and seems sturdy enough to take some abuse. On the bottom of the housing is a broad rubber plug. Remove it, and you'll see a USB Type-C port, which is used for charging. There's also a Micro SD card slot for expanding your storage.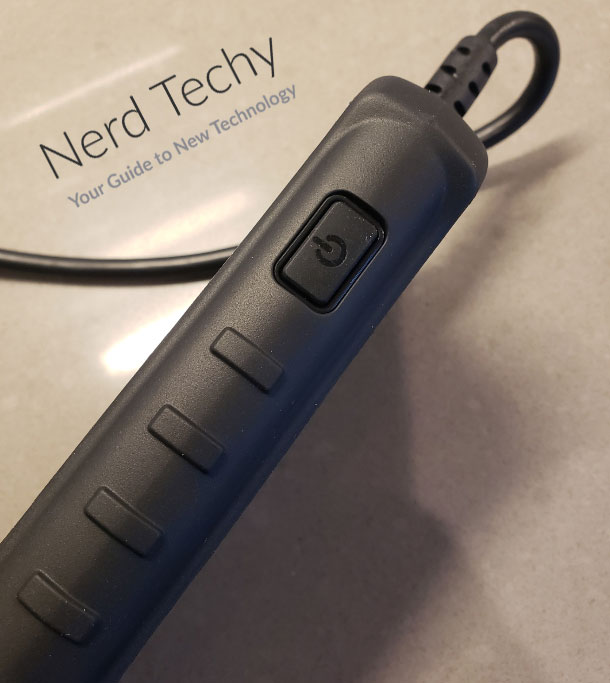 On the right side of the housing is a power button. The rest of the controls are located on the front of the unit. Aside from the touchscreen itself, there's a circular set of buttons underneath. These four buttons are directional arrows, used to navigate menus. At the right is a selection button to choose options, with a "back" button at the left. The scanner also has a built-in speaker, which gives you audible feedback when you actuate the controls.
MUCAR backs their scanner with a two-year manufacturer's warranty. If it fails due to a defect in parts or labor, you'll receive a replacement. They also provide after-sales service for the lifetime of the scanner.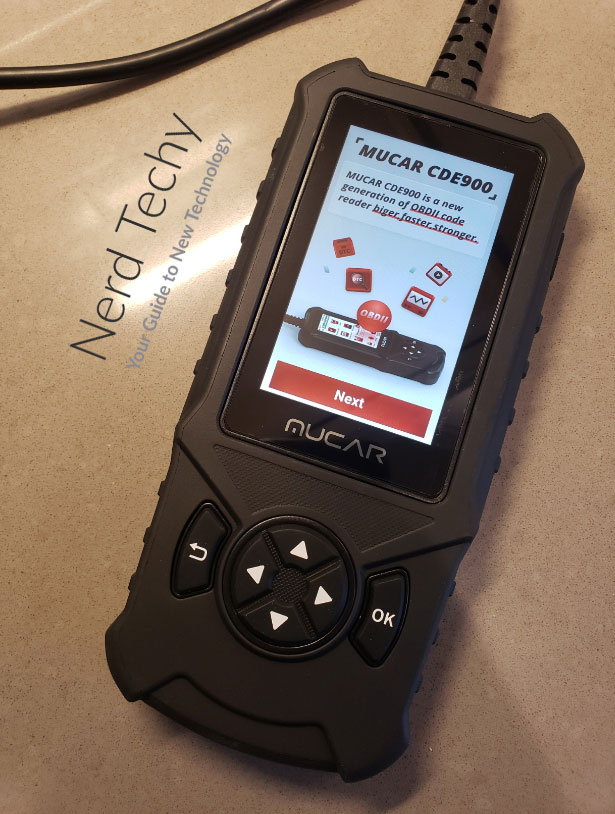 Basic Operation
The CDE900 is surprisingly fast. It boasts a quad-core 1.4GHz processor, which is more than you really need in a handheld scanner. However, a lot of that power is used for the Android 6.0 operating system. This is a great feature, since you won't have to learn to navigate a proprietary OS. And with 2GB of RAM, you can load large graphs and data histories without overloading the system.
Another thing we liked was the 1,500mAh battery. That's enough power for three hours of continuous usage. In other words, you shouldn't ever have to charge it in the middle of a project. And with five days of standby power, you don't have to worry about constantly topping it off. It charges via a USB Type-A to Type-C cable, which comes in the package.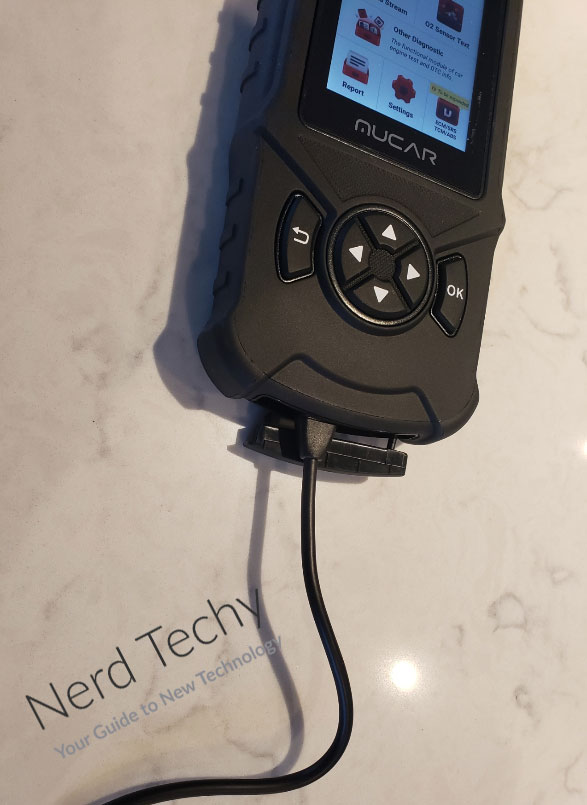 Before we get into the nitty gritty of what this scanner can do, let's discuss the basics. There are four main capabilities you should be aware of:
First, you can scan codes one by one. The system will tell you what the code means, and offer you some potential solutions.
Second, you can automatically generate a report. The system will then create a list of all your current error codes, with meanings and solutions. This is generally the easiest route to take if you're trying to pass inspection.
Thirdly, you can capture freeze frame data. This can come in handy when the same code keeps generating but you can't determine the cause. The freeze frame data will show you exactly what all your car's systems were doing at the moment the code triggered.
Finally, you can view a live graph of various aspects of your car's performance. In total, a single graph can display 120 data points simultaneously. This can provide a ton of insight into why your vehicle is performing in a certain way.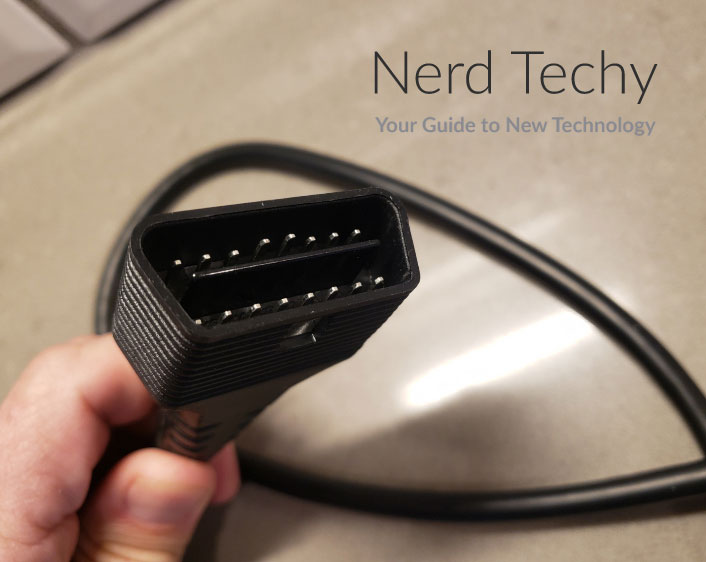 What Does it Read?
So, we've gone over how you can display your data. But what is the CDE900 OBD2 scanners capable of reading? Here are some of its capabilities:
Basic generic codes and manufacturer-specific codes for most common issues. You can diagnose codes for tire, O2, and other basic sensors.
Diagnose emissions-related codes related to the catalytic converter and other related systems.
Clear codes that trigger the Check Engine light. For some codes, this can be a reliable way to pass your state inspection.
For an added fee, you can clear codes for your transmission, ABS, and SRS 4 lights. This is a one-time fee, not a subscription, so the upgrade is good for life. But it's still a bit galling to have to pay extra to access functions that could be important. On the other hand, you don't have to pay extra to work on luxury brands like BMW or Porsche.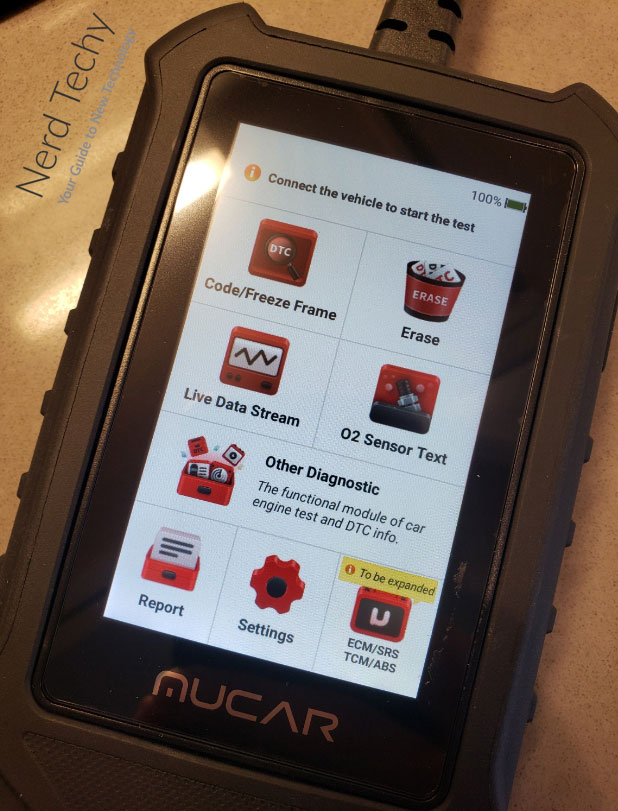 To help you make your diagnosis, you can view all kinds of engine and vehicle data. It would take far too long to list all the data points you can track. They include everything from transmission oil temperature to air intake sensors to engine RPM. This information can be incredibly valuable when you're trying to pinpoint your issue.
You can also view your reading history. This is essential, since it's impossible to mentally track so many data points on the fly. Instead, you can save a series of readings and play back your data at any time. There's even a built-in vehicle history. If you're working on multiple repairs at once, it will be easy to keep track of which vehicle issued each code. Just tap on your history and switch vehicles to move from one to another.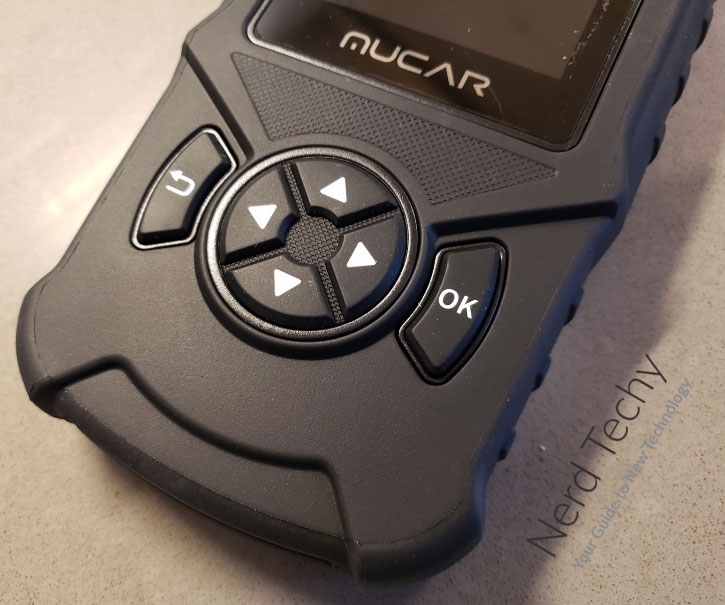 Extra Features
When you plug into a vehicle, the CDE900 OBD2 Scanner will automatically detect the VIN number. This in turn will allow it to determine the make, model, and year. That way, you don't have to manually enter all of that information. You can do that if you want to – or just punch in the PIN – but automatic detection is far easier.
This scanner comes with 16GB of internal storage, which is enough to store an absurd amount of data. Unless you're the kind of person who saves literally everything, you shouldn't ever run out. But if you do need to keep records of every single scan. The Micro SD slot accepts up to a 256GB card for you to expand your storage.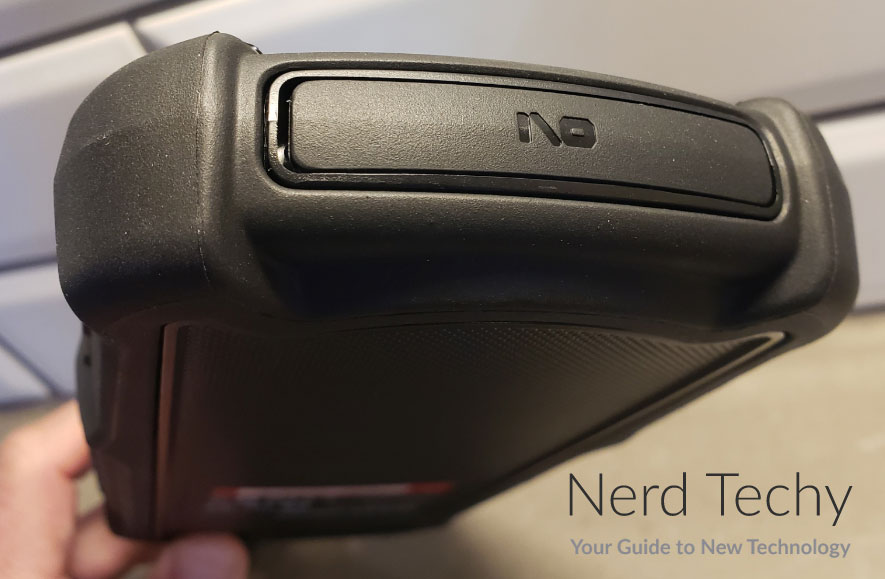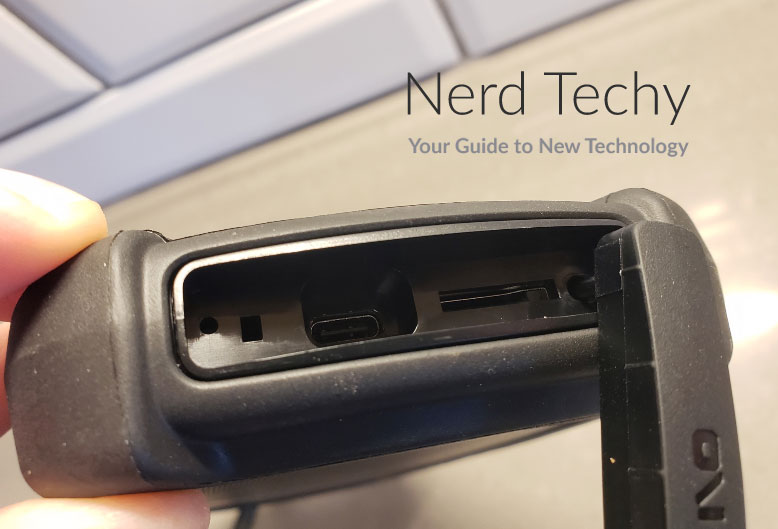 The system supports 16 different language. When it arrives, it will be set to English by default. But you can also choose Croatian, Dutch, French, German, Greek, Hungarian, Italian, Japanese, Polish, Portuguese, Romanian, Russian, Slovak, Slovenian, or Spanish.
You also get access to lifetime free updates. Connect to any WiFi network, and press the update button at any time to see what's available. This will be most important when new model years roll out and you need support for the latest vehicles. But it's also an essential way to get bug fixes, as well as access to potential new functions.
In addition to all that, the CDE900 boasts a database of more than 3,000 error code definitions. When you scan a code, the Google Search-powered algorithm will locate it in the database. Each code comes with a list of possible causes, along with repair instructions for each cause. This is a powerful tool when you're working on an unfamiliar vehicle.
A good alternative option is the INNOVA CarScan Advisor 5210. This unique OBD2 scanner comes with a companion smartphone app with code lookups and solutions. It can be easier to use sometimes than an on-board search system. But it also doesn't support SRS or network scanning.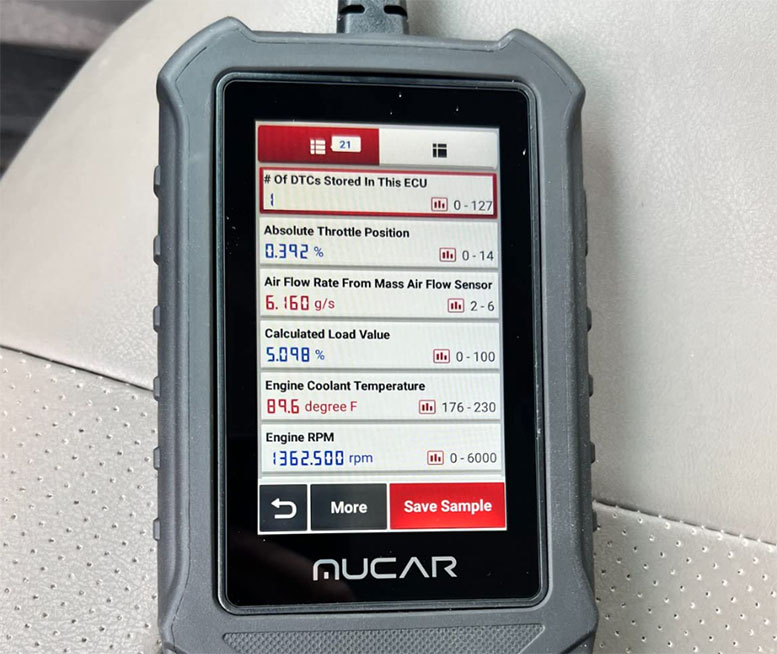 Vehicle Compatibility
The CDE900 OBD2 Scanner supports more than 94 car makes from around the world. It will work with any 16-pin vehicles that comply with the OBD2, EOBD, or CAN protocol. This includes almost all US vehicles made in 1996 or later, EU vehicles since 2000, and Asian vehicles since 2008. Note that this includes 12-volt vehicles only. Large 24-volt trucks will require a unique scanner.
If you like the CDE900's features but want a different design, check out the Topdon AD500S. It comes with similar wide vehicle compatibility as well as lifetime software updates. The screen is larger, though, which makes it easier to read. On the downside, you have to purchase dealership codes to work on most luxury models.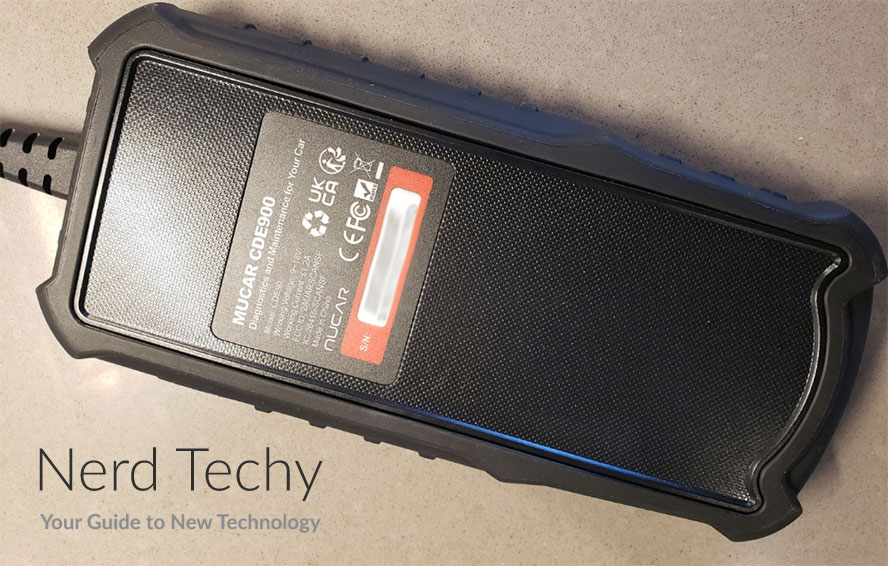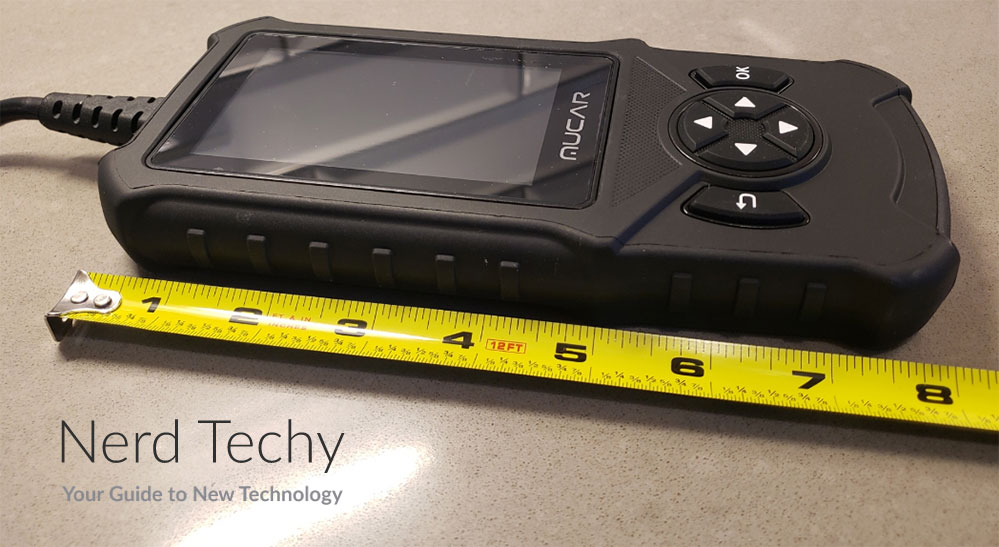 Final Verdict
The MUCAR CDE900 OBD2 Scanner is a powerful little device. It can scan over 3,000 codes on over 94 makes of vehicle, including pretty much everything on the road today. We didn't appreciate having to pay extra to clear transmission and ABS warning lights. But it's a one-time fee, not a subscription, and the scanner comes with lifetime OTA updates.
The design itself is rugged, and should stand up to the rigors of use around the shop. The processor is surprisingly powerful, and the Android operating system is intuitive. So are the controls, so you can pretty much just pick it up and start using it. Automatic VIN detection saves time when scanning a new vehicle. And if you need help with repairs, the built-in database is only a click away.
Please consider sharing:
Note: At no extra cost to you, we may earn a commission for purchases using our links. Learn more.