12-volt batteries are a great way to supply power outside of the ordinary grid. You can pair them with solar arrays, to power a cabin or campsite.
You can even use them as backup power for your home, provided you have the right switching system. RVs and boats use 12-volt DC power as a matter of fact, to run their electrical system.
However, this DC power is fundamentally unsuitable for running ordinary, AC-powered electronics. As a result, you won't be able to use anything that plugs into an ordinary outlet. Unless you want to use special, DC-powered equipment, you're going to need an inverter.
An inverter is an electrical device that converts DC power to AC power. DC ("direct current") power sends a constant flow of voltage in one direction. AC ("alternating current") power changes direction periodically. The voltage also alternates between negative and positive.
When a battery delivers power, it sends a current directly from the positive terminal, through a circuit, to the negative terminal.
But when the electrical company supplies you with grid power, it's an AC current. This kind of current is essential for running the long distances required for power transmission.
We're about to review four of the best 3,000-watt pure sine wave inverters on the market. These will convert 12 volts of incoming DC power to standard, 120-volt AC power. They're also very powerful, with the ability to supply up to 3,000 watts.
Of course, there are also significant differences between the three. To find out which one is best, we'll need to look at the design, and what you can plug into them. We'll have to talk about how they're installed, and what kinds of controls are available. After we've talked about these factors, we'll be able to make a fair comparison. Let's get started, and see what we find!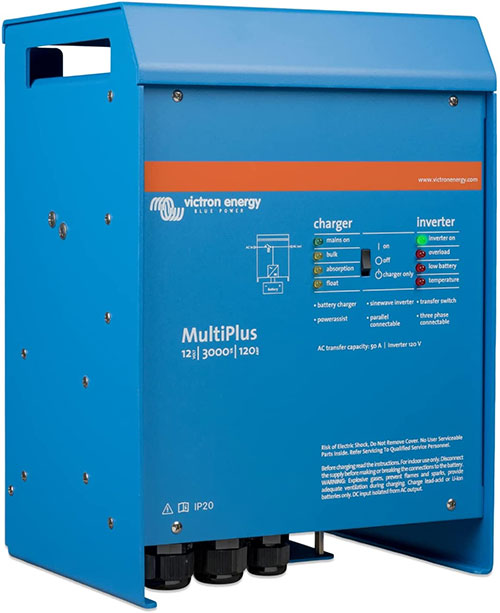 Best Overall: Victron Energy MultiPlus 3000VA
Victron Energy is an experienced manufacturer of power equipment. Among other things, they've manufactured one of the best 12v DC battery chargers. Considering their reputation for quality, it was logical to start out with their 3,000-watt inverter.
The Victron Energy MultiPlus 3000VA works differently than the other inverters on our list. When most people think of an inverter, they think about power outlets. The MultiPlus doesn't have any of those.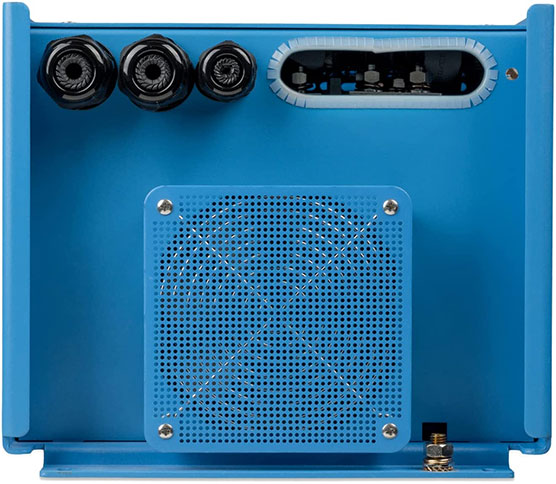 Instead, this is a unique converter that's designed to provide power through a mains-style adapter. This way, it can easily be used to power an entire building, albeit with a maximum of 3,000 watts. The adapter is located on the back of the blue aluminum housing, along with a cooling fan.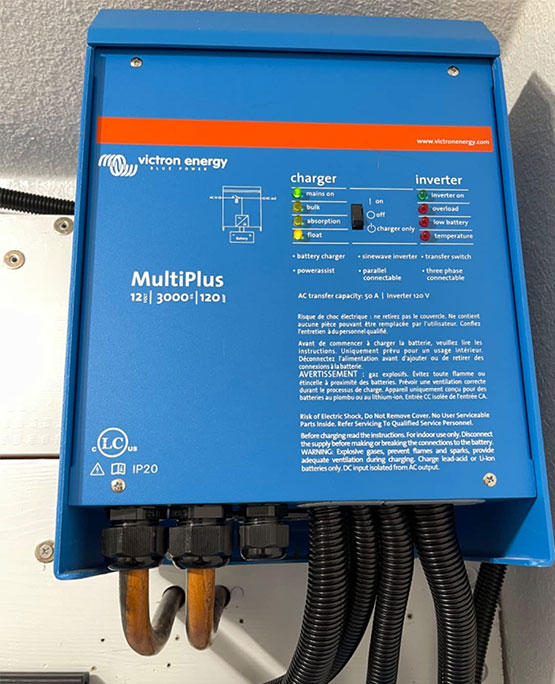 The overall size of the unit is 14.25 inches tall, 10.16 inches wide, and 8.58 inches thick. It weighs only 11.19 pounds, and there's a flange on the base for screw mounting. On the front, there's a control switch, along with two rows of indicator lights. Using the switch, you can set the unit to supply AC power, or to supply DC power only. Yes, there's a set of DC power terminals as well, also on the back of the housing.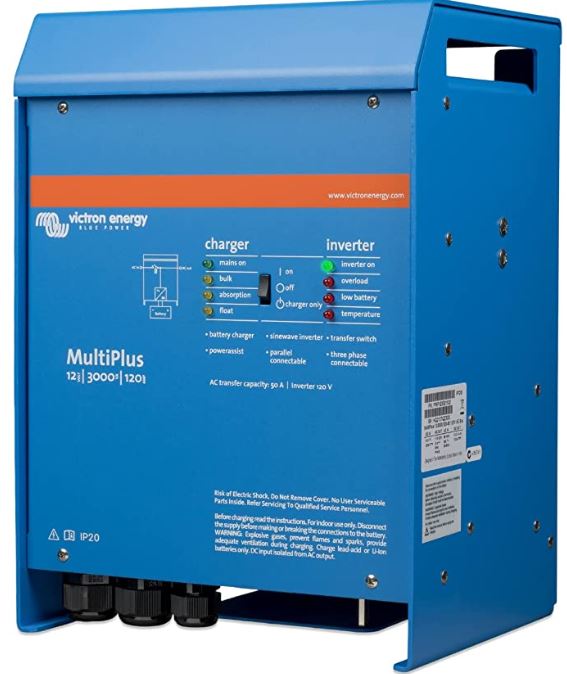 Before we move on, there are a few extra features that are worth noting. To begin with, there's a built-in power assist function. This ensures that you won't overload limited AC power sources, like generators. You can also use the inverter in a backup mode.
This can switch over from AC to DC power immediately upon grid failure, within 20 milliseconds. Most electronics won't even notice that power has been lost. As an added bonus, you can run up to six of these inverters in parallel. This allows you to supply up to 18,000 watts of power, more than enough for the entire house.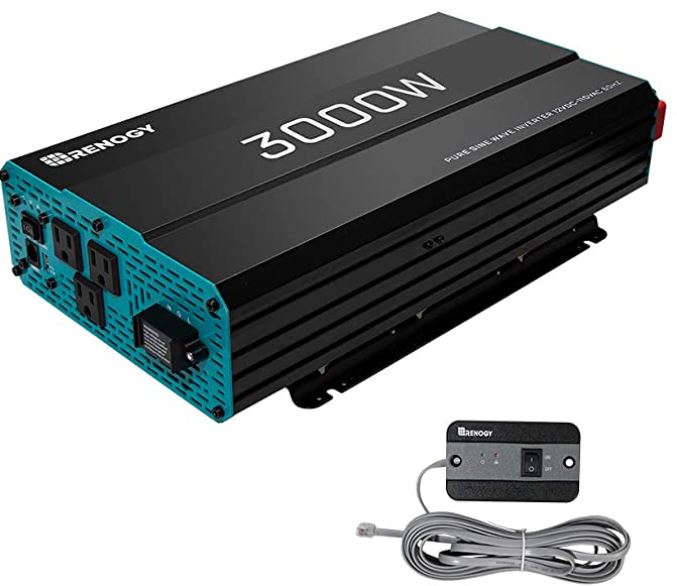 Best Runner-Up: Renogy 3000W Pure Sine Wave Inverter
Renogy is another big player in the world of electrical supplies. Not long ago, we reviewed their MC4 solar extension cables, and they performed admirably. With that in mind, we wanted to check out their 3,000-watt inverter.
The Renogy 3000W Pure Sine Wave Inverter is long and rectangular, with a tough aluminum housing. It measures 18.9 inches long, 9 inches wide, and 4 inches thick. At 12.5 pounds, it's fairly hefty, but you won't be moving it around often.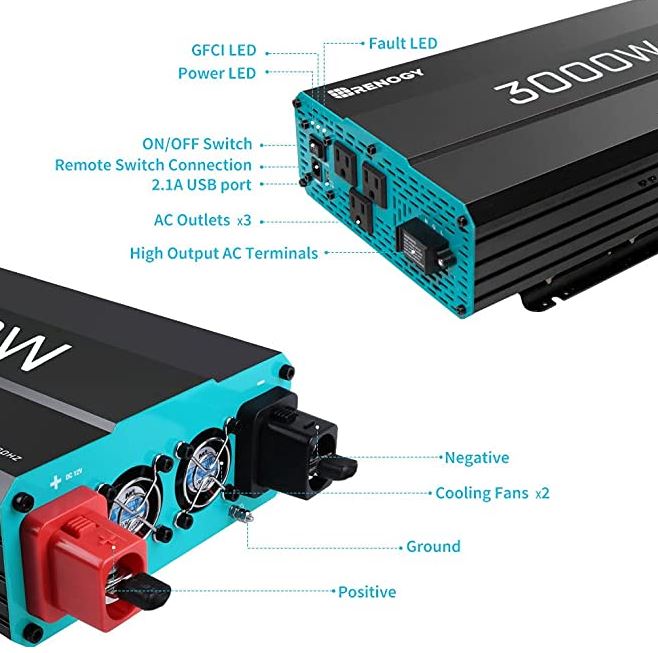 At the base, there are a pair of metal flanges, with slots for easy screw-mounting. On the back side of the housing, you'll find the positive and negative terminals. These are located towards the sides, and are colored red and black respectively. In-between, there's a pair of built-in fans, which cycle air through the housing and keep it from overheating.
On the front, you'll find all of your power ports and controls. To the right, there's a high-output AC terminal block for connecting to high-voltage systems. In the middle, there's a set of three grounded AC outlets.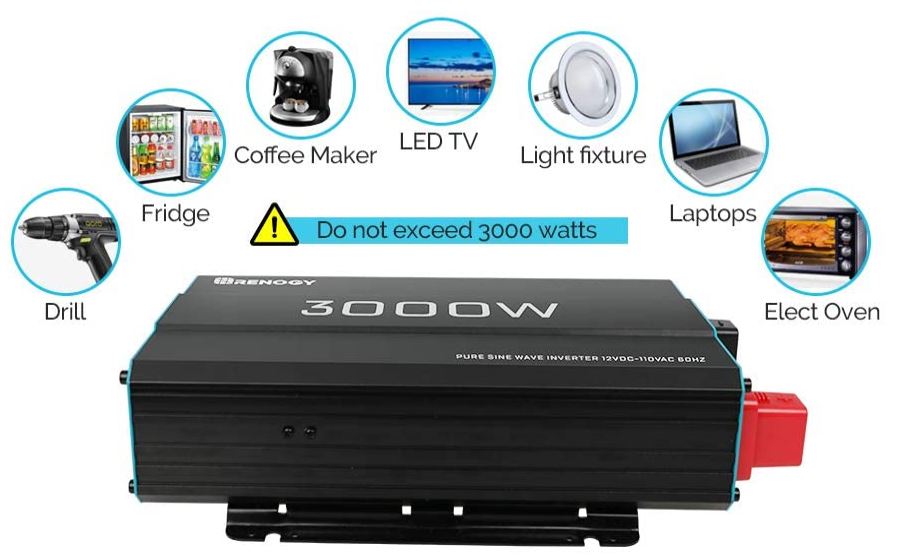 To the left, you'll see a pair of 12-watt USB ports, along with a power switch and a phone-style jack. This jack is used to connect the wired remote, which has a 19.8-foot cord. The remote itself is meant to be mounted, with a pair of holes in the housing. It has a simple on/off switch on the front, along with a pair of indicator lights.
In terms of capacity, this inverter supplies 3,000 watts of continuous wattage. However, it also supplies an impressive 6,000 watts of surge power. This allows you to run powerful equipment with high starting wattages. You're also getting 90 percent conversion efficiency, so little power is wasted. And Renogy provides you with a 12-month warranty in the event of any failures.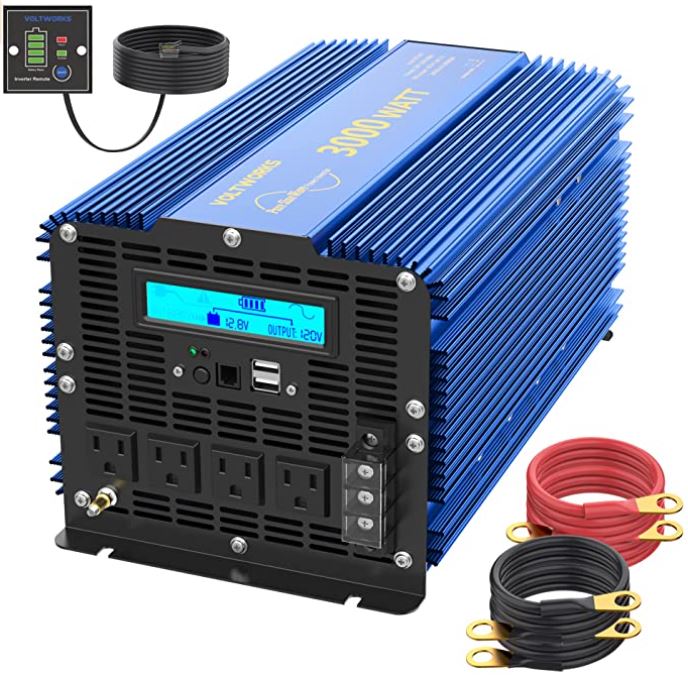 Best Alternative: VOLTWORKS 3000W Inverter
The VOLTWORKS 3000W Inverter has a blue and black aluminum housing, with multiple cooling flanges. There are additional flanges on the base for screw-mounting the inverter in place. The shape is big and blocky, at a length of 15.2 inches, a width of 6.7 inches, and a height of 8.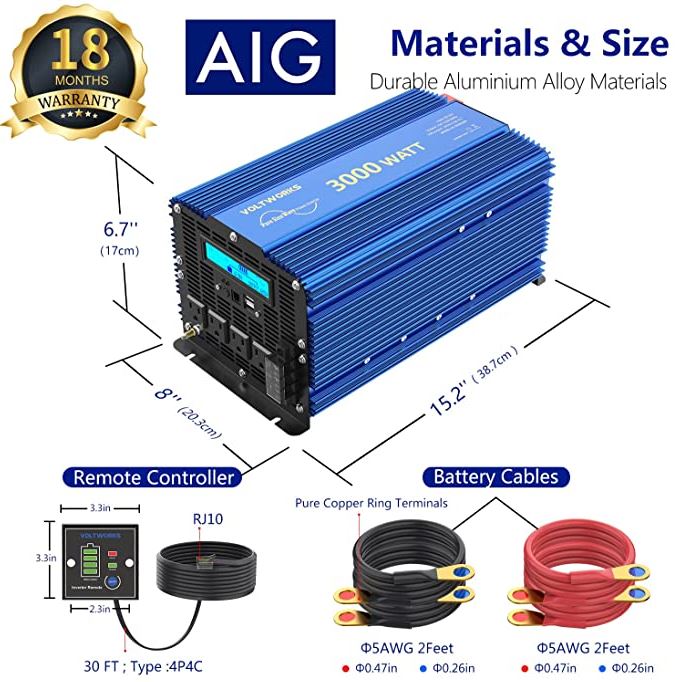 On the back side, at the right, there are a pair of DC input terminals. The red positive terminal is on the top, and the black negative terminal is at the bottom. To the left of the terminals, there's a large fan, which keeps the housing cool.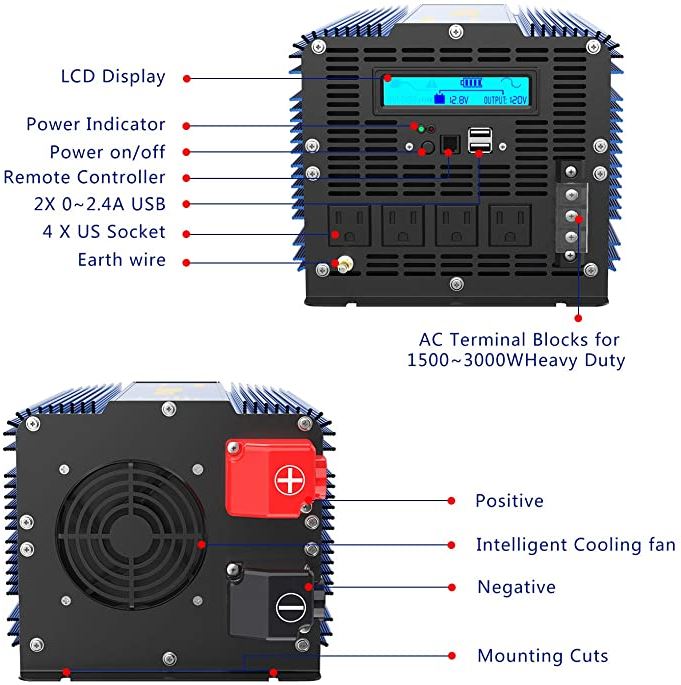 On the front, at the top, you'll notice a bright LCD display. This shows a variety of data, most importantly your battery status. However, it also shows your input voltage, your output voltage, and whether the inverter is in protection mode.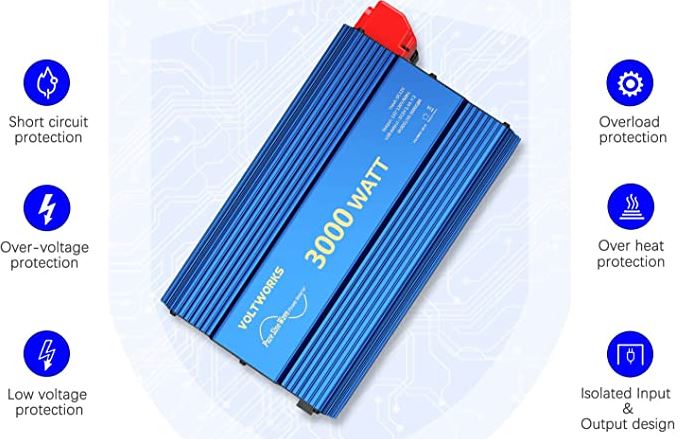 Underneath this, there's an on/off button, a controller input port, and a pair of USB Type-A ports. Across the bottom, four three-prong AC outlets are arranged in a row. There's also a set of high-powered AC terminals, that supply 1,500 to 3,000 watts.
This inverter runs at 90% efficiency, which is fairly good. The 3,300 watts of surge power are somewhat disappointing. However, you won't need that for ordinary household appliances. The remote has a long, 30-foot cord, and is easy to wall-mount. It has a built-in LCD battery meter, as well as a power button and fault indicators. All of this is covered by VOLTWORKS' 18-month warranty.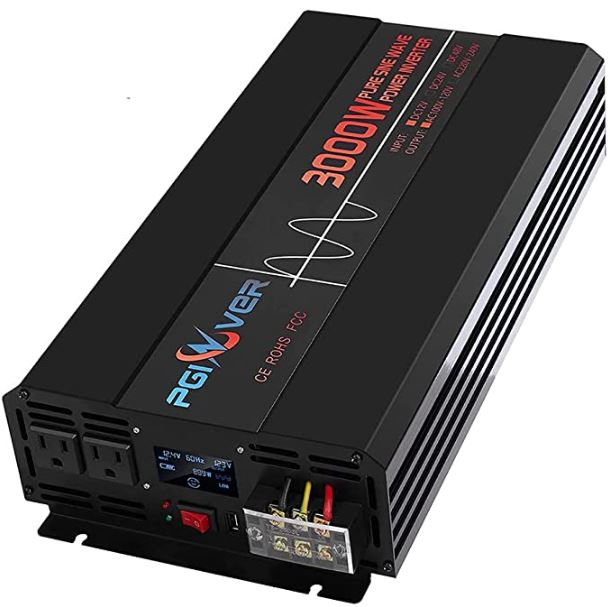 Best Budget-Friendly Option: PGINVER 3000W Power Inverter
The PGINVER 3000W Power Inverter has a wider, flatter design than the others. The all-black aluminum housing measures 14.96 inches long, 7.87 inches wide, and 3.54 inches thick. Like the others, it has a set of metal flanges on the base, which are designed for screw-mounting. The DC terminals are located at the back top, with the fans underneath them.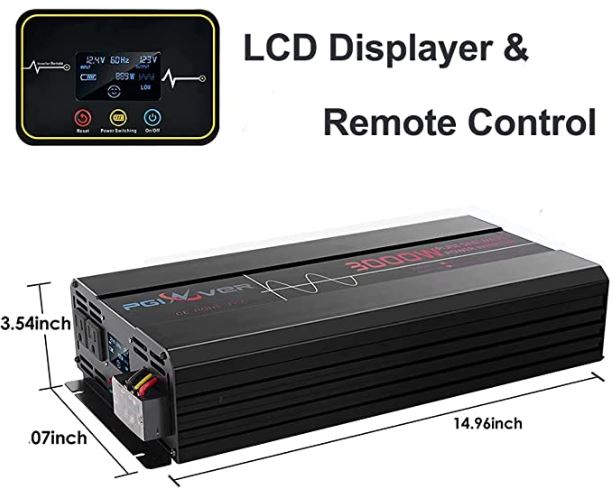 At the front center, you'll see an LCD display, which shows the inverter system's current status. You'll see the battery charge level, the incoming and outgoing voltage, as well as the wattage. If there are any error messages, you'll find them here. There's even a little smiley face that lights up when everything is working well. Beneath this display, there's a power switch and a single USB port. To the left, there's a pair of three-prong AC outlets. To the right, there's a set of high-powered AC terminals.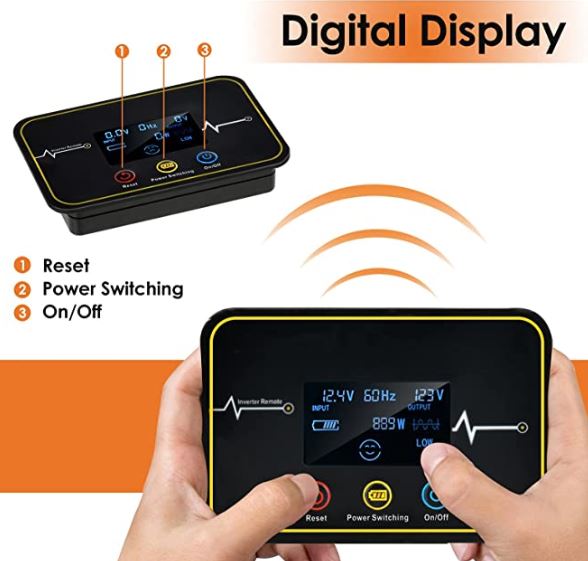 Like the VOLTWORKS inverter, this one has a replaceable fuse. However, it also ships with a set of 12 extras. That's probably more than you'll ever need, but at least you won't have to buy any. In addition, you get a wireless remote, with a 33-foot range. It has a similar LCD display to the inverter's, with all the same data. There are buttons to reset the inverter, power it on and off, and turn the controller itself on or off. The controller is charged by a USB cable, which is included in the package.
Do I Need 3,000 Watts?
3,000 watts is a significant amount of power. So, how do you know if you need 3,000 watts, or if you can get away with a lighter-duty inverter? To find out, you'll first need to calculate the total wattage of everything you want to plug in. This can get tricky, depending on what you're plugging in. But most devices will have a sticker or a plaque that displays the operating wattage. Now, add all of those devices up, and you've found the total amount of wattage.
But that's not the end of the story. To begin with, you need some margin for error. A device may have a spike in power, or it may malfunction. To make sure you don't want to run into trouble, add a margin of error of 20%. Let's say you've added up your devices, and they draw exactly 1,000 watts. Add 20% to that, and assume they're going to draw 1,200. That way, you won't run out of wattage due to increased power draw.
Another thing to think about is the efficiency of the inverter itself. Depending on conditions, inverters don't always run at peak efficiency. In cold weather, this can drop to between 70 and 90 percent. A 3,000-watt inverter running at 90 percent efficiency will actually be outputting 2,700 watts. At 70 percent efficiency, it's only putting out 2,100 watts. That's a big drop, so inverter efficiency matters just as much as the raw wattage.
Along the same lines, be careful about the wattage ratings on your devices. Some devices can draw more power than their actual rating. Take a 700-watt microwave for example. You'd think it would draw 700 watts. However, that's the ordinary running wattage, not the starting wattage. Microwaves can draw significantly more wattage when they first kick in. This is known as peak wattage, and it's not just an issue for microwaves. Compressor-driven appliances like refrigerators and A/C units display a similar behavior.
If it turns out you don't need 3,000 watts, there are plenty of other options. Check out our list of the best 1,000-watt inverters, or the best 2,000-watt inverters instead!
Which 3000W Pure Sine Wave Inverter is Best?
So, which one of these inverters is the right choice for you? Let's start with the basics.
We began by reviewing the Victron Energy MultiPlus 3000VA. This is a unique choice that puts out AC and DC power. This allows for charging of batteries, as well as supplying AC mains power. We wouldn't recommend it for running individual devices. But if you need to supply backup power to an entire house or off-grid system, it's an excellent choice.
The Renogy 3000W Pure Sine Wave Inverter is a straightforward inverter with a trio of AC outlets. It also provides a pair of USB ports, as well as high-powered AC terminals. The most impressive feature, though, is the 6,000-watt surge capacity. That's far more than you'll get from most comparable inverters.
The VOLTWORKS 3000W Inverter doesn't supply the same insane surge capacity as the Renogy inverter. However, it has the highest number of AC outlets, with a total of four. Unless you need to power very high-powered equipment, this is the most versatile option. It also has the longest warranty, at 18 months.
The PGINVER 3000W Power Inverter only has two AC outlets, but it's the most affordable of the bunch. It also has the best display, with plenty of useful information. Meanwhile, the wireless controller provides unparalleled ease of use. If you only need a couple of outlets, you'll be very happy with this one.