TOPDON AD500S
Pros
Works on most passenger vehicles.
Reads a wide variety of codes.
Lifetime over-the-air firmware updates.
Tough, durable design.
Cons
Some automakers require dealership-level FCA subscription for some codes.
A bit pricey.
Back in the good old days, diagnosing car trouble was purely a mechanical process. All of the parts were mechanical, and any computers were small and simple. At worst, you'd have to get out a voltmeter to diagnose electrical problems.
But nowadays, a lot of your car's systems are controlled by sensors and computers. The engine control unit (ECU) and transmission control unit (TCU), are both good examples of this. They control everything from your timing to your fuel to gas ratio.
This is great news for fuel efficiency. These days, you can get a lot more power from a lot less fuel than you could a few decades ago. But it can make your car difficult to service. Instead of a timing belt and carburetor, you're trying to figure out if there's a computer glitch. Thankfully, manufacturers are well aware of this issue.
Since way back in 1996, cars have used on-board diagnostic (OBD) ports to allow for easy communications. With an OBD2 scanner, you can read any error codes your car is putting out, and decipher what they mean.
Reading diagnostic codes is also important if you're seeing any dashboard indicator lights. Let's say you get the dreaded "Check Engine" light; that could mean any number of things. If you're even going to begin to address the problem, you'll need to read your codes. That will tell you where the problem lies, so you can take appropriate action.
TOPDON AD500S OBD2 Scanner
We're about to review the TOPDON AD500S OBD2 Scanner. TOPDON is a manufacturer with a reputation for quality, with offerings in several verticals. This OBD2 scanner seems very sturdy, and the electronics are up to date. Better yet, you get free firmware updates via WiFi.
But there are many things that go into making a good quality scanner. We'll have to talk about how it works, and how it's operated. We'll need to go over the scanning capabilities, as well as its resetting features. And we'll need to address what vehicles it's even compatible with. Let's begin!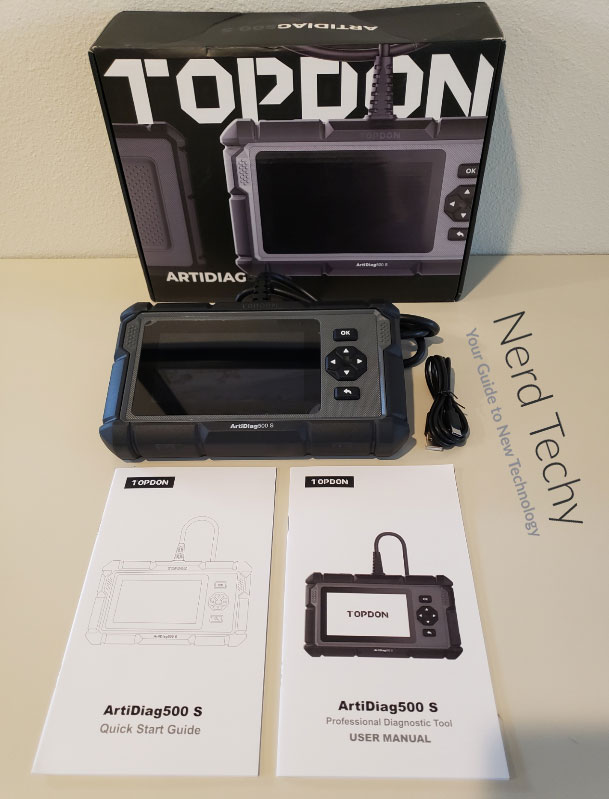 Overall Design
The first thing you'll notice about the TOPDON AD500S OBD2 Scanner is how beefy it is. The 5-inch touchscreen display could be housed in a much smaller device, but then it would be vulnerable. Instead, TOPDON opted for a fatter, chunkier design, with a fat black plastic housing. The edge is nice and fat, so even if you drop it on its face, the screen won't get damaged. Just inside of the edge, there's a set of little textured silicone grips. That way, it's still easy to hold on to. All in all, this is a tough, shop-ready tool.
The OBD2 cable connects at the top center of the housing. The cable is nice and thick, with plenty of insulation and protection. It's reinforced where it meets the housing, with a thick rubber collar that extends a ways up the wire. The other end of the cable is also reinforced where it meets the plug, so it's tough enough to take a beating.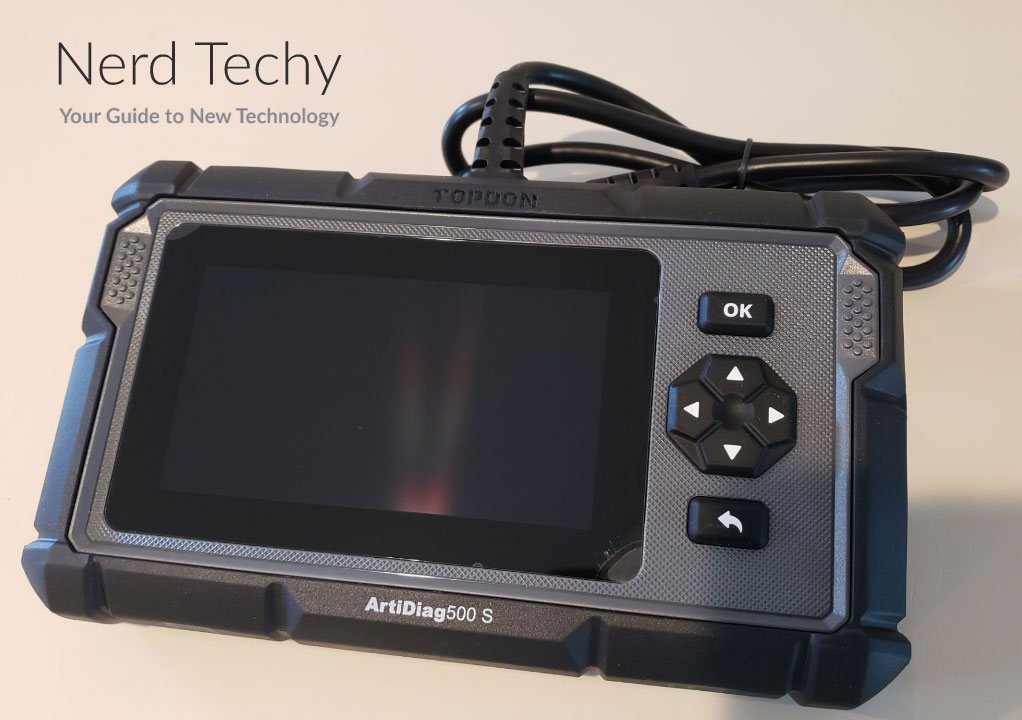 The AD500S is battery-powered, and has enough charge to run for a few hours at a time. The kit includes a USB Type-C cable, which plugs into the bottom for charging. Charging is quick and painless. And if this is an everyday tool, you can just leave it plugged in whenever it's not in use.
TOPDON backs this scanner with a 12-month manufacturer's warranty. If it fails prematurely, you'll get a refund or replacement. Not only that, but they offer a 60-day unconditional return policy. If it turns out you don't like the scanner, you can just send it back.
If you're looking for something a little more affordable, check out the TOPDON AL500. It's less than half the price, and it has a portable, ergonomic shape with big rubbery buttons. Then again, it lacks some more advanced features, such as an SRS (airbag) scan.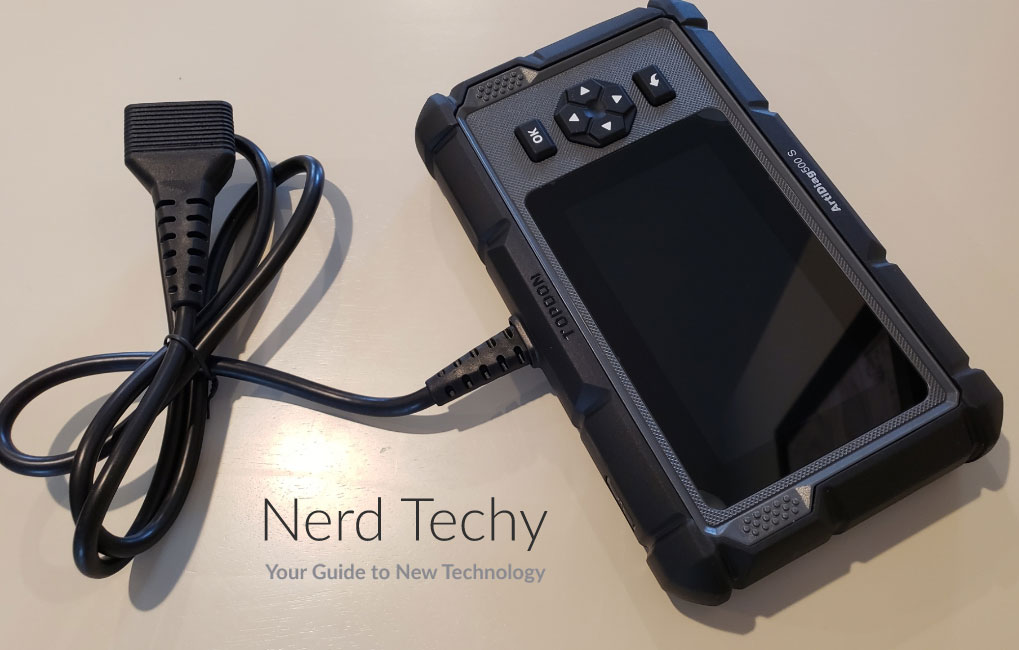 Basic Operation
Operating the AD500S is pretty straightforward. For menu navigation, there's a set of navigational arrows to the right. There's also an "OK" button above them, for selecting options, and a back button for backing up. All the buttons are big, black, and chunky, easy to operate even if you're wearing a set of gloves.
Then again, it's even easier to work without gloves. The touchscreen has a tiled layout, and you can use it to quickly navigate from one menu to another. This is the simplest way to perform many of the scanner's functions.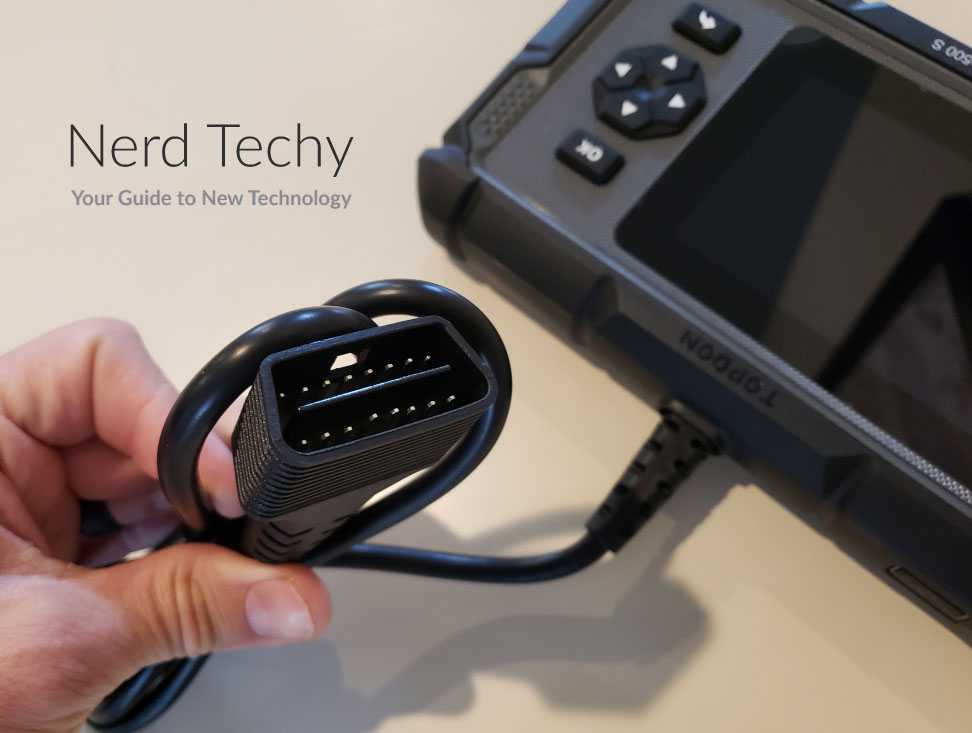 The internal hardware is up to date, so navigation is seamless and lag-free. It doesn't hang during operations like a lot of older scanners. Not only that, but the Android 6.0 operating system is exceptionally lightweight. As a result, startup is nearly instantaneous. When you first plug it into your car, it will automatically scan for the VIN, and detect your car's model. This saves you the effort of manually entering your VIN number during setup.
Within the system itself, you can look up any codes that are triggered. This makes it easy to find out what those four-digit codes actually mean. If you're still confused, TOPDON provides access to an online community with expert feedback on all your codes.
If English isn't your primary language, you don't have to worry. The display supports seventeen different languages: English, French, German, Italian, Japanese, Korean, Portuguese, Russian, Spanish and more. You can also make paper records of your scans. Just connect to any Windows PC, and you'll be able to print off any data you've recorded to memory.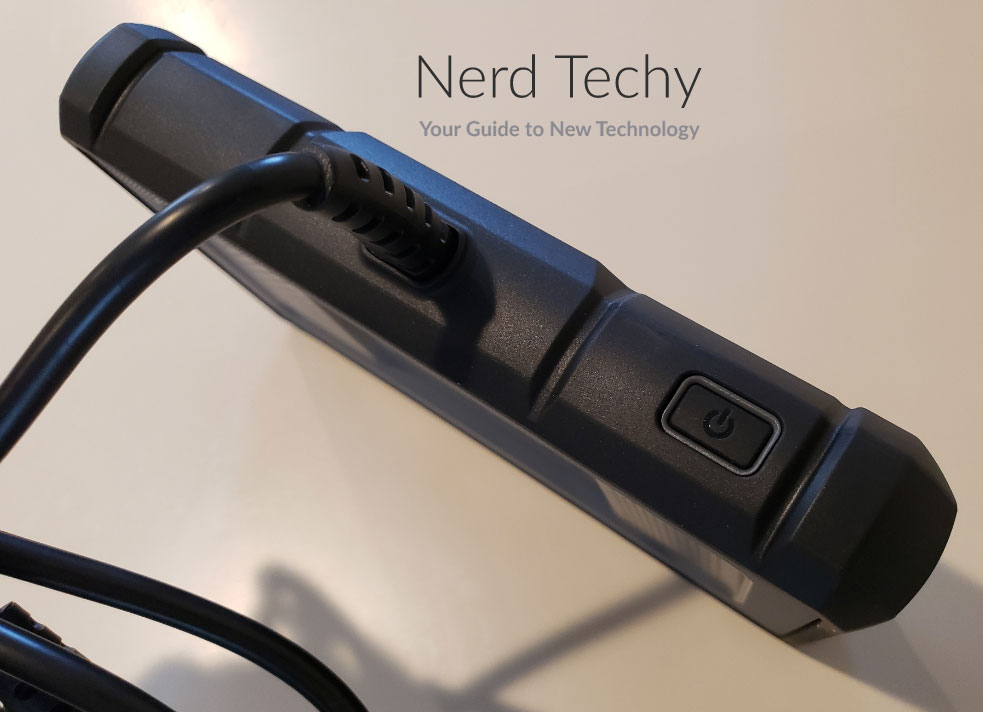 What Does it Read?
Ultimately, an OBD scanner is only as good as the codes it can read. Some scanners are only able to read certain types of codes, which limits their performance. Here's a quick look at what you can do with the AD500S.
Engine scanning – You can read and clear both permanent and pending engine codes. This includes codes related to fuel injection, emissions, timing, and more. This covers the vast majority of issues that trigger a Check Engine warning.
Anti-lock braking (ABS) scanning Allows you to diagnose what is causing the ABS lights to prevent wheels from unexpected locking and skidding. You can then read and clear error codes in the ABS system, and turn off the ABS warning light.. In addition, it allows you to monitor and playback the real-time data in graphics, including the speed of each wheel, ESP sensors data, Brake assist data, and CAN signals data.
Transmission scanning – Most Check Engine light-related issues that aren't caused by the engine are caused by the transmission. This makes sense, since the two are integral parts of your car's powertrain system. You can read and clear these codes, as well as view diagnostic data. If your car is struggling in a particular gear or having trouble shifting, you'll be able to tell.
Airbag (SRS) scanning – Your airbag sensors are often the only warning you'll have of a critical safety failure. A lot of scanners don't read SRS codes, which can make airbag problems notoriously hard to diagnose. With an SRS scanner, you can locate the source of the problem and perform any needed repairs. You can also clear the codes to deactivate your warning light.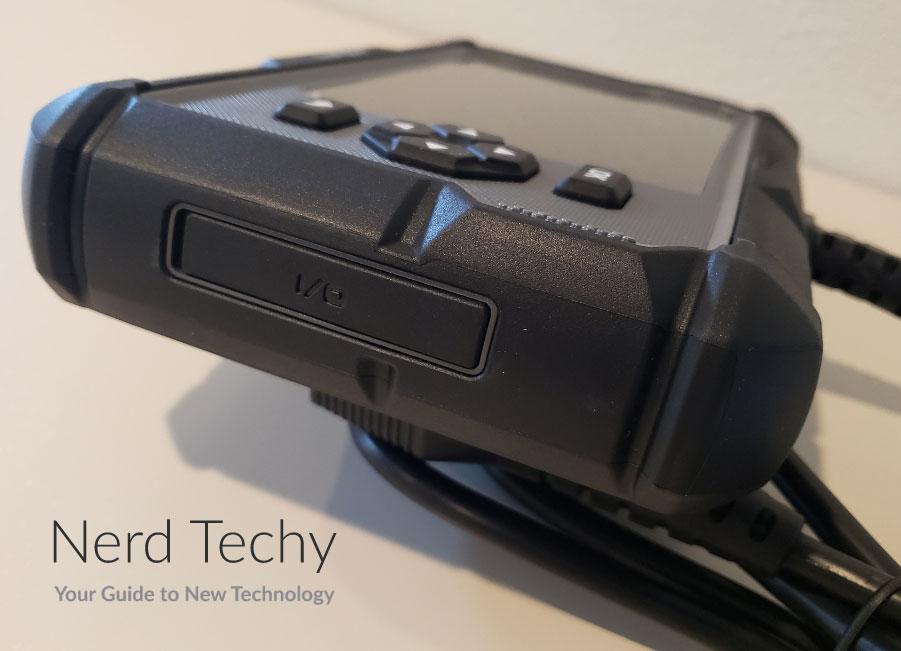 Extra Features
An OBD2 scanner isn't just necessary for reading codes. Your car's OBD2 port is the only way to reset some mundane lights that could otherwise fail you an inspection. Here are five ways the AD500S is designed to help:
Oil light reset (works with 53 car manufacturers) – Many modern cars have digital oil indicators and warning lights. When these lights tell you it's time for an oil change, they don't always turn off, even after the change. In that case, you can use this scanner to manually reset the light. This will also reset any sensors, so you know the light will work properly the next time.
BMS reset (works with 31 car manufacturers) – As your battery ages, your car's battery management system (BMS) changes how it draws power. When you install a new battery, a BMS reset forces the BMS to treat it as new, not old.
ABS Bleeding (works with 34 car manufacturers) – When you change the brake oil, there may be air in the oil line. This function must be performed while the lines are empty, otherwise the brake system of the vehicle will have a "hard" brake which will result in the inability to use the pedal and/or weak braking.
Throttle adaptation (works with 37 car manufacturers) – Throttle valve matching is generally required after the throttle body is replaced or cleaned. If it's not done, there may be a phenomenon that occurs in which the vehicle idle speed is unstable or the engine speed fluctuates. As a result, fuel efficiency during driving may be reduced as fuel consumption increases.
DPF regeneration (works with 39 manufacturers) – Most drivers won't have to deal with this. But if you're driving a diesel car or truck, you'll have to periodically regenerate your diesel particulate filter. This is how it's done.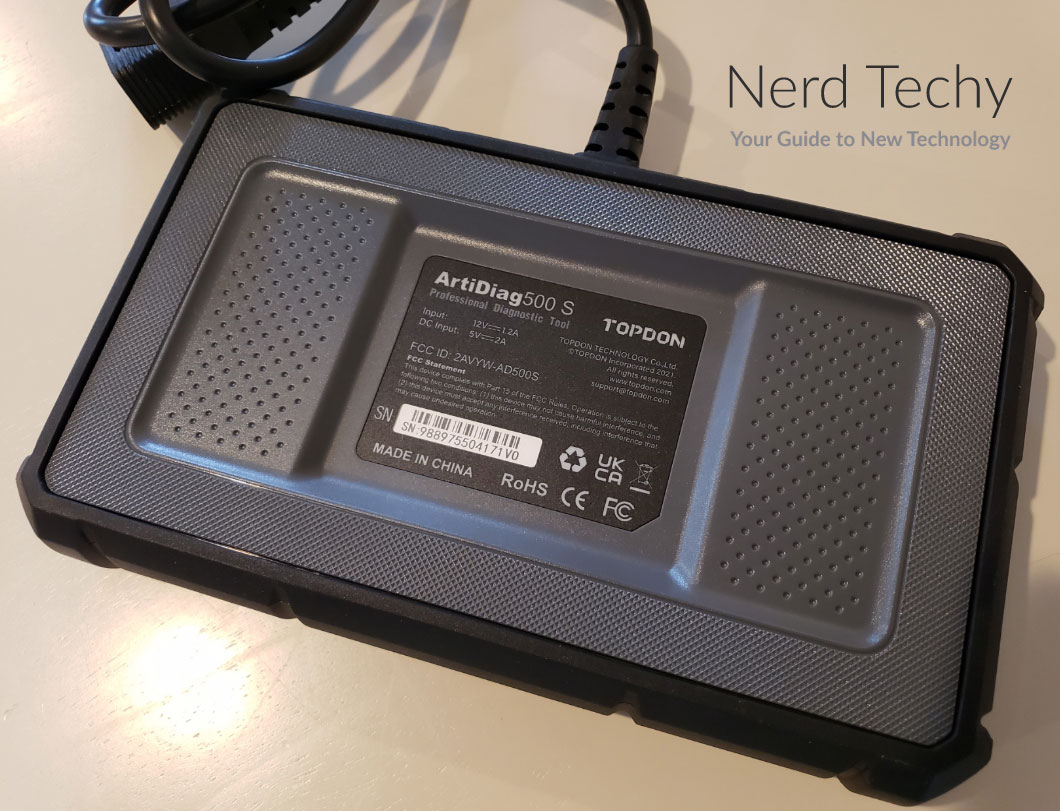 Vehicle Compatibility
The TOPDON AD500S OBD2 Scanner works with most vehicles produced since 1996. More specifically, it works with any car or truck that uses the OBD2, EOBD, JOBD, or CAN protocol. This includes not just passenger vehicles, but many light trucks. However, it doesn't support larger, 24-volt diesel trucks. Check with your manufacturer to be sure.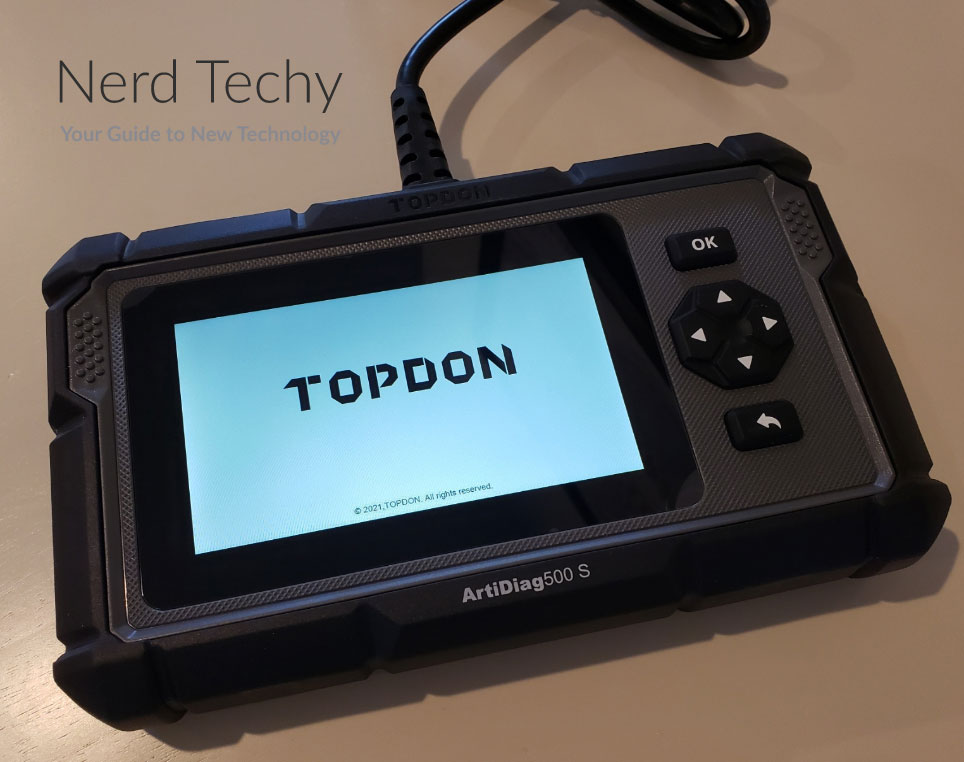 Out of the box, this scanner supports models up through the 2020 model year. However, you can get updates for free by connecting it to WiFi. This is a free lifetime service, so you'll continue to get scanning capability for newer vehicles. As new features are added, you'll be able to access those without buying a new scanner.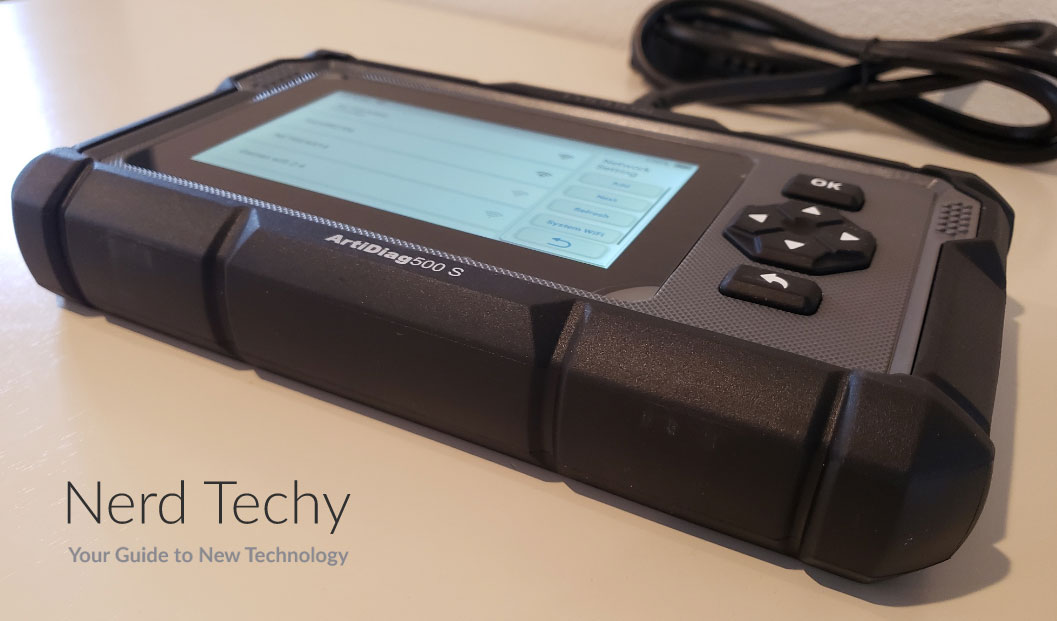 Final Verdict
The TOPDON AD500S OBD2 Scanner is a highly-capable machine. It's a bit pricey, but that's because it offers so many features. If you need a truly shop-capable scanner, you'll appreciate all the extra reset functions. And even for the average driver, the over-the-air updates provide a ton of added value.