ALLJOY Shiatsu Massager Pillow
Pros
Provides an effective, deep shiatsu massage,
Very durable, high quality finish.
Fully washable and easy to clean.
Lightweight and portable.
Includes a heating function.
Cons
Requires a proprietary power supply.
Massage heads aren't angled inwards.
Even in the best of times, life can be stressful. Maybe you're dealing with a tough deadline at work. Maybe you're having trouble in your marriage or relationship. Or maybe it's just the ordinary stress that comes from raising kids.
Stress can also be physical. If your work requires a lot of manual labor, you'll probably experience symptoms of stress. But regardless of the source of your stress, it can manifest itself in physical symptoms. These can include muscle tension, even tension that you may be consciously unaware of.
Ironically, this can lead to a vicious cycle. You're stressed out, so your muscles are tense and tight. But the muscle tension, in turn, ends up making you more stressed. This in turn leads to more tension, which makes it harder and harder to relax. There are many methods of stress relief that have nothing to do with modern technology.
People go to therapists, take medications, and adjust their diet and exercise habits. Massage is another popular method of stress relief. Instead of attacking the psychological or chemical sources of stress, massage goes after the physical symptoms.
Of course, visiting a masseuse can be expensive, and it isn't always practical for many people. Even visiting the massage bed at your local gym can be inconvenient. You can only go there during gym hours, and you can't take it with you on vacation. That's why so many people are investing in high-quality home massagers.
ALLJOY Shiatsu Massager Pillow
Today, we'll be reviewing the ALLJOY Shiatsu Massager Pillow. This is an ergonomic neck pillow with built-in massage motors. It's designed to be as portable as possible, and it fits comfortably behind your neck. Not only that, but it sports a heating function that provides an added layer of relaxation.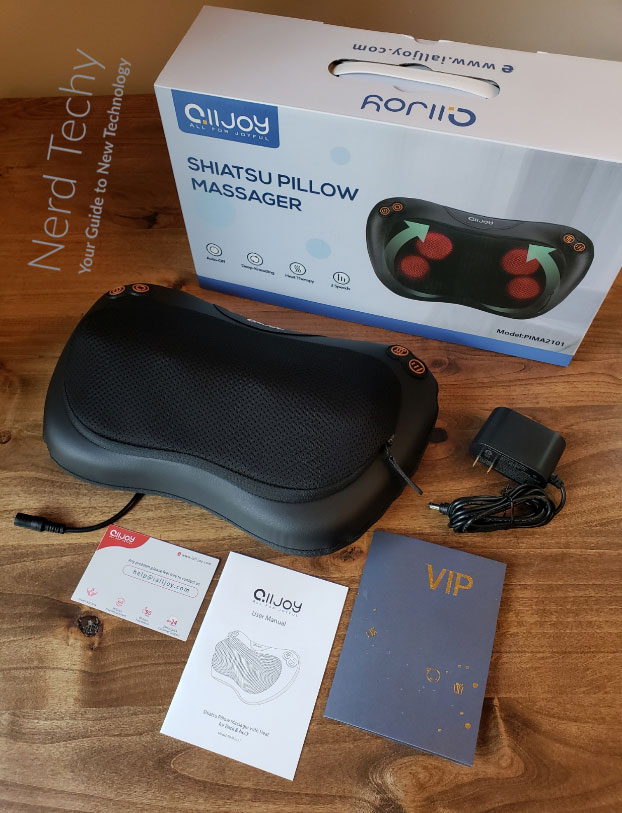 Of course, there are many more things to consider when you're thinking about a new home massager. We'll need to talk about how the device is controlled, and how you adjust the various settings. We'll need to consider the physical construction, and the materials it's made out of. And of course, we'll have to go over how the massager is powered. Let's take a closer look!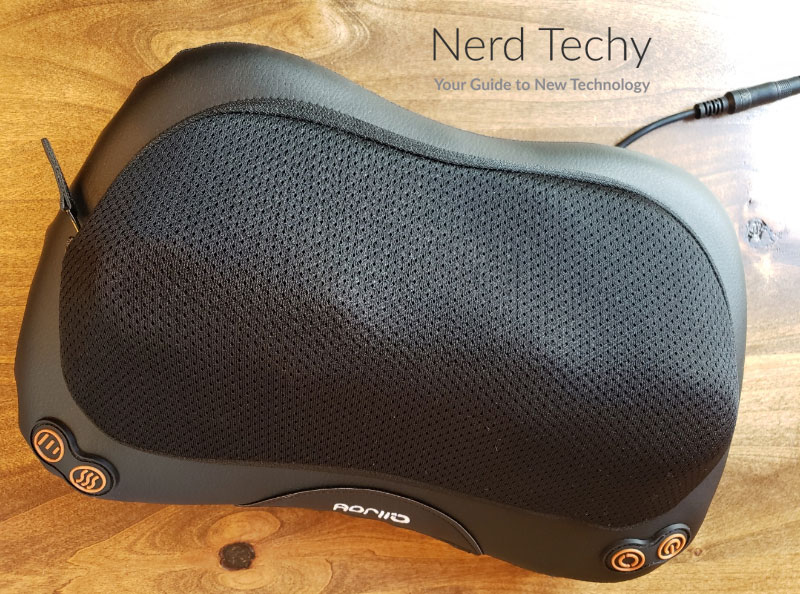 Overall Design
The ALLJOY Shiatsu Massager Pillow has a broad, curved shape that's roughly trapezoidal. There's not a single straight line or hard angle in the design. It's wider at the top than at the bottom, and both the top and bottom are arched. It's shaped specifically to fit across your neck, and cradle the bottom of your head. Additionally, it's also available in two different sizes: medium and large. No matter your size, either one will generally be a good fit for you. The front surface is also concave, so as to better cradle your neck.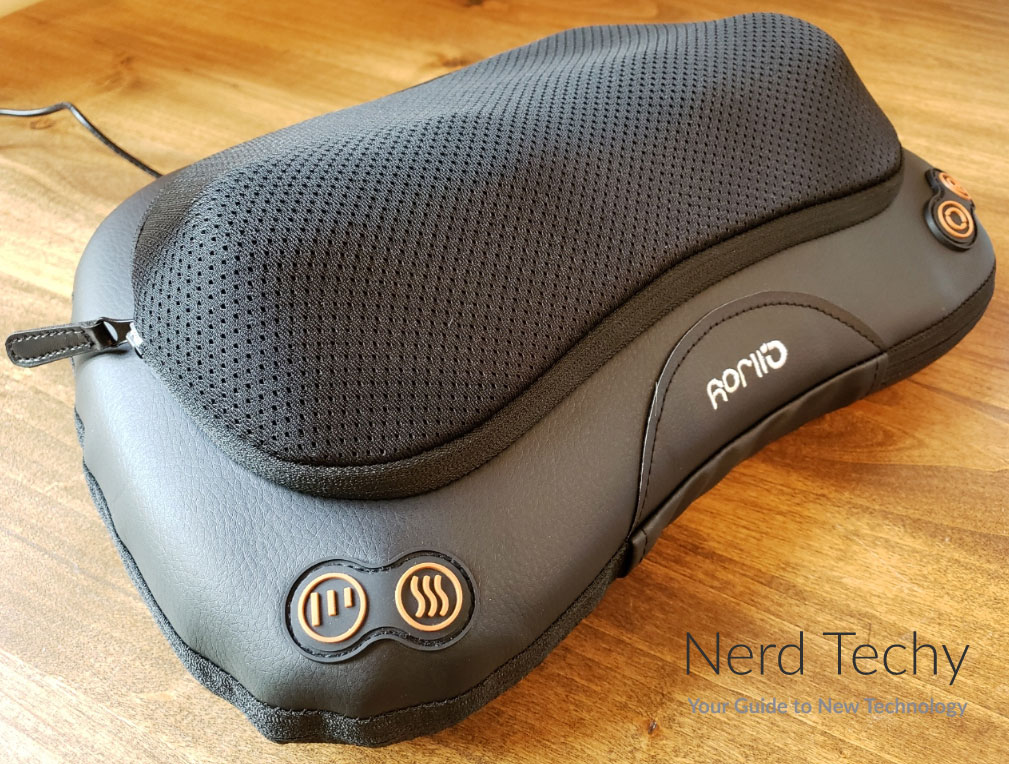 Across the back of the device, you'll notice a black elastic strap. This strap is designed for mounting the massager, normally to a chair. It's easy to attach and remove in just a few seconds, and can be adjusted to fit any size chair. The closure, meanwhile, is a high-quality velcro. You don't have to worry about it popping loose under pressure, or wearing out after just a few uses.
All the material is a matte black, with a leather housing and a breathable mesh upper surface. It's compact enough to carry in your luggage, so it's a great choice for travelers. And at only a few pounds in weight, you'll barely notice you're carrying anything extra. Even so, the large version is wide enough to use on the backs of your legs. It can even be used on your back, although the shape might not be 100% ideal.
AllJoy makes a number of massagers to meet a wide variety of needs. A good example of this is the AllJoy Eye Massager G1. It's designed to massage your temples, forehead, and cheekbones. Along with heat therapy, this is a great way of reducing eye stress.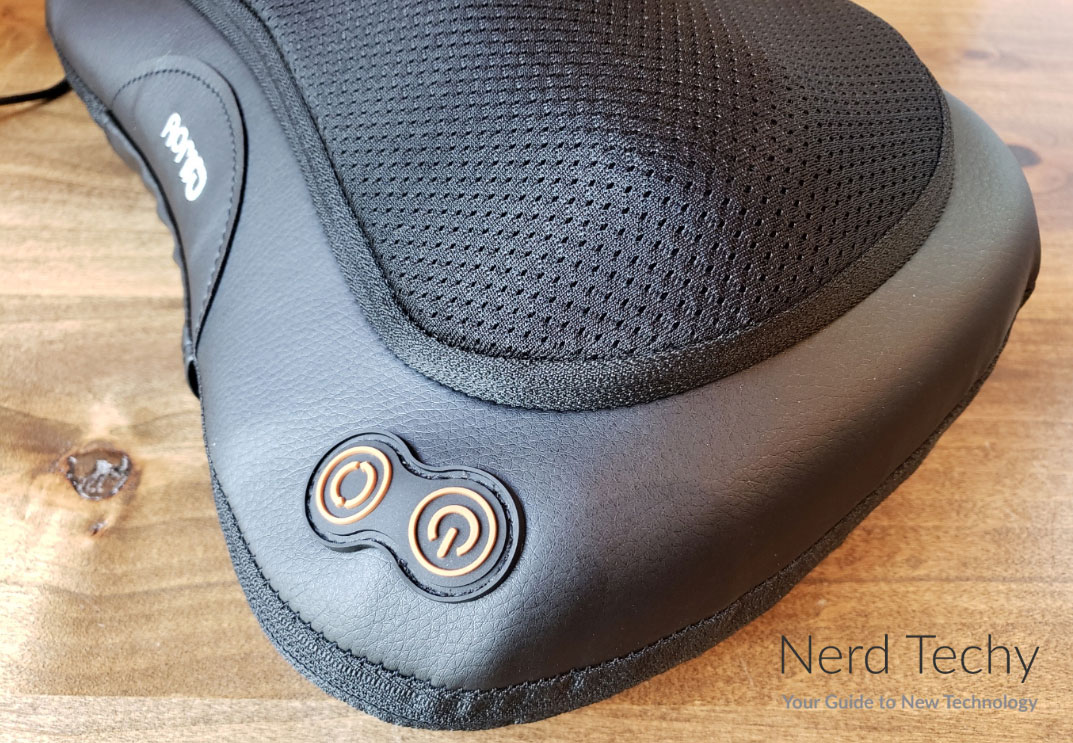 Materials and Durability
One thing we very much appreciated about the ALLJOY massager is how easy it is to keep clean. The mesh upper surface has a zipper around the edge, which can be used to remove it. It can then be machine washed, hang dried, and reattached to the unit. Meanwhile, the rest of the shell is made from leather. This can simply be wiped clean with a damp cloth. You don't have to worry about it absorbing your sweat, staining, or getting stinky.
Another thing we liked about the design is the quality of the material. The upper mesh is soft and breathable, so you won't feel like it's sticking to the back of your neck. Meanwhile, the inside is very well padded. It conforms comfortably to your body, without creating any pressure points. At the same time, it's firm enough that it doesn't get squished out of shape.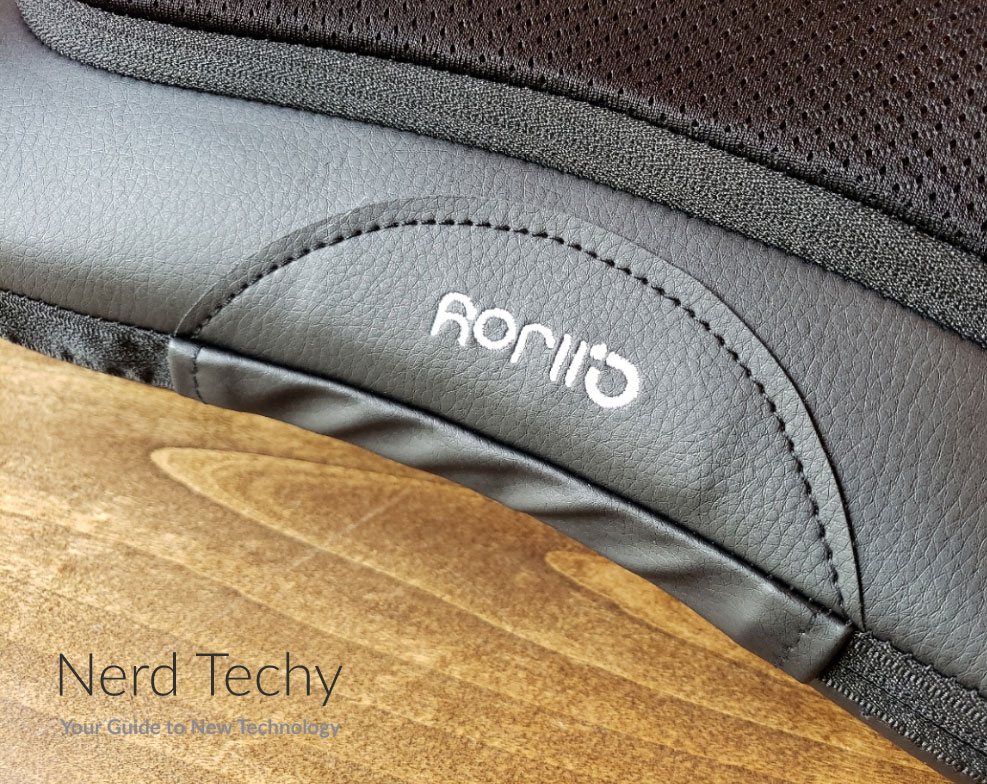 Of course, a massager isn't the only way to relieve muscle stress. In many cases, it makes more sense to use a heating pad instead. In that case, consider the AllJoy Heat Pad G1. It's a comfy heating pad with an in-line controller. The controller, meanwhile, has an LCD display for the current temperature and settings.
Functions and Controls
So, how does the ALLJOY Shiatsu Massager Pillow actually operate? To begin with, this is a shiatsu massager. This means that it's designed to reach deep muscles and tissues. In total, there are four rotating massage motors, two on each side of your neck.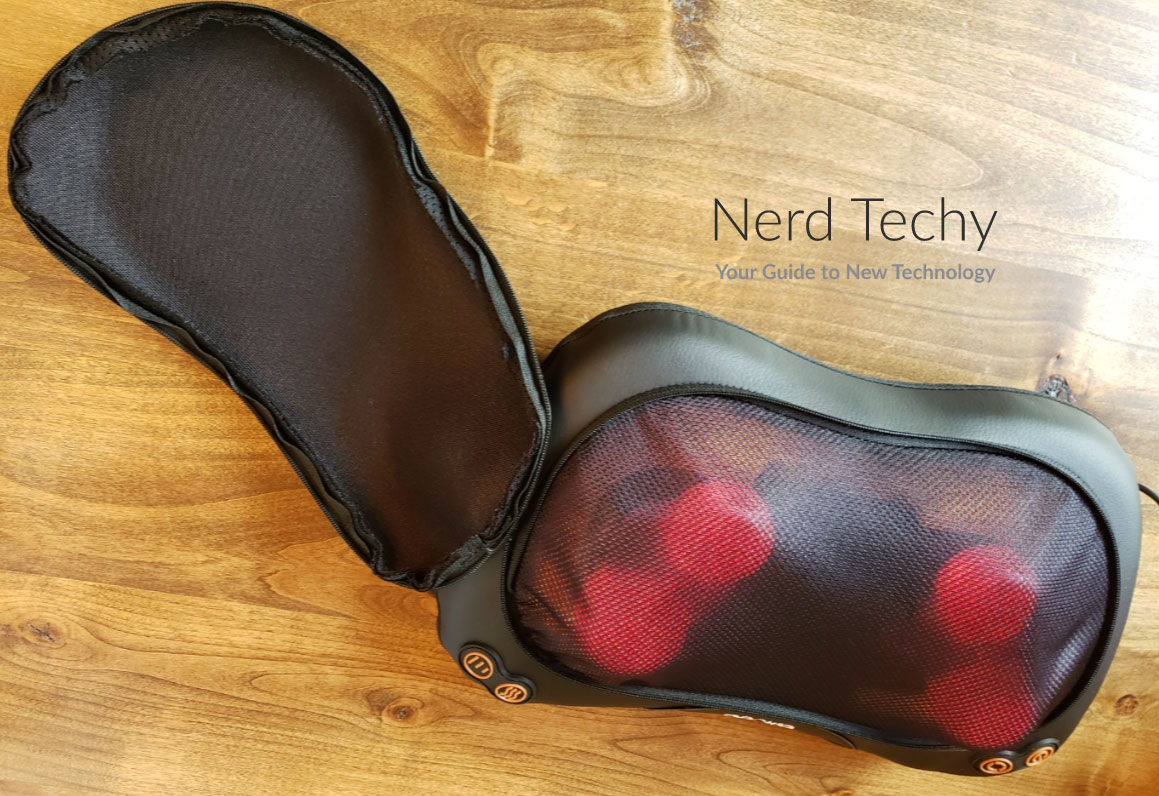 They're knurled on the ends, with rounded knobs and ridges. These dig into your muscles, much like a professional masseuse digging in with their knuckles. The heads rotate, so they're constantly in motion. You can also set them to rotate in either direction, which helps to reach different muscles better.
One downside of this massager's design is the way the massage heads are installed. Instead of being angled inwards towards your neck, they face straight forwards. This means you're not getting the most direct massage, and it can potentially feel awkward. On the other hand, it also makes this device more suitable for your legs and back than it otherwise would be. Basically, you're getting versatility in exchange for a design that's sub-optimal for your neck.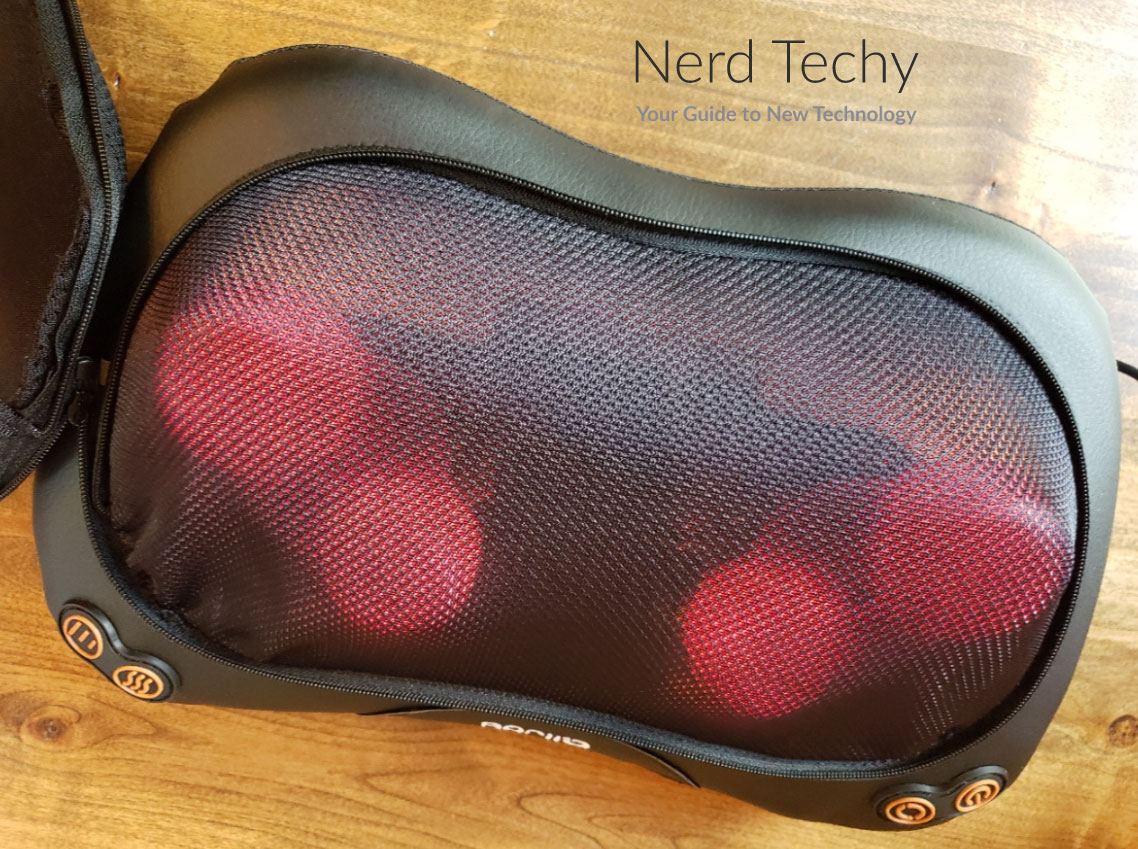 In addition to massage, there's also a heating function. This is a comfortable warmth that relaxes your muscles without being too intense. And just in case, there's a built-in temperature sensor. If it starts to get dangerously hot, the heater will automatically shut off.
The four buttons are soft rubber, and are built into the top left and top right portions of the surface. At the top left, you'll find the power button, along with a second button to change the rotation direction. The buttons on the right change massager speeds and turn the heater on and off. Because of their position, the buttons are easy to operate without picking your head off the pillow.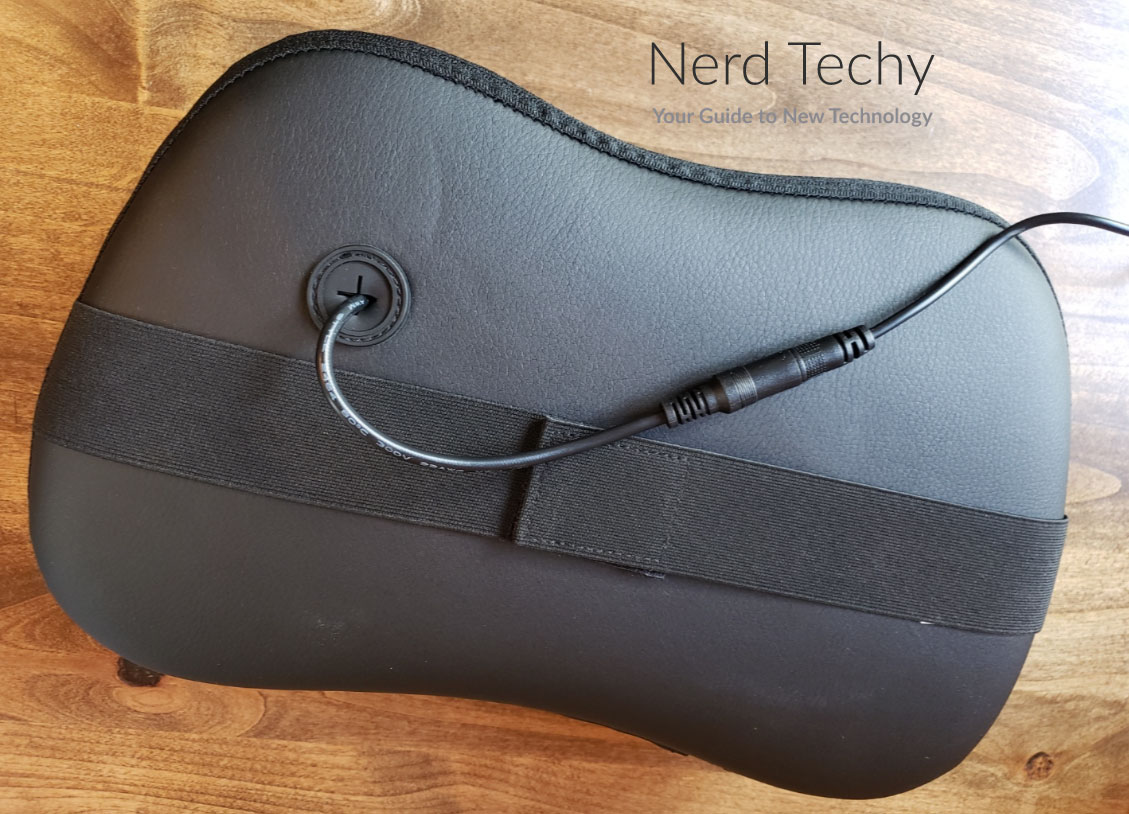 Power Supply
At full power, this is a surprisingly strong massager. So in a way, it should come as no surprise that it doesn't run on a battery. Instead, you'll need to have it plugged in for it to work. This is a bit annoying, but the cord is nice and long, so you shouldn't have any issues reaching the closest outlet.
The power supply itself is proprietary, and plugs into the bottom right edge of the pillow. This was a little bit more concerning, because it's not a universal design. If you lose your cable or it gets damaged, you won't be able to buy a replacement anywhere else. You'll have to contact ALLJOY and hope they still manufacture a replacement. On the plus side, it's reasonably well designed, and won't come out easily by accident. In addition, the 2-year warranty will cover any replacement needed in the first 24 months of ownership. Simple contact help@alljoy.com for assistance.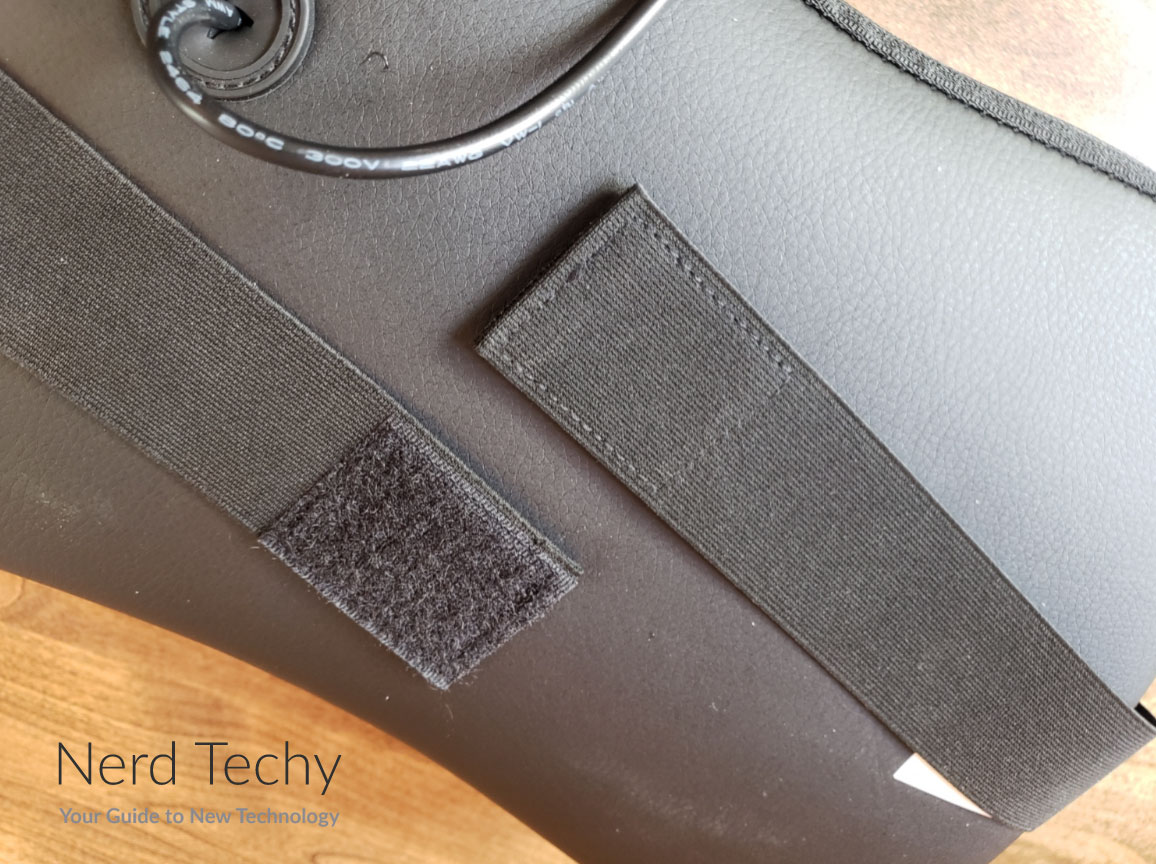 To help save power, as well as for safety, there's an auto-shutoff function. If the motors keep running for 20 minutes, they'll automatically shut down. Don't worry. You can always just turn them back on again if you want to.
As you can see, this is a well-engineered mini massager. But what if you want something a little bit bigger? If that's what you need, check out the AllJoy U Neck G1 Neck and Shoulder Massager. It's a wide massager with built in arm straps. You can wear it over your back when you're sitting in a chair, or lounging on the sofa.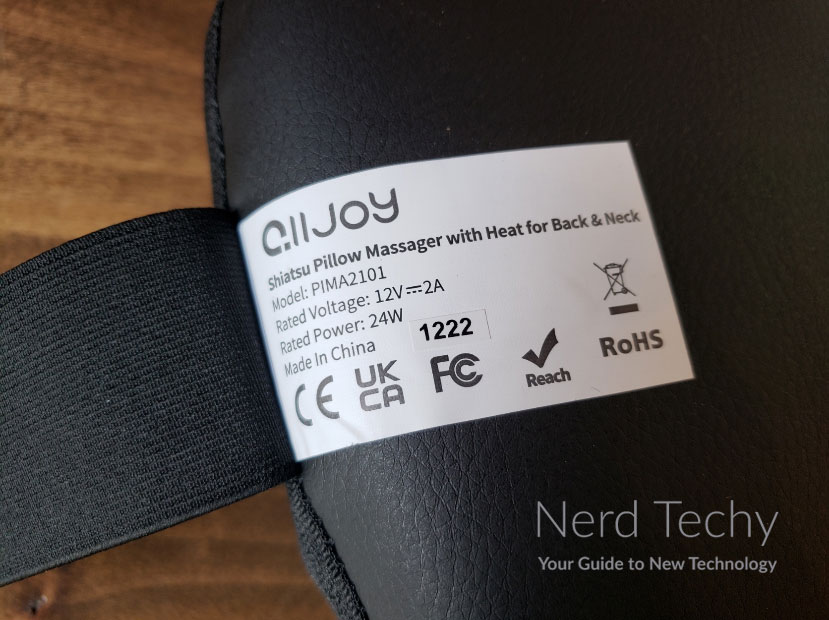 Benefits of Massage
Of course, all of this begs the question of why you'd want a massager in the first place. What exactly are the benefits? We've already talked about relieving stress and stiffness. But pain relief is another major benefit of using a home massager.
The reason for this is that muscle inflammation can actually make pain worse. That's why there's an entire class of pain relievers called non-steroidal anti-inflammation drugs. Massage relieves pain in a similar way, by reducing inflammation in the surrounding tissue. Moreover, tight muscles themselves can put stress on your skeleton. If your spine or shoulders are out of whack, you're likely to feel some pain. Relieve the tightness, and that pain goes away.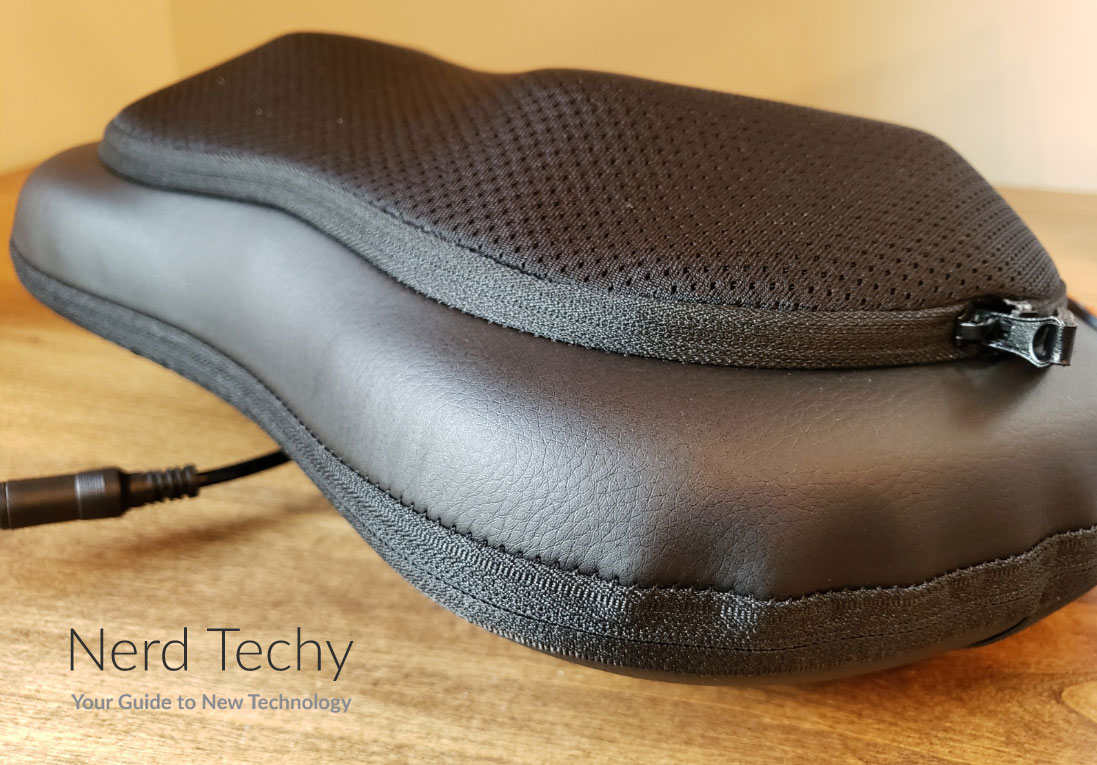 Massage can also improve your blood flow. In fact, this is the reason it's good for reducing inflammation. More blood brings more nutrients to inflamed tissue, helping it to heal faster. Meanwhile, inflammation-causing chemicals like lactic acid are flushed out of the tissue. Heat is another great way to improve circulation, which is why it works so well in combination with massage.
Finally, we shouldn't discount the benefits of general relaxation. A good massage can help you fall asleep, or even be part of your after work routine. It's also a popular tool for post-workout recovery.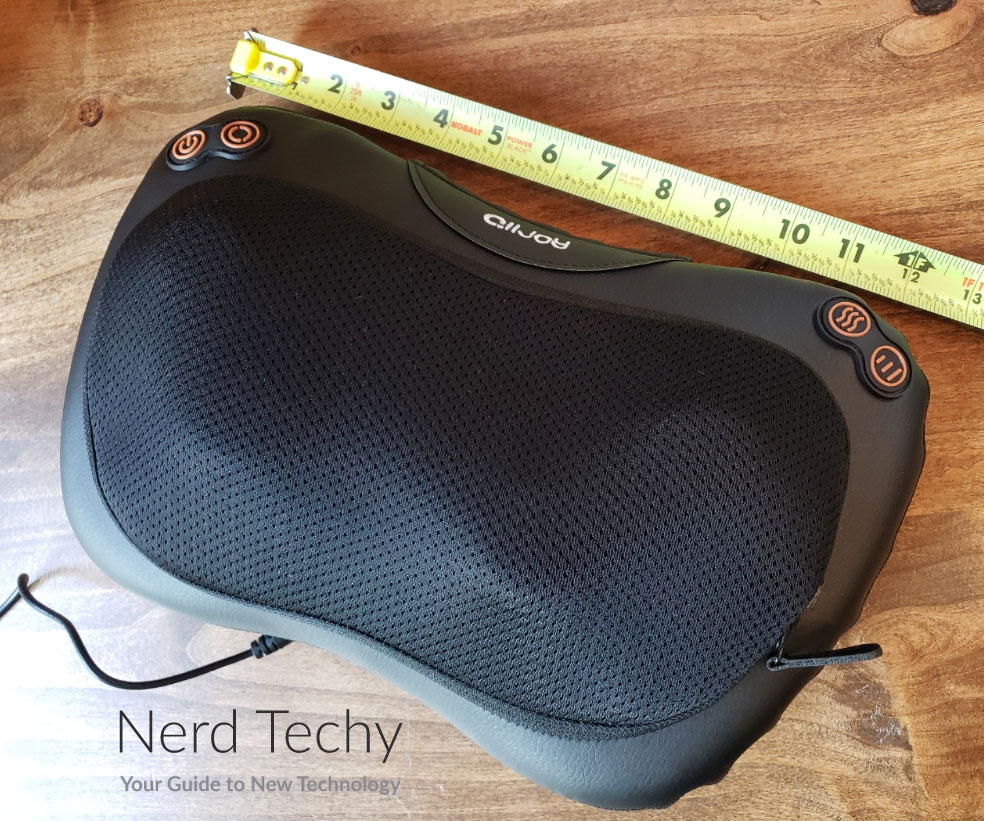 Final Verdict
The ALLJOY Shiatsu Massager Pillow is a compact, portable massager that's also comfortable and ergonomic. It's easy to control, with rubber buttons that are a breeze to work with your fingers. And with its removable front cover, it's simple to keep clean. Combine that with multiple motor settings and a well-designed heat function, and there's a lot to like here.