For the past two decades, three companies have dominated the console gaming landscape. If you want the best performance, bar none, Sony's PlayStation consoles have been at the top of the class. If you want the best connectivity and online play, Microsoft's Xbox consoles have been the best. With the latest generation of consoles, this distinction has started to blur. But Nintendo remains unique by pushing innovative new console designs. The Nintendo 64 debuted a unique, three-handle controller that was not exactly a hit. They returned to a more traditional design with the GameCube, before releasing the Wii. With its wireless, motion-detecting controllers, the Wii was one of the most popular consoles of all time.
Nintendo's latest console, the Switch, is equally innovative. Its name refers to its ability to switch between using it as a traditional console and a handheld game device. You can even use it as a tabletop game system, with the controllers in your hands. Because of this, it's become popular with gamers of all stripes, particularly those who like to travel. In the past, we've reviewed several Nintendo Switch accessories, including fast chargers, replacement docks, and wall mounts.
These are all great accessories, but with the exception of fast chargers, they won't help you on the road. A car seat headrest mount, on the other hand, will help you keep your kids entertained during a road trip. This isn't just good for them. It's good for you. Instead of an endless refrain of "Are we there yet?", you'll be able to enjoy the ride in blissful quiet. With the Switch's battery, you can keep the kiddies quiet for as long as nine hours, depending on the game.
Today, we'll be reviewing three of these car seat headrest mounts. First, we'll review the TFY Car Headrest Mount Silicon Holder. This is a soft, flexible mount that wraps gently around your headrest. Next, we'll look at the FYOUNG Car Headrest Mount. This is a hard plastic mount that sports an impressive, 360-degree hinge. Finally, we'll check out the FYOUNG Stand Holder This is a two piece mount that also doubles as a tabletop stand. We'll take a detailed look at each of these, and examine all of their features. After that, we'll sum up what we've learned, and render a final verdict. Let's get started!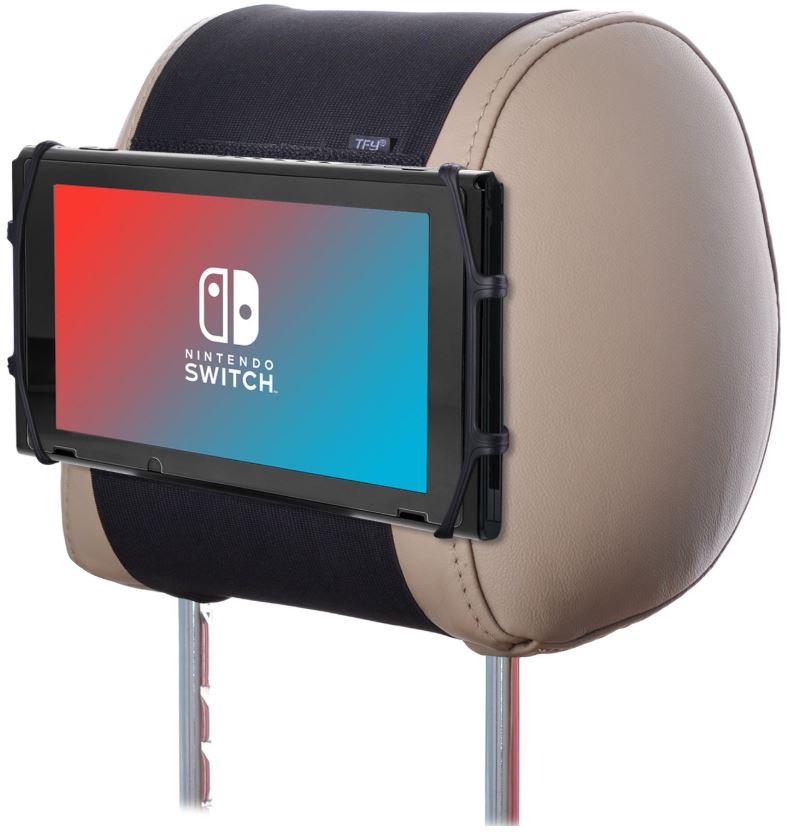 TFY Car Headrest Mount Silicon Holder
The TFY Car Headrest Mount Silicon Holder is unique on our list because it's a soft mount, not a hard mount. It consists of two parts: a wide elastic band, and a silicon holding net. The band is easy to install. Simply wrap it around your headrest, between the two posts, and velcro the two ends together. Because it's elastic, it can fit a wide variety of car headrests, whether large or small. You don't have to worry about your headrest being too fat or too tall for installation. In addition, this design allows you to keep the headrest all the way down during use. If you're vertically challenged, you won't have to worry about keeping the headrest up too high.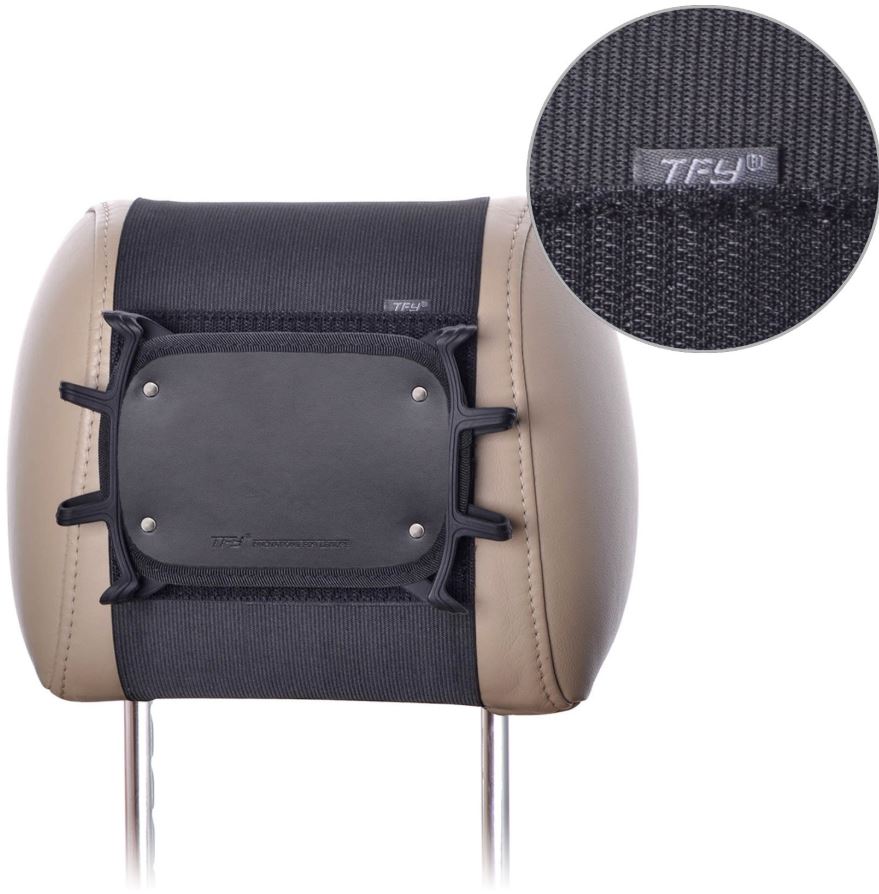 The holding net itself is soft and flexible. It's a simple black web that wraps around the edges of your Switch on the left and the right. It won't damage the edges of your Switch, or scratch the screen. Simply stretch it around your Switch, and you're ready to mount it. On the back of the net, there's a velcro pad for mounting. This corresponds to the velcro pad on the back of the elastic band. As a result, you'll need to be mindful during installation. When you mount the elastic band, make sure that the velcro pad is centered on the back of your headrest. Otherwise, you won't have anywhere to mount your Switch.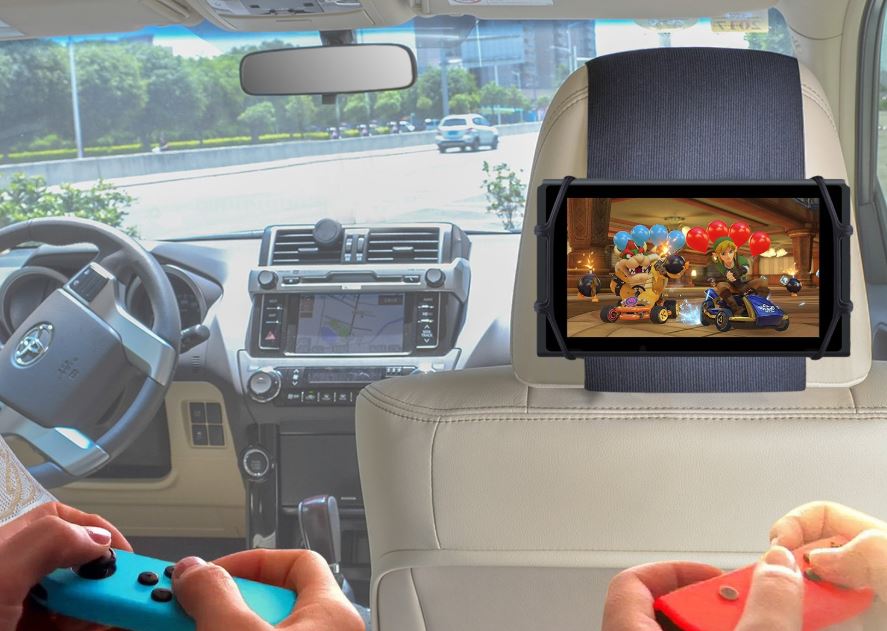 Because it supports your Switch from the sides, not from the top or bottom, the net won't obstruct the buttons. You'll still have complete control over your game system, without having to unmount it for operation. Keep in mind, though, that you'll have to keep the controllers disconnected during installation. Your kids will have to use the controllers in the handheld mode in order for this mount to work. Honestly, that's probably a good thing. After all, the alternative would be for them to be jiggling your headset as they play their games.
Other Uses
The silicon holding net is very flexible, and can stretch to fit a variety of devices. In all, it can safely support devices with a diagonal measurement of 7 to 10.5 inches. As a result, you're not limited to using it for a Nintendo Switch. You can also use it for the vast majority of tablets on the market. This includes two of the most popular tablets, the iPad 7 and the iPad Pro. This makes it ideal for even the longest road trips. You can keep your kids entertained with a movie, even after the Switch's battery has died.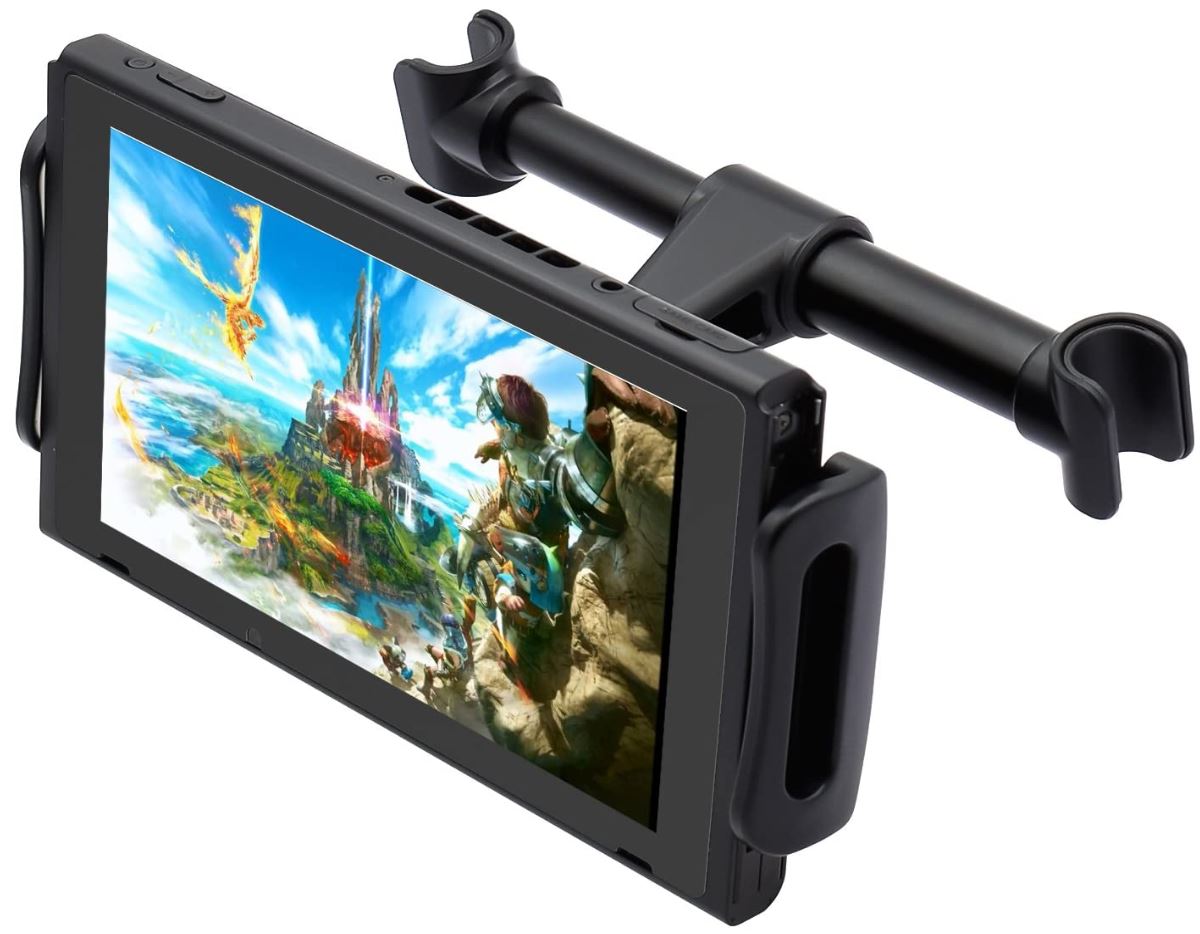 FYOUNG Car Headrest Mount
The FYOUNG Car Headrest Mount, by contrast, is a hard plastic mount. The main body of the mount is constructed from ABS plastic, which is sturdy enough for most purposes. That said, it does protrude into the rear passenger compartment. So if you're loading your car with large objects, you may want to remove it to avoid any damage. It's available in black or white, so you can choose the color that best matches your car interior.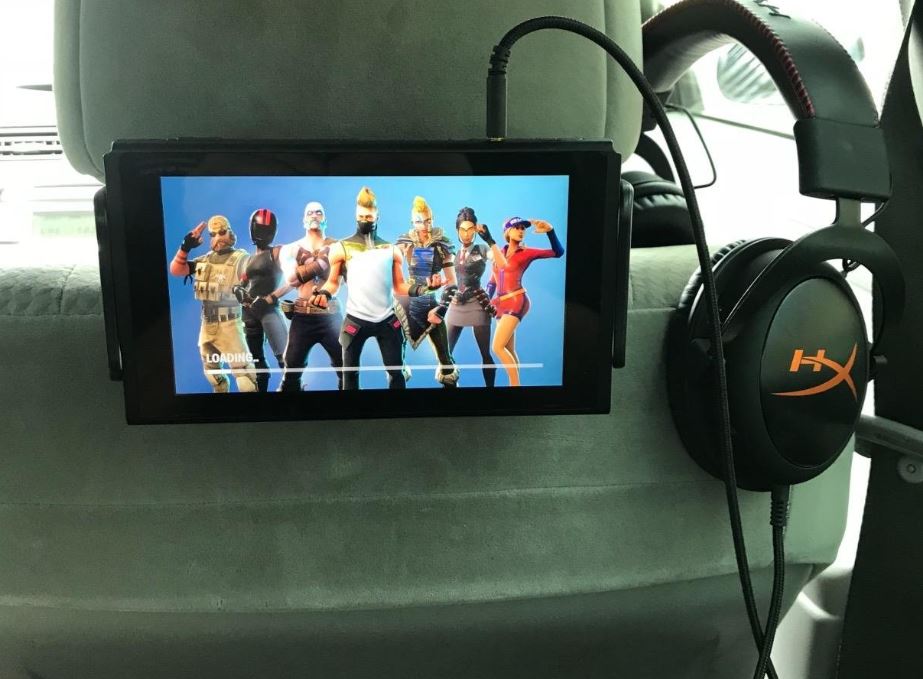 The bracket itself is spring-loaded. It consists of a bar with two claw-shaped ends, which are designed to wrap around your headrest's support posts. It can adjust from 5.3 to 6.9 inches, so it will fit almost any car headrest. Simply press the bar shut, put one end on one support post, and let the other end extend to the other post. The bar is reinforced with a premium aluminum alloy, which makes it more durable than it appears. Once it's been installed, it's not going anywhere unless you want it to. Keep in mind, though, that this design requires the headrest to be raised at least slightly.
Your Switch is supported in a pair of mounting clamps, which are padded with an anti-scratch silicone. Open the clamp, insert your Switch, and you can rest assured that it will be safely retained. The mounting clamp assembly attaches to the mounting brackets with a 360-degree hinge. This provides a variety of benefits. The first and most obvious benefit is that it allows you to angle the screen for two kids. But it also allows for a more comfortable viewing angle if your headrest is oddly oriented. Finally, it allows for horizontal or vertical orientations. This might not be useful for the Switch, but it's useful for other devices, such as a tablet.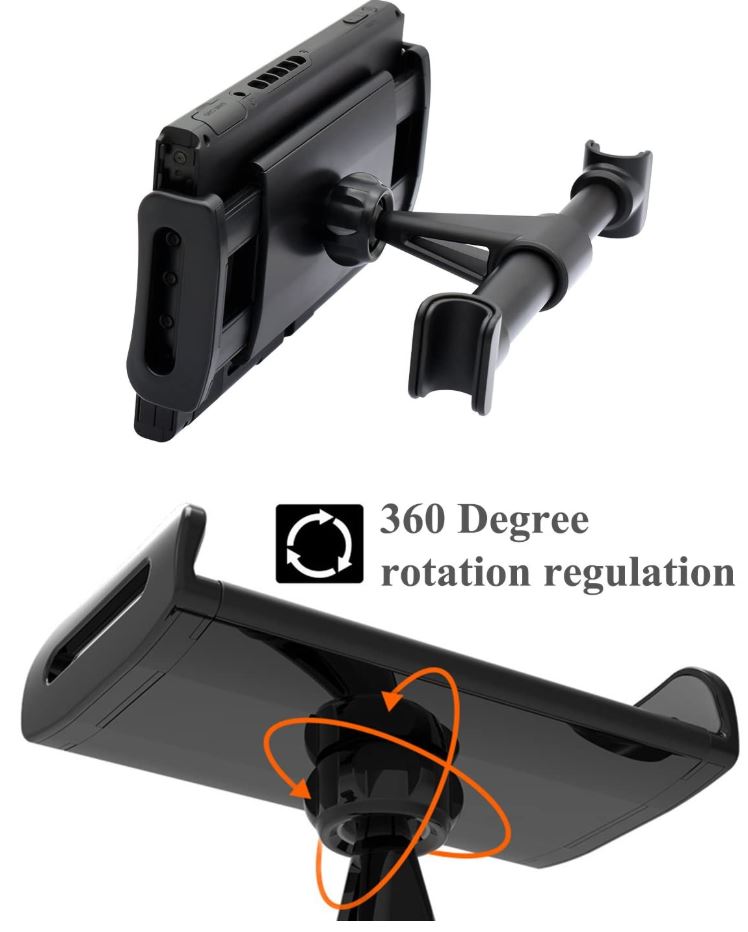 Along with the mount itself, you get FYOUNG's 12-month manufacturer's warranty. You also get a 45-day no-questions-asked guarantee. If you're not satisfied with the mount, you can simply send it back for a full refund.
Other Uses
The mounting clamps will adjust from 4.8 to 8.3 inches in width. As a result of this flexible design, they can hold a variety of devices, not just your Nintendo Switch. As a matter of fact, you can mount a phone that's as small as four inches on the diagonal. This is exceptionally small, smaller than almost any smartphone on the market. On the flip side, you can mount up to an 11-inch tablet. This is a fairly large tablet, larger than most. In other words, your kids can enjoy movies and shows on pretty much any screen. Don't have your Switch with you on a grocery run? Set up your smartphone with some YouTube videos, and your kids will still be entertained.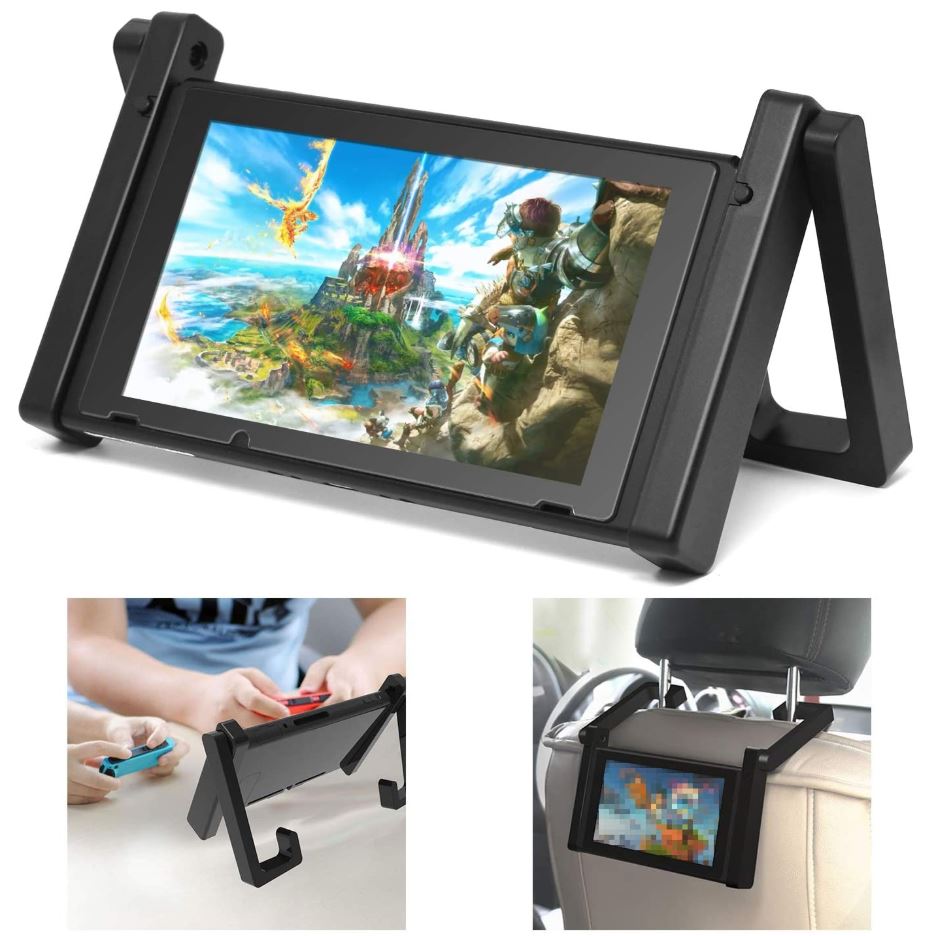 FYOUNG Stand Holder
The FYOUNG Stand Holder isn't a single-piece unit like the FYOUNG Car Headrest Mount. It's a two-piece unit, with a different attachment for each side. The attachments clip into the Switch's controller attachment slots, just as you would attach the controllers. Needless to say, this means the controllers will need to remain detached during operation. A pair of simple release buttons allow for easy detachment when you're done using the mount.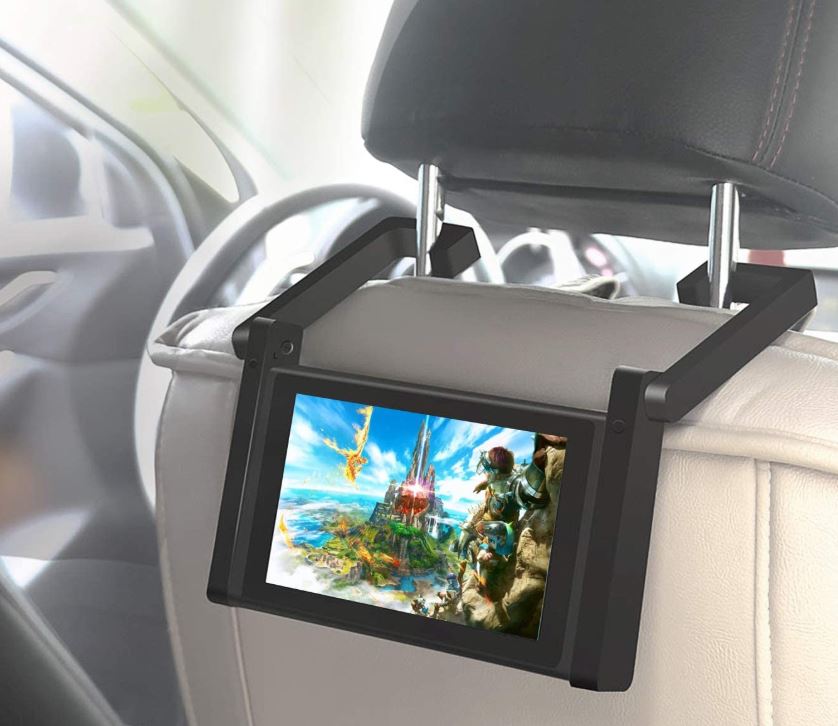 Each clamp is constructed from sturdy ABS plastic, so they're not going to break easily. They sport a pair of hooks at the top, which are designed to loop over your headrest's support posts. This makes installation quick and painless. Simply hook the mount over your support posts, and you're ready to go. The hooks can be mounted on headrests with a post to post width of 6.25 to 7 inches. This covers the vast majority of automotive headrests in existence.
That said, this design does come with its own downsides. For one thing, it's not adjustable. It's going to hang where it's going to hang. You can't adjust the angle for comfort or ergonomics. For another thing, as with the last mount we looked at, you'll need to have your headrest raised. This can pose a safety risk for shorter individuals.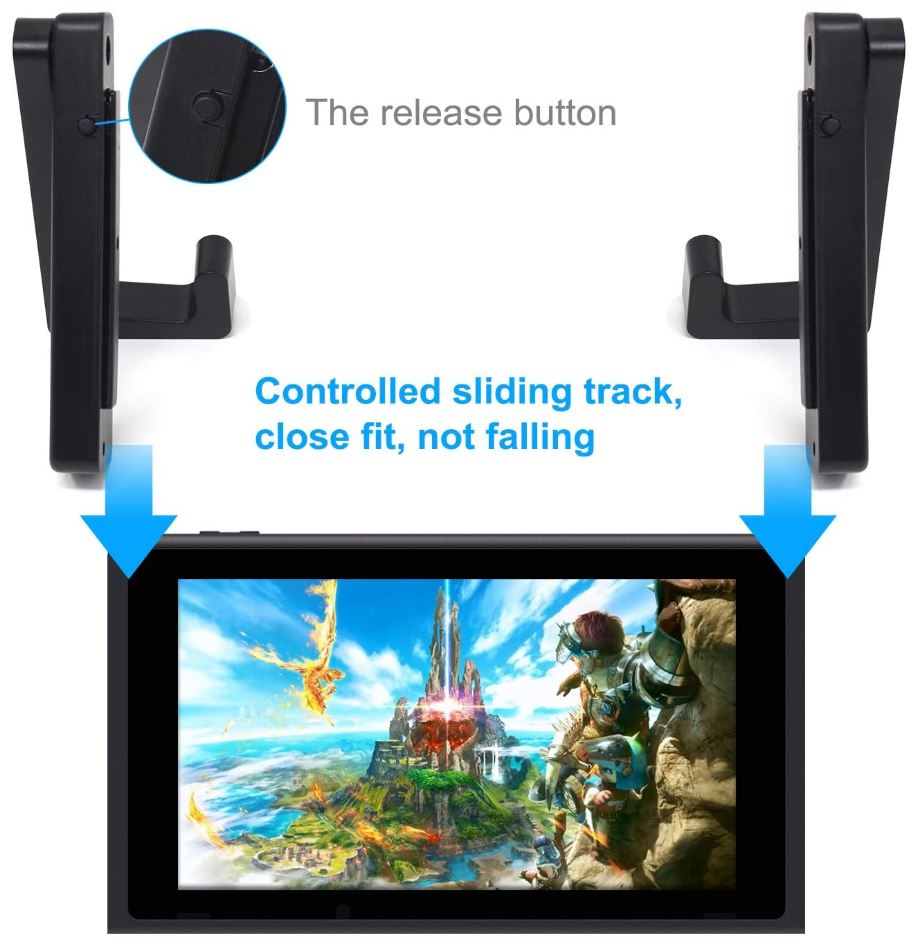 The FYOUNG Stand Holder comes with the same warranty and guarantee as their headrest mount. You get the 12-month manufacturer's warranty, along with a 45-day no-questions-asked return window. For what it's worth, both mounts also come with free lifetime technical support.
Other Uses
Because it uses proprietary clamps, the FYOUNG Stand Holder won't work with other devices, such as tablets. That said, it will provide one important function that the other headrest mounts won't. As its name implies, it doubles as a stand. This is a very useful feature once you get to your destination. If there's no TV your child can connect to, it's not going to be a problem. They can set their Switch on a table and keep on playing. To be fair, they could also do this without a stand. But with a stand, they get a better, more comfortable viewing angle. And the stand is adjustable, so it works regardless of your child's height or the height of the table.
Final Verdict
So, how do these car headrest mounts compare to each other? Let's take each of them in order, and summarize what we've learned. To begin with, the TFY Car Headrest Mount Silicon Holder is a great choice for permanent installation. Since it doesn't protrude into the car, you won't have to worry about damaging it. It's also a great choice for other devices, such as tablets. So when the kiddies are done gaming, you can throw on the latest Pixar movie and let them relax. Not only that, but the mount works with the headrest all the way down. If you're on the shorter side, this is a must-have feature.
By contrast, the FYOUNG Car Headrest Mount has a bit more robust construction. It clamps in between your headrest's support posts, with a spring-loaded, durable plastic frame. This means it's not ideal for shorter people, since the headrest will need to be up at least a little. On the other hand, it sports a 360-degree pivot. This makes it an excellent choice if you've got more than one kid. You can angle the screen slightly, so both of them can get in on the action. And like the TFY mount, it will accommodate a variety of devices, including smartphones and tablets.
The FYOUNG Stand Holder is a different animal altogether. It's designed for quick, easy installation, since it simply hangs from your headrest support posts. You can install it in mere seconds, so it's a great choice for rental cars and day trips. That said, because of its proprietary grips, it will only support the Nintendo Switch, not other devices. On the other hand, it also doubles as a tabletop stand. So you can continue using it, even after you arrive at your destination.