A hundred years ago, the average person didn't own a single electronic device. If you lived in a well-to-do neighborhood, you might have electric lights or an old-timey telephone. Nowadays, we all rely on our electronics to get through daily life. Whether you're texting your friends, attending a Zoom meeting for work, or even ordering a pizza, you're using your phone. To help you stay powered up, we've reviewed several portable power banks over the years. For example, we've reviewed the MAXOAK AC10 Portable Charger, an exceptionally powerful travel charger.
But what if you need to do more than just charge your phone or your laptop? What if you need to charge a device via 120-volt AC power, or 12-volt DC? In that case, you're going to need something more potent than a humble power bank. The MAXOAK AC50 Power Station is one such device.
Now, portable power stations have been around for awhile. But most of them are the size of a guitar amplifier, not exactly practical for carrying around. The Bluetti MAXOAK AC50, on the other hand, is relatively compact. It's by no means small, so don't plan on taking it on a backpacking trip. But think of a portable stereo, and you're in the right ballpark. So how well does it perform? We're about to take a closer look. We'll go over the AC50's features, including the available power options and the strength of the battery. We'll also look at safety features, along with the design and bonus features. Let's get started!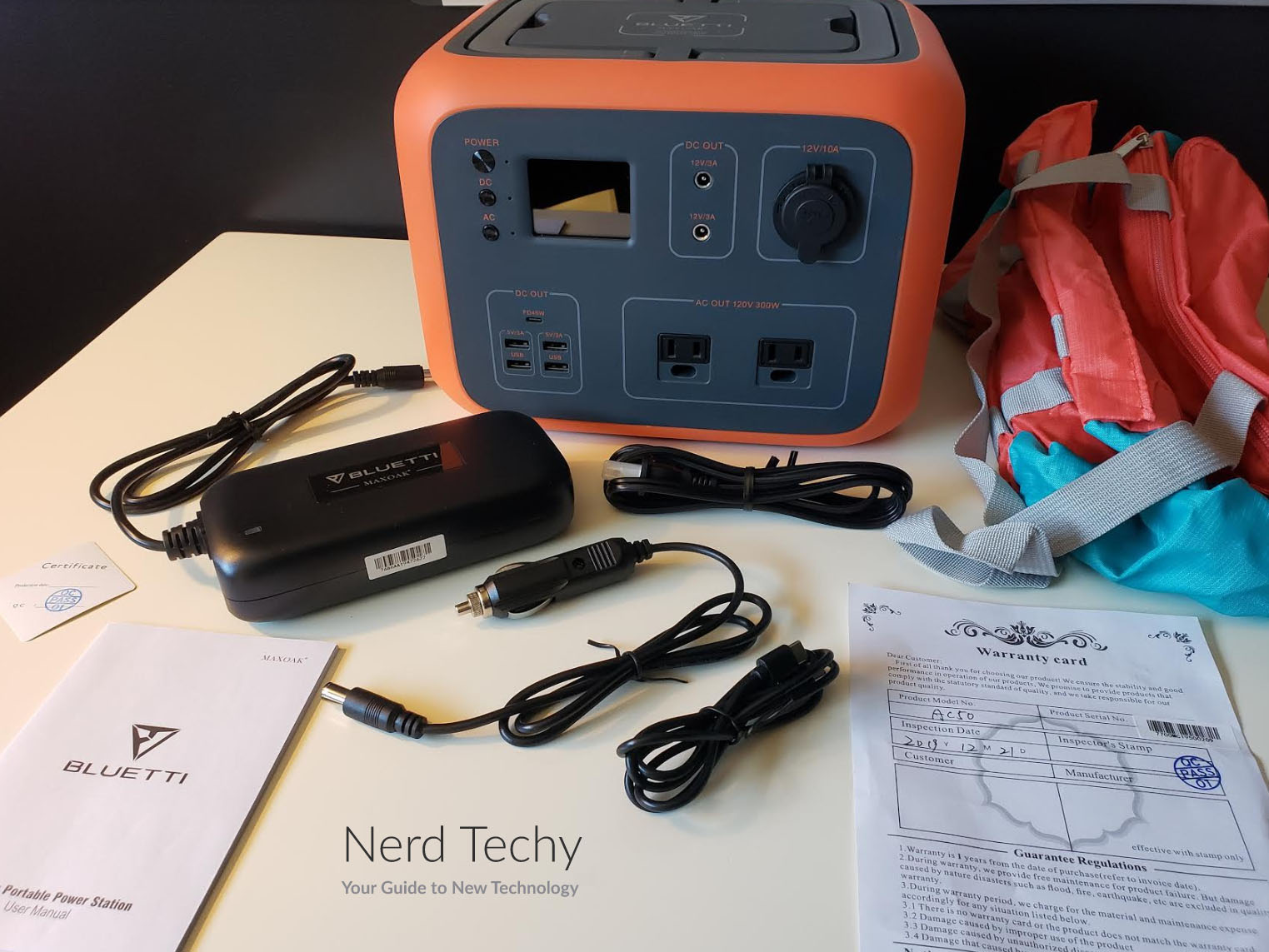 Overall Design
Let's start by talking about the MAXOAK AC50's physical design. It's constructed from grey plastic with an internal aluminum frame. The front, side, and top panels are black, which creates an attractive effect. The corners and edges are softly rounded, which doesn't just make it more durable. It also means that if you slam it into your leg, you won't get jabbed by a sharp corner. The overall dimensions are 11.6 inches wide, 7.5 inches tall, and 7.7 inches deep. It tips the scales at 13.2 pounds, which is a bit heavy. But considering all the features, it's still a reasonable weight. Moreover, a pair of foldable handles make the AC50 easier to carry than you might imagine.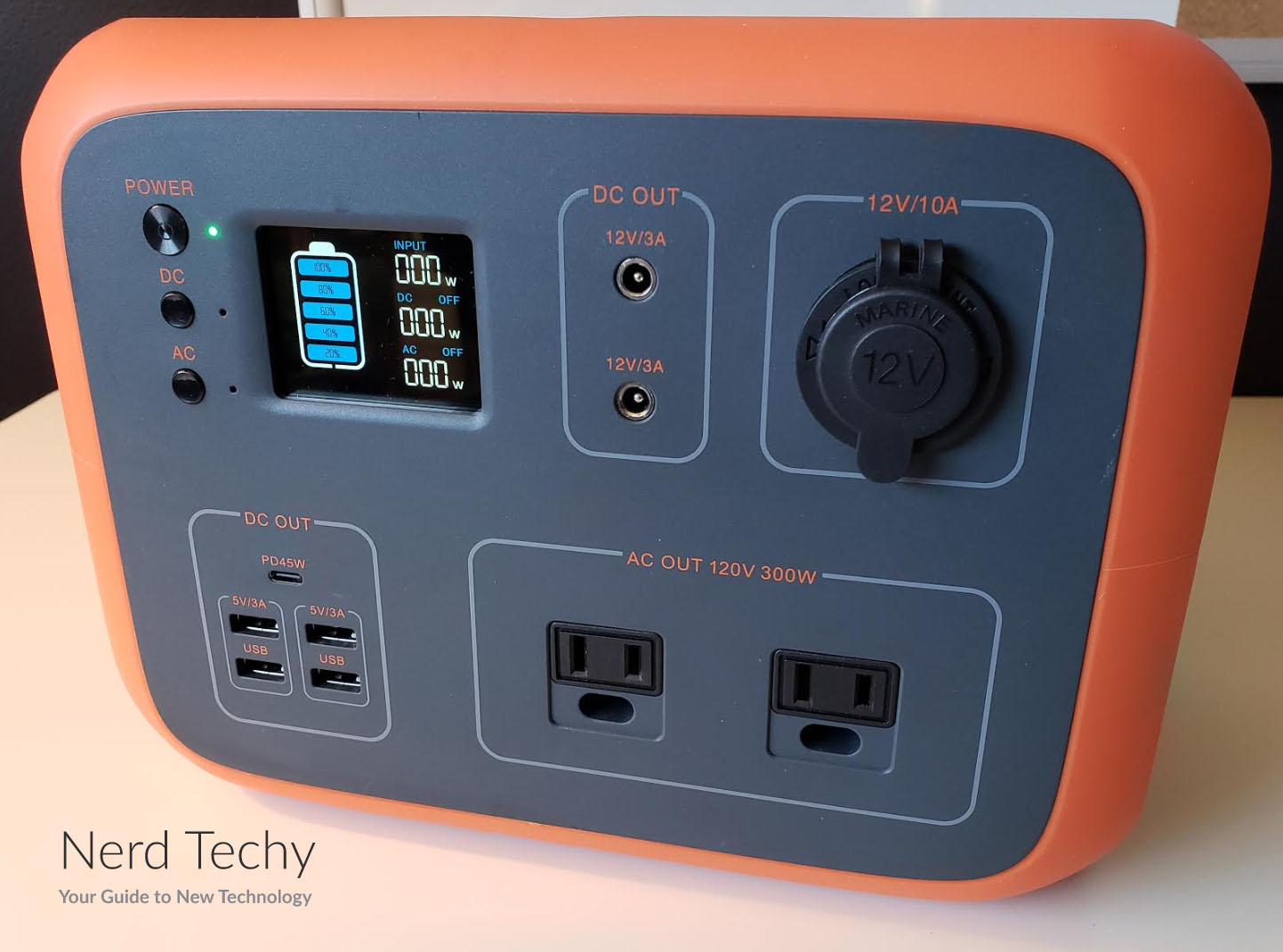 The construction is held together with a soft glue, and the case and battery are both flame retardant. This doesn't mean it's fireproof like a fireproof safe. But it's good enough to keep your battery safe if you're using it around a campfire. In addition, it doesn't make any noise during operation. Many larger power banks have fans for cooling, which can get irritating. But the AC50's vented side panels provide more than enough airflow for safety.
Use code "MAXOAK100" on Amazon.com for an additional 3% Off
The front panel houses all the power ports, as well as a few other features. At the top left, there's a set of three buttons, with the power button on top. The other two buttons allow you to activate DC and AC power ports respectively. Next to the buttons, there's a blue and white LCD display. This display primarily functions to indicate the state of the battery, with a five-bar battery meter. On the same display, though, you'll also see a set of wattage indicators. You'll see wattage for input, for AC output, and for DC output. This will help you keep track of the AC50's total power output, which we'll talk more about shortly.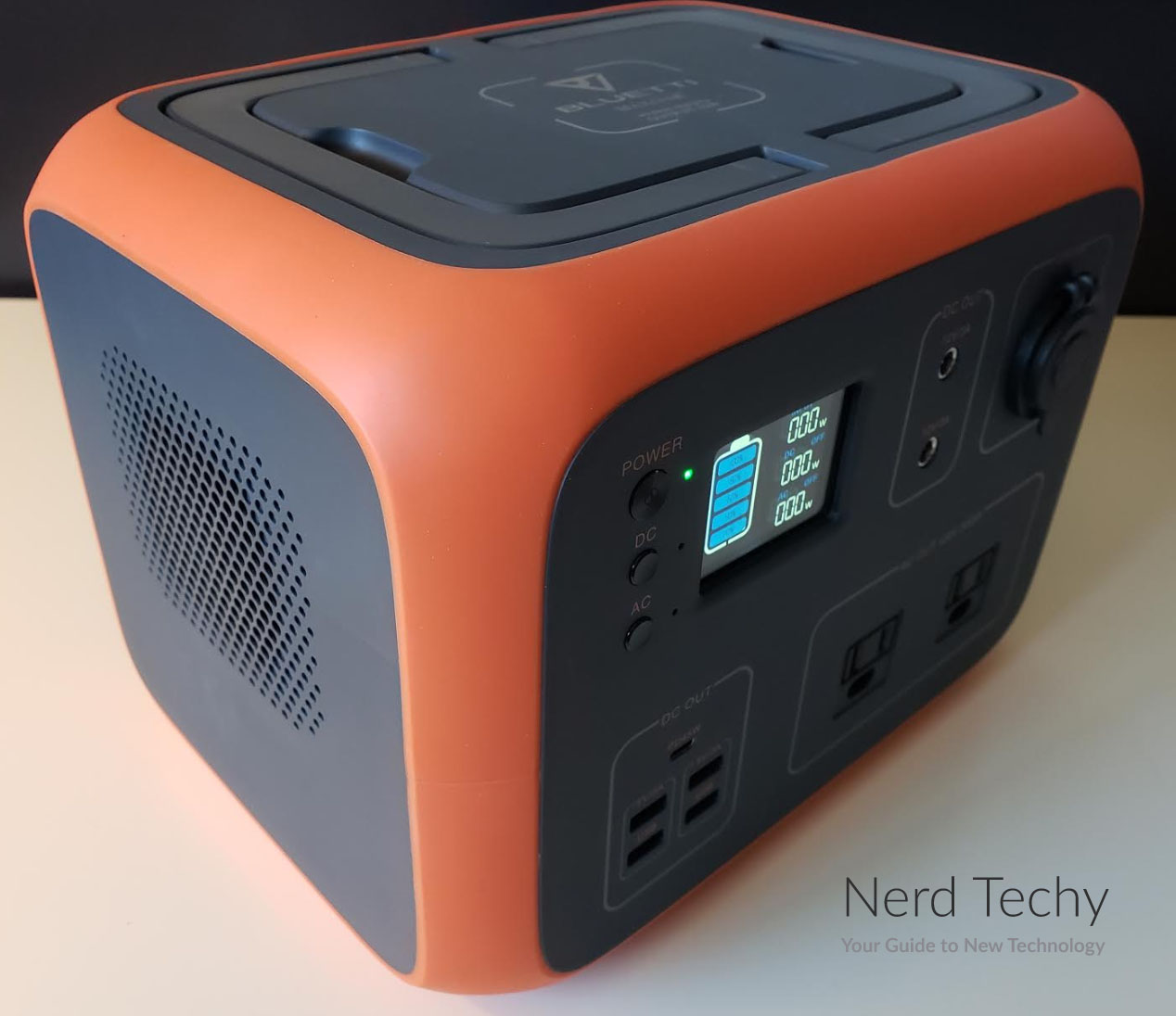 Next to the display, there are a pair of 12-volt, 3-amp DC power outputs. These are barrel-style plugs, useful for many older laptops and other devices. There's also a standard, automotive-style 12-volt, 9-amp DC outlet. Underneath, there's a pair of three-prong AC outlets. Both of these outlets supply a standard North American 120-volt power. Finally, at the bottom left, you'll see a set of USB power outlets. At the top, all by itself, you'll see a 45-watt USB Type-C PD charger. This is great for quickly topping off your smartphone. Keep in mind, though, that most USB Type-C laptops draw between 70 and 100 watts. As a result, you'll be better off simply plugging a laptop's AC adapter into one of the AC outlets. The four USB Type-A ports provide a standard 5-volt, 3-amp supply.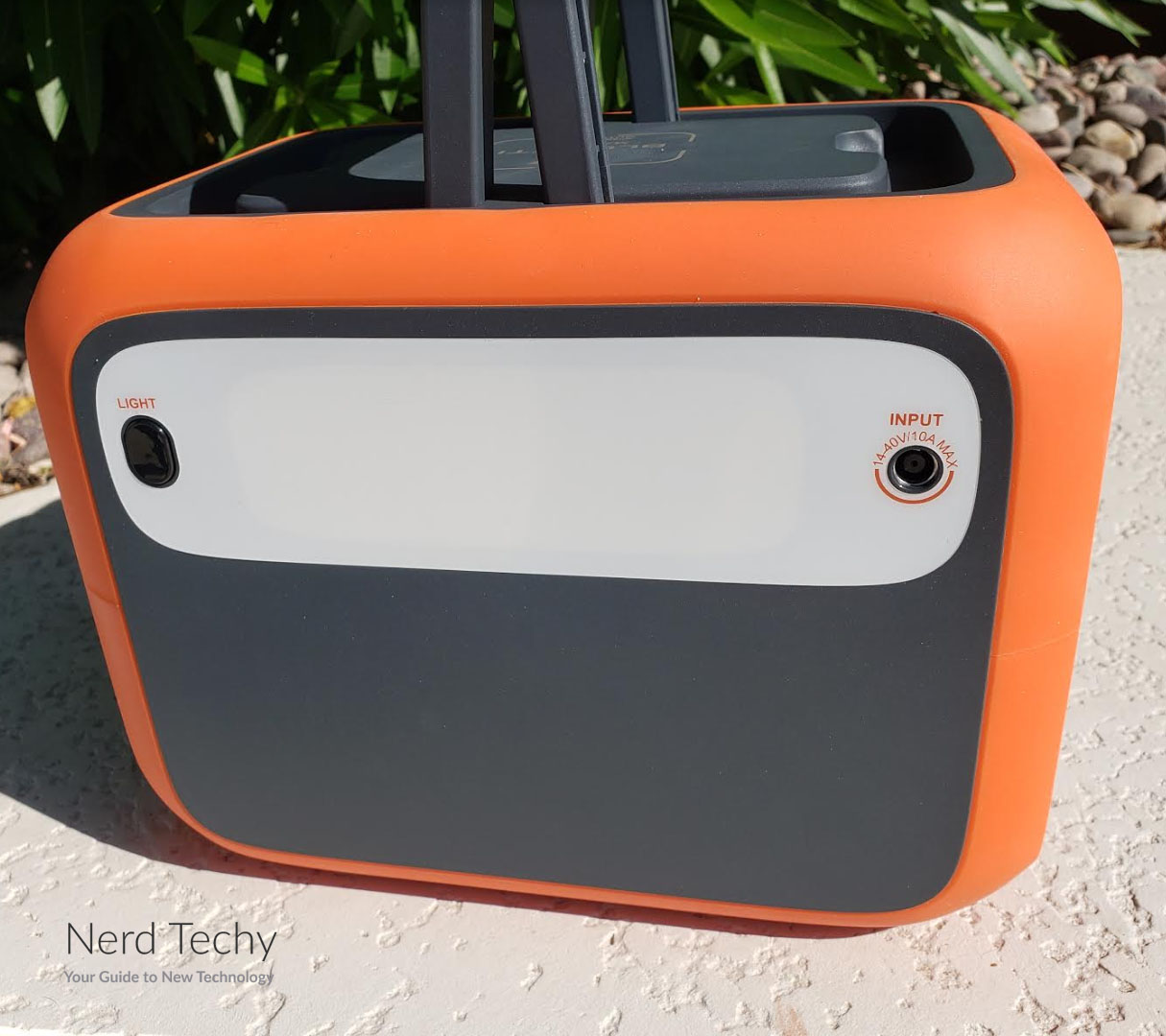 On the back side of the unit, you'll see an LED light bar. The bar is operated by a button in the left side of the light, and is exceptionally bright. You can use it to illuminate a large area, such as your backyard. If you don't need that much light, another push of the button will switch you over to half brightness. This is more suitable for lighting up a single room. A third push will switch you over to SOS mode. This mode operates at full brightness, and is a great way to signal for help if you're stranded.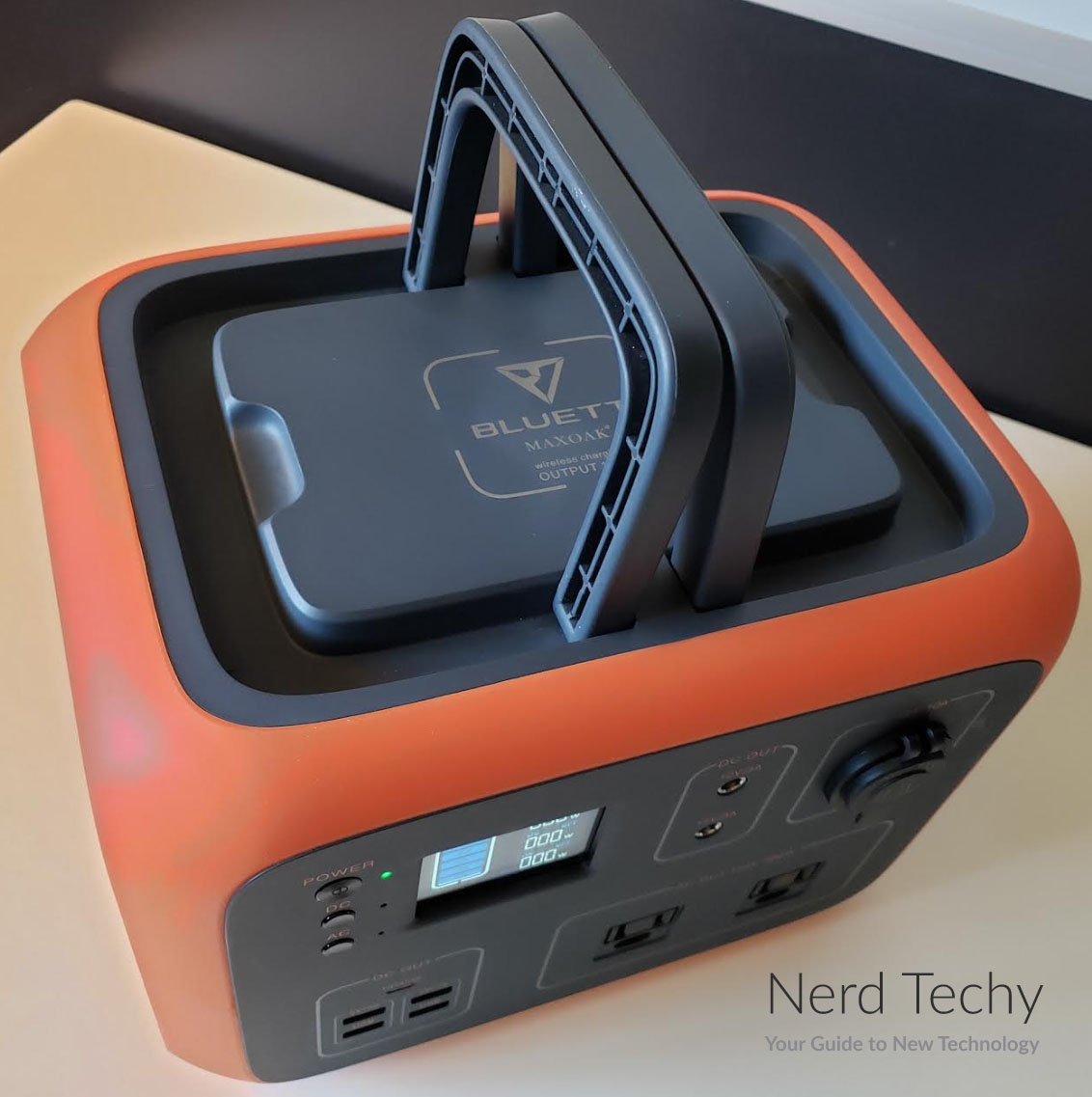 In the other side of the light bar, there's a power input port for charging the AC50's battery. It's a proprietary port, but there are a few cables included in the kit to help you out. First off, there's an AC adapter, as well as an adapter for a 12-volt automotive DC power port. There's also an MC4 connector, which allows you to charge from most solar panels. In addition, you get a USB Type-C cable for plugging in your smartphone or other USB Type-C device. Finally, you get a lightweight carrying bag. This isn't needed for carrying the AC50 itself, since there are already handles built in. But if you want to carry the entire kit, it's a handy extra.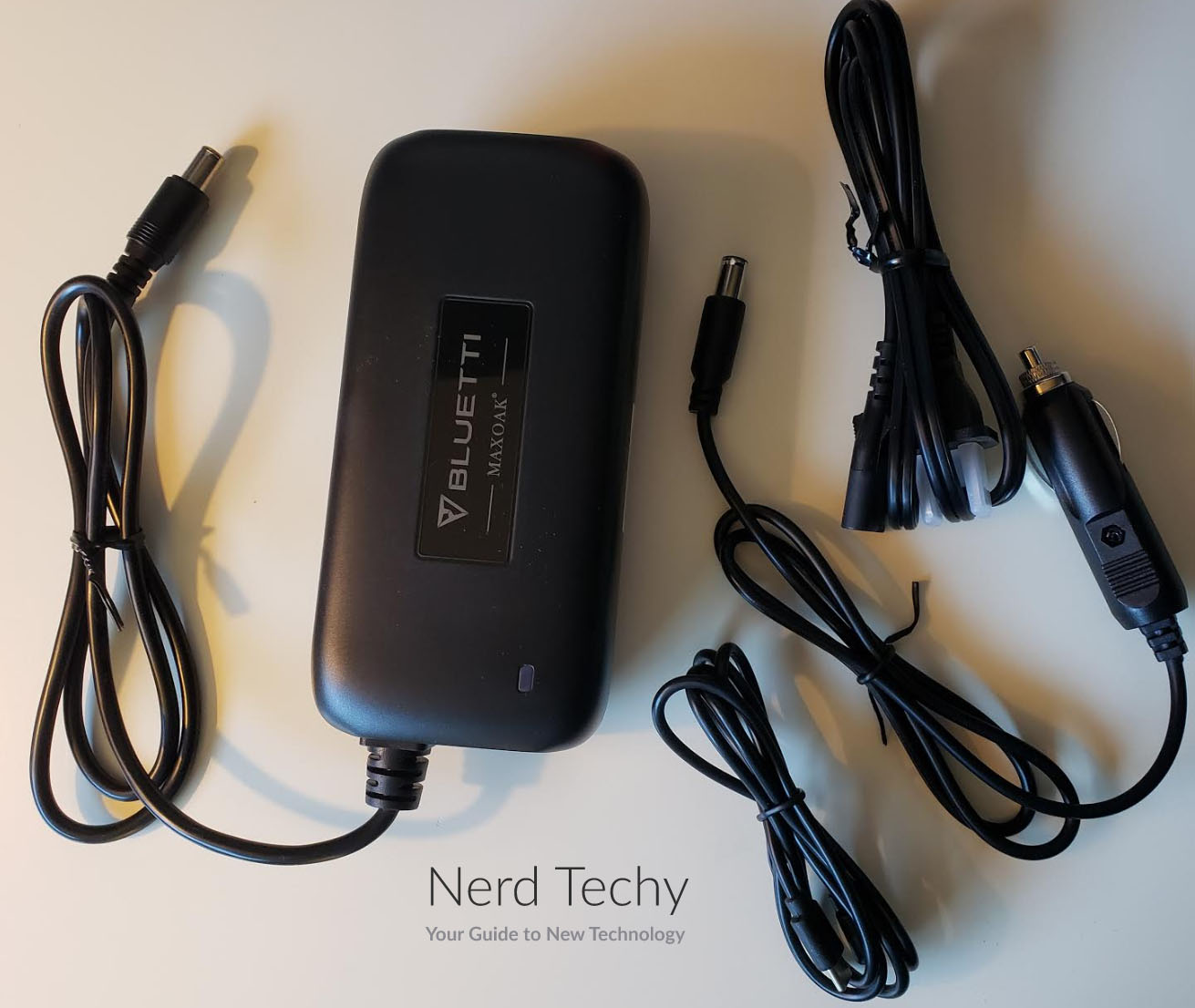 Battery Performance and Capacity
The Bluetti AC50's internal battery has an impressive 45,000mAh capacity. This ain't your daddy's power bank. You can charge an iPhone up to 36 times, or a MacBook one to five times depending on the size. You can charge a GoPro camera an unbelievable 80 times, so you'll never be out of juice. If you need a power pack that provides the maximum amount of power, you're looking at a solid choice. Unfortunately, this much capacity comes with a downside. Since the battery has a 500 watt-hour capacity, it's not TSA-approved for air travel. As a matter of fact, it's five times the allowable limit. Realistically, you would have to be insane to even try to fly with it – it's so big and heavy!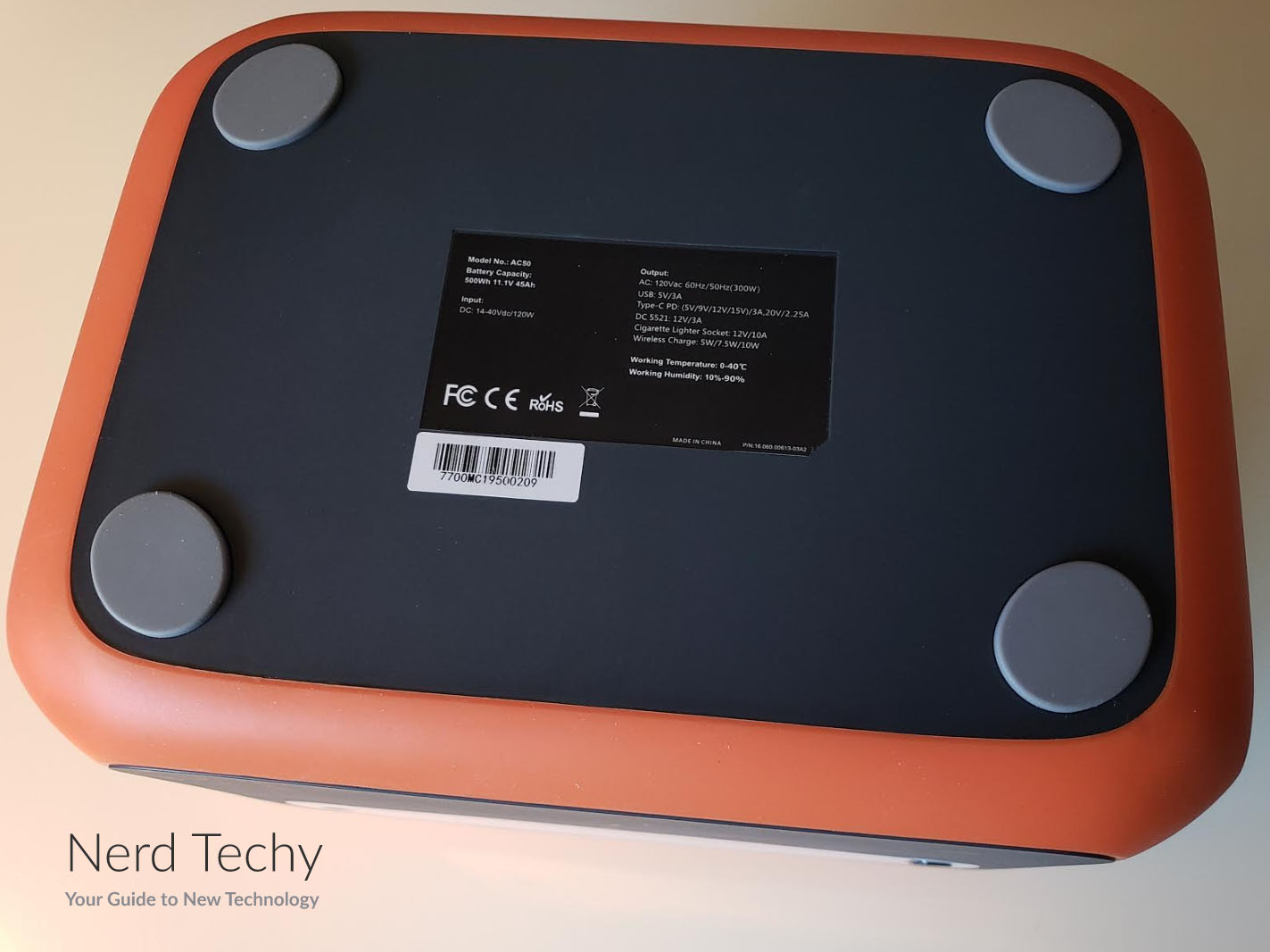 The overall max wattage is 300 watts. As a result, you won't be able to use all of the power ports simultaneously. That said, you'll be able to use several at once, depending on your devices. The wattage meter on the front panel makes this easy to keep track of. Moreover, the AC50 has a peak power limit of 450 watts, which it can sustain for two minutes. This is useful if you're running appliance that has a high startup power. For example, a fridge compressor is relatively low power, but has a high startup draw in the first second. Keep the two-minute limit in mind, though. If power draw exceeds 300 watts for longer than that, the AC50 will automatically shut off.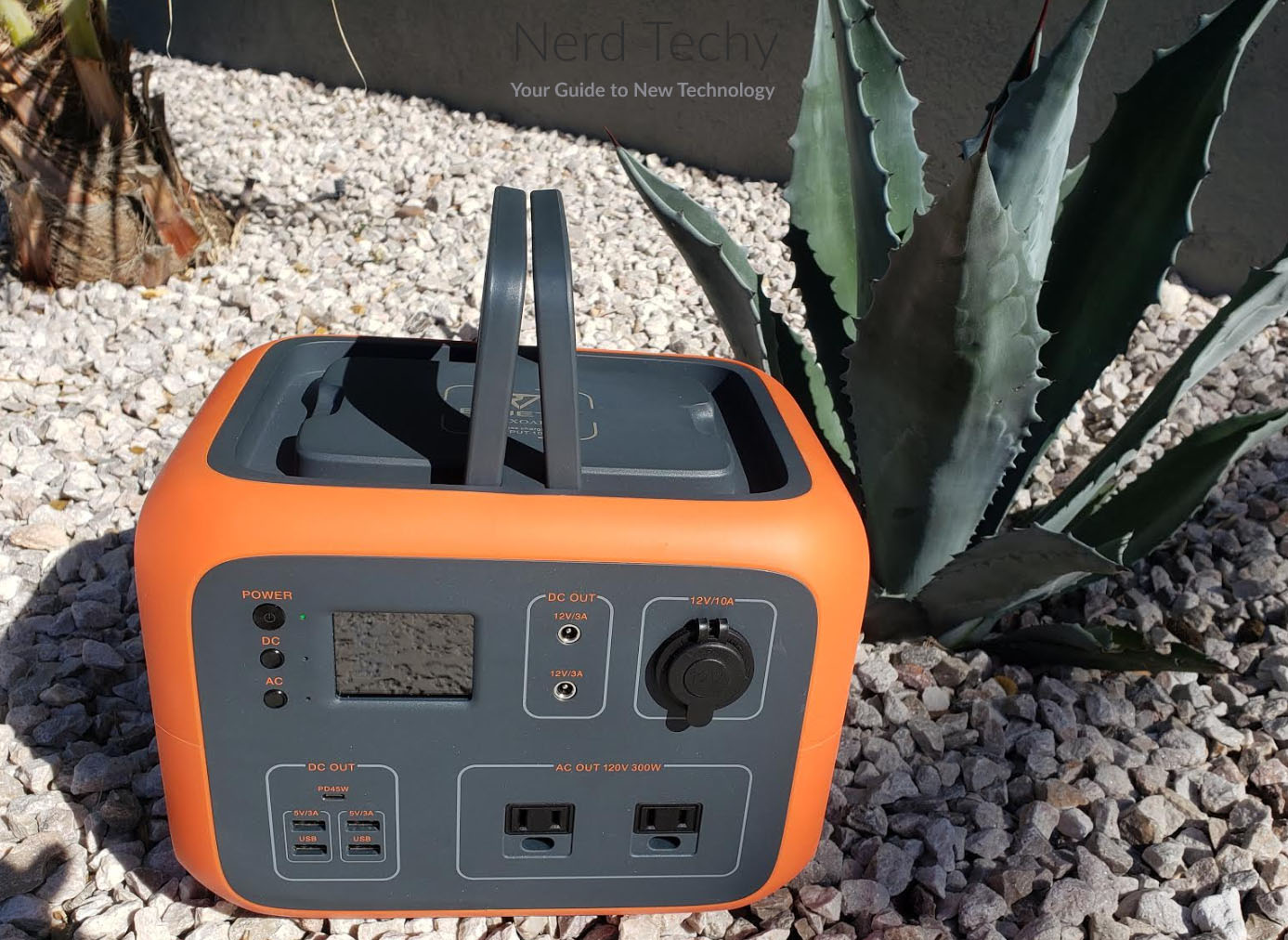 The length of time required to charge the battery will depend on what type of power supply you're using. Using a standard AC outlet, the AC50 will fully charge in about six to seven hours. A standard automotive 12-volt DC outlet will charge the battery to about 50 percent in four hours. However, it won't supply enough wattage to get a full charge. If you have a 24-volt DC power supply, you can fully charge the battery in about six hours. Using a 120-watt solar panel, you can theoretically recharge in about four hours. However, this can vary widely based on solar panel placement, the amount of sunlight, and other factors.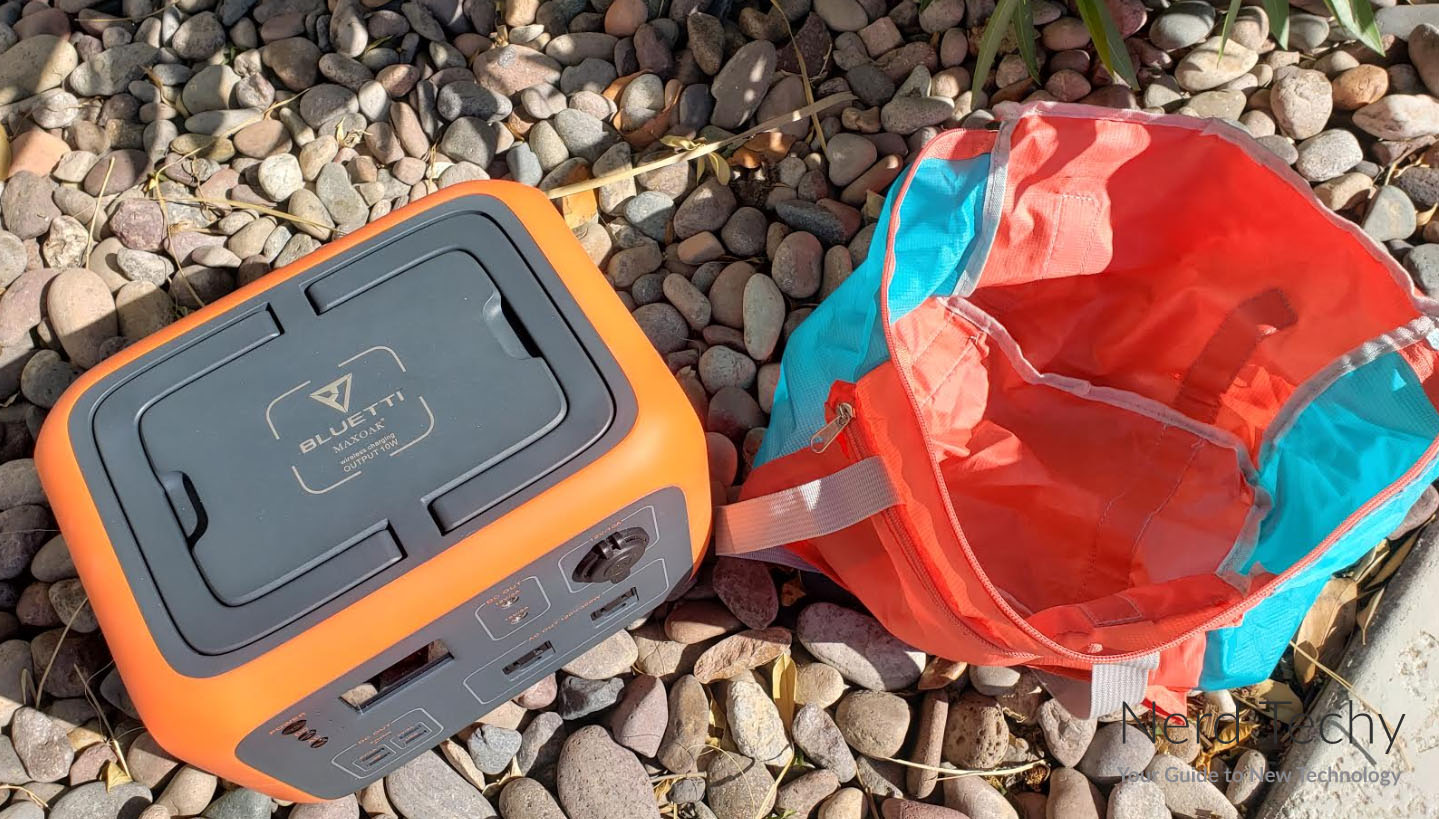 Regardless of your charging method, you can take advantage of pass-through charging. This means that the AC50 can be charged while it's in use. The effectiveness of this method will depend on your power supply and how much power you're drawing. Keep an eye on the wattage meter to see how you're doing.
Use code "MAXOAK100" on Amazon.com for an additional 3% Off
The battery itself is automotive-grade, which ensures longevity and safety. In total, you get a rated cycle life of 1,000. This is the number of times you should expect to use the battery before performance drops significantly. In other words, you can use the AC50 for years without needing a replacement. In addition, the charger offers voltage and current control to match the power supply to your devices. You get overvoltage protection, overcharge protection, short-circuit protection, and overheat protection, just as you'd expect from any modern power supply.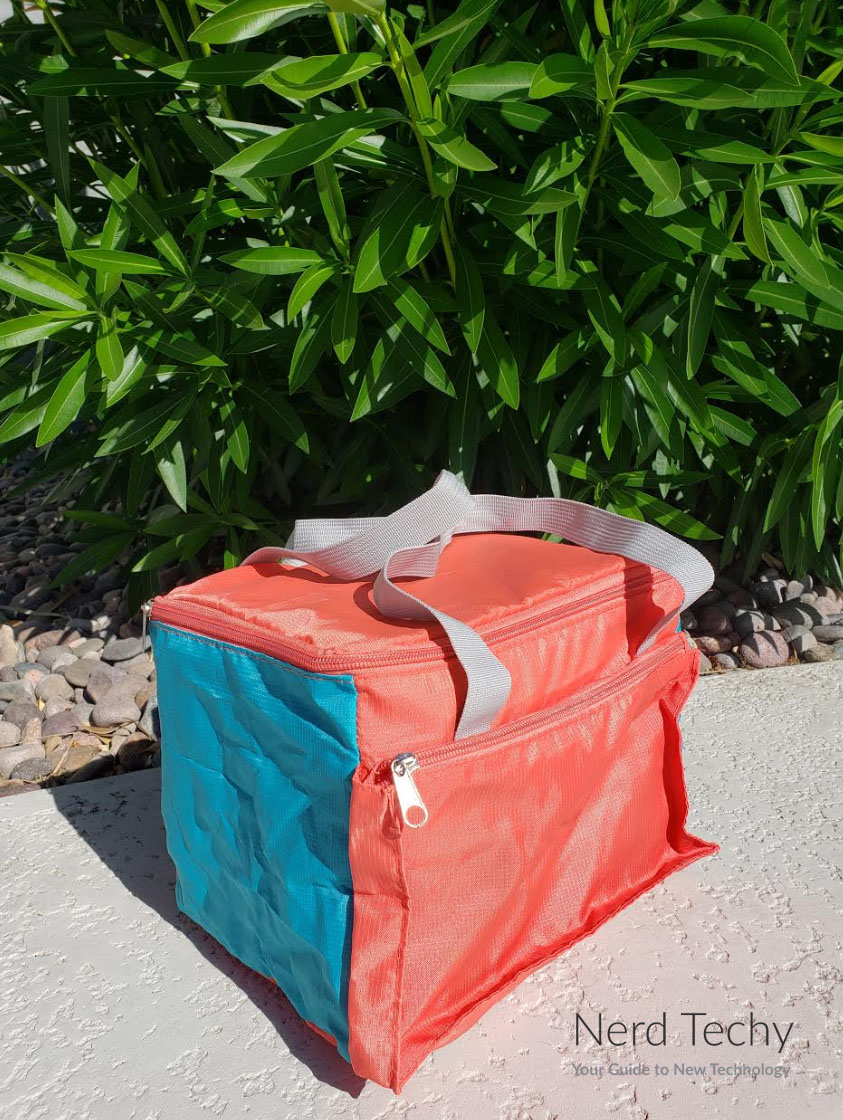 Compatibility
As you can imagine from the wide variety of power ports, the AC50 is compatible with just about any device. You can charge a phone, laptop, or GoPro several times. But you can do a whole lot more than that. Need to charge your tire pump? No problem. Run a car vacuum without an extension cord? You're covered. You can even run your RV's mini fridge if your power system has failed. Moreover, you won't have to worry about charging devices that use a non-standard power input. Since you've got a pair of standard AC outlets, you can easily charge anything that comes with an AC adapter.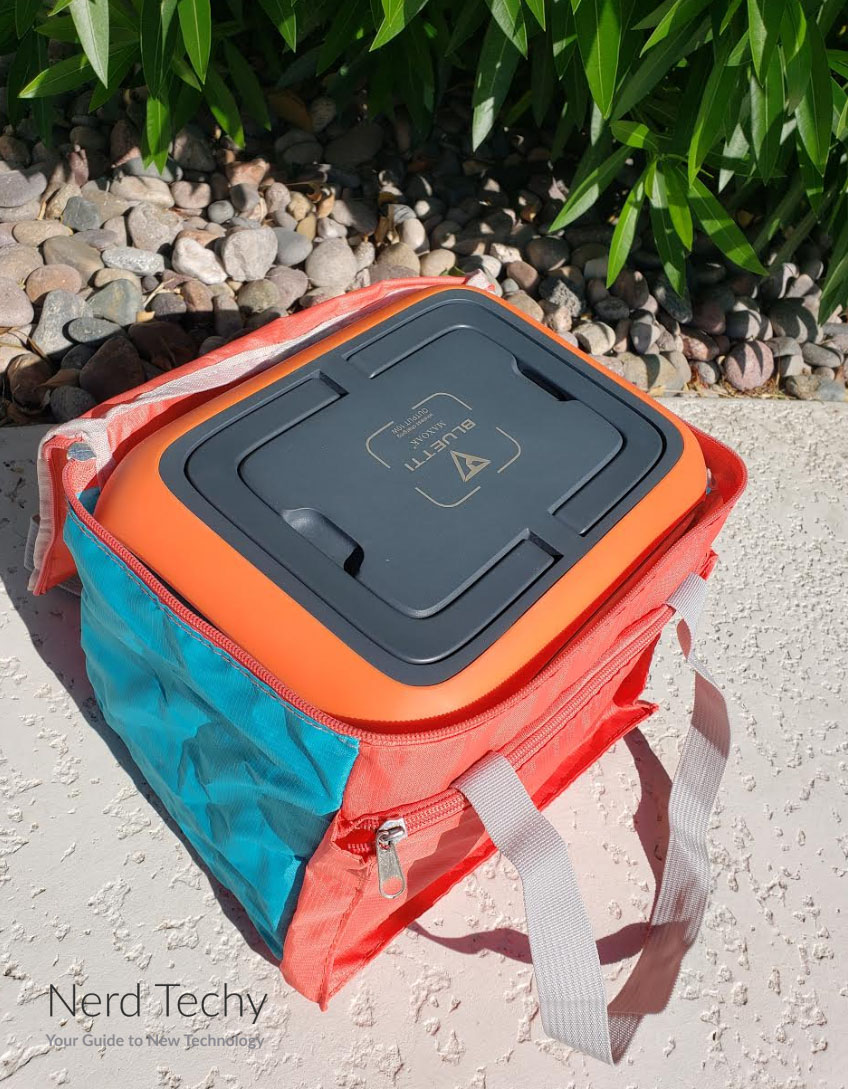 One feature that will be useful to many people is the ability to power a CPAP machine. If you need a CPAP to sleep – or just to breathe – a power outage can be a major health hazard. With an AC50 charger, you'll have an emergency power supply that keeps you breathing even when the power is out.
Final Verdict
So, is the MAXOAK AC50 Power Station worth your money? For most purposes, absolutely! It's exceptionally powerful, and makes a great emergency backup for your home. It's also a solid choice for RV enthusiasts, or even for camping. The only real drawback is that it's not suitable for air travel, unless you can get a waiver. But unless you're flying, there's no better power supply available on today's market.