Quick Analysis
Pros
Excellent heat dissipation.
Tempered glass panel for impact resistance.
Shadow-free and anti-glare.
IP66 waterproof rating.
LEDs rated to have a 50,000-hour lifespan.
Cons
Some reports of "fog" or moisture under the glass.
Home security is often one of the things that we tend to take for granted. If you live in a quiet, peaceful neighborhood you probably don't even give a second thought to exterior home security tactics. It can be challenging to understand just what you need to do to keep your home safe and protected from all circumstances. Outdoor floodlighting is perhaps one of the simplest forms of security that you can invest in. These lights provide safety and security and could potentially deter burglars and other unwanted activity near your home. Do you have floodlights for your home? If not, now might be the time to consider purchasing some.
Floodlights are not a new concept. They've been around for years and years. You can find motion floodlights, constant floodlights, and power-operated floodlights. Today, we will be talking about the Onforu LED security floodlights. These high-powered security lights use less electricity and are enhanced with bright LED lights that will last for 50,000+ hours. These are quality lights but they may not be the perfect choice for everyone. As we progress through this review, we will discuss the various features of these lights and take an in-depth look at the capacity, the capabilities, and installation features, and the anticipated lifespan of the lights.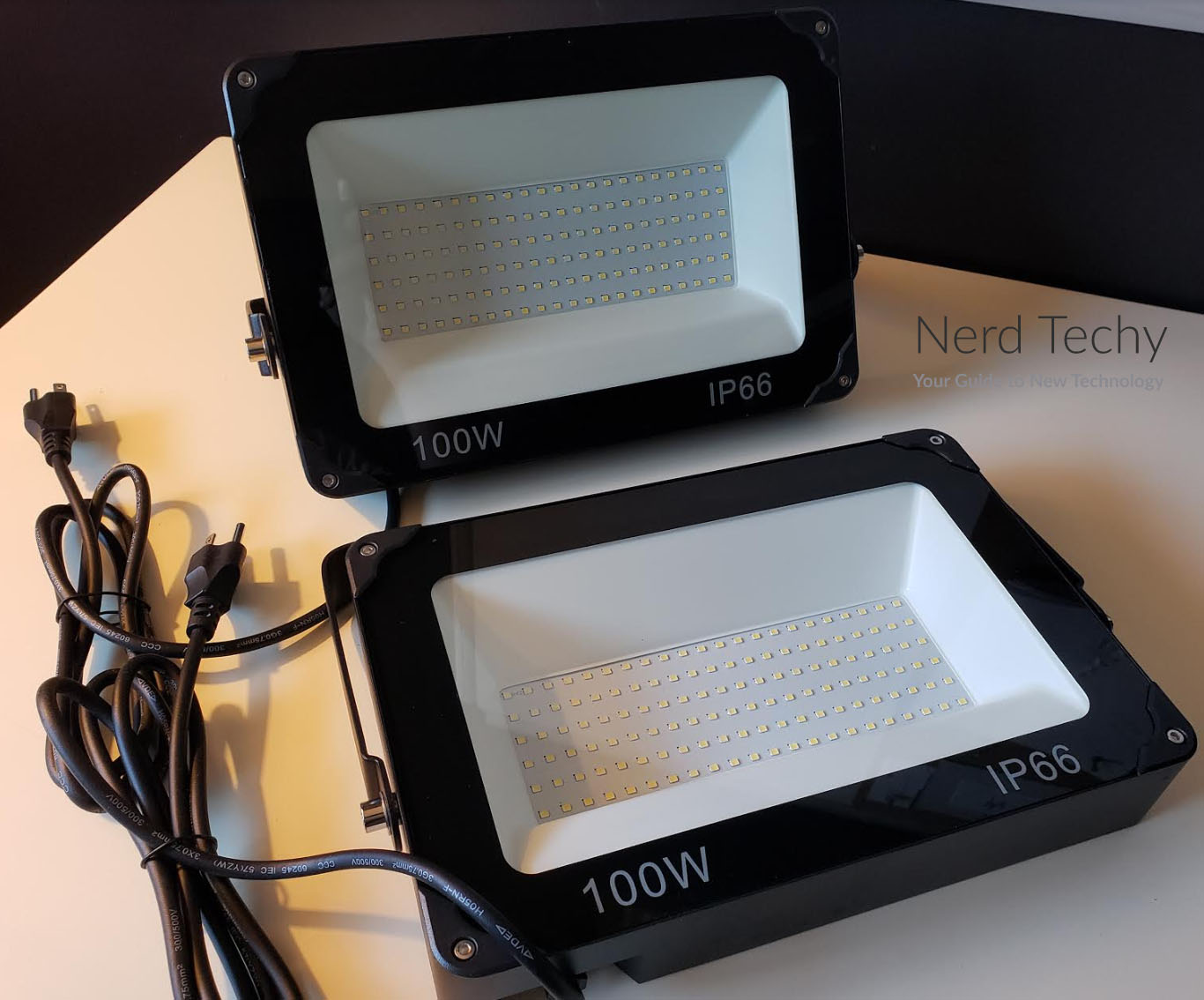 Overall Design
The Onforu LED Flood Lights are designed to stand up against the elements outdoors. They are made with high-quality materials, including waterproof materials rated IP66 as well as weather-resistant stuff that won't break down the first time it rains on them. Additionally, these lights have tempered glass that can withstand the elements and won't break easily from wind, debris, storms, or whatever else might try to attack your exterior lighting setup. They come in a pack of 2 with a combined weight of only about 10 pounds. Each light measures 12.6 inches wide by 8.27 inches long.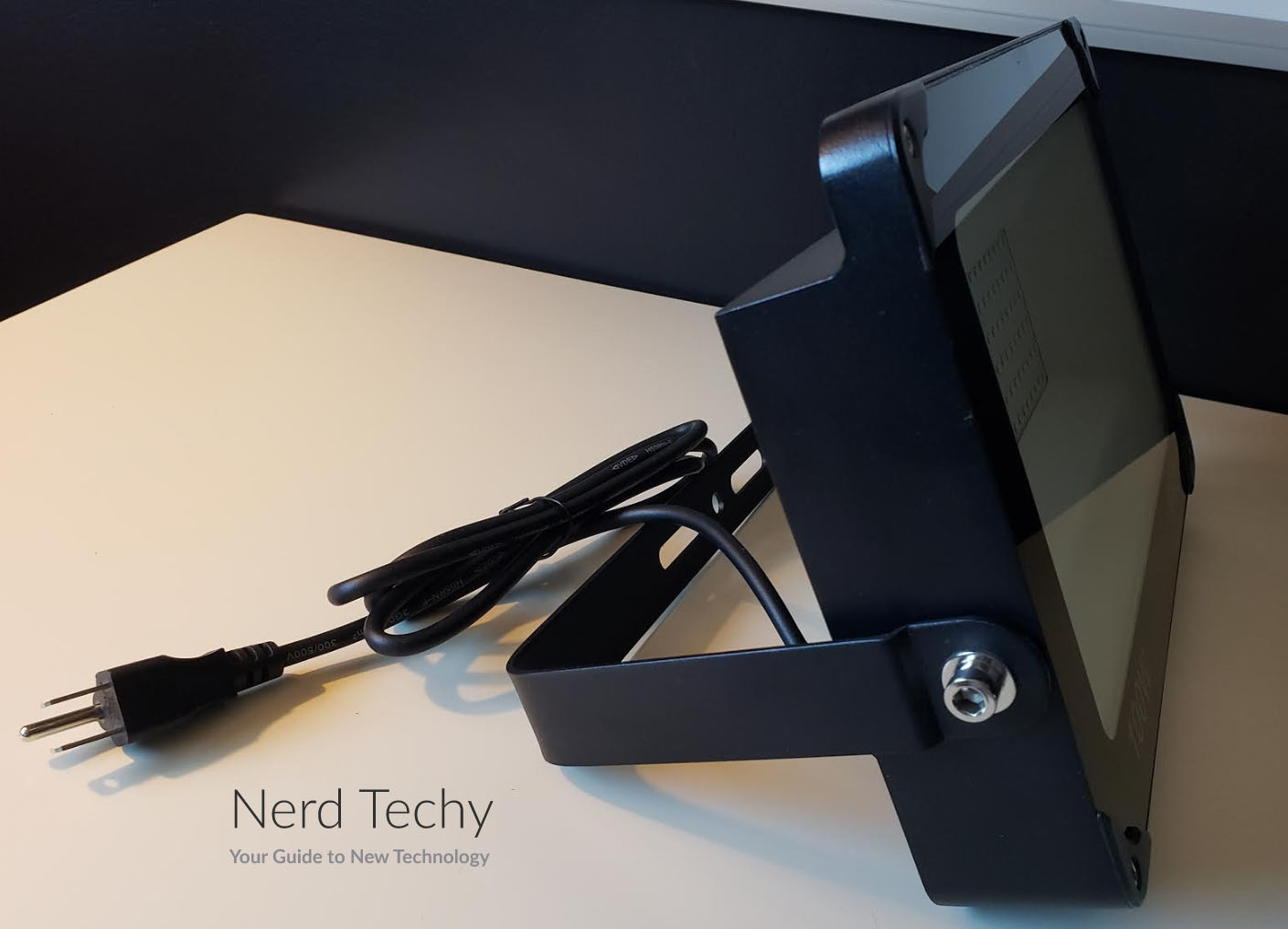 These LED floodlights are operated by a power cord that is nearly 5 feet long. You would be amazed at how versatile this light set can be. You can mount it just about anywhere, including walls, ceilings, ground, or even a tripod. The lights can be angled with an angle adjustment of 120 degrees. In addition, they're super easy to install and mount as you please and fairly easy to move around if you need to. These lights do require being plugged in but the cord is long and simple to work with. You'll just want to plan for the cord and plug-in needs as you consider your placement setup.
Next, you'll find that they're designed with super bright LED beads that use a reduced level of energy, saving you money on the cost of energy. The LED-capacity will make them super bright when in use, great for lighting a driveway, garage, patio, or security purposes. They operate at a 100-watt capacity but provide enough light to match a 500-watt halogen bulb, reducing the energy by nearly 80%. You won't find ridiculous shadows and you certainly won't have to worry about dangerous glares shining off of the light fixtures.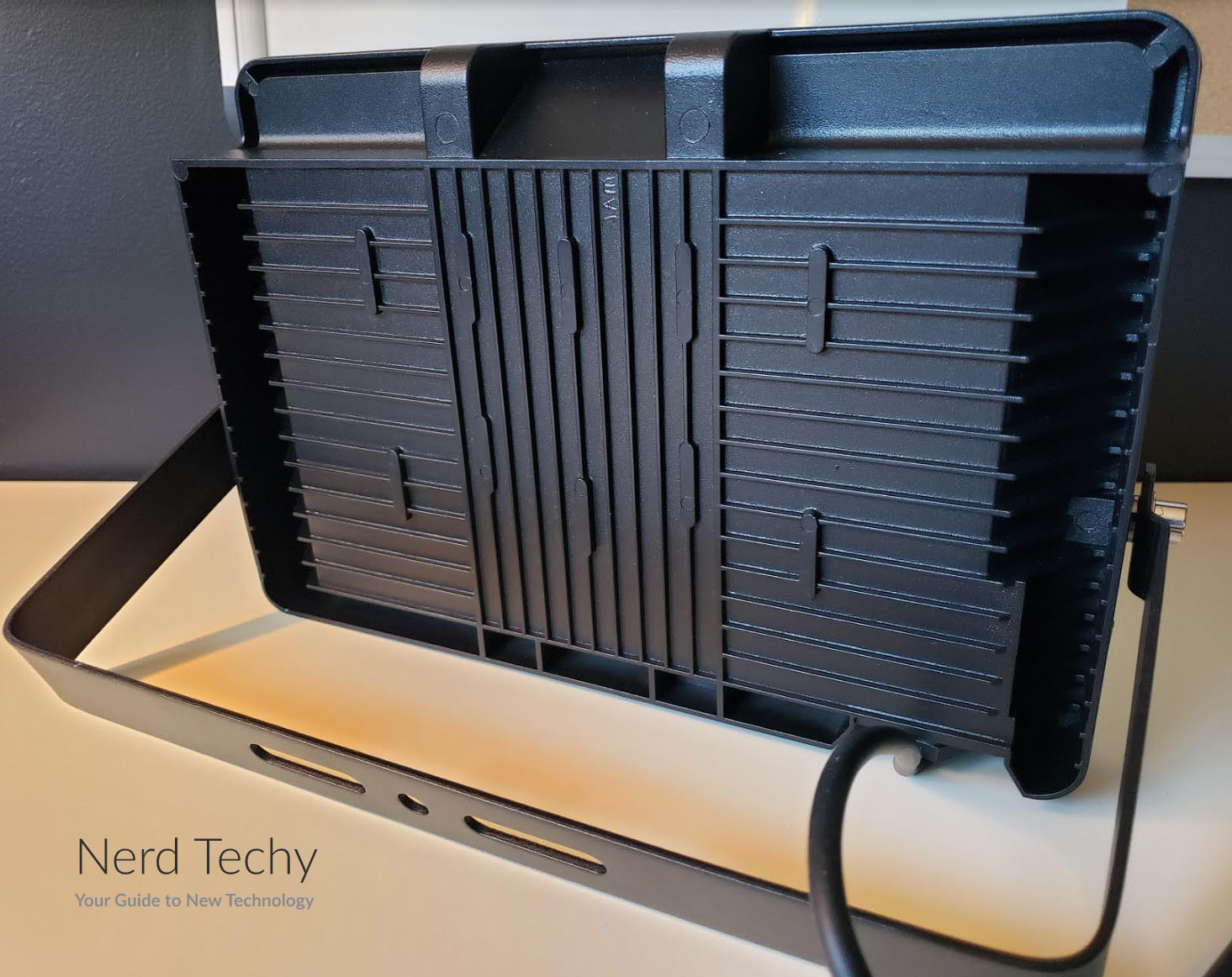 All of these combined features make for a very nice light. You can place them together or use them separately, which is another great design feature. You can place them in separate areas of the home or just mount one and keep another for ground or tripod use. Each one has its own cord and they do not have to be connected for usage purposes.
Continuing on with the design aspect, these lights also have an efficient cooling feature. They were made with a fin-type heat sink. This heat sink dissipates heat away from the lights so that they don't overheat or burn when you touch them. The effective heat dissipation can prolong the life of the light, making it last far longer.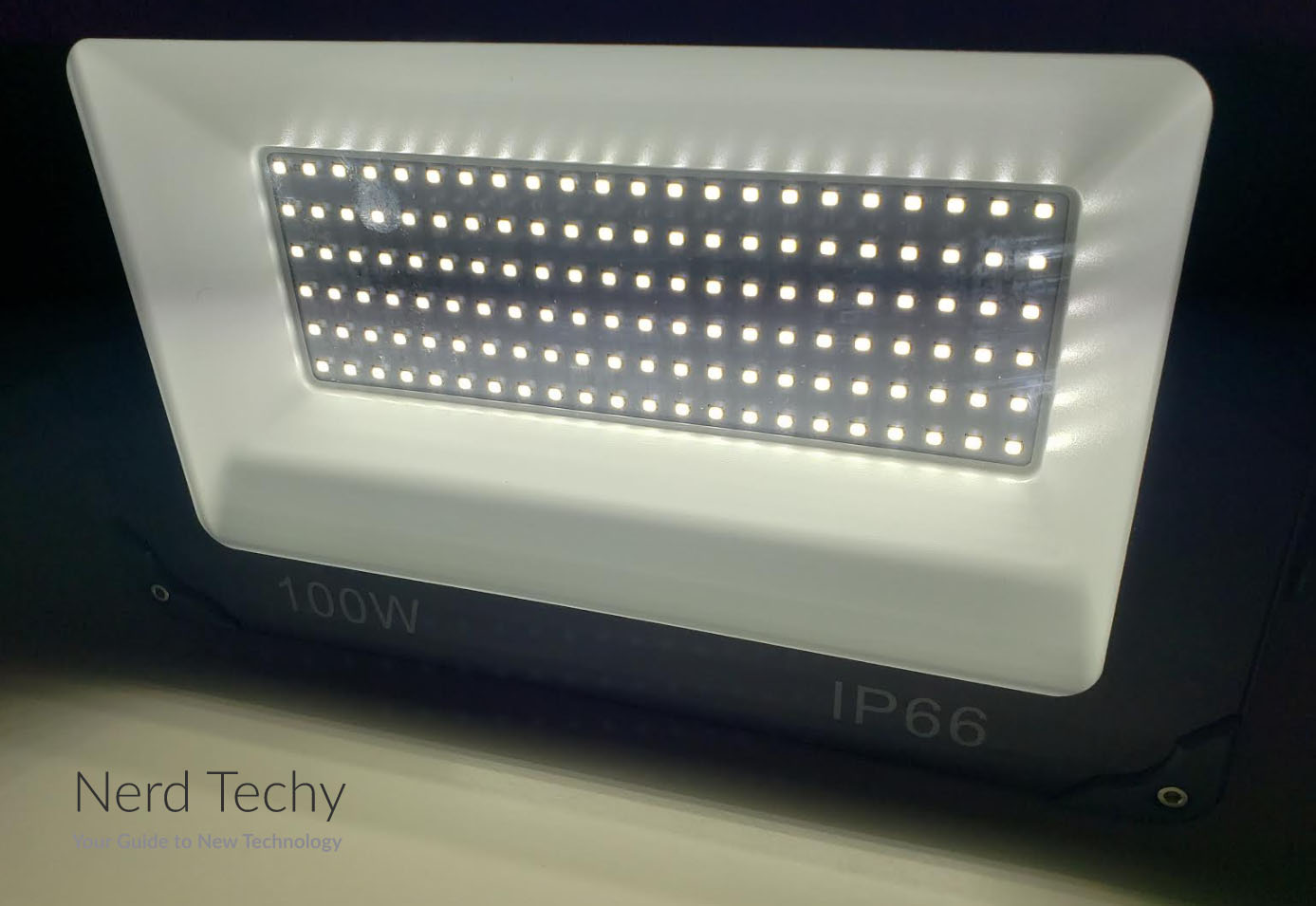 Additionally, they're designed with tempered glass and die-cast aluminum housing to make them incredibly durable for the long haul. The tempered glass is shatter-proof, durable for virtually any application.
This LED floodlight is ideal for security and lighting large spaces. It can work quite well for pools, playgrounds, basketball courts, docks, and even stadiums or factories. You really can't go wrong, particularly since you get 2 lights for a reasonable price so you can design your own setup any way that you want to. It stands up against rain, sleet, snow, and wind. It's reliable and bright and should provide light and security for a good long time.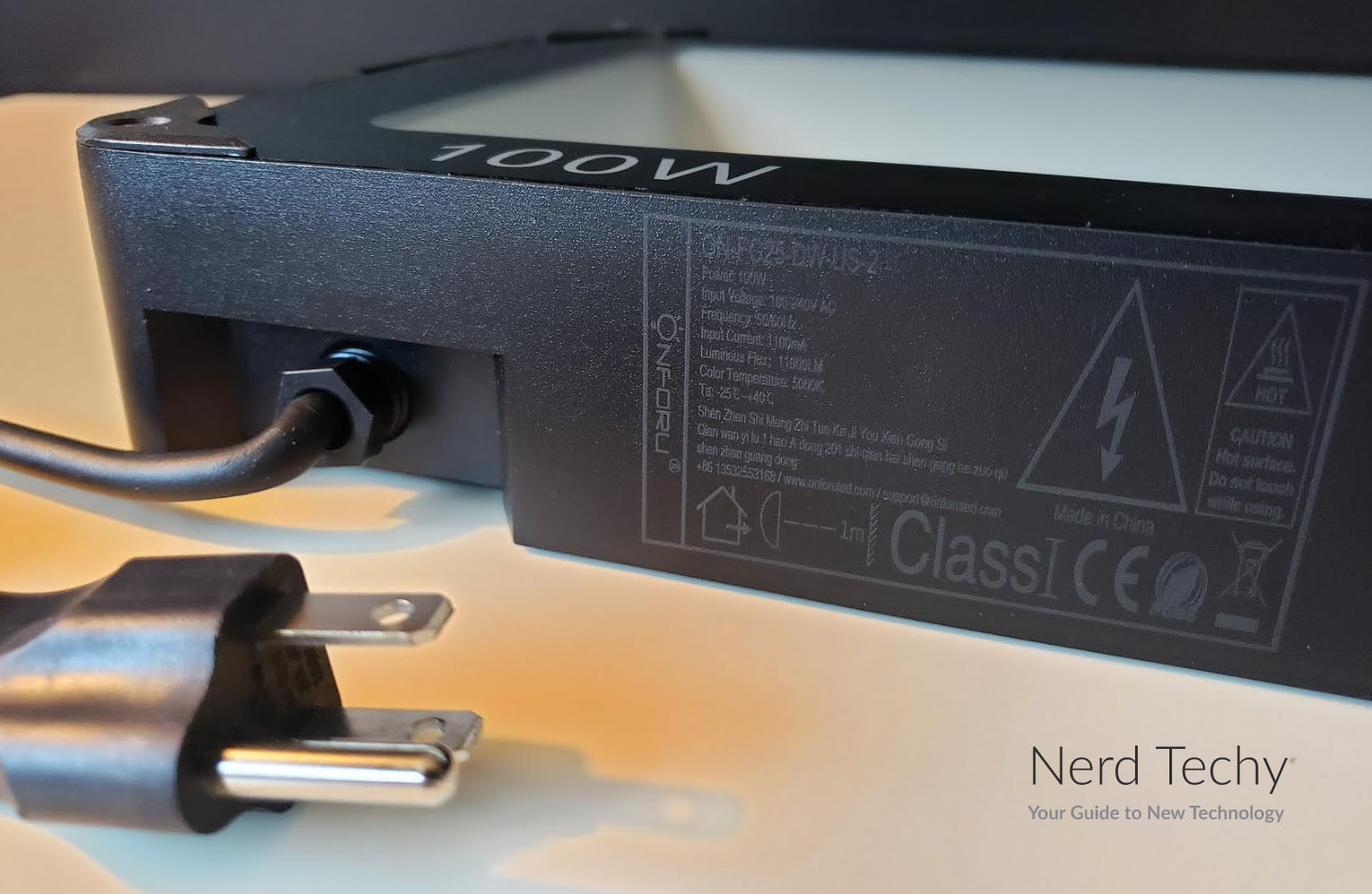 Waterproof Capabilities
The Onforu LED light is rated to be waterproof IP66. There are some complaints that moisture tends to seep in behind the glass. It's questionable what causes this moisture. It could be humidity or it could be from weather, it's hard to say but it leaves to question whether the lights are truly waterproof and whether or not this will negatively impact the lifespan of the lights. Most likely, the result will be fog but the moisture within the light frame could potentially wear down the light features sooner than anticipated.
IP66 waterproof ratings are one of the most common and reliable ratings you can possibly find. Ultimately, this rating is defined as being able to withstand against powerful waterjets. In other words, the display can stand up against water from powerful jets directed at the enclosure from any particular direction. The light is able to withstand such water exposure with no harmful effects. In order to achieve this rating, the LED light must go through a test of at least 3 minutes that subjects it to 100 liters of water per minute at a pressure of 100 kPa. That's pretty extensive testing and in order to be rated as such, the testing must be completed and recorded in an official capacity.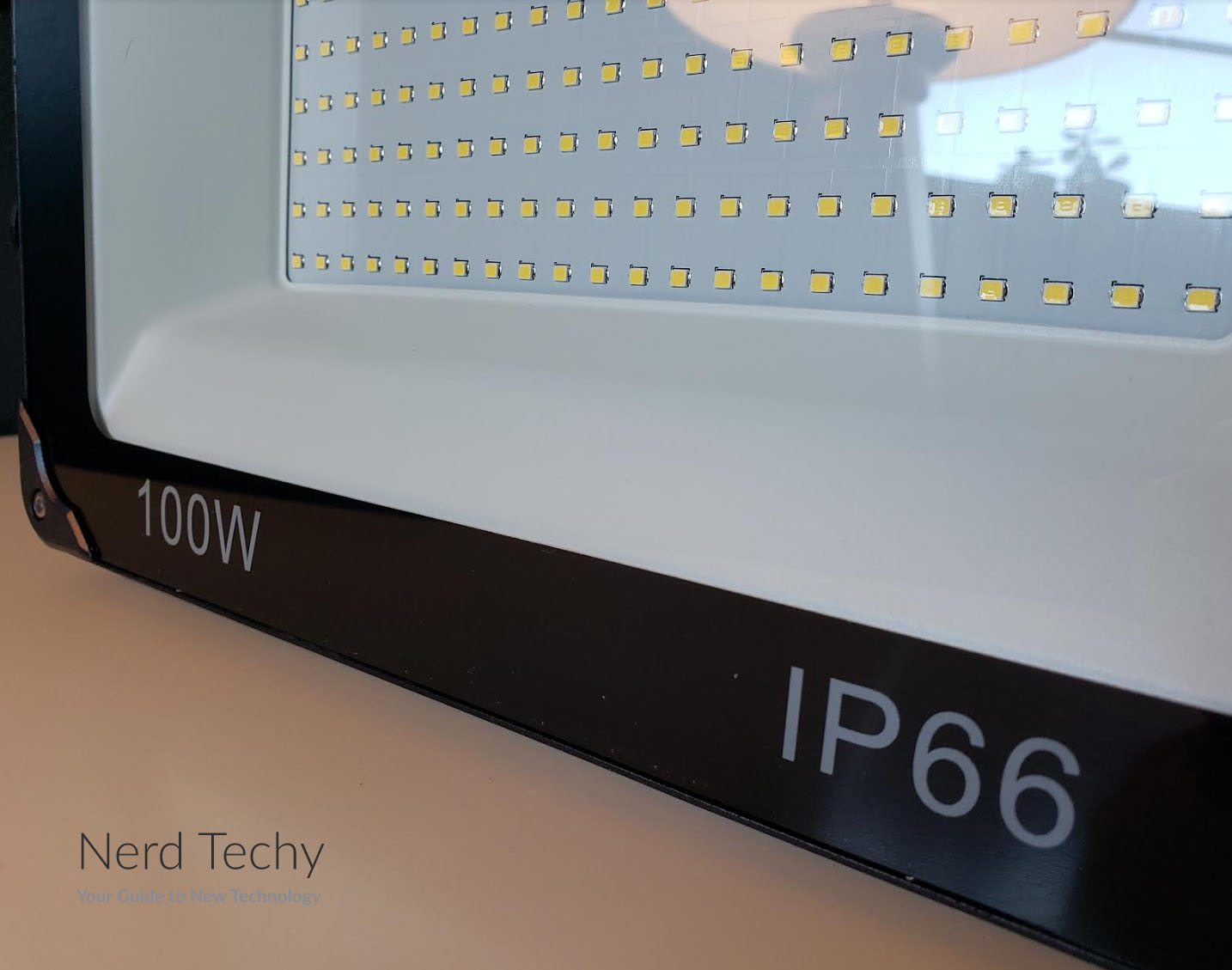 The moisture under the glass that has been reported does not seem to come from direct water contact like rain, sleet, or snow but rather from moisture in the air such as from humidity or dew caused by natural elements. There is not any indication that this moisture will cause any defects with the light but rather than it can cause the glass to become slightly foggy.
Installation
The Onforu LED floodlights are super easy to place and install. They come with a cord, the mounting brackets and hardware. The metal bracket used for mounting purposes is superior in strength and quality and will hold your light in place without any question of stability or reliability. Remember that you can install or mount to ceilings, walls, or even the ground. You can also mount to a tripod if that is your preference.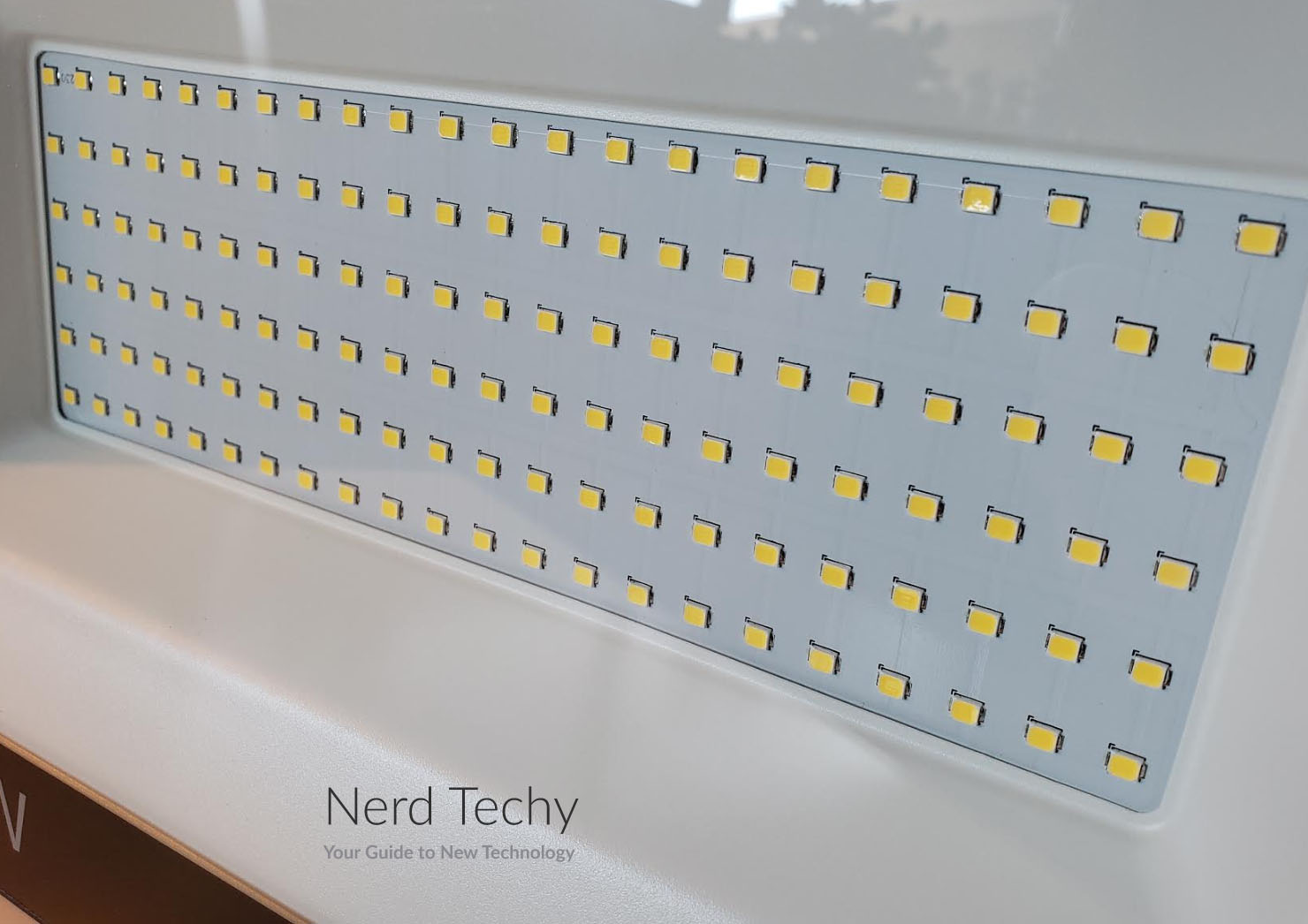 Since there are 2 lights, you can mount them in 2 wholly different places or you can mount them in the same area for more light in one place. The metal bracket is thick and wide to provide plenty of stability. Installation is simple and secure no matter how or where you decide to install. The angle of the light can easily be adjusted by the mounting bracket and it will stay in place once you have it set.
Lifespan
These LED lights from Onforu are slated to provide more than 50,000 hours of life. This means it could last for years to come depending on how often you use it and how long you use it for each time. Keep in mind that this lifespan also offers 10,000 lumens and uses only 100 watts so it's not sucking away at the energy in your home. It's an energy-efficient floodlight solution that isn't going to let you down anytime soon.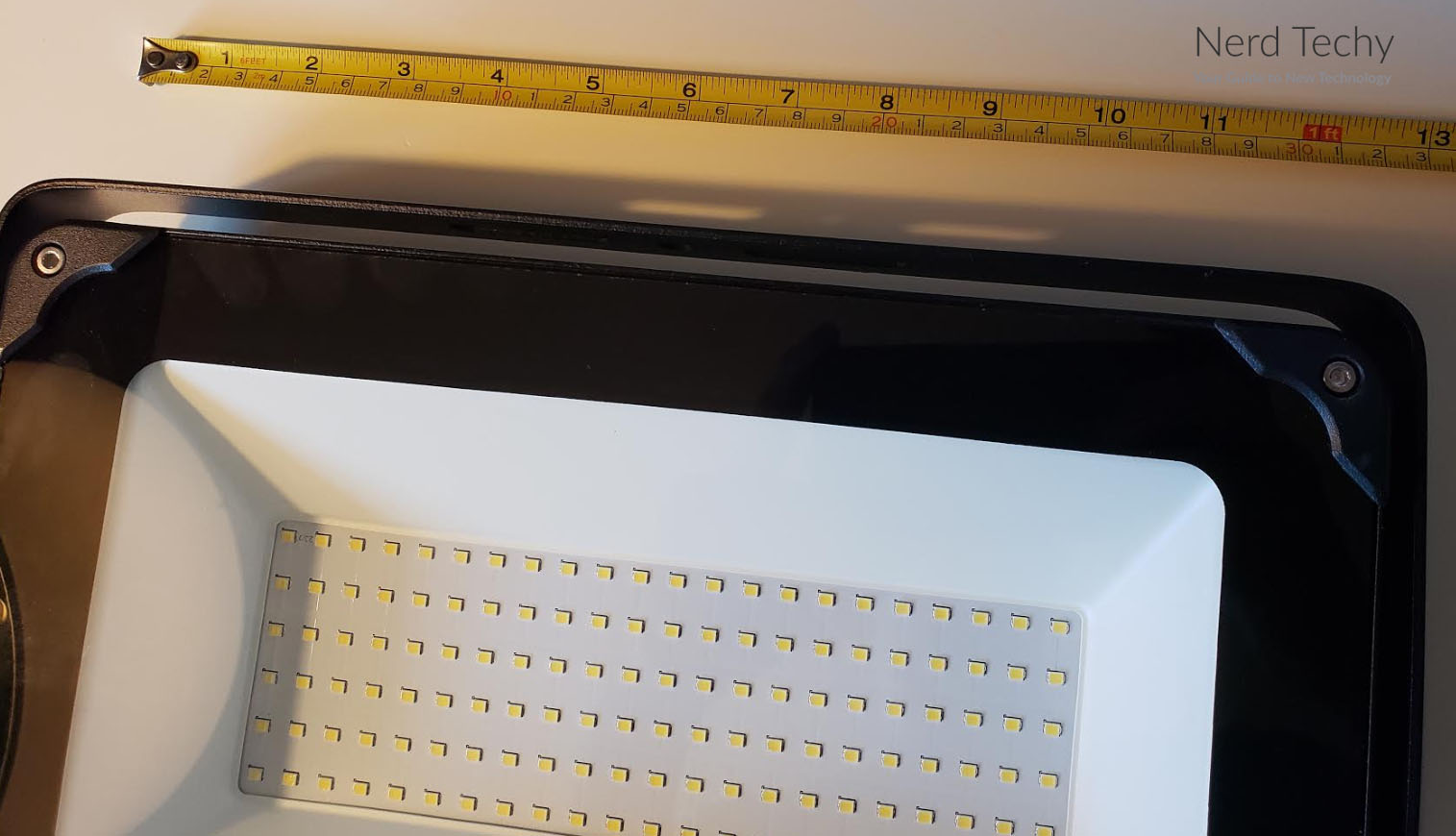 It'll be hard to find another floodlight that offers the same energy-efficient power such as this one. Additionally, Onforu offers stellar customer service so if something were to happen and the lights don't last as long as promised or they don't meet your expectations, you can contact customer service and get a response within 24 hours. Sometimes, superior customer service can make all of the difference when it comes to a quality product.
Final Verdict
When you look at the overall design and capabilities of the Onforu LED Flood Lights, you find a quality product that will last. It's a reasonable priced solution that gives you a myriad of versatile options. You can use these lights in so many different ways and it doesn't take a lot of work or effort in order to set them up and they can easily be moved or adjusted to your needs. If you're asking whether or not these Onforu LED floodlights are worth the cost? The answer is simple, yes. They are well-made and long-lasting.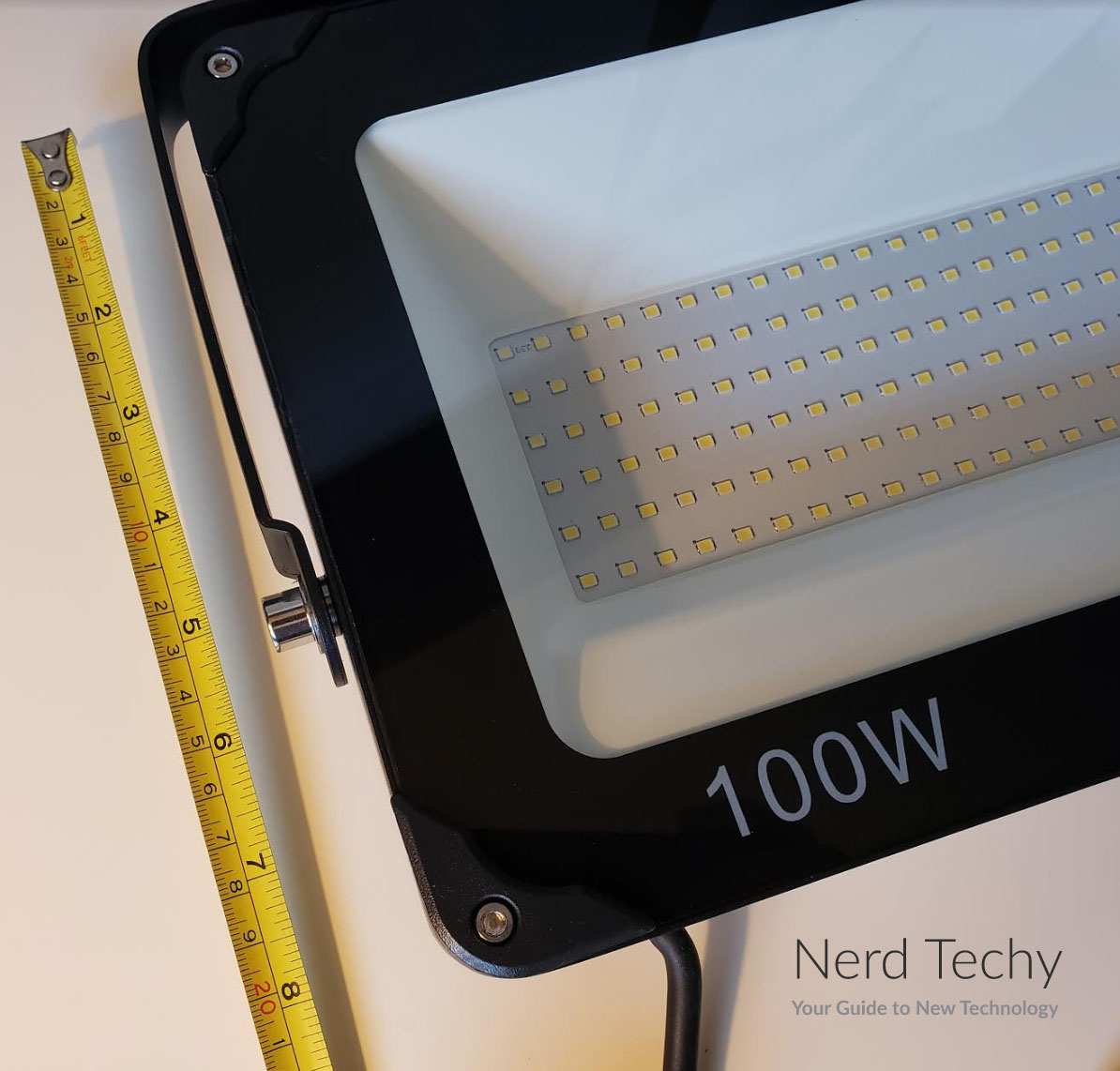 You'll get plenty of light, whether you set them up together or use them in distinctively different ways. The lights are long-lasting with sturdy materials and a waterproof design to help them last through all of the elements. They won't let you down in a pinch and they are a superior solution for offering light and security to the exterior of your home. You simply can't go wrong.
Of course, they're not absolutely perfect. No floodlight will be without its flaws. The primary downside is that they do tend to retain moisture and it's unclear as to where that moisture really comes from and what causes it. It's also unclear whether or not that moisture could negatively affect the lifespan of the lights.
Despite the reports of moisture retention, we think these LED floodlights are a good, reliable option well worth the money.