If you're trying to get (back) into shape, you're not the only one. Many of us are suffering from "quarantine body" at this point in time. Or maybe it's been an ongoing issue for you for many years. Regardless, there are plenty of fitness programs available, from aerobics to good old fashioned running. But no matter what your exercise plan is, you're going to want to track your progress. Otherwise, how do you know whether you're losing or gaining? A quality scale is an important part of any fitness program.
One thing we should point out is that it's normal for your weight to fluctuate from day to day. This can be affected by many variables. Did you eat a salty dinner last night? If so, you might be retaining some water. Was it a hot, sweaty day? You may "lose" a pound or two of water in sweat. This is to be expected. As a result, there's no point in obsessing over day to day fluctuations. Instead, it's best to focus on weekly progress. Most healthy people can safely lose about two pounds per week. That said, this can vary from person to person. It's always best to speak to your doctor before making any major lifestyle change.
Regardless, you're still going to want to buy a scale. In the past, we've reviewed other smart scales, like the Etekcity ESF00+ WiFi Smart Fitness Scale. Today, we'll be reviewing two other smart scales. The first is the RENPHO Bluetooth Body Fat Scale. This is a full-featured scale that monitors thirteen different aspects of health, in addition to raw weight. The next is the FITINDEX Bluetooth Body Fat Scale. This scale is similar in design, but offers a few different features through its app. So, which one is right for you? Let's take a closer look, and find out!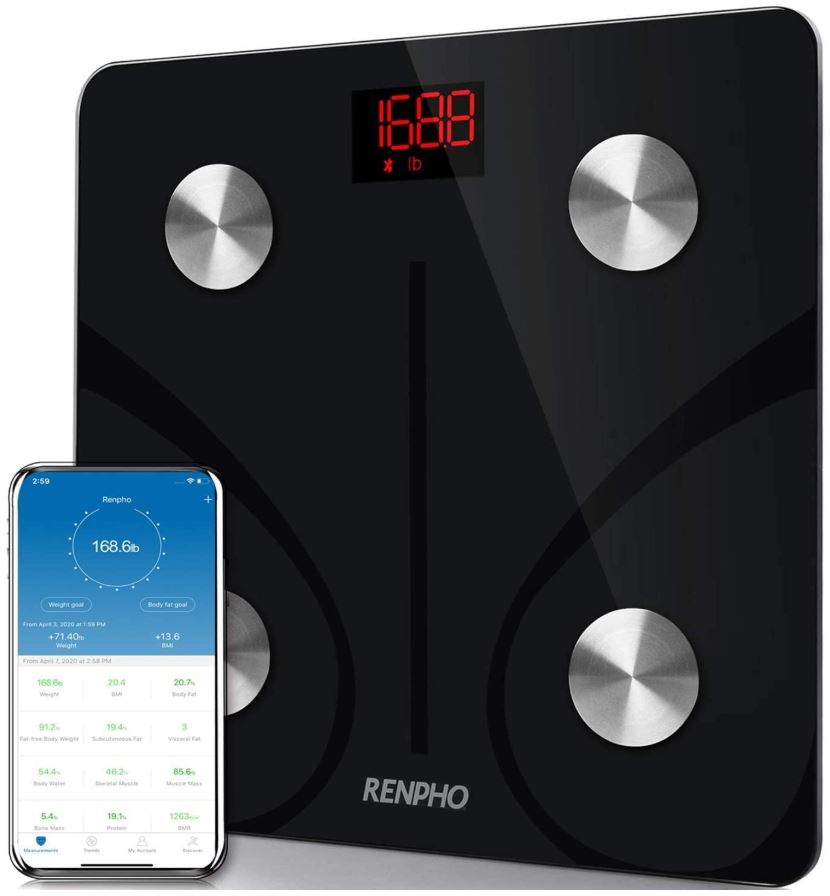 RENPHO Bluetooth Body Fat Scale
The RENPHO Bluetooth Body Fat Scale is a robust bathroom scale that measures 11 inches on each side. At one inch thick, it's fairly slim. As a result, you don't have to just use it in the bathroom. For instance, you can slide it under your dresser and weigh yourself in your bedroom. The corners are rounded for safety and style. And four rubber skids on the base prevent the scale from slipping around while you're weighing yourself. The overall weight of the scale is 2.8 pounds, which makes it easy to move around as needed.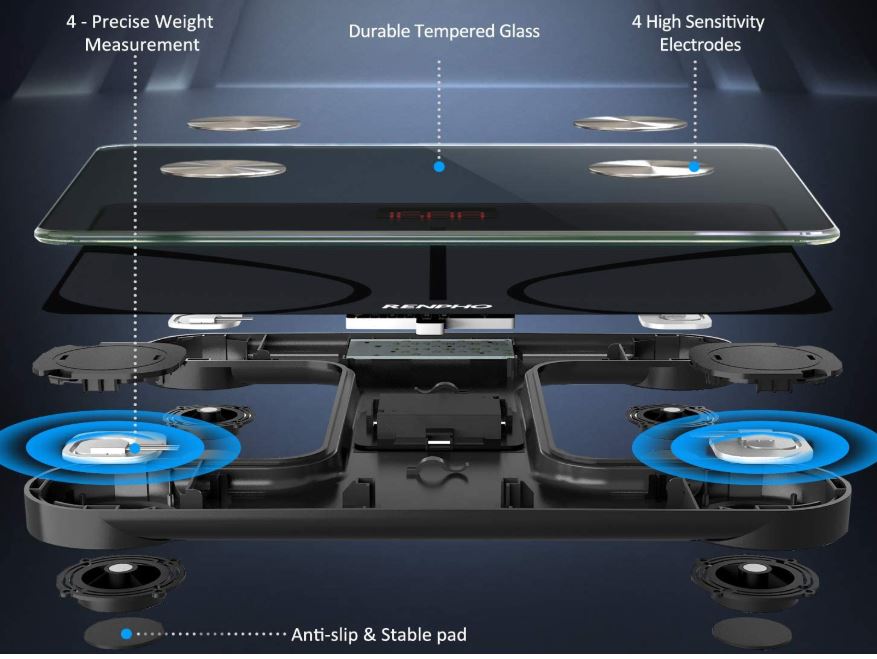 The top platform is constructed from double tempered glass, which is very sturdy. It won't break easily, even if you accidentally drop something on it. The bottom portion is constructed from plastic, but it's more than sturdy enough even for larger individuals. You can order the RENPHO scale in black or white to suit your décor. The top and bottom both match, so you're going to have a complete, unified look. There are four electrodes located at the corners. They take the form of circular steel plates that are visible through the platform. Along with being highly functional, this creates a nice cosmetic effect.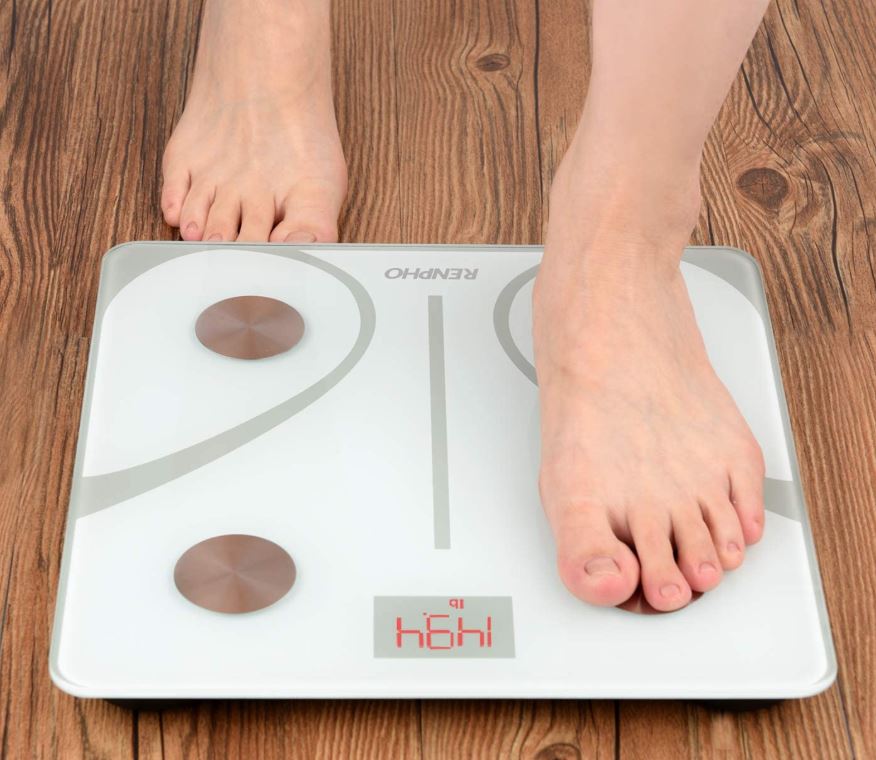 There's a weight display at the top, just as you'd expect from most scales. The display is digital, with bold, red numbers. You can switch freely between pounds an kilograms, with an increment of 0.2 pounds and 0.05 kilograms respectively. The weight limit is 396 pounds (180 kilograms), so most people will be able to use this scale. There's a small Bluetooth logo underneath the numbers that lights up when you're connected. On its own, the scale will only measure your body weight. However, there are thirteen other metrics that you can monitor through the app. Power is supplied by three AAA batteries, which are included in the package.
App Features
The RENPHO scale tracks numerous fitness metrics through its app. If you want to get the most out of your smart scale, you're definitely going to need to download this app. Thankfully, the RENPHO app is free in both the Apple Store and Google Play. Once you've downloaded the app, you'll need to go through an initial setup. This involves entering some of your physical characteristics, such as your height and age. This data will help the app to better calculate your fitness metrics. Once you've completed the setup, just open your phone's Bluetooth menu and connect to the scale. Your information will update in the app in under a second.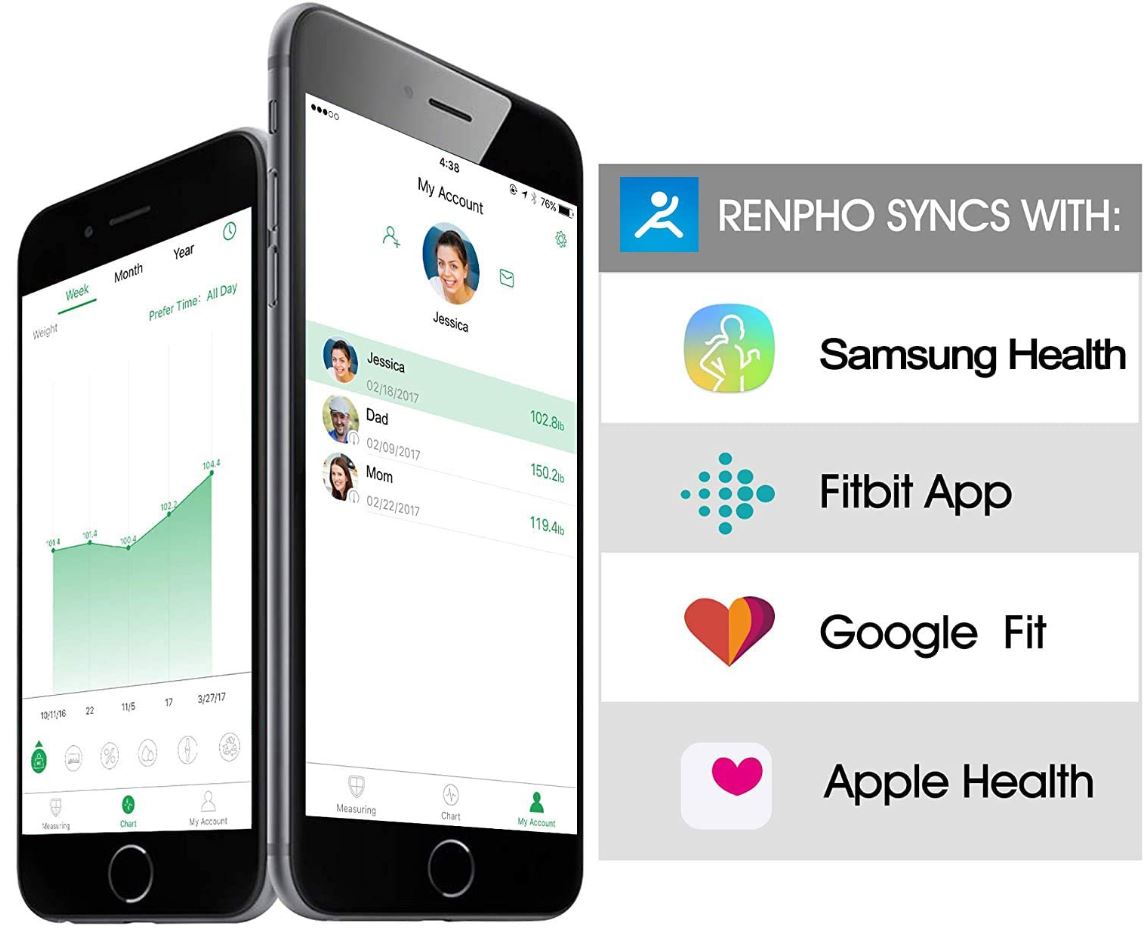 So, what does the RENPHO scale measure? Obviously, it tracks your weight. But it also tracks your body mass index (BMI). To put it bluntly, BMI is a measure of how much extra weight you're carrying. It's a more useful metric than weight, since different people will have a different ideal weight. For example, a healthy 6-foot 4-inch tall man is going to weigh significantly more than a healthy 5-foot tall woman. It will also measure your body fat percentage. This is simply a measure of what percentage of your body weight is made up of fat. Based on your personal info and your weight, you'll get a readout of your basal metabolic rate (BMR). This is a rough estimate of how many calories you burn during 24 hours of rest. Exercise will burn more calories. Simply put, if you consume calories less than or equal to your BMR and get some exercise, you'll lose weight.
The app will also track several other measurements. It will track your body's water percentage, skeletal muscle, fat-free body weight, muscle mass, and bone mass. In addition, it will monitor your subcutaneous fat, protein, visceral fat, and metabolic age. To be honest, you should take all of these metrics with a grain of salt. There's no way to get a good measurement of them without being medically tested. But it's still nice to be able to get a rough estimate.
A single RENPHO scale will work for an unlimited number of users. Every family member can download the app and set up a profile. When you connect your phone to the scale, it will recognize your profile and provide individual feedback. Not only that, but you can pair your RENPHO app with other apps. You can sync with your Fitbit, Apple Health, Google Fit, Samsung Health, or your Apple Watch. By pairing with these other devices, you can improve the app's effectiveness. For example, if you pair with your Fitbit, the app will have a better estimate of your daily calorie use.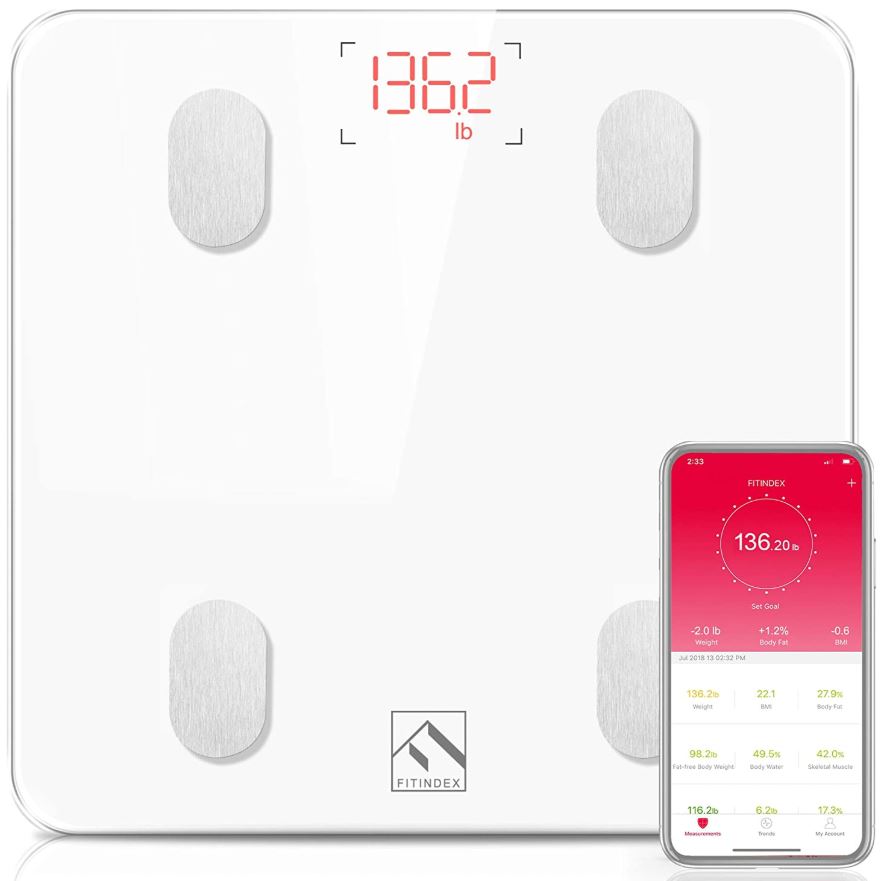 FITINDEX Bluetooth Body Fat Scale
The FITINDEX Bluetooth Body Fat Scale is somewhat smaller than the RENPHO scale. It measures 10.2 inches to a side, and one inch thick. It's also somewhat lighter, weighing only 2.43 pounds. It sports a similar design, complete with a plastic base and rubber skids. The corners are rounded, so even if you accidentally kick the scale, you're not going to get jabbed.
The platform is constructed from tempered glass, with four electrodes underneath. The electrodes are oval rather than circular, with a brushed stainless steel finish that's easy on the eyes. You can purchase the FITINDEX scale in black or white, whichever best matches your décor. Three AAA batteries are included in the kit, so you can start using the scale right away.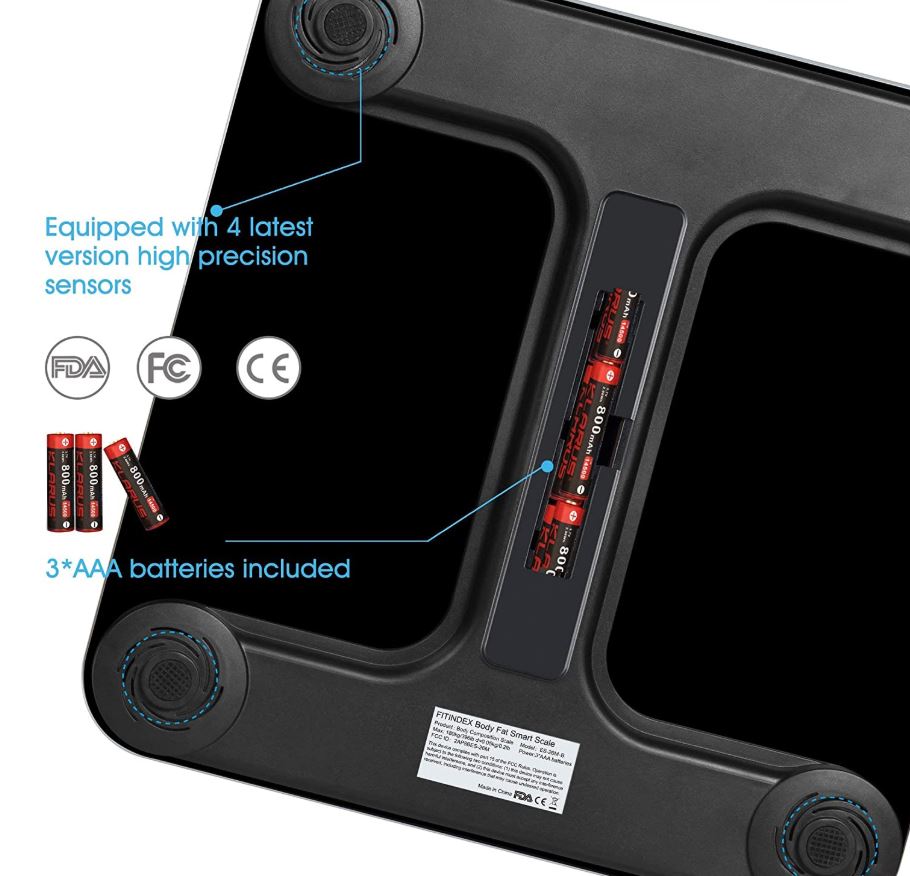 The scale will automatically turn on when you step on it, illuminating the LED weight display. The weight limit is the same as the RENPHO scale's: 396 pounds, or 180 kilograms. You can switch between measurements easily through the app. The increment is also the same, at 0.2 pounds, or 0.05 kilograms. The electrodes are self-calibrating, so you don't have to worry about any frustrations during setup.
App Features
Like the RENPHO scale, the FITINDEX scale requires an app for full functionality. Without the app, you might as well just buy any old digital bathroom scale. You can find the FITINDEX app for free on both iOS and Android. Once you've installed it, the first thing you'll need to do is enter your age and weight. The Android version also requires you to enter your location data, which is a bit confusing. Regardless, once the app is set up, you'll be ready to go.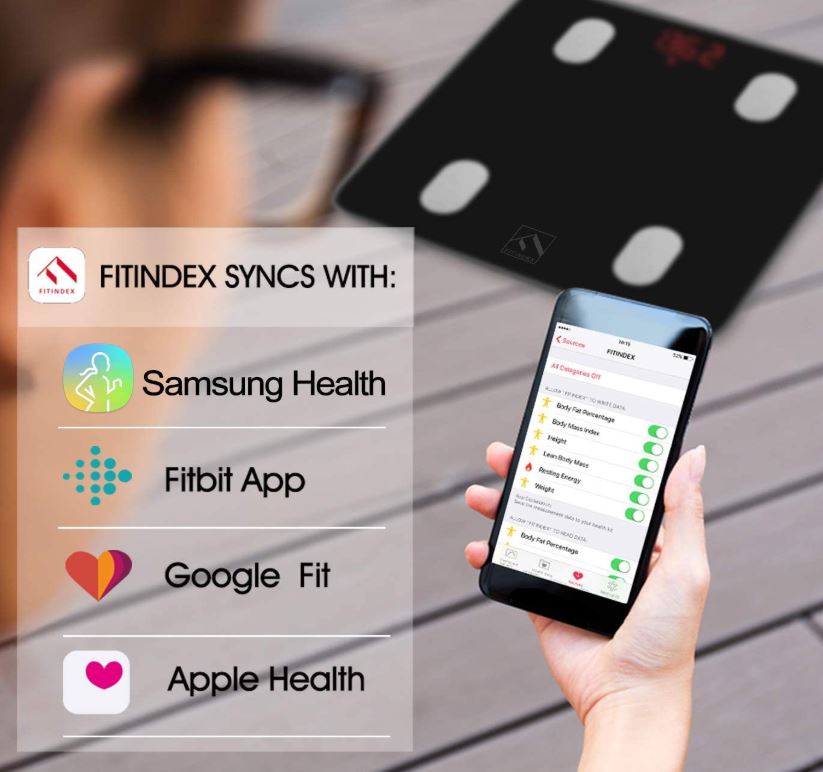 The FITINDEX app allows for unlimited users to use the same scale. If your whole family is working out, you can all share in the scale's benefits. For most purposes, the app is similar to the RENPHO's app. You can track the same thirteen fitness metrics, so there's no difference there. You can also sync your app with the same devices and tools. That said, there are a few extra features. First, you can select data from different time periods and compare them. Secondly, you can manually enter data if you don't have access to your scale. Thirdly, you can export your fitness data to a CSV file.
Final Verdict
As you can see, these two scales are very similar in most respects. They both sport a tempered glass platform, along with four measuring electrodes. Both of them are automatically calibrated. And both have a weight limit of 396 pounds, with an increment of 0.2 pounds. So far, so good. So what makes them different?
The RENPHO Bluetooth Body Fat Scale is slightly larger, and weighs about half a pound more. As a result, despite the identical weight ratings, we suspect that it's more durable. However, the FITINDEX Bluetooth Body Fat Scale offers more app features. First off, you can manually enter data into the app. This is a useful feature if you're on the road, and don't have access to your personal scale. You can also export data in CSV format. Most people won't use this feature, but it's useful if you want to create a spreadsheet.
Other than that, the two scales are more or less identical. They both connect via Bluetooth 4.0, and allow an unlimited number of users. They even both track the same thirteen health metrics, from body fat percentage to bone density. If you want the most durable scale, go with the RENPHO. If you want a bit more flexibility, choose the FITINDEX. That about covers it.