As recently as a decade ago, if you used the term "smart home", most people would look at you like you had three eyes. How can a home be smart? Fast forward to 2019, and it seems like every device in your home can connect to the internet. We've got smart thermostats, smart plugs, smart appliances, smart security systems, and even smart lightbulbs. So why not a smart scale?
With a traditional scale, it's easy to track your weight. You can even do a little math and figure out your BMI and estimate your body fat percentage. But even though these calculations are easy, it's a pain to do them every day or every week. And then you have to keep a notebook to track your results. This isn't horrendously difficult, but there's an easier way to get things done. With a smart scale, you can utilize an app on your smartphone or table, and use that app for tracking your progress.
Today, we'll be reviewing the Etekcity ESF00+ WiFi Smart Scale. This device is designed to pair with the VeSync smartphone app, which keeps all of your results in the same place. It tracks your BMI, bone and muscle mass, as well as a rough approximation of your body fat percentage, and much more. And, of course, you can always use it as an ordinary bathroom scale, so if you're only interested in your weight, you don't need to get confused. But how good is this scale really? We're about to find out!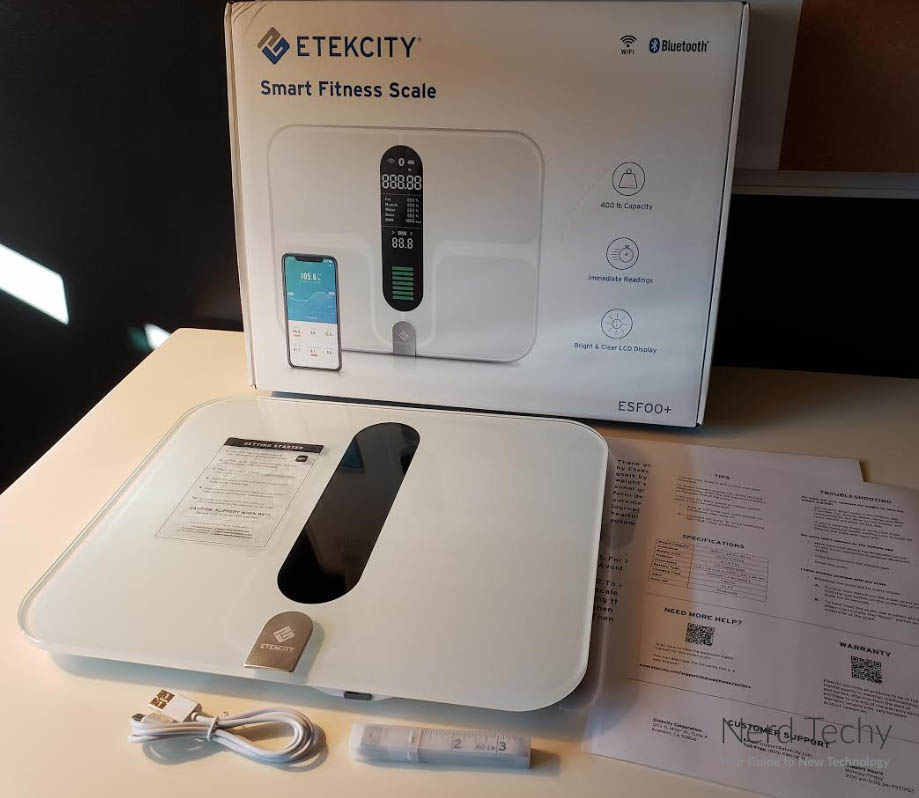 Design Basics
Before we discuss the nitty-gritty, let's address the basics. How does this scale look on your bathroom floor? The Etekcity ESF00+ WiFi Smart Scale has an oblong design, with sides that measure 14.8 inches in width and 11.8 inches long. This makes it large enough for most people to stand on comfortably, without being so large as to obstruct your way around your bathroom. The frame itself is constructed from rugged aircraft grade aluminum, with a white ABS outer shell that's attractive and smooth. The top surface is covered with tempered glass, which is tough enough to stand on while still being exceptionally easy to clean. You'll be able to wipe away footprints with just a spritz of glass cleaner and a paper towel.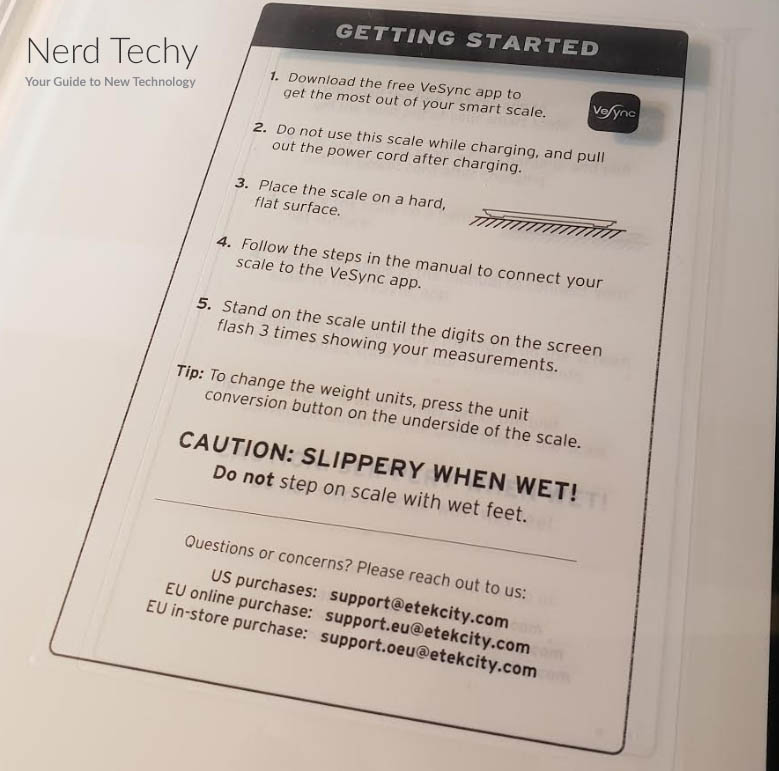 Underneath, the bottom is cut out to reduce weight and material. Four feet protrude from the bottom at the corners, with grey rubber pads that prevent the scale from sliding around or getting kicked across the floor by mistake. The overall weight is 9.2 pounds, which is fairly heavy, but keep in mind that this isn't a mechanical scale; it's electrical, so the weight includes a large internal battery.
The digital display is a long, black oval that is oriented vertically between your feet. At the bottom of the display, a row of bars provide a quick, color-coded assessment of your physical condition: orange for underweight, green for ideal, and red for overweight. Over that, you'll see all of your specifics: BMI, bone, muscle, fat, and water content, and, of course, your weight. At the very top, a series of familiar icons will show when the scale is connected to Bluetooth or WiFi, and you'll also see your current battery level.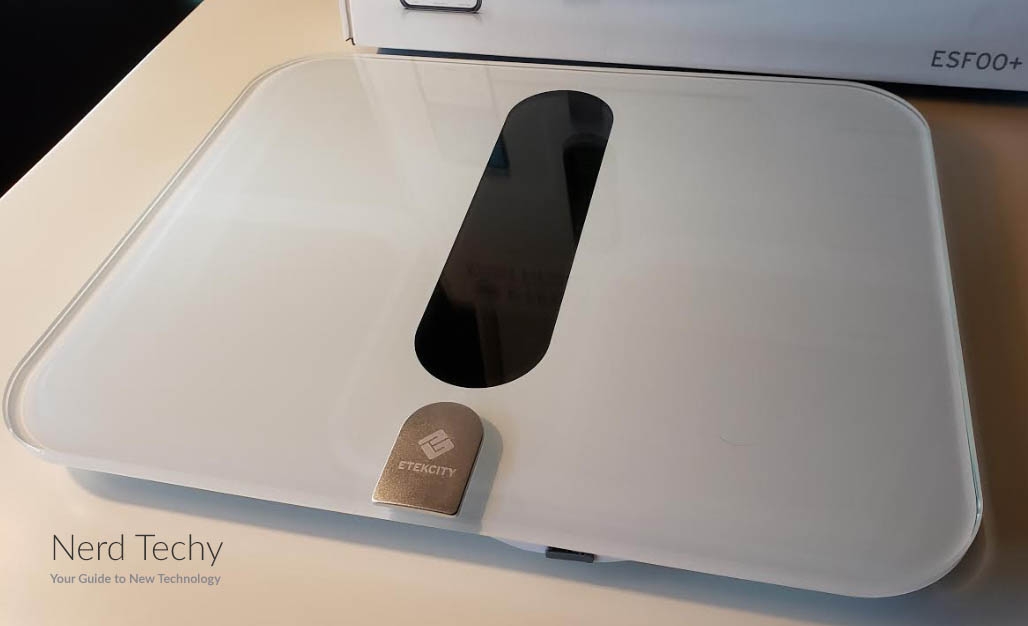 Basic Functions
So, how does the Etekcity ESF00+ WiFi Smart Scale actually work? To begin with, as we've mentioned, it runs on battery power. Unlike many electric scales, it uses an internal battery pack, rather than requiring C or AA batteries. This saves you the trouble of changing batteries from time to time, and the internal pack is quite powerful. It carries a charge of 1,000 mAh, which will power the scale for a full year without the need to recharge. When it comes time to recharge, simply plug the scale into a USB charger with the included USB cable, and it will be fully charged in 5 hours.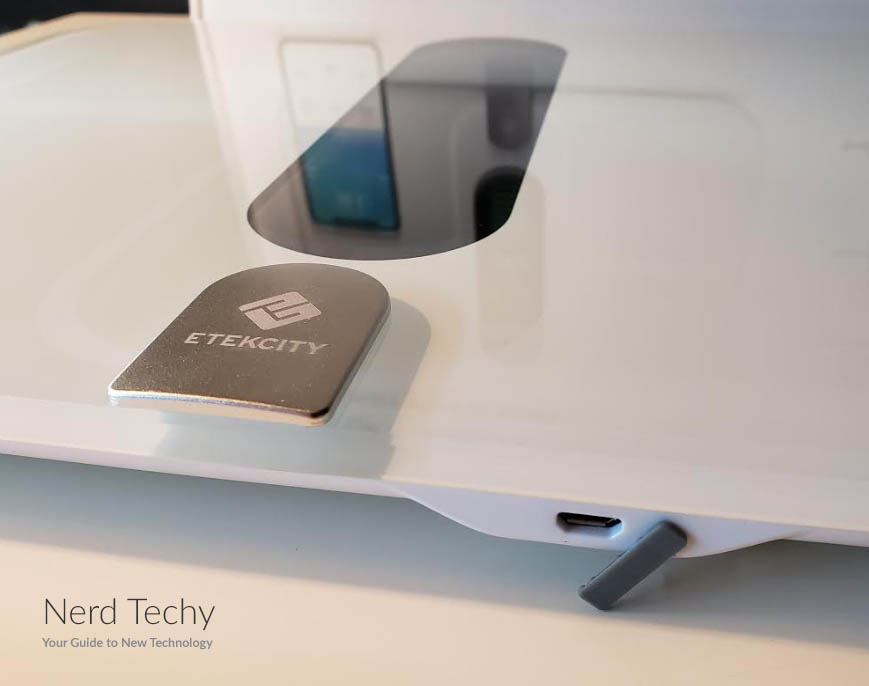 Weighing yourself is also easy. There's no need to turn the scale on or off, since it automatically goes into sleep mode when you step off of it. To wake it up, just step up on the scale. After a few seconds, the display will blink 3 times and display your weight and other metrics.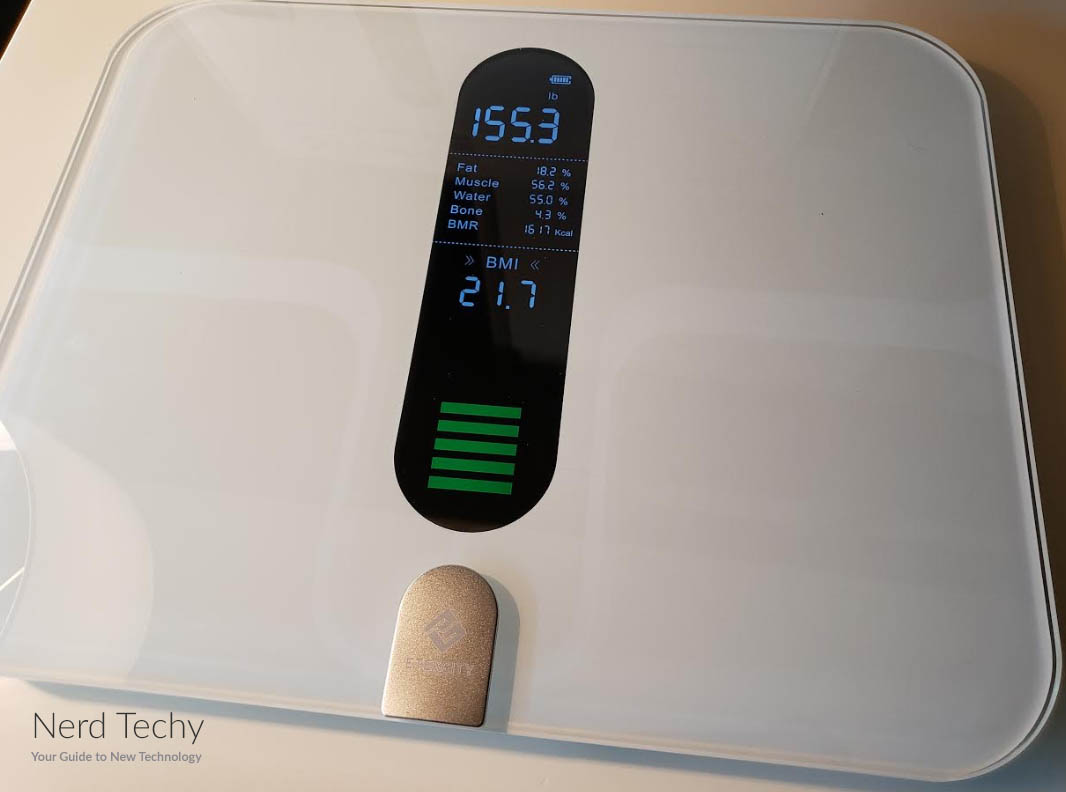 In terms of connectivity, you've got two different options: Bluetooth and WiFi. The neat thing about this is that the Bluetooth connection can send data directly to your phone. But if your phone is in the other room – for example, when you're getting out of the shower in the morning, the Smart Scale will use the WiFi connection to send your data directly to the cloud. You can then sync your data later, the next time you open the app on your phone.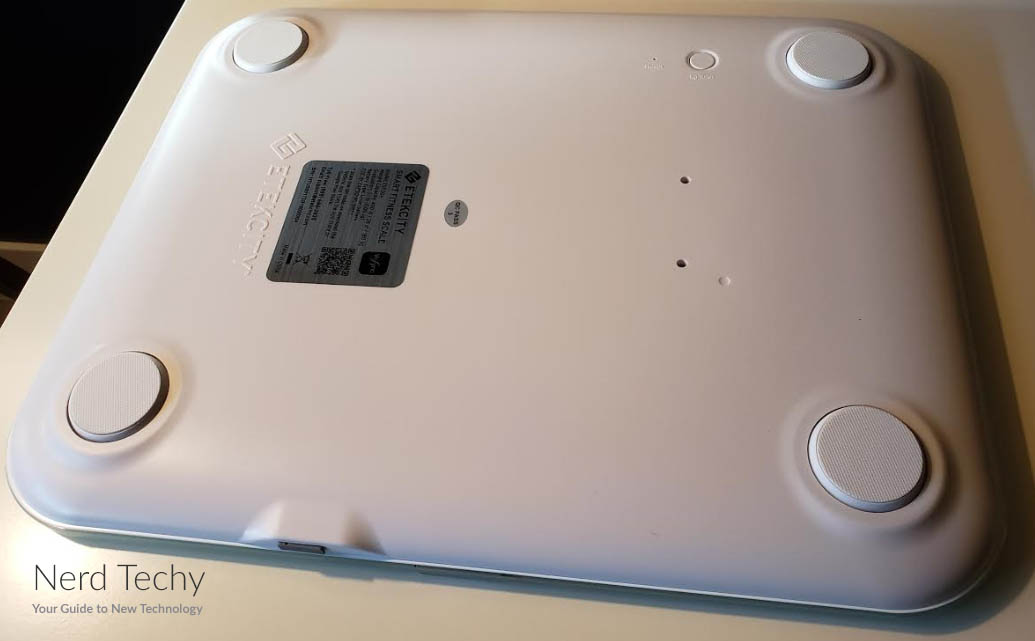 Using the App
As you've probably gathered, the app and integration are the most attractive features of the Etekcity ESF00+ scale. After all, without these features, it's just an ordinary electric scale with a fancy display. So, how well does the app work? To start with, you'll need to install the VeSync app, which is specifically designed by Etekcity for their products. It's available for free in both the Apple Store and Google Play, and installation takes less than a minute on any modern smartphone or tablet. If you've never used the VeSync app before, you'll need to create a new account. This requires only an email address, and not a phone number. Simply click on the verification link in your email, and you're ready to go.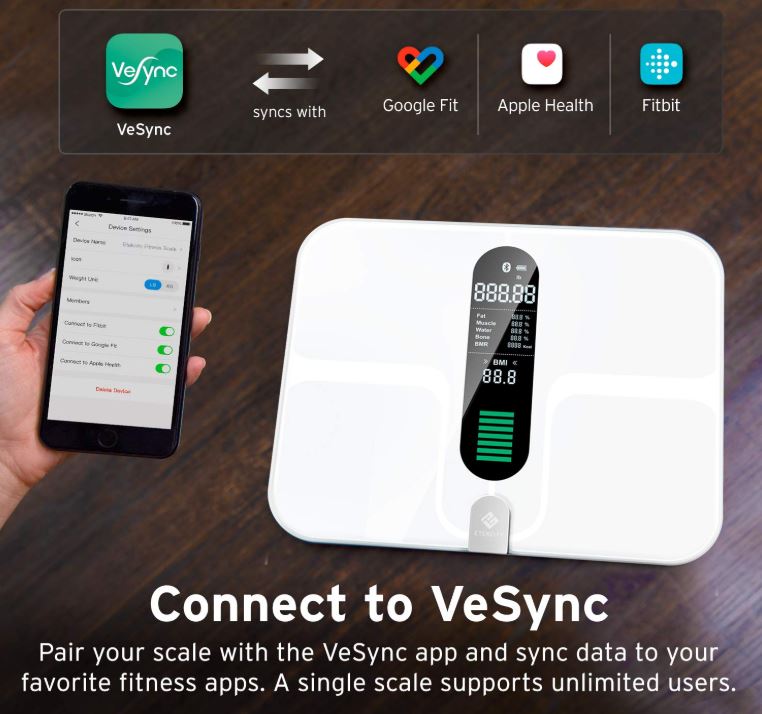 Once the app is set up, you'll need to sync your scale with your account. In the app, click the "Devices" button, press the plus symbol, and you'll see a list of compatible Etekcity devices. Choose "Scales" from the list, and once again you'll see a list of compatible scales. Choose the WiFi Smart Scale from the list, and the app will prompt you to step on the scale to turn it on. Obviously, you'll need to make sure you've charged your scale before you do this. Once you've stepped on the scale, the app will verify that the scale is synced, and you'll be ready for the next step.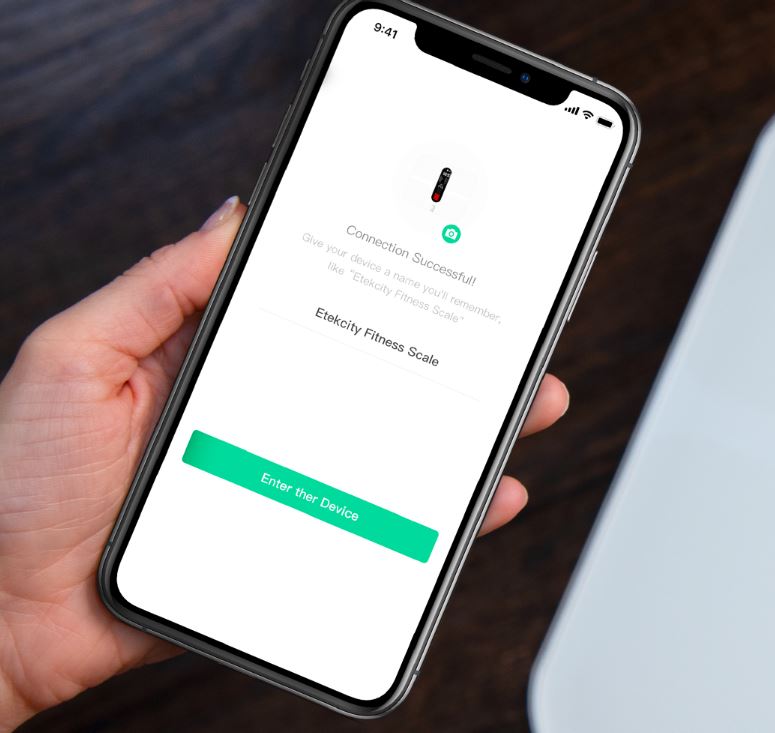 Here, you'll need to create a profile for yourself. The app will ask you for some personal information such as your sex, age, and height. It needs this information to make proper calculations. If you live with a partner or have children, the whole family can use the Etekcity ESF00+ WiFi Smart Scale. You can create up to 8 different user profiles inside the app, so everyone can track their own data separately.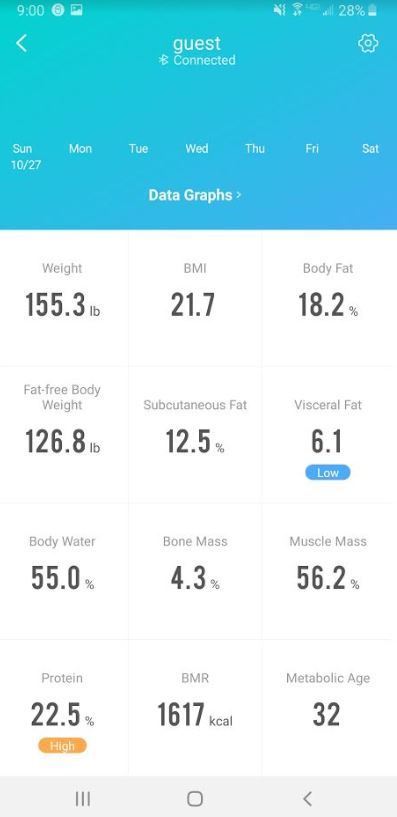 When you step on the scale, the app will display your weight, BMI, body fat, subcutaneous fat, visceral fat, body water, bone mass, muscle mass, and even your metabolic age. Obviously, this information is just an approximation. You need to see a doctor to find out exact numbers, so don't rely on the Smart Scale if this information is necessary for a serious medical condition.
That said, the approximations will be accurate enough for most purposes. As you use the scale repeatedly, you'll also be able to view historical information, so you can follow your progress.
One neat feature of the app and the scale is that you can switch between multiple different units of measurement. Not only can you select pounds or kilograms, you can also select stones, so British users will be pleased to use a familiar measurement that's not available on most scales.
As with any app, it's important to keep an eye on security. Make sure to shut off your Bluetooth when you're not using it, since this can leave your device open to hacks, even if the VeSync app is secure.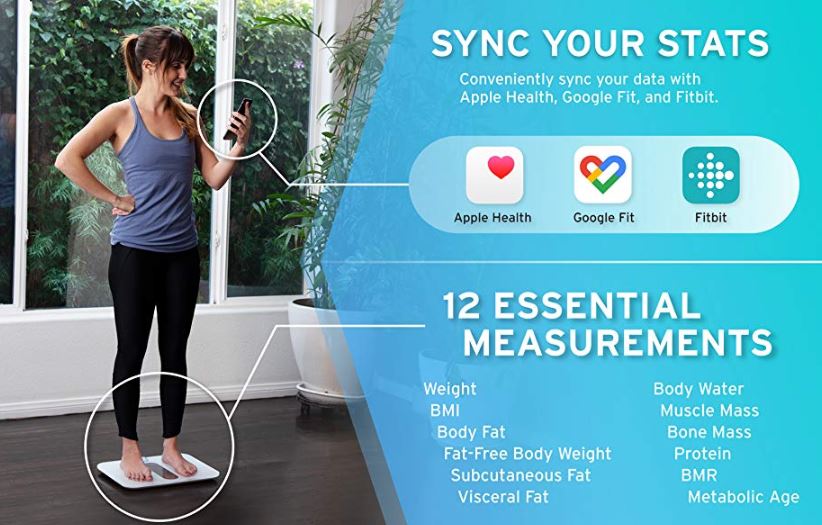 Output and Third-Party Integrations
As you can see, the VeSync app has a lot to offer. But there are other apps out there, and if you're already using Google Fit or the FitBit app for other purposes, you'll probably want to integrate your VeSync data with your existing application. Thankfully, the VeSync app will seamlessly transfer your metrics to both of these apps without any issues.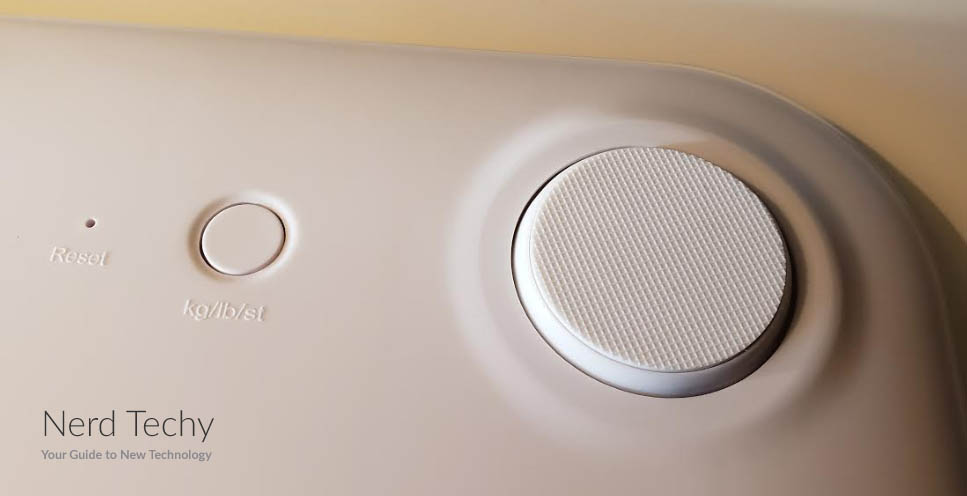 Be aware, though, that you'll only the most basic metrics will transfer: weight for Google Fit and the FitBit app, and body fat percentage for FitBit only. If you're an iOS user, you'll be able to integrate with the Apple Health app as well. In theory, you can also output your data to a .csv file for integration with open source software. But in practice, we haven't found any third-party apps that support this feature. That said, independent developers are releasing new apps on a near-weekly basis, so this is a solid future-proofing option.
Another useful feature is the ability to generate charts. You can use these charts to track any metric, and you can also set the time period to track both over the long and short term. In this way, you can focus on what matters most. Are you trying to bulk up? You can track your weight gain. Trying to shed body fat? You can keep tabs on your body fat percentage. If you're a visual person, this can be very helpful.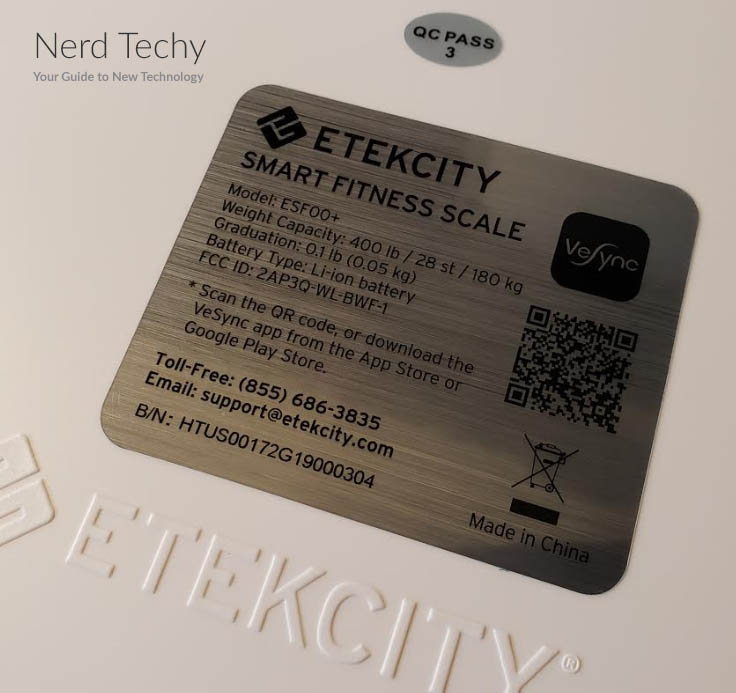 Technical Specifications
Before we wrap up, let's take a quick peek at the ESF00+ Smart Scale's overall specs and stats. Here are the basics:
400-pound weight capacity
8.2-inch display screen
Connects over WiFi and Bluetooth
1,000 mAh battery – lasts 12 months, charges in 5 hours
Tracks BMI, bone mass, muscle mass, and water and fat percentage of body weight
Works with the free VeSync app
Measures 14.8 x 11.8 inches
Weighs 9.2 pounds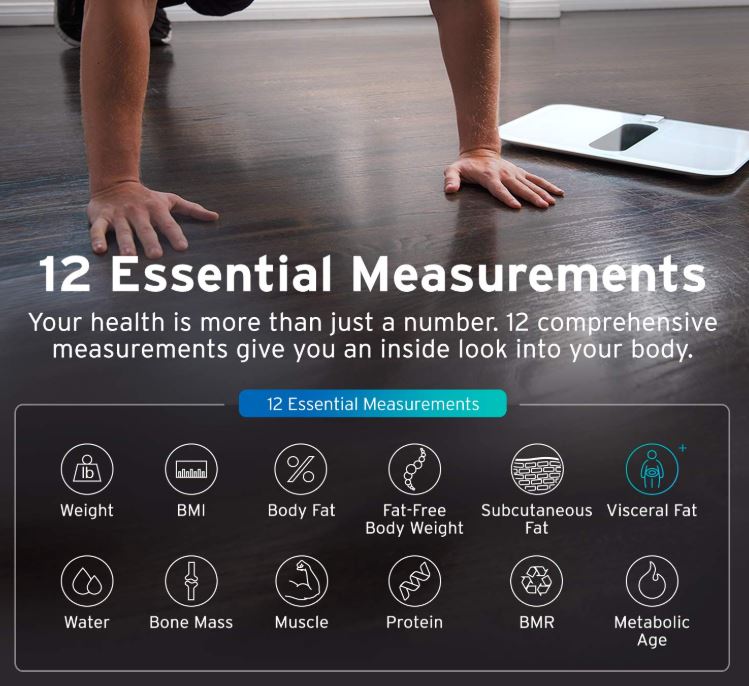 Final Verdict
One thing that all good smart home devices share in common is that they make your life easier. Clunky interfaces, poor connectivity, and time-consuming setup will quickly cause a device to go the way of the dodo. What we found with the Etekcity ESF00+ WiFi Smart Scale, on the other hand, was a well-engineered piece of equipment that has an easy-to-use app. Connectivity is a breeze, with the ability to transition seamlessly between WiFi and Bluetooth. And, of course, you can track all of your metrics over any time period. This scale has something to offer everybody, whether you're a workout enthusiast or just trying to watch your weight. And best of all, it comes at a reasonable price.