The world of Bluetooth earbuds has exploded in recent years. Most people attribute this to the iPhone going wireless back in 2016. And, to be fair, this is a big part of the equation. However, there's a lot more going on behind the scenes. Shortly before Apple went wireless, a new technology called True Wireless Stereo (TWS) was released. TWS changed the way wireless earbuds functioned. Prior to its release, wireless audio was limited to a mono signal, and the bitrate was low. As a result, most people treated them as a joke. With TWS, you can enjoy the same audio quality you'd get from a pair of wired earbuds.
On the other hand, the explosion of new wireless earbuds has not been all sunshine and roses. Because it's led people to expect better quality, some low-quality earbuds have slipped through under the radar. Thankfully, you've got us to write reviews for you while we're all stuck at home.
Today, we'll be reviewing the SoundPEATS TrueShift 2. We've reviewed a lot of SoundPEATS products in the past, so we were excited to get our hands on these. We'll tell you all about their features, how they work, what they do well, and what they could do better. Let's take a closer look, and see what these earbuds have to offer.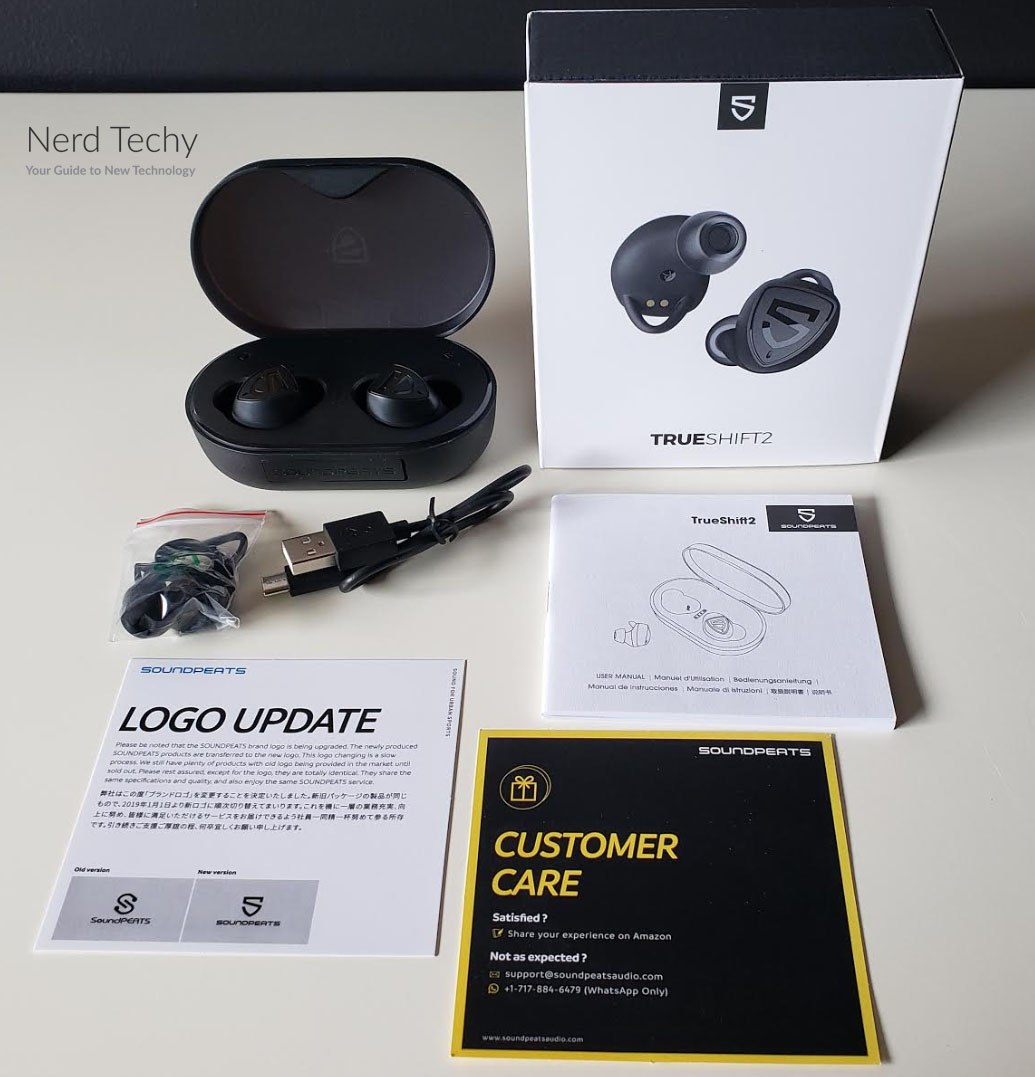 Overall Design
Like most wireless earbuds, the SoundPEATS TrueShift2 have a two-part design. There are both the earbuds themselves and a charging case. This design goes back to the original Apple AirPods, which had a similar design. The TrueShift2 earbuds have a shield-shaped design, with the bottom of the shield facing the bottom of your ear. They're made of ABS plastic, with a matte black finish that doesn't draw a lot of attention to itself.
On the back of the earbuds, you'll see a SoundPEATS logo, along with small LEDs that indicate when they're active. The logos double as soft touch controls, which makes them comfortable to operate. You don't have to press hard to have full control. The buttons let you skip tracks, answer and end phone calls, and even activate your phone's voice assistant.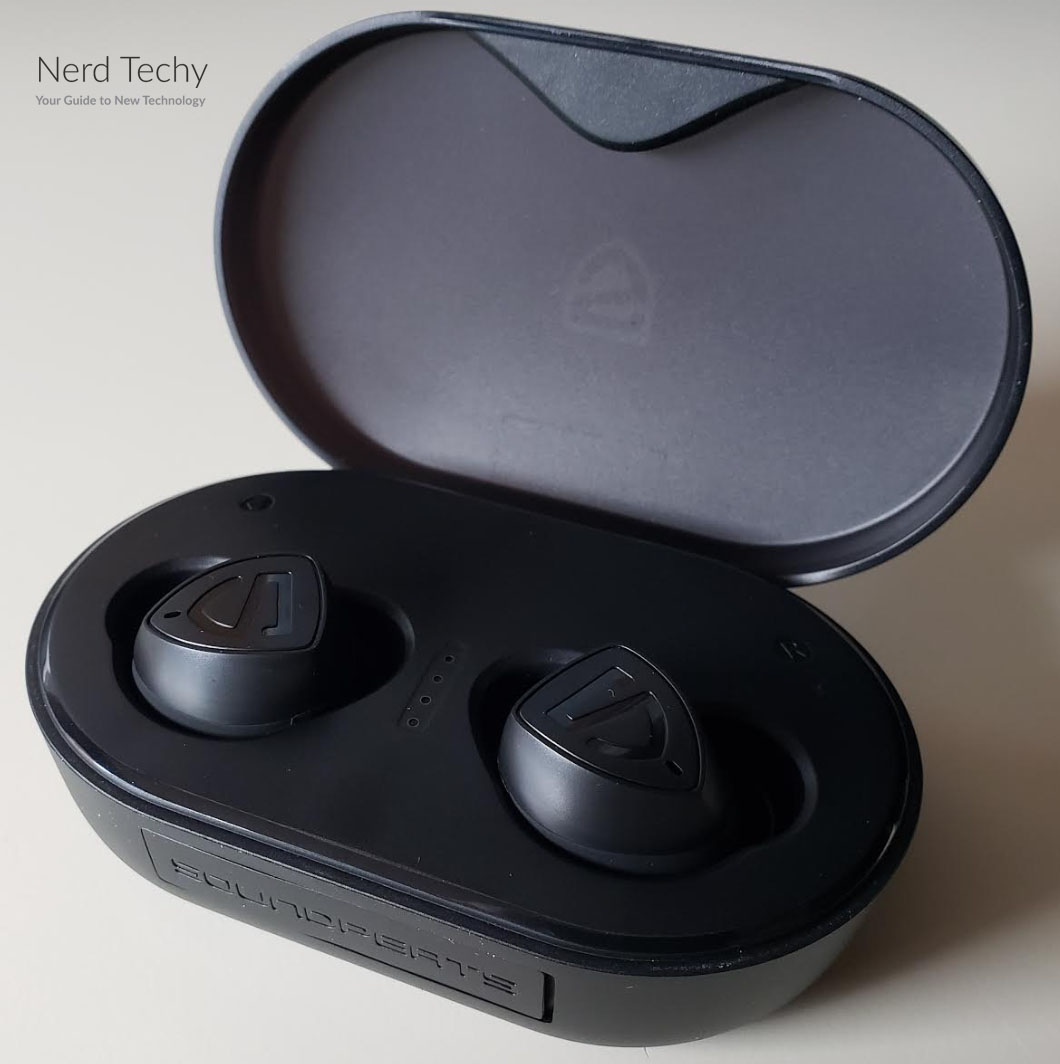 TrueShift 2 earbuds are designed for people who live an active lifestyle. They're IPX7 water-resistant, which means they can withstand full submersion for up to 30 minutes. As a result, they're more than good enough to withstand sweat, rain, and even showering. The earbuds also fit securely. They have 3 sets of small rubberized ear fins, which can be swapped out to fit almost any ear. These ear fins are very comfortable, and help prevent the buds from popping out. To compliment the ear fins, you also get 3 sets of interchangeable ear tips, as do many earbuds.
If you want an even more secure fit, consider the SoundPEATS TrueWings. They have an over-the-ear wing that's designed to keep your earbuds from easily falling off. That said, this larger design makes for a larger, fatter charging case.
The TrueShift2's charging case is easy to use. It has a clamshell design, with a spring-loaded lid that stays shut in your pocket or your luggage. Your earbuds sit in two separate wells, with small brass charging studs. These studs are a nice improvement over simple, flat contacts. The reason is that the lid won't close entirely unless the studs are seated in the earbuds. In other words, you can be sure that your earbuds are actually closing when the lid is closed. The earbuds themselves also have an indicator that shows you when they're done charging. The LED lights on the buds will turn red when they're charging, and turn off when they've been fully charged.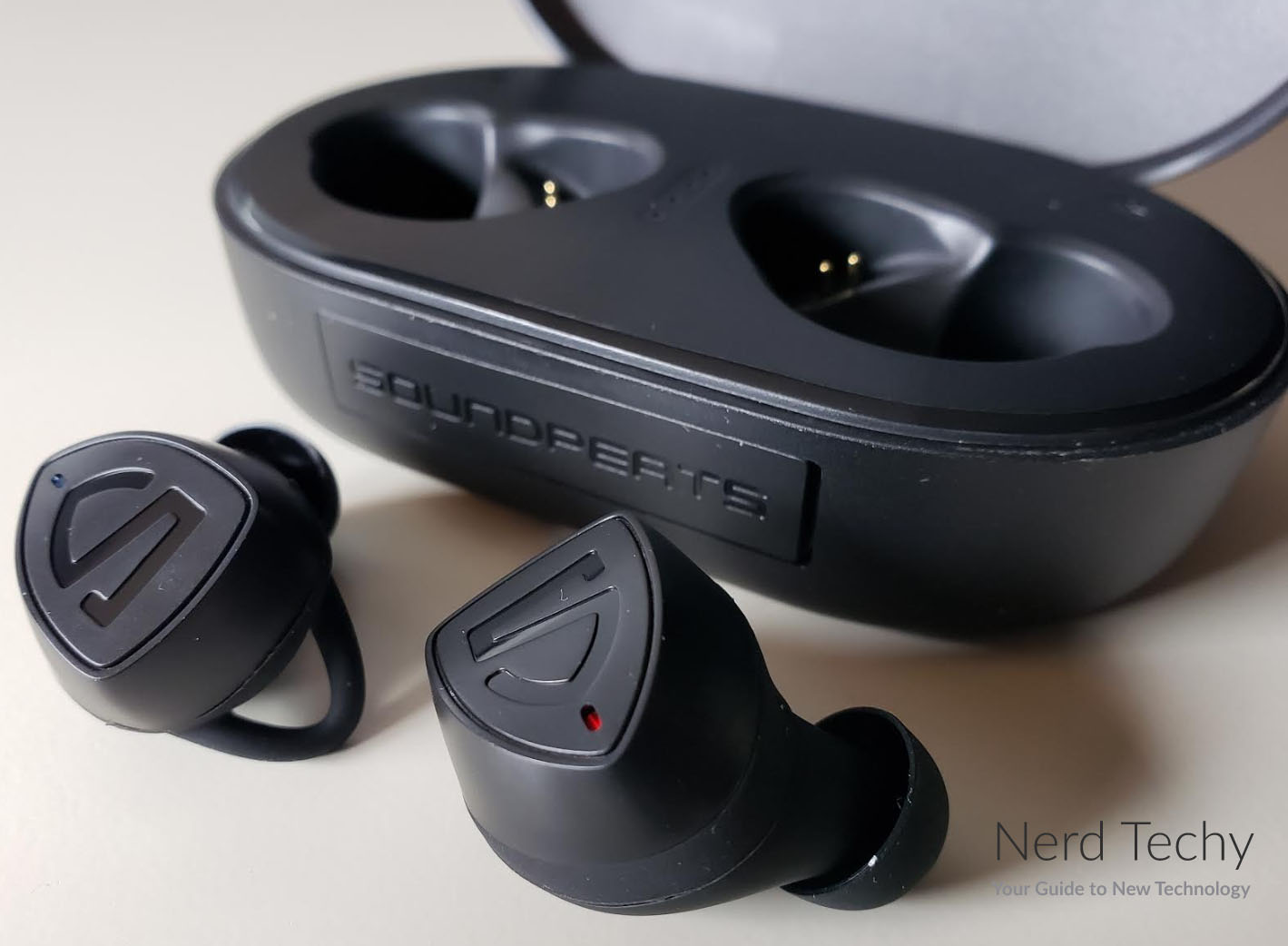 The overall dimensions of the case are 2.8 inches wide, 1.8 inches deep, and 1.1 inches thick. This makes it small enough to slip into your pocket, backpack, or laptop bag. And at only 2.88 ounces, the whole package is exceptionally lightweight. You can take it on the road with you, and you won't even notice that you're carrying anything.
Believe it or not, SoundPEATS actually offers an even more compact set of wireless earbuds. Their TruEngine SE Wireless Earbuds have a charging case that's less than an inch thick. It's also just over an inch wide, an incredible achievement for an earbud charging case.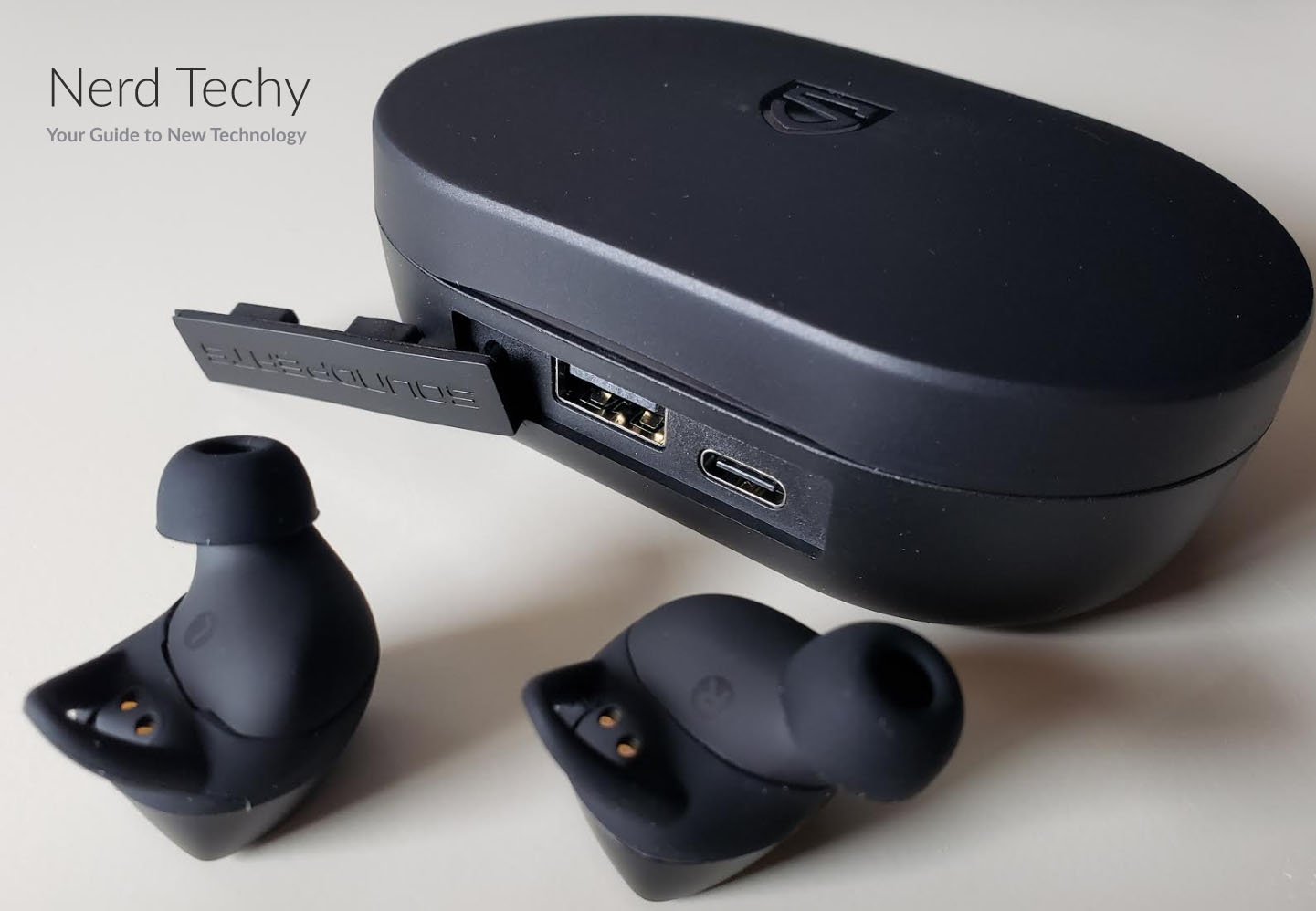 The charging port for the TrueShift2 is located on the front, behind a small rubber plug. In addition to the USB Type-C charging port, there's also a USB Type-A port, which we'll talk about shortly. A USB Type-C charging cable is included in the kit, so you've got everything you need right from the start. Finally, the entire kit is protected by SoundPEATS' 12-month manufacturer's warranty. If anything goes wrong, you know they've got you covered.
Battery & Connectivity
So, how long do the TrueShift2 earbuds last? When fully charged, you get five hours of listening time, but this doesn't tell you the whole story. In fact, the charging case has a 3,000mAh battery. This large, powerful battery is sufficient to provide an additional 20 full charges, or 100 hours of playtime. Four white LED lights between the earbud wells help you keep track of the charge level. You won't have to worry about running out of juice by surprise. As always, we should point out that the 100-hour rating is based on manufacturer testing. Manufacturers usually test their batteries at medium volume. As a result, you're not going to get the same performance if you're listening at full volume. But even so, the TrueShift2 offers impressive battery life.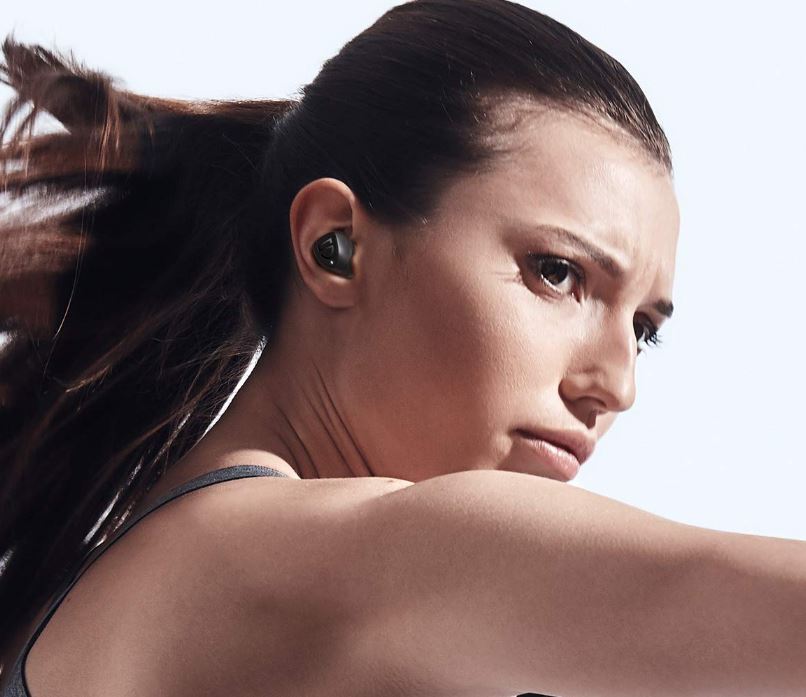 The reason SoundPEATS decided to use such a powerful battery is that the charging case doubles as a power bank. Remember that USB Type-A port we mentioned? You can plug your phone or other device into it and top up your charge. The 3,000mAh battery is sufficient to recharge your iPhone X or Samsung Galaxy S10 from dead to full. Keep in mind, though, that this will almost entirely drain the charging case. It's a great emergency backup, but it's not a replacement for a dedicated power bank.
The SoundPEATS TrueShift2 connects via Bluetooth 5.0, the latest version of the Bluetooth protocol. This allows for high-bitrate audio, a stable connection, and virtually zero latency. The low latency is a significant benefit, since it allows for good audio sync when watching videos. You can also connect with just a single earbud. Obviously, this isn't ideal for listening to music. But it's a great way to extend your battery life if you're just using the TrueShift2 for hands-free calling. Keep in mind, though, that you'll be missing half of the touch controls when you do this. The TrueShift2 is compatible with all Bluetooth devices after Bluetooth 4.0. That said, older devices won't be able to take advantage of all the Bluetooth 5.0 features.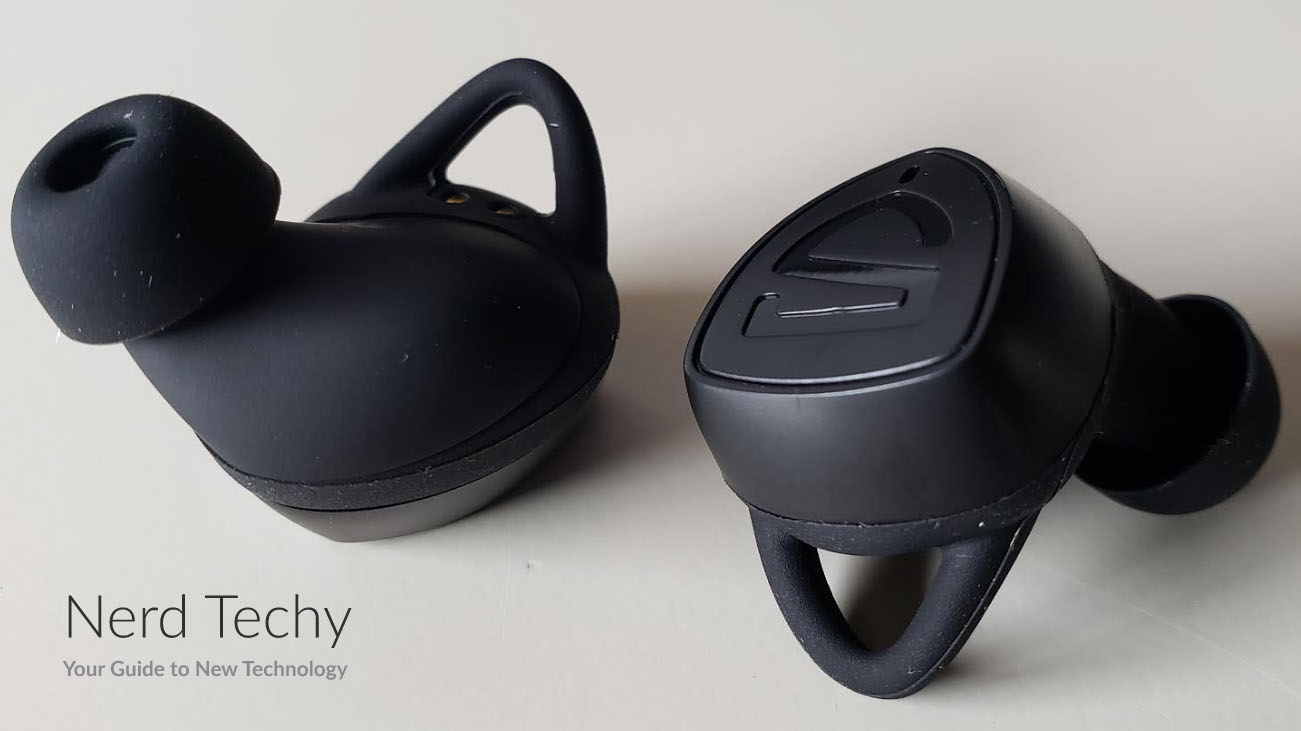 Sound Quality
The SoundPEATS TrueShift2 drivers are very compact, measuring only 6mm in diameter. They're constructed from graphene, which allows for better sound quality than you'd expect from the size. Still, as you'll see, sound quality is the area where TrueShift2 earbuds could use the most improvement. Let's start with the positive: the soundstage is great. There's plenty of separation between frequencies, and a good sense of space. You won't have any issues distinguishing different instruments, and the vocals won't get muddied by the bass.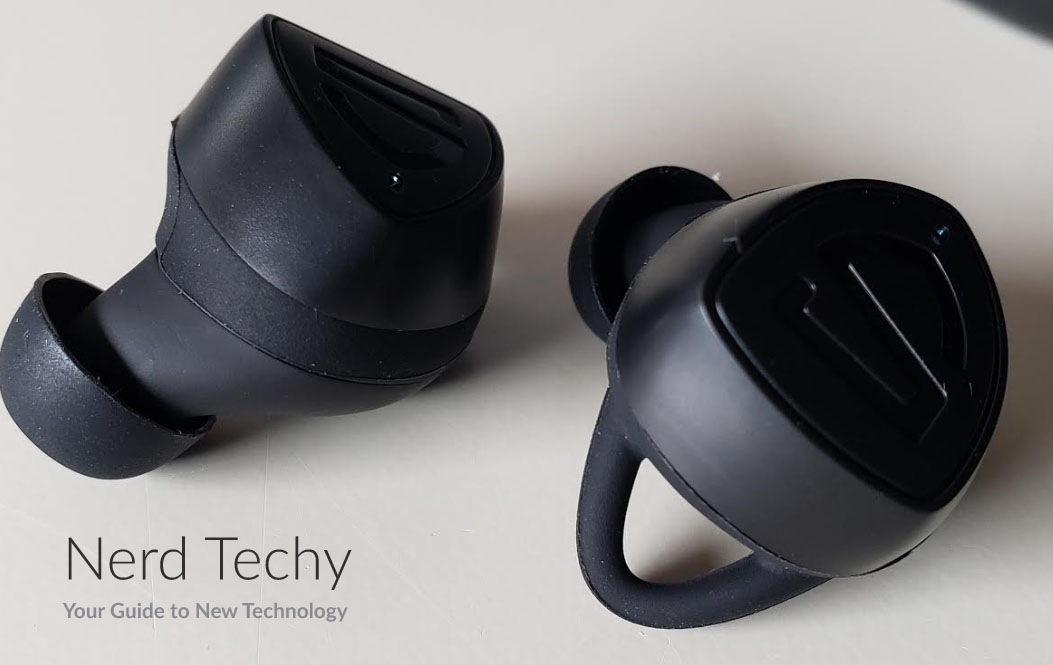 The high frequencies are present, but they sound a bit tinny. Strings and high synths just don't have the same richness that you'd expect, even from smaller buds. This was disappointing, since small earbuds tend to do best in higher frequencies. That said, the clarity is still there. It's just that the quality isn't that great. The mids perform much better. Vocals sound smooth, and they're front and center just as they should be. Rap and hip hop in particular will sound just fine, since vocals are so important in these genres.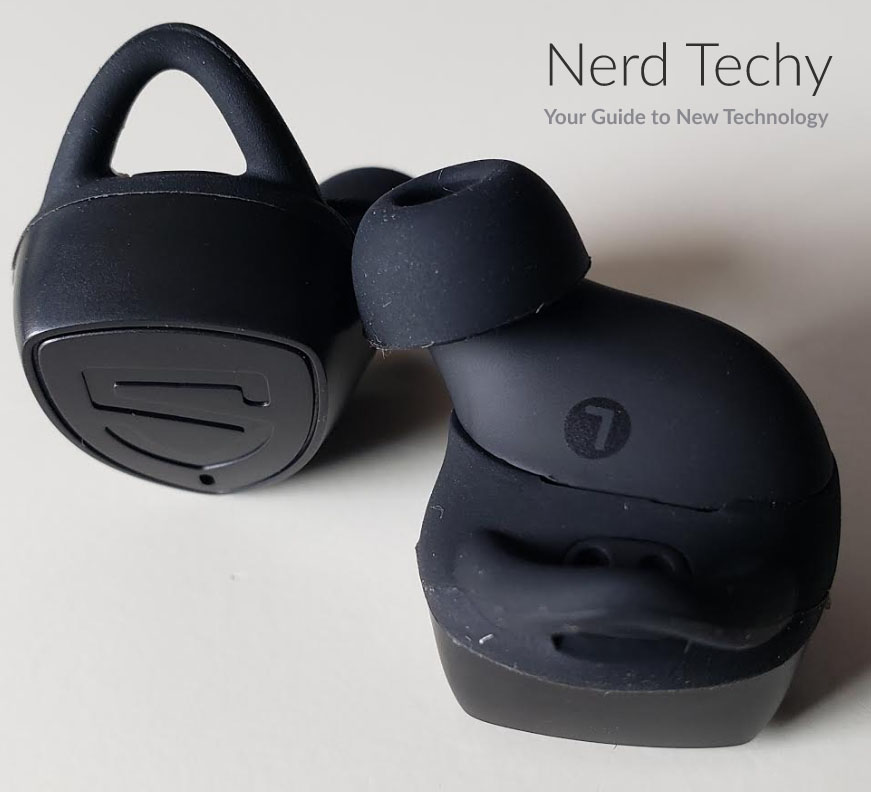 The bass, to put it bluntly, is weak. Again, there's plenty of clarity and separation. It's just not very loud. This was less disappointing than the tinny treble, because we expect that from small drivers. You just aren't going to get thick, punchy bass without a larger set of drivers. There's also no active noise cancelling on the TrueShift2. That's to be expected with most wireless earbuds, so we won't hold it against them.
SoundPEATS does make some earbuds with better sound quality. In particular, check out our review of the SoundPEATS TruePods. Their biological diaphragms offer much better sound, but the battery life is limited to 4 hours per charge.
Call quality on the TrueShift2 is just fine. You'll be able to hear the person on the other end without any issues. They'll also be able to hear you well. The TrueShift2 utilizes CVC 6.0 noise reduction technology, which helps filter out background noise. This technology works better if you're using both earbuds, since there are two mics instead of one. But even with only one earbud, the call quality is acceptable for most purposes.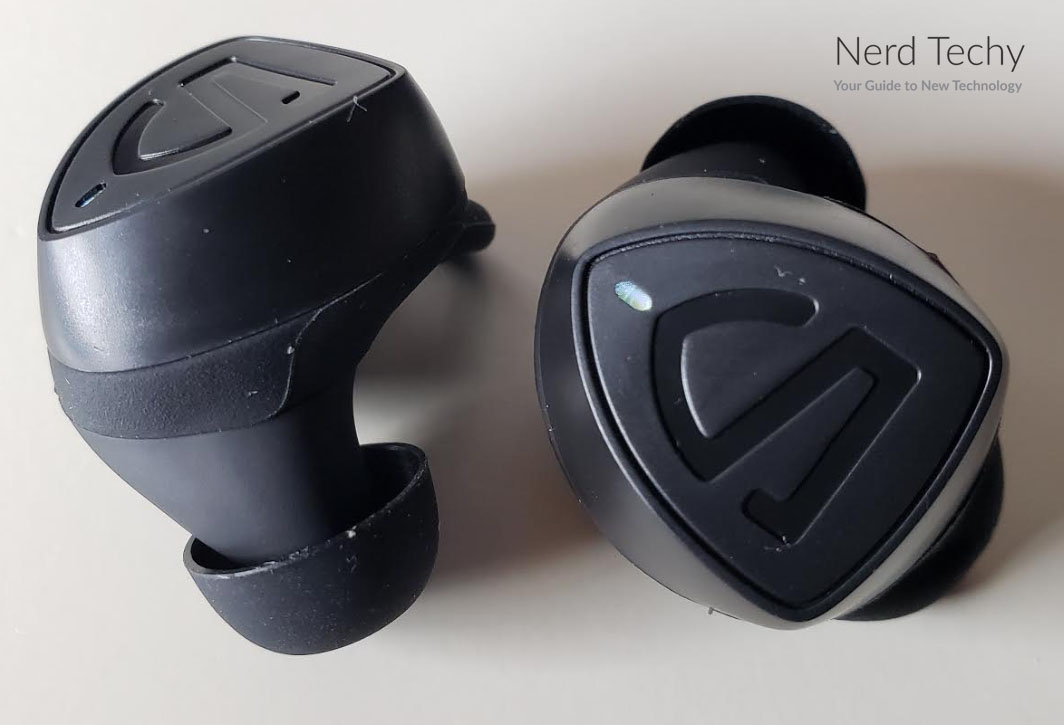 Final Verdict
The SoundPEATS TrueShift2 is a bit of a mixed bag. If you're an audiophile, we'd recommend giving them a pass. The highs and lows just aren't very good, and you can get better sound quality elsewhere. That said, there are several other reasons you might want to use these headphones.
To begin with, the TrueShift2 offers exceptional battery life. Any time you're looking at more than 40 total hours, you're looking at an excellent battery. Needless to say, 100 hours of battery life is out of this world. The ability to use the charging case as a power bank is just icing on the cake. In addition, the Bluetooth 5.0 connection is very stable, and the ability to use a single earbud is a plus. The overall design is also very well-engineered. The waterproof rating is sufficient for just about any purpose, and the ear fins provide a secure fit. For the athletic person, the TrueShift2 is an excellent pair of wireless earbuds.