Over the past couple of decades, Bluetooth has totally redefined how we think of connectivity. Instead of a rat's nest of tangled wires, we now have over-the-air connections for our phones, our earbuds, and an array of smart home devices. All of this is well and good, until you find yourself with a device that isn't Bluetooth enabled.
So what do you do if you want to play MP3 files in your non-Bluetooth-enabled car? Or for that matter, how would you connect a Bluetooth audio player to a standard stereo system? One of the easiest methods is simply to use an auxiliary adapter to bridge the gap. Here, we'll be reviewing three of the top Bluetooth auxiliary adapters on the market.
Types of Bluetooth Adapters
Before we dig any deeper, let's look at different types of Bluetooth adapters that are available. We'll be looking specifically at auxiliary adapters, but it's important to understand what other options you have.
Auxiliary adapters are generally your most affordable option, and they're the easiest to use in most circumstances. You pair your phone or MP3 player with the adapter, and plug the adapter itself into a 3.5mm auxiliary port. This allows you to connect not just to a car, but also to stereo systems. That said, it does require you to have a 3.5mm aux port to plug into.
FM adapters are a good choice for older vehicles which don't have an aux port available to plug into. These tend to cost a little more than auxiliary adapters, but they work with any car or stereo that has an FM receiver built in. You pair your phone or MP3 player with this kind of adapter just as you would with an aux adapter, and then select an FM channel to transmit over. These adapters can get annoying if you're driving long distances, though, since you'll constantly have to change frequencies to a channel that isn't being used locally.
Visor kits are significantly pricier than FM or auxiliary adapters, and are designed primarily for hands-free calling. They clip directly onto your sun visor, and have built-in speakers. Because they don't rely on your car's speaker system, you'll get zero latency, and phone calls will typically be clearer than they would be otherwise. However, your music quality generally won't be as good, since the built-in speakers will be fairly small.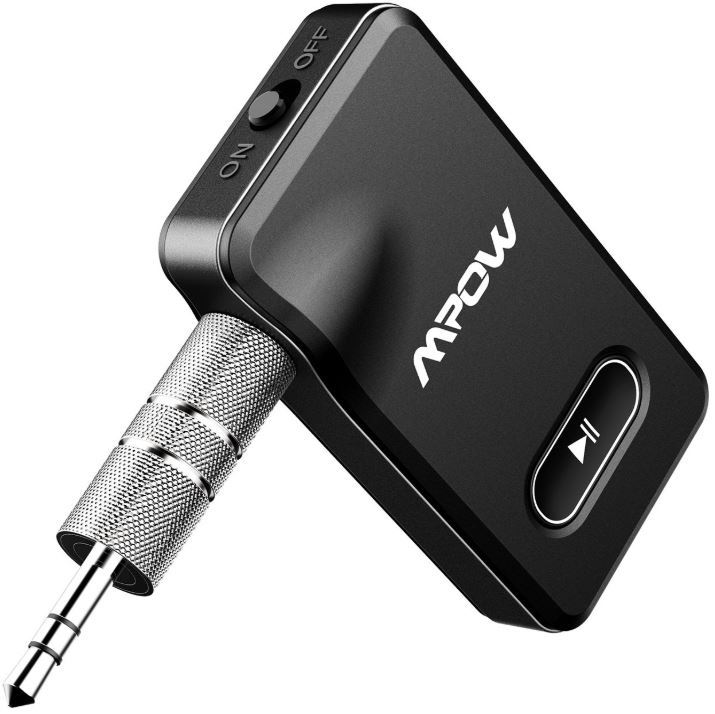 Mpow BH129 Bluetooth Receiver
The Mpow BH129 Bluetooth Receiver is designed to connect your phone, MP3 player, or other audio source to any set of speakers. Not only can you use the BH129 in the car, but you can also use it to connect to a stereo, or even a pair of headphones. It's constructed from black ABS plastic, with an aluminum frame and sides that are very sturdy.
There are two variants available: an all-black version, and a version with gray sides. There's an on/off switch on the top of the device, and a play/pause button on the front that will work with most Bluetooth audio sources. The 3.5mm aux plug is removable, so you can either plug the BH129 directly into your car or stereo, or you can remove the plug and instead plug a pair of headphones directly into the receiver.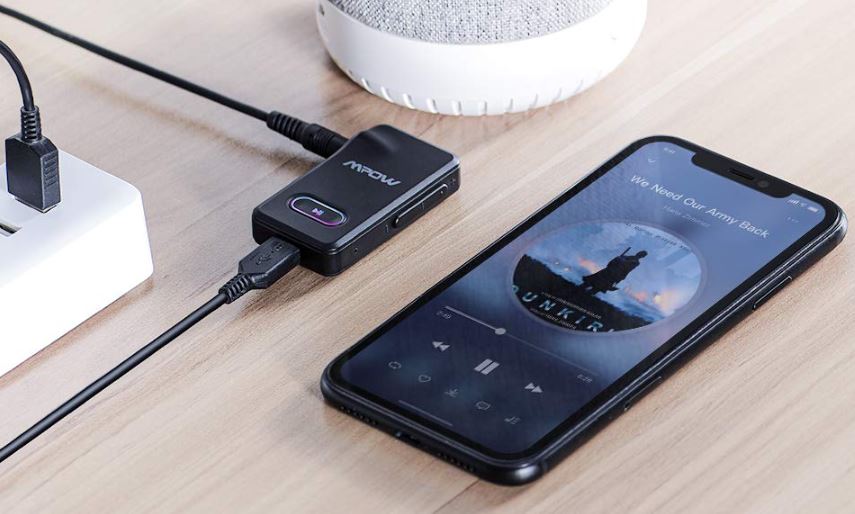 The BH129 is designed for hands-free calling as well as for music. The play/pause button doubles as an answer button, although you can also use voice controls if your phone supports them. There's a built-in mic, so you won't need to worry about where your phone is while you're talking. Be aware, though, that if you're using this adapter with a pair of wired headphones that have their own controls, you'll want to use the answer button on the headphones, not the one on the adapter.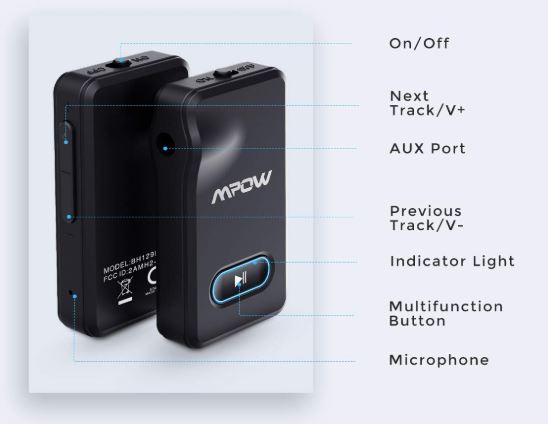 If you use an MP3 player other than your phone, you're not limited to choosing one or the other. The BH129 supports dual link, so you can connect both devices at once. Listen to your music or audiobook as you drive, and your phone will still ring. When you answer, your other audio source will automatically pause, and it will resume on it's own once you've finished your call.
Music quality is also excellent. The BH129 supports all the latest audio codecs, so you'll get as much quality as you'd expect from a direct wired connection. Obviously, this is going to depend on your car's audio system, so if your speakers are old and rattling, don't expect a miracle. There is a built-in volume slider on the side of the device, so you can quickly make adjustments when switching between music and phone calls, since volume can be different between the two.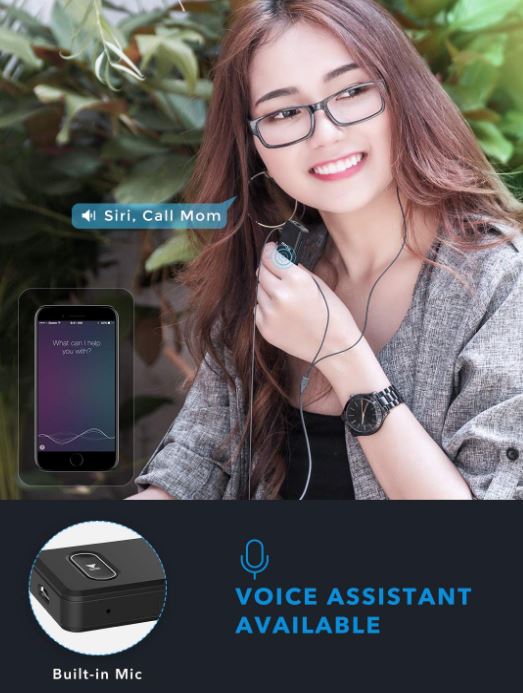 This adapter uses Bluetooth 5.0, the latest iteration of the venerable Bluetooth protocol. It allows for lag-free phone calls, as well as fast, easy pairing. The wireless range is 33 feet, which is way more than you'll ever need in a car. That said, it's enough to play your audio on a home stereo set while walking around your kitchen or your living room.
With 15 hours of battery life, you can rely on the BH129 even for long road trips. It charges via Micro USB in just 45 minutes, so you can easily top it off, and you can even play audio while you're charging. It also offers 120 hours of standby time, or 5 straight days. But to get the most out of your battery, take advantage of the on/off switch and shut the unit off when you're not using it.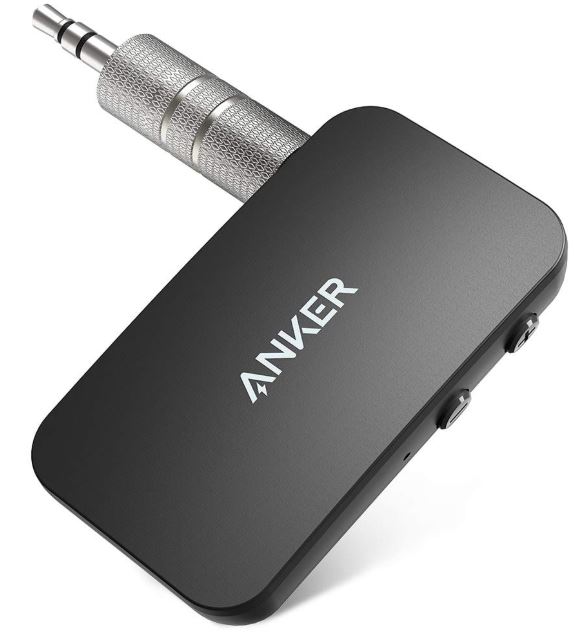 Anker SoundSync A3352 Bluetooth Receiver
The Anker SoundSync A3352 Bluetooth Receiver is a compact receiver that measures 2 inches long by 1.1 inches wide and less than half an inch thick. The case is constructed from tough black anodized aluminum, with a matte finish that isn't distracting. In addition to the short, removable aux plug, it also ships with a 3-foot aux cable, so you can plug it into hard-to-reach aux ports without having to run a wire every time you plug it in. Sure, you could pick up a short cable for a few bucks, but it's nice that Anker included one in the package.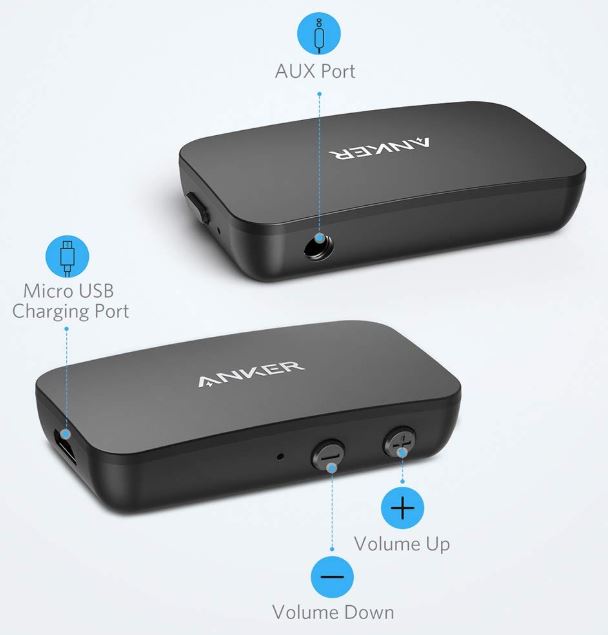 The controls are fairly vanilla. On the front side of the case, you'll find a pair of buttons to control the volume. On the side, there's a single multi-function button that can be used for answering and ending calls, pairing your device, and other features that are dependent on the context. It can take some getting used to, but once you've fiddled around with the SoundSync a few times, you'll get the hang of it. This is par for the course with most Bluetooth devices, and it's to be expected.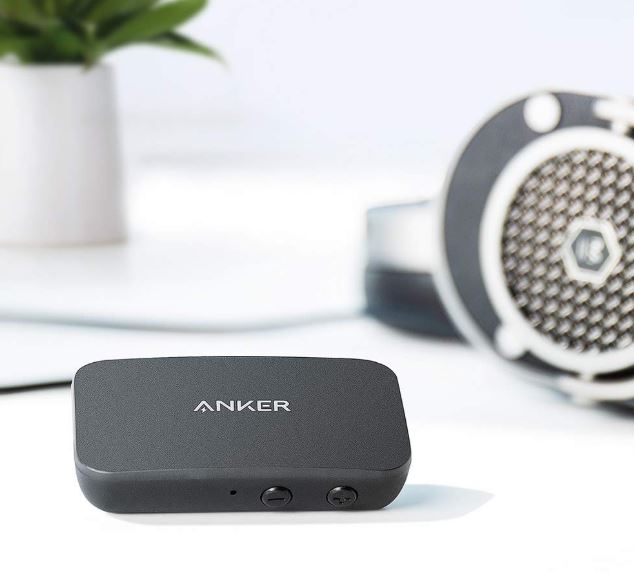 The SoundSync uses Bluetooth 5.0, the latest version of the protocol. It has a range of 30 feet, enough for use around the house as well as in the car. Syncing is easy. While a lot of Bluetooth devices can take some fiddling to get set up for the first time, that's not an issue with the SoundSync.
Turn it on, open your device's Bluetooth menu, and you'll be able to sync in just a few seconds. The strength of the signal is also excellent. A lot of Bluetooth audio adapters will drop a few decibels, and you'll need to crank up your speaker volume to compensate. By comparison, the SoundSync is quite loud, so you shouldn't have to make any volume changes when you switch from your MP3 player to the radio and back again.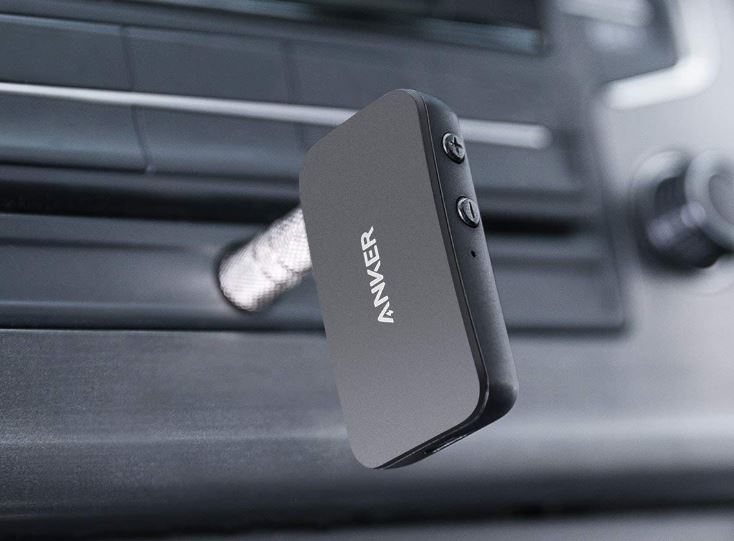 The battery on the SoundSync is rated to last for 12 hours. Standby time is up to 100 hours, but you're going to need that time, because there's no on/off button. That said, the battery only takes about an hour to charge, and you can even use the SoundSync while it's on the charger. It utilizes a Micro USB charger, and you can plug it into a USB port, or into a 12-volt to USB car adapter to keep it topped off while you're driving.
However, this is really only useful for making phone calls in an emergency. While you're listening to music and charging, an audible tone will sound every 10 seconds to let you know you're charging. Needless to say, this can get irritating very quickly.
The SoundSync supports dual link connections, so you can connect it to two devices at once. This is useful if you have a separate phone and music player, or if you and your partner both want to connect your phones simultaneously. When used in this fashion, you can easily switch back and forth between listening to music on one device and taking phone calls on another.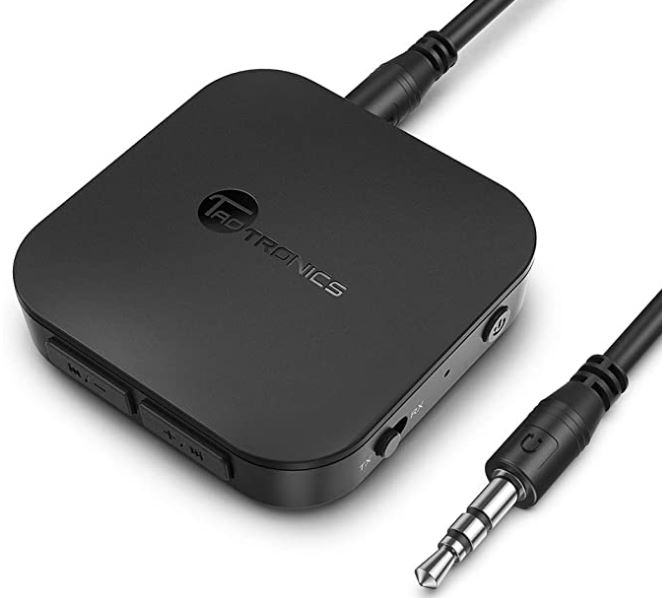 TaoTronics TT-BA08 Bluetooth AUX Adapter
The TaoTronics TT-BA08 Bluetooth AUX Adapter is a little bit larger than the first two we looked at. It's a square that measures 2.4 inches on each side, with a thickness of 0.6 inches. Because of this, it's too large to use a short 3.5mm adapter in most situations, and it doesn't even ship with one. It does, however, ship with a short aux cable, which you can use in place of a short adapter. This means you'll have to find somewhere to put it, though, since it won't just hang off of your car's center console.
The large size of the TaoTronics is due to its significantly larger battery. With a capacity of 850mAh, it will play for up to 55 hours on a single charge, easily blowing the competition out of the water. It charges in about 90 minutes via Micro USB, and can also be used while it's charging.
There are two ports on the side of the TaoTronics: the Micro USB charging port, and the 3.5mm aux port. The top of the black ABS plastic case features a small LED light that indicates when it's active, and the large control button is located directly in the center, with a TaoTronics logo emblazoned on it. This button can be used for playing and pausing music, as well as for turning the unit on and off.
Be aware that there's no built-in microphone on this unit, so it doesn't play well with voice controls, and you'll need to have your phone unobstructed to carry on a conversation. This can lead to a lot of echo, so consider the TaoTronics for music, but not for phone calls.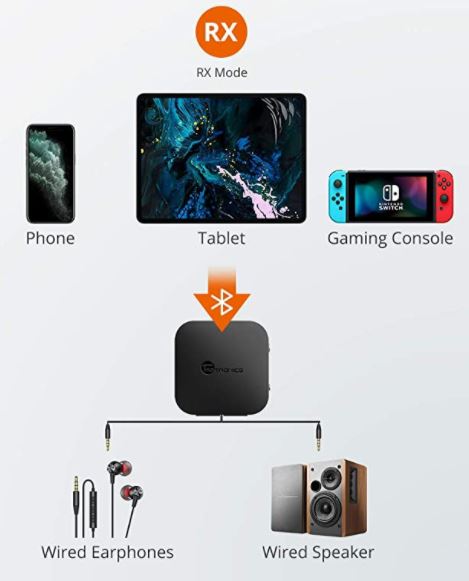 In keeping with its music-oriented design, this adapter also ships with a 3.5mm to RCA adapter cable. This allows you to connect to a wider variety of devices, including stereo systems that don't have an aux port. As a result, the TaoTronics is ideally suited for home use, since you can use it to convert your old stereo system into a set of Bluetooth speakers. And while the TaoTronics is large as aux adapters go, it's still pretty small. If you leave it permanently set up in your entertainment center, it's unobtrusive enough that it's not going to attract any attention.
The TaoTronics adapter uses the older Bluetooth 4.2 protocol instead of the current 5.0 protocol. This could cause some latency during phone calls, but once again, this adapter is designed for music, not conversations, and the Bluetooth 4.2 protocol allows for longer range. You can connect to the TaoTronics and stream to it from up to 100 feet with a clear line of sight, although 50 feet is more realistic under normal conditions. Still, that's more than enough range to walk around your house with your phone on your hip, streaming to your stereo system.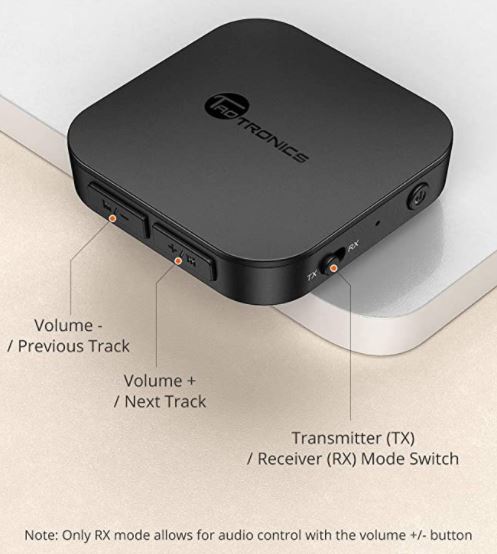 Like the other adapters we've looked at today, the TaoTronics supports dual link technology for connecting two devices at once. This makes it easy to stream from more than one device, so you can listen to a YouTube video on your phone, then switch to playing music from your tablet without having to un-pair and re-pair the devices.
Final Verdict
So, which one of these adapters is the best? Normally, we'd try to stick to one recommendation, but in this case, we have two clear winners depending on what you're trying to do with your adapter. Simply put, some features are more beneficial when you're in the car, while other features are more important around the house.
For your vehicle, the Mpow BH129 is our top choice. It's compact and lightweight, and it offers plenty of battery life. But what really shines is the built-in microphone, which makes hands-free calling as effortless as possible, and which also reduces echo so the person on the other end of the phone will be able to hear you clearly. We also appreciated the fact that you can charge it in 45 minutes. It doesn't get much faster and easier than that.
The Anker SoundSync A3352 is a close runner-up. It's very similar to the Mpow but a bit more expensive. Capable of providing a simple, stable connection for a wide range of scenarios, it's packed with most of the same look and features.
For home use, the TaoTronics TT-BA08 is tough to beat. We wouldn't use it in the car, because it's not designed for phone calls, but it's exceptionally well-suited for connecting to a home stereo system. Using Bluetooth 4.2 was actually a good choice for this adapter, because of its longer range. If you're looking to breathe new life into an old stereo system, the TaoTronics is your best option.
Was this helpful? Please consider sharing: