Over the past couple of decades, Bluetooth has totally redefined how we think of connectivity. Instead of a rat's nest of tangled wires, we now have over-the-air connections for our phones, our earbuds, and an array of smart home devices. All of this is well and good, until you find yourself with a device that isn't Bluetooth enabled.
So what do you do if you want to play MP3 files in your non-Bluetooth-enabled car? Or for that matter, how would you connect a Bluetooth audio player to a standard stereo system? Or wired headphones via a wireless connection? One of the easiest methods is simply to use an auxiliary adapter to bridge the gap.
Here, we'll be reviewing several of the top Bluetooth auxiliary adapters on the market. All of them are great choices, but we'll review each one so you can ultimately pick the best one for your specific situation. Let's get right into it!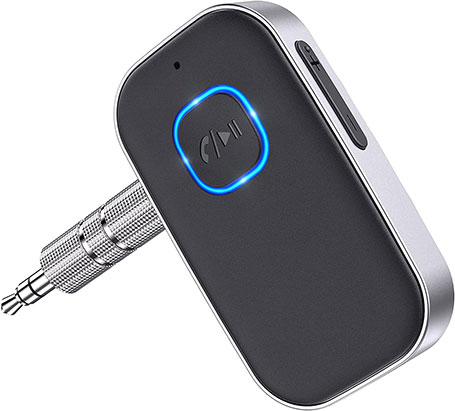 Best Overall: COMSOON Upgraded Bluetooth 5.0 Receiver
The COMSOON Upgraded Bluetooth 5.0 Receiver is an excellent choice for those who need a simple yet reliable Bluetooth connection in their car. Simply charge it up, plug it in your vehicles AUX input and pair your smartphone to it. Once paired, you can seamlessly play music or make/receive phone calls completely hands-free and without a messy wired connection. On one side, you have the AUX output. Opposite to that is a volume up/down button. Adjacent to both is the USB-C charging port. The face of the receiver features a "multifunction button" that allows you to play/pause music or accept/reject phone calls.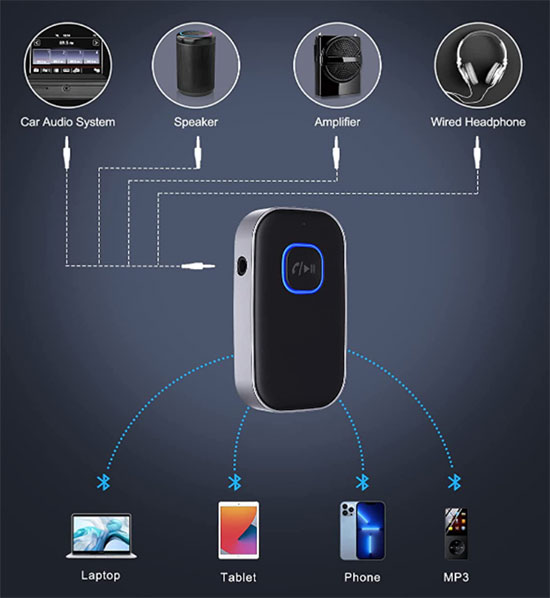 Internally, the COMSOON Bluetooth receiver has a rechargeable battery. Luckily, the charge times are only around 2-3 hours, which is considered relatively fast. Once fully charged, users can expect up to 16 hours of wireless freedom before it'll need to be charged-up once again. Since it's incredibly small, it's perfect for keeping in your vehicle at all times. In fact, since it supports a dual Bluetooth connection, you can actually pair two smartphones simultaneously. This way, music can be played from two sources and phone calls can be made or received from both phones, as well.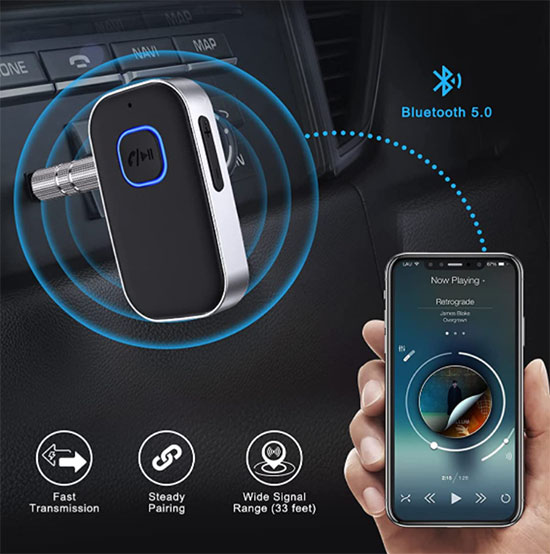 We love the fact that CVC 8.0 (clear voice capture) and DSP (digital sound processor) are included within the COMSOON Upgraded Bluetooth 5.0 Receiver. These are built-in audio features that work together to provide clear voice transmission on both ends of the phone call. This way, background noise is effectively cancelled-out. Echos, distortion, wind, traffic-noise, etc. are all eliminated. Ultimately, this makes for near-perfect sound quality when speaking and listening to a conversation via your paired smartphone.
What We Liked
Up to 16-hour battery life.
Charges via USB-C within just 2-3 hours.
Extremely compact; portable design.
CVC 8.0 and DSP included for improved call quality.
Very affordable; priced fairly.
What We Didn't Like
Audible notifications can be annoying. For example, when volume is turned up, it'll shout "maximum volume!" When turned on, it'll shout "power on!" When the battery is low, it'll shout "battery low!"
Bluetooth connection stays active when you turn off your car. Must manually deactivate Bluetooth.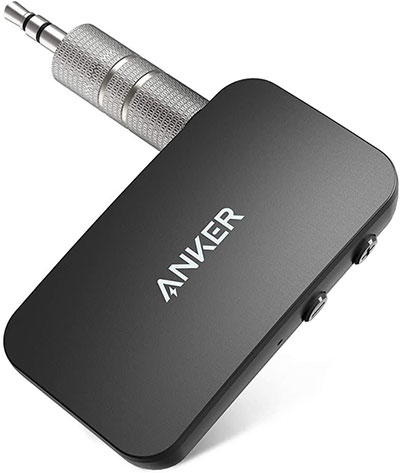 Best Runner-Up: Anker Soundsync A3352 Bluetooth Receiver
The Anker Soundsync A3352 is a tried and true Bluetooth receiver that's portable and well-made. Featuring an internal battery that's rechargeable via USB, the device is incredibly compact. On one side is an AUX port, on the other is a volume up and volume down button. On the side adjacent to the volume buttons is a micro-USB port for charging.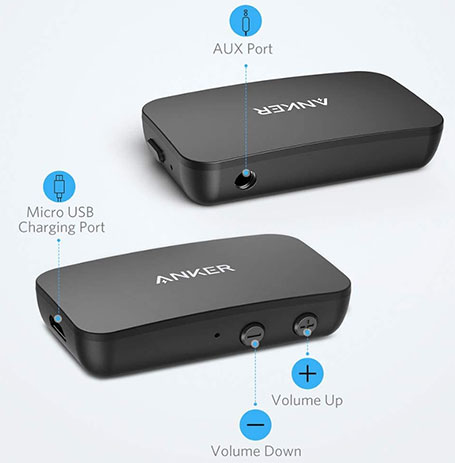 To use, simply plug the included audio adapter; one end into the receiver and the other end into your vehicle's AUX input. Next, pair your smartphone or tablet within a few seconds using Bluetooth. Best of all, like the COMSOON, the Anker Soundsync A3352 accepts dual pairing. Ultimately, this means that two people can pair their phones in the car. As a result, you can play music or make phone hands-free phone calls from two audio sources.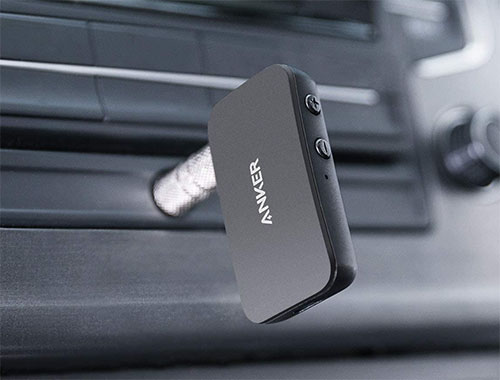 We found both the call and music quality to be right on-point. Using the Anker Soundsync A3352, we never experienced any delay, lag or dropped connections. As long as you're within the vehicle or within about 30 feet of the receiver, there's little to no chance of audio failure. In fact, we found it to work well in every regard. Even outdated smartphones and tablets are fully compatible and just as simple to use with it.
What We Liked
Up to 12 hour battery life.
Dual-pairing for connecting two devices at once.
Excellent audio quality without lag.
Extremely portable design.
What We Didn't Like
Uses outdated micro-USB charging which charges somewhat slowly.
Users need to manually turn it off since it stays powered on after you turn-off your car.
Tries to automatically pair with your phone while charging.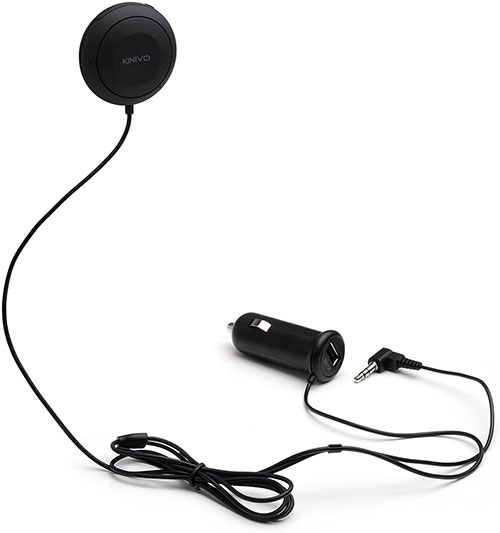 Best Premium Pick: Kinivo BTC450 Bluetooth Car Kit
As an excellent premium pick, the Kinivo BTC450 Bluetooth Car Kit offers something a little different. Rather than relying on an internal battery, the BTC450 plugs directly into your vehicle's 12V (cigarette lighter) output. From here, there's a small cable that goes from there to a small round disc-shaped multi-function button. It has an adhesive backing so it sticks somewhere nearby for easy access and control. Soon after, the cable is split into an Auxiliary cable which inputs directly into the AUX port.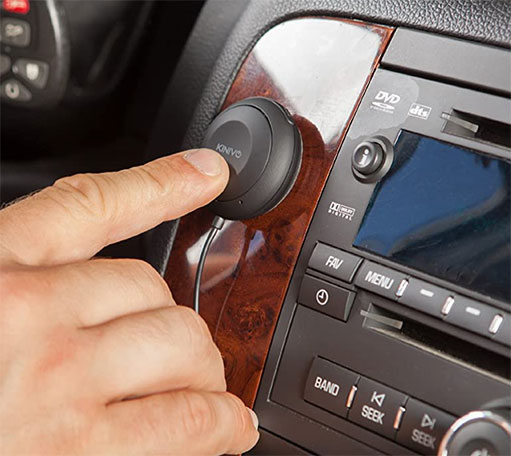 Once it's properly hooked up to your car, all that's left to do is pair your smartphone. As a result, users can enjoy hands-free calling and seamless streaming from virtually any Bluetooth-capable device. Best of all, it supports the aptX codec for lossless CD-quality audio. Truth be told, we found the audio quality to be even better than the COMSOON and Anker Soundsync. However, it's justified with the increased price-point. Simply put, it's much more expensive than other options, but provides slightly better audio quality.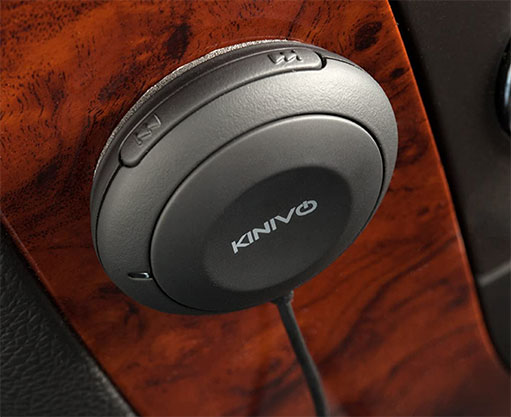 Call quality seems to be quite accurate, as well. In fact, the Kinivo BTC450 provides the same noise cancellation feature for phone calls as the COMSOON, as it cancels out background noise and focuses your voice's clarity rather than ambient noise in your current environment. While this Bluetooth adapter is more of an all-in-one car kit, it's designed to stay installed within your vehicle for the long-term. That said, there's a bit more clutter involved with the extra wires, but you'll never have to deal with recharging an internal battery.
What We Liked
Excellent audio quality in regards to both music and voice.
Stays installed inside your car; no need to remove it.
Doesn't utilize a battery so there's no need to remember to manually charge it.
Muti-function button allows convenient access to your music, navigation or phone calls.
12V cigarette input includes a pass-through USB charger that's always accessible.
Backed by a 2-year warranty.
What We Didn't Like
More expensive than other options.
Somewhat messy; some may not like the extra cables it requires.
Some users report a high-pitch noise while listening to music. We didn't experience this so there may be some quality-control issues.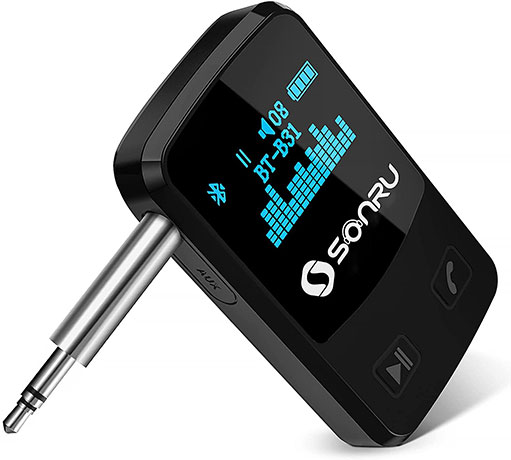 Best Alternative: SONRU Bluetooth 5.0 Receiver
The SONRU Bluetooth 5.0 Receiver is another compact device that's more similar to the COMSOON and Anker Soundsync. But with one look, you'll notice that there's a small built-in screen. This small OLED display gives you clear indication to several useful parameters including the Bluetooth device name, play status, volume, battery life and phone number of whoever you're currently talking to. While this isn't all that necessary, it's an extra feature that's definitely nice to have.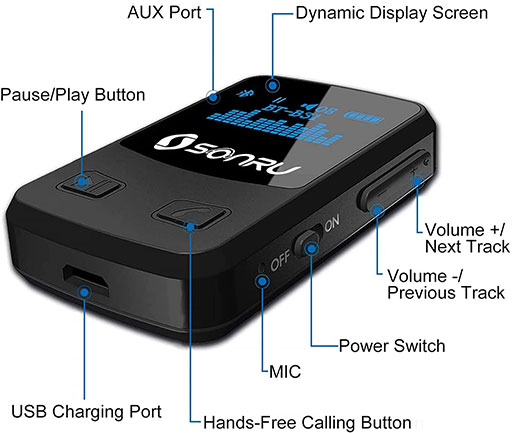 On the same side with the screen is a play/pause and accept/reject call button. On the opposite side of the screen is a small clip, making it easy to attach to your clothes or pocket without letting go. The bottom side has a USB-C charging port while the adjacent side includes the AUX port. Opposite to the AUX port, is a manual on/off switch and volume up/down buttons that can also be used to skip tracks if short-pressed. All in all, this is a very compact device with a vast array of control accessible from every side.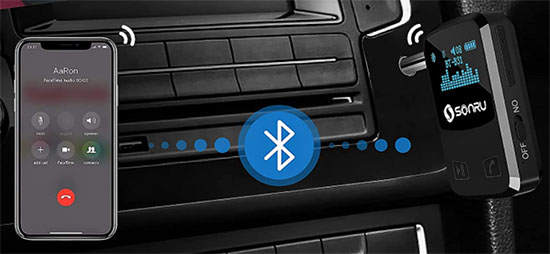 Internally, the SONRU Bluetooth 5.0 Receiver contains a small rechargeable battery that provides up to 12 hours of use. Charging via micro USB is easy and quite fast. Within 2 hours, the receiver will be fully charged and ready to go for another 12 hours. Regardless, the audio and voice quality both seem to be acceptable. While it's not as pristine as the Kinivo BTC450, we didn't experience any drawbacks to the clarity when playing music or participating in phone calls. Since it utilizes the same CVC 8.0 feature as the COMSOON, you can expect clear calls with excellent audio quality, regardless of the scenario.
What We Liked
Small OLED screen provides clear indication of a variety of parameters.
Extremely compact design with a clip on the back for easy attachment.
Up to 12 hours of battery life with a 2 hour charge time.
Excellent audio quality for both music and phone calls with CVC 8.0 included.
Several physical buttons throughout for easy and accessible usage.
Affordably priced.
What We Didn't Like
Uses outdated micro-USB for charging.
Screen may use up more battery than desired.
Volume buttons must be long-pressed. However, to skip tracks the buttons must be short-pressed. Should be the other way around.
Final Thoughts: Which Bluetooth AUX Wireless Adapter is Best?
As you can see, there are quite a few different wireless Bluetooth AUX adapters available. However, we've narrowed it down to four great picks. Let's quickly re-cap to see what the best options are.
The COMSOON Upgraded Bluetooth 5.0 Receiver is our pick for best overall. It's affordable, well-featured and works exceptionally well. The 16-hour battery life is superb among any of the competition, and the included CVC 8.0 and DSP offer pristine hands-free call quality for any environment. The COMSOON is also extremely popular. With over 10,000 5 star reviews on Amazon, it's obviously one of the top-picks among consumers alike.
Another great option is the Anker Soundsync A3352. While it utilzies outdated Micro-USB for charging, it works well and provides great audio quality as well. However, it does cost a bit more than it should. Otherwise, it's a well-made, tried and true choice that's very popular.
The Kinivo BTC450 Bluetooth Car Kit offers something a bit different. Rather than being as portable as possible, it's designed to stay put within your vehicle with a semi-permanent installation. One end plugs into your cars 12V cigarette lighter, while the other plugs directly into your cars AUX input. The last piece is a tiny disc that adhesively attaches to anywhere near your cars head unit or dash board area. The Kinivo provides the best audio clarity, in our opinion, for those who are picky with how their music sounds.
Last but not least, the SONRU Bluetooth 5.0 Receiver provides an experience similar to the COMSOON and Anker Soundsync. However, it has a built-in OLED screen that allows clear visual indication of several parameters. Best of all, it's priced affordably, just like the COMSOON, and seems to work equally as well. Unfortunately, it relies on micro-USB, which is somewhat outdated at this point, but still sufficient enough.
Which wireless AUX adapter will you choose? We've given four excellent options that are all readily available and easy to use. It's up to you to determine which one will be the best for your specific scenario. Enjoy!