Not all Bluetooth adapters are created equal. Depending on what you're trying to do, grabbing just any adapter can quickly put your entire audio setup in a perilous space. Great adapters take advantage of the latest advancements in Bluetooth technology. With that comes a higher sound quality you'll appreciate when listening to music, and the clear and intelligible sound you want for a phone call. A great adapter should be as easy to set up as plugging it in and pressing a button.
But bad adapters exist as well. If you don't choose carefully, then you'll end up chained to a 10-foot range, find yourself shuffling around dime-sized batteries, or have your device break after a few weeks of light use. Choose an adapter suited for a car while you're in your home, you'll be buying features you don't need and passing up features that could have helped you.
Knowing What to Expect from Your Bluetooth Adapter
If you've got an auxiliary-audio input jack, then you have everything you need to add a quality Bluetooth connection to your devices. Whether it's a car, a CD player, or your home stereo, Bluetooth auxiliary adapters can help you add wireless to your favorite devices without having to replace everything you own in the process. As long as you have an audio-in port, you'll be able to modernize your old stuff with the cutting edge advances to Bluetooth.
The least an adapter can do for you is save you from the clutter and tangle of wires, and prevent you from bleeding out your sound quality in the process. The least it can do for you is help you connect to your headphones, speakers, car, and other devices. The least it can provide is convenience, helping you seamlessly transition from playing sound from your speakers to a Bluetooth headset, so you don't bother anyone around you. You should expect more than that from your Bluetooth adapter, especially if you know precisely what you intend to use them for.
For example, if you want to add Bluetooth to your car, then features like noise and echo cancellation will be a must. They'll improve how well your voice can get through a call, even if you're in a convertible with the top down. And if you share a vehicle and need several devices to connect to the adapter, you'll want to be on the lookout for support for multiple devices.
Making Quick Evaluations with Bluetooth Profiles
You'll also notice adapters list the Bluetooth profiles that they support. For example, hands-free profile (HFP) and headset profile (HSP) are what handle phone interactions. Advanced audio distribution profile (A2DP) handles audio distribution from device to device. And A/V remote control profile (ACRCP) enables remote control over a Bluetooth connection, usually for features like rewinding, fast forwarding, and so on. For the most part, you can ignore these exhaustive list of acronyms. But if you're not exactly sure what features are supported by the device, these initials are a useful way to quickly check.
Getting What You Pay For
Another sticking point is the range of connection. Your natural impulse is probably to go for an adapter with the greatest possible range, but that's actually a mistake. When it comes to quality Bluetooth adapters, get the features you pay for. When you're buying an adapter that lets you stand an entire football field away from your car during a call, you end up paying for that feature. That means if you don't find yourself trying to make Bluetooth calls 100 feet from your car that often, then you don't want to pay for special features you're not using.
At the same time, you don't want to end up restricted to something as feeble as a 10 foot connection. Short connections are quickly rendered useless if all of your devices aren't perfectly arranged to accommodate the Bluetooth signal. A general happy-point between those two extremes is around 30 meters. That's enough distance to give you breathing room around your car, and it works just as well in the largest rooms of your home.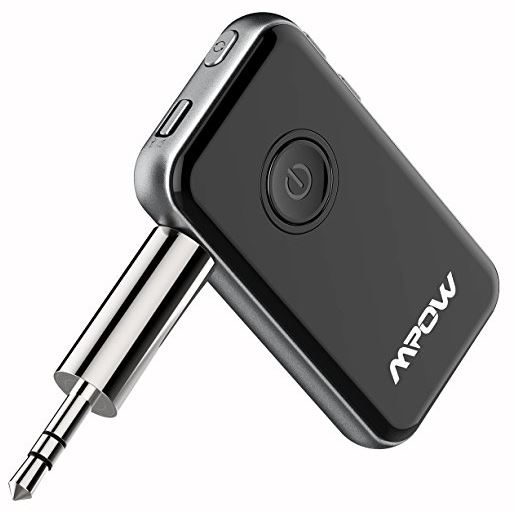 Mpow Bluetooth 4.1 Transmitter/Receiver
The latest Bluetooth technology doesn't just come with better connection ranges, but also greater sound quality. The Mpow Bluetooth 4.1 Transmitter/Receiver is a device that shows you what modern Bluetooth can do, with a fully rechargeable design that doesn't leave you carting around extra batteries. Whether you're looking for hands-free calling, watching TV without bothering anyone, or connecting your older devices to wireless technology, the Mpow Transmitter/Receiver is a solid solution.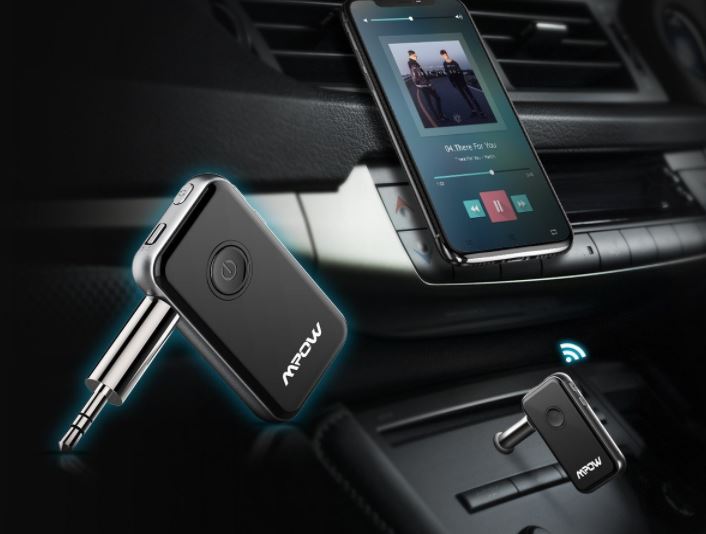 Features and Technical Breakdown
Many people will appreciate the native support for smartphone vocal assistants like Cortana and Siri. Simple design has many benefits. The entire device has five buttons, most of which have double purposes. On the side you'll find several independent volume buttons, giving you a better measure of control over how everything sounds, including your own voice in a call. You'll one more button to help you connect a second device, and a pause/play start/stop call button.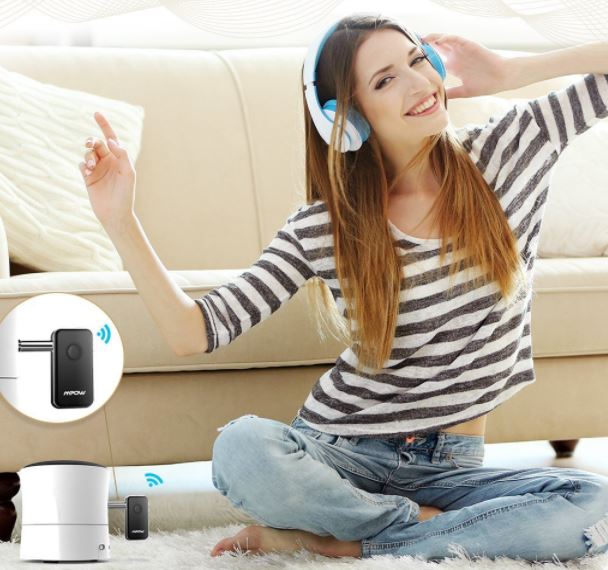 Mpow uses a small portable design to help you connect to devices within 33 feet. Fully charging the device takes about two hours, and the charging cord is about two feet long. Both of those figures are fairly standard. As a receiver the battery lasts about 11 hours, but used as a receiver and a transmitter for two devices, the charge can drop down just above four hours. If four hours of heavy use concerns you, you'll be put at ease to know the device can be used while charging.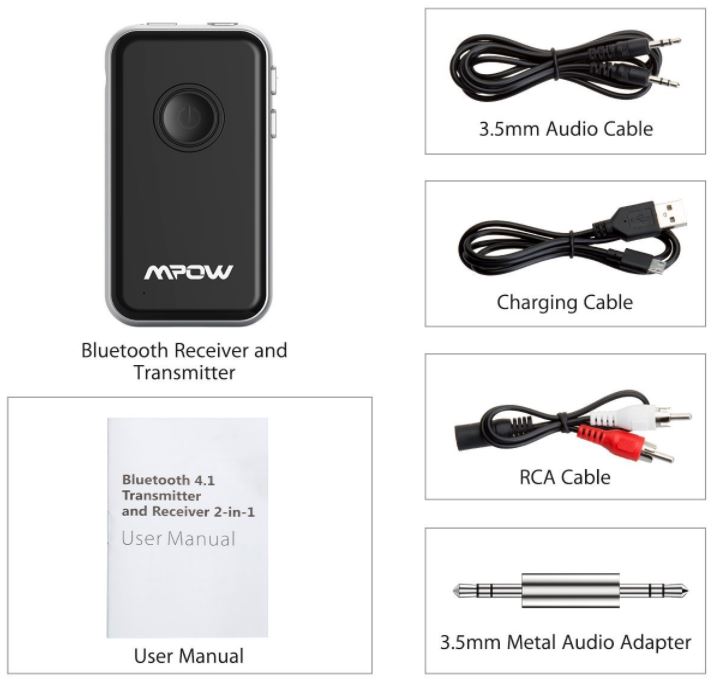 You'll also get a 45-day money-back guarantee, and an 18 month warranty. One thing to be aware of is the device contains a blue LED. Most people won't notice it or think it looks neat, but it could be distracting in the wrong setting.
Compatibility and Use
Like you would expect, the adapter connects through either a standard 3.5mm aux-in or RCA cable. The box includes an RCA cable, a 3.5mm adapter, one 3.5mm audio cable, a charging cable, and the transmitter/receiver itself.
Mpow includes support for two separate Bluetooth devices simultaneously transmitting and receiving. But for your devices to be compatible, they need the support of a Bluetooth profile. This adapter is specified for Bluetooth 4.1, and supports the following Bluetooth profiles: A2DP/AVRCP/HSP/HFP.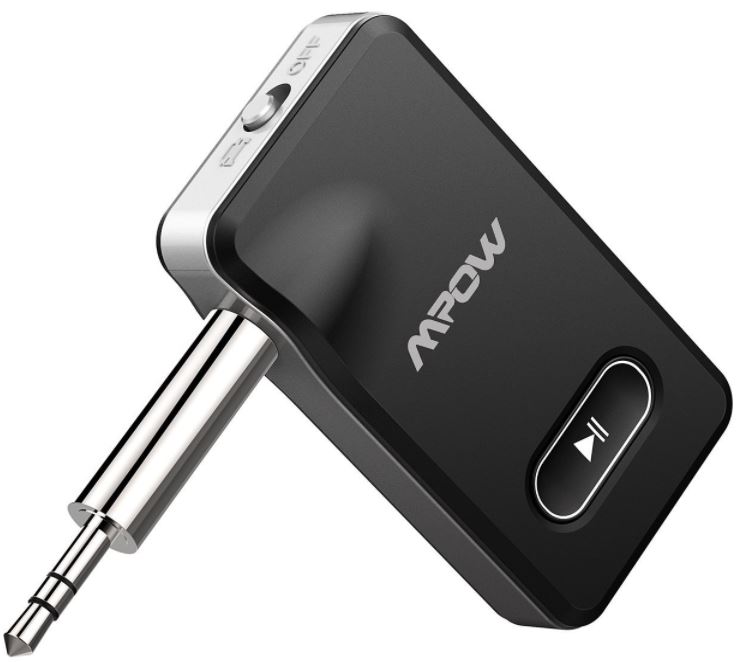 Mpow Bluetooth Receiver with Car Locator
Most people have experienced the frustration of not remembering where they parked, or losing track of where their vehicle ended up inside some massively packed parking lot. In addition to working as a Bluetooth receiver, this Mpow adapter includes a car-finding feature that can help you escape that frustration forever.
Not to be totally overshadowed by the cool car-finding feature, you'll also get an adapter perfect for providing you the essential Bluetooth 4.1 experience. If you need a Bluetooth receiver for your phone, MP3 player, tablet, or car, Mpow's receiver doesn't disappoint.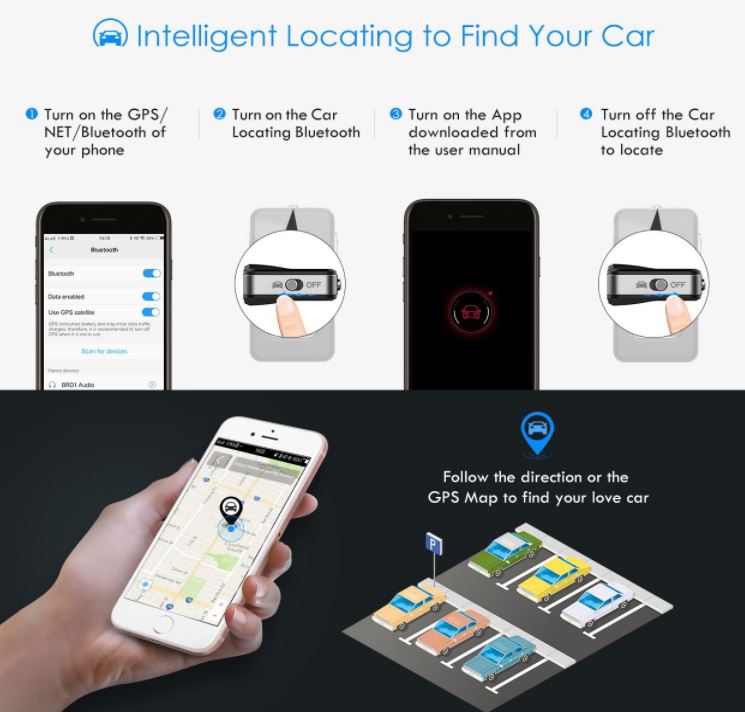 Features and Technical Breakdown
Ease of use is exactly where you want it. The front of the device has a prominent play/pause button that doubles as a button for answering or hanging up. The side of the device lets you toggle between songs and volume control. The top of the device has an on-off switch, which initiates a search for Bluetooth devices. Toggling it on is also what ensures the location of your car is being tracked.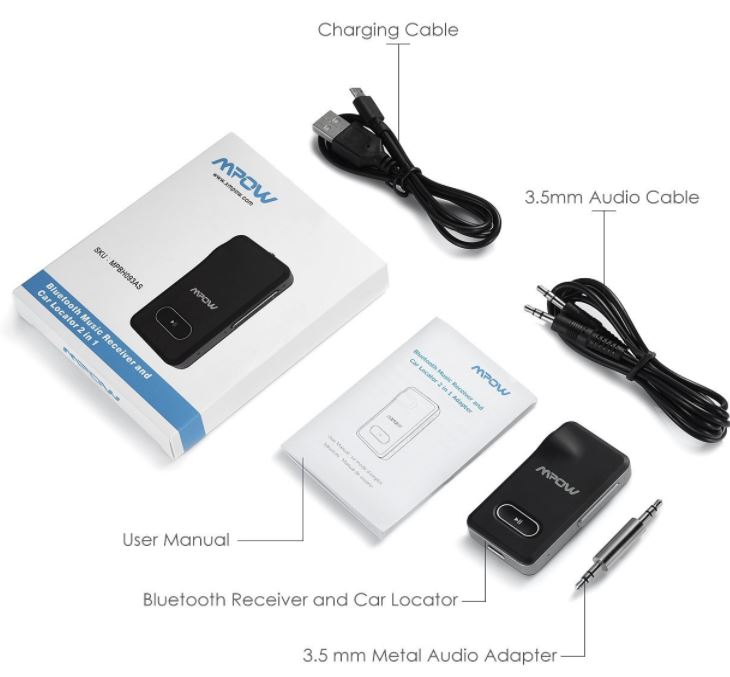 In other words, anytime the device is on, the location of your vehicle is automatically saved. Just open up their car-finding app, and you'll find the precise direction and distance to your vehicle. As long as you have your phone and remember to charge the receiver, you won't have to worry about losing your car ever again. The vehicle-tracking application can be downloaded through the user manual that comes with the receiver. Using Bluetooth, the Mpow app works for both Android and iOS devices.
The battery doesn't disappoint either. After one 90 minute charge, this receiver is ready to go for as much as 11 hours of audio, 90 hours finding your car, and 120 hours of standby time. For hands-free calls or setting up audio equipment, you'll enjoy a maximum range of about 30 feet.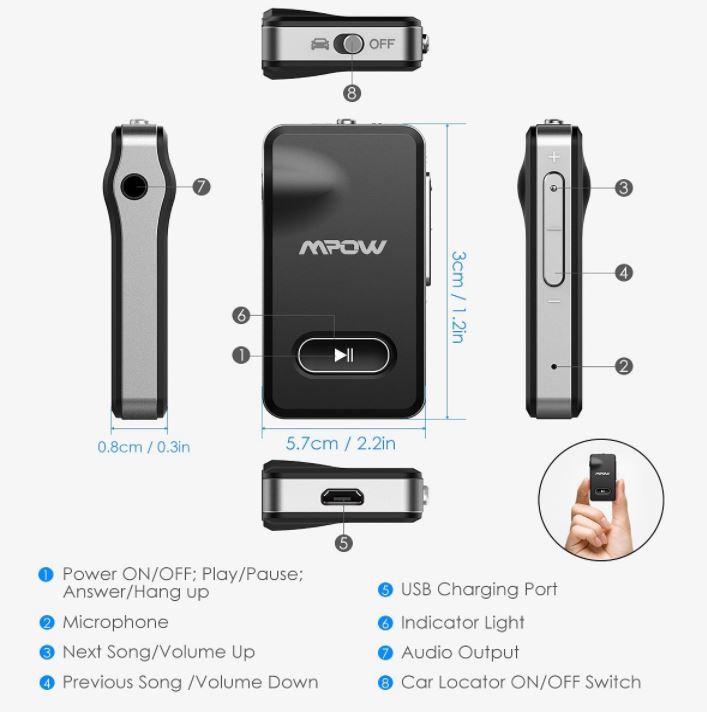 Compatibility and Use
From the technical side of things, you'll find support for Bluetooth 4.1, and Bluetooth profiles for A2DP/AVRCP/HSP/HFP. Like with Mpow's other adapter, this one allows you to connect two Bluetooth devices simultaneously, so you can enjoy listening to a podcast without missing a call. It also connects through a standard 3.5mm audio cable. The adapter uses a standard 5V charger that does not come with the device. Inside the box you'll find a 3.5mm audio cable and adapter, as well as the receiver/car locator.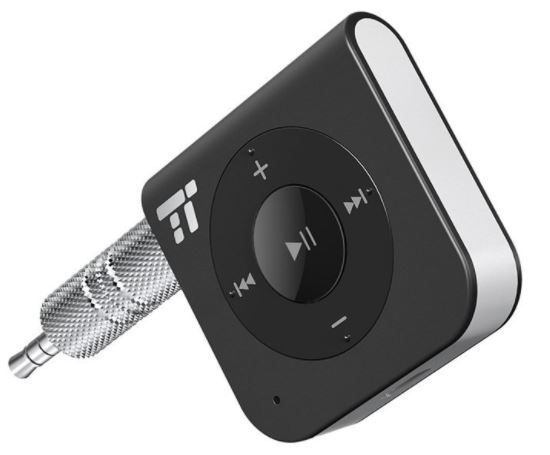 TaoTronics Bluetooth Receiver and Wireless Audio Adapter
If you're buying Bluetooth specifically for your vehicle, you'll want to take the time to find a receiver that specifically has noise cancellation. Microphones that are specifically marketed for cars, or specifically offer noise cancellation, are calibrated differently than microphones built for home environments.
The significant of that difference is shown in clarity as someone tries to understand what you're saying as you zip down the highway. Apart from being suited for vehicles, this TaoTronics kit is universal enough to do a great job working with your smartphones, tablets, TVs, computers, and MP3 players.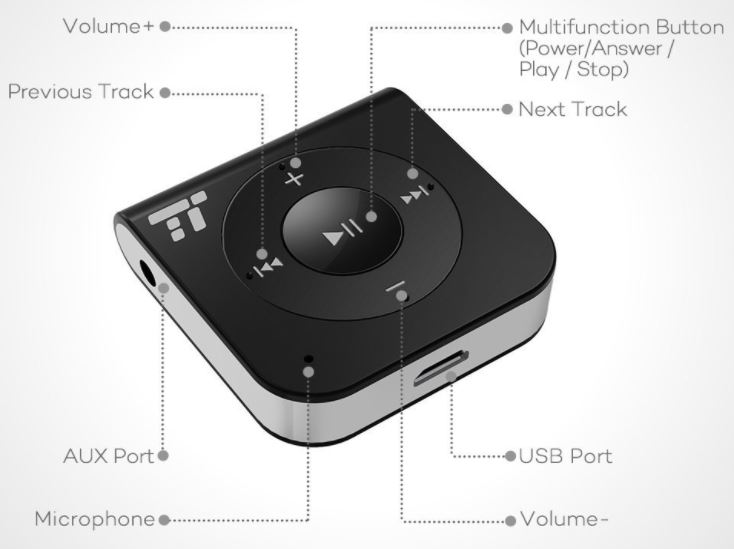 Features and Technical Breakdown
Like with the other members of this list, you can get a fully charged battery in about 90 minutes. You can expect that battery to last about 15 hours through steady streaming content, GPS use, and phone calls. In other words, if you charge it at night it'll see you through the day. You'll also find the healthy 33-foot range of functionality that modern Bluetooth users have come to expect.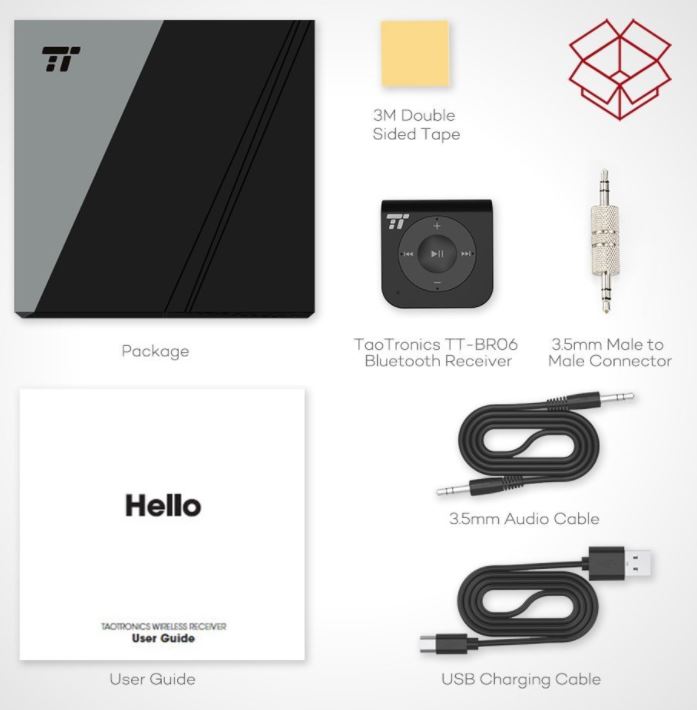 Even a novice user will find the design is straightforward, so you won't be left wondering what buttons do. On the front of the device you'll notice a simple circle of controls with buttons to adjust volume, answer calls, and start/stop music. They've also used a microphone calibrated for hands free calling, and adhesive you can use to stick the receiver to a position where it'll best capture sound. Working in conjunction with the adhesive, you end up with a vocal quality higher than you'd expect from a device in this price range.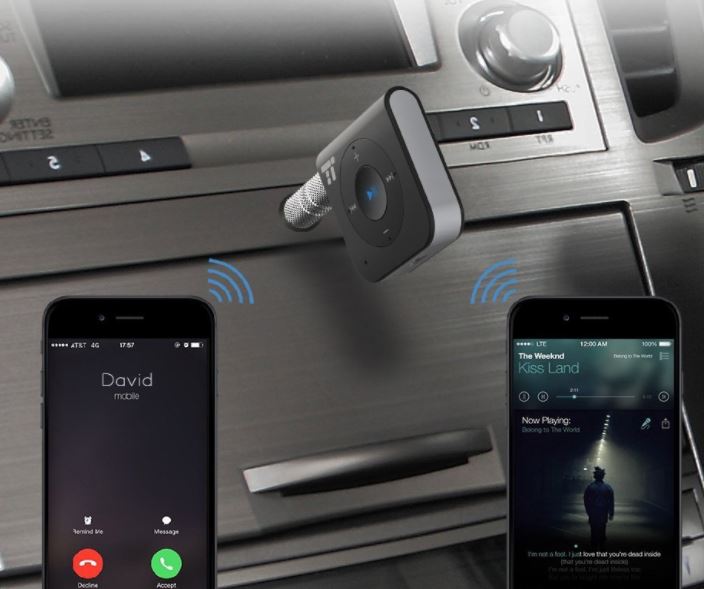 Compatibility and Use
This TaoTronics receiver connects through a standard 3.5mm aux-in port. If your goal is hands-free calling and music, this device is designed exactly for you. For what you pay, the sound canceling functionality is great. The receiver also supports for dual connections, allowing you to switch between two Bluetooth devices. This adapter includes support Bluetooth profiles A2DP/HSP/AVRCP/HFP.
Deciding What's Right for You
If you're looking to plug a Bluetooth receiver into your car so you can take your old vehicle into the age of wireless, then you're probably best served by the TaoTronics Bluetooth Receiver. It doesn't have many bells and whistles, like a car locator or a Bluetooth transmitter. But it is a device that knows exactly what kind of problems it's trying to help you solve, and it gets those jobs done.
If you're looking for a Bluetooth receiver that won't let you down in terms of basic functionality, and you're excited by the idea of never losing your car again, then your choice is clearly the Mpow Receiver with Car Locator. Apart from having that neat car-locating function, the receiver itself is up to the standards of Bluetooth 4.1, and it delivers on all of what it promises.
Finally, if you're looking for a device that can do a bit of everything, Mpow's Transmitter/Receiver is the best you'll find without extravagant expense. Native support for vocal assistants is a nice bonus. As a transmitter, you'll be equipped to transmit audio to a headset without bothering anyone. It's the only device on this list that includes its own charging cable. And with all the essential Bluetooth features in place, you won't be let down by its sound quality either.