Imazing IM39
Pros
Starts any gas vehicle and all but the largest diesels.
Large battery capacity.
Compact, lightweight design.
Functions as a power bank.
Cons
QC 3.0 charge port is underwhelming.
A bit pricey for a jump starter.
When your car isn't working, it's no laughing matter. Being stranded is no fun, even more so if you have somewhere important to be. Maybe your kids are waiting to get picked up from soccer practice. Maybe you're on your way to the airport. Or, maybe you have an important presentation to make. Even if you're just going somewhere for fun, you're in for a frustrating time to say the least.
Car trouble can come in many forms. You could have a flat tire, a failed alternator, or a defective starter. Or, it could be something more serious. Depending on your situation, the fix could be free and take just a few minutes. For other issues, you might be looking at hundreds or dollars in more of unexpected repairs.
Thankfully, a dead battery is one of the easier fixes. In most cases, they don't even need to be replaced, merely jumped from another healthy battery. That's why most drivers keep a set of jumper cables in the trunk. If you end up with a dead battery, you'll be able to get back on the road. But even in that scenario, you're still relying on other drivers. This may not be an issue under certain circumstances. For example, if you're leaving work, you probably have some coworkers who can jump you.
But if you're in the middle of nowhere, you may have no good way to charge. This could mean waiting 90 minutes or more for a AAA truck to arrive. Meanwhile, you'll end up having to find alternative transportation to get where you were going. A portable car jump starter is a great solution to that problem.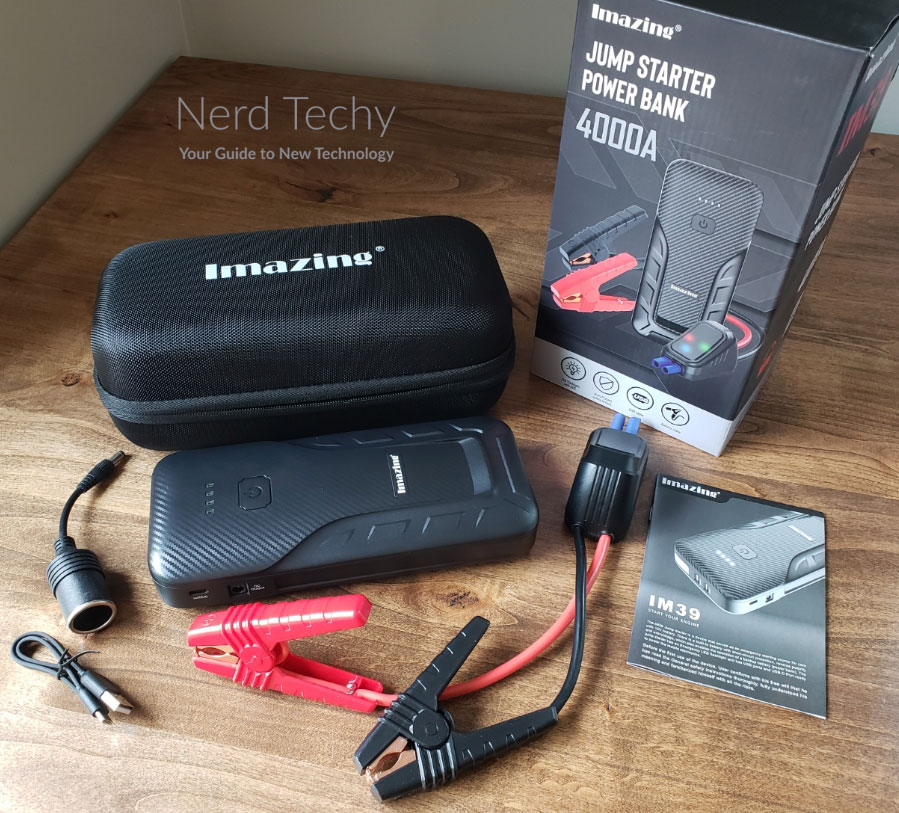 Imazing IM39 4000A Peak Portable Car Jump Starter
We're about to review the Imazing IM39. This is a handheld jump starting device that's small enough to carry around in your glove box. At the same time, it's powerful enough to jump even massive 10-liter diesel engines.
Then again, there are plenty of other factors to consider. We need to look at the IM39's durability, as well as the physical design. We'll have to talk about how it's charged, as well as any other extra features it offers. And of course, we'll have to consider any relevant safety features. Let's get started, and see what we learn!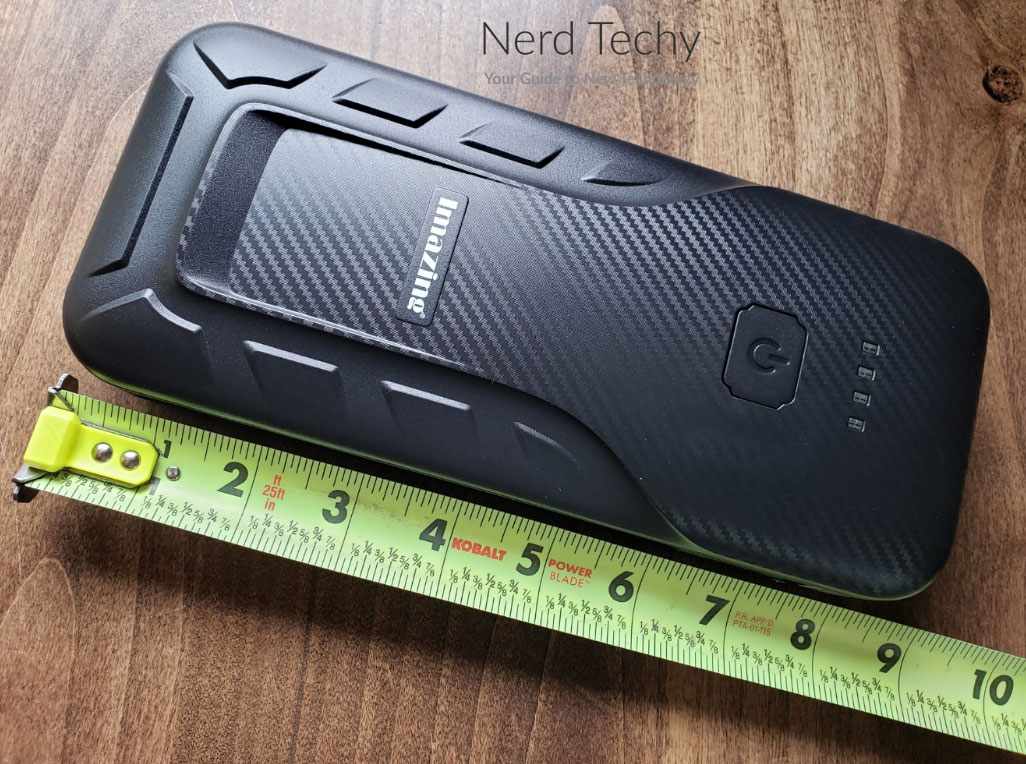 Overall Design
The Imazing IM39 4000A Peak Portable Car Jump Starter has a roughly rectangular housing. The corners are rounded off for comfort, and the material is mostly a durable black plastic. In total, it measures 9.65 inches long, 3.86 inches wide, and 1.81-inch thick.
This is the perfect size for holding in your hand, neither too big nor too tiny. To make things even easier, the sides are contoured and textured. It's designed to be easy to hold onto, even in wet, slippery conditions on the side of the road. And at 3.25 pounds, it's almost absurdly lightweight.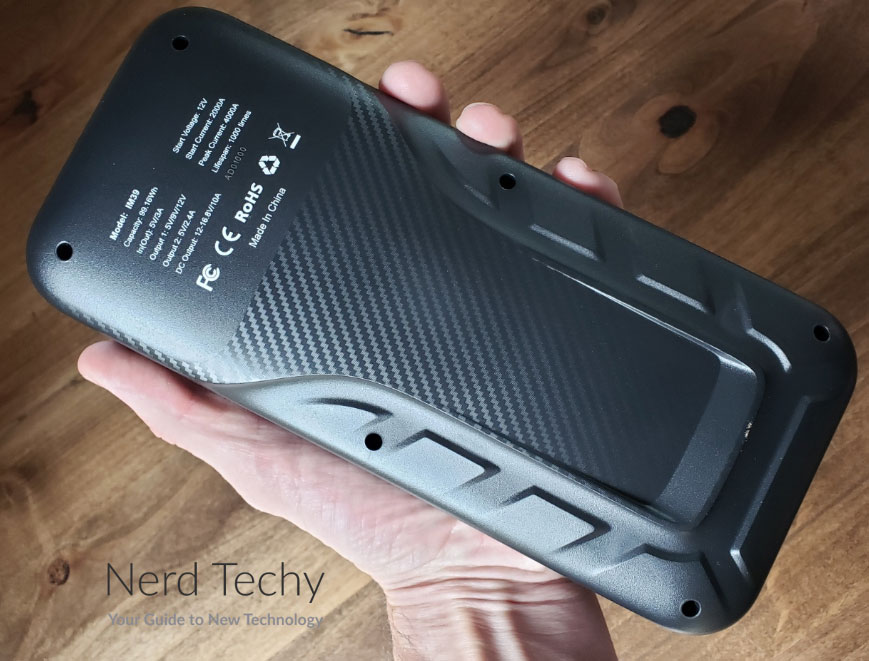 Besides the controls and essential features, there's very little in the way of cosmetics. This is a Spartan device, made for utility and not for looks. The only branding is a white "Imazing" imprint near the back of the top side. Closer to the front, there's a power button, along with four LED indicator lights. These illuminate when the charger is turned on, and show you the current battery charge status.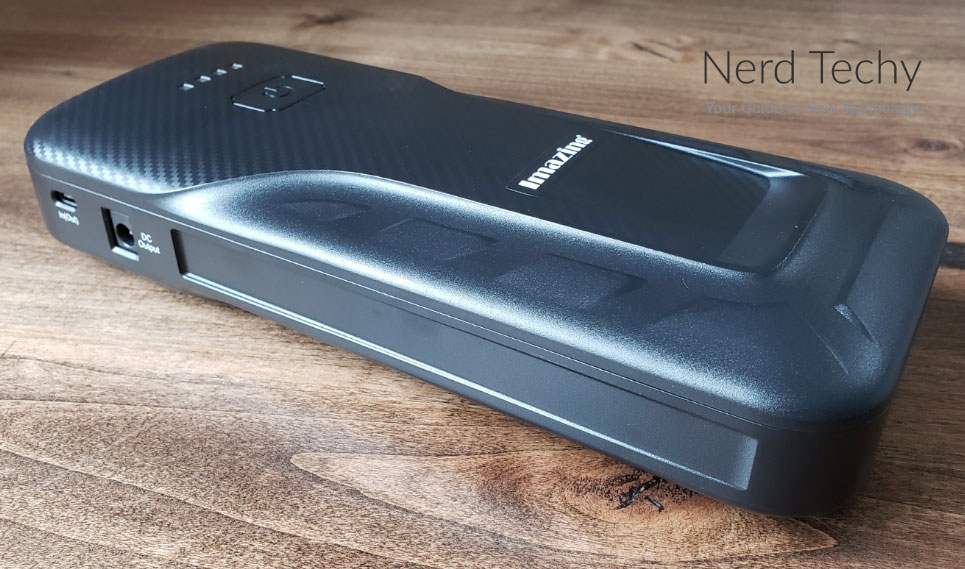 On the right side of the housing, towards the front, there's a removable rubber plug. Pull this plug out, and it reveals a port where you can plug in the included jumper cable. The two cable leads are a standard red and black, with plastic covers over the jaws. This makes it easy to attach them to your battery without zapping your fingers.
The package includes a soft carrying case, with pockets for all the components. Along with that, you get a USB charging cable, and a DC car charging adapter. Everything is covered by a 2-year manufacturer's warranty. You don't have to worry about any defects in materials or workmanship.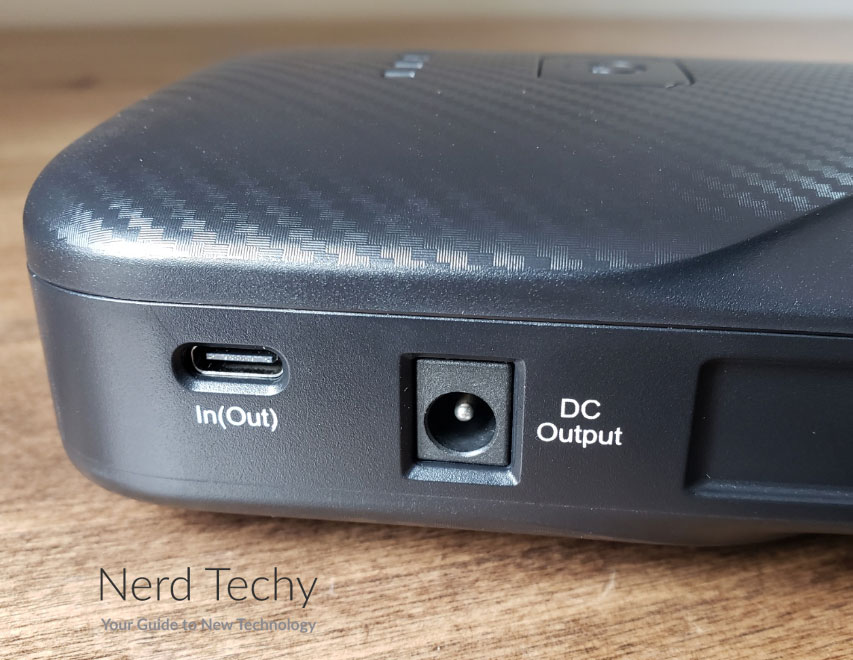 Controls & Power Ports
Controlling the IM39 is easy. To use the jump starter function, first connect the cables to the starter and your battery. Then, press and hold the power button until the lights come on. Get into your car and turn the ignition, and it should start right up. To use the power bank function, just turn it on without plugging in the jump starting cables.
Beyond this, there are a few other physical features we should touch on. To begin with, there's an LED flashlight at the front right, which wraps partway around the side. At the front left, there's a pair of USB Type-A ports. One of these has a blue tab, which makes it easier to know which direction to plug in your USB cable. On the left side of the housing, near the front, there's a USB Type-C port. Behind that, you'll see a round DC power port, which accepts a barrel-style plug.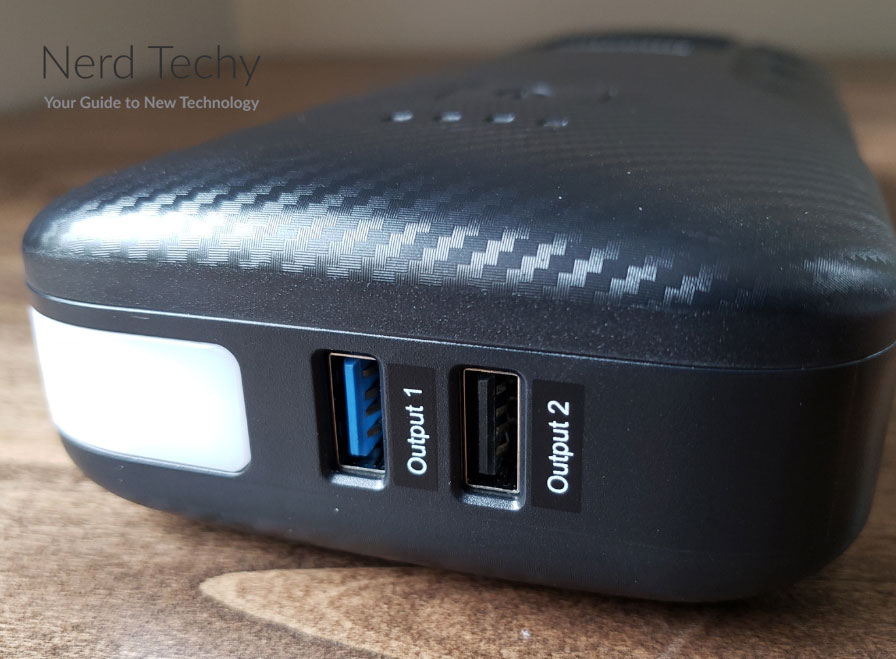 Of course, there are plenty of jump starters are out there, and the designers have different priorities. Take the Nexpow G17, for instance. It's big and beefy, and it's tough enough to take a serious beating. On the downside, it's not nearly as powerful as the IM39.
Jump Starting Performance
Ultimately, the most important function of any jump starter is the jump starting function. This is pretty obvious. So, how well does the Imazing IM39 perform?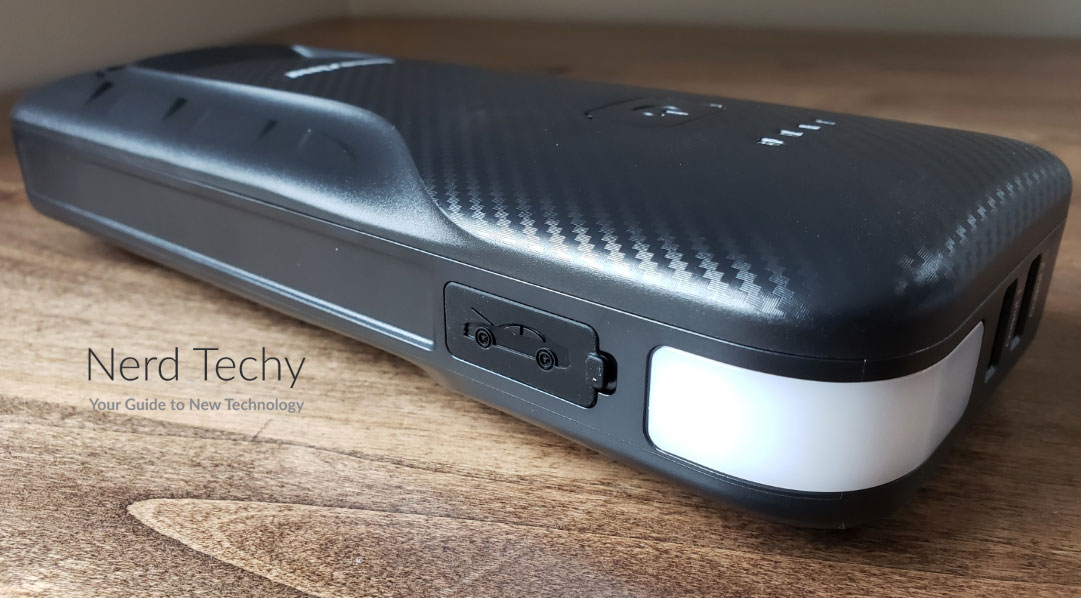 To put it simply, this is an incredibly powerful jump starter. It has 4,000 amps of peak current, which is enough to jump any gas engine. It's even capable of starting 10-liter diesel engines, which includes most semi-tractor and agricultural tractor engines. On the smaller end, it's still safe to use for starting smaller engines. You can use it on motorcycles, ATVs, jet skis, snowmobiles, and even lawnmowers. And assuming you're starting with a full charge, you can use it 20 times before you have to plug in.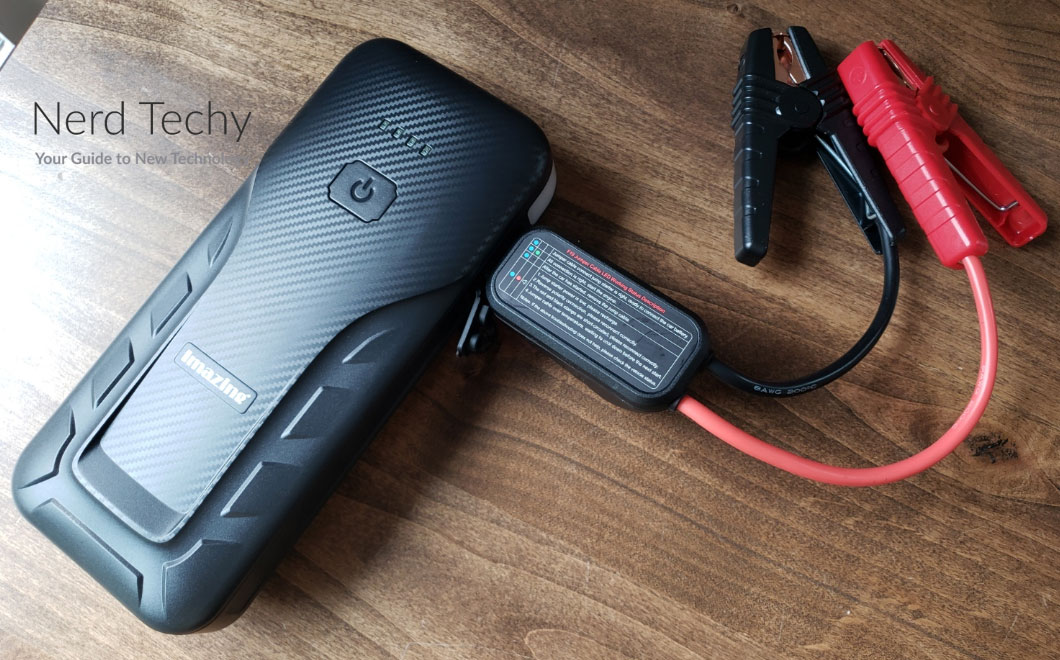 That said, this is a lot of power. If you don't have a very large engine, you'll be paying for more starting performance than you really need. Thankfully, there are plenty of smaller, more affordable options. The Imazing IM29 is a great example. It's compact and more affordable, but it still has a similar ergonomic design. On the downside, it can only jump a maximum of an 8-liter engine, gas or diesel.
Power Bank Performance
As we mentioned, the IM39 also functions as a power bank. The maximum capacity is 26,800mAh, which is on par with many dedicated power banks on today's market. That's enough to charge a new iPhone 13 eight times, so it's no slouch. You can even recharge a MacBook Pro 16", as long as it's powered off while it's charging.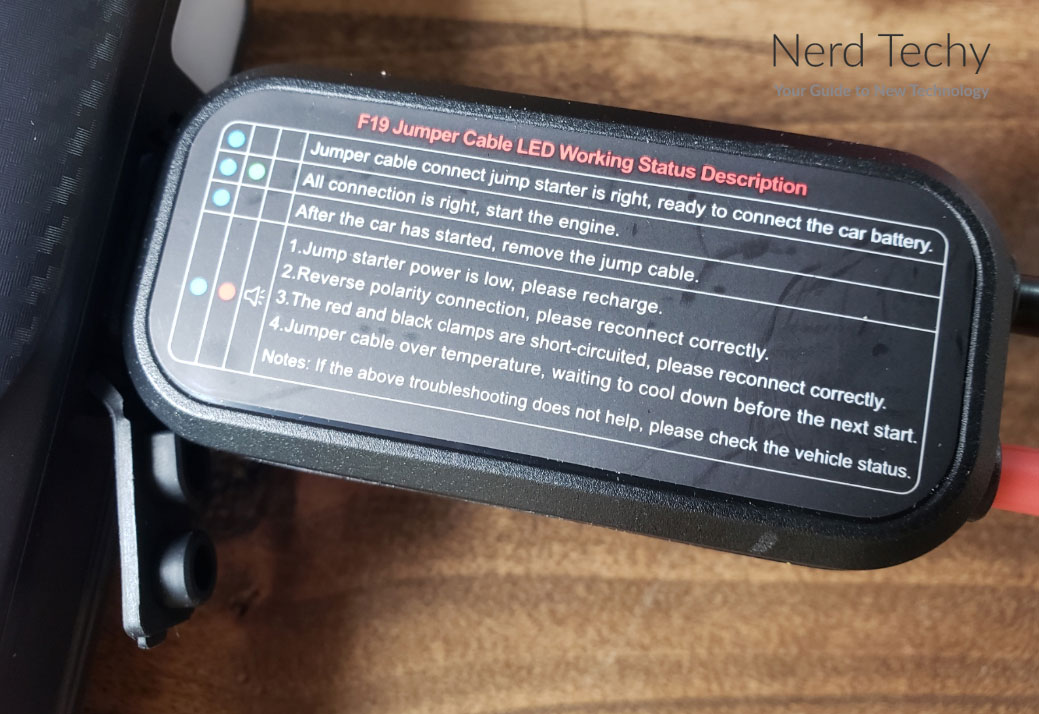 How much charging speed you get will depend on which of the ports you use. The first, black USB port is a QC 3.0 port. Imazing doesn't specify how much power it delivers, but it seems to deliver 18 watts. That's not incredibly fast for QC, but it's enough to get top-speed charging on an iPhone. You'll also get brisk charging speeds on comparable Android phones.
The second, blue USB port is a standard 5-volt, 2.4-amp port, for 12 watts of total power. This is ordinary USB, the same as your laptop provides. The Type-C port also provides 12 watts of power; there's no PD charging or other high-wattage option. The DC port, meanwhile, is a variety commonly used for drones and digital cameras. If your device has a barrel-style charger, chances are good that it's compatible.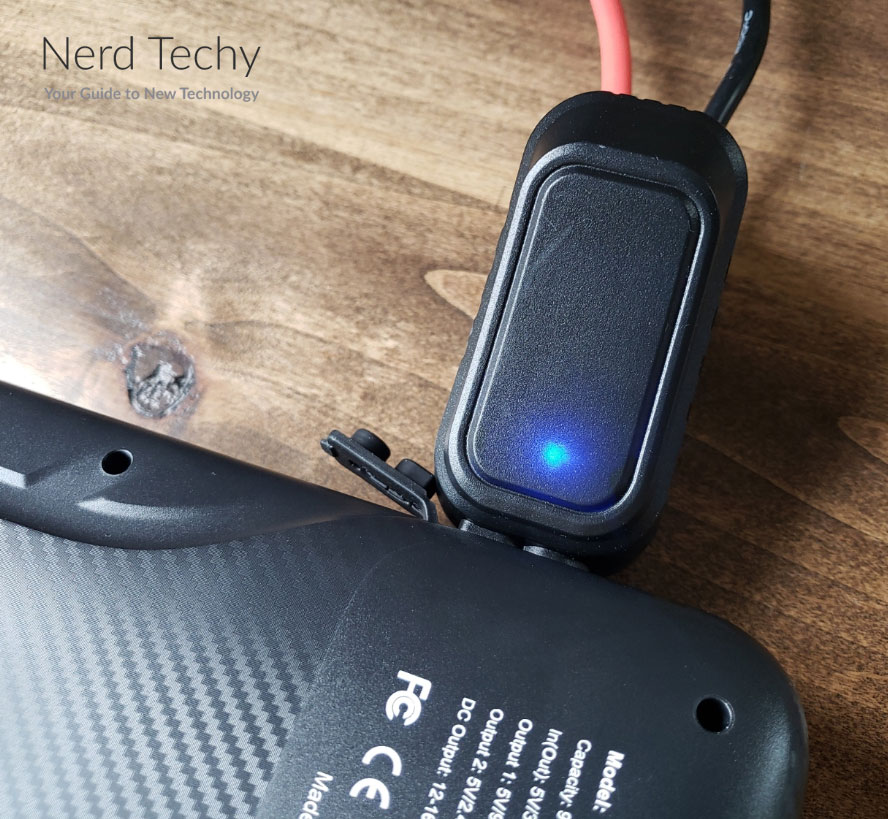 Charging via USB Type-C takes around 12 hours, assuming the battery is totally dead. On the plus side, you can charge from literally any USB port. You can even top off the IM39's battery while you're driving around.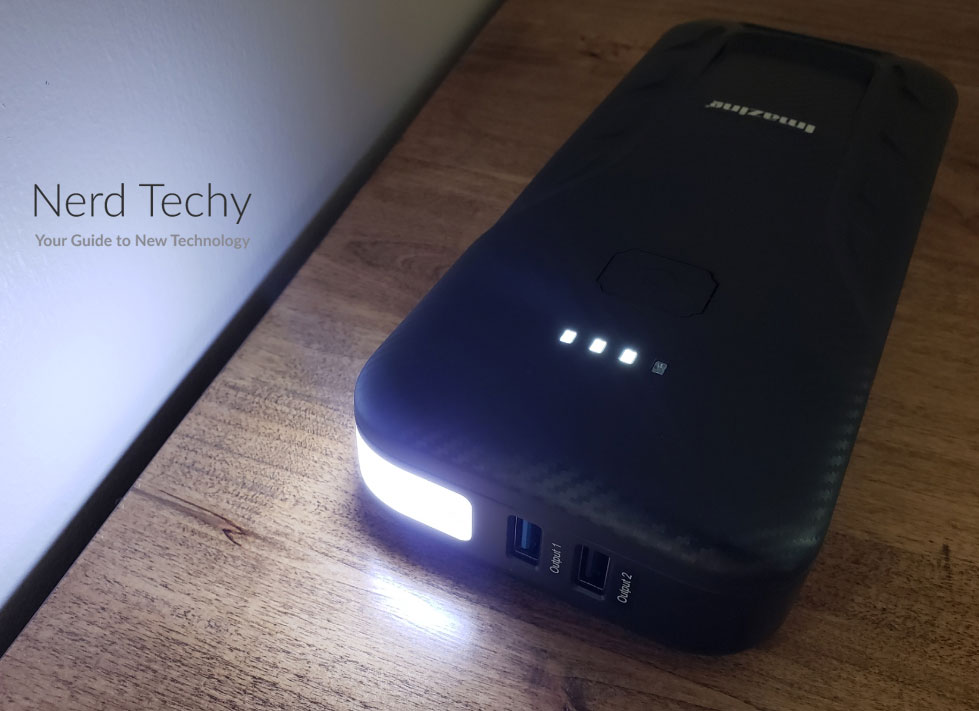 Extra Features
Whenever you're dealing with electronics, safety should always be on your mind. To that end, the IM39 has some important safety features that help protect you and your devices. To begin with, there's an internal temperature sensor that detects overheating. Instead of burning you or bursting into flames, the jump starter will instead power down entirely. Over-voltage protection ensures that even if you plug it into a quick-charge outlet, the battery won't get damaged. Meanwhile, short circuit protection shuts down charging if any of the wires gets shorted out.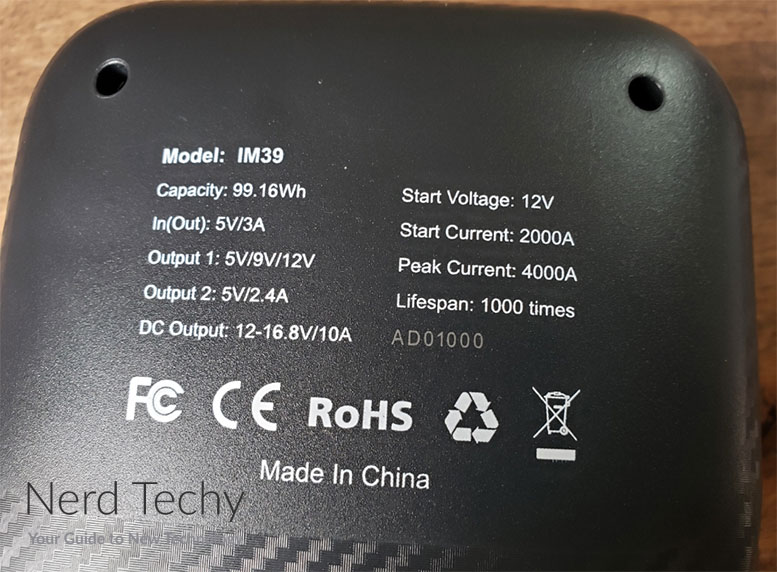 If that's not enough, this jump starter has a reverse polarization alarm. If you connect the leads to the wrong battery terminals, a siren will sound. This alerts you to switch the leads and restart the jumping process. It also avoids damage to your car battery or to the IM39's circuitry.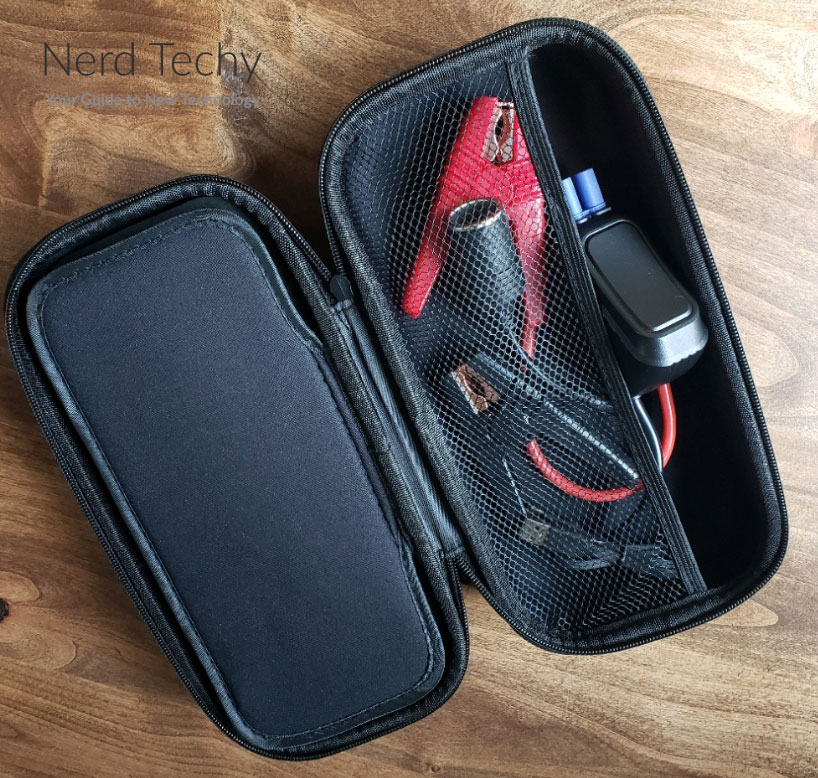 The built-in flashlight has three different modes to take advantage of. The standard mode is an ordinary, constant beam used for finding your way around under the hood. There's a strobe mode, which lets you use your jump starter to double as a roadside flare. Meanwhile, the SOS mode can be used to signal for help in an emergency.
These are all great features. But do you really need something as powerful as the IM39 in order to take advantage? If you don't need this much power, consider the Imazing IM27. It has similar safety features along with the same light functions. It's also more compact than the IM39, but it's weaker and takes longer to charge.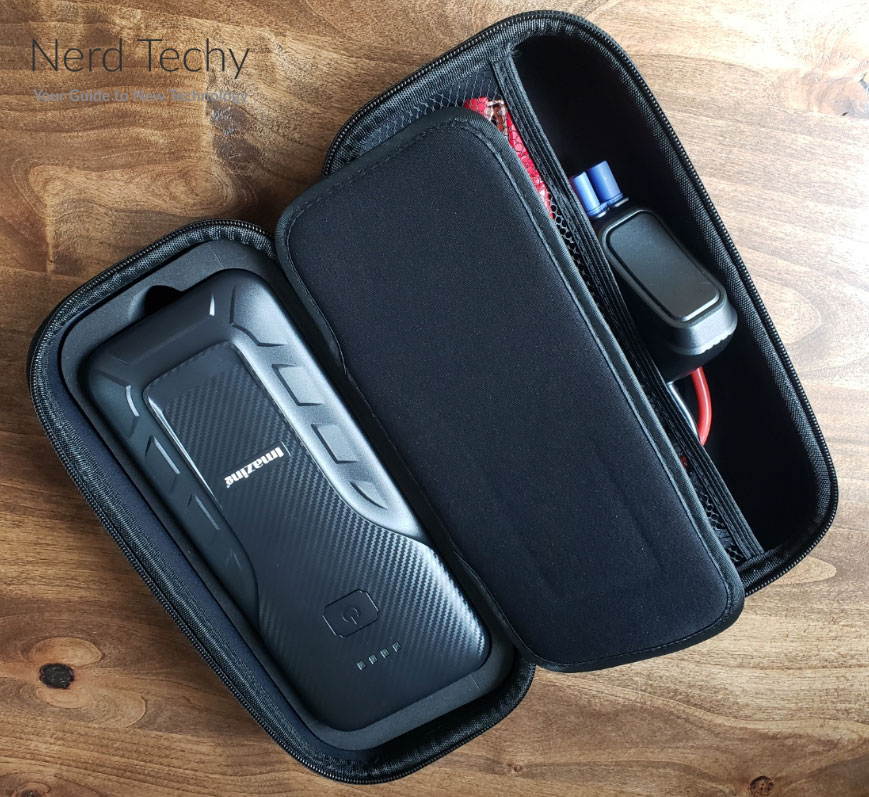 Final Verdict
The Imazing IM39 4000A Peak Portable Car Jump Starter is a powerful jump starting device. It's pricier than most other jump starters, but the performance is tough to beat. It's a great choice if you need to start very large engines, up to and including most semi-tractors. The power bank functions work well, and can easily get you out of a jam. Meanwhile, the powerful safety features keep you safe, no matter what you're charging or jumping. All in all, this is a great little device.