For most genres of games, a standard controller is the best type of input. Gamers will argue over form factors, and whether the PlayStation or Xbox is better. But the basic layout has been the same for a few console generations. You have some triggers, a pair of thumbsticks, a directional pad, and some buttons. This layout works well for shooters, roleplaying games, and action games. For most other genres, such as strategy games, most gamers prefer a mouse and keyboard. This gives you the precision of a mouse, with the full array of keyboard buttons available for macros.
But there are two genres that don't work well with either of these control schemes: racing games and flight simulators. Sure, you can fly your virtual fighter jet with a mouse and keyboard. People have been doing it for years. But it doesn't have the same look or feel as the real thing. Worse yet, you can find yourself frantically struggling to click tiny switches on a virtual control panel. And keyboard controls for pitch, roll, and yaw can get downright byzantine.
Note: At no extra cost to you, we may earn a commission for purchases using our links. Learn more.
One solution is to use an aftermarket throttle quadrant. Yes, there are plenty of other accessories, like pedals and yokes, which can also make your experience easier. But today, we'll be talking about three of the best throttle quadrant controllers on the market. The CH Products Throttle Quadrant, the Thrustmaster TWCS Throttle Controller, and the CH Products Pro Throttle all have unique benefits. We'll dig deep into their features, and tell you everything you need to know to make an informed decision. Let's get started!
CH Products Throttle Quadrant
The CH Products Throttle Quadrant is a large, six-axis throttle box that's designed to simulate multi-engine aircraft. It measures 9.8 inches wide, 7.1 inches deep, and 6.7 inches high. At 10.9 ounces, it's fairly light, which initially gave us concerns about how well it stays in place. However, it includes a large mounting base, complete with a set of adjustable clamps. The clamps can accommodate a wide variety of desks, ranging from ¾ to 2 ¼ inches in thickness. Make sure it's firmly clamped in place before you start playing. Once that's done, you won't need to worry about the Throttle Quadrant moving around on you.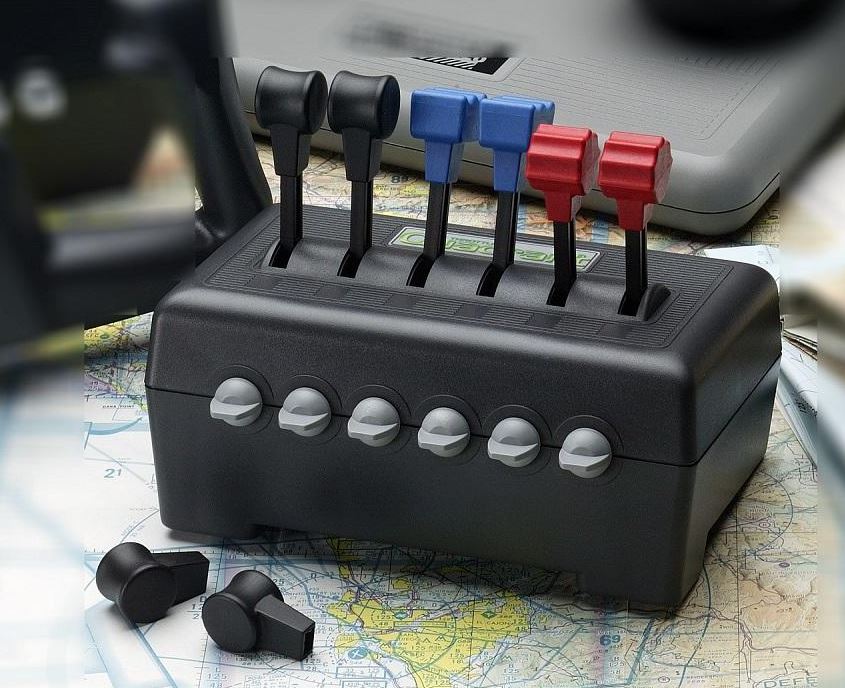 As we mentioned, this is a complete six-axis controller. It includes X, Y, Z, R, U, and V axes, for complete control over all your engines. Each throttle knob is removable and can be repositioned, so you can customize the Throttle Quadrant as you like it. By default, the left two throttles are black, the center pair is blue, and the right hand pair is red. There are also two additional black knobs in the box, so you can mix and match for your preferred look. This also allows you to easily mark inactive throttles for flying single or twin engine aircraft. Each color of knob has its own shape and feel. As a result, you'll be able to find the right throttle without taking your eyes of the screen.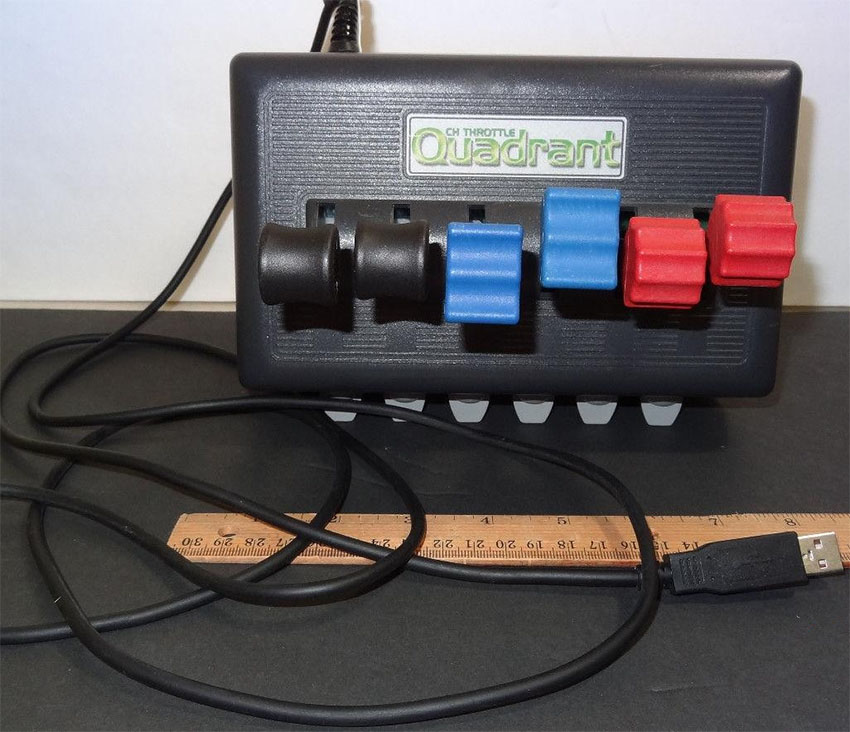 On the front of the Throttle Quadrant, you'll find a set of six grey bi-directional flipper switches. These can be used to assign additional functions to individual throttles. Each throttle also has a center detent. This makes it easy to find zero, so you won't accidentally end up with a throttle set at 2 percent.
Connectivity & Software
The CH Products Throttle Quadrant has a built-in 7-foot USB cable for connectivity and power. It works with most flight simulation software right out of the box. You don't need to install any drivers or extra software just to get it to work. It's compatible with all Windows versions dating back to Windows 98, as well as Mac OSX.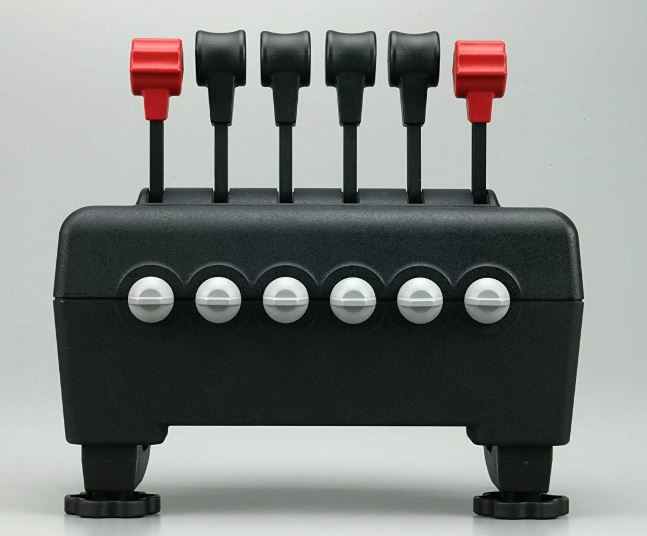 That said, the out-of-the-box functionality is fairly basic. If you want to get the most out of your Throttle Quadrant, you'll want to install the CH Control Manager. This software is available for free from CH Products' website. It allows you to configure virtual buttons on each of the detents. Since there are idle detents as well as reverse detents, you can configure 12 virtual buttons in a single configuration. In addition, with the bi-directional flipper switches, you can add additional functions. This allows for 24 virtual buttons per profile. All in all, the Control Manager software supports 176 different functions. Add fuel pumps, flaps, and landing gear to your control scheme, and you'll barely need to touch your keyboard. That said, the Control Manager is only compatible with Windows systems, so Mac users will have limited functionality.
If you want to further improve your control scheme, why not add a gaming mouse and keyboard to your rig? The GameSir VX AimSwitch Combo is an excellent choice. It's a unique half-keyboard that's paired with a gaming mouse, whose compact design leaves room for your Throttle Box.
Thrustmaster TWCS Throttle Controller
The Thrustmaster Throttle Weapon Control System (TWCS) Throttle Controller has a more compact design. It's 10 inches long, 9.1 inches wide, and 5.5 inches high. However, most of that size is a wide, sturdy base that keeps it very stable. The control itself fits in your hand, and can be moved smoothly along a track for throttling up and down. The total weight of this system is 2.12 pounds. Combined with little rubber feet, this ensures that the TWCS will remain stable as you use it.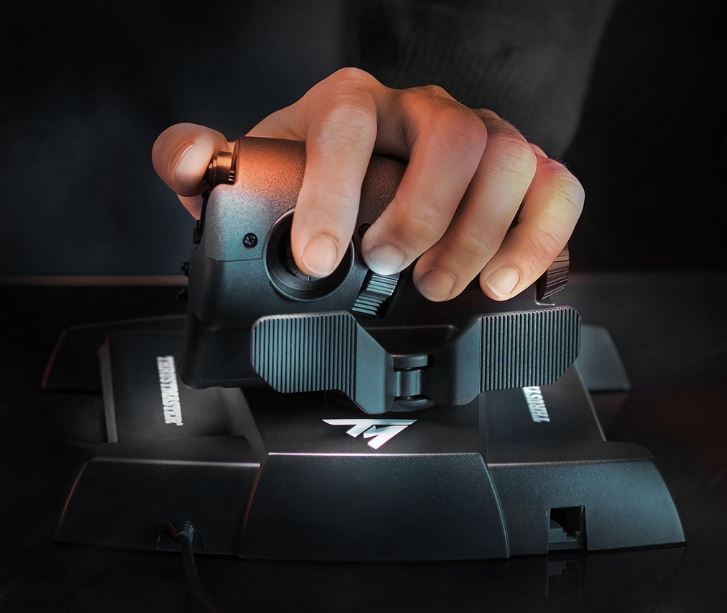 The TWCS is one of the most impressive throttle systems on the market. It includes 14 different buttons, in addition to an 8-way POV switch. The design is a bit crowded, and can take some time to get used to. However, once you've gotten the hang of it, it's a truly impressive piece of work. There's an additional switch that alternates between different control sets. In total, this design gives you 5 axes, 30 buttons, and 16 POV options. Obviously, this design is better suited to military flight simulators than ordinary civilian flight sims. But even if you're flying a 787 from San Francisco to Tokyo, it's a big upgrade over a mouse and keyboard.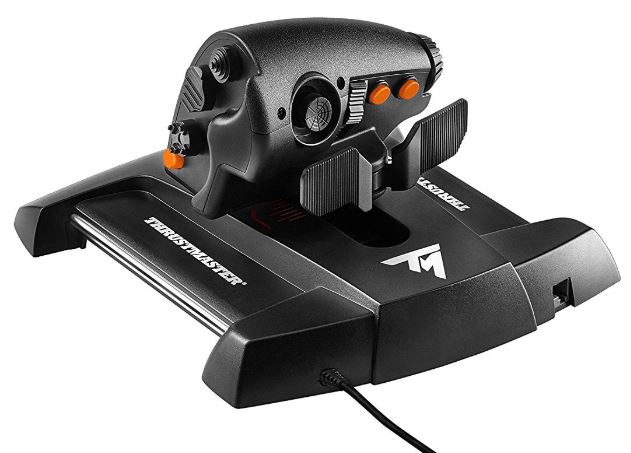 Because the TWCS sits so low on your desk, it allows for easy, ergonomic operation. You won't have to hold your arm at an awkward angle just to operate your throttles. There's also a tension screw on the side of the travel track. This allows you to set the resistance level as desired. Whether you prefer a light touch or a heavier touch, you'll be able to get the feel that works best for you.
Connectivity & Software
The TWCS is compatible with PC systems only. Sorry, Mac users. You'll need to choose a different throttle quadrant. It connects via USB, and is compatible with all Windows versions from Vista on forward. Like most throttle controllers, it's ready to go out of the box with most flight simulator programs. You shouldn't need to install any drivers. However, if you end up experiencing any issues, the drivers are available from Thrustmaster's website.
From their website, you can also download Thrustmaster's T.A.R.G.E.T. software. This allows you to re-map the controls as desired. Best of all, you can even create custom profiles for specific games. Switch from Microsoft Flight Simulator War Thunder or DCS World, and your control scheme will automatically adjust to your presets. If you like to experience multiple flight simulators, this is an excellent way to do it. In addition, the TWCS also integrates with Thrustmaster's TFRP rudder. While the rudder is sold separately, it gives you 3 additional axes. Thanks to this inter-compatibility, the TWCS is a great first step to building your own virtual cockpit.
Of course, if you like to play military flight simulators, you'll need to communicate with your squad mates. A quality gaming headset is practically a necessity for this purpose. If you don't already own one, check out our review of the LucidSound LS1. It provides excellent single-ear sound quality, while still leaving your other ear free for real-world awareness.
CH Products Pro Throttle
The CH Products Pro Throttle is the most compact on our list. It's 8.7 inches long, 7.9 inches wide, and 5.9 inches tall. But it's no slouch. It's constructed from sturdy rubberized plastic, and weighs just under 2 ½ pounds. It also has little rubber feet, so it won't move around your desk while you're working the throttle. Like the TWCS, the Pro Throttle is primarily designed for military-style simulators. Three small buttons on the front of the grip allow you to perform ordinary functions. In addition, there's a mode selector switch to switch between different presets. A pair of LED lights indicate which preset mode you're in, while a third indicates the Pro Throttle's power status. There's also a 4-way and 8-way switch, which can be used to perform less common functions.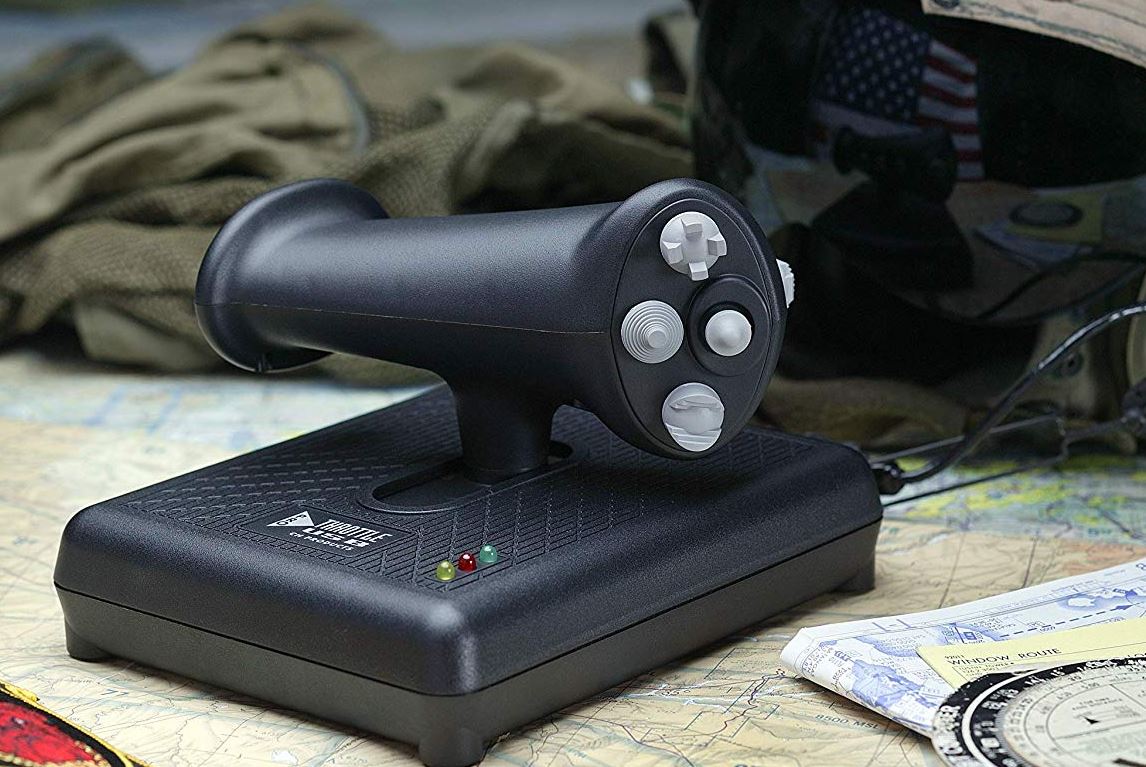 Despite its simple appearance, the Pro Throttle is a fully functional 3-axis controller. A small joystick by your thumb allows for easy movement along the X and Y axes. You can also use one of the switches to change the throttle slider over to Z-axis control. This can be confusing at first. However, it's not often that you'll need to move on the Z-axis at the same time as adjusting your throttle. So in practice, it's fairly painless.
One thing we should point out is that this throttle does not have a detent. It operates smoothly, from reverse to idle to 100 percent. This makes it easy to quickly change throttle speeds. However, you'll have to be careful when setting your throttle to idle. Keep an eye on your screen, and you'll be well set up.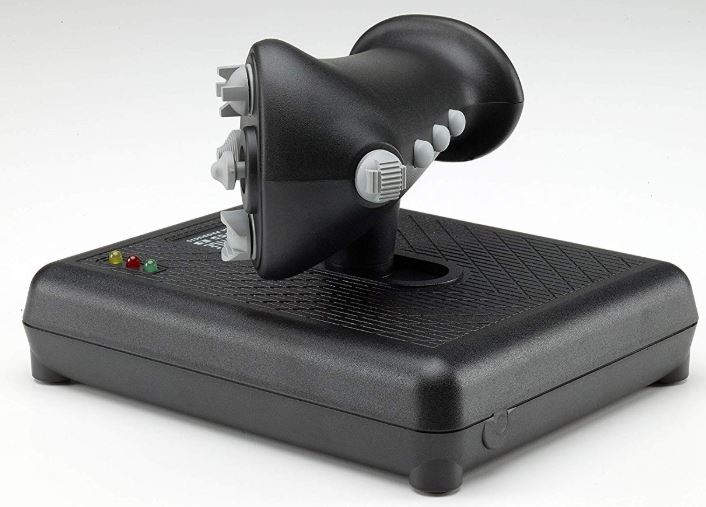 Connectivity & Software
Like the CH Products Throttle Quadrant, their Pro Throttle also has a 7-foot USB cable. This is long enough to reach under or around any desk. It's plug-and-play right out of the box, and no drivers are required. It's compatible with all versions of Windows since 98, as well as Mac OSX. Mac players can rejoice at finally finding a compatible controller. In addition, the Pro Throttle works with most flight simulators without the need for configuration. Just plug it in, hop in your cockpit, and start flying.
The Pro Throttle also works with CH Products' Control Manager software. CH Products includes a disc in the package. However, for best results, they recommend downloading the latest version directly from their website. You'll need to temporarily disable any third-party antivirus software in order to complete the installation. The Control Manager software allows you to re-map your controls however you like. It supports 176 different functions, so you can choose the ones that are most important for your style of play. However, the Control Manager software is not compatible with Mac OS. It only works with Windows systems.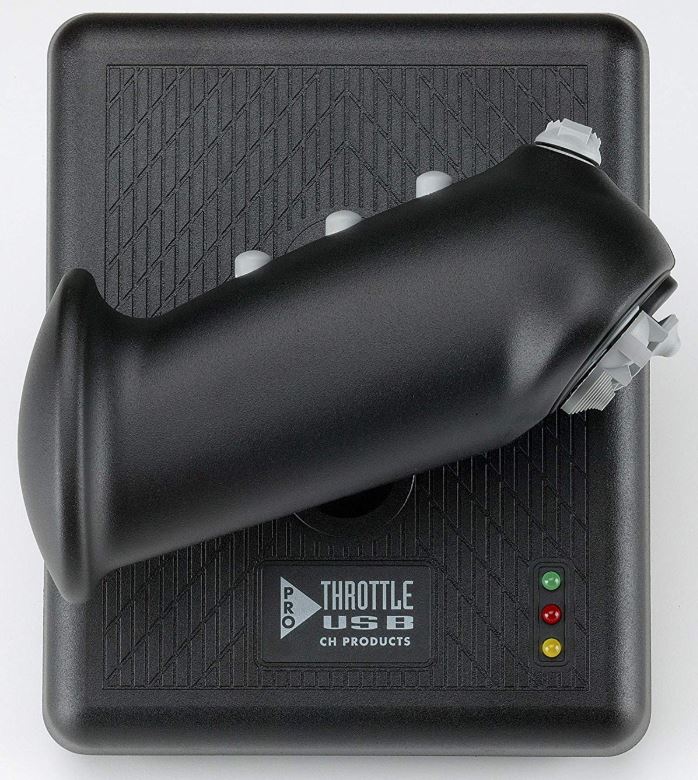 When you're done simming or you're out on the road, you might want to play some mobile games. In that case, you'll need a good mobile controller, like the PowerA MOGA XP5-A Plus. It even has a built-in bracket to support your smartphone while you're playing.
Final Verdict
Depending on your needs, any one of these throttle quadrants could be the best choice. For civilian flight simulators, the choice is clear. The CH Products Throttle Quadrant offers excellent control for multi-engine aircraft. It's large, it mounts sturdily, and it's relatively easy to customize. However, it's not ideal for military flight simulators. For that, you'll need a more responsive throttle control with more buttons.
The Thrustmaster TWCS is the best choice for customization. The T.A.R.G.E.T. software is truly impressive, since it lets you switch between simulators with ease. The overall build is also very nice, with lots of built-in buttons. That said, Mac users won't be able to use the TWCS. If you're running a Mac, the CH Products Pro Throttle is your best choice. You won't get as many customization options as a Windows user. But you'll still get wide compatibility with all popular flight sim games.
Please consider sharing:
Note: At no extra cost to you, we may earn a commission for purchases using our links. Learn more.