Gaming headsets are put together with certain types of players in mind. The same is true for wireless headsets, which are made for specific types of listening. Picking great headphones is mostly about finding overlap between your own needs, and the kinds of features any particular pair of cans are able to offer.
But there's one small complication. Gaming headsets are a stunningly competitive market these days. Even when you find a headset that's really special, it can be hard to determine if it's really better than another pair at equal price.
Logitech G935 Wireless 7.1 Surround Sound Lightsync Gaming Headset
Isn't it strange how Logitech headsets can be so hit and miss? The old G933 was an incredible headset, by all accounts. It felt comfortable, its wireless connectivity was good, and its sound quality matched the midrange price.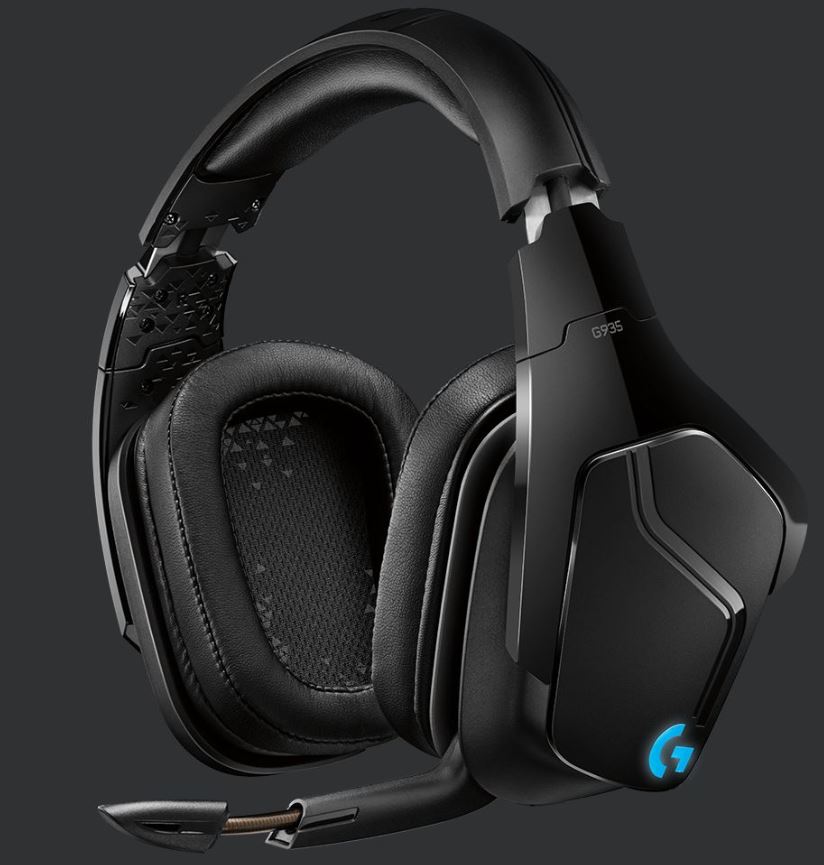 It's been about half a decade since that model was released. In the time since, Logitech has moved on to the G935. It's essentially the same headset as the old G933, except there are a number of small upgrades. One of those upgrades pertains to cost – the new G935 is about 15% less expensive.
Without getting into every detail, it's reasonable to say that the G935 is one of the stronger gaming headsets out there. It's got full compatibility with every gaming console or device you might want to connect with. But if you're on a tight budget, there are a few unnecessary aspects of the G935, which are hard to ignore.
One of those aspects of RGB lighting. The fact this is a Lightsync headset will appeal to some and not others. For people who could care less about how their headset looks while playing a game, there's no doubt that the aesthetic does add a little extra to the price tag of this headset.
Worse still, the G935 was made a little needlessly bulky. It might sound strange to complain about bulkiness given these are fairly stationary gaming headphones. It's not like anyone would take these to go for a jog. But compared to some slimmer gaming headsets in the same price range, the difference is quite clear. That's not to say the G935 isn't a good headset, only that it has a number of small problems.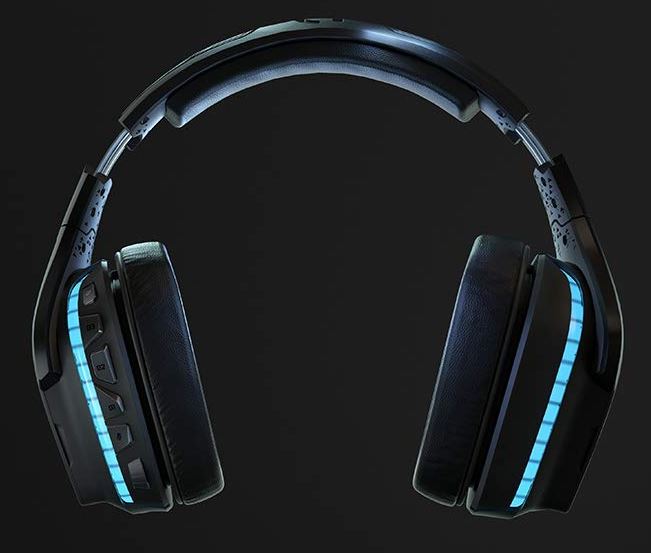 Build & Design
The G935 measures 7.3 x 7.6 x 3.3 inches. They're on the heavier side, weighing about 13 ounces. That's pretty close to a full pound, which would be a terrible problem for a wired headset. But the wireless nature of this gear demands these cans weigh a more than usual. Going wireless also gently implies the person wearing this headset is unlikely to wear it long enough for that weight to become a real issue.
Similar to the G933, these headphones are built from a half-glossy and half-matte plastic chassis. The geometric design of these headphones modestly suggests a gamer-orientation, but stops short of screaming it with flame decals. The somewhat square-looking design of each earcup seems like it might not be comfortable at first, but after you put it on, it feels as natural as any pair of headphones.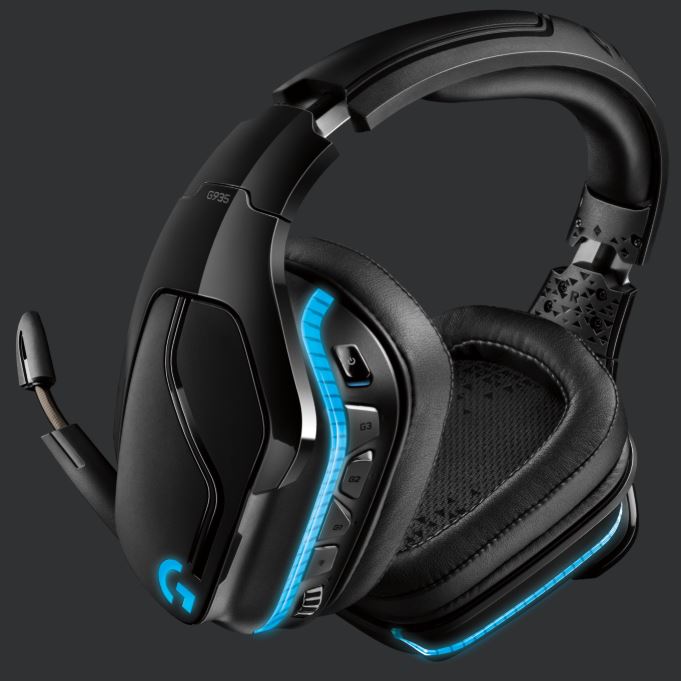 Another nice thing to note about the design, the USB dongle is well hidden, tucked away behind a magnetic covering in the left earcup. Usually dongles get lost if there isn't a good place to easily store them. There's also a very well hidden microphone that can be retracted from the left ear cup. When you don't need the microphone anymore, it stores away back inside the chassis of the G935. Pretty smooth design. The left ear cup also features a power switch, mute button for your microphone, volume dial, and a total of three programmable buttons.
Unfortunately, Logitech decided to place all of these buttons into one space, and one ear cup. It would've been great if they had spread those buttons across both earcups, it would've certainly made using this headset a little more intuitive. Though you don't need high dexterity to adjust these buttons, it can be terribly easy to accidentally bump the wrong thing when making an adjustment while the headset is being worn.
The volume dial would also benefit from a little more granular control. When you roll your finger over the dial, the dial rolls freely and smoothly. You can drastically increase or lower the volume with small motions, which makes it possible to overshoot or undershoot your volume goal while utilizing the controls.
Headset RGB LEDs
In addition to the LED strip, these headphones utilize a glowing G symbol, which is positioned on the outside of both earcups. For people who like LEDs, it's easy to see the attraction of the G935. Even compared to other headsets with LEDs, this headset goes much further. It's got to be twice as bright as some of the more basic wireless RGB headsets on the market.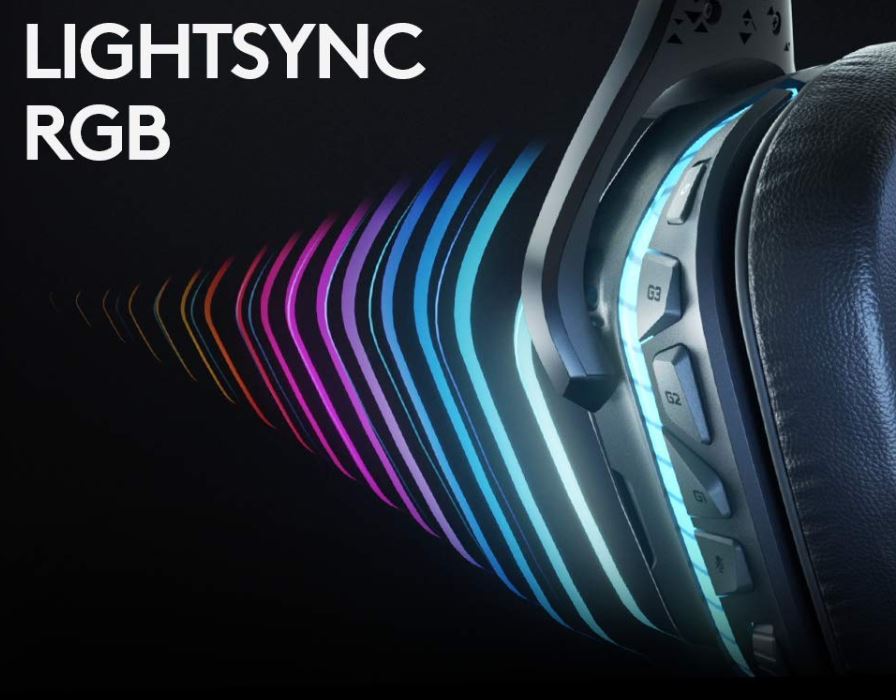 Because LEDs are terribly power efficient, throwing on the lights won't totally annihilate the battery. However, turning them off will definitely help you squeeze a couple extra minutes out of them as needed.
Worn Comfort
The G935 was constructed with faux leather earcups and a foam padded headband. The materials are pretty breathable, which is great for dissipating heat. The earcup don't squeeze on your head with too much force. For comfort that's great, though it also means the noise isolation provided by these headphones is a little underwhelming.
A poor noise seal also means your ears are less likely to become baked with heat and begin to sweat. Tough to say if that's a good tradeoff or not. Some people will find the lack of sealed ear cups unbearable, but people who aren't in noisy environments are unlikely to mind.
If you do decide to wear this headset for literally eight or nine hours, it's almost unavoidable that you'll start to feel the strain on your neck. That's the result of its weighty design, and it's true of essentially any wireless headset that's worth picking up. But it's something to keep in mind.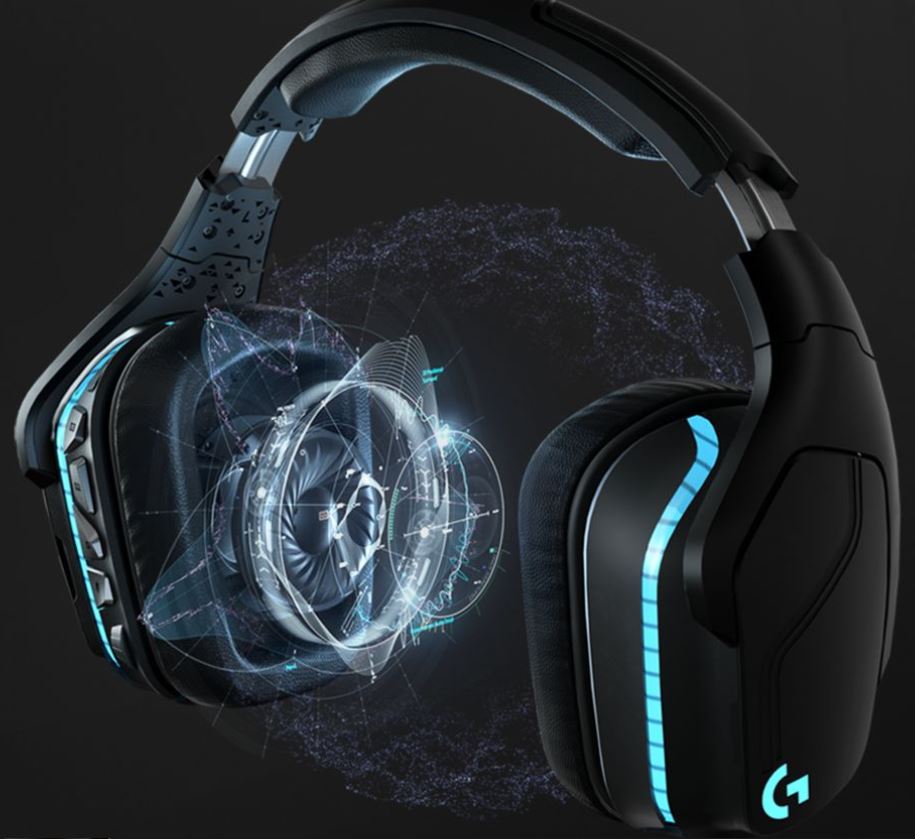 Audio Quality
The G933 sound almost identical to the G933 Bass is pretty deep and the treble range is pronounced for cinematic effect. There's also an emphasis on clarity in the mid-range, intended to be useful for listening to voice performances and in-game sound cues.
The G935 does excel at bringing voice performances to life, sound effects to reality, and music to the front of your attention. But bizarrely enough, the wireless connection actually sounds better than the analogue connection. It must be because the wireless connection is utilizing superior codecs, while the analogue connection is a little rawer.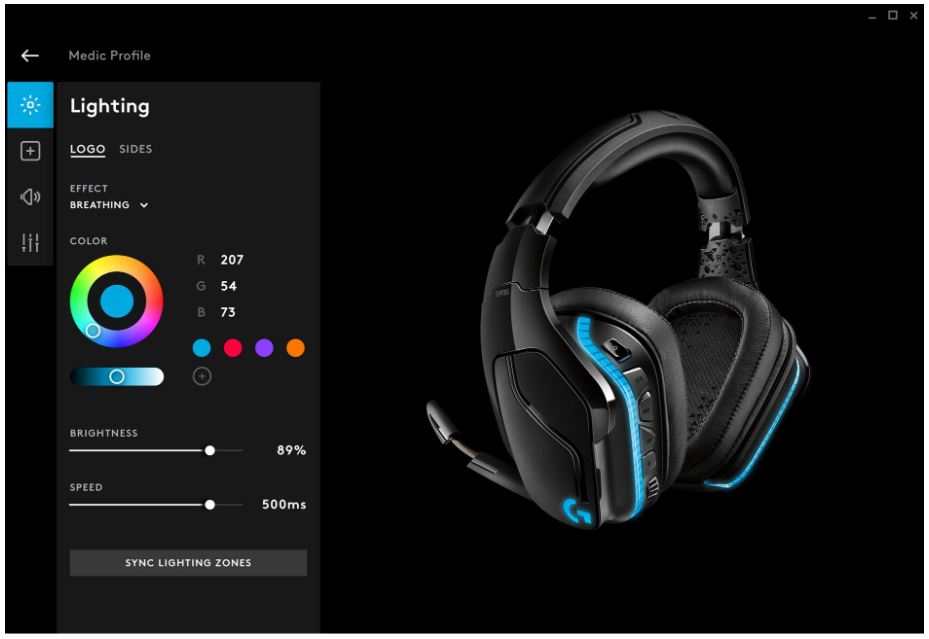 If you're someone who likes to get a little more hands-on with settings, you can use Logitech's G-Hub app in order to customize these headphones. It's where you can customize the Lightsync lighting patterns, and perhaps more importantly, where you can start poking around with equalizers.
It's possible to create a number of different equalization profiles, which allows you to move between profiles as needed. When you want to play a game, you might switch to your gamer EQ profile. When you want to watch a movie, you can swap over to a movie-based profile without having to totally reset everything. Fairly convenient.
Battery Power
The battery on these headphones can deliver roughly 16 hours of playtime. That's assuming you've got the lights off. When you throw the lights on, that time will drop by at least three or four hours.
And if you raise your volume levels past 50% and start heading for the top of the range, you'll find the battery lasts closer to 8 hours. That's not going to get in the way of a gaming session. If it does, there's always the wired option.
Microphone Quality
With some types of wireless headsets, you don't really need to worry about microphone quality. Because when you're buying a headset for jogging, taking calls probably isn't your first priority. But gaming headsets? That's another story entirely.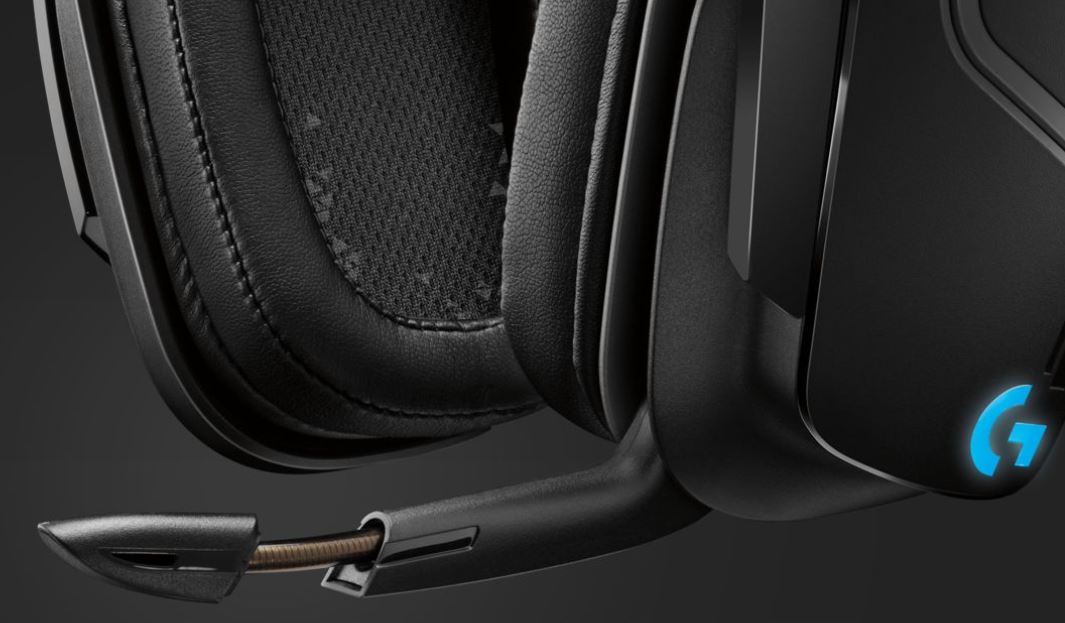 Most gamers rely on a microphone for communication. Whether playing competitively or playing with friends, having a good mic is a big deal to many people. A good microphone can be the difference between winning and having a good time, or losing and having people make fun of how bad your mic sounds. Literally.
So naturally, the microphone used by the G935 is pretty smooth. There is one problem, in that it tends to pick up background noise. At least, if the noise is within a couple feet of you. But it does a pretty good job of filtering out noise if it's further in the distance.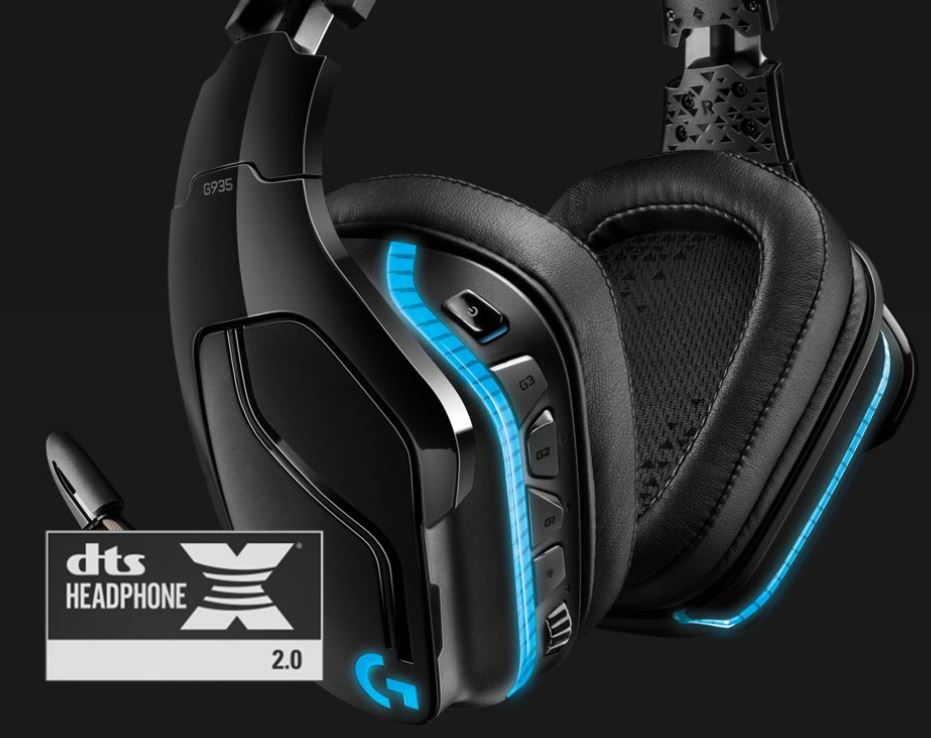 Connectivity & Other Considerations
Because these headphones run wirelessly with a 2.4GHz Wi-Fi signal, they're easy to connect with a PS4, Switch, or PC. When you're trying to connect with an Xbox One, or when you're trying to use a Switch with the handled mode, you'll need to swap over to a 3.5mm audio cable for a wired connection.
The G935 supports DTS 7.1 surround sound. That makes these headsets pretty good for consoles gaming in addition to PC gaming. Though they don't include a bunch of extra swag, they do include Logitech's standard one-year warranty.
If you were looking for a similar headset without the square ear cups, you might consider the LS35X Wireless Gaming Headset. You'd lose that surround sound support in the process, but it might be worth it for certain types of gamers.
Who Should Choose the Logitech G935 Lightsync Gaming Headset?
Due to the size of this headset, it's probably not the right choice for anyone who's interested in strictly portable use. If you have an enormous amount of room in your bag, you could carry them, sure. But the ear cups aren't that great at blocking external noise, so you wouldn't be well rewarded for your efforts. Removed from the comfort of a living room, bedroom, or PC desk space, this headset would be a little out of place.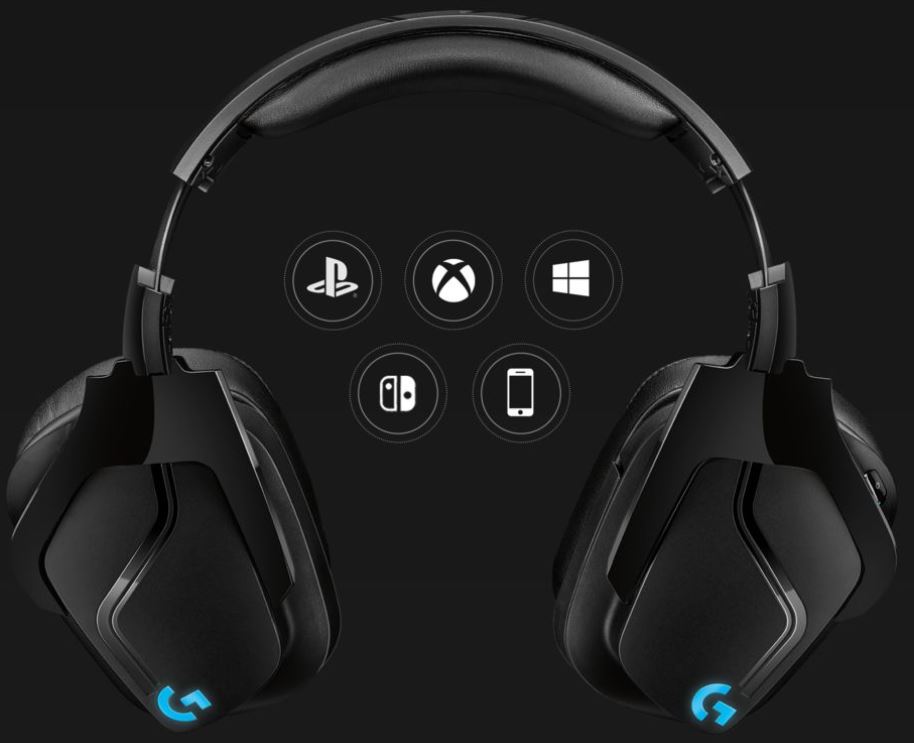 There are other headsets out there which are marginally less expensive and offer similar features, but part of choosing Logitech is knowing you're getting all the benefits of such a massive brand. That includes their formidable software support, generally good warranties, and customer service that doesn't make you feel violent or suicidal after interacting with them.
If you have other Logitech stuff that can work with the Lightsync feature, all the better. Without the LEDs turned on, the G935 looks a little bit like yesterday's fashion. Its style is a tad dated. But if you can put fashion aside, or focus on the LEDs, you'll find the G935 is still pretty competitive at this price point.