Although the PS4 has proven to be the most popular console, there are still a few advantages to using Microsoft's premier console. Where gaming headsets are concerned, Microsoft's wireless communication standard is the best on the market. As long as you choose an officially licensed wireless headset, you can enjoy benefits like long range communication, lossless encoding, and you won't need a base station or adapter.
Unfortunately, finding a decent wireless headset isn't always easy. Many licensed models command a hefty premium, and the affordable models aren't always up to snuff. The LucidSound LS35X could be the perfect alternative. Based off one of LucidSound's popular universal headsets, this Xbox-only model features the same officially licensed wireless communication you find in the official headset. Can it compete with name brand models? We went hands-on to find out.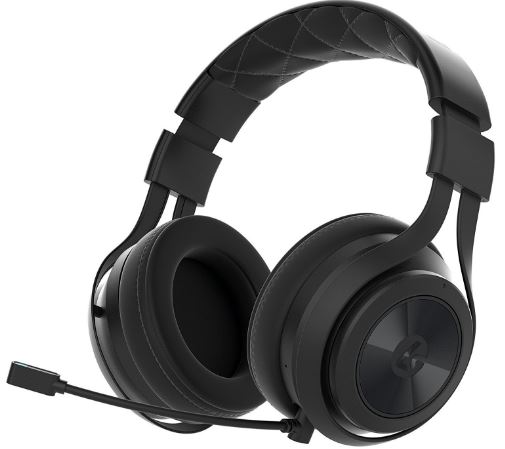 First Look
The LucidSound LS35X is very clearly based off their popular wired headset, the LS25. Changes include an all-new matte black design and of course wireless communication. They also feature virtual surround sound, provided in the form of either Windows Sonic or Dolby Atmos. It also offers many features that made the LS25 so popular. This includes dual microphones, incredibly ergonomics, and of course an eye-catching design. While we found the sound quality in the LS25 to be above average, there is no indicator that the same drivers were used. Additionally, wireless could introduce noise and reduce the sound quality. In order to test this, we had to try them out for ourselves.
Appearance
Visually, the LS35X is definitely eye-catching. Between the circular ear cups, and the sharp edges of the headband, contrast is heavy with this headset. What stands out the most about it is the piece of metal that joins the ear cups to the headband. It's bent, somewhat akin to a Mobius strip, making it seem as if the rigid metal was made from a soft fiber.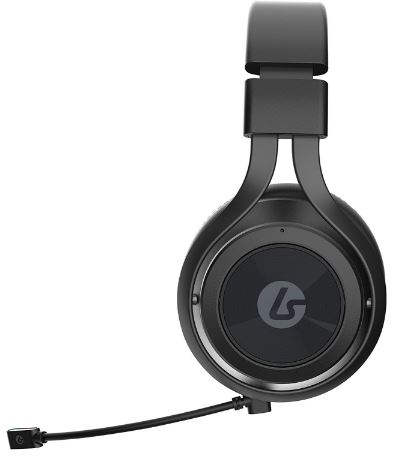 On this model, the colors have been muted. Although you'd think this would make the headphones a little more understated, it only serves to make them look more aggressive. Like a Dodge Hellcat, the matte black toning oozes aggression. If paired with the black Xbox model, it looks as if it's the perfect partner for your console. This is definitely one of the better looking headsets for this platform, which is almost justification enough to buy them.
Comfort
Circumaural headphones (meaning that they fit over the ear) are often the most comfortable options on the market. The LucidSound LS35X take this a step further by coating every part that touches your head with memory foam. Memory foam starts off fairly rigid. When exposed to heat, it becomes very soft. After a few minutes of sitting on your head, it will conform to the unique shape of your face. Not only does this make them comfortable, but it makes them adaptable. No matter what size of shape you are, you can rest assured that these will fit well.
As far as headsets go, these are a little heavier than some. But thanks to the large headband, you won't notice this. By spreading the weight out over a large surface area, they feel light as a feather on your head. Thanks to the memory foam band, any pressure points are removed so the pressure can be spread evenly across your scalp.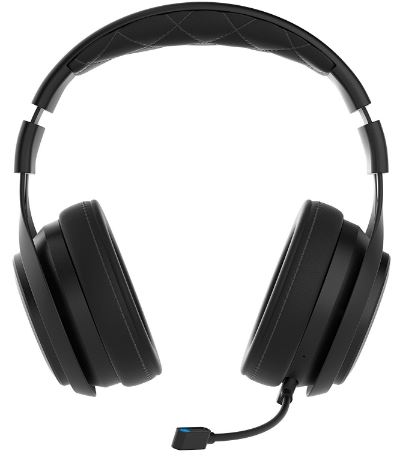 Functionality
The LS35X has a built in volume control. If you look around for it, you're unlikely to find it. In fact, it's hidden somewhere on the enclosure. Just twist the band on the left earcup, and you'll control the volume as if it was a touch wheel on an iPod. This makes it extremely easy to change volume while gaming, as you don't have to spend time poking around for awkward inline controls.
Another important thing to consider with wireless headphones is the battery life. This model charges using a standard Micro-USB charger, and one is included with the package. The battery lasts about 8 hours of maximum volume, and 12 hours at a lower volume. This is acceptable, but not the best on the market. That being said, with a longer Micro-USB you can still use them while charging. So even if you're into marathon gaming sessions, running low on battery won't be much of a concern.
Compatibility
Although these are advertised as an Xbox One headset, the Microsoft Licensed wireless technology allows them to work with two other additional types of hardware. The most useful of these is going to be modern Windows 10 computers. On any machine that shipped with this operating system (some upgraded models won't work) you'll be able to use the full range of features including surround sound and volume controls. They also work with Windows Mobile devices, although there is an extremely limited range of games available for that platform.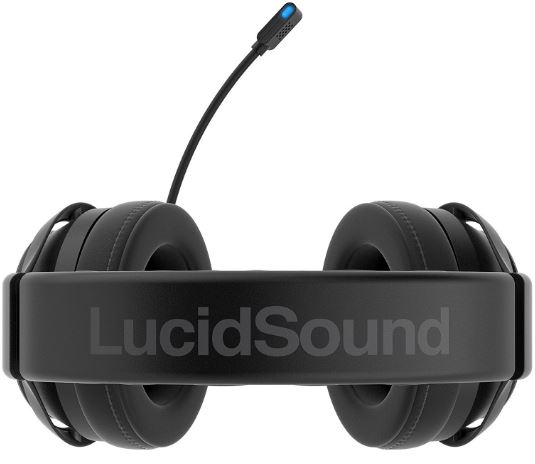 Sound Quality
This headset uses large 50mm drivers that are capable of pushing a lot of air. In many cases, mid-range headsets with large drivers produce a boomy, inaccurate sound. Fortunately, LucidSound's application is a lot more articulate. Highs are precise and detailed, and the mid-range frequencies are delivered almost effortlessly. Speech feels natural, and subtle background noises are easy to pick up. Considering how important sound is to create an immersive environment, moving from the stock Xbox headset to these is like upgrading to HD for the very first time.
Don't get us wrong, these articulate upper frequencies don't come at the expense of the low end. Explosions are punchy and powerful. The bassline of the backtrack is engaging and energetic. Having a large driver is just like having a pair of subwoofers built right into your headset, so bass heads will love these.
Surround Sound
There are two types of software surround sound available with this headset. Windows Sonic is the first choice. This system works by attaching locational data to all sound effects. If a sound is played far off to the left of the player, the effect is played back at a slightly different time in each earcup. This effect replicates how a real sound wave works. While travelling, it passes one ear first, then the other.
Although not a true surround, this feature had the eerie ability to subconsciously tell you where a sound was coming from. An enemy reloading directly behind you had the ability to send chills down your spine. Directions aren't delivered with the same precision as a 7.2 surround system used in a movie theater would, but it's still a major step up from stereo sound.
Dolby Atmos didn't feel nearly as well defined to us. Although it's a respected technology, Atmos simply takes stereo sound and attempts to make something that sounds more 3D. We found that Atmos was a better option when we were playing games that didn't support Windows Sonic. But if you're playing a game that does support Sonic, that's definitely the surround sound system to use.
Microphone Quality
One of the unique selling points of this headset is the fact that there are two microphones built right in. You've got the large boom mic, and a small omnidirectional microphone built into the side of the ear cup.
The boom microphone was fantastic. It's flexible, and you do need to take a moment to get it lined up with your mouth. Once it's in place, sound is extremely clear and easy to hear. This microphone does a decent job of filtering out background noise, so your voice is the only thing that your team mates (or opponents) will hear.
The built in microphone was nice to have, but not as impressive. It sounds a bit more like being on speakerphone. Background noise was easier to hear, and we likely wouldn't recommend using it unless you hate using a boom microphone.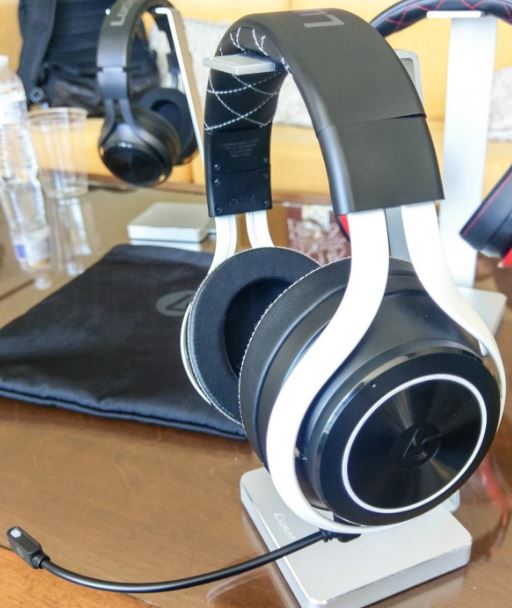 Disadvantages
While the wired LS25 can be used with any console on the market, the LS35X is a little more limited. You can only use it with your Xbox, and a select few computers and phones. If you have multiple consoles you like to game on, you might get better value out of a universal headset.
Final Verdict
We loved the LS25, and for many of the same reasons we love the LS35X. The sound quality is excellent, they are extremely comfortable to wear, and the visual appearance can be appreciated by almost all gamers. Now that you're free from wires, you're free to lounge on the couch while you game. And thanks to the built-in surround sound, gaming is more realistic than ever before.
If you're an Xbox exclusive gamer, we'd highly recommend this headset. But if you want to use your other consoles, it might be worth trading in wireless for a headset that can work with all of your systems. The LucidSound LS25's are almost identical to these models, but work with all consoles.