Although projectors have experienced a surge in popularity for home theater applications, the business marketplace has their own unique set of requirements. Projectors are still one of the best ways to produce a large, easy to read presentation. In order for this to be effective, consumers need a few key features. Projectors must be extremely clear, displaying text and graphics at native resolution without any distortion or filtering. The bulb must be bright enough to overcome fluorescent lighting, and the lamp life should be long enough to last many hours of use.
Optoma is one of the top projector brands, and they've been featured many times on our site. Many of their new models are focused on home theater applications, but they haven't forgotten about the business market. The EH400+ – their newest model – has all the features we look for in a high end business projector. Is this the right model for your company? We went hands-on to find out.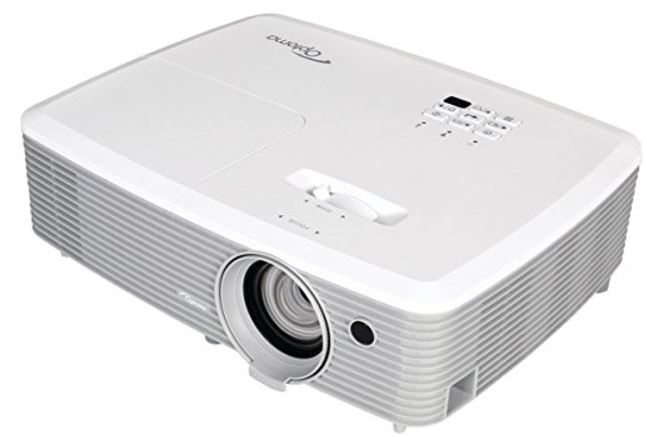 First Look
The EH400+ is a 1080p projector specifically designed with business needs in mind. It's got extensive input support including the latest HDMI standards, as well as analog HD and SD inputs. It's designed to be used as a standalone projector, featuring a built in speaker that can easily fill a room. Alternately, it's got all of the hookups necessary to use external speakers and control systems. Although it does require that it's placed fairly far back from the screen, a built in zoom lens gives users a little more flexibility on where it's placed.

Design
The visual appearance of this projector is exactly what we've come to expect from commercially focused products. It looks very clean and simple, not drawing too much attention to it. The top (or bottom, if you mount it on the roof) has a very sleek appearance to it.
The sides have large bars that run across them, with everything but the front being cut out for ventilation. Ventilation is important for keeping the projector cool, which results in longer lamp life. On the front, the lens is recessed into the side and slightly off center. This helps protect it from scratches, improving the durability.
The enclosure supports both standard VESA roof mounts, as well as Kensington security locks. If you are replacing an existing projector, this means that this model should bolt right in place of the old one.

Brightness & Contrast
One of the most important aspects of a commercial projector is brightness. The dimmer the bulb, the lower the lighting you need in the room it's being used in. The ED400+ has an impressive 4000 ANSI lumen bulb.
The ANSI specification is important. This means that the bulb itself is much brighter than 4000 lumens, and shows that this measurement represents the amount of light that will hit you screen. Other projectors only show the bulb brightness, and don't account for the amount of light lost internally. At this brightness, the projector is bright enough that it can be used even in a fully lit room. If you do plan to dim the lights, you can reduce the bulb brightness. This extends the life, but having the brighter option available is one of the ways that this projector stands a cut above the rest.
Contrast is measured in the form of a ratio. On this particular projector, the ratio is 22,000 to 1. This means that the brightest white that can be produced is 22,000 times brighter than the darkest black. Higher contrast levels are possible through brighter bulbs, one of the reasons that this specification seems so much higher end than other models. The end result is an image that is very crisp and sharp. It doesn't give you the same smooth gradients you get with a multimedia projector, but text looks especially crisp.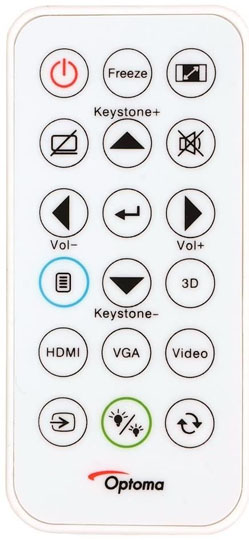 Resolution
1080p is pretty standard for projectors these days. Unfortunately, many business projectors are still using lower resolutions. The one thing to consider here is whether you're using a widescreen computer or not. Some presentation software such as power point still defaults to a 4:3 image. If you're using 4:3 material, the image may look a little stretched on this projector. But if you (like most of the world) have upgraded to widescreen material, this projector will give you incredibly sharp images with plenty of detail.
One of the nice benefits of 1080p is that multimedia still looks good. If you want to occasionally use this projector to watch movies or television, the video will still look good. This isn't something we can often say about data driven projectors, making this model a little more universal in nature than others.
One neat feature about this projector is that it also supports a native 16×10 mode. 16×9 HD (1920×1080) is common for media, but some computers have a little more vertical height. In 16×10 mode, the true resolution of the projector is 1920×1200. This allows you to display 16×10 content without any scaling. Preventing scaling is essential to keep your picture sharp.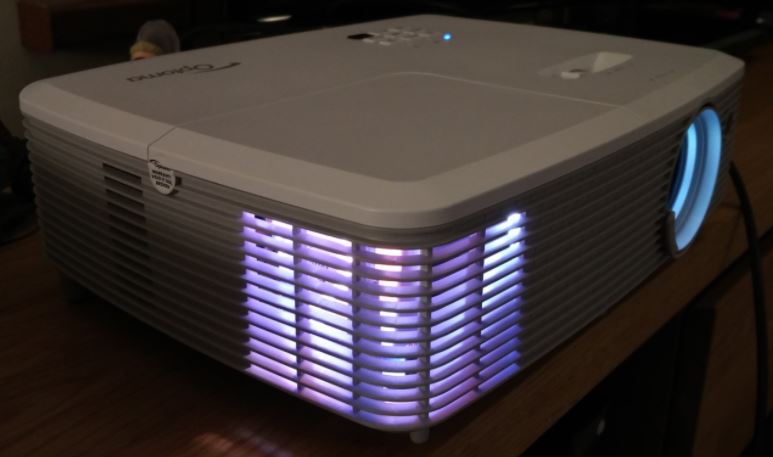 Connectivity
No matter what you intend to connect to this projector, you can be pretty confident that it will work. HDMI is the most popular option out there, and Optoma gives you two HDMI ports. Aside from the standard communication protocol, these HDMI ports also support MHL. MHL is essential if you intend to connect your mobile phone to the display. It's also commonly used with streaming sticks such as the Chromecast or a Roku player, so it's nice to have the option to use these.
For older laptops, you've also got two VGA inputs and a single VGA out. VGA, although having fallen out of fashion with most modern PCs, still has its place with data projectors. This is because VGA supports pass-through communication. You can connect your computer to the projector, then the projector to your monitor. This allows you to see what's on screen through a local monitor, making it easy to give presentations.
Although other analog connection formats are less popular, there are still several options available. Composite and S-Video are available for SD signals. The VGA ports also support YPbPr and RGB, so RGB connections can be used.
For audio, you have two 3.5mm analog inputs for stereo. RJ-45 and RS232 (serial) ports are available for external control solutions.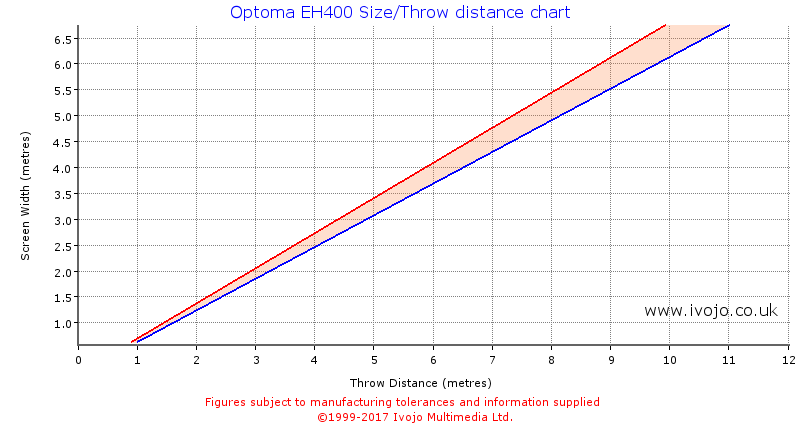 Display Size
Thanks to the incredibly brightness, very large display sizes are available. At a little under 4 feet from the screen, you'll get a 37 inch display. This display can be enlarged all the way up to 300 inches. These ultra-large images do require a pretty significant distance from the screen – up to 24 feet. But in the smaller ranges (100 to 150 inches) the zoom lens will give you more flexibility on where the projector is placed.
3D Support
remarkably, this is one of the few data projectors to support 3D content. Like most projectors, only active 3D is supported. In order to use this feature, you'll need to use DLPLink brand active 3D glasses. These glasses plug directly into the projector, or alternately wireless models can be used.
If you want to use the projector to watch the occasional movie, this feature could come in handy. But for the situations it was intended to be used in, the additional purchase of glasses likely isn't worthwhile.
Disadvantages
As far as data projectors are concerned, this model is a little more expensive than some. For what you get, this is pretty good value. But if you're still using old 4:3 content or smartboard technology, you won't likely be able to take advantage of all the features that make this projector stand out. You should carefully consider your application before you buy, as not every business needs such a powerful projector.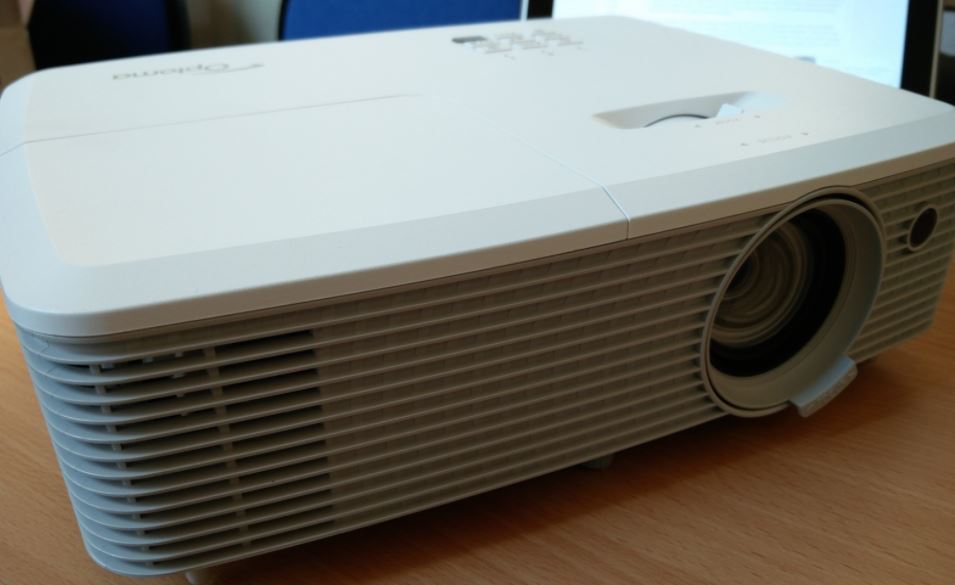 Final Verdict
There were a lot of things we liked about the EH400+. It's biggest selling point is going to be its brightness. At over 4000 ANSI lumens, it's one of the brightest projectors on the market. You can use it in almost any room, no matter what kind of lighting is available. The next feature that impressed us is the resolution. At 1920×1200, full HD content can be enjoyed without scaling in both 16:9 and 16:10 aspect ratios. This means that your video will be incredibly crisp, with even the finest details being obvious to the eye.
If you're looking for a large screen data projector that will last many years to come, this model could be a great choice. It's unique resolution also makes it a great choice for home theater applications – something that is unique to business centric projectors. Optoma has been in the market for a long time, so it's no surprise to see them produce such a high quality projector.