With 4K televisions just becoming affordable to most consumers, there are deals to be hand in the 1080p category. Whether you're looking for a way to catch the morning news while you're having your breakfast, or even searching for an affordable TV to throw in your RV, the comparatively low cost of a 4K TV still might not be enough. While you may be making small sacrifices with a 1080p set, there is little else you have to sacrifice.
RCA made a name for themselves in the Hi-Fi marketplace back in the 70s, but today their legacy carries on. Their surprisingly inexpensive 43-Inch TV has more features than you'd expect to find. With a Roku based system that gives you access to streaming services like Netflix, Amazon Prime Video, and YouTube, we couldn't help but wonder what the catch is. To find out, we decided to go hands-on.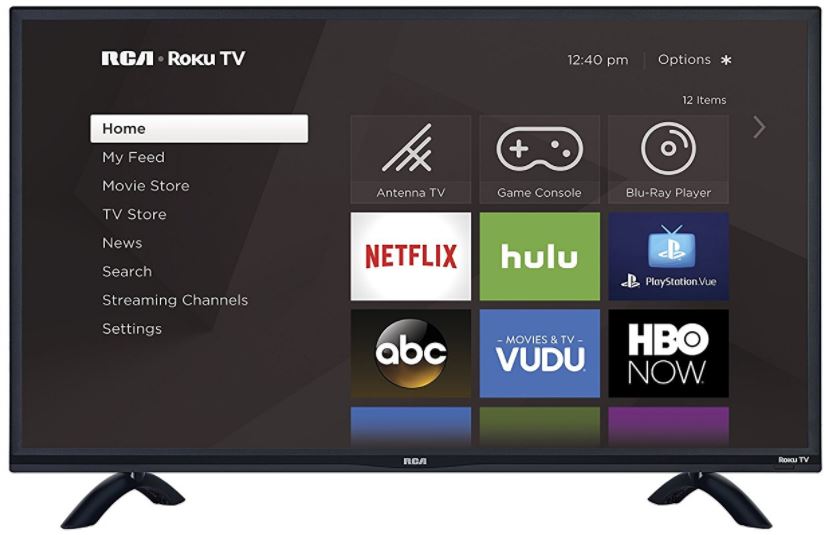 Model Overview
The RCA RTR4360 is a 43-Inch television that operates at native 1080p. Instead of using their own proprietary smart TV system like many manufacturers, RCA decided to integrate a Roku streaming system inside. This works like a little operating system for the television.
External devices can be connected to one of the many HDMI ports, or through the RGB, coaxial, and S-Video ports. Social media is a little rudimentary, but streaming services work perfectly. At 43-inches, this isn't the largest TV on the market. But unless you're placing it in a massive living room, you'll likely find the size more than adequate.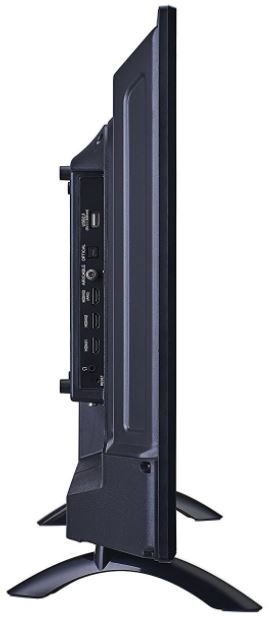 Design
With modern electronics, simple design cues can have a major visual impact. Take a minute and imagine what you'd expect a high end TV to look like. After, picture a budget brand. Budget models are commonly big, bulky affairs. Meanwhile, the high end TVs are slim, sleek, and professional looking. In reality, there isn't a ton of difference between the two. After all, the majority of the front-facing side of the TV is screen. But the size and shape of the bezel as well as the appearance of the stand all make a huge impact on how impressive a TV is in your living room.
Fortunately, the RTR4360 is nothing like you'd expect an inexpensive TV to look. The bezel around the edge of the LED display is very thin, measuring less than an inch thick. If you look at the TV from the side, it also appears to be razor thin. This is actually a bit of a visual trick. Although the TV itself is a few inches thick at it's widest part, RCA managed to keep all outer edges thin while placing a small square box at the back to store all of the components. This allows them to use a bulkier case to keep costs low, but hide it in such a manner that you'd never notice how thick it is.
The stand isn't particularly unique, but mimicks the style of stands used in top-tier televisions made by Samsung and Sony. We're not going to give RCA any awards for originality, but this affordable TV has taken many visual hints from high end brands. Since TVs have become a bit of a status symbol, many consumers will find the premium appearance to be an asset.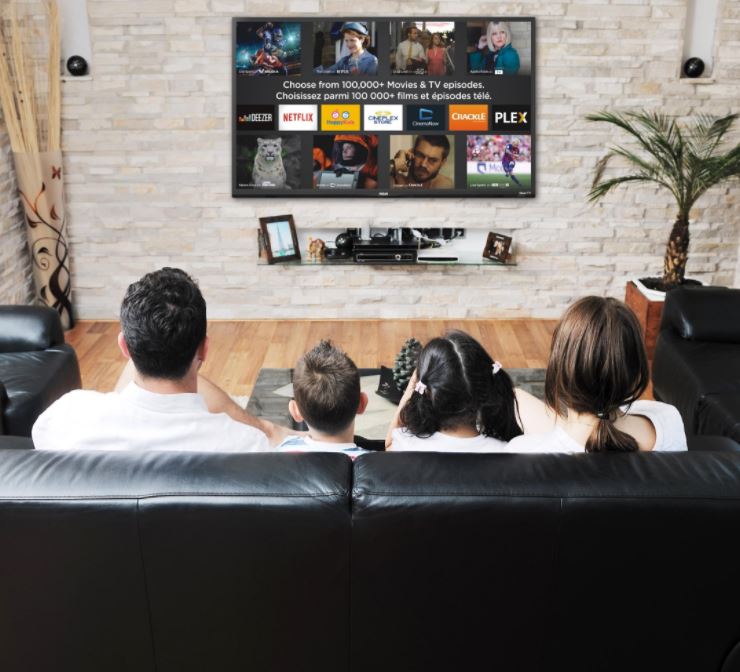 Smart Functionality
When Smart TVs were first released, purchasing one was a bit of a gamble. Choosing between LG and Samsung was like choosing between Android and IOS. Both platforms had their own operating system, and each had their own set of compatible apps. Today, most premium TVs use an Android based operating system, improving compatibility. Only the affordable televisions use proprietary operating systems, giving consumers a big incentive to spend a little more.
Roku televisions are the one alternative that we like. The Roku streaming sticks have been on the market for a very long time, and have proven to perform very well. Now that Roku is licensing their technology to manufacturers, you can get all the power of the streaming stick without installing any additional hardware.
For streaming Netflix, Amazon Video, YouTube, or any of the 200+ additional services supported, the Roku stick works perfectly. Video loaded quickly, and played back without any choppiness or lag. You're also able to cast video files from a mobile phone or computer, just like the popular Chromecast.
Where the Roku system falls short is in web browsing and social media. Rudimentary functionality is there, but it's not quite what it could be. If you want a TV that can stream movies and teleivsions, this system is for you. But if you're looking for something that integrates with your existing smart home or can run interactive applications, there are better options out there.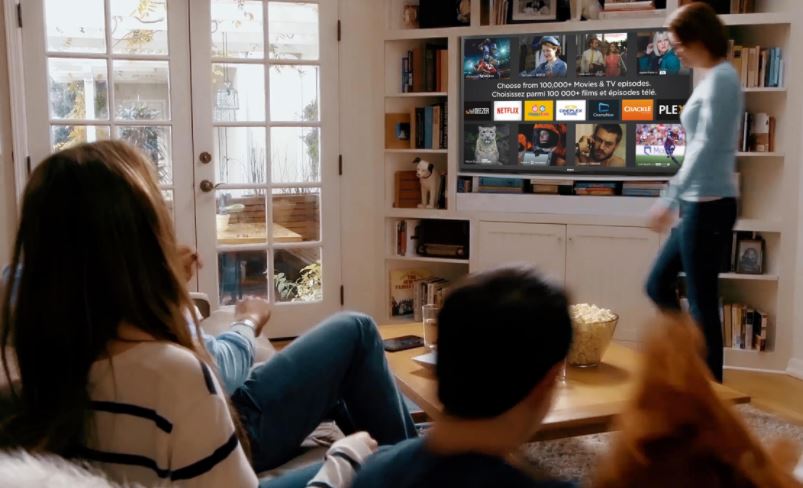 Video Quality
LED TV is still the best video technology on the market, but there are several different versions of LED panels available. On the low end, you've got LED panels with even illumination. This means that the individual lights that illuminate your screen are either all on, or all off. The brightness is uniform. One step above that is individually addressable LEDs. This means that the light behind each pixel can be controlled individually, and that is the technology that this TV has.
The end result is a picture that is more dynamic and engaging. At this size, 1080p still looks very sharp and crisp. We preferred to use the TV on default settings, but some of the color and contrast options will look better in specific environments.
Although this TV can keep up with all modern standards, it's not the best on the market. HDR produces more vivid colors. IPS displays have more accurate colors. But for the money, this LED screen is one of the better models we've seen.
Controls
RCA advertises this TV as having one of the best controllers on the market. They claim that because there are 20 buttons, the controller is easy to use. If you've ever used a stereo from the 90s, you know that those "space age" looking remotes are no good. This TV is much simpler to use than other models, but the number of buttons on the remote have nothing to do with it.
What impressed us about the controls is the on-screen interface. You can change inputs from an option located in the Roku software. You've got two buttons for increasing or decreasing the volume, and two buttons for changing channels. Used in addition with the four way navigation buttons and the "select" button, you could accomplish everything you wanted to with just these few controls.
To make your life a little easier, the manufacturer does provide you with buttons that directly load up your favorite apps. Netflix, YouTube, and manual input selections are available. If learning the remote in a number of seconds isn't enough for you, you can download the Roku app on your smartphone and control the TV that way. We really liked this feature, and you'll love the fact that you never have to ask your kids where the remote is again!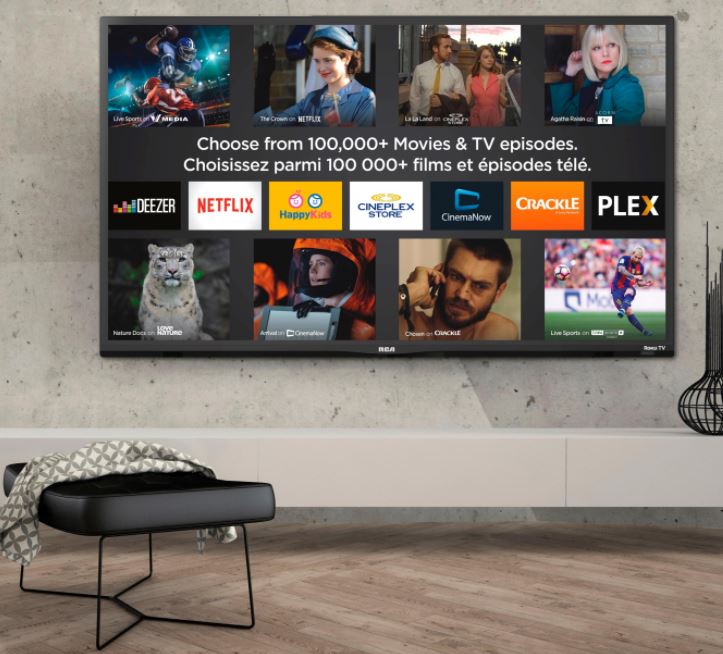 Disadvantages
The main disadvantage with this TV is the built in speakers. They are alright for TV shows or casual movie watching, but if you want a cinematic experience there are better options. This TV gives you the ability to connect to an external speaker via the built in 3.5mm output, or you can use Bluetooth. If you've got a set of Bluetooth speakers kicking around, we'd highly recommend using them to improve the user experience.
Final Verdict
For the money, it's unlikely that you'll find a better TV than the RCA RTR4360. It's low price puts it in the same category as entry level HDTV's or large computer monitors. With this model, the key advantage is the Roku system. You don't have to buy an external streaming stick, and you won't have to hook up your laptop or tablet every time you want to throw on a show.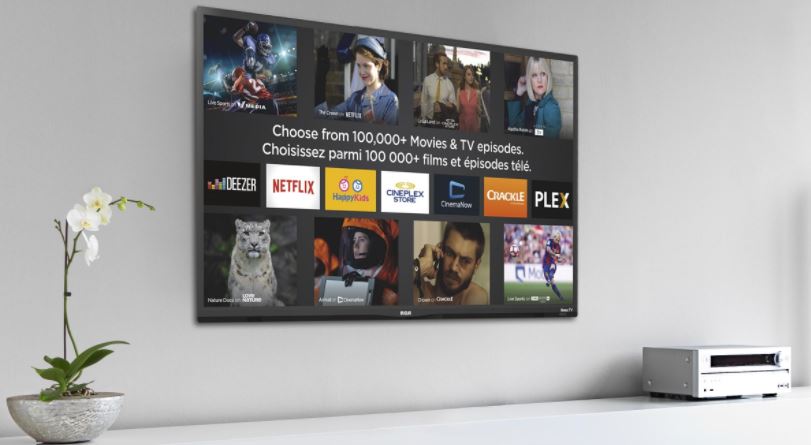 If you own a Blu Ray player or game console, those can be hooked up as well. But most consumers today access their video content online. Having that feature built into the TV means that you won't have to spend any additional money on external hardware.
If you don't plan on doing any streaming, then this might not be the TV for you. You can get a bare-bones TV pretty inexpensively, so we'd only recommend this model to consumers who want to use the smart features. But if you want an all-in-one unit with impressive video quality that won't break the bank, you can't go wrong with the RCA RTR4360.