When it comes to outdoor activities, one essential item to pack is a water sterilizer. But with so many options available, it can be challenging to choose the right one. So we've compiled a list of the best portable UV water sterilizers on the market to help make your decision easier. Here are our top picks:
When exploring the great outdoors, having access to clean drinking water is essential for your health and safety. To help you choose the best portable UV water sterilizer for your needs, we've tested and reviewed the top options available.
Best Overall: SteriPen Adventurer Opti
Key features:
Optical eye senses water for purification
Destroys 99.9% of harmful microorganisms
Chemical-free and safe for the environment
Compact and lightweight for outdoor use
The SteriPen Adventurer Opti UV Water Purifier is a compact and lightweight handheld device designed for outdoor and expedition use. It utilizes a patented optical eye to sense water and destroy over 99.9% of harmful microorganisms, such as bacteria, viruses, and protozoa, without altering the taste or pH of the water.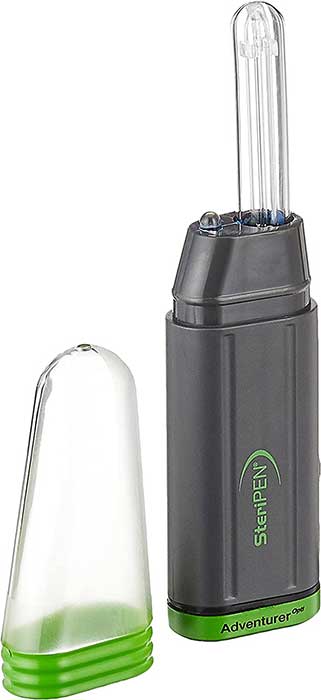 During our testing, we found that it works quickly and effectively, providing safe drinking water in even the coldest of waters. It's incredibly easy to use, with a one-button operation and an LED light that quickly indicates when the unit is ready to purify. Once the indicator light turns green, simply place the pen-like lamp in clear water and stir until the treatment is complete.
The UV lamp provides up to 8,000 one-liter treatments, making it an excellent choice for camping, hiking, backpacking, and emergency preparedness. The device works with containers with a minimum 1.75-inch diameter opening, such as Nalgene wide-mouth bottles. The low-power indicator lets you know when the batteries need replacing, and the unit automatically shuts off when treatment is complete.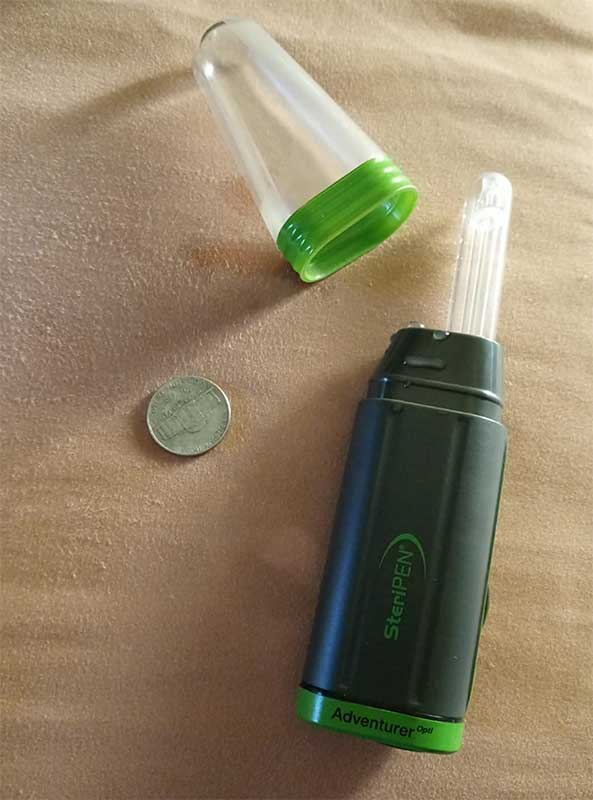 The purifier comes with a black neoprene case with a belt loop and two disposable CR123 batteries. The water sensor doubles as an LED flashlight, providing additional functionality and convenience during outdoor activities. We appreciate that the unit is chemical-free, making it safe for the environment and your health.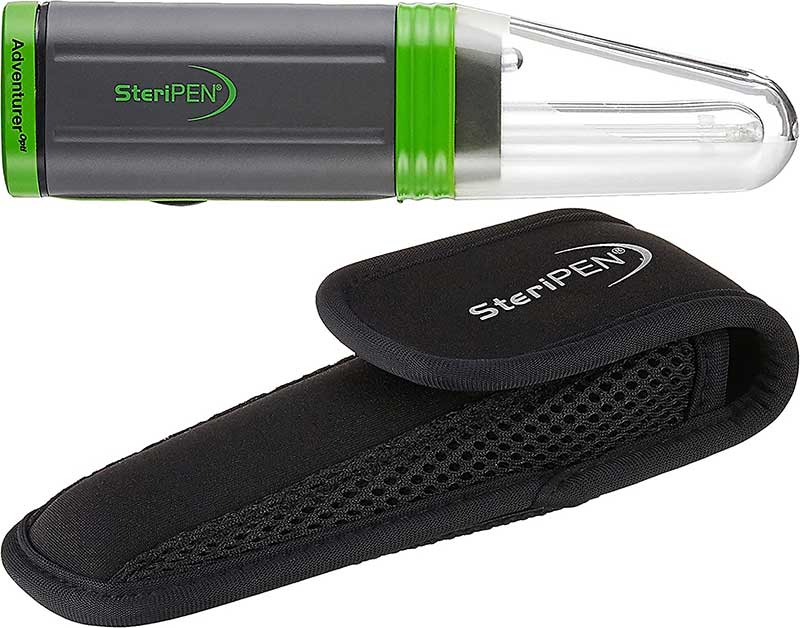 In all, the SteriPen Adventurer Opti is a reliable and effective device for purifying water outdoors. It's easy to use, compact, and lightweight, making it a great addition to any camping or hiking gear. With its long lifespan and low-maintenance design, it's an investment that can provide safe drinking water for years to come.
What we liked:
Easy to use with one-button operation
Compact and handheld design is convenient
Provides safe and healthy drinking water
Comes with a low power indicator and automatic shut off
What we didn't like:
Requires clear water for effective use
Non-rechargeable batteries can add to long-term costs
Best Runner-Up: SteriPen Classic 3
Key features:
Battery-powered UV purification for on-the-go use
Destroys over 99.9% of waterborne contaminants
Tapered end fits most water bottles and canteens
For adventurers and travelers alike, the SteriPen Classic 3 UV Water Purifier & Pre-Filter Bundle offers a simple yet effective solution for purifying water.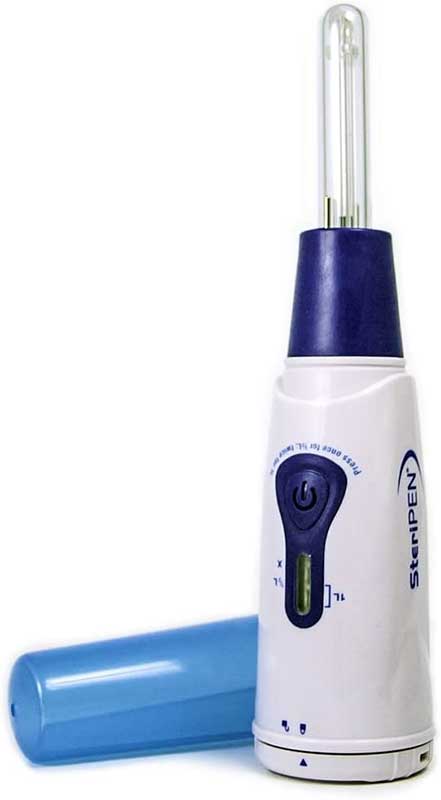 Using ultraviolet light to filter out dirt and contaminants quickly and safely without any chemicals or messes makes it an obvious choice among outdoor enthusiasts. Its battery-powered operation makes it capable of producing up to 150 liters on only one set of AA batteries. This is sure to appeal to campers, hikers, and travelers who want to enjoy clean and safe drinking water while they are on the go.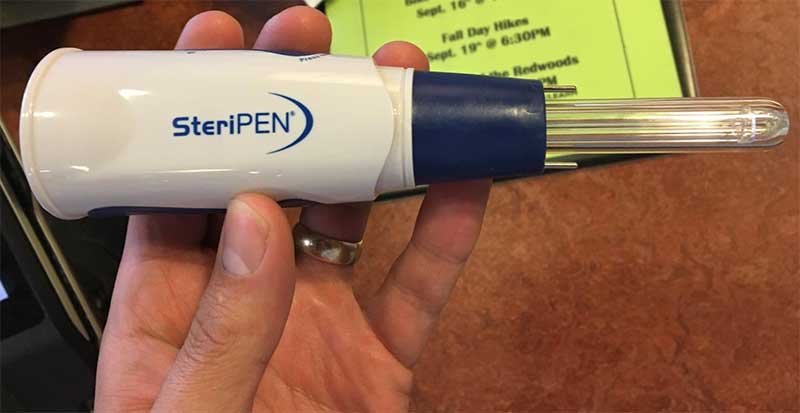 Our tests showed that operation was quite easy. To use, just fill a container with water, then dip the water and activate the lamp. Stir the container as indicated, and you will see an indicator light that tells you when the water is ready to drink. As a bonus, it also provides a pre-filter to get rid of silt and other large particles.
With a certification from the Water Quality Association, this water purifier provides optimal protection against bacteria, viruses, and protozoa. It is capable of destroying over 99.9% of these microorganisms, including Cryptosporidium and Giardia. And that's not all – it works quickly while still being safe to use and won't change the taste or pH level of your drinking water in any way.
We appreciate the versatility of it, too, as it has the capacity to purify up to 8,000 liters, and its tapered end makes it suitable for everything from water bottles to canteens. Moreover, we like how easy it is to store due to its included storage bag, thus making it even more travel-friendly.
The SteriPen Classic 3 is an excellent purchase for anyone looking to explore the outdoors or travel to places with potentially unsafe drinking water. Its dependable purification process, combined with its ease of use, makes it a must-have item in any outdoor enthusiast's collection. Highly recommended.
What we liked:
Fast and effective water purification
Chemical-free and doesn't alter taste
Portable and easy to use on-the-go
Reusable, purifies up to 8,000 liters
What we didn't like:
Requires regular battery replacements
Not effective against sediment or heavy metals
Best Alternative: SteriPEN Ultralight
Key features:
Destroys 99.9% of bacteria, viruses, and protozoa using ultraviolet light
Purifies a liter of water in just 90 seconds
Easy to use with one-button operation
Compact and lightweight at 2.6 ounces
The SteriPEN Ultralight UV Water Purifier is an excellent choice for anyone who needs to purify their drinking water while camping or hiking. It uses ultraviolet light to destroy over 99.9% of bacteria, viruses, and protozoa, making it a highly effective purification method.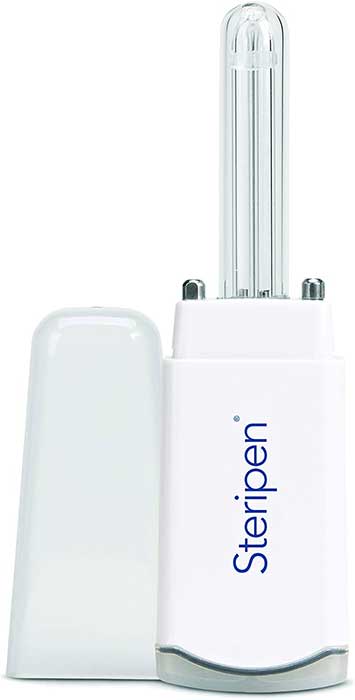 We put the unit to the test by purifying an impressive 1.0 liter of water in only 90 seconds. It was incredibly simple with its single-button operation. And because it can provide up to 8,000 liters of purified H2O, it's a good fit for long trips away from home. Overall this device is one seriously impressive piece of tech that you won't want to miss out on.
Equally impressive is the small size of this purifier. It's incredibly compact and lightweight, weighing in at a mere 2.6 ounces. This makes it easy to carry in your backpack. Power-wise, the unit can be recharged using its USB port, and that's a huge convenience for anyone who wants to recharge on the go.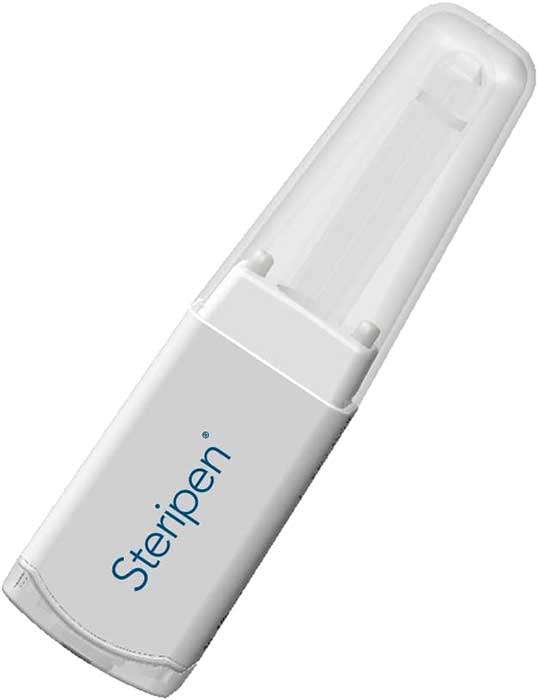 This one is reasonably priced compared to other water purification options, so it's well worth the investment for anyone who takes their hydration seriously. If you've been holding out for a reliable alternative to chemical water treatments, the Ultralight is definitely worth a look. We rate it highly, as it's a solid performer and a smart buy.
SteriPEN's Ultralight is the perfect selection for anyone seeking to purify their drinking water while exploring nature. It's incredibly small, lightweight, and effective – an ideal fit when you need dependable gear that will keep you safe and secure during extended outdoor trips.
What we liked:
Provides up to 8,000 treatments
Rechargeable via USB port
Highly effective purification method
Ideal for extended trips
What we didn't like:
Requires battery power
Not suitable for cloudy or murky water
Best 2nd Alternative: LARQ Bottle
Key features:
Self-cleaning with UV-C LED technology
Double-wall vacuum insulation for temperature control
BPA and plastic-free for chemical-free purification
Up to 1 month of battery life with long-lasting power
The LARQ Bottle is a stainless steel water bottle that is both self-cleaning and insulated. It comes in six colors, one of which is Obsidian Black, and has a capacity of 17 ounces. The bottle is designed to be easy to use, and we liked knowing that there's no mercury used in conjunction with the UV-C technology.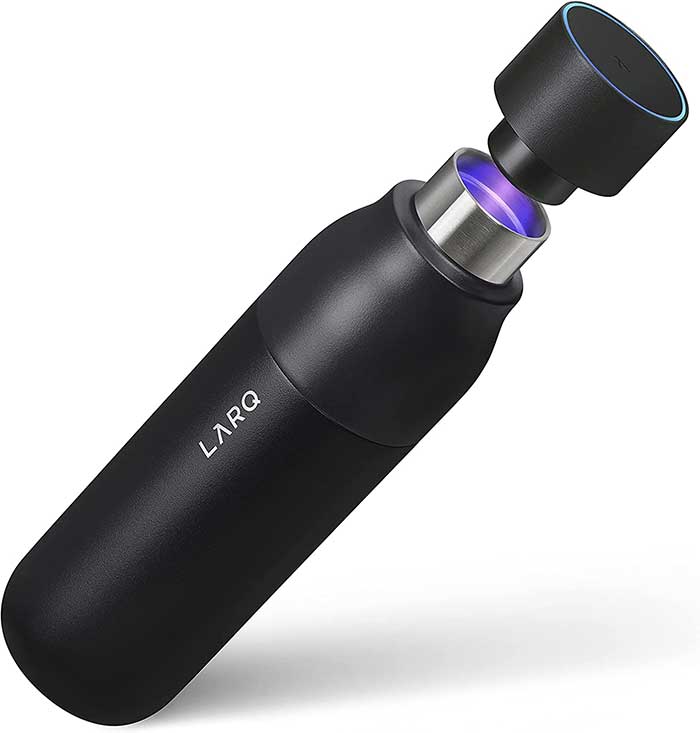 Our testing showed that it eliminates both bacteria that causes odors as well as viruses, providing users with peace of mind that their water is safe to drink. The bottle is also incredibly easy to use – just touch a button to activate the self-cleaning feature. When you do, it intelligently kicks on every couple of hours to ensure the bottle is fresh and free of odors. And all it takes is 60 seconds to get clean water for a variety of needs.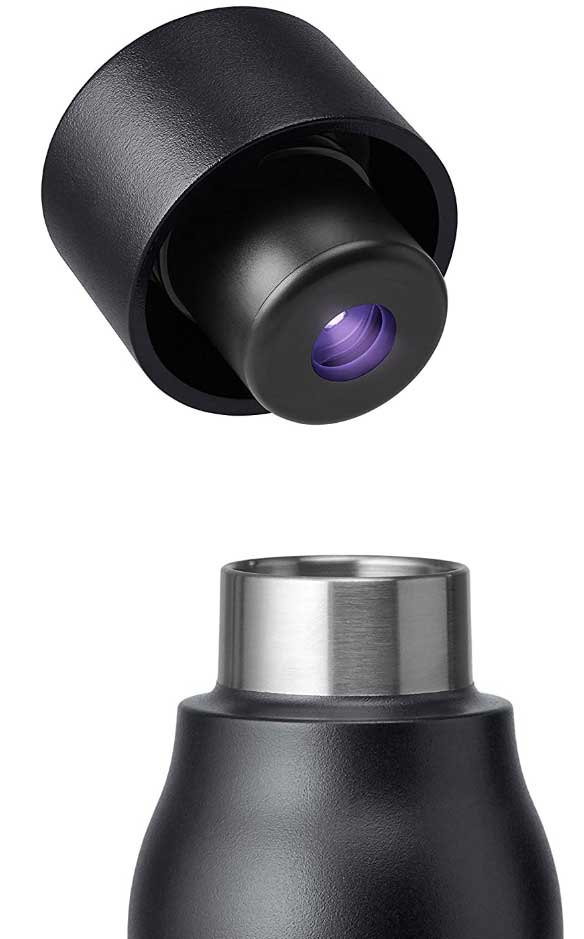 Not only does the bottle naturally clean itself, but it also boasts double-wall vacuum insulation to keep your drinks chilled for either 24 hours or heated for up to 12 hours. You don't need to worry about BPA or plastic, either; this bottle offers pure refreshment without any filters or harsh chemicals.
In addition, you get long-lasting power that can last up to 30 days on a single charge. The bottle is also splash-proof and comes with a USB charging cable for convenience. With that, the LARQ Bottle is an excellent choice for anyone seeking a stylish, innovative, and easy-to-use water bottle that provides peace of mind and clean water.
What we liked:
Provides clean and fresh water in 60 seconds
Eco-friendly and reduces plastic waste
Double-wall vacuum insulation keeps drinks at temperature
Durable and leak-proof stainless steel design
What we didn't like:
Expensive compared to other water bottles
Noisy cap
Portable UV Water Sterilizer FAQs
Can I use a portable UV water sterilizer to purify seawater?
No, UV water sterilizers are designed to purify clear freshwater sources only. Saltwater contains high levels of minerals that can interfere with the effectiveness of the UV treatment.
Can I purify cloudy water with a portable UV water sterilizer?
It's not recommended. They work best with clear water sources, as suspended particles in cloudy or turbid water can reduce the effectiveness of the UV light.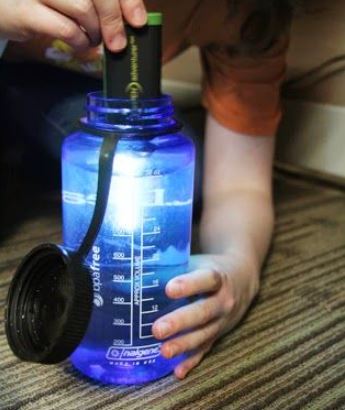 Are there any health risks associated with using UV water sterilizers?
UV water sterilizers are generally safe to use and are an effective way to purify water. However, it's essential to follow the manufacturer's instructions and ensure that the device is working correctly to avoid any potential health risks.
How often do I need to replace the batteries in my portable UV water sterilizer?
This depends on the specific device and usage frequency. Some models may require battery replacement after a few uses, while others can last for several months before needing new batteries.
Can I use my portable UV water sterilizer to purify water for my pets?
Yes, UV water sterilizers are safe for pets and can be used to purify water for drinking or bathing purposes. However, it's best to follow the manufacturer's instructions and avoid using water sources that may be harmful to pets.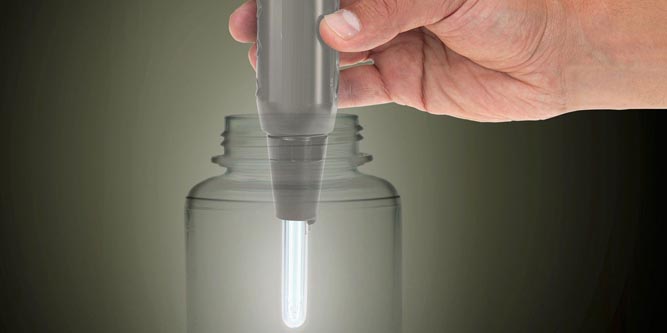 Final Verdict
Exploring the outdoors demands clean water, which makes portable UV water sterilizers a must-have. We've tested and identified four highly effective top picks. The SteriPen Adventurer Opti UV is the best overall due to its patented optical eye technology, compact design, and ease of use.
SteriPen Classic 3 is our best runner-up with its battery-powered operation and pre-filter bundle. SteriPEN Ultralight offers highly effective purification of up to 8,000 liters and is our best alternative with its USB rechargeable capability.
Last up, the LARQ Bottle is our second-best alternative, a self-cleaning water bottle with UV-C LED technology, double-wall vacuum insulation, and durable stainless steel design. All of our top picks are highly effective, but the SteriPen Adventurer Opti UV is the best overall. But no matter which option you choose, investing in a portable UV water sterilizer is a smart choice for anyone who wants access to clean and safe drinking water while exploring the outdoors.
Meet Derek, "TechGuru," a 34-year-old technology enthusiast with a deep passion for tech innovations. With extensive experience, he specializes in gaming hardware and software, and has expertise in gadgets, custom PCs, and audio.
Besides writing about tech and reviewing new products, Derek enjoys traveling, hiking, and photography. Committed to keeping up with the latest industry trends, he aims to guide readers in making informed tech decisions.