At the end of 2022, BLUETTI made a special announcement regarding their first ever Energy Storage System, the EP600 and B500. Since then, these products have been widely available to the European market, but those in the US have had to wait. Now, the US market can expect the release of the specially tailored EP900 and B500. In May of 2023 (next month), BLUETTI will officially release the EP900 and B500 as a premium option that's expected to bring home backup power to an entirely new level.
Users can easily integrate the EP900 into the power grid with its simple interface. As a result, getting through unexpected outages, blackouts and grid failures can be a thing of the past. Best of all, it's compatible with existing roof solar panel arrays, making it easy to keep the lights on. And if you end up having a surplus of extra energy, you can even sell it back to the grid to make some extra cash.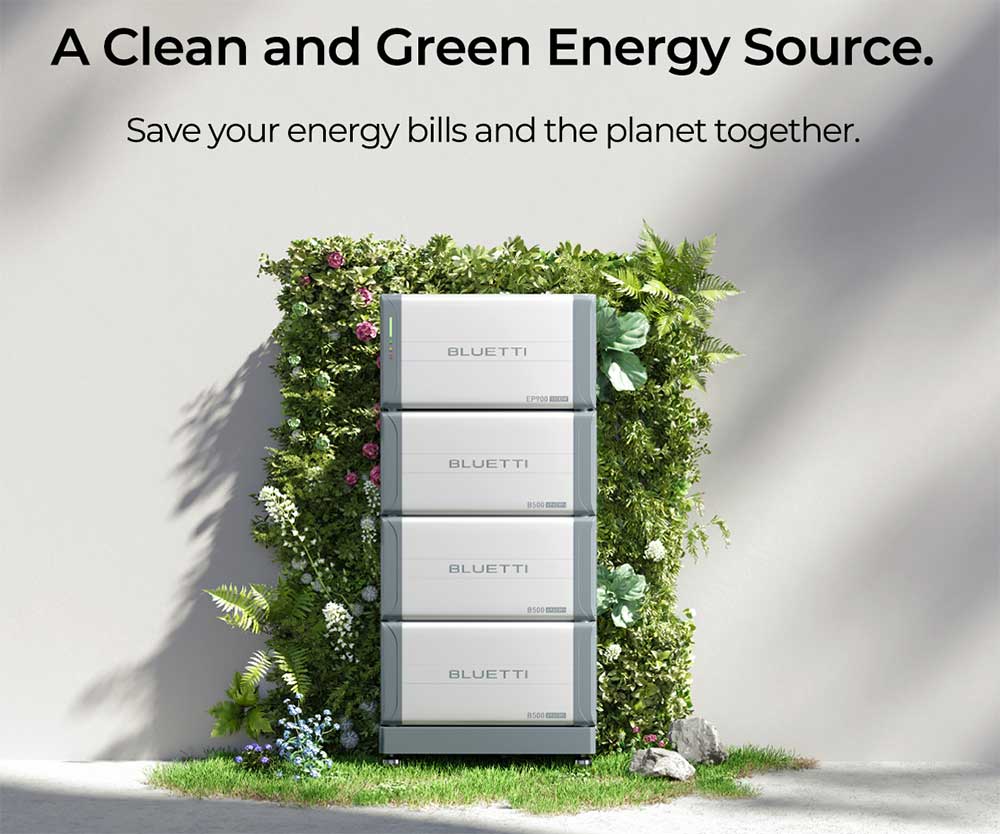 By the looks of it, the EP900 is a complete best of a unit that even accepts several additional B500 battery modules for added storage. With a wide capacity range from 9.9kWh to 39kWh, there's an option for every household.
And with a minimum of four B500 units attached, users can take advantage of up to 9kW of pure sine wave output for powering virtually any large appliance with high demands. On top of this, single-phase and three-phase inverters offer added compatibility. All in all, it appears to be a very capable solution for both residential and business settings alike.
Key Highlights:
Completely modular design, expandable capacity from 9.9kWh to 19.8kWh.
Maximum continuous output of up to 9kW.
Very simple, hassle-free installation.
IP65 waterproof; perfect for outdoor and indoor installations.
Compatible with the BLUETTI smart app for easy monitoring and control.
Backed by an impressive 10 year warranty.
Works with new and/or existing solar panel systems.
Utilizes LiFePO4 battery cells with an intelligent BMS.
Users can sell energy back to the grid.
Acts as a 24/7 uninterruptible power supply.
Certified with IEC62619, UL1973, UL9540A, UN38.3, EN/IEC 61000-6-1, EN/IEC.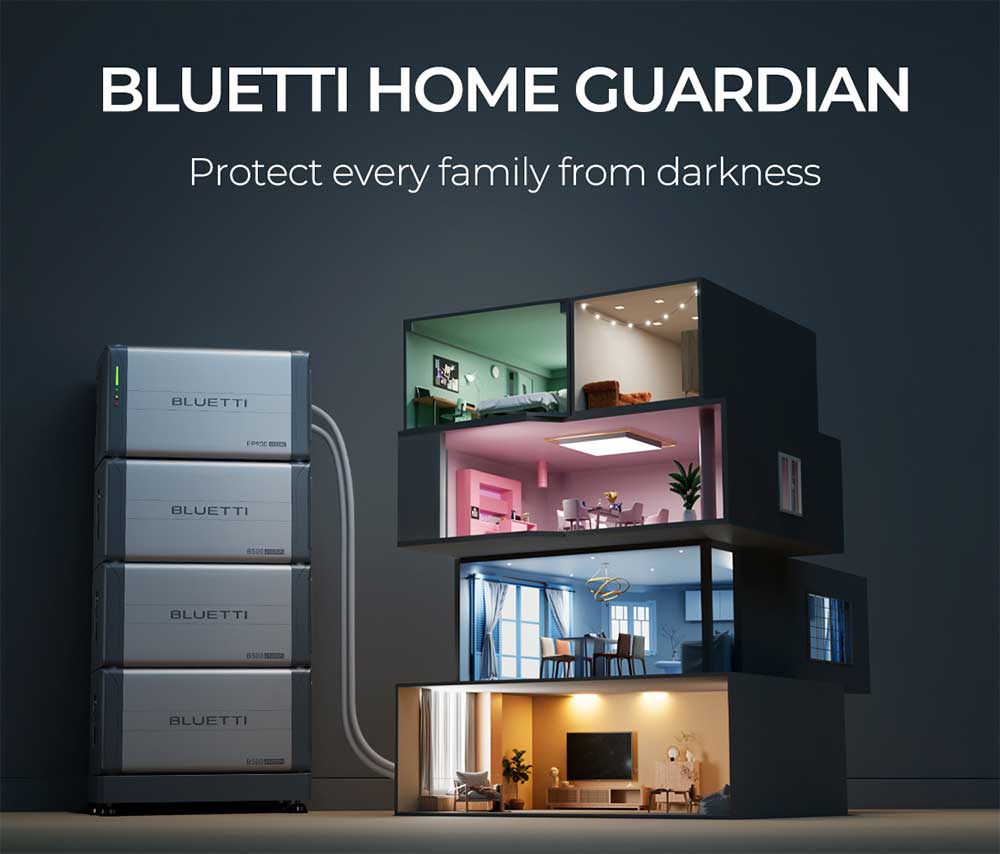 Power Backup, Perfect for Emergencies
Winter 2022 was especially difficult for the many homes and businesses that lost power during an unprecedented series of storms that wrecked havoc over the United States. It's times like these where energy storage solutions like the EP900 would have been a luxury to have. With summer right around the corner, more extreme weather events could be coming our way along with high-demand for necessities like air conditioning. As a result, many expect blackouts and failures to be the norm as our power grid struggles to keep up.
With the EP900's max capacity of 39kWh and large output of 9kW, home and business owners can rest assured. With specifications that outperform any other product in its class, the EP900 may make a great investment in the long term.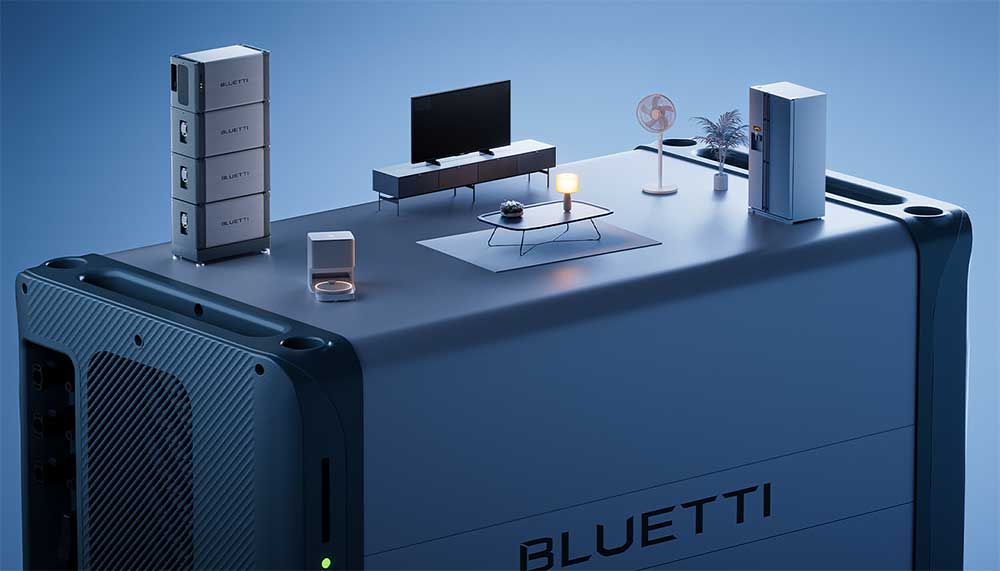 Battery for Storing Solar Energy
With any solar system, it works to collect and convert sunlight into usable energy when you need it most. As a result, daytime hours are easy to manage, but the moment the sun goes away due to nighttime or inclement weather, you better have a solution to store that energy. That's where BLUETTI's B500 comes into the picture.
The B500 stores excess energy and keeps it available when you need it most. Think, middle of the night or during a raging storm. With an expandable capacity, users can opt for virtually any capacity they see fit. While used in conjunction with the EP900 system, selling back to the grid is now possible thanks to BLUETTI's newest certification for this.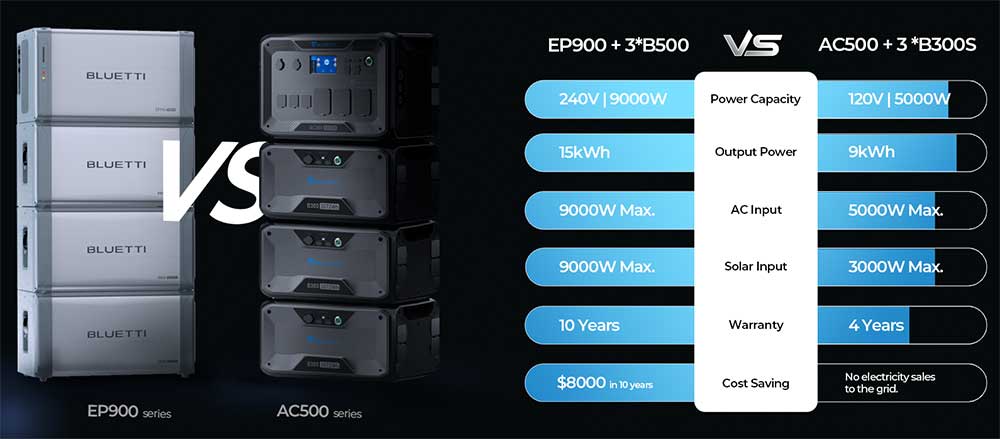 Peak Load Shifting Function Reduces Energy Bills
Through BLUETTI's app, users have the ability to set the working mode to "Peak Load Shifting" in order to take advantage of energy rate savings. As a result, the EP900 will prioritize the most inexpensive times of the day to re-charge. During pek hours, the price is higher, so the unit will intelligently understand the most-ideal time to top off its energy.
Both the EP900 and B500 utilize LiFePO4 cells which are seen as the safest and most long-lasting battery technology currently available. Said to last up to 6 times longer than standard lithium batteries, you can count on the system lasting well over a decade. And for added peace of mind, BLUETTI backs these products with a generous 10-year warranty period.
Best of all, users can opt to have the EP900 installed indoors or outdoors. With IP65 certification, it's fully sealed for dirt and water ingress. Ultimately, this means it can withstand any kind of weather or climate that you throw at it.
BLUETTI's EP900 battery system will be delivered in late April and/or early May. However, we're unaware of the price-point that they've chosen. Regardless, the EP900 is expected to be one of the most sought-after releases of 2023.
About BLUETTI
BLUETTI is a brand that we've come to love here at NerdTechy. From their inception as a company, they've always made it their goal to provide green energy storage solutions that are eco-friendly. With a presence in over 70 countries around the world, they're well-known for providing reliable, cost-effective energy storage solutions for any needs; big or small. For more information, be sure to visit their website at https://www.bluettipower.com or visit them on any of the following social media channels: