Routers and other Wi-Fi systems all benefit from good positioning. Your wireless signals will be stronger when they've got line of sight with the devices which they're connecting with. And line of sight is actually required to make use of the 5G band. But understandably, not everybody wants to put a router in the center of their home, let alone three or four of them.
Zyxel Multy U AC2100 Tri-Band WiFi System
Which is part of the reason why the Zyxel Multy U was created. If you're going to need a wireless device to have high visibility in your home, it may as well look like it belongs. The Multy U is supposed to deliver a fresh and youthful alternative to the more mundane, traditional-looking Wi-Fi systems that dominate the market. A considerable part of what makes this system special is the unique rounded design.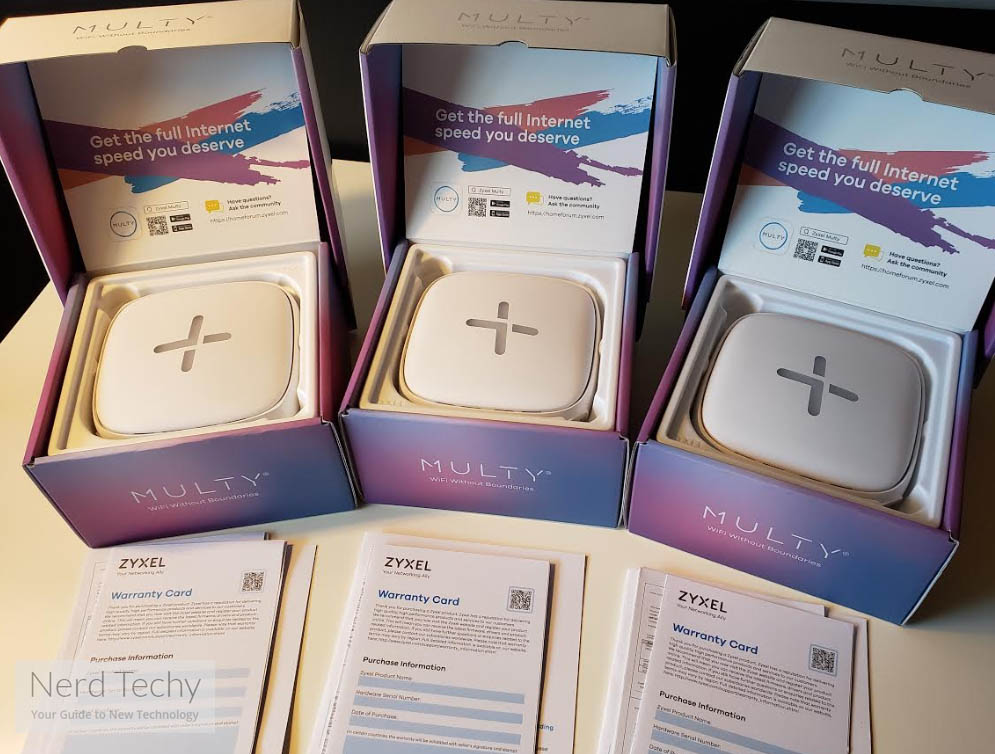 You'll notice these routers are available in a one-pack. But they make the most sense in two packs and three packs. Because it's really the special network connectivity that makes this Wi-Fi system so special. Running a one-pack would be okay if your goal was to add an additional node to a preexisting setup; but wouldn't make as much sense when used independently.
For wireless features, you'll find no shortage of good inclusions. That includes a bridge mode, MU-MIMO, automatic path selection, AP steering, band steering, and the ability to separate the 2.4 GHz and 5 GHz networks. It's also possible to use a single name for your Wi-Fi network. But there are at least a couple of limitations that using a system like this can impose on you.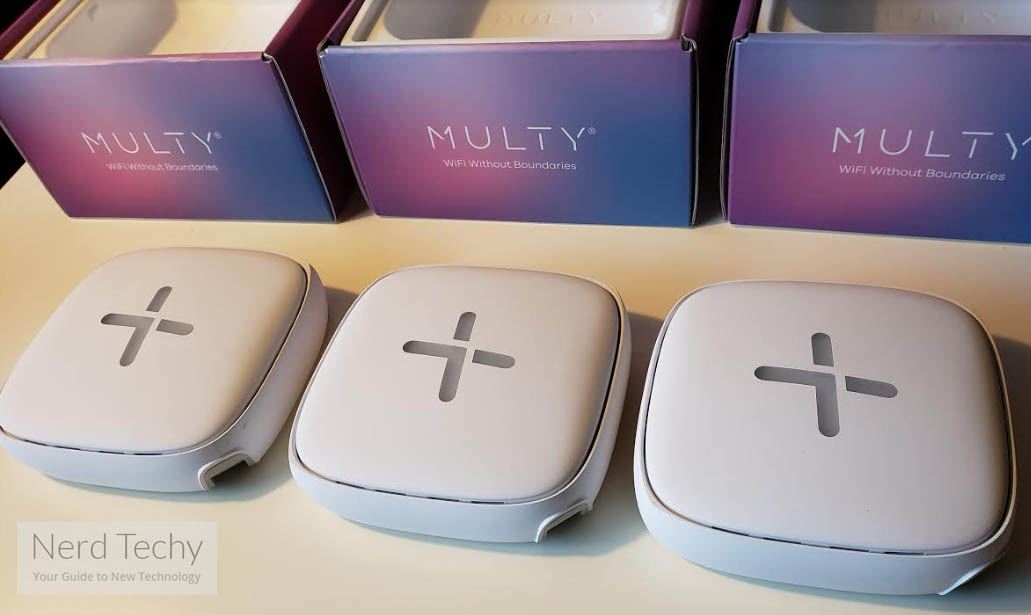 Hardware & User Interface
Each Zyxel Multy U Tri-Band Wi-Fi System node measures about 4.8 x 4.8 x 1.2 inches, and each unit weighs about 0.7 lbs. That's lightweight enough to hang basically anywhere that you could hang a jacket. Style and beauty tends to be a subjective thing, but it's fair to say that many people will think the chassis looks great.
What's a little less subjective is the hardware inside. Internally, you'll find a 1 GHz dual core CPU, and a total of six internal antennas. That includes both the Wi-Fi antennas and the Bluetooth antennas. And the native Bluetooth is version 4.1 – which means these Tri-Band systems are also able of connecting with Bluetooth 5 devices.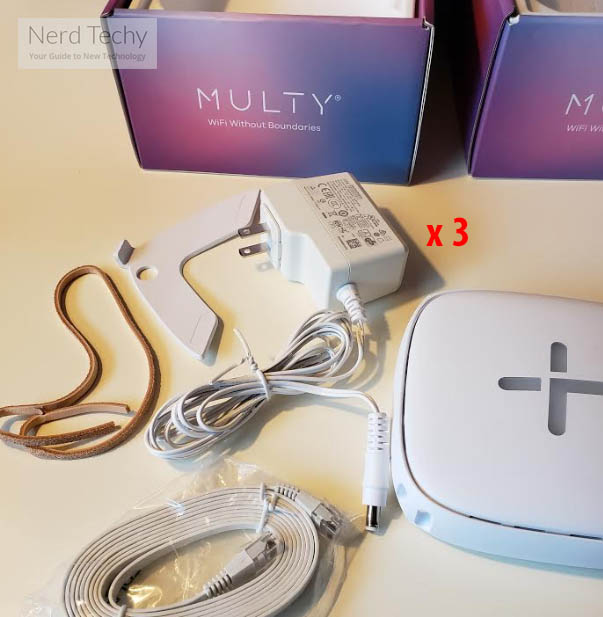 For physical buttons on these routers, you won't find much. There's basically just a reset button that's been deeply recessed within the chassis, and an LED on/off button if the LED isn't always welcome. It's understandable you might want to turn it off at night, depending on the room where you place the node.
Apart from that, it's worth noting that this design is fantastic at cooling itself without making noise. The enclosure was made with its own unique coating to allow the chassis to work as an effective heat sink. As a result, the device doesn't end up needing any additional fans or vents. And it's basically dust-proofed as well.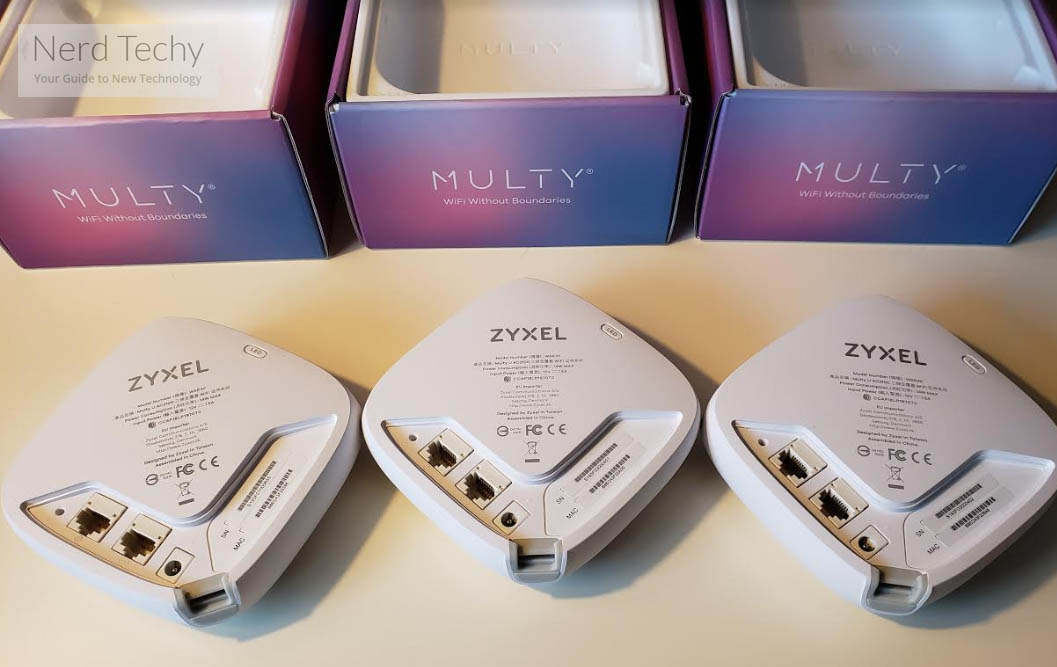 LED System
How do you diagnose a network problem with a regular Wi-Fi system? Well, a good place to start is by looking at the LED interface on the front of your router. From there, you'll be greeted with about half a dozen LED icons. You'll take a look at which icon is blinking or isn't lit, and then try and figure out what that icon means. Maybe you have to eventually open a user manual to check.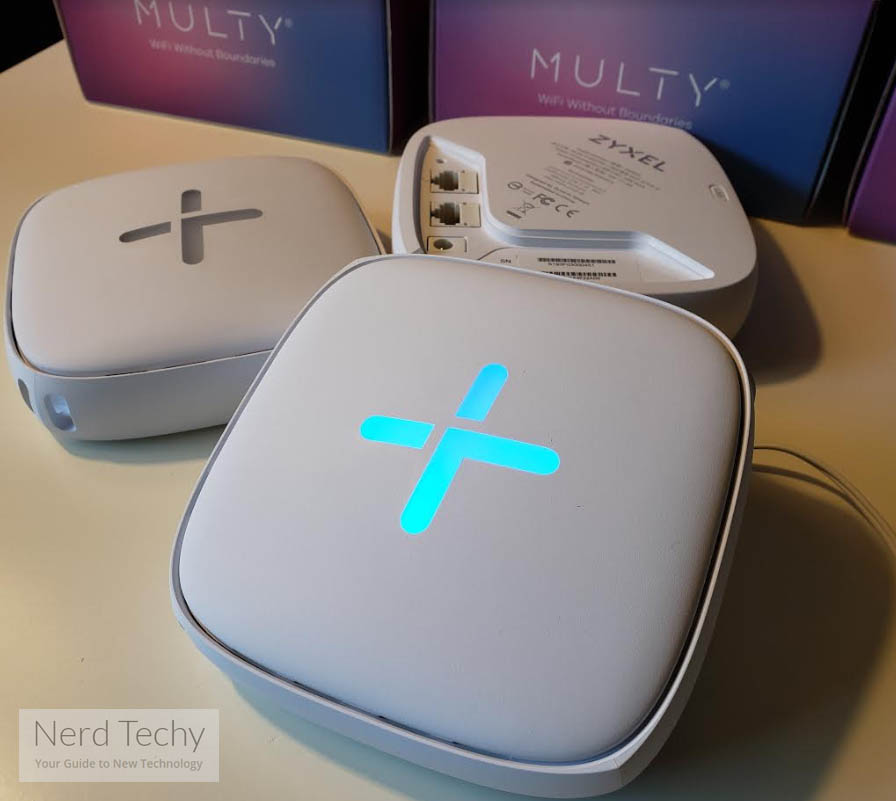 The Multy U makes things much simpler. It uses a LED based indicator system. The breathing effects of the onboard LEDs allows you to instantly determine the status of your router by just glancing at it. So if you look over and the router is breathing red, you know it's experiencing a network disruption. If it's flashing blue, you know it's connecting. That makes it much easier to figure out what's going on from a glance. It also makes it much easier to interact with tech support, or do your own tech support, if that's ever necessary.
Creating Wireless Networks
Technically speaking, this is an AC2100 mesh router system. But you have to keep in mind that the second 866 Mbps antenna is dedicated to backhaul, which means you're really working with a system that's capable of delivering closer to 1166 Mbps of connectivity. In other words, each node is closer to being an AC1200 unit when it comes to sheer bandwidth potential.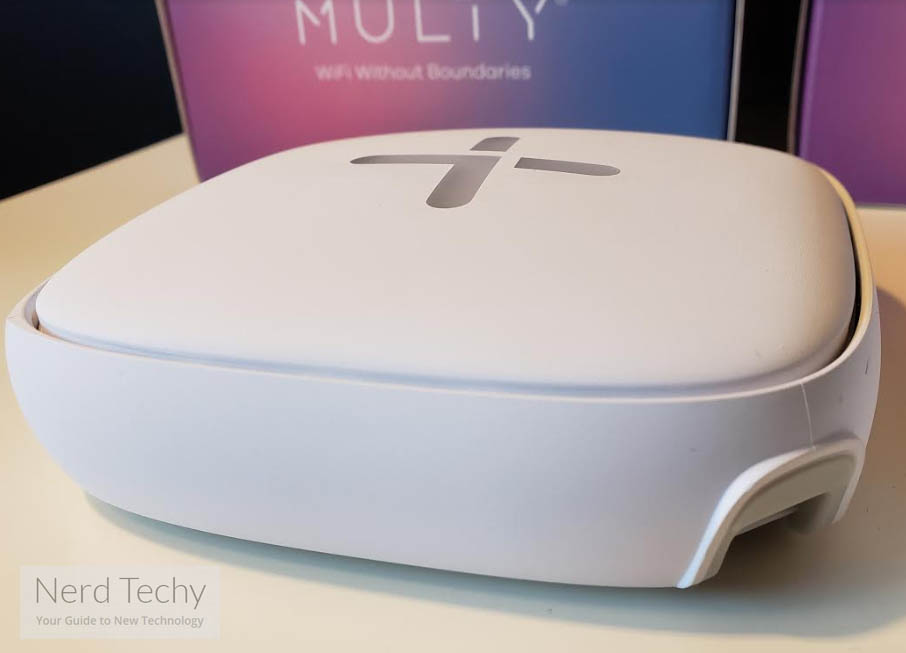 However, the extra backhaul support ensures that you're going to get performance which exceeds anything you might expect from that tier of router. More so after you consider the fact these devices are so mobile and easy to position in perfect places.
How strong is your wireless signal? The answer to that question will be partially determined by the location of your router. Is the access point huddled behind some shelving, or placed behind some thick walls? Then it doesn't matter how good the hardware is – you're going to end up with a miserable connection. But what if you could just pick up and move the access point to anywhere you needed it?
Hanging Strap & Magnetic Base
Since a big part of the Zyxel Multy U is the cool style, it's worth pointing to the inclusion of a leather strap allows you to hang Multy anywhere you need a wireless connection. They could've made that strap from a thousand different materials, including a basic nylon. But since presentation counts, they've made sure the included strap looks the part.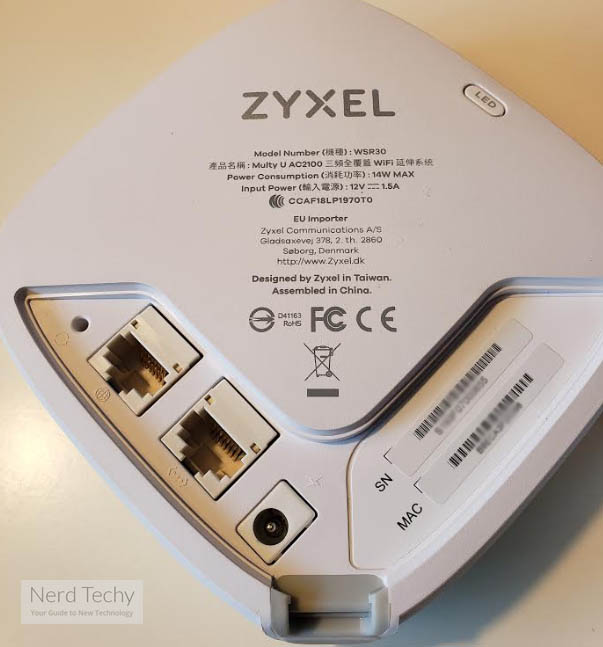 Outside of hanging, it's possible to use the Multy U with the included magnetic stand. That allows you to place it vertically on a desk, or install it on the wall. Since the stand is magnetic, there's no need for special tools to use it. For desk placement, the stand basically flips out from the backside of the unit, and then can be attached to the base.
The base itself is a nice and stable Y-shaped foundation which is resistant to being bumped over. Underneath the base, you'll find all of the various connection ports necessary for hardwired connections. That includes two Ethernet ports and a DC power port. Simple but effective.
Network Capacity
From the 3-pack, you can create a "mesh" home network that's around 6,000 square feet in total. Enough to accommodate the largest front yards, furthest garages, and so forth. Network capacity is just as wide, spanning support for around 130 total devices without lag becoming an issue. That's partially because this device uses a Wi-Fi design with one of its bands entirely dedicated to connecting the various Multy units into one cohesive network.
For speed, tri-band connections allow you to move 866 Mbps from the 5 Ghz band, on two separate antennas. But again, one of those antennas is reserved for network backhaul. There's also a third antenna for the 2.4 GHz Wi-Fi band, allowing you to move another 300 Mbps outside of direct line of sight of the Multy U.
Another neat thing these routers can do is automatically optimize each unit to provide the best connection for nearby devices. So as you wander from one room to the next, or as you disconnect Multy U's from the network, you shouldn't end up with a network disruption. Things remain pretty smooth and stable, in part due to that large network backhaul.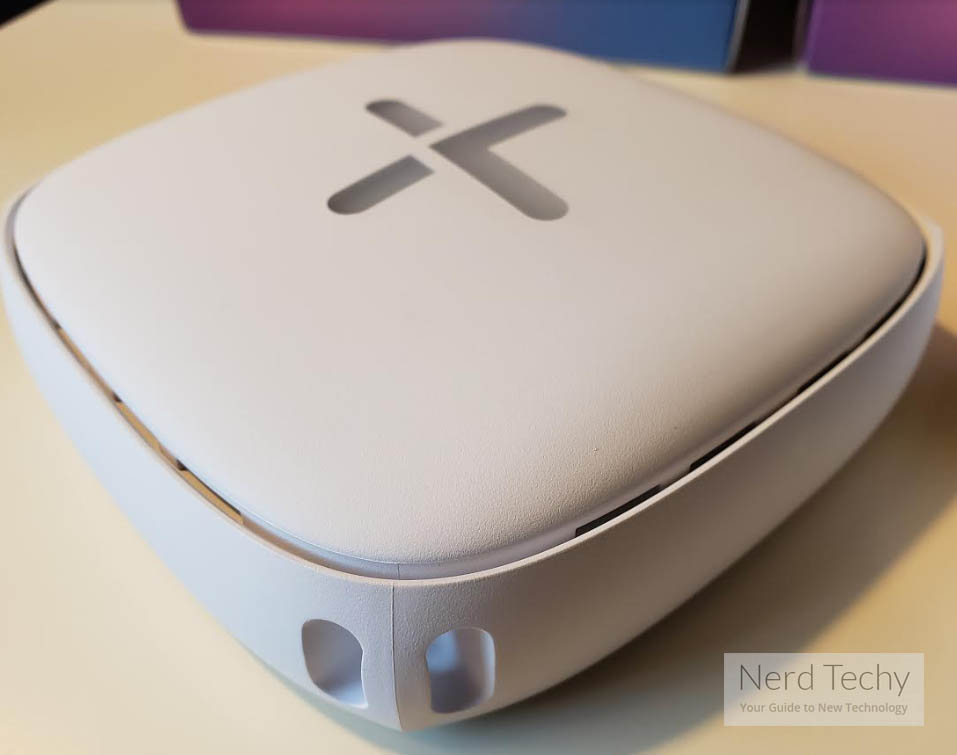 Networking Features
The Multy U Tri-Band Wi-Fi System doesn't have tons of extra features, but among the more standard ones, you will find a few cool things. For instance, you can measure your actual internet speeds with their test application. Their app lets you figure out whether you're getting the best available speeds, if something can be improved, or if there's a problem on your internet service provider's end.
You can also stay up to date with the push notification feature, allowing you to get notifications about the latest happenings with your device connections. Is there a firmware update? You'll be among the first to know. And the remote access allows you to use the Multy U system basically anywhere that you've got a connection to the internet. Have your phone on you, but you're out of state? That won't stop you from configuring your home network.
Other Considerations
The app allows you to go through a quick Bluetooth based setup process. That allows you to find the most effective installation locations, as well as a graphical map of where you should be placing your equipment. The app also enables the automatic firmware updates mentioned earlier, as well as some pretty good network diagnostic tools.
It's possible to control access on your network by groups of devices, or based on time schedules. It's also possible to restrict users to 15-minte intervals of connectivity per session. You can override your existing rules at any time, so you don't have to worry too much about getting them perfect during your first time you're setting up the network.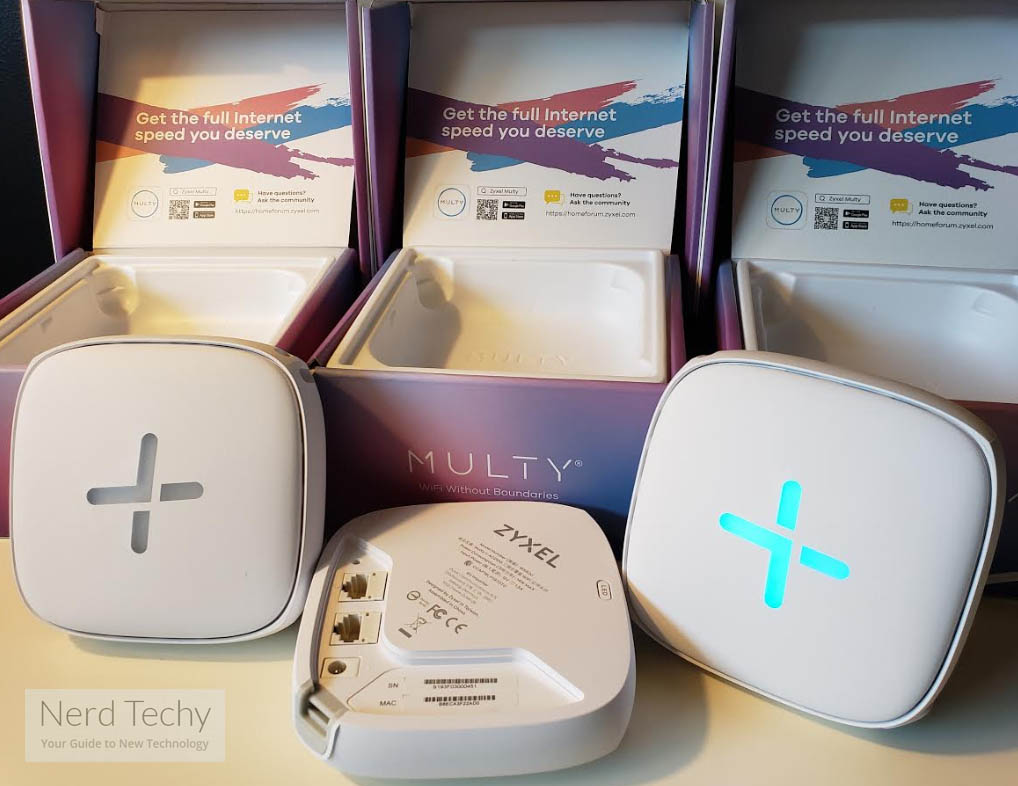 Who Should Pick the Zyxel Multy U AC2100 Tri-Band WiFi System?
A great deal of what these types of devices bring to the table is convenience. Need to expand your network with more coverage? All you have to do is add another node. Not getting the desired speeds you want upstairs? Add another node. There's no problem that can't be solved by re-positioning a node or adding another.
The Multy U also supports Alexa, so you're able to control the network using voice commands. For instance, you might ask Alexa to test your internet speeds, to disable the guest Wi-Fi, or to turn off the LEDs on the chassis. And unlike most home routers, the Multy U can be secured against a wall, coat rack, or basically anywhere else.
Which should emphasize the fact that this system isn't only about looks and style. Being able to position your equipment exactly where it's needed isn't something any home Wi-Fi system can do. And it's something the Zyxel Multy U does with style. Provided you're not running some massive multi-gigabit internet connection, these really ought to do the trick.