Quick Analysis
Pros
Very easy to set up and use.
Lasts for a good amount of time on energy-saving mode .
Has decent video and audio quality.
Includes several additional features.
Allows for two-way communication.
Cons
Only one alarm type.
Doesn't work with disposable batteries if the battery is dead.
Baby monitors have come a long way since they were first introduced in the 1930s. In those days, baby monitors were little more than one-way radios that could run for short periods of time when a mother needed to take care of a chore away from her infant. Nowadays, the best baby monitors can provide video footage for the mother in question, and many of them act like two-way radios. This lets a mother talk to her baby and vice versa even from a distance or when she's outside. However, the majority of baby monitors all claim to be the best in the business. It can be tough to find something worth your time and money without shelling out tons of cash.
The Annke BM100 Video Baby Monitor is a great balance between price and functionality. While it has fantastic features and decent video quality, it's also not so expensive that most mothers won't be able to afford the initial asking price. It also comes with extra features that mark it as a great home monitoring tool through and through: even after the baby doesn't need constant watching. It can be mounted on the ceiling or the wall for added customization options. Let's look a little deeper at this baby video monitor and see what it brings to the table.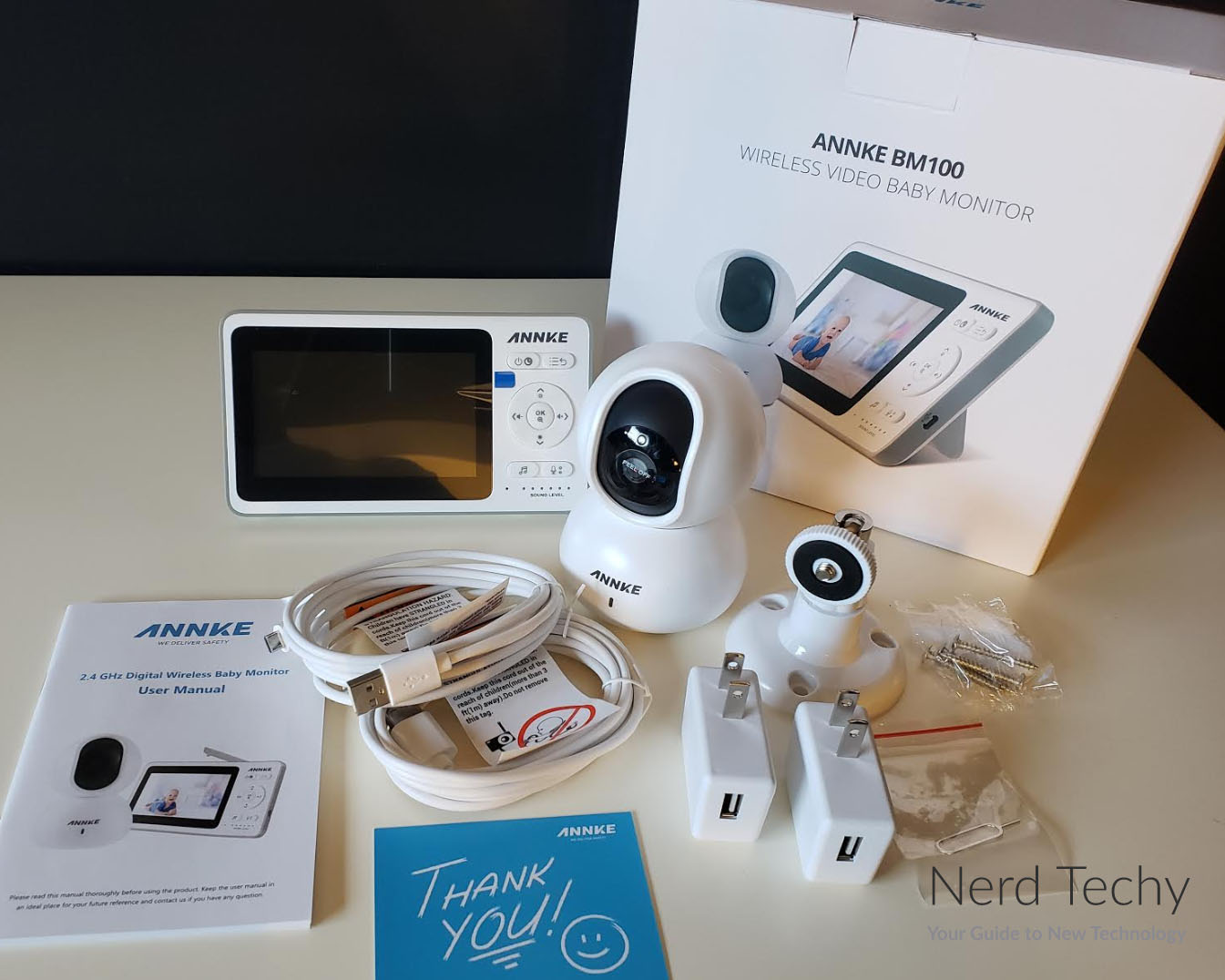 Picture Quality/Resolution
The Annke BM100 Video Baby Monitor provides a lot to like when it comes to video resolution and color clarity. For starters, it allows you to zoom in up to two times so you can get up and close look at your baby. The camera can further be controlled so you can tilt or pan it around. It's a lot like being in the crib with your little one yourself since you can see their immediate surroundings.
The experience is bolstered with an LCD color screen. It displays your baby in 480p resolution. While this isn't nearly as clear as what you would expect from a high-quality picture or video camera, it is good compared to many other baby video monitors on the market, particularly since it transmits or records constantly instead of only in short bursts.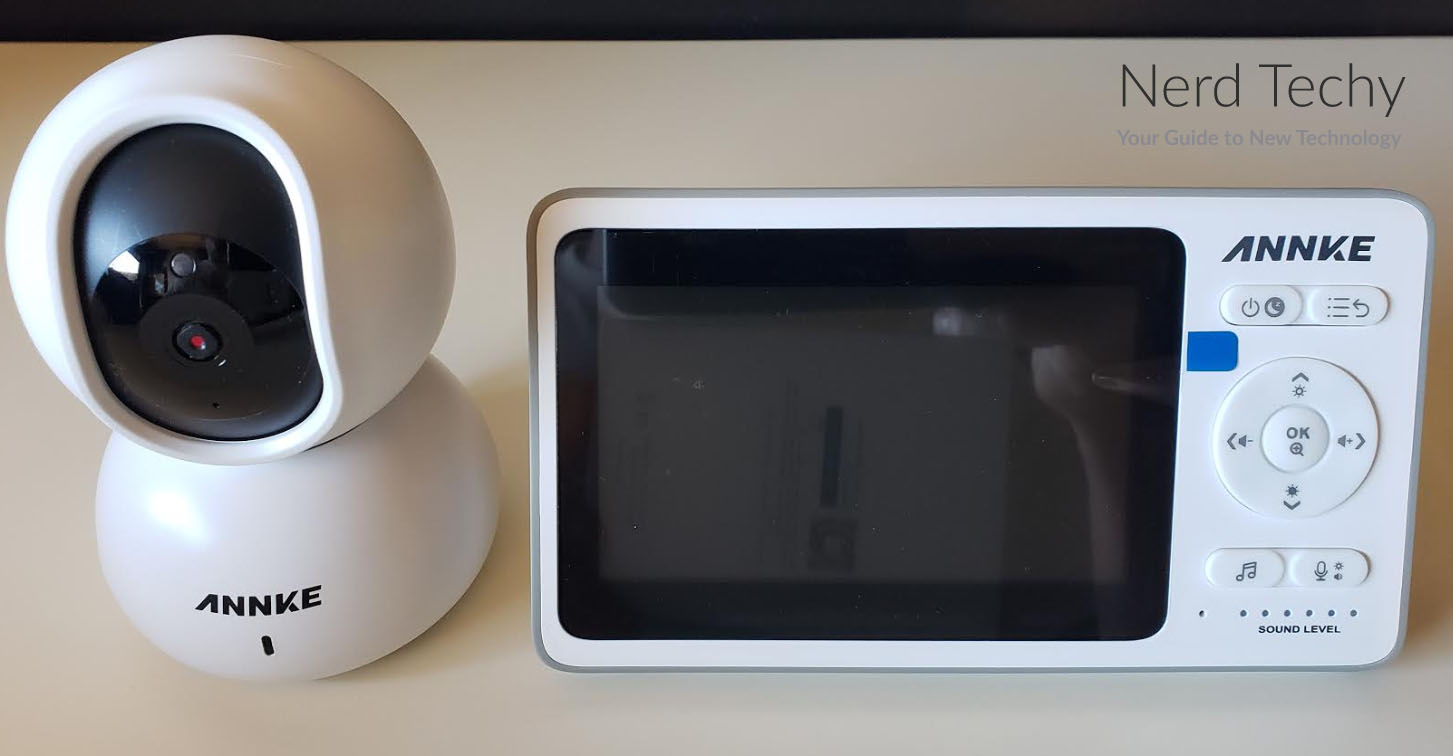 Even better, the baby monitor can automatically switch to night vision mode whenever it detects ambient darkness. It engages this mode thanks to sensors on its top and sides, and it uses infrared light in order to project a night vision viewing. In this way, you'll be able to check on your baby no matter what time of day or night and always be able to see if they are doing okay. The night vision video quality is quite excellent, though it isn't quite as clear as the color daytime picture it can provide.
The screen as a whole is about 5 inches wide. This enables it to easily fit into a pocket. You can carry it with you throughout the house or even take it with you when you leave the house if you need to run a quick errand. There is a slight amount of lag the further you go from the main camera system. You can expect the smoothest video footage to be broadcast when you have the screen closer to the actual baby room. Still, this is to be expected given the wireless nature of the paired devices.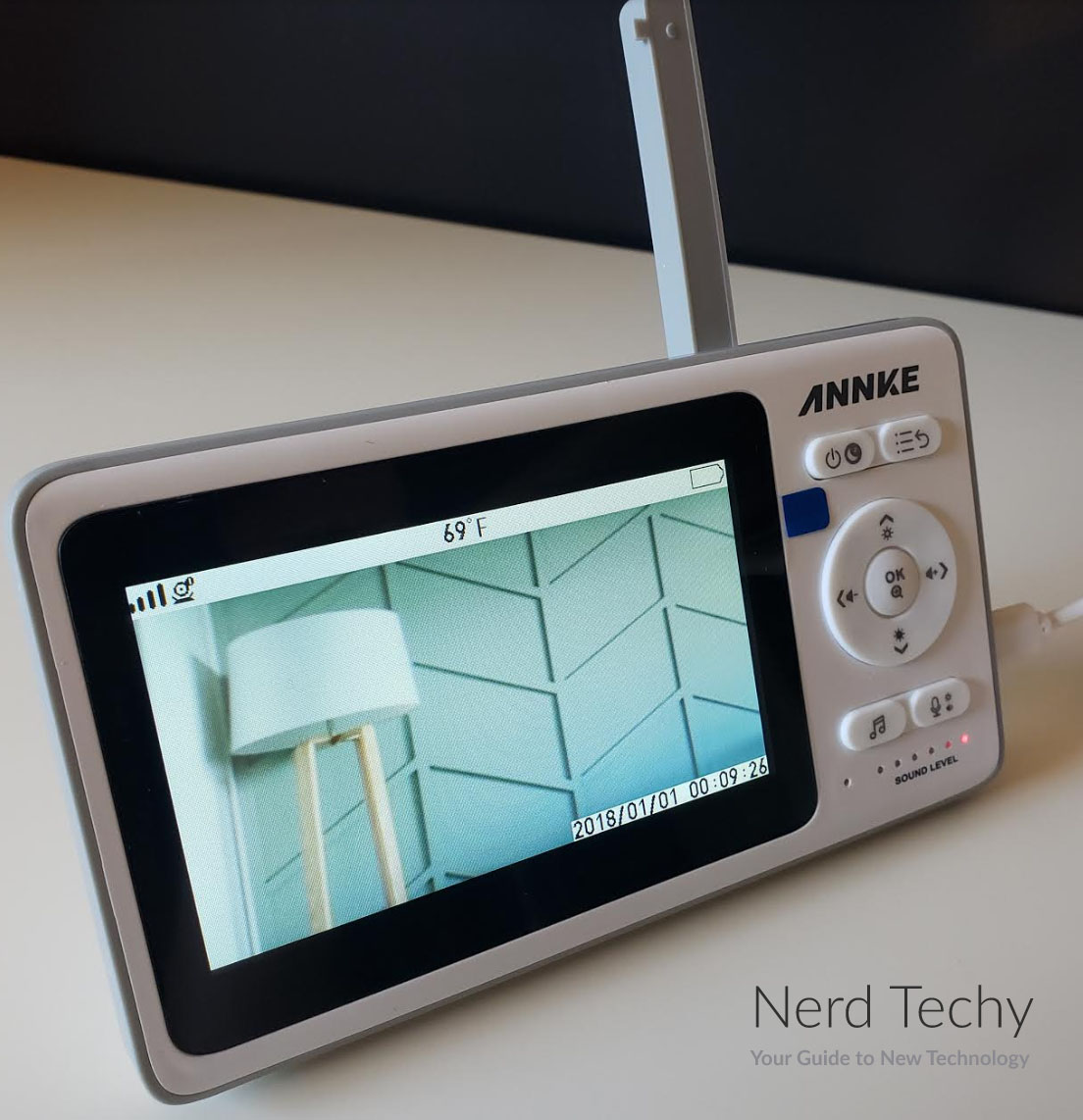 Features
The Annke BM100 comes with several excellent features that make it very worth your time. We already mentioned the infrared night vision capabilities that it has for nighttime recording. But it also includes an energy-saving mode that you can engage whenever it is convenient. This saves the power of the camera and the screen device. This mode makes it so that the screen turns off if there isn't any sound or noise in the baby's room. At the same time, it'll automatically turn back on if the camera detects sound, like when your baby starts to cry.
In fact, this is another impressive aspect to be monitor. The wireless system can accurately capture and turn the screen on regardless of your baby's unique features or facial structure. It's quite a smart system through and through. However, it can occasionally become annoying as there are times when the sensor is overly sensitive and will turn on or alert you when your baby is still asleep. You may want to disengage this feature if you find that you don't use it very often or if it's more of a hamper to your sleep and peace of mind.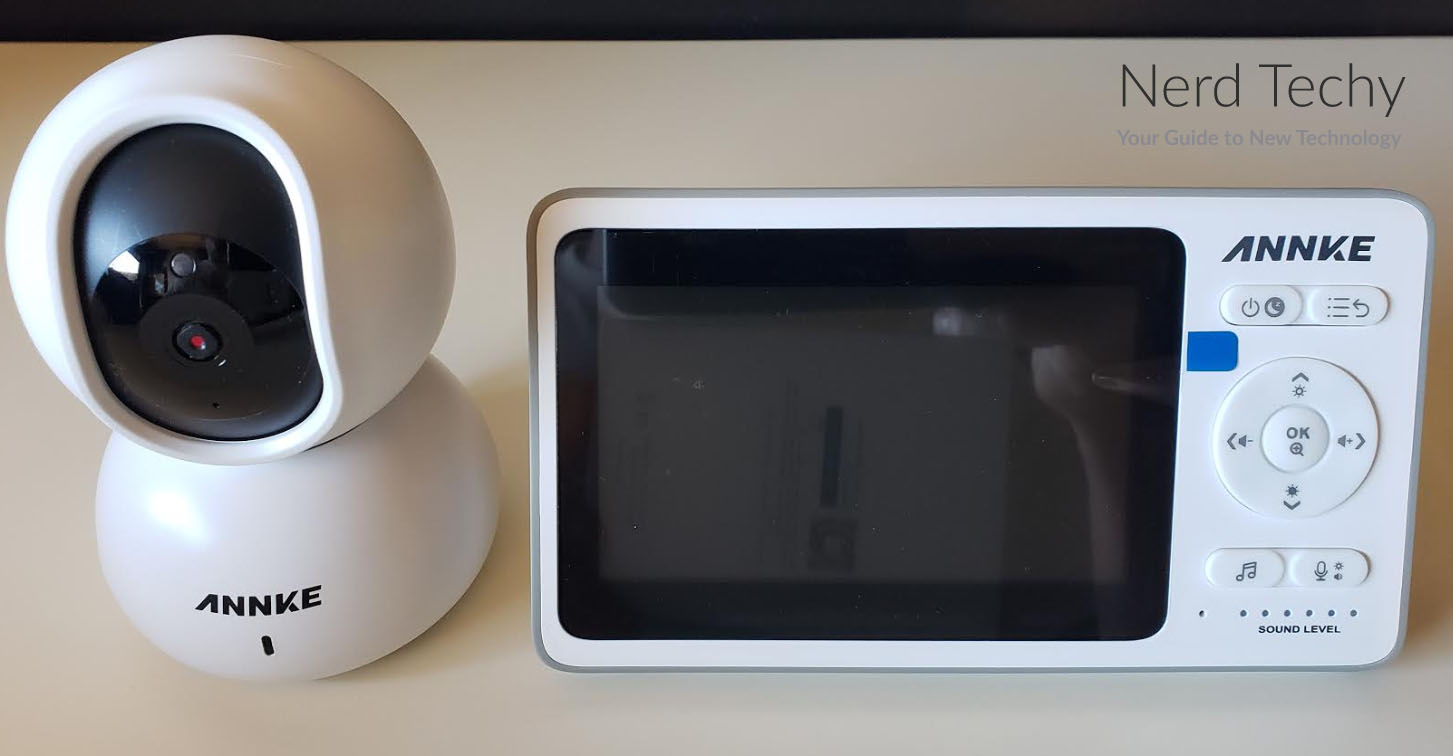 You'll also find that the smart camera can even monitor the real-time temperature of the baby's room. This means you'll automatically be alerted if things become too hot or cold, enabling you to take steps to ensure the comfort of your infant and make sure that they are safe. Even better, it comes with five short, built-in lullabies. You can change these from the controls on the screen, and swap between the ones that your infant prefers at the touch of a button. Each of the lullabies only lasts for a minute or so. This also lowers the risk that you'll become overly annoyed with them after hearing them over and over again.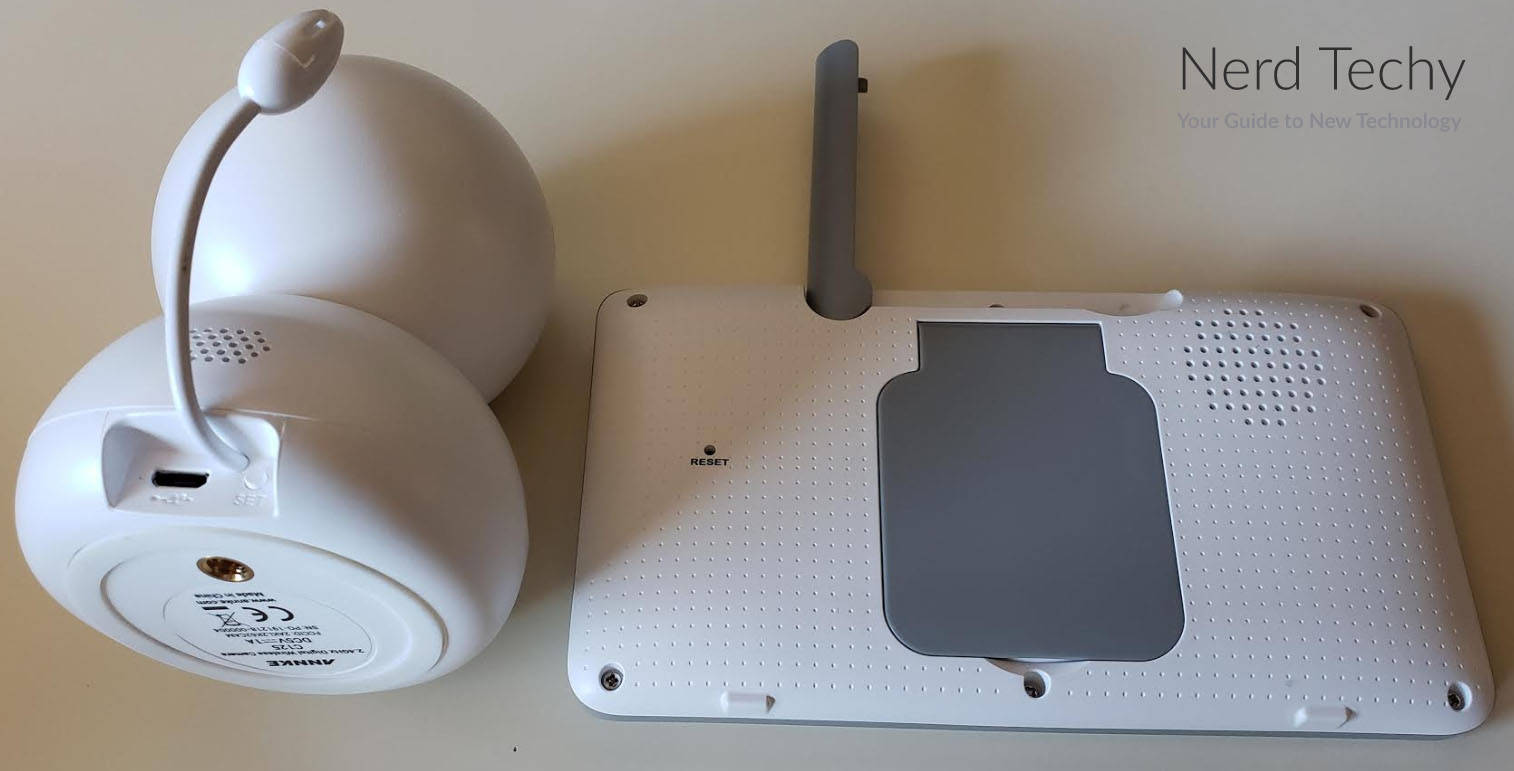 The Annke BM100 Video Baby Monitor also comes with an audible alarm. This sounds both when there's a temperature issue in the room of your baby, or you can use the included timer function. This lets you set feeding alarms, so you never forget to feed your baby at particular times of day or night. These timing alarms also use the same alarm system; there is no difference between the two sounds, unfortunately. So you might rush over to the monitor to see what's wrong with the baby's room temperature only to find that it's just time to feed.
Lastly, the baby monitor comes with two-way audio; there are a built-in microphone and speaker on both the monitor camera and the control screen alike. This lets you talk to your baby or anyone else in the room clearly and remotely. Audio quality is quite good compared to other baby monitors on the market.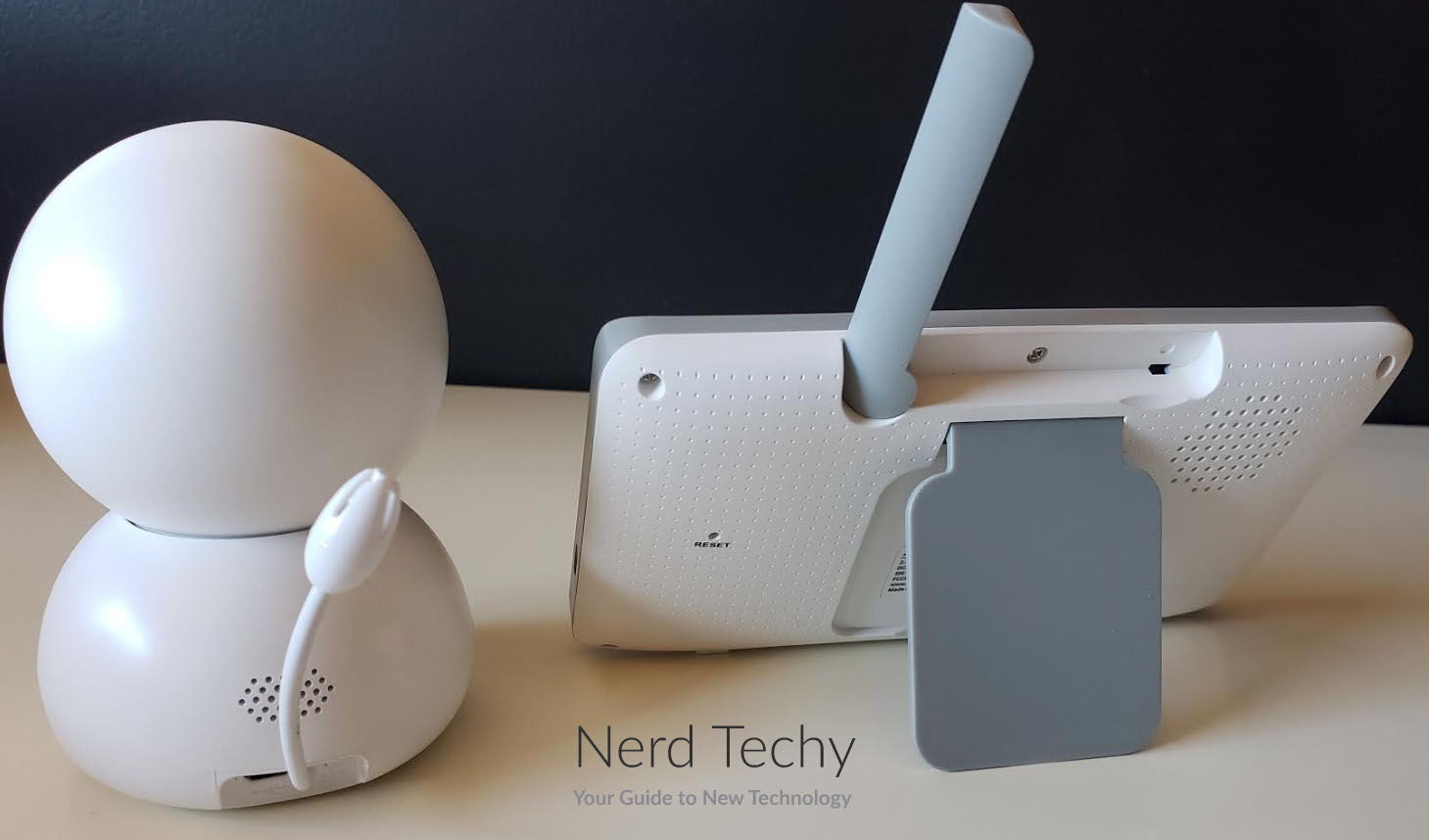 Operation/Batteries
It's an excellent baby monitor because of its operation and battery aspects as well. For instance, the monitor can easily be controlled via the screen; four directional arrows allow you to pan or tilt the camera as necessary so you can see your baby exactly as you need. The "OK" button in the middle allows you to input commands or stop the camera's movement.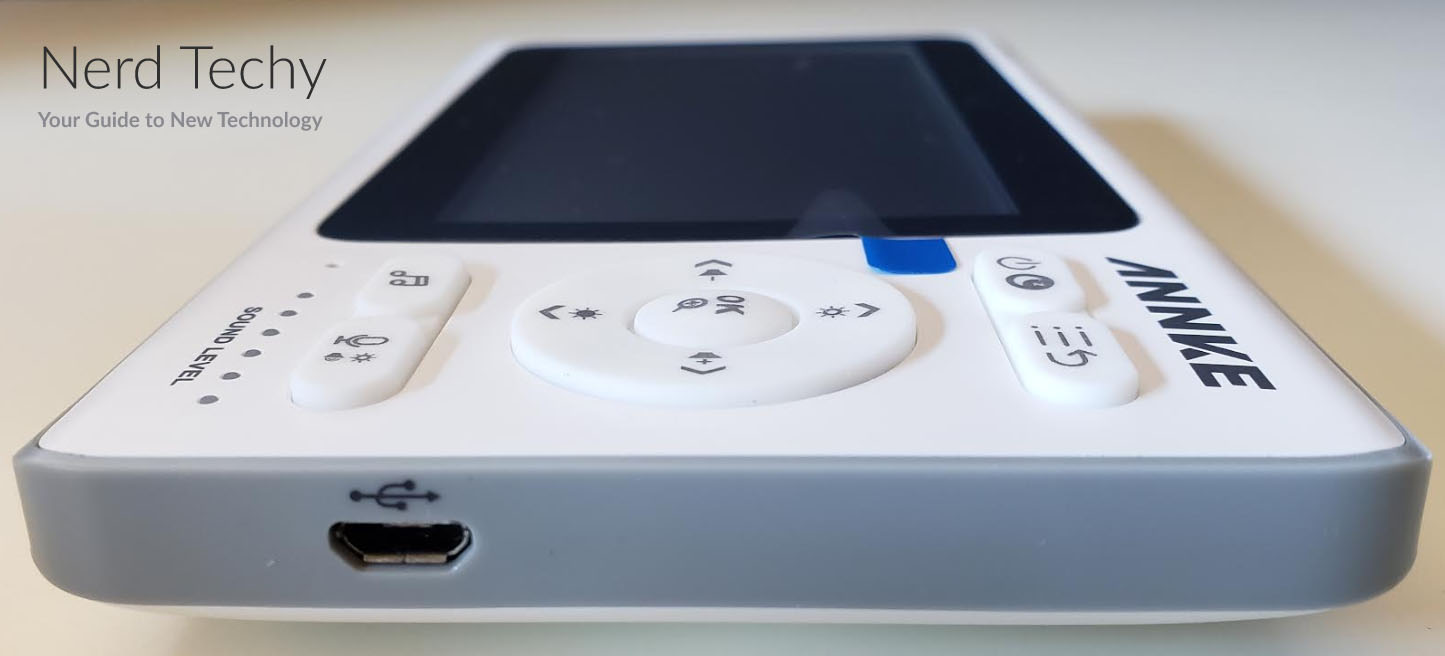 Two buttons on top allow you to open the menu and other settings, while the button directly to the left of that handles the night vision controls and power button. The two buttons beneath the directional arrows are what you use to start the built-in lullabies we mentioned before.
The monitor is further impressive because of its excellent range. Both of the devices are wireless by default, and you can take advantage of the 1000 foot broadcasting range that both devices share. This lets you keep an eye on your baby even if you are outside a short distance or if you are completely across the house, like in the kitchen or in the dining room.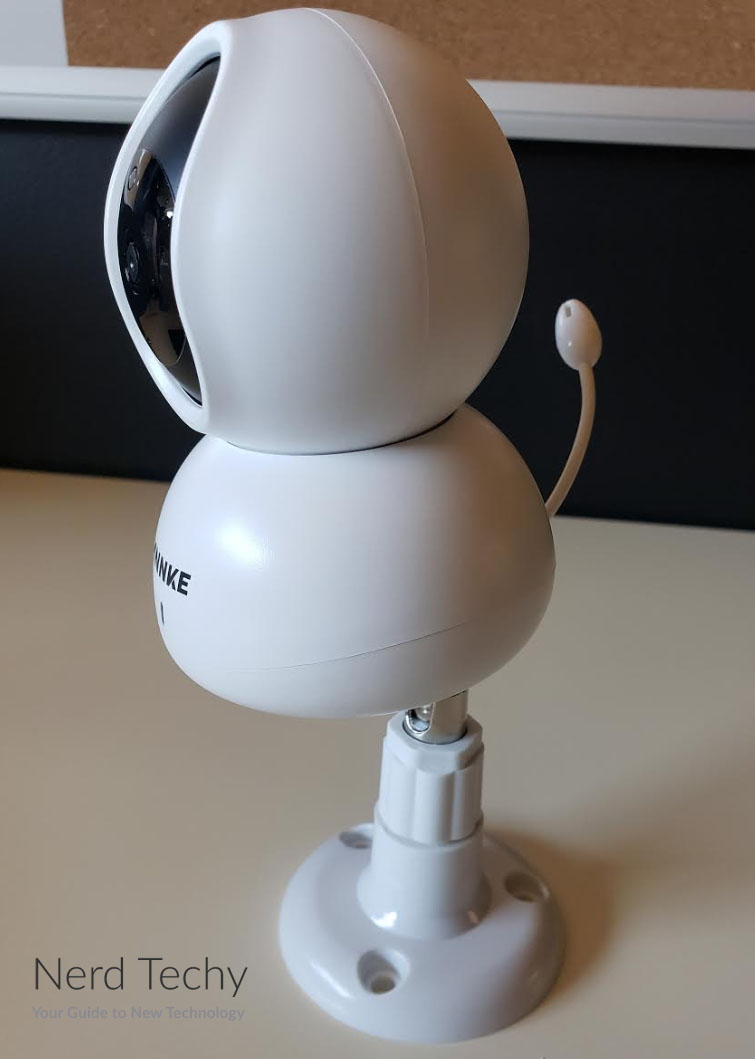 Setting up the Annke BM100 is pretty easy because it can be mounted on the wall or the table. It comes with a screw bag that you need to complete installation, though you'll need to supply your own screwdriver. Set up only takes a few seconds and you can use the screws to mount the camera on practically any flat surface.
Finally, we appreciate how long the rechargeable video monitor lasts. It features a rechargeable battery instead of adding an additional cost in the form of disposable batteries. It can last up to 10 hours before needing to be recharged if you use the energy-saving mode, so it's a great choice for nighttime monitoring. When you use it at full power, it'll still last for a handful of hours, enabling you to keep a sharp eye on your baby while you're completing a chore or preparing a meal. The only downside to this set up is that it prevents you from being able to use disposable batteries if you forgot to recharge the baby monitor and want to set it up in a hurry. As it stands, you'll need to recharge the battery even if you want to go to sleep before you can use it.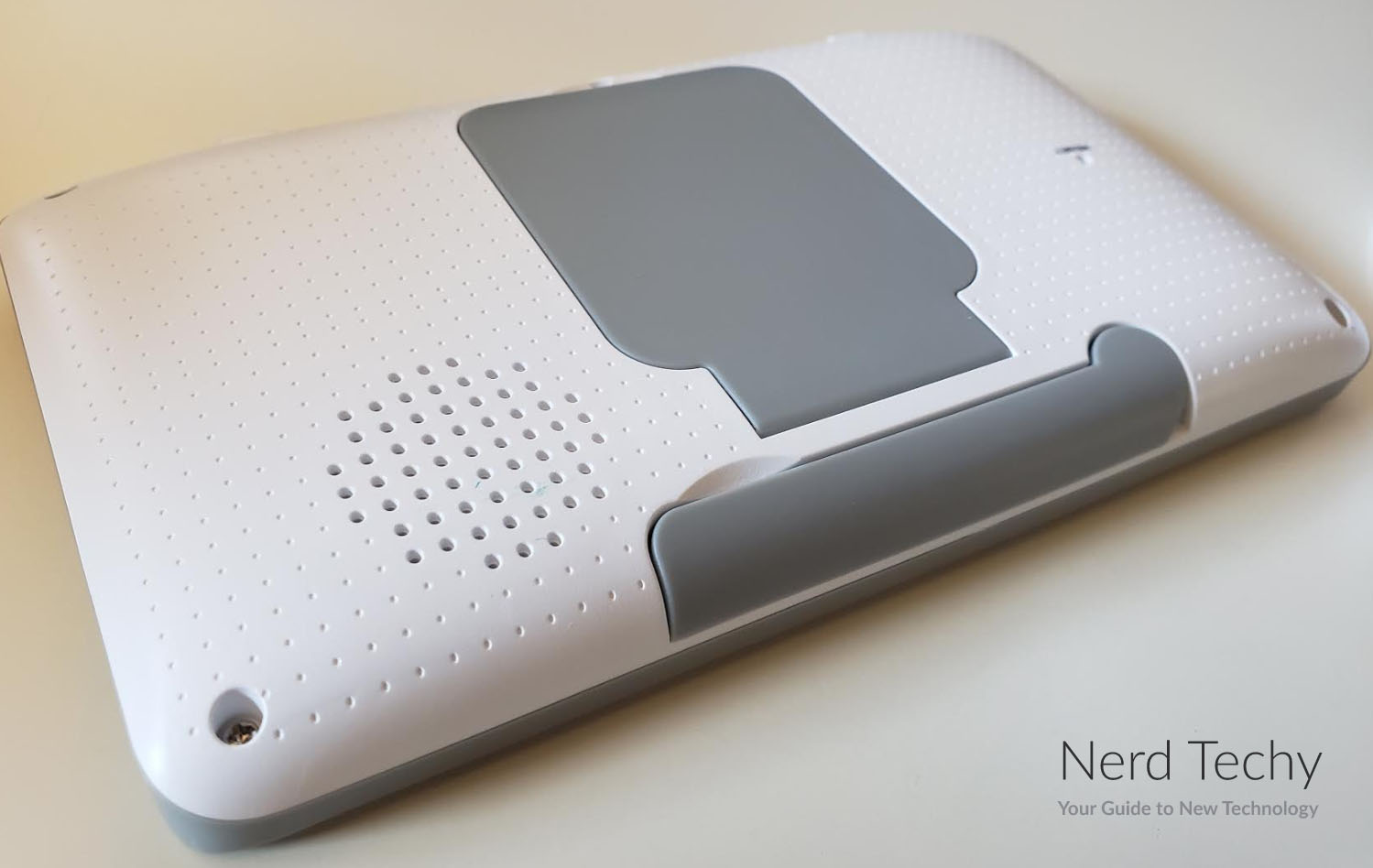 You can reach Annke themselves if you ever need technical assistance with the monitor through their phone line. They offer detailed tech support, which is another big benefit in our eyes.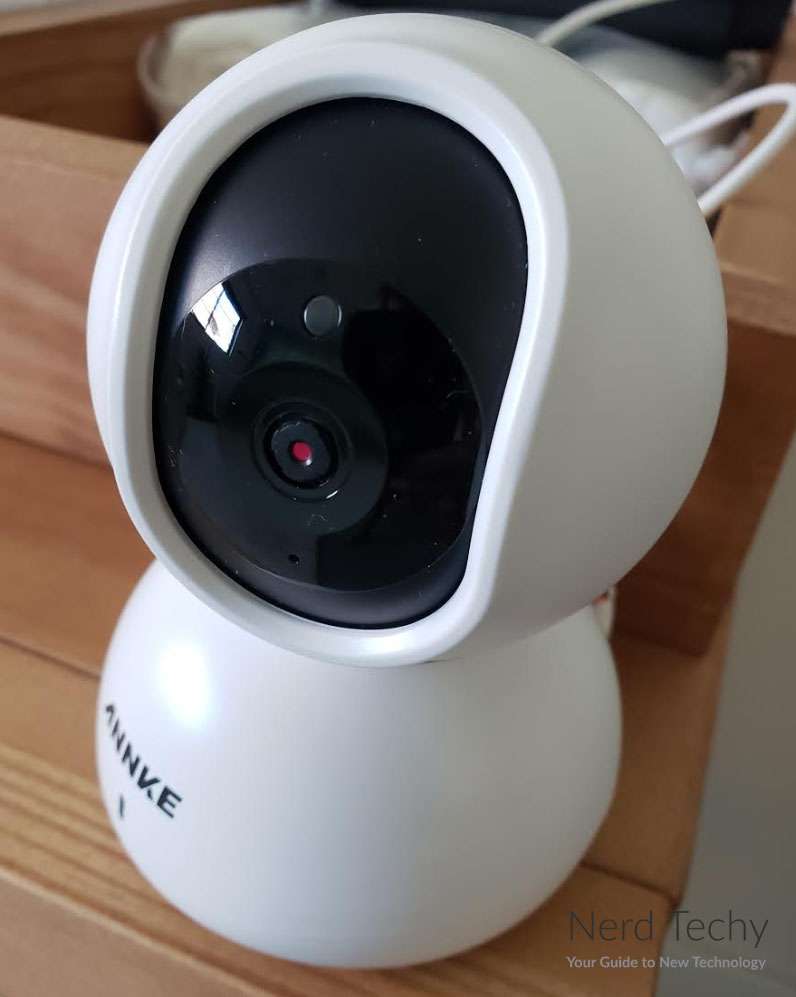 Final Verdict
All in all, the Annke BM100 Video Baby Monitor is a good device that we think most mothers would appreciate at least to some degree. The only real downside is that you'll be likely to experience are those that occur from the manufacturers trying to be more helpful than they need to be. For instance, the sensor that detects a baby's facial features or apparent distress is a great idea in principle even though it can become a little annoying in practice.
Still, even with a few downsides, it's a great baby monitor that lets you keep an eye on your little one even if you want to go outside or if you need to take care of something in another room. It provides good video footage and excellent audio quality both ways, which is something many baby monitors lack. The additional features, like a feeding timer and several alerts, added to its value and make it much more than just a simple screen that watches your child. We also really like the energy-saving mode and the black and white night vision for added clarity; monitoring at any time is always excellent. Give it a try yourself and see what you think!