Are you a PC gamer or someone who uses a computer every day? If so, chances are you've done a bit of research on keyboards. There are all different shapes, sizes, and styles to choose from.
One important aspect of any keyboard is the kind of switches it uses. Some are a membrane material (most basic budget office boards are this style) while some are mechanical. The mechanical versions are typically a more premium option that give a fantastic typing experience.
However, once you begin to look at the best mechanical keyboard for your needs, you'll run into an issue. There are dozens of different kinds of switches to choose from. How can you choose from such a long list of options?
Sure, you can read online about the descriptions of each. You can even watch a YouTube video on individual switches to get other people's opinions and hear how they sound. The problem is none of those options really give you a good sense of what it's going to be like to type on those switches day in and day out. So what's the solution? A keyboard switch tester sample is a great choice.
Considerations When Choosing a Keyboard Switch Tester Sampler
These samplers have a mix of various switches from different companies and allow you to hear and feel how they are going to be for everyday use. These aren't something you see every day, so we wanted to break down some important categories to consider when choosing the right one for you.
Which switches are included? Perhaps the most important factor is seeing which switches are actually included. Some samplers are very specific with the brand and type included. Others offer a wider range to choose from if you don't have a specific one you want to try in mind.
Keycap material: Even though you won't actually be typing on a computer with these switches (in most cases), we think it's important that the included keycaps are mentioned. Knowing what kind of materials are used in the caps as well as how durable they are are both important factors. Additionally, some keycaps have the switch type labeled on top for easy comparison.
Baseboard material and size: These switches are often attached to a baseboard of some sort. The size of it and the materials used will help you know how durable the device is going to be and how easy it will be to store it after use.
We've considered these factors in our options listed below. If you're looking for the best keyboard switch sampler for your needs, keep reading below.
Best Overall: Glorious MX Switch Tester Pack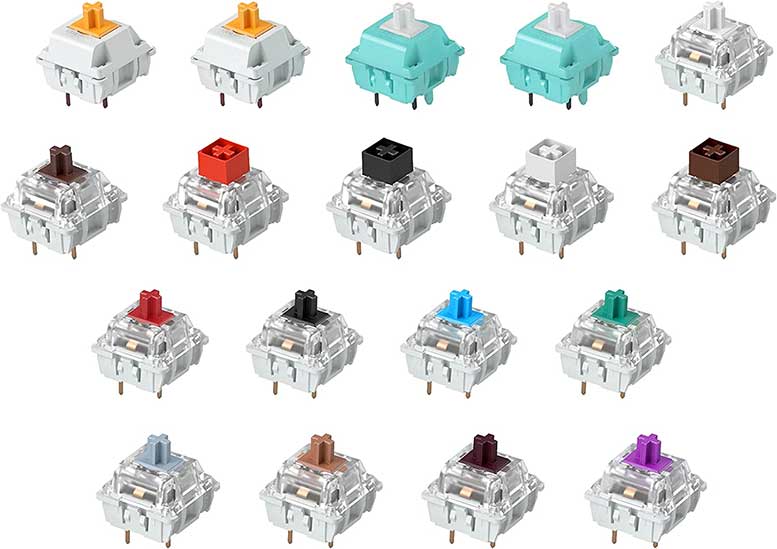 Key Features:
18 keys from Gateron, Kailh, Panda, and Lynx
20 different O-Rings
The Glorious MX Switch Tester Pack provides a huge selection of switches to try. Included in the package are the following:
Gateron Black
Gateron Blue
Gateron Brown
Gateron Clear
Gateron Green
Gateron Red
Kailh Box Black
Kailh Box Brown
Kailh Box Red
Kailh Box White
Kailh Speed Bronze
Kailh Speed Copper
Kailh Speed Silver
Kailh Pro Purple
Unlubed Panda
Lubed Panda
Unlubed Lunx
Lubed Lynx
These switches cover the entire offering from Glorious, making it a great choice if you want a standard Glorious keyboard.
One main difference between this pack and others is the lack of keycaps. There aren't any included in the package, so identifying switches will be a bit trickier while comparing. You can put your own keycaps on them if you want to see the feel while typing using keycaps.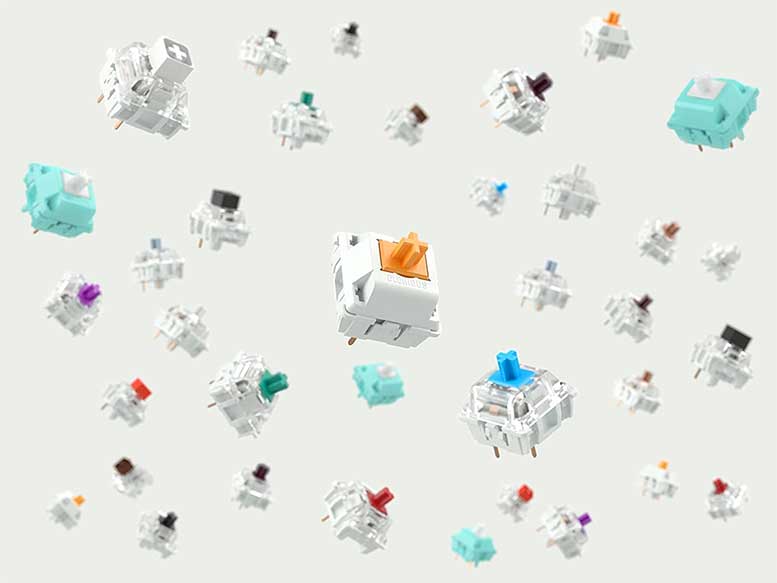 There's also no included baseboard. If you already have a hot-swap board you can put these directly into it via the 3-pin connector. Otherwise, you'll have to just test them in your hands or get creative on making something to hold them.
In our opinion, this is a great pack with a wide array of switch options. It's especially useful if you plan on getting a Glorious keyboard since these are all of the options they sell with their boards. The included O-Rings help you test different press lengths and typing feelings while in use.
Pros:
4 different brands to try
O-Rings are included to change the switch press length
Cons:
Best Cherry Tester: Max keyboard Cherry MX Switch Tester Sampler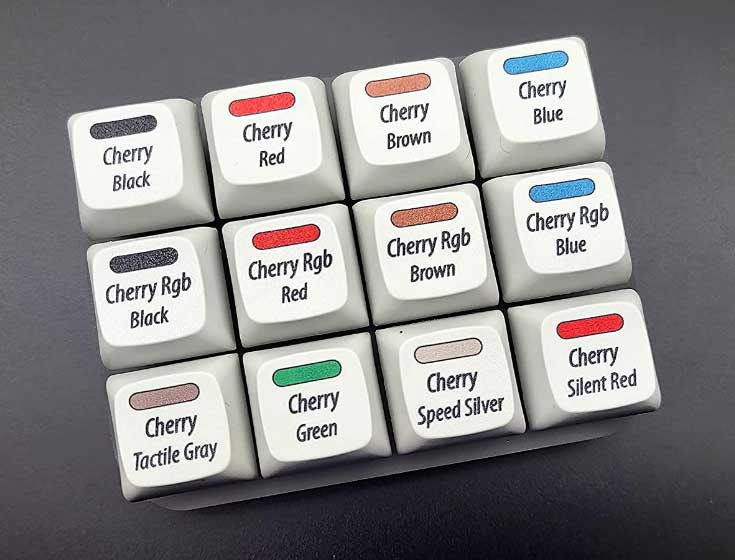 Key Features:
12 switches
Labeled keycaps
Acrylic base
The Max keyboard Cherry MX Switch Tester Sampler is perfect if you're considering Cherry MX-style switches. This sampler has 12 different switches to try out. Included are:
Cherry MX Black
MX Red
MX Brown
MX Blue
MX RGB Black
MX RGB Red
MX RGB Brown
MX RGB Blue
MX Tactile Gray
MX Green
MX Silent Red
MX Speed Silver.
These switches are easily removable for you to take them out and look at them from any angle.
This sampler pack comes with keycaps. They are made from PBT to help with durability over time. They are also labeled on the top with each switch type used. This helps you easily compare and contrast the various options on the board.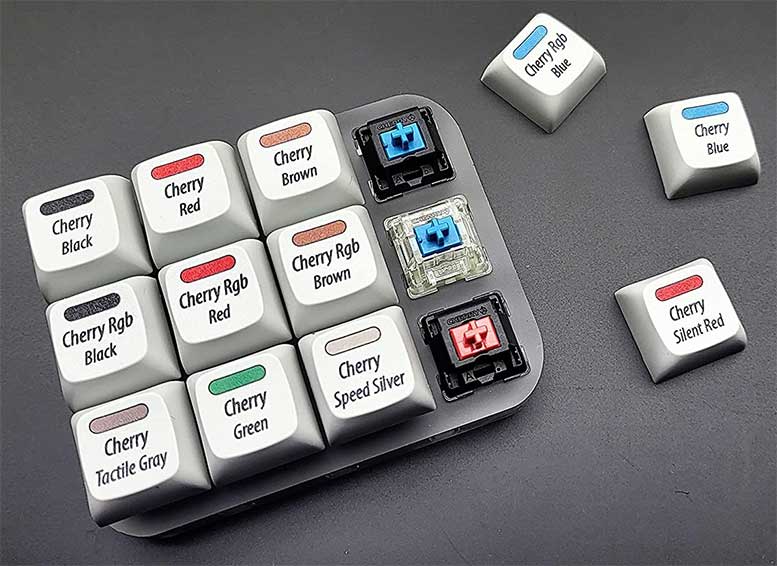 The base board is made out of acrylic and is 3.27 x 2.48 x 1.22 inches. Inside the board are plastic housings for each switch. The board helps keep the switches in place while in use to give a better typing experience. However, some reviewers note that the switches are pretty loose fitting in the board so be careful while transporting and using it.
Overall, this is a great option to test out one of the most popular switch styles on the market. With 12 different Cherry MX switches to try, you'll be sure to find one that is clicky enough or silent enough for your needs.
Pros:
Great for testing Cherry MX switches
Labeled PBT keycaps
Cons:
The acrylic base is a bit loose fitting on the keys
Best Gateron Tester: Max keyboard Gateron + Zealios + Tealios Key Switch Tester Kit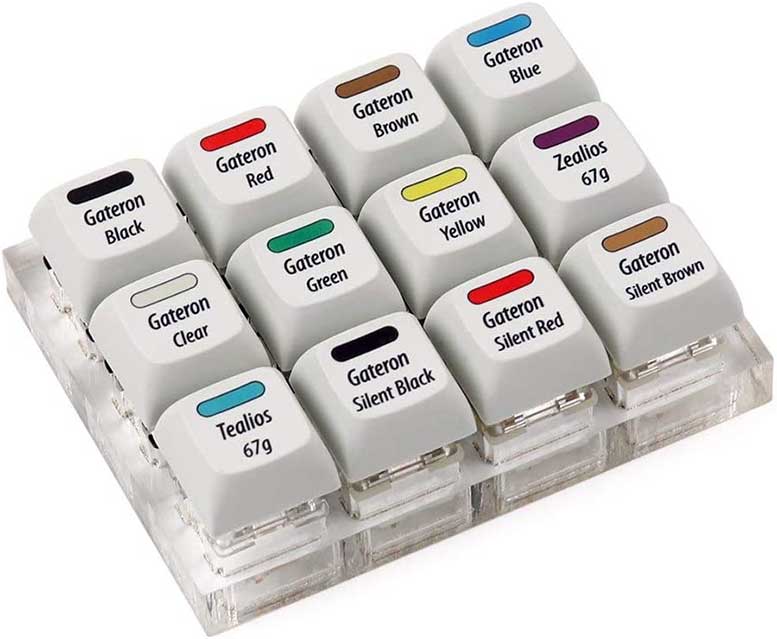 Key Features:
12 switches
Labeled keycaps
Acrylic base
The Max keyboard Gateron + Zealios + Tealios Key Switch Tester Kit is a great choice that gives you a few brands of switches to try. There are 12 different switches included in this kit. They are:
Gateron Black
Gateron Red
Gateron brown
Gateron Blue
Gateron Clear
Gateron Green
Gateron Yellow
Zealios 67g
Tealios 67g
Gateron Silent Black
Gateron Silent Red
Gateron Silent Brown.
Each key has an included keycap for it. These caps are made out of durable PBT, and have printed labeling for each switch type. You won't have any issues identifying which switch is which while comparing them all with each other.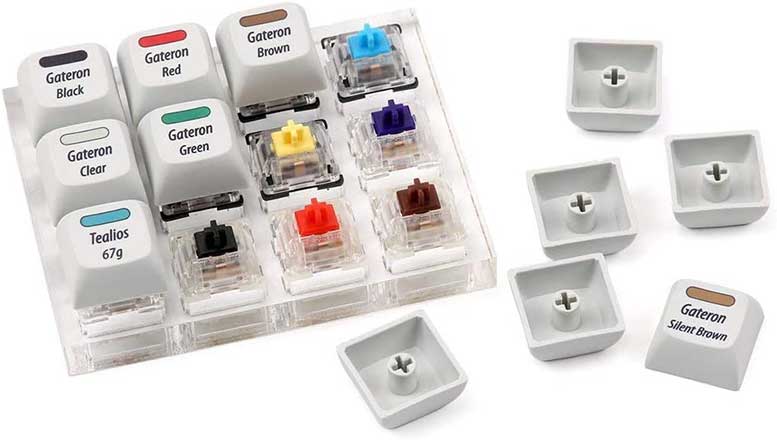 The baseboard is made out of clear acrylic material and is 6 x 4.5 x 1 inches. This heavy-duty base will keep your switches in place while testing. Each switch has its own cut-out space to be placed in. However, there isn't a backplate for the switches to be inserted into.
Clearly, this is a great choice if you want to try out Gateron switches with a couple of other brands mixed in. The main focus is Gateron, with 10 of the switches coming from them. If you want to use this for testing Zealios or Tealios you can do so, but it will only be showing you one option from each.
Pros:
10 Gateron options
Labeled PBT keycaps
Cons:
Only one option each for Zealios and Tealios
Best Compact: AKWOX Mechanical Keyboard Switch Tester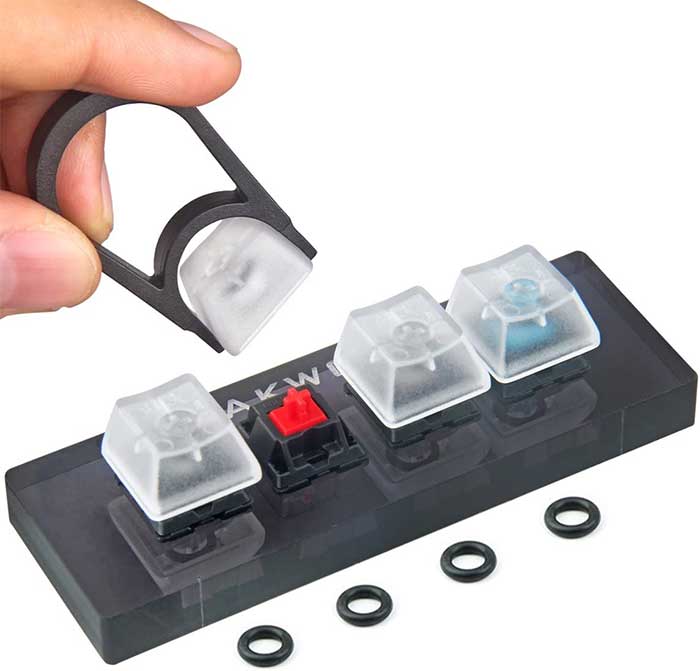 Key Features:
4 switches
Clear plastic keycaps
Compact baseboard
The AKWOX Mechanical Keyboard Switch Tester is a compact option that gives you a great look at some popular keys. If you have your options narrowed down to the 4 main types of Cherry MX switches, then this is perfect. Included are:
Cherry MX Red
Cherry MX Black
Cherry MX Brown
Cherry MX Blue
These switches all have different levels of sound and resistance while in use, and should give you a great insight into your preference.
There are four keycaps included in this set. They are made out of a clear plastic material to help you see which switch is being used while testing. While there isn't any labeling on them, identifying these switches is really simple. Since there are only four options, each color switch coordinates with the name of it.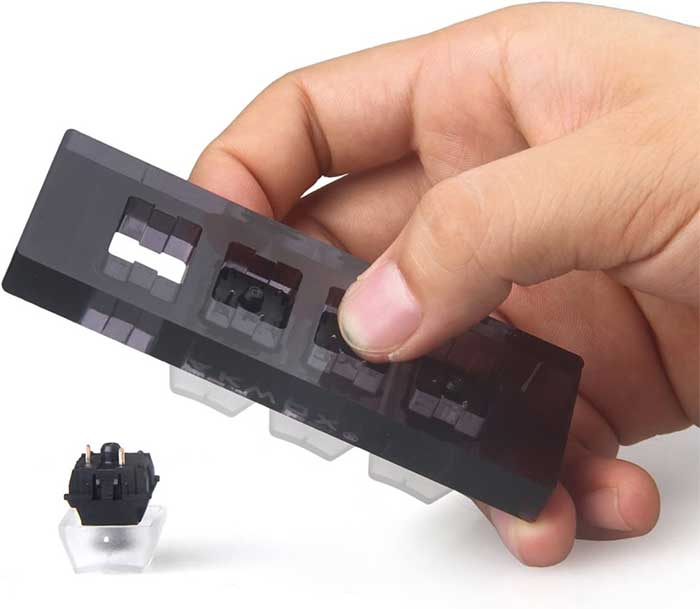 The baseboard is made out of semi-transparent plastic that is 3.93 x 1.57 x 1.18 inches. The board has four individual slots to insert the switches into. These slots don't have a backplate, but you should still have a safe and secure typing experience while testing.
In our opinion, this is a great budget option. It's especially nice if you know you're going to use one of the main Cherry MX switches but aren't sure which one you will like best. Also included in the package are four O-Rings to help test sound dampening as well as a keycap puller tool.
Pros:
Included keycap puller and O-Rings
Most common Cherry MX switches
Compact design
Cons:
Doesn't have a wide variety to try
Best Dual-Purpose: nullbits Scramble Keyboard Switch Tester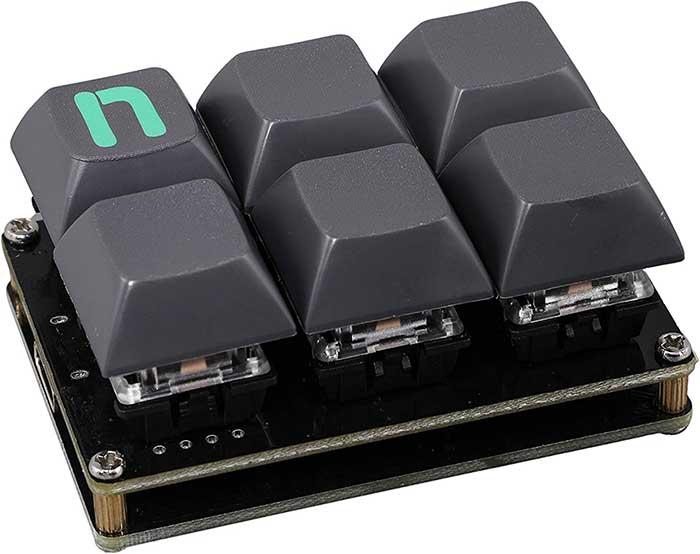 Key Features:
6 Gateron switches
Doubles as a macro pad
Signature Plastics DSA keycaps
The nullbits Scramble Keyboard Switch Tester is a great choice if you want a dual-purpose tester. It's available in either black or white and comes with 6 switches to test. Included are:
Gateron Red
Gateron Blue
Gateron Brown
Gateron Green
Gateron Black
Gateron White
This gives you a great look at some popular options from Gateron.
The keycaps included are made out of plastic and are textured for a better typing experience. They aren't labeled with the various switch types and are also not transparent. This will make knowing which switch you're using pretty difficult unless you remember exactly where each one is on the board.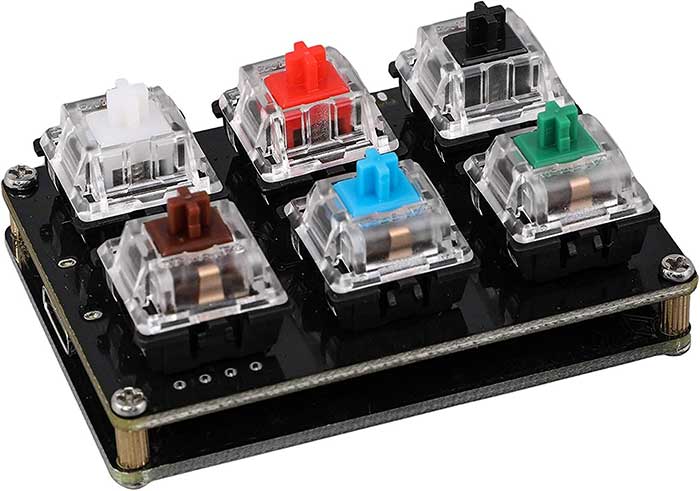 The board design on this tester kit is a bit unique, featuring a switch plate with 3-pin connectors. There's also a riser underneath it that connects to a base plate that sits on your desk. It's designed this way because it isn't just a switch tester. Best of all, it has a dual purpose as a macro pad as well. You can connect it to your computer via USB-C and easily program it to do different functions for you.
We love that this can be more dual-purpose for your setup. It's great that it helps you test Gateron switches as intended. But once you test out the switches, these testers don't have a consistent purpose. By turning this into a Macro Pad, nullbits has solved that issue and provided an awesome product.
Pros:
Switch tester and Macro Pad
Multiple color options
USB-C connection
Cons:
Keycaps make it difficult to tell which switches you're using
Meet Derek, "TechGuru," a 34-year-old technology enthusiast with a deep passion for tech innovations. With extensive experience, he specializes in gaming hardware and software, and has expertise in gadgets, custom PCs, and audio.
Besides writing about tech and reviewing new products, Derek enjoys traveling, hiking, and photography. Committed to keeping up with the latest industry trends, he aims to guide readers in making informed tech decisions.