You've probably seen a full-sized mechanical keyboard, and maybe even a 60% sized option, but have you seen a 40% version? They're some of the smallest mechanical keyboards on the market, making sure that you don't have any wasted space on your desk.
Since they are so unique, you'll want to make sure it's the right choice for you before buying one. Luckily, we did the research for you to check out below.
How big is a 40% mechanical keyboard?
These 40% mechanical keyboards are tiny. They have space for just over 40 keys and typically weigh around one pound. In addition, they're usually less than 12 inches long. This makes them ideal for those who are cramped for space at their desk or for those who just want more space for using their mouse.
Why would I want a 40% mechanical keyboard?
The best use case for these keyboards is if you are a true minimalist or if you don't have any space to waste at your desk.
Their small size means that you only have the necessary keys readily available. If only have a small area for your computer setup, a 40% keyboard will take up as little of that space as possible.
Will a 40% mechanical keyboard function like my regular keyboard?
For the main functions of what a keyboard does, yes it will! With the primary use being actual typing you won't run into any issues. If you're someone who uses over 100 different keys in your computer usage, then it depends.
Most of the options on the market come with various function keys that allow you to switch what every key does. They don't have all the bells and whistles ready to press immediately, but you'll likely be able to still accomplish most keyboarding tasks without too much fuss.
If I'm looking for a unique keyboard for my setup, is a 40% mechanical keyboard a good choice?
It can be! The options on this list vary from normal looking to extremely unique looking. Regardless of if you want something that blends in or sticks out, you can find a perfect option. Additionally, some of the boards we chose are customizable, so that you can change the keycaps and switches to match your preferences.
Best Overall: Vortex Core Aluminum 40% Dye Sub PBT Mechanical Keyboard

Key Features:
48 keys
3 programmable layers
Aluminum frame
The Vortex Core Aluminum is an awesome 40% keyboard. It has 48 keys, including a split space bar. The keycaps are made from PBT and have a DSA profile. Additionally, there are a variety of switches to choose from, including:
Cherry MX Black
Cherry MX Brown
Cherry MX Blue
Cherry MX Red
Cherry MX Clear
Cherry MX Silver
Cherry MX Silent Red
Keep in mind that this board isn't hot-swappable, so make sure you are sure about your key choice before ordering.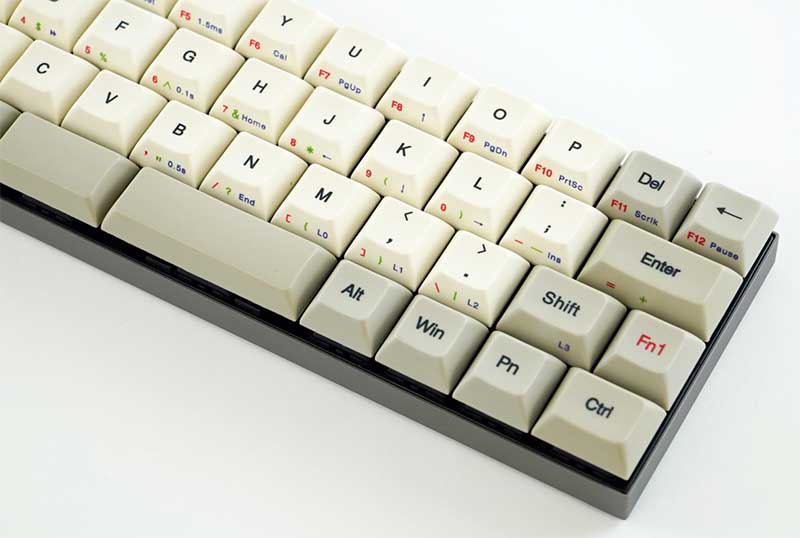 When it comes to looks this is a cool keyboard. It has a silver aluminum body with grey and white keycaps. They give it a retro look that will look nice on any desk. If you're looking for RGB you will have to look elsewhere. This board is not backlit with any type of lighting, which could be good or bad depending on your preference.
The Vortex Core Aluminum doesn't lack when it comes to its build quality. The frame is made from aluminum. This ensures that it will be rugged and durable in case of any accidents. The PBT keycaps that come with it are also high quality. Many reviewers note the long lifespan of the keyboard, so it isn't l likely to break with standard usage.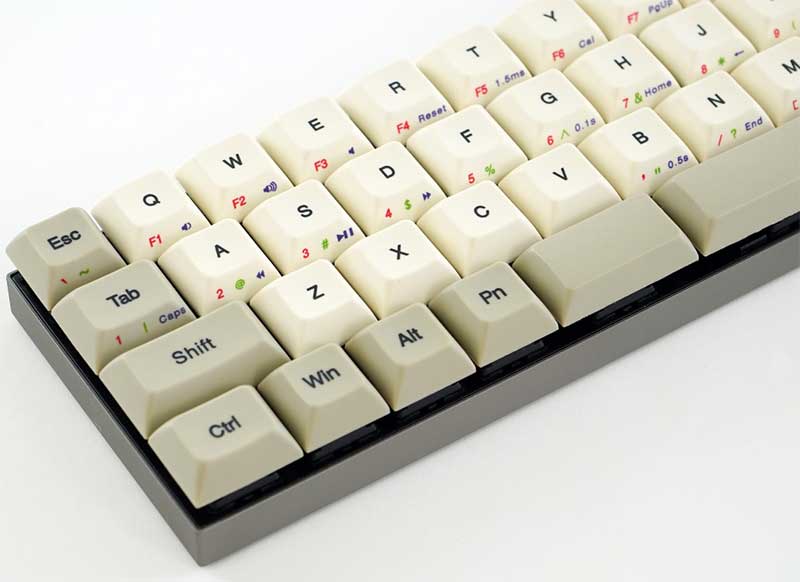 Perhaps the coolest feature of this option is the programmable extra layers. This gives you three different layers to customize. With additional software, you can add various actions that are controlled by pressing a series of function keys. This helps you to triple the number of actions your keyboard is capable of performing. Overall, the Vortex Core Aluminum is the best generalist 40% keyboard on the list and is a good choice no matter your use case.
Pros:
Three programmable function layers
Aluminum body construction
Lowest cost on the list
Cons:
No LED backlighting
No hot-swapping
Best Barebones Kit: Keychron Q9 40% Aluminum Barebones Keyboard

Key Features:
Barebones body
RGB backlighting
Aluminum body
The Keychron Q9 is a barebones keyboard. This means that it doesn't come with keys or keycaps. While this may be a deterrent to some people, barebones keyboards can be a great option. They give you the satisfaction of creating something all on your own.
They also allow you to completely customize your key and keycap choices with anything compatible. The Q9 is no different. You can choose any 3-pin or 5-pin key to use, and hot-swap to a different option at any time. As for keycaps, you can choose any that are compatible with your switch choice.
There are two main notable parts to the looks of this keyboard. The first is the all-black body. This will allow it to blend in well with your desk and give a standard classy look. The second is the RGB. South-facing RGB LEDs allow you to have great looking backlighting no matter which keycaps you decide to go with.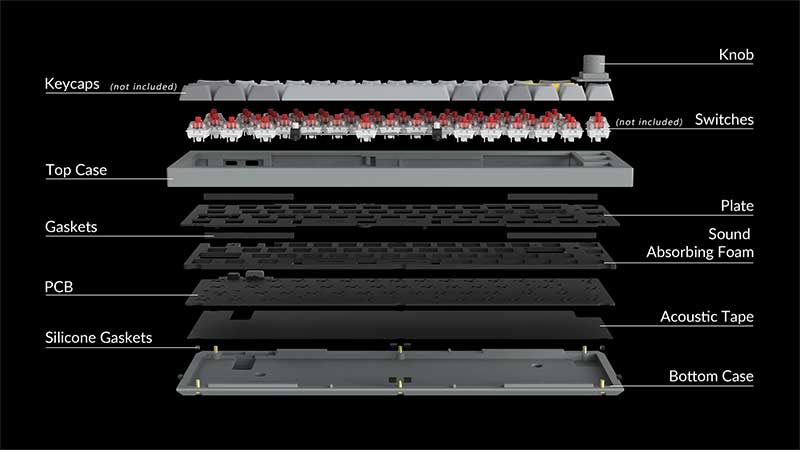 The build quality of the Q9 is done very nicely. It features an all-aluminum body to help with its durability. Internally, it has multiple sound-reducing measures taken. Acoustic tape, silicone gaskets, screw-in stabilizers, and sound-absorbing foam all help to make this a premium keyboard.
The Keychron Q9 is also programmable, so you can customize various functions to allow it to do more actions. Programming is possible using QMK and VIA. While it doesn't come with any keys or keycaps, it does come with a knob in the top right. This is a premium knob that can be used for various functions. Additionally, the keyboard is compatible with Windows, Mac, and Linux devices. This keyboard is a great choice for anyone who wants to build a 40% keyboard with a barebones kit.
Pros:
Premium build quality
Programmable knob
RGB backlighting
Cons:
Keys and keycaps are sold separately
Best Ergonomics: Libra Mini 40% Acrylic Keyboard Kit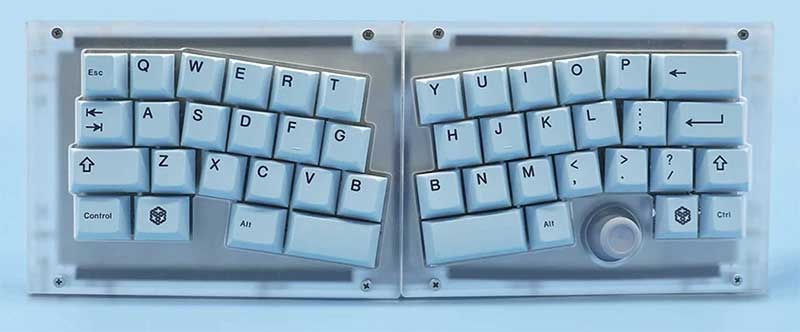 Key Features:
Ergonomic layout
Programmable directional joystick
Needs to be assembled
The Libra Mini is probably the most unique-looking option on this list. It's an ergonomic keyboard with a split PCB. This adjusts the overall shape and layout of the keys and keycaps for a better feeling typing experience. However, similar to the Keychron Q9, it's a barebones kit. There are no keys or keycaps included with this kit. That being said, there is a link to recommended keycaps to purchase within the product description that look very nice with it.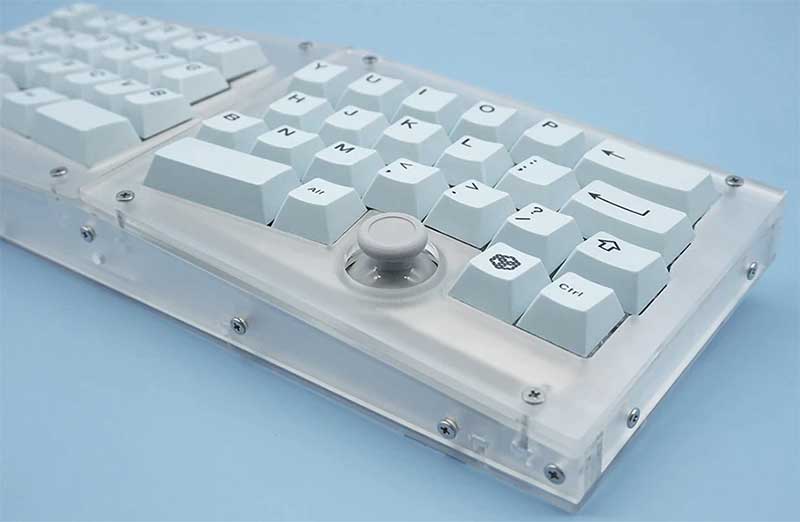 As for looks, this is a good-looking keyboard kit. It has an acrylic body that is semi-transparent. This allows you to view the internal hardware a bit as well. There isn't any backlighting included in the kit. The overall look is still very unique, especially with the keycap layout.
The materials used to make the Libra Mini are high-quality acrylic and metal screws. This kit is by far the most labor-intensive to use, as you have to assemble the entire thing. Some reviewers complain that the instructions are difficult or non-existent, while others say it isn't hard to do at all. Any experience with putting keyboards together should be useful.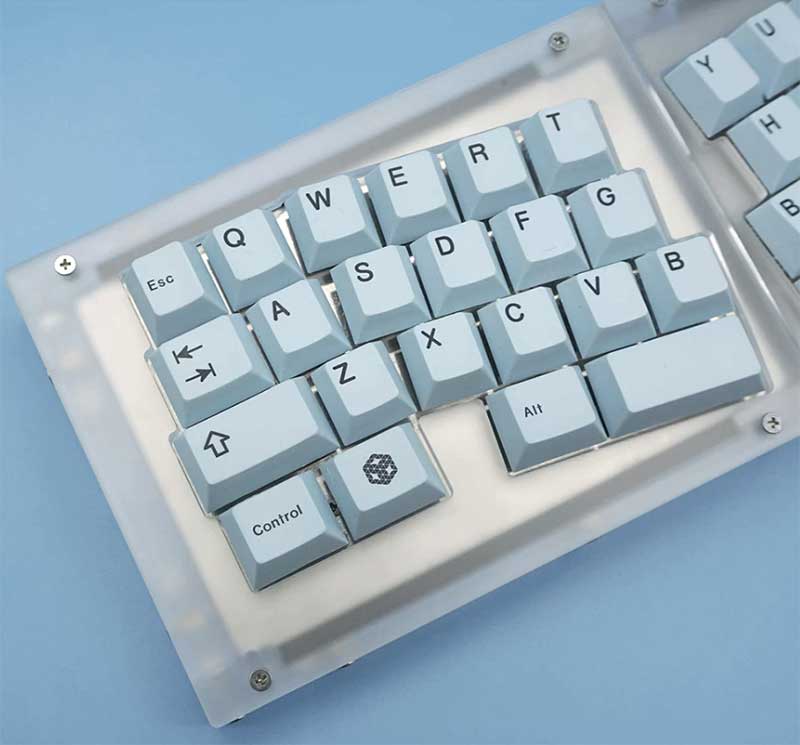 One aspect of the Libra Mini that no other board on this list has is a joystick. In the bottom right corner, you can find a joystick that looks like it came off of a gaming controller. This is used in place of the standard arrow keys. Additionally, the entire board can be programmed using software to enable alternative actions in four different layers. Overall, this is a great choice for those who are going to be typing all day long.
Pros:
Very unique design
Ideal for those looking to build their keyboard completely
Four layers of programmability
Cons:
Best Alternative: kprepublic 43 Keys 40% Custom Mechanical Keyboard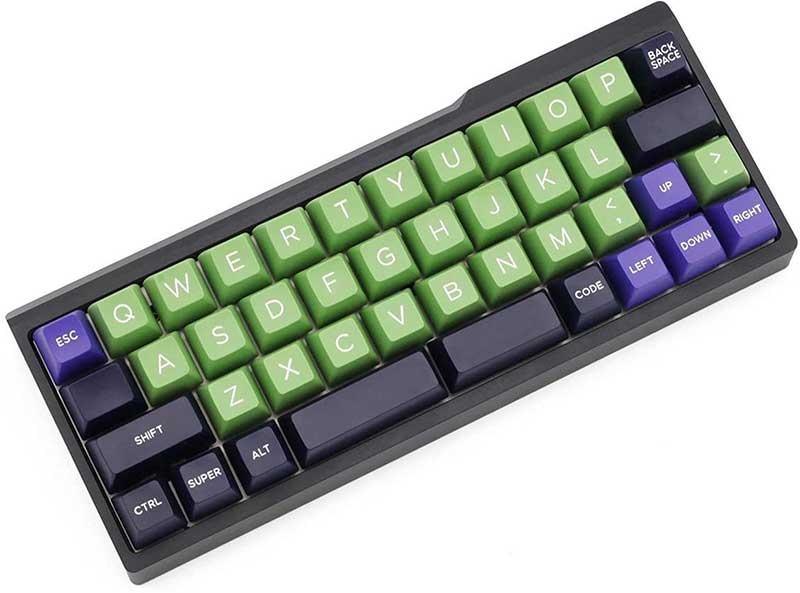 Key Features:
43 keys
Unique looking keycaps
RGB backlighting
The kprepublic keyboard is the second complete keyboard out of the box on this list. It comes standard with MX stem switches and can be hot-swapped. The keycaps are multi-colored plastic with very large letters and words. This gives it an interesting look since the keyboard is so small.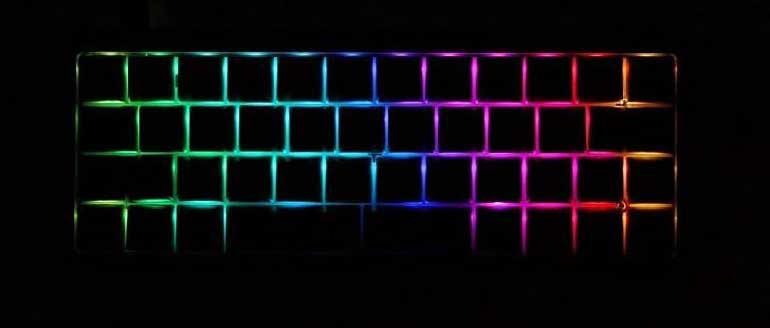 Aesthetically, it's not a bad-looking board straight out of the package. It has a black body and 43 keys. The keys are a mix of black, green, and purple. This makes it stand out significantly, which could play well with your overall setup if you have a similar theme. Additionally, it has 6 RGB LEDs within the PCB. These allow for an underflow effect. However, the keycaps are not transparent on the letters, so no light will shine through them.
The build quality looks very nice. It's made completely out of plastic, which will help to reduce the overall weight while maintaining durability. Also, it has a small form factor size while keeping many of the keys you would want it to have. A split space bar is a good touch too, giving you more options for keys.
The kprepublic is a fully programmable keyboard. Using the same software as the Libra Mini, you have four programmable layers to swap between. You will need to have it plugged directly into your computer via a USB-C connection to use it. Overall the standard design and pre-assembled nature make it a good choice for those looking to have a regular plug-and-play keyboard option.
Pros:
Hot-swappable switches
RBG underglow
Four layers of programmability
Cons:
Meet Derek, "TechGuru," a 34-year-old technology enthusiast with a deep passion for tech innovations. With extensive experience, he specializes in gaming hardware and software, and has expertise in gadgets, custom PCs, and audio.
Besides writing about tech and reviewing new products, Derek enjoys traveling, hiking, and photography. Committed to keeping up with the latest industry trends, he aims to guide readers in making informed tech decisions.