It's a good time to be an AMD fan. After last years CPU launches that underwhelmed and underperformed, AMD has finally released something beyond our wildest expectations. With 8 core, hyper-threading, and a price point that would shock Intel customers, these processors are becoming a hot commodity.
But it's not the core count driving the hype, nor is it the clock speed. The Ryzen series processors are incredibly efficient. They can complete 52% more operations per cycle than AMD's previous generation. For the first time since the Athlon XP took on the Pentium 4, AMD stands to give Intel a run for their money.
Note: At no extra cost to you, we may earn a commission for purchases using our links. Learn more.
If you're thinking about throwing one of these processors in your next build, you're not alone. But before you can see what the Ryzen processor has to offer, you'll need to find the right motherboard.
With 42 boards to choose from, you might not know where to start. We've done the legwork for you, and compiled a list of the best X370 motherboards on the market. First, we'll explain the differences between them. Then, we'll help you find the one that's right for you.
Asus ROG Crosshair VI Hero
Ever since the 90s, Asus has consistently produced some of the most reliable motherboards on the market. With such a solid track record, we knew that their boards would be a great place to start our search.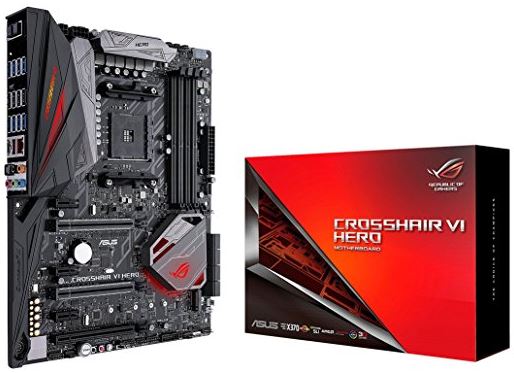 Design
The Asus ROG Crosshair VI Hero is certainly one of the most visually appealing X370 motherboards on the market. The combination of sharp lines, laser etched details, and subtle LED accent create a look that goes above and beyond your standard board. With the AURA Sync program, the static lighting springs to life. The RGB LEDs can be used to set the atmosphere, or they can tell you something useful. Color can be used to indicate processor temperature, slowly fading from blue to red as your game heats up. The lights can be influenced by your music, the fan speed, available memory, and a number of other metrics. If the gentle glow of the onboard LEDs isn't enough, you can even plug in a strip of RGB LEDs into the motherboards dedicated connector to enhance the effect.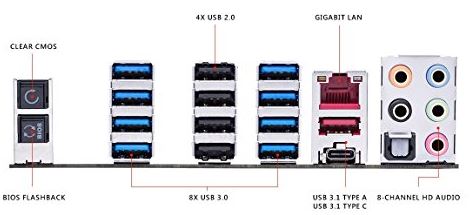 Hardware & Performance
With support for up to 64GB of DDR4 memory at 3200 Mhz, this board gives you the headroom you need to achieve high overclocks. This is normally a complicated process, but the motherboard can overclock itself with the touch of a button. You won't get the same level of performance as a manual overclock, but it will allow you maintain perfect stability while improving performance.
We all know that a fast processor is useless without a fast graphics card. The PCIe x16 slots can run in single channel X16 mode, or dual X8 mode for SLI. They're physically reinforced, so even the largest graphics cards with custom water cooling blocks aren't going to damage the board.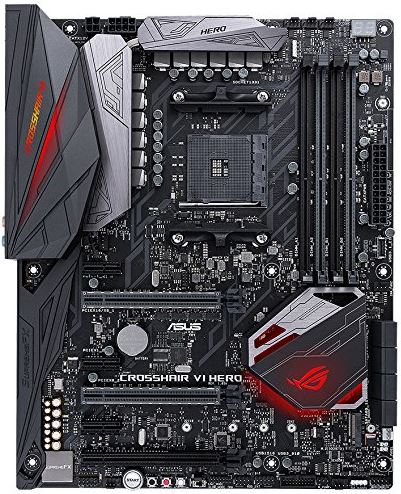 Connectivity
The X370 chipset is up to date with all of the latest interfaces, and the Crosshair VI takes advantage of all of them. For external devices, you've got four USB 2.0 ports in the rear, and two in the front. There are 8 USB 3.0 ports, one USB 3.1 type A, and one USB 3.1 type C connector. Whether your peripherals are new or old, you'll surely find the appropriate port for them.
For storage, you've got 8 SATA 6 Gbps slots. This is pretty standard, but you're also provided with an M2 port. It's got its own PCIe channel with four dedicated lanes. This means that it will support the fastest SSDs on the market, while remaining backwards compatible.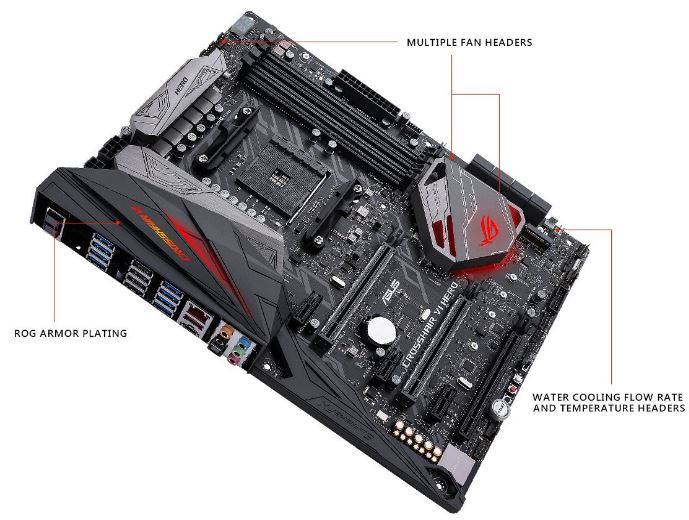 Features
One of the main selling features of this board is the high-quality audio chipset. Asus used a SupremeFX S1220 system, which includes a high-quality DAC and Japanese capacitors. While the brand isn't very well known, the same hardware is used in many high-end sound cards, providing an experience beyond what you may be used to.
Asus Prime X370 Pro
If Asus's flagship board is a little rich for your tastes, the X370 pro is slightly more conservative. It does away with a lot of the bling, standing as a more affordable system that is better aligned with the needs of the average user.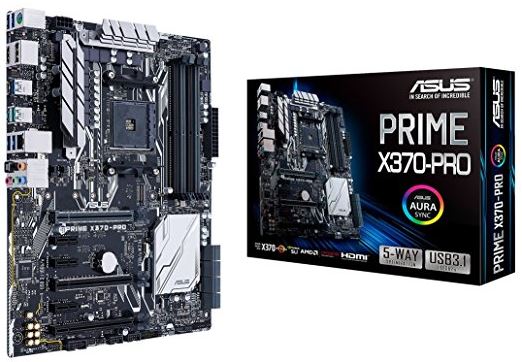 Design
Although the Asus Prime X370 Pro is a little simpler than some, there are still a few elements that help it stand out. The stylized heat pipes and iconic Northbridge cooler definitely give it a premium look, and add some much-needed cooling to a high-performance board. The Prime was built for function over form. What it lacks in visual appeal, it more than makes up for in performance.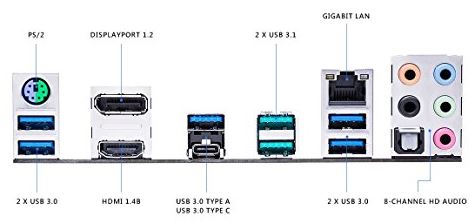 Hardware & Performance
This board supports the same high performance hardware as the Crosshair VI Hero. You could buy the fastest DDR4 memory on the market, and this board would still be able to push it beyond its specification. You could go and buy the biggest, heaviest graphics card on the market. The custom printed PCIe slots are designed to handle the weight of high end cards.
Want to build a custom water cooling loop? Asus left plenty of room around the CPU slot, so you won't have any trouble routing your water lines. Saying that this board was up to date would be an understatement. If you aren't overclocking your hardware, you're running this board below it's specifications.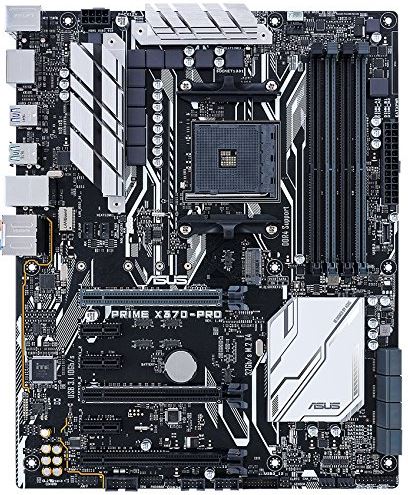 Connectivity
If you're working with multimedia, large files, or load intensive games, you're definitely going to want to take advantage of the high bandwidth M2 slot. While most motherboards rate limit individual ports, this motherboard provides you with direct access to the PCIe lane, providing up to 4gb of bandwidth.
If that's not enough high speed storage for you, you can use one of the two available USB 3.1 ports to connect an external PCIe SSD. Type A and Type C are included, so there shouldn't be any compatibility issues. For older hardware, you'll find two USB 3.0 and two USB 2.0 ports on the back, as well as headers for four more in the front of your case.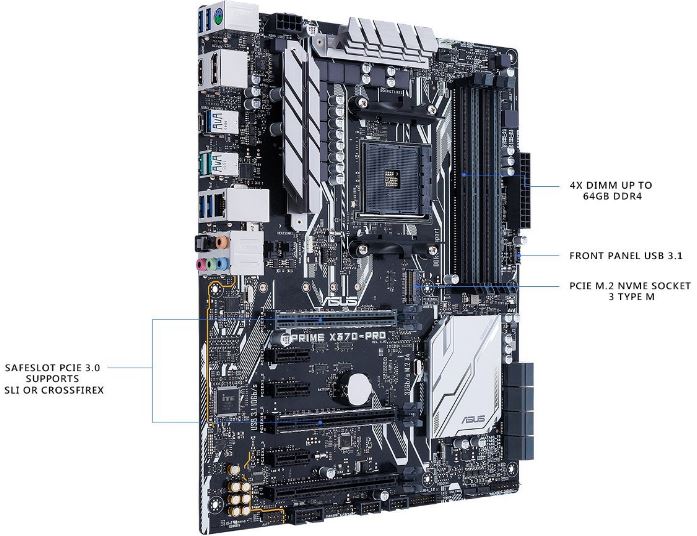 Features
Asus made their famous "one click overclock" available on this board, although it is more conservatively tuned. As you expect, it will optimize the voltage, bus, and clock speed of your processor. It can also adjust the fan speed and power consumption. This is especially useful when running single core applications. Although your CPU might not be very hot, additional cooling means that you'll be able to run at the CPU's turbo frequency for a longer period of time. When you're just browsing the web, the processor can be clocked down to save power and extend its life.
MSI X370 Gaming Pro Carbon
Planning to pair your AMD processor with some AMD graphics cards? This is the board for you. Despite being one of the more affordable X370 boards, it retains many of the features found on premium boards. Value alone is a good reason to consider this board, and its superior graphics card support is just the icing on the cake.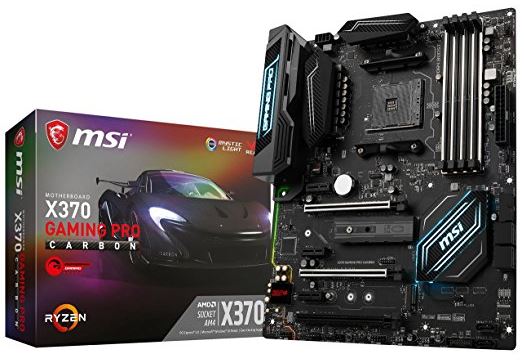 Design
MSI went for the dark and mysterious look with their X370 Gaming Pro Carbon, coating the entire thing in matte black. To balance it out, there is a strip of RGB LEDs that run along the back side of the board, right next to the PCIe slots. They've also included light blue LEDs as a backlight for their branded I/O cover and Northbridge cooler. These two elements complement each other nicely, adding a little liveliness to your case.

Hardware & Performance
Like the others, this board supports the highest standards set by the X370 chipset. But in this case, there are a few unique twists. Most boards allow you to overclock the ram to 3200 Mhz in order to enable CPU overclocks. To do this, you need to get some very high end memory. But MSI has enabled you to adjust the voltage beyond the standard range, which allows you to get improved overclocks. MSI calls this DDR4 Boost. In some circumstances, it can even boost the ram speed while keeping the CPU stable. This feature will be beneficial primarily to gamers who don't want to ruin the warranty on their CPU, as well as over clockers who want to save a few dollars on memory.
Along with the standard 64GB memory cap and support for the full range of Ryzen processors, MSI has upgraded the board to have three PCIe X16 slots. This allows you to use 3-way crossfire with AMD graphics cards, or standard SLI with Nvidia cards.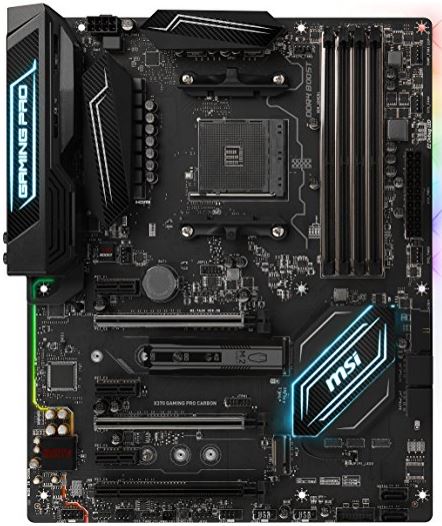 Connectivity
While cutting edge PCIe NVMe SSDs are good for specific purposes, the huge bandwidth they offer doesn't offer much of an improvement for gaming. MSI has traded the single high speed PCIe M2 slot for dual SATA M2 slots. Power users can run two SSDs in RAID, while most users can enjoy twice the storage without much of a performance hit.
The board provides you with two USB 3.1 ports, in both the A and C connector formats. There are four on-board USB 3.0 ports, and headers for another four case mounted USB ports. HDMI and DVI output is also provided, although we suspect that most users of this board will have a dedicated graphics card.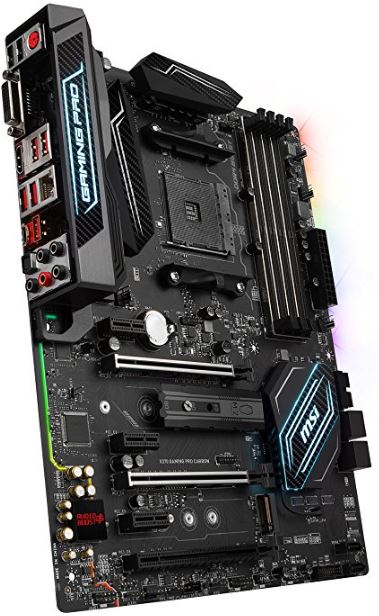 Features
Although there is no automated overclocking feature, this board still gives you access to all of the direct hardware settings you need to push your chip beyond its rating. Experienced overclockers know that an automated process is never going to give you the same process as an old fashioned manual overclock, making this board ideal for enthusiasts who like to take a hands-on approach.
Gigabyte GA-AX370
It takes some serious engineering to build a board that can handle overclocking, and that comes at a price. Historically speaking, performance boards tend to sacrifice stability in order to push the limits of their hardware. Gigabyte took a different approach with the GA-AX370, creating a board suitable for users who want a reliable system that can last a long time.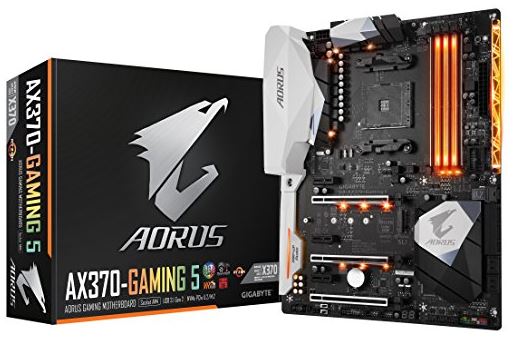 Design
Despite its low price, the Gigabyte GA-AX370 is a surprisingly flashy board. The black PCB contrasts nicely with the abstract I/O cover and chipset coolers. But what stands out the most are several bright orange LEDs that add a sense of vibrancy that you don't often see in consumer hardware. This effect is most impressive in the memory slots. When your DDR4 RAM is installed, the lights hit them at a sharp angle, highlighting the design. With so many memory chips now coming with stylish cooling plates, the lighting makes it easier to appreciate.
Gigabyte's design isn't just about looks. Just as it's stylish, it's also functional. The board is spaciously laid out, making it easy to install and work on. The spacing allowed us to install high performance coolers and graphics cards without having to struggle with tight spots.

Hardware & Performance
Although this board doesn't guarantee overclocking performance, you can still use the fastest hardware on the market. 64GB of DDR4 memory can run at speeds of up to 3000Mhz with the high-end Ryzen CPU, although lower end models will clock it down. But even on a stock system, adequate cooling is an essential component of system stability. Gigabyte included high-accuracy temperature sensors and programmable fan controls, so you can strike a balance between fan noise and sound.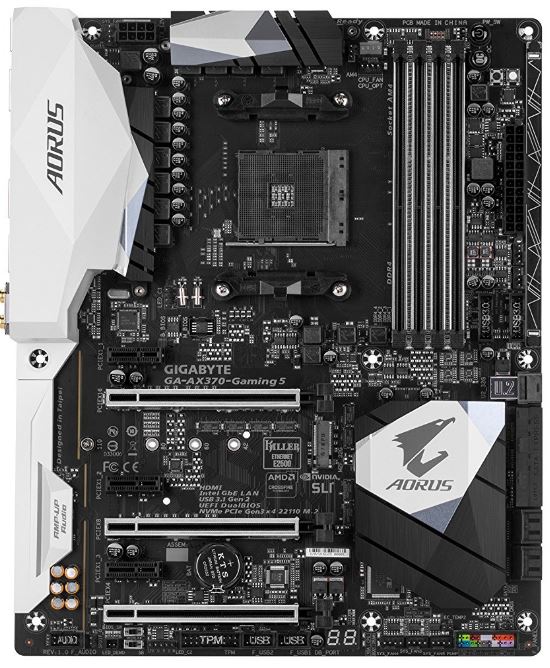 Connectivity
Although the connectivity options are a little more modest than we've seen, it should be adequate for most users. This board will allow you to finally upgrade to USB 3.1, with both the type A and type C connector sharing a single channel. A second channel is split between two additional type A USB 3.1 ports. We appreciated that Gigabyte included four of these ports, even though they're sharing two channels. USB 3.1 provides an almost obscene amount of bandwidth, so it's unlikely that you'd hit the limit even with four devices plugged in. There are six more USB 3.0 ports available through motherboard headers and on the rear I/O panel, so it's unlikely that you'll run out anytime soon.
If you're going to stick with integrated graphics, the HDMI port will come in handy, although we would have liked to see a second port for dual monitor setups. That being said, dedicated graphics are a better choice for this platform anyway.
For storage, six SATA 6GBPS ports are provided. Additional bandwidth can be obtained by taking advantage of RAID, although this will only be necessary for workstation use.
As we'd expect from any gaming board, the dual PCIe X16 ports support both single and dual graphics cards, so no corners were cut in this area.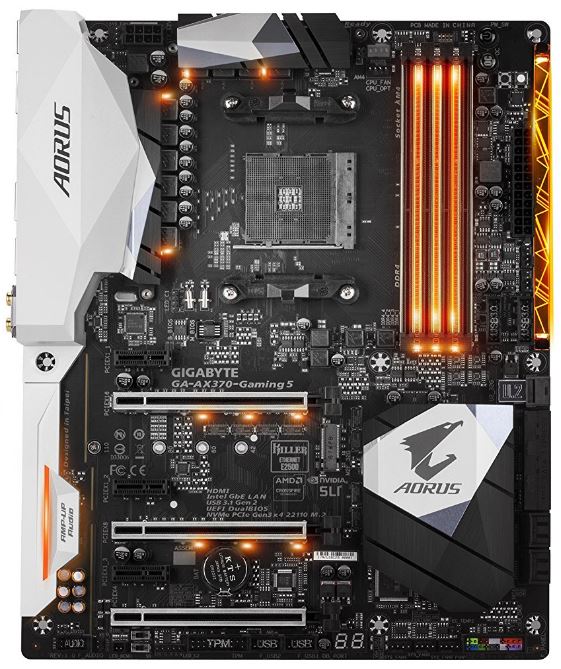 Features
If you're an online gamer, lag is a serious concern. With software controlled Ethernet, high CPU usage can cause your network connection to drop out. To avoid this issue, Gigabyte included a dedicated KillerNIC LAN controller. This chipset supports duplex LAN connectivity, allowing you to pair two Ethernet cables to double the bandwidth and cut your ping time by a noticeable margin. Alternately, you might want to use this to have two isolated connections, so you can download files while gaming on your own dedicated VLAN.
Gigabyte also used an upgraded Realtek ALC sound card, providing an incredible signal to noise ration of 120db. This won't make any difference in properly amplified speakers, but with a high sensitivity gaming headset you'll notice a significant improvement.
MSI X370 XPower Gaming Titanium
When it comes to the AM4 platform, motherboards based on the X370 chipset are the cream of the crop. Although they're all impressive in one way or another, sometimes 'impressive' isn't enough. If you want to squeeze every last ounce of potential out of your brand-new CPU, you're going to want the best motherboard on the market. MSI's Titanium motherboard commands a bit of a premium, but it's managed to push the boundaries further than any other X370 board available.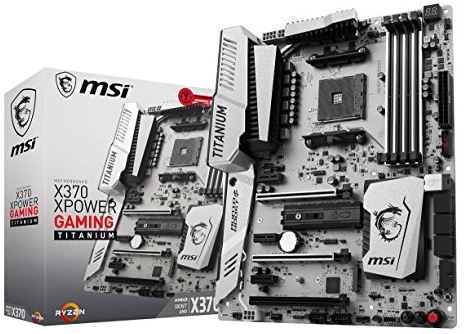 Design
It's not easy to make a motherboard stand out. Once you throw in a few graphics cards, a high-end liquid cooling system, and a handful of 3.5" drives, your standard motherboard becomes nothing more than an afterthought.
This time, it doesn't matter how much hardware you cram into your case, the MSI X370 XPower Gaming Titanium is one of the few boards that will still stand out amongst a collection of the best hardware that money can buy.
Staying true to its name, the board is covered almost entirely with a shiny titanium-like finish. Throw in a few black components for contrast, and you've got something that simply has to be seen to be appreciated.

Hardware & Performance
Officially, the X370 chipset doesn't support memory speeds beyond 3200Mhz. But a few crafty individuals have managed to hit higher speeds with inferior motherboards, so we know that the X370 platform has potential. This board will let you find out for yourself, as MSI has removed memory voltage limitations. This will give your RAM the boost it needs to hit record-breaking overclocks.
In the graphics department, MSI had provided two PCIe 3.0 X16 slots and an additional PCIe 2.0 x8, so you can choose between MSI Triple SLI or dual Nvidia SLI.
With a top tier board, both of the above features are to be expected. But when it comes to storage, MSI went above and beyond. The dual M2 slots each have their own dedicated PCIe X4 lane, providing up to 8Gbps of combined bandwidth. Even though there aren't any SSDs that are fast enough to take advantage of all that bandwidth, MSI even included the brand new U2 slot. U2 is a larger form factor connector that provides direct access to the PCIe lanes. While there is no speed advantage to this connector right now, this will allow you to upgrade to cutting edge storage technology in a year or two.
That being said, you're not going to have to throw away any of your old SATA drives. You can hook them up to any of the six internal ports, and give them a little performance boost with the fully featured hardware RAID chipset.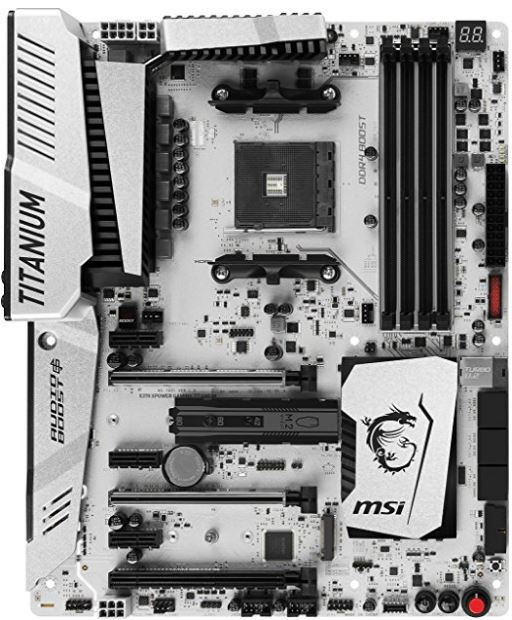 Connectivity
If anyone manages to fill out all of the ports on this motherboard, we'd be seriously impressed. There are two USB 3.1 type C ports and nine type A. You're not going to be wasting any of those high-speed ports on simple devices, as the seven USB 2.0 ports should cover all of your peripherals.
Many gamers choose to use reliable Ethernet connections instead of flakey wireless networks, so we expected to see another gaming-centric Ethernet chipset on board. Instead, we found the Intel I211At Gigabit Lan controller. This is a professional grade adapter, commonly used in business applications where reliability and performance are mission critical. The name might not be as cool as the KillerNIC, but the performance will blow it away.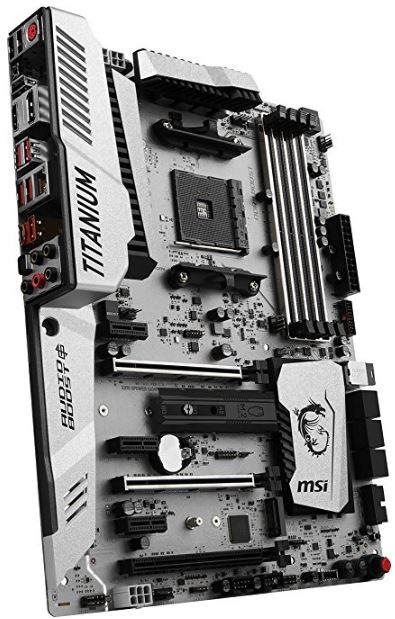 Features
If you're interested in this board, it's pretty clear that you plan on overclocking your processor. After getting your settings just right, you hit the power button. Nothing happens. For many users, this is the worst-case scenario. With this board, you wouldn't even break a sweat. When the board won't POST, a small LCD screen will display an error code. A quick glance at the included manual will identify the exact error, so you can address it and move on.
While you've got your case open, you won't have to reach around and blindly swat at the power button on the front. On the outer corner of the board you'll find three buttons. These can be used to start, stop, or soft reset the board.
When users really want to get down into the nuts and bolts of their system, they might experiment with flashing a custom EFI, or modifying the existing one. Usually, this type of modification is reserved for only the most daring, since one error could brick your entire board. But MSI has included an entire backup of the original EFI. Just flip a jumper on the board, hit reset, and wait for the software to be restored.
Which AM4 X370 Motherboard is Right for Me?
These boards may seem to have a lot in common, but their small differences can have a big impact on their usability in the real world. Which one you choose depends on your level of technical knowledge, and how you plan to use your computer.
For most users, the Gigabyte GA-AX370 is a good starting point. This motherboard is incredibly stable, and includes comprehensive support for almost all of the X370s major features. If you're not overclocking, this board is the perfect starting point for a powerful gaming system.
If you're interested in trying out AMD's unique triple SLI system, the MSI X370 Gaming Pro Carbon is the best option. Having three high end graphics cards working together to create the ultimate gaming rig is something that many gamers dream of, and this is one of the few motherboards that supports it.
Looking to overclock your processor? Don't know where to start? Asus can help you out. The Asus ROG Crosshair VI Hero can automatically overclock your CPU, without the need to tweak settings. Its flashy design and advanced lighting will certainly help you stand out at LAN parties. But if you're not too concerned about looks, the Asus Prime X370 Pro is a cheaper option with most of the same features.
If you're looking to squeeze every last drop of performance out of your new hardware, the decision is easy. The MSI X370 XPower Gaming Titanium is the most powerful X370 motherboard that money can buy. If you know how to use it, your system will blow any stock processor out of the water.
Please consider sharing:
Note: At no extra cost to you, we may earn a commission for purchases using our links. Learn more.