When it comes to the ultimate gaming experience, a quality controller is essential. Whether it's for an intense battle royale or a leisurely ride through a story-driven RPG, the controller is your connection to the virtual world. If you're an Asus ROG Ally enthusiast, this lineup is tailored for you:
We carefully curated this list of controllers to ensure you're presented with the best possible contenders. Here, we look at precision, comfort, and overall performance. Let's find out which one is best suited to your gaming needs.
1. SteelSeries Stratus Duo Wireless Gaming Controller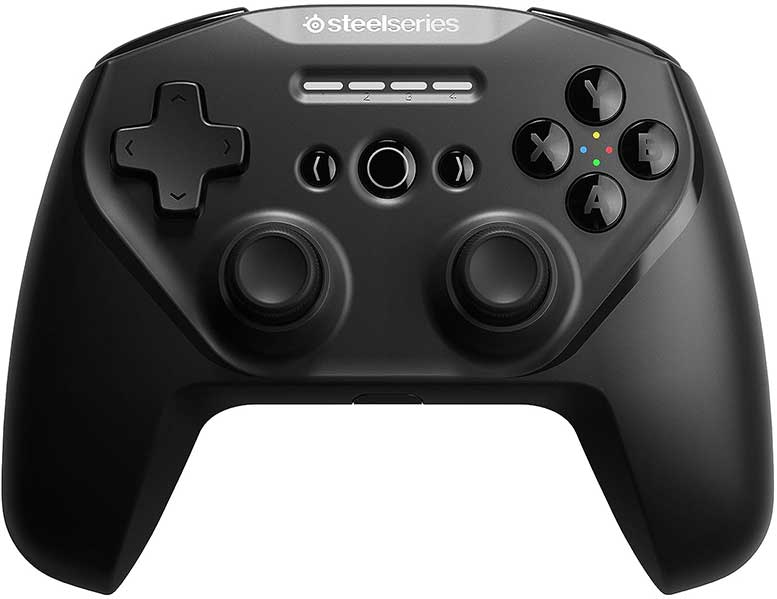 Key features:
Fortnite-ready on Android
Dual connectivity: 2.4 GHz/Bluetooth
20+ hour rechargeable battery
Works with Chromebook
Our first pick is the SteelSeries Stratus Duo, a gaming controller that makes console gaming on multiple platforms a truly wireless and seamless experience. Weighing in at 8.64 ounces and measuring 4.33 x 5.5 x 2.49 inches, this unit offers a comfortable, ergonomic design built to withstand a lifetime of gaming. With both Bluetooth and 2.4GHz wireless technology, it offers an effortless connection to Android, Windows, Chromebook, VR, and more.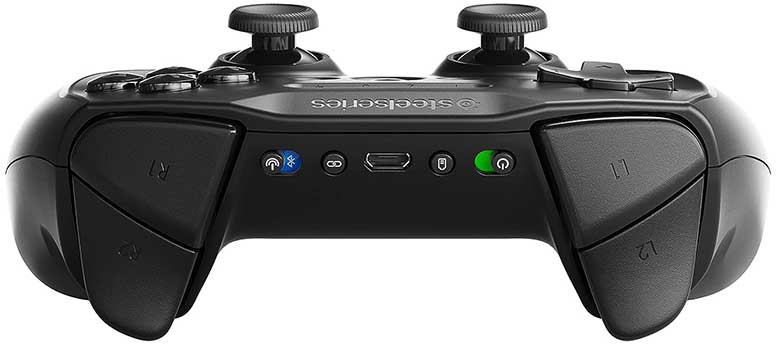 During our testing, we found that pairing and playing across different platforms was smooth, offering a lag-free gaming experience on over 5,000 controller-enabled titles on Steam. The full-sized ergonomic design is not just a beauty to look at but also provides comfort during extended gaming sessions. Equipped with high-performance joysticks and triggers, this device registers inputs more accurately and rapidly than standard controllers.
This high-quality hardware also includes innovative Magnetic Hall Effect triggers, which, after rigorous testing, proved more durable and reliable than their traditional counterparts. We've had plenty of experience with Hall Effect, and these are top-of-the-line. Another notable feature is its rechargeable battery. During our test, the 20-plus hours of nonstop use held true to its promise, allowing uninterrupted gaming.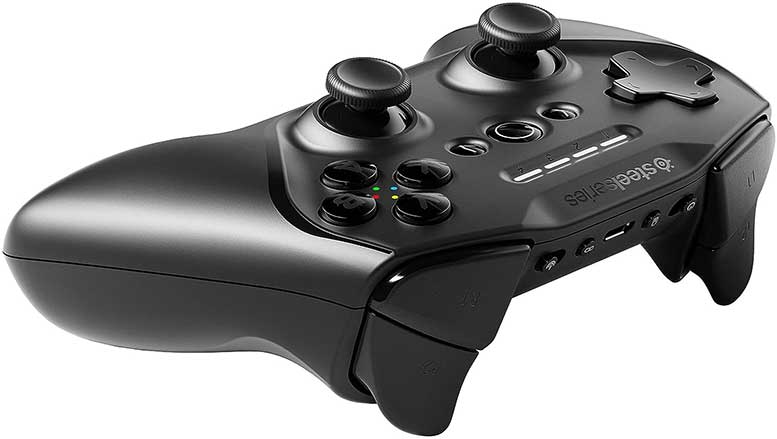 And the ability to play while charging? A true game-changer for marathon players. Not only is the SteelSeries Stratus Duo Fortnite-ready on Android but it's also certified as Works With Chromebook. Our testing process reflected a real console experience on Android mobile without the need for additional software. Just pair and play. It even supports the latest version of Chrome OS. All in all, this is about as solid as it gets. Your ROG Ally will be happy, and so will you.
What we liked:
Versatile compatibility
High-performance triggers
Long-lasting battery
Comfortable ergonomic design
What we didn't like:
Faulty analog buttons
Limited to specific games
2. Xbox Elite Wireless Controller Series 2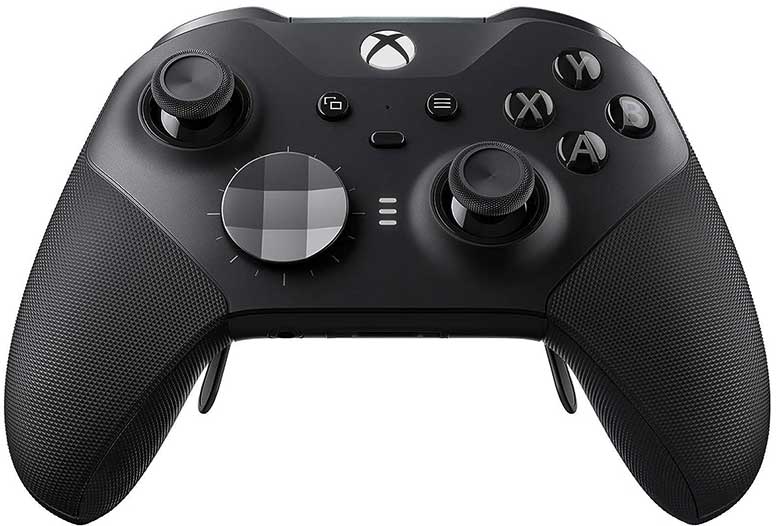 Key features:
Adjustable-tension thumbsticks
40 hours rechargeable battery
Customizable components
Play across various platforms
Imagine having a controller that doesn't just respond to your commands but practically reads your mind. That's kind of what it feels like when using the Xbox Elite Wireless Controller Series 2. With adjustable thumbsticks, rubberized grip, and shorter trigger locks, this controller puts exceptional performance right in your palms. Compatibility with various platforms like Xbox Series X|S, Xbox One, and Windows means it's not just tailored to your gaming style but to your preferred gaming platform, as well.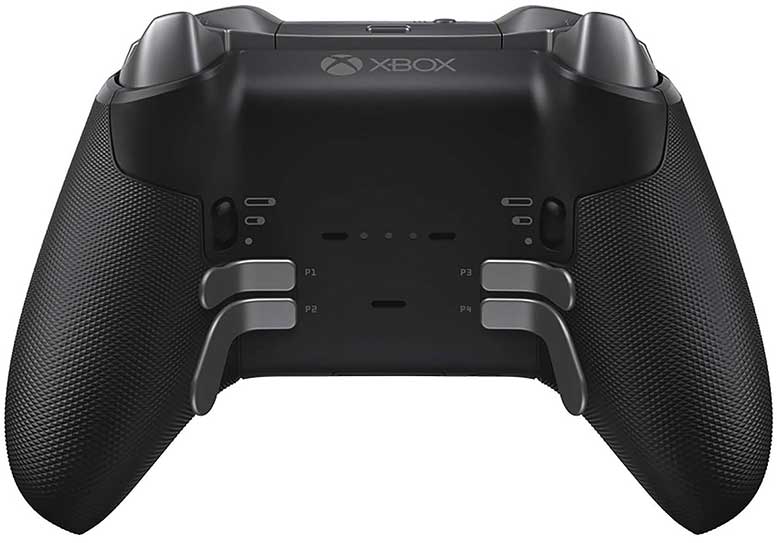 And of course, it works like a dream with your Asus ROG Ally. Plus, you get a ton of nifty features that elevate your gaming experience. Want a different feel for your thumbsticks or D-pads? Swap them out. With Xbox Wireless, Bluetooth, or USB-C cable, this device ensures you stay connected. Let's get specific here. There are interchangeable components galore. You can save up to 3 custom profiles on the controller and switch between them as quickly as you might switch strategies in an intense game.
Exclusive button mapping options in the Xbox Accessories app mean this controller works with you, not against you. Its dimensions measure 6 x 6 x 2 inches, and it weighs 12.27 ounces. But what about battery life? No need to worry. You can keep gaming with up to 40 hours of rechargeable battery life. Refined components ensure that this device is built to last.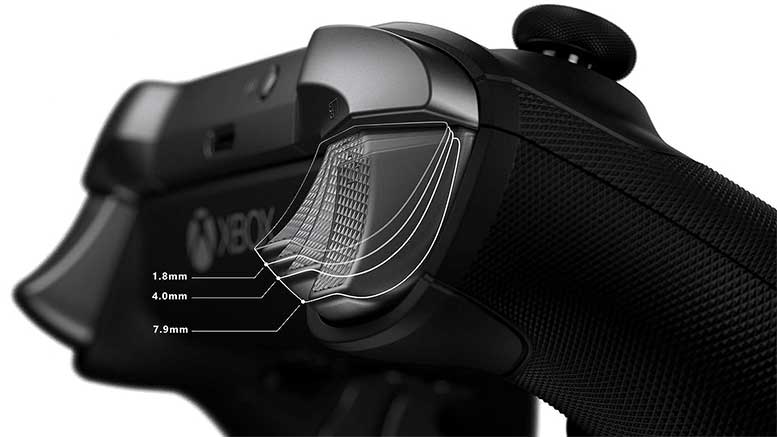 Charge it inside or outside the carrying case with the included USB-C cable and charging dock. For Asus ROG Ally users, the Xbox Elite Wireless Controller Series 2 offers a seamless experience, syncing perfectly with the specifications and enhancing the gaming experience with its adaptable features. Bottom line; it's a rock-solid contender that's worthy of your consideration.
What we liked:
Exceptional battery life
Versatile customization
Interchangeable thumbsticks
Great grip
What we didn't like:
No included paddles
Some quality control issues
3. 8BitDo Ultimate 2.4g Wireless Controller (with Charging Dock)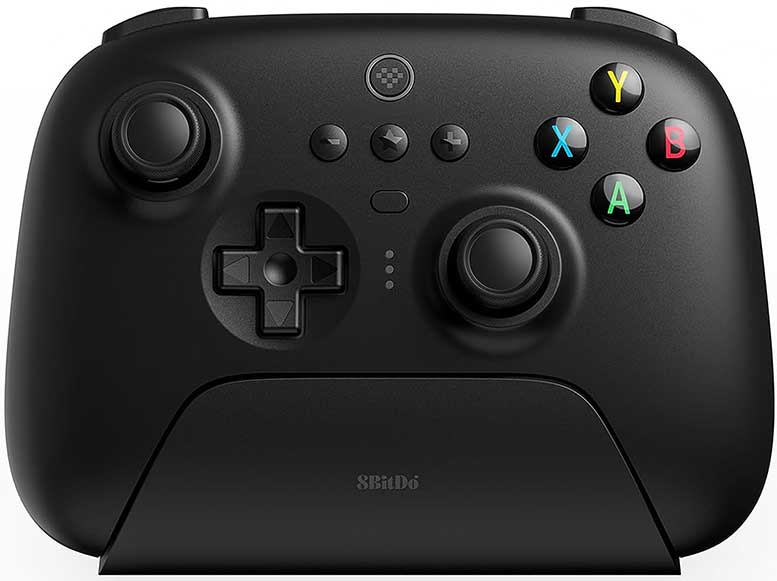 Key features:
Classic design with modern controls
Customizable button mapping
2-way mode switching button
15 hours playtime
The 8BitDo Ultimate 2.4G Wireless Controller is not merely a tool; it's an homage to the classic gaming era, meticulously crafted with respect for beloved features like the D-pad. This device feels like an old friend yet surprises you with modern functionality. How does it perform with Asus ROG Ally? Let's dive in. With two pro-level back buttons, the controller allows you to retain full control without ever taking your thumbs off the thumbsticks.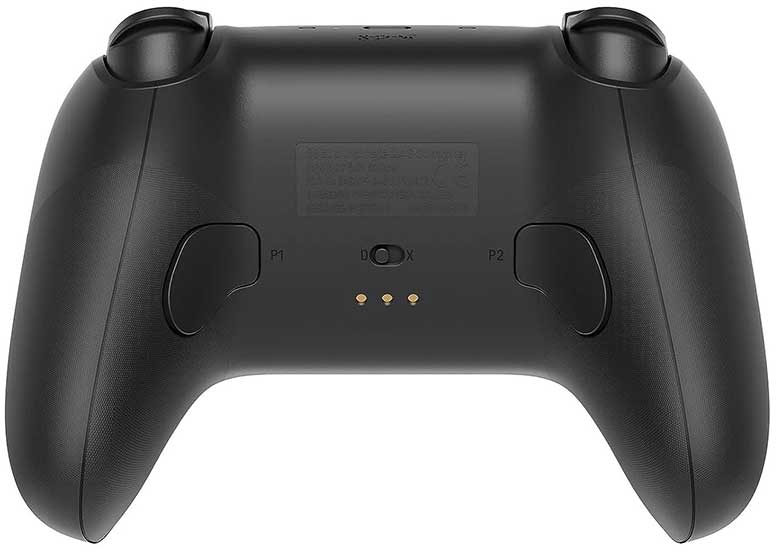 And it's not just a static device; using the 8BitDo Ultimate Software, you can customize everything from button functions to trigger sensitivity and vibration intensity. Whether it's custom profile switching, 2-way mode switching, or turning the controller into a dedicated mobile gaming system with the 8BitDo Mobile Gaming Clip, this controller adapts to your preferred style. Battery life is equally stellar, delivering 15 hours of playtime. To fully charge, give it about 2.5 hours. And as for dimensions, this one measures 6 x 4 x 2.5 inches and has a weight of just 8 ounces.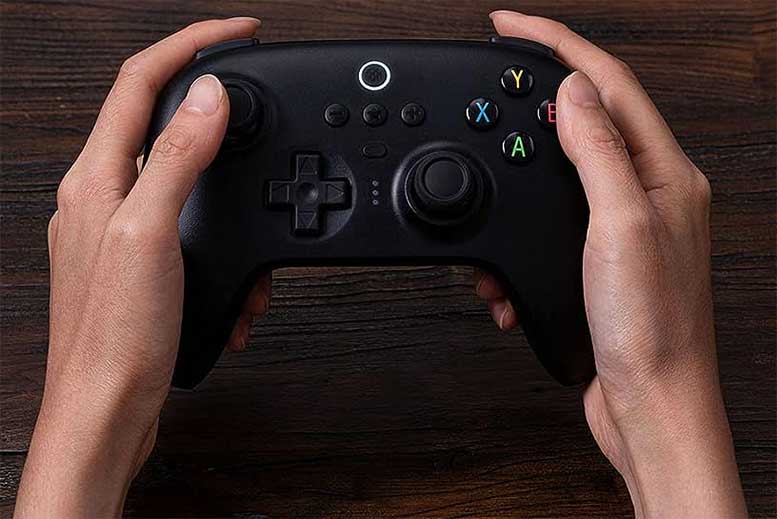 Compatibility extends to Windows, Android, and even Raspberry Pi, so your options are virtually limitless. For Asus ROG Ally users, the 8BitDo controller seamlessly integrates with the system's capabilities, further enhancing the experience with its adjustable and customizable options. It feels like a dream and operates like one, too. It's really that good. And the fact that you can pick this up at an incredible price is quite hard to believe. It's a steal.
What we liked:
Adaptable to modern devices
Pro-level back buttons
Customizable sticks and triggers
Retro feel
What we didn't like:
Limited battery life
May feel heavy
4. Hyperkin Duke Wired Controller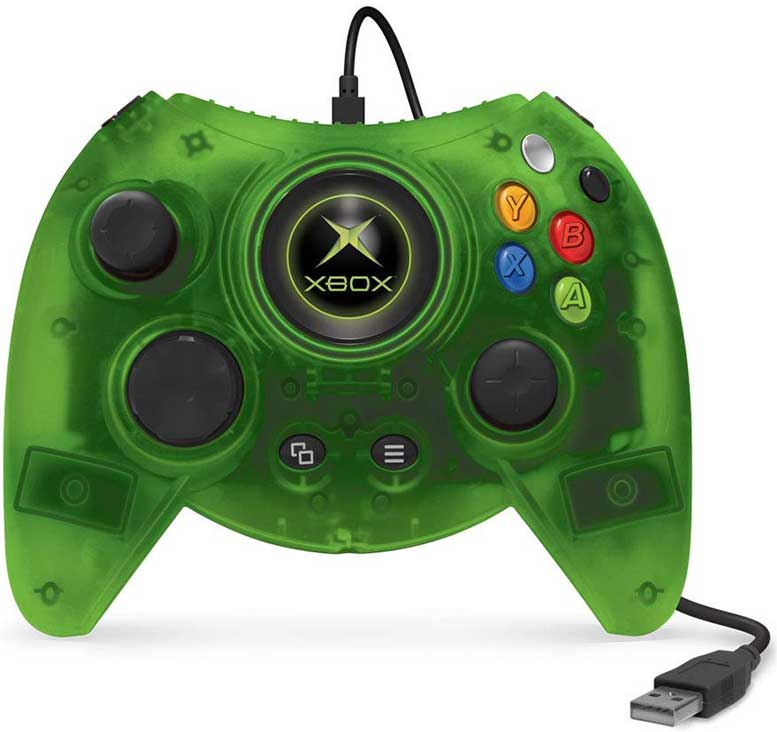 Key features:
Updated replica of original "Duke"
Animated Xbox button
Classic button layout
Precision analog triggers
For all the gamers who have nostalgic memories of the original Xbox controller, meet the Hyperkin Duke Wired Controller. This officially Xbox-licensed controller is not just a replica; it's an updated, functional piece of equipment that embodies the classic design with some modern twists. With its dimensions of 4.09 x 7.99 x 6.5 inches and a weight of 1.65 pounds, this controller is nothing short of massive. It's big, buff, and ready for action. But don't be deceived by its size; this controller is all about precision.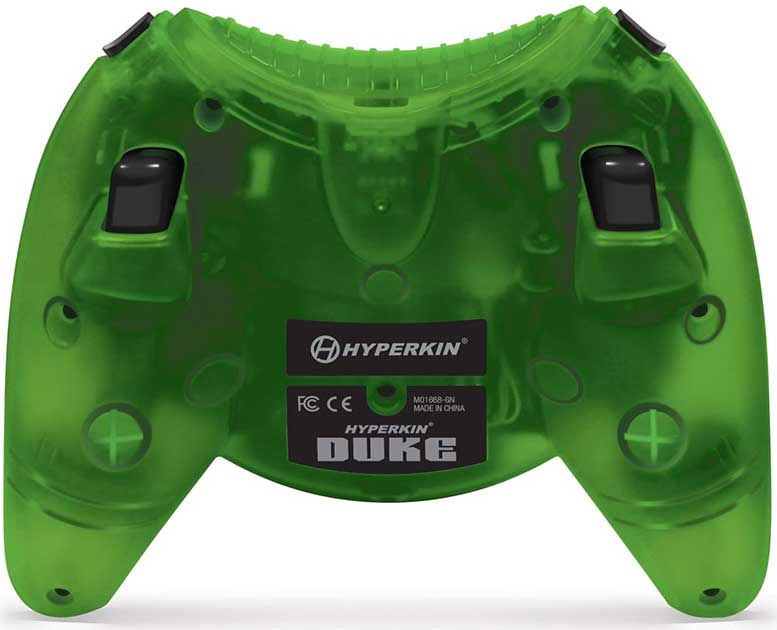 Its classic ergonomics make it suitable for larger hands or fans of the Original Xbox's design. We tested it with Steam games on the ROG Ally and found the compatibility smooth and effortless. Its buttons can be mapped to different games, offering a customizable experience. What catches the eye immediately is the animated Xbox startup screen inside the Xbox Button, a novelty that adds flair to the device. While some might find this feature underutilized, it's a charming homage to the past.
Featuring its classic button layout, including Option and View buttons, this controller feels both familiar and refined. We like how the precision analog triggers and bumpers mirror the Black and White buttons, offering vibration feedback for a realistic experience. However, we observed a few issues. The analog triggers felt slightly cheap, with a squeaky feel, and the vibration led to some rattling within the shell.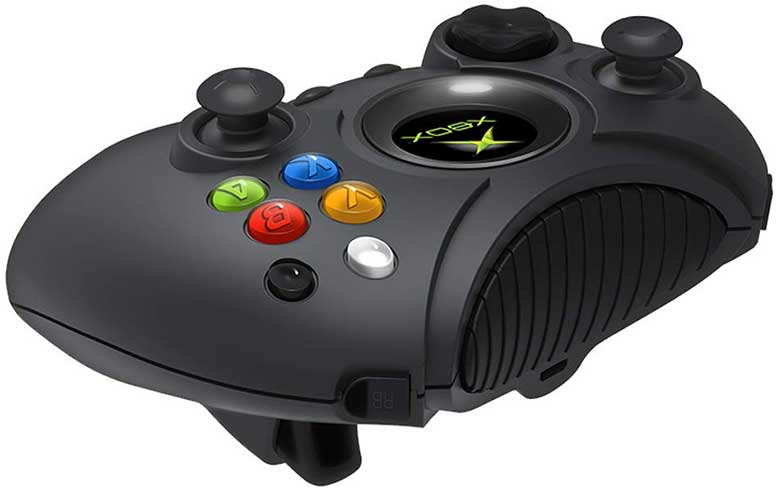 While the removable 9-foot USB cable offers flexibility, its detachability seemed unnecessary since the controller cannot be used without it. The Hyperkin Duke Wired Controller successfully merges the past with the present. Its design and features will resonate with those longing for the original Xbox's design while offering functionality suitable for modern gaming.
What we liked:
Great for big hands
Compatible with Windows 10
Nostalgic design
Customizable button mapping
What we didn't like:
Unnecessary detachable cable
Slightly cheap trigger feel
5. KingKong2 Pro Wireless Controller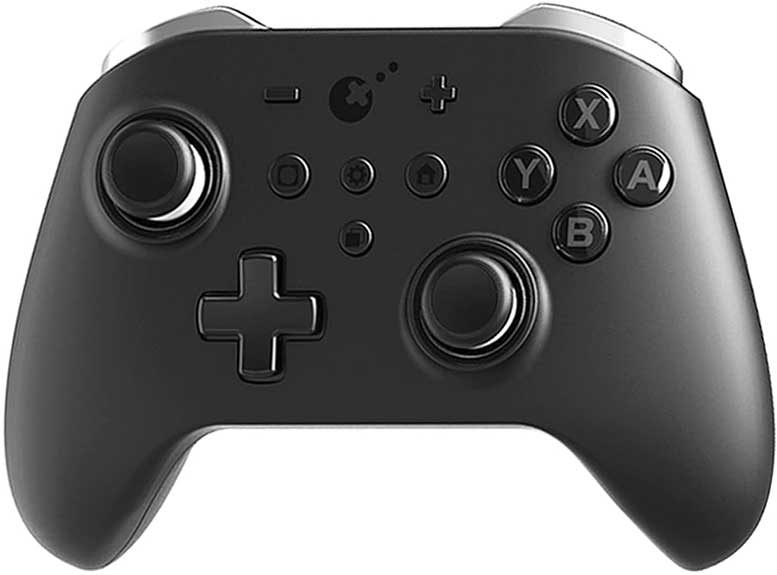 Key features:
New patented electromagnetic stick
Support Switch console wake-up
Exclusive FPS mode, 100% no dead zone
Built-in rechargeable lithium battery
The KingKong 2 Pro Controller by GuliKit has certainly made a name for itself with groundbreaking features like patented electromagnetic sticks and excellent conductive rubber buttons. We've praised these sticks many times before, but the fact that they don't drift is enough to earn the controller a spot on our list. It's an extraordinary addition to any gamer's arsenal. Remember those infuriating moments when your character moved unintentionally? Those days are over.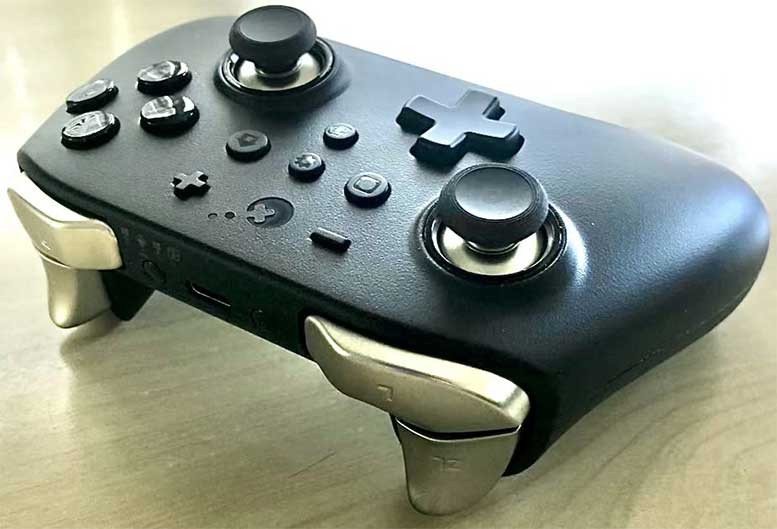 One of its prime strengths lies in its cross-platform compatibility. If you have other consoles and want to take a break from your ROG Ally, this pad works with Nintendo Switch, PC, Mac, iOS, and Android. And with an incredible 25-hour battery life on a full charge, it's a marathon runner in the world of gaming. Its analog triggers have the responsiveness of a hair trigger and offer enhanced sensitivity, a feature vital for accelerating in racing games.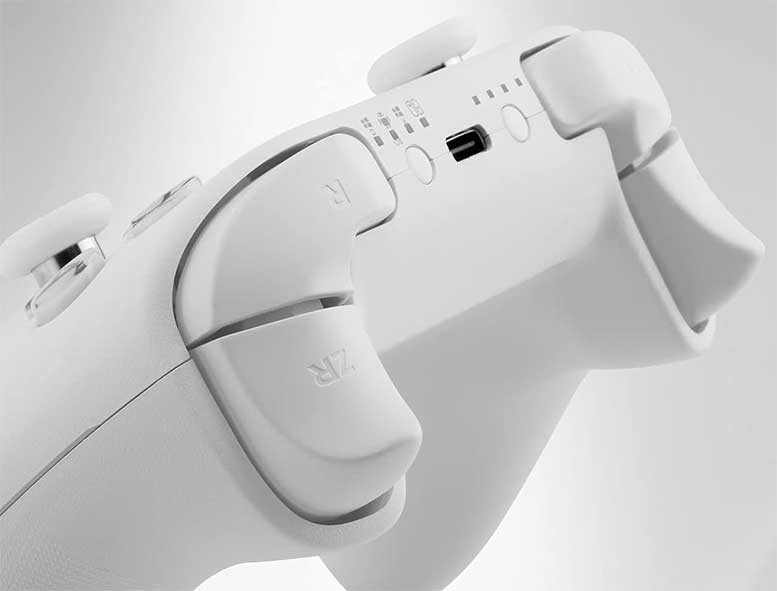 The clear face buttons sport their unique micro-switch design. This offers tactile feedback that is a joy to experience. Combine that with the smooth rumble, and you get a physical experience that's deeply immersive. Measuring 1.97 x 1.97 x 1.97 inches and weighing in at 15.87 ounces, the controller maintains an ergonomic design with excellent balance. In action, the thumbsticks move fluidly, allowing for precise aiming.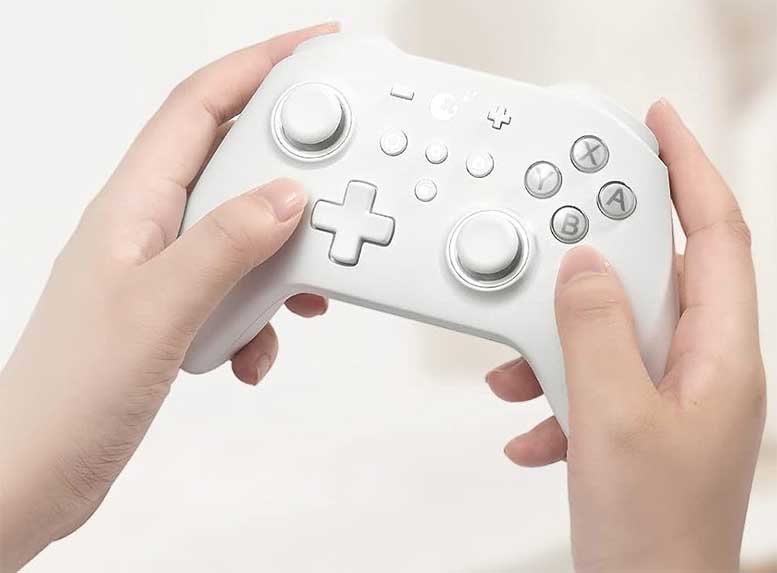 There's nothing sticking or latching to disrupt your gaming. It's a piece of art, with its fitted protective plastic case ensuring its elegance lasts. With the inclusion of NFC technology, GuliKit has ensured that the KingKong 2 Pro keeps up with its first-party counterparts. The responsive feedback and well-implemented features make it a controller to reckon with.
What we liked:
Innovative no-drift sticks
Multi-platform compatibility
Responsive and tactile buttons
Comfortable ergonomic design
What we didn't like:
Lacks signature Nintendo HD rumble
No back paddle attachment
Asus ROG Ally Controllers FAQs
Are all these controllers compatible with the Asus ROG Ally?
Yes, each of the controllers on this list has been tested and found compatible with Asus ROG Ally (and a bunch of others), ensuring a seamless integration and enhanced gaming experience.
What should I consider when choosing a controller for Asus ROG Ally?
Consider factors like compatibility, battery life, design, responsiveness, and additional features like customization to ensure the controller fits your specific gaming preferences and needs.
How important is battery life when selecting a controller for gaming?
Battery life is crucial, especially for marathon gamers. Controllers with longer battery life provide uninterrupted gaming sessions, making them more convenient and enjoyable for users.
Final Verdict
The SteelSeries Stratus Duo won our hearts with its versatile compatibility and relentless battery. For customization enthusiasts, the Xbox Elite Wireless Controller Series 2 proved to be a rock-solid contender, adapting to both your style and platform. Fans of the classics were enamored by the 8BitDo Ultimate for its respectful tribute to retro gaming, while the Hyperkin Duke Wired Controller offered a nostalgic embrace with its original Xbox feel.
And finally, the KingKong2 Pro Wireless Controller stood out with its revolutionary no-drift sticks, ensuring an unparalleled gaming experience. These controllers are not mere tools; they are extensions of your gaming persona. Each offers a unique flair that resonates with different styles and preferences, making them worthy considerations for your Asus ROG Ally.