The Nintendo Switch is one of the most popular consoles on the market. For many, this is the perfect system to take with them on the go or to keep in their homes. However you use yours, you'll likely have a ton of game cartridges that you need to keep organized.
Now, could you put them in their original cases and store them somewhere? Sure, but it isn't portable at all, and they end up taking up a ton of room in your home. One solution to this issue is a Nintendo Switch game card holder or case. These cases are designed to hold your games safely and securely while also being able to keep everything organized.
How many games can a card/cartridge holder carry?
The number of games that any card holder or case can carry will depend on which one you go with. Some are designed to hold only a few, while others are able to hold over 50. No matter how many games you have, you'll likely be able to find a case to fit your needs.
Are Nintendo Switch card/cartridge holders portable?
Some of them are. One of the main reasons to have a card holder or case is so that it's easier to take all of your games with you on the go. Portable gaming is also one of the main selling points of the Nintendo Switch in general. Some cases are made to easily be taken on the go, while others are more designed to look like an art piece that fits in well with your setup.
Are my Nintendo Switch games protected in a card holder?
Yes! These cases and card holders are all designed to keep your games safe and secure within them under normal circumstances. This means that they'll be able to keep them from becoming lost or getting dust on them while in your room. For portable models, they will be protected while in transit.
Can a Nintendo Switch game card holder carry anything else?
Some of them can. While these card/cartridge holders and cases all serve the main purpose of actually holding your switch games, some of them can do more. One example of this is those that can hold Micro SD cards. These models are great for people who like digital games but need the expanded storage options of a memory card.
Best Overall: HEIYING Game Card Case for Switch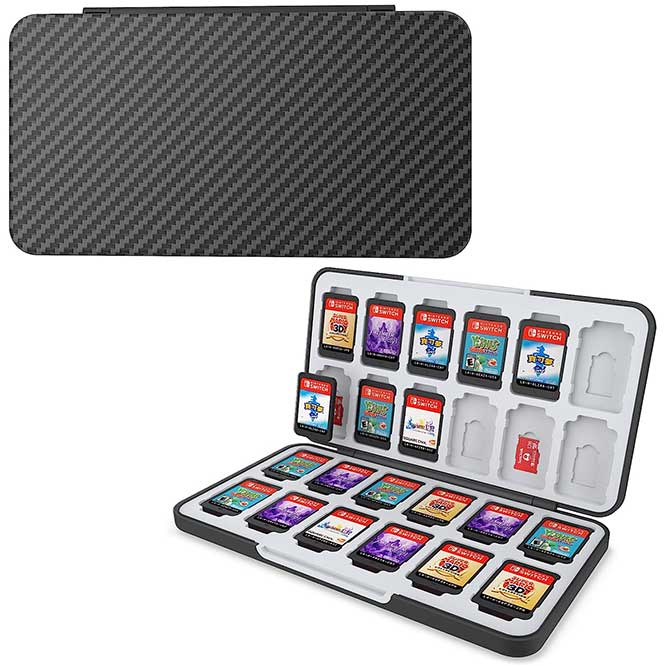 Key Features:
9 color options
Holds 24 games
Holds 24 Micro SD cards
Our best overall pick is the HEIYING Game Card Case. This is a slim card case that looks great. There are nine different color options for it, including carbon fiber black, black, blue and red, cow print, carbon fiber blue and red, Nintendo Switch print, Pokemon Go print, pink cat paw print, and Tetris print.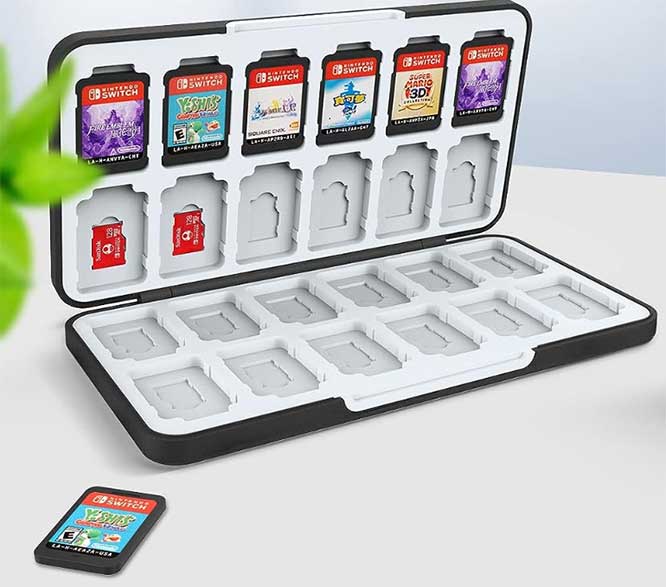 As for capacity, this case has a great amount. It opens up to reveal 24 individual game card/cartridge slots. Your games lay flat in the slots, keeping them from moving around and getting damaged while in transit. The way it's designed, there are twelve slots on the top half and twelve slots on the bottom half of the case when it's open.
Taking this case with you on the go will be simple. It's a super slim, compact, foldable piece of equipment. There aren't any handles, but its size makes it easy to just slip it in a bag or even your pockets if they're big enough. There are also slots built into the game card slots that are made to hold Micro SD cards. This exponentially expands how many games you can carry, as you can buy digital copies and store them on this kind of memory card.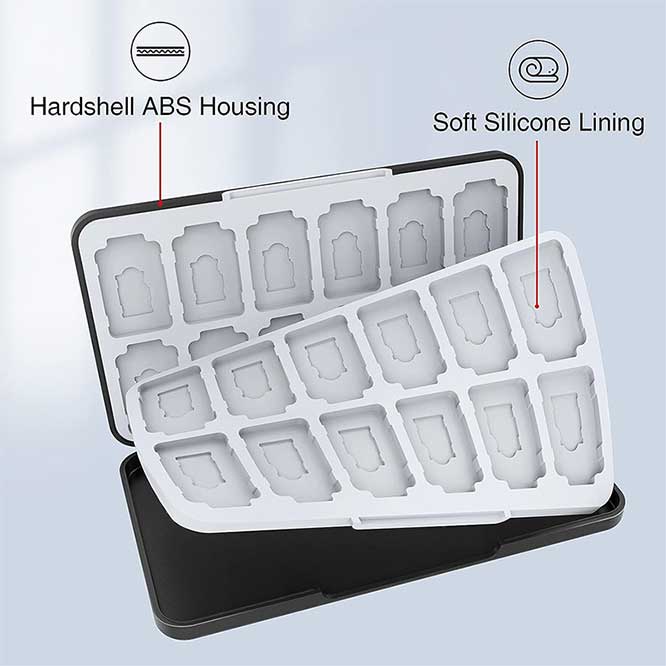 Overall, the HEIYING is a great game card case. It has a ton of different color options, won't put your games at risk of breaking, and is easy to take with you anywhere. Best of all, the dedicated MicroSD slots make it even easier to take as many games with you as you want to wherever you go.
Pros:
Holds 24 games and 24 Micro SD cards
Easy to take with you anywhere
Plenty of colors to choose from
Cons:
The magnets that hold it together aren't super powerful, so it could almost be too easy to open at times
Best Unique Design: Hagibis Game Storage Case for Nintendo Switch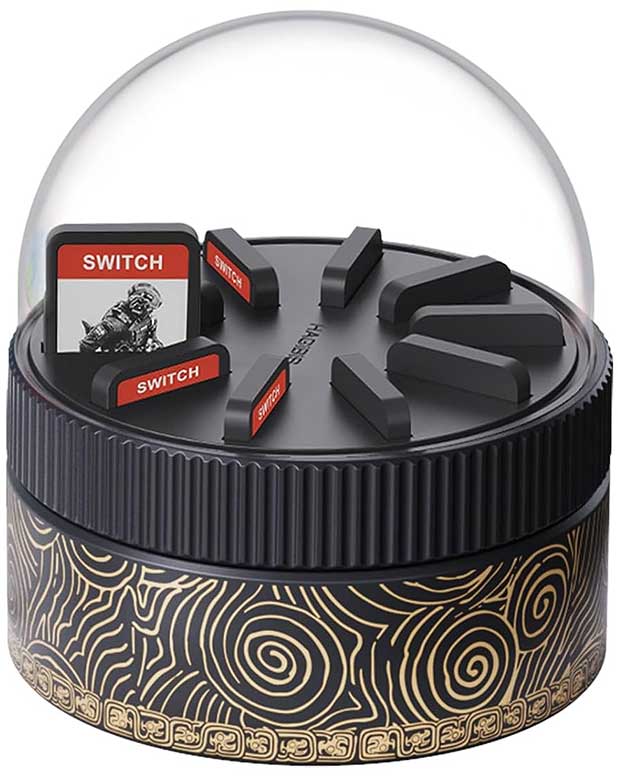 Key Features:
Round case design
Holds 10 cards
Magnetic holding system
The most unique-looking game card/cartridge storage case is the option from Hagibis. This case is designed to be placed in your setup and be a statement piece. It's a round case that has a plastic domed top to cover your games. There are two different color options to choose from as well. One is black with a yellow pattern inspired by the current Legend of Zelda games. The other is a blue and pink pattern inspired by old-school Super Mario games.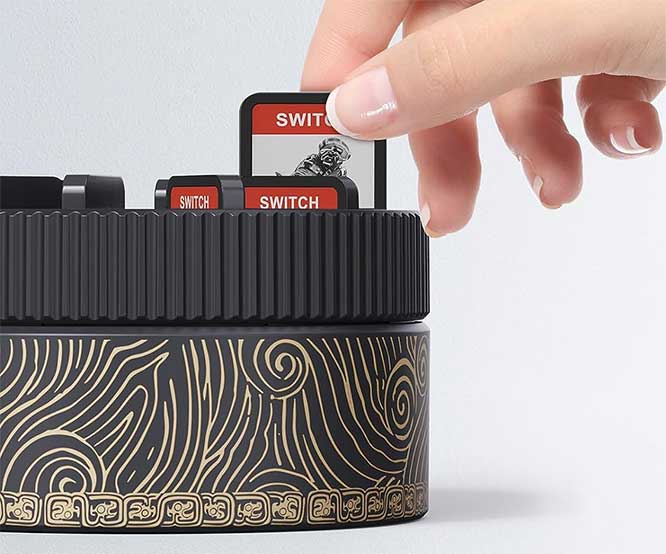 As for capacity, this case is on the lower end. It can hold 10 games at a time, each in its own individual slots. For some people, this will be plenty. However, for the more hardcore Switch user, this may not be sufficient. The slots themselves have magnets built into them. These magnets are used to magnetically levitate each game, making it simple to place them in and pull them out without damaging them.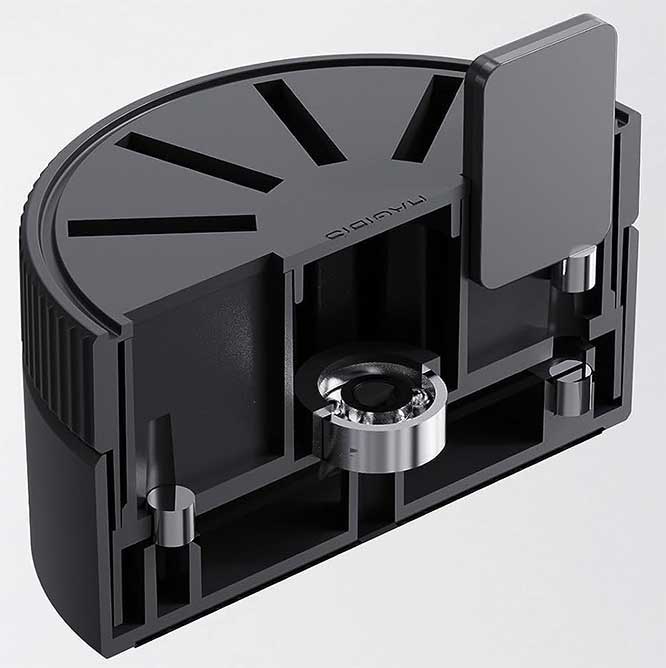 This is also not a very portable device. However, it's not designed to be in the first place so it's not really a knock on it. It's designed as more of a device that you put in your gaming area and hold your games in a great-looking yet functional way. To make accessing them easy, the entire top rotates 360 degrees. The bottom of the case also has a non-slip padding to keep everything secure.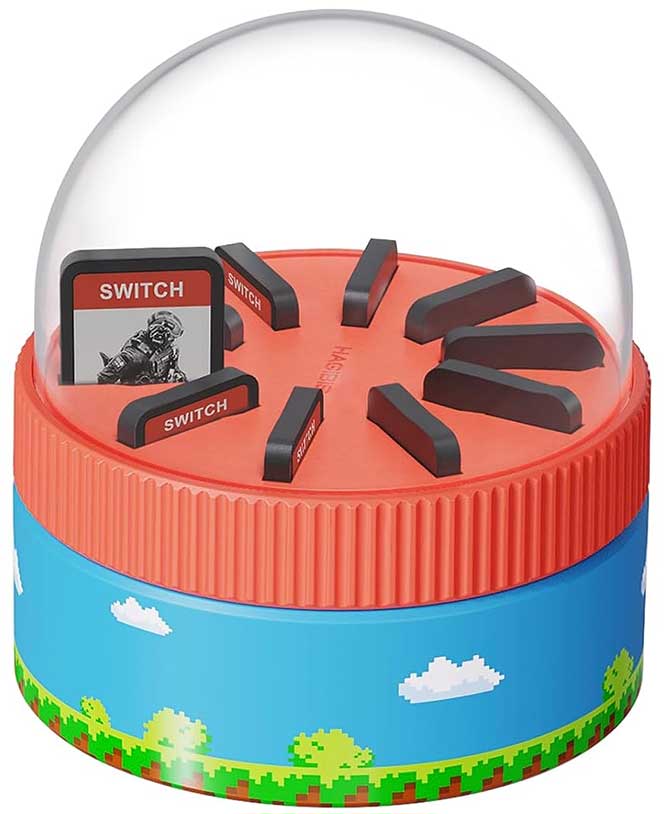 If portability and high storage capacity aren't major factors for you, the Hagibis is a great choice. The games themselves are protected well and are easy to access. This case is a great addition to any Nintendo gaming area, especially with the two different color options.
Pros:
Magnetic levitating card slots
Two great color options
360-degree rotating access
Cons:
Best Budget: Amazon Basics Nintendo Switch Game Storage Case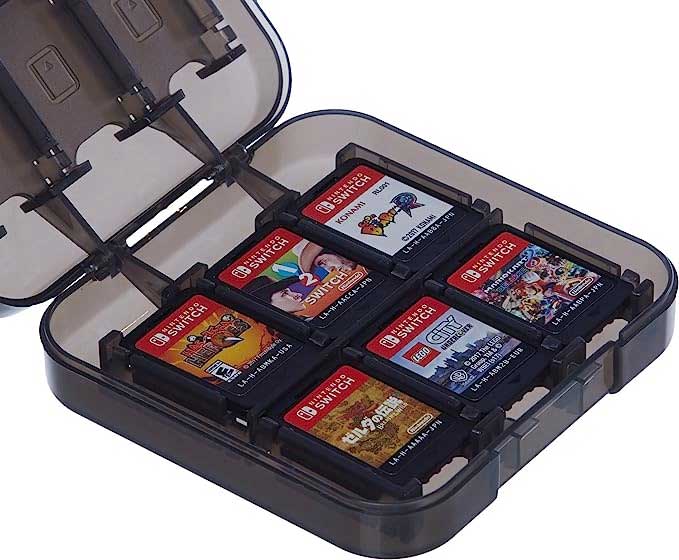 Key Features:
Two color options
Holds 24 games
Easy to take anywhere
For the gamer just looking for something to hold games all in one place, the Amazon Basics Nintendo Switch Game Storage Case may be the best way to go. This is a super simple case with a compact square design. It's also available in either black or blue, so there is a little bit of color customization.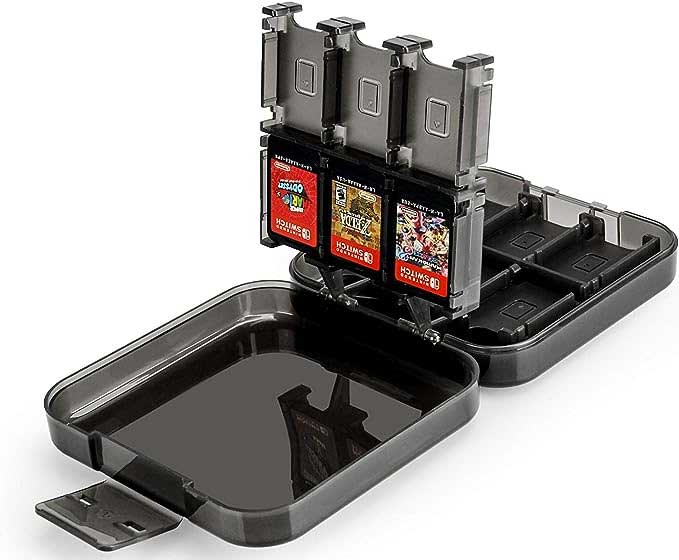 The case itself can hold 24 individual games. They are stored in their own individual slot on an internal card rack. There are two of these racks inside the case, each being able to swivel out and expose the game you want. There are also a few slots that have additional storage for Micro SD cards to help expand the amount of games you can have in it.
This is one of the smallest cases you'll find for Switch games, making it really easy to take with you wherever you want to go. It's only 3.44 x 3.54 inches, so you can just put it in your backpack or pocket and play wherever you go.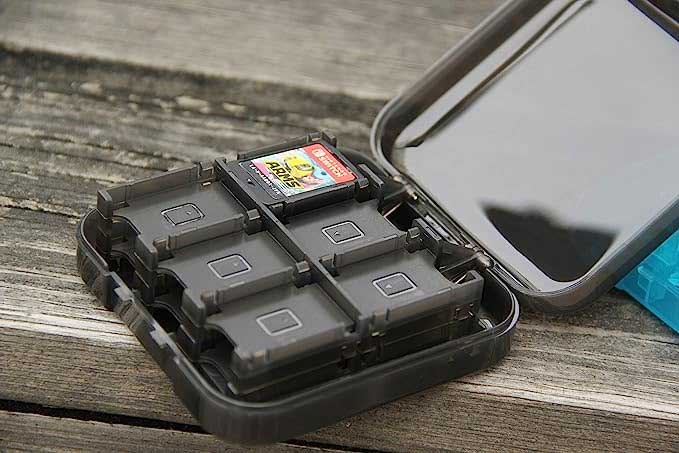 The Amazon Basics is a great high-capacity case at an even greater price point. It doesn't have a ton of extra features, but it does its main function well. Plus, having a few spots to put more Micro SD cards in a case this size is a great added bonus.
Pros:
Super compact construction
24 individual slots for games
Holds Micro SD cards as well
Cons:
It can be tough to get the games to go into it easily
Best Capacity: sisma 80 Switch Game Case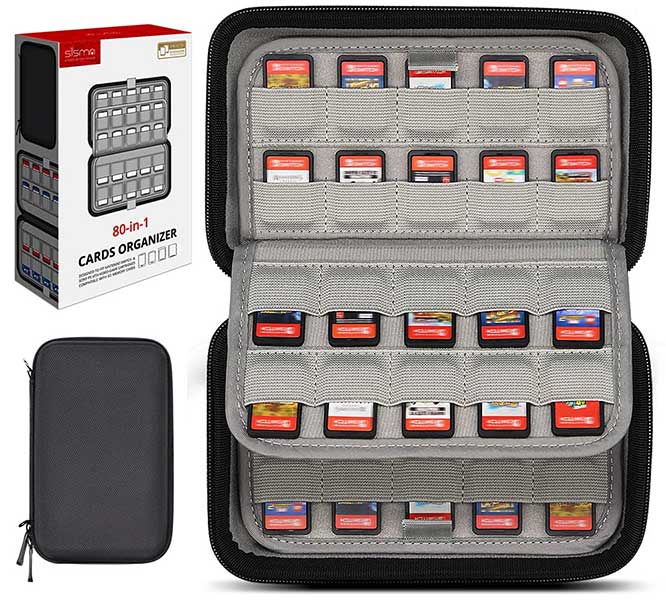 Key Features:
Hard-sided case design
Holds 80 games
Elastic pouch slots
If you want a case that can hold a ton of games, then the sisma 80 Switch Game Case is the way to go. This case has a hard-sided construction, making it extremely sturdy and durable. There are also two different colors available for it (black cloth and brown leather), so you have the ability to have some design choices.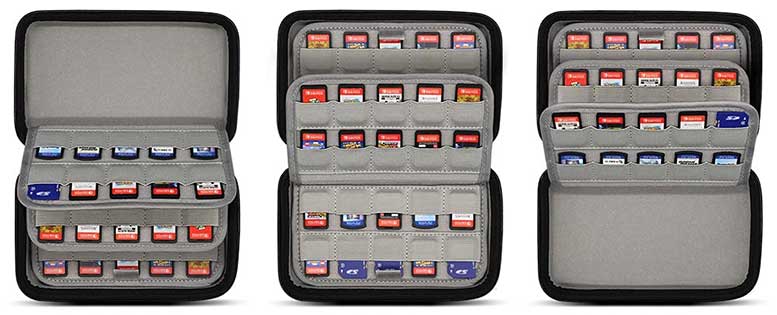 The capacity of the case is what really sets it apart. It can hold up to 80 Switch games in individual slots. This is done through the use of internal pages with elastic card holders. These pages easily move around when you need them to, so accessing your games is a breeze.
Since this case can hold 80 games and is built to be durable, it's on the bulkier side. However, it's not so bulky that you can't take it with you on the go. It probably won't fit in your pocket, but putting it in a bag or backpack should be easy enough. Another great benefit of this case is that you can use it with Nintendo DS and 3DS games as well if that's the console you have to use.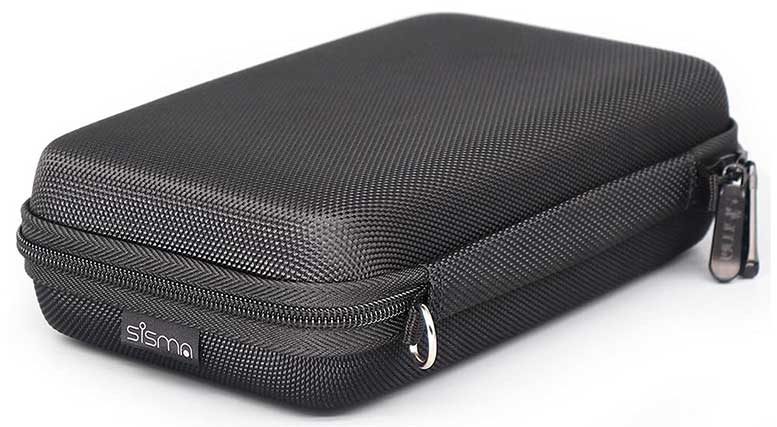 Overall, the sisma case is designed for the gamer who has a ton of games and wants to keep them all in one place. The elastic holds each game securely in place, while the hard outer shell keeps them from being damaged, whether at home or on the go.
Pros:
Highest capacity case on the list
Durable outer shell
Easy access page flaps inside
Cons:
The elastic covers most of the cartridge, so it's hard to tell which game is which in the case
Best Portability: Mumba 12 Switch Game Card Case Holder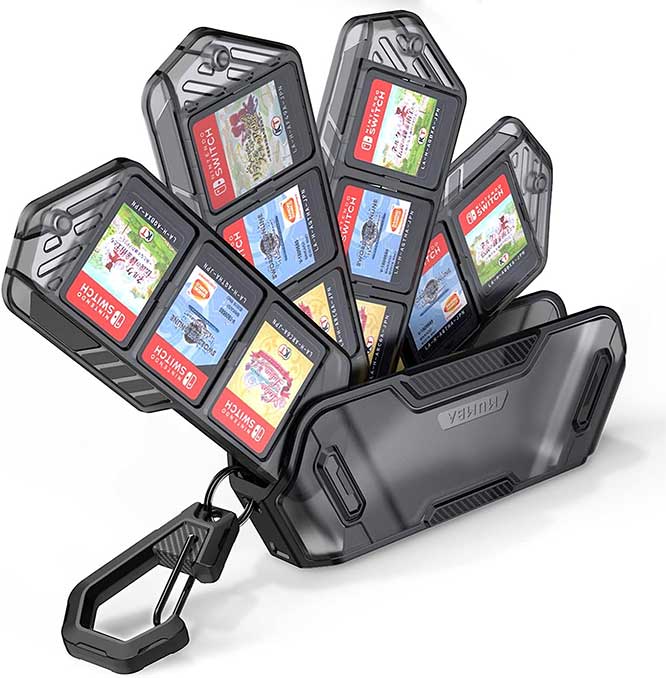 Key Features:
Seven color choices
Holds 12 games
Carabiner for easy portability
The Mumba Game Card Holder is the way to go if you're looking for a case that can go anywhere with you. There are seven unique colors available for this case, including black, white/gold, clear, viridian, ruddy, calx, and guldan. It's made from a durable plastic material that keeps your games safe while traveling.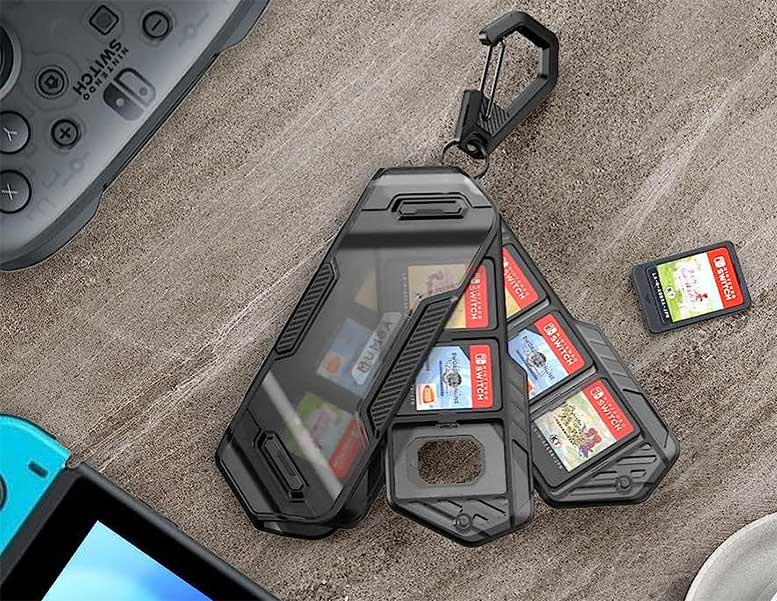 This case can hold a maximum of 12 Switch games. They are able to be stored in their own slot. These slots are located on one of four different flip-out plastic arms. This design makes it simple to fan out the arms, pick the game you want, and start playing.
Portability was the main focus of this case that really set it apart. To start, it's a super small and compact case. It's a mostly rectangular shape, with no wasted space. While you can easily put this in your pocket or in a bag, there's actually another unique way to carry it with you. On one end of the case, you'll find a carabiner that can be attached to anything you have on you while traveling.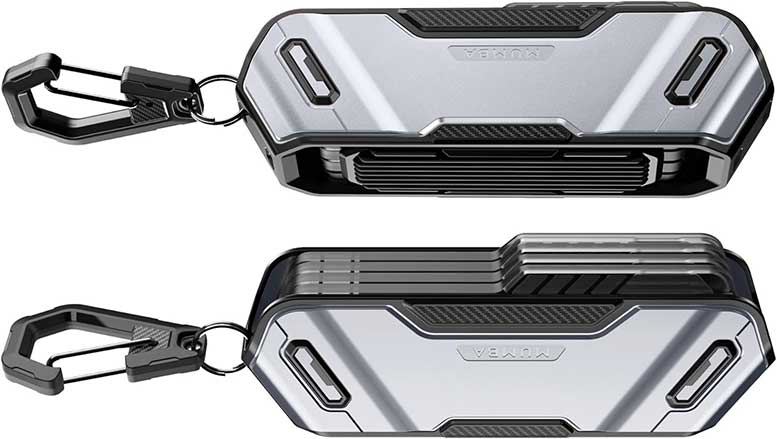 If you primarily use your Switch while on the go, then the Mumba makes things simple for you. The compact yet durable design helps keep plenty of games safe and secure while traveling. Plus, the carabiner adds a great extra element of portability.
Pros:
Carabiner clip is a great addition
Easy to access your games
Plenty of color options
Cons:
No slots for Micro SD cards
Best Alternative: Leyu Game Card Case for Nintendo Switch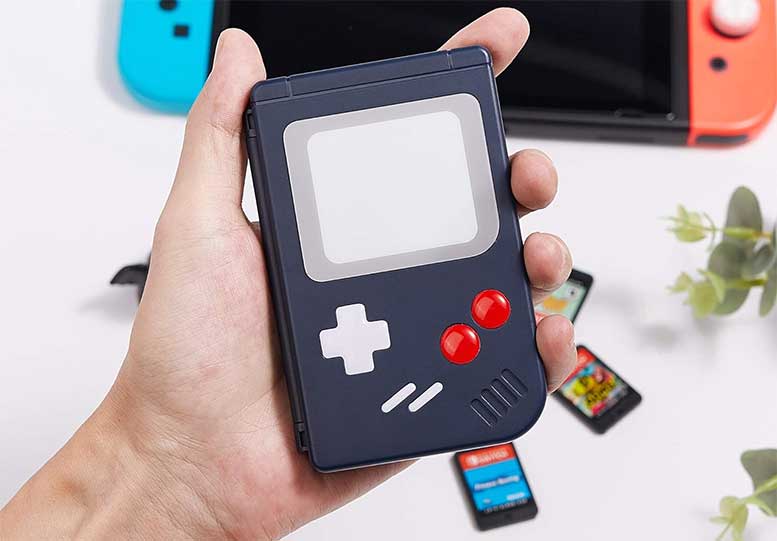 Key Features:
Designed to look like a Gameboy Color
Holds 10 games
Holds 10 Micro SD cards
A solid alternative choice is the Leyu Game Card Case for Nintendo Switch. This case has a really unique look to it, as it's designed to look just like an original Gameboy or Gameboy Color. There are three color options, including blue, pink, and white. The case itself is designed to flip open to expose your games inside.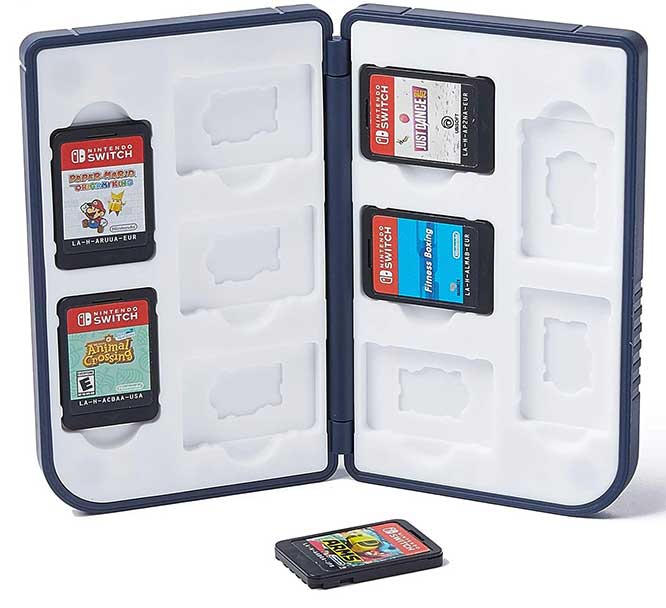 Internally, you'll find 10 individual game card slots. Similar to the option from HEIYING, each slot also has space within it for a Micro SD card. This helps make the lower card limit of 10 not be such a bad thing. These slots are perfect for holding both your games and Micro SD cards in place and safe from damage while being moved around.
Even though this case looks like a Gameboy, it doesn't have the same size as one. This makes it pretty easy to take with you on the go. However, if you just want something that sits at your setup and holds your games, the aesthetic of it helps fit the gamer look of any setup.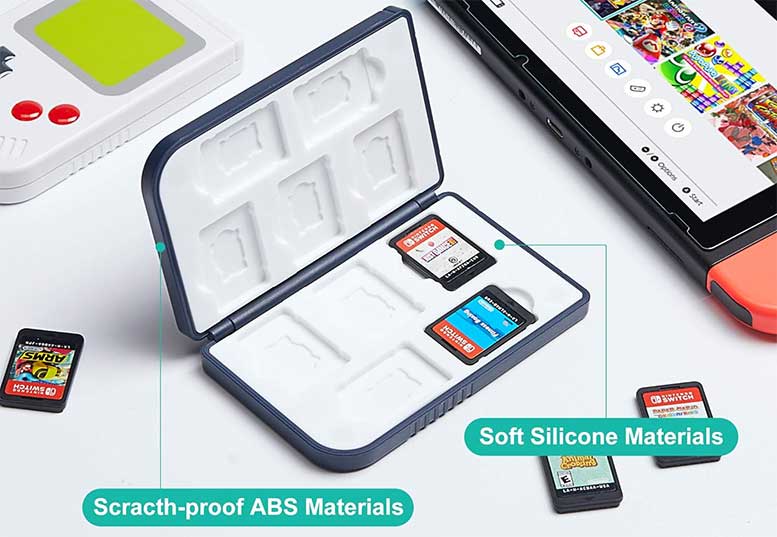 This case does a great job of protecting your games, whether at home or while traveling. Its small size helps it take up less space wherever it is, and the addition of Micro SD card slots helps make the lack of a high quantity of game card storage, not such a big deal.
Pros:
Three awesome-looking designs
Plenty of storage as long as you have digital versions of some games
Great for on-the-go or at-home
Cons:
To some reviewers, the hinge used is almost too loose