The Nintendo Switch is one of the most innovative game consoles of all time. The gimmick is in the name. At home, it works as a traditional console, and you can game in 1080p on your TV. When removed from its base, you can switch to mobile use. The Joy-Con controllers clip to the side of the screen, and you've got a portable 720p game system. This has made the Switch one of the most popular consoles of all time. It's also been bolstered by a large, generous game library. You get major Nintendo series like Zelda and Super Smash Bros, along with a range of third-party titles.
But if you want to take advantage of all the Switch has to offer, the console alone is not sufficient. You also need a way to carry your games with you. Otherwise, you might as well not take the Switch out of its dock. Switch games are well designed for portability, small enough to stuff a few of them in your pocket. But what if you want to carry a dozen games, or two dozen, or even more? In that situation, you're going to need a good quality case to take them on the road with you. With the right case, you can bring your entire game library on vacation, and enjoy all your games from home.
Today, we'll be reviewing four of the most popular Switch game card cases on the market. We'll start out by looking at the Butterfox Switch Game Case. This is a tough nylon case with enough storage for a whopping 45 game cards. Next, we'll check out the HORI Game Card Case. This is a more simple plastic case, with 24 games worth of storage. Third, we'll examine the LeyuSmart Games Card Case. This is a quirky, 10-game case that's designed to look like a classic Nintendo Game Boy. Last but not least, we'll review the Amazon Basics Game Storage Case. This is a 24-game case that's designed to be as rugged as possible. Which one is the right choice for you? We'll take a close look at all three, and find out.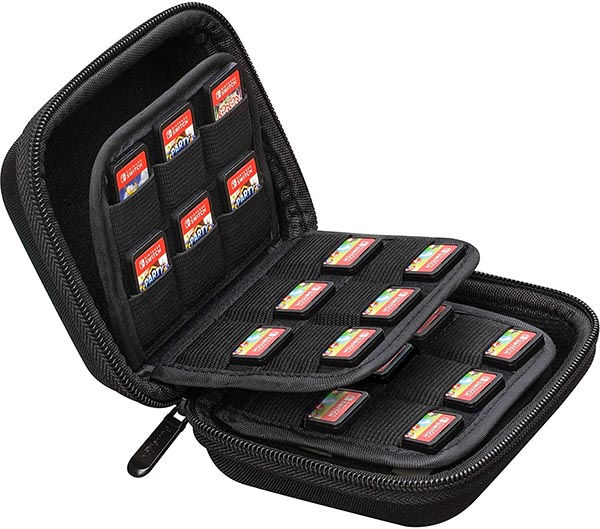 Butterfox Switch Game Case
Butterfox is an experienced manufacturer of console accessories. Among their other offerings, we've reviewed their padded travel case for the Switch Lite. It was well-engineered enough that we thought we'd give their game case a look, too.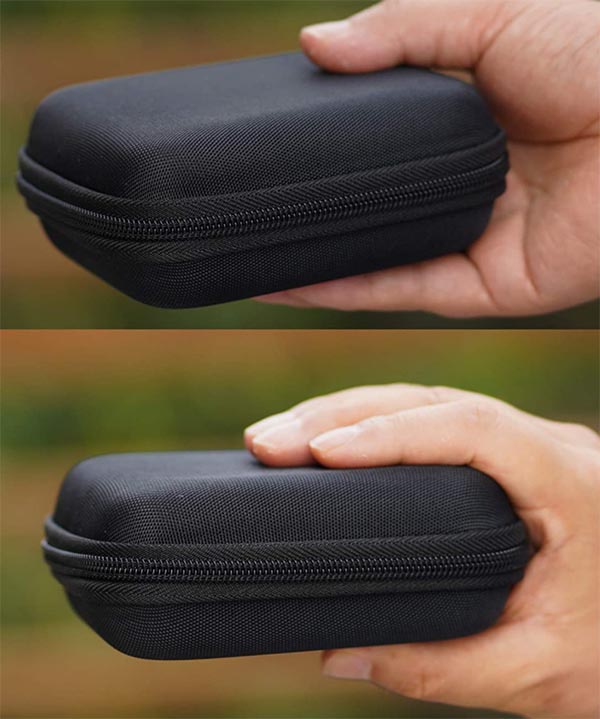 The Butterfox Switch Game Case is a black nylon case with a hard outer shell. The material is a dense nylon weave that's slash- and scratch-resistant. It's roughly rectangular in shape, with rounded corners and edges, and a clamshell-style design. It secures shut with a zipper, so you don't have to worry about clips or latches coming undone. Around the zipper, as well as other vulnerable areas, there's a second layer of fabric and extra stitching. This provides a significant amount of reinforcement. A lot of fabric cases are less than impressive, but this one stands out for its durability. It's not going to easily fail or tear.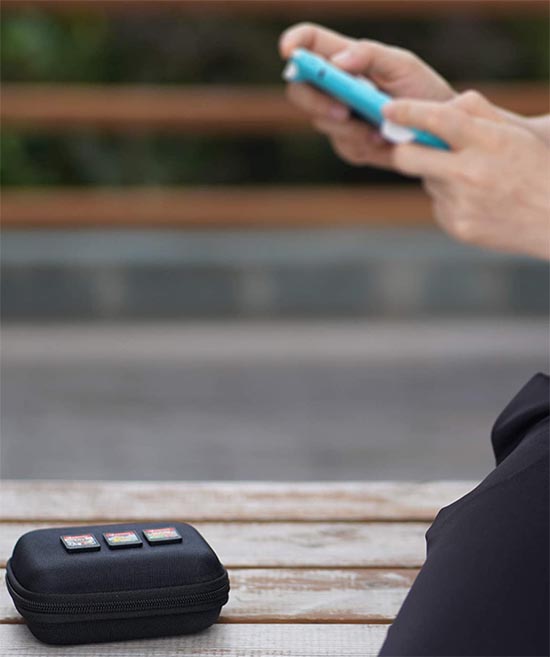 The overall size of the Butterfox case is 5 inches wide, 4.2 inches long, and 2 inches thick. This makes it smaller than an old-school CD case, so it's easy to carry with you. If you toss your Switch in a backpack, the case can easily go in alongside it. It can even slide in the back pocket of a car seat, so you can truly carry it wherever you want.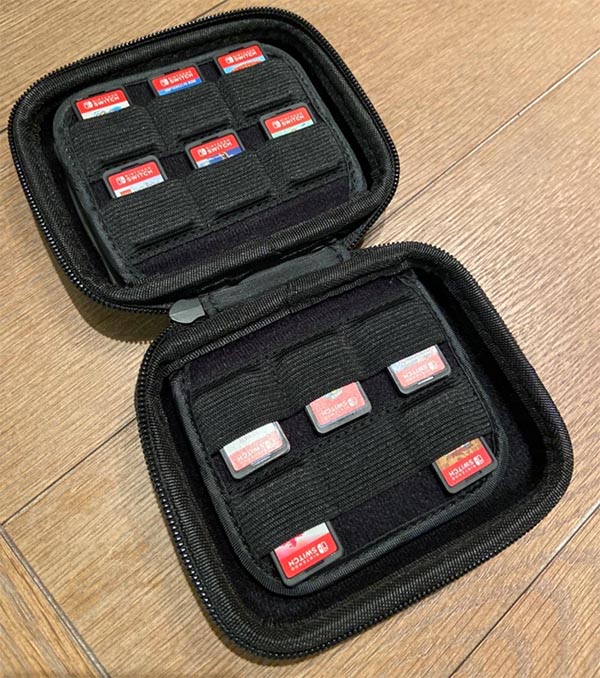 Inside, there are four nylon flaps, which open up like the pages in a book. Each flap has a set of pockets on each side, where you store your games. The flaps and the pockets are also a nylon weave, the same as the outside of the case. And like the outside of the case, the flaps are also reinforced. There's extra stitching and fabric around the edges, which keeps the material from fraying. In total, there's enough storage for 45 individual Nintendo Switch games. These same slots are also compatible with PS Vita games and full-sized SD cards. That said, they're a tad too small for 3DS games. Moreover, you'll also find 12 smaller slots for Micro SD cards. You can carry a whole lot of memory in this case.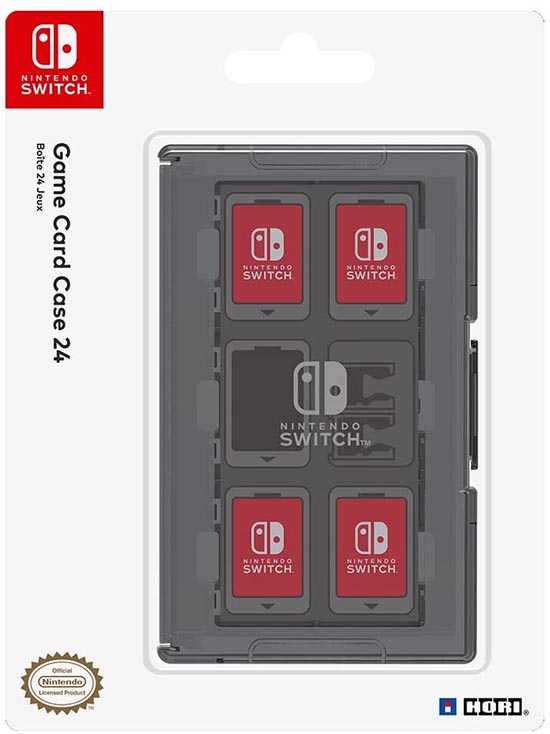 HORI Game Card Case
HORI is another manufacturer we've reviewed in the past. They tend to focus on electronic components, like the HORI Gaming Earbuds Pro. So when we saw they were selling as simple as a game card case, we were intrigued.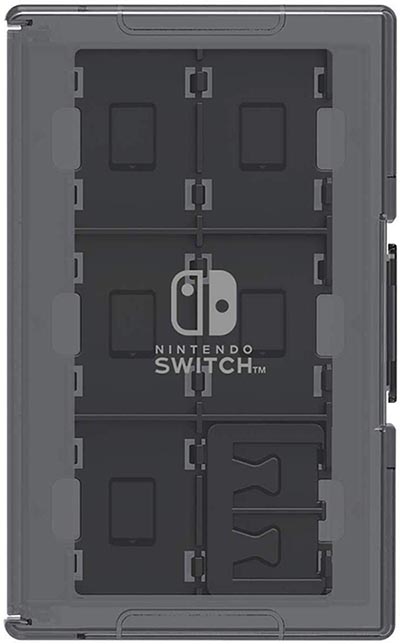 The HORI Game Card Case immediately stands apart from the Butterfox because of its construction. Instead of being made from fabric, it's made from a semi-transparent polymer that's slightly rubbery. The material is tinted black, almost like a pair of sunglasses, and it snaps open and closed at one side. This makes it easy to access the contents, while still keeping them secure.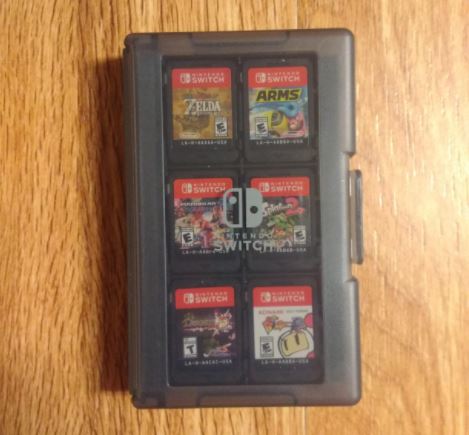 The overall size of the HORI case is noticeably smaller. It measures 6.1 inches tall, 4.72 inches wide, and 1.18 inches thick. At that size, you can easily carry it in your back pocket if you so desire. Getting it from place to place simply isn't a concern.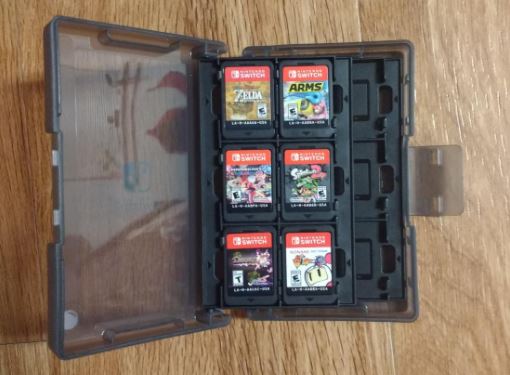 Inside, there are two plastic panels attached to a hinge at the back. Each panel has six storage slots on each side, with a total of 24 slots. This makes it possible to carry up to 24 individual games. The kit also includes a Micro SD holder with space for two cards. It's the size of a Switch game cartridge, and will fit easily into any one of the slots.
That said, we do have some concerns about durability. Your games clip into place with ABS plastic clips. These are fairly stiff, and the fit is extremely tight. If you're not careful, it's easy to accidentally damage one of the retaining tabs. It's also possible to damage the backs of your cartridges if you're not careful.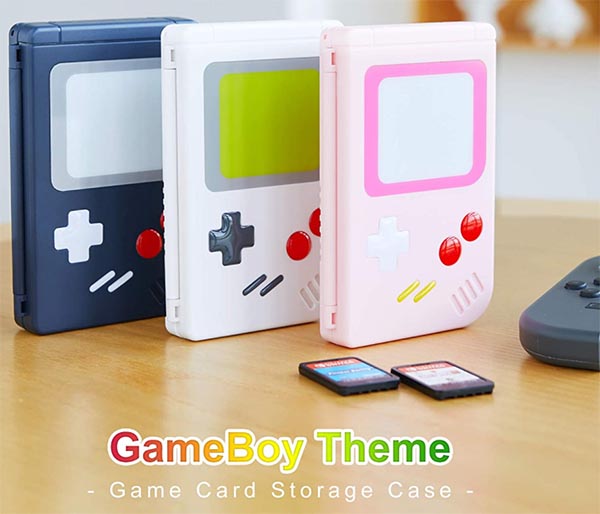 LeyuSmart (GameBoy Theme) Game Card Case
Of all four of these game cases, the LeyuSmart (GameBoy Themed) Game Card Case is the most unique. It's designed for fashion as well as practicality, and is built to look like a classic Game Boy. On the front, there's a "screen," a set of painted buttons, and a few "microphone" slots. Of course, none of these features are actually functional. But it's a great aesthetic touch, particularly if you're old enough to be nostalgic about the original Game Boy. And much like the classic Game Boy, the LeyuSmart case is available in different colors. It comes in blue, pink, or white, depending on your preferences.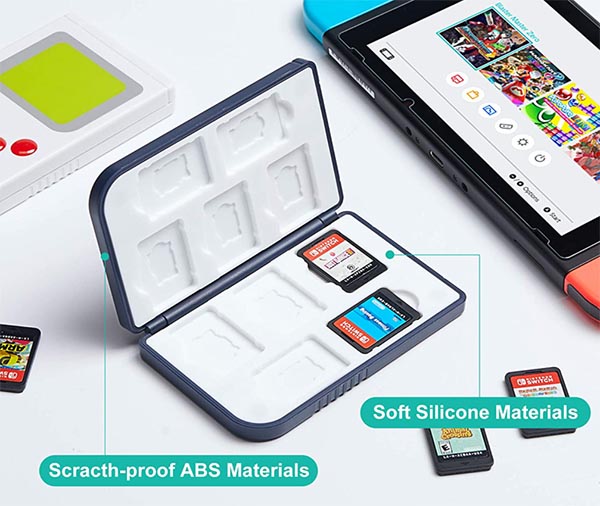 This is the smallest case on our list, both in terms of size and in terms of capacity. It measures 4.25 inches tall, 2.5 inches wide, and 0.62 inches thick. Forget about your back pocket. You can slip this case into your front pocket if you want. It's well constructed, with an ABS plastic outer shell that's resistant to damage. It won't get scratched or dinged easily. It also snaps open and shut. This isn't the most secure closure, but it's effective enough.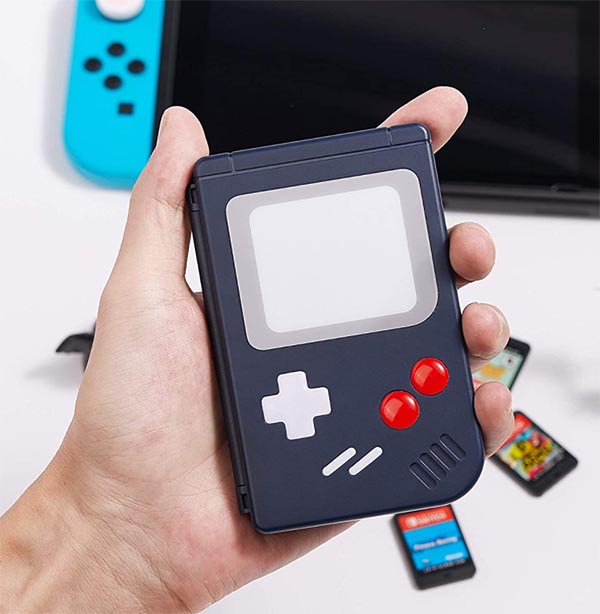 Inside, the case is lined with thick, rubbery silicone padding. In each side, there are five slots, which secure your game cards gently, without causing damage. One neat thing about the design of the slots is that each one has a cutout for a Micro SD card. So while you can only carry 10 games, you can carry 10 Micro SD cards at the same time. The only real downside of this design is that the slots only grip your games loosely. If you dump the case upside down, some games will fall out.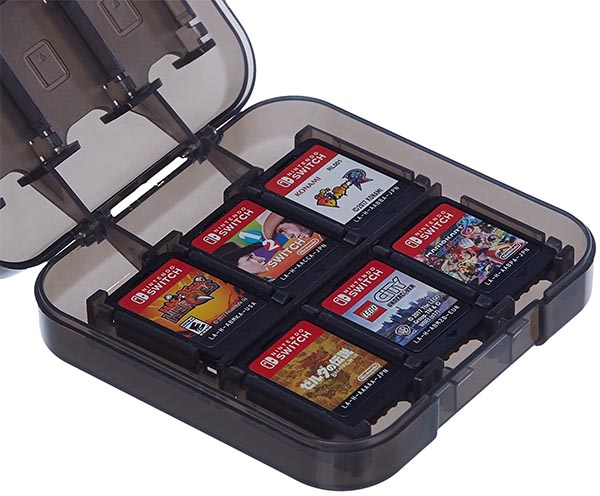 Amazon Basics Game Storage Case
Amazon Basics is known for, well… basics. They produce straightforward, no-nonsense versions of everyday products. In fact, we've even reviewed their Nintendo Switch Joy-Con grips in the past. The Amazon Basics Game Storage Case is constructed from semi-transparent plastic, similar to the HORI case. However, it's available in three different colors. In addition to black, you can also order it in blue or red. The closure is more secure, as well. It clips shut, but there's also a little flap that closes over the clip. This gives you a little added protection.
The overall size of the case is 3.4 inches square, and one inch thick. It's another pocket-sized option, and still has enough storage for 24 game cartridges. These are stored in two plastic flaps, with storage in both sides of each. This is similar in many ways to the storage method in the HORI case. There's even a Micro SD card holder with a nearly-identical design. However, instead of a stiff plastic clip, the cartridges are retained from both sides. This is gentler on your games, and it's also more secure. Moreover, you get Amazon Basics' one-year manufacturer's warranty.
Final Verdict
Each of these Switch game card cases has its own benefits and drawbacks. But which one is right for you? In terms of sheer capacity, the Butterfox Switch Game Case is tough to beat. It holds 45 games, almost twice as much as any of the others, as well as 12 Micro SD cards. It's also very durable, albeit larger than the other three cases.
The HORI Game Card Case is much more compact, and still has space for 24 games. It also provides storage for a pair of Micro SD cards. If you want a highly-portable, medium-capacity case, it's a good choice. That said, we were disappointed in the quality of the retaining clips.
The LeyuSmart (GameBoy Theme) Game Card Case is the smallest case overall, but with less capacity than the others. On the plus side, the inner lining is highly protective and safe to use. It's also tough to argue with the fun aesthetic.
The Amazon Basics Game Storage Case is perhaps the most straightforward option. In many ways, it's a clone of the HORI case, with the same amount of storage. That said, it's better in a couple respects. For one thing, it comes in multiple colors. On a more practical note, the retaining mechanism is safe and reliable.