From the early days of cell phones, we started with a number pad system. As they evolved and gained the capability of text messaging, technology had to evolve too. That was when QWERTY physical keyboards were at their peak.
The days of pressing your number buttons multiple times to get a single letter were gone, and a physical keyboard with every button you needed was available. This made it so much easier to text your friends as much as you wanted.
This style of phone stayed at the top of the cell phone world for quite a while until the launch of touchscreen smartphones. Once those were released, physical keyboards quickly became a thing of the past.
However, they're still a great option for many people out there, and yes, they even exist in new phones. For those interested, there are a few great choices you can go with for a phone with a physical QWERTY keyboard.
Quick-view of the Best QWERTY Phones: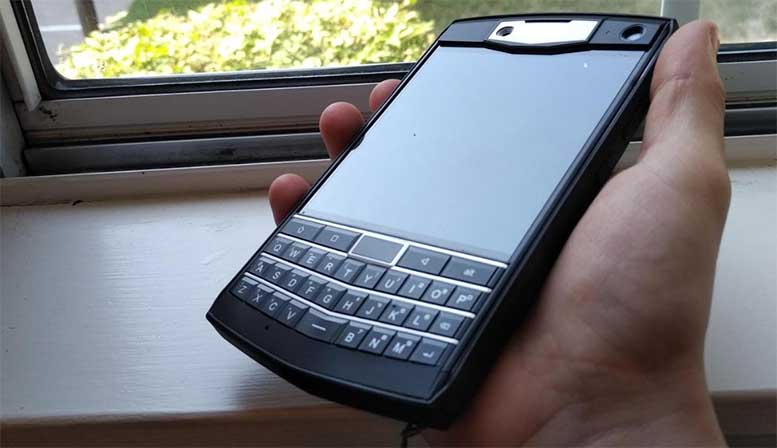 Why don't phones have physical keyboards anymore?
Some phones do still have them. They are much less common now because of touchscreen smartphones. With the touch screen, the physical keyboard is able to be completely replaced.
This makes your phone capable of being thinner, lighter, and easier to use. Overall, many people look at this as a great upgrade and have completely gone away from using physical keyboards on their smartphones.
Do they still make QWERTY phones?
Yes, they do! There are a few manufacturers out there who still make them. While the market for them is definitely smaller than a touchscreen smartphone, they do still make sense for some people. You won't find them from some manufacturers (like Apple), but some big-name brands still do.
One of the more notable ones is BlackBerry. At one time, this was one of the biggest cell phone companies in the entire world. With their physical keyboard models nowadays, they still create quality products.
Will phones with buttons make a comeback?
Well, anything is possible. However, it's highly unlikely. Modern cell phones have evolved to require most of the functionality to happen through a touch screen. Now, some phones do come with a physical keyboard and a touch screen. However, they add a lot of bulk by doing so, which isn't necessary for many smartphone users.
Why would I want a phone with a physical keyboard?
One reason that you would want a phone with a physical keyboard is that it can be easier to type on. With a touchscreen keyboard, you often times mess up due to your typing being on a flat screen.
With a physical keyboard, you can feel each individual key as you press it. This goes a long way for your muscle memory, which can, in turn, reduce the amount of typing errors you make while using your phone.
How big are phones with keyboards?
Their sizes vary, but they are often a similar size to most smartphones available on the market. The main difference is that you end up sacrificing a lot of space on the phone for the keyboard, which is often times used for larger screens instead. For models that still have a big screen, the keyboard is going to add a ton of unwanted bulk to your smartphone.
What if I don't want to lose the functionality of my favorite smartphone?
You don't have to! In our world, we've become accustomed to apps to do everything we need them to. One big concern with a phone with a physical keyboard is that they won't be able to use apps like a normal smartphone.
However, that isn't the case for all of them. Many of these phones still have the touchscreen that we all know and love. This makes them have a perfect blend of application functionality and a great typing experience.
Best Overall: BlackBerry KEY2
Key Features:
4.5-inch screen
Dual camera system
64 GB memory
For those consumers out there who are looking for the best phone with a physical keyboard, the BlackBerry KEY2 is the way to go. This is a great-looking phone, available in an all-black color. The front has a compact yet full keyboard layout with additional function buttons to help use the phone more easily.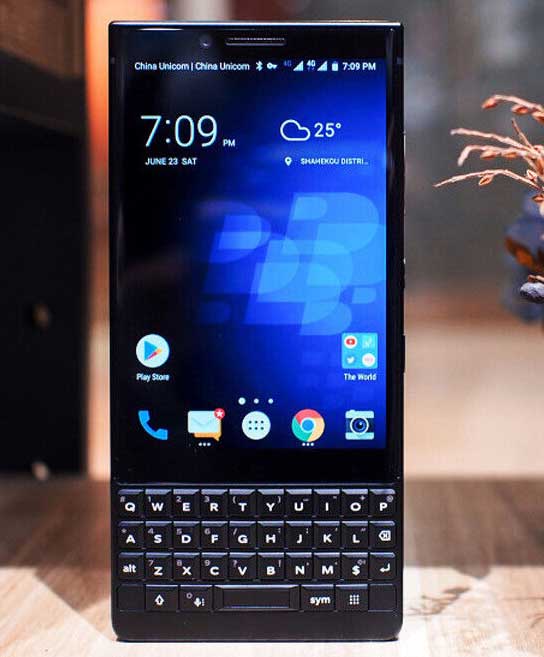 As for carriers, you can get this phone in versions that work on T-Mobile, Cricket, Tracfone, Straight Talk, H20 Wireless, and AT&T. This gives you a wide variety of options, basically covering all of the major carriers in the United States. While being used with your carrier, you can expect it to connect to 4G and LTE networks.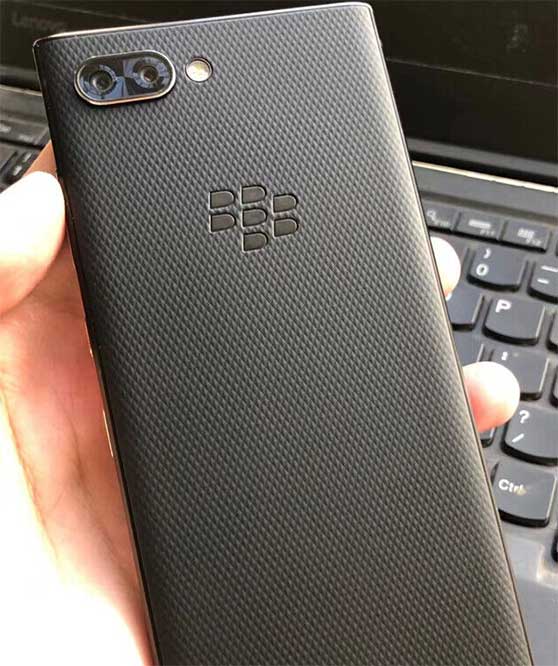 The KEY2 runs on the Android operating system, one of the two more common ones out there. It has a full 4.5-inch touchscreen to make it even easier to use the advanced functions you'd come to expect on a smartphone these days. Internally it has 64 gigabytes of memory, so it won't be able to hold a ton of music and pictures.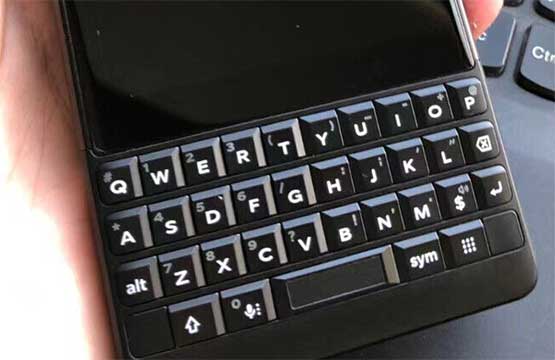 With extra features like Micro USB charging, front and back cameras, along with a great keyboard and touch screen, this is a great choice. The KEY2 looks just as great as it functions, and you can use it with pretty much any carrier you want to.
Pros:
Compatible with six carriers
Keyboard and touchscreen
4G and LTE enabled
The black color option looks very sleek
Extra functionality on the keyboard
Cons:
64 GB of memory may be a bit light for your use case
Best Runner-Up: Unihertz Titan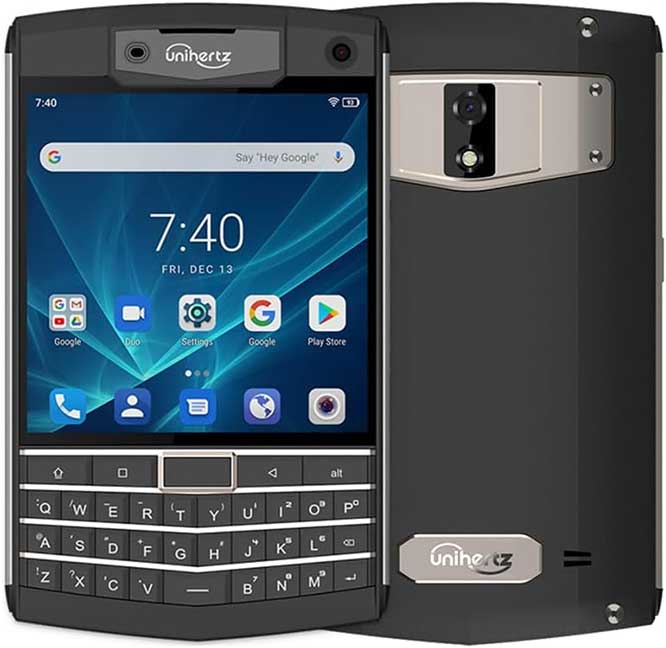 Key Features:
Rugged, waterproof construction
128 GB storage
Verizon and T-Mobile compatible
A great runner-up choice is the Unihertz Titan. This is an extremely rugged and durable phone. It's not a huge phone (6 x 3.6 inches), but it still has a large screen and a full keyboard. The keyboard has all the buttons you'd expect, plus a few function buttons and a thumbprint reader.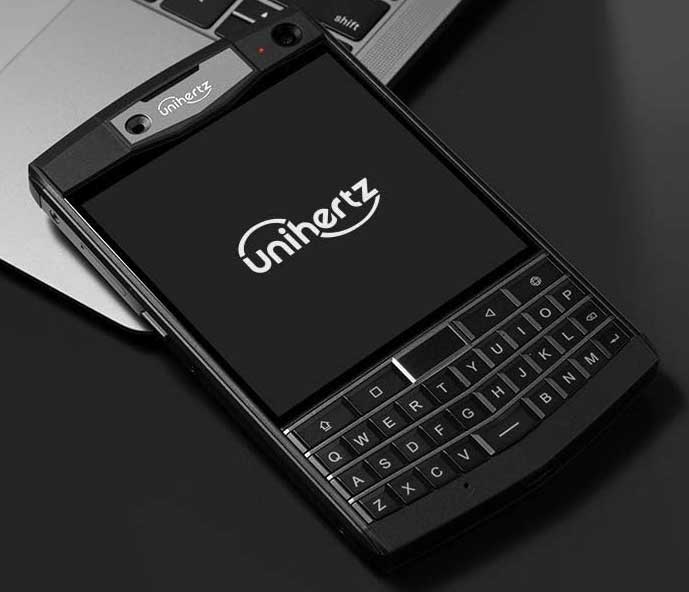 When it comes to carriers you can use it with, it's a bit limited. This phone is compatible only with Verizon and T-Mobile. While that does only give you two choices, luckily, it's two of the biggest carriers in the country. If you're an AT&T user or a smaller carrier user, you won't be able to use this phone on your current plan.
The Titan runs on the Android operating system, making it super easy to use. It has a front screen measuring 4.5 inches, along with a front and rear camera. The front camera is 8 megapixels, while the back is 16 megapixels. For storage, it has a 128 GB hard drive inside. Another cool tech feature of this phone is its dual-sim capabilities. The entire phone is powered by a 6000 mAh battery that can be charged via wired or wireless charging.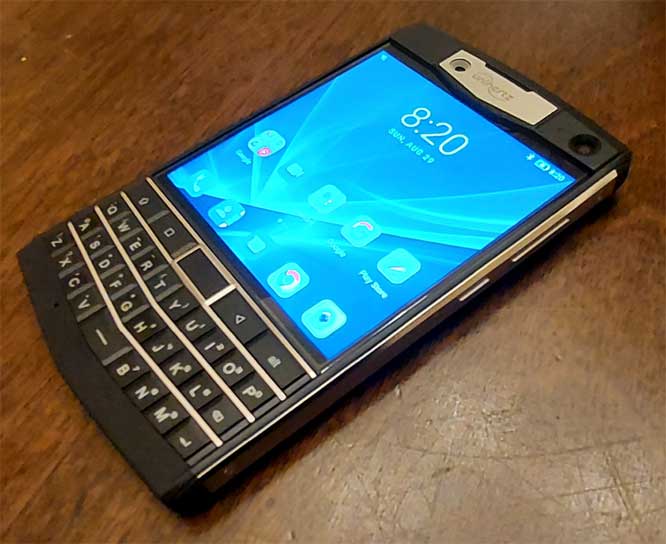 The best extra feature of this phone is how rugged and durable it is. This is primarily due to its IP67 water-resistant rating. This also makes the Titan shock and dust-resistant, so it can hold up to pretty much anything you put it through. With all these great tech features and incredible durability, this is another awesome choice.
Pros:
IP67 water resistant
Extremely durable construction
128 GB storage is a great amount
4.5-inch screen included
Dual-sim capable
Cons:
Only works with two carriers
Best Alternative: Unihertz Titan Slim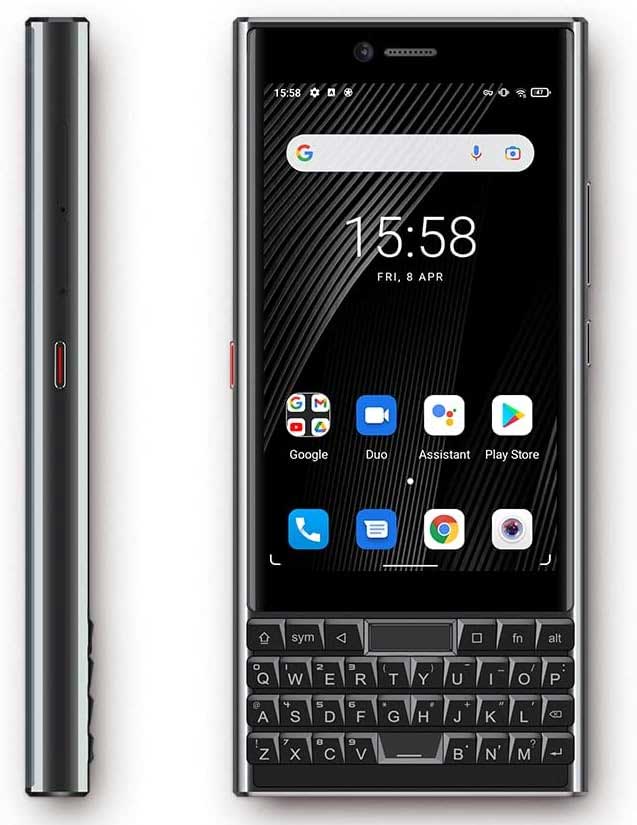 Key Features:
4.2-inch screen
4100 mAh battery
48-megapixel camera
A great alternative phone with a physical QWERTY keyboard is the Unihertz Titan Slim. This phone is much closer in design to the KEY2 than it is to the Titan. It's designed to be extremely slim (5.7×2.6 inches), making it much easier to keep in your pocket and use with only one hand throughout the day.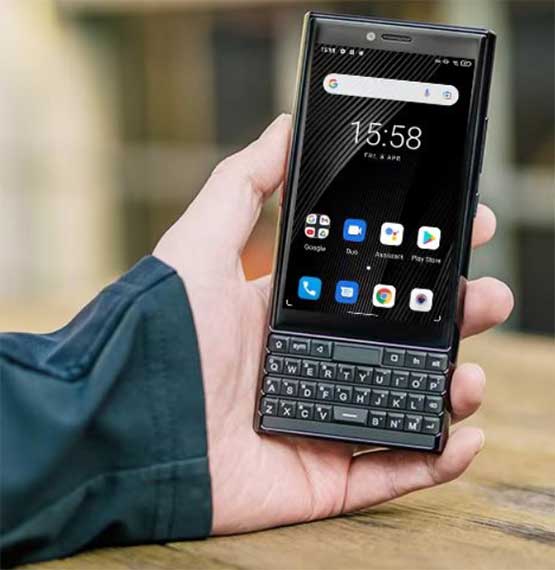 Similar to the Titan, it's only compatible with two carriers. These carriers are T-Mobile and Verizon. Again, while it's annoying that there are only two carriers you can use it with, they are two of the three biggest ones out there.
The phone runs on the Android 11 operating system to give you an awesome user experience that is super easy to learn and utilize. Internally it's powered by a 4100 mAh battery that can keep it alive and in use for multiple days. The keyboard is equipped with multiple shortcuts that help you open apps and operate the phone. Apps like Spotify, Gmail, Google Maps, and more are all pre-programmed to open at the push of a button. As for the camera used, the back has a 48-megapixel option, which is a significant upgrade to the Titan. There's also a front camera that has 8 megapixels. When it comes to storage, this phone is equipped with a 256 GB hard drive.
Just like the Titan, one of the coolest extra features about the slim version is the option for dual-sim card use. This feature allows you to put two individual SIM cards inside of it that both operate independently. Basically, you get two phones in a singular phone body. The Titan Slim is a great slim option for a physical keyboard phone.
Pros:
Ultra slim design
Multiple-day battery life
Dual-sim capable
Multiple shortcuts pre-programmed for common apps
48-megapixel camera for amazing pictures and videos
Tons of storage with the 256 GB hard drive
Cons:
Only works on Verizon and T-Mobile carrier networks
Best Budget: BlackBerry Passport
Key Features:
4.5-inch touch screen
4G enabled
32 GB of storage
If you're looking for a smartphone with a physical keyboard on a budget, then the BlackBerry Passport is the way to go. This phone is 5 x 3.5 inches and has a 4.5-inch touchscreen on the front. This is accompanied by an extremely slim keyboard. The keyboard has every key you'd expect it to have and lacks any additional function keys. This is mostly due to the fact that the touch screen takes care of the additional functionality needs.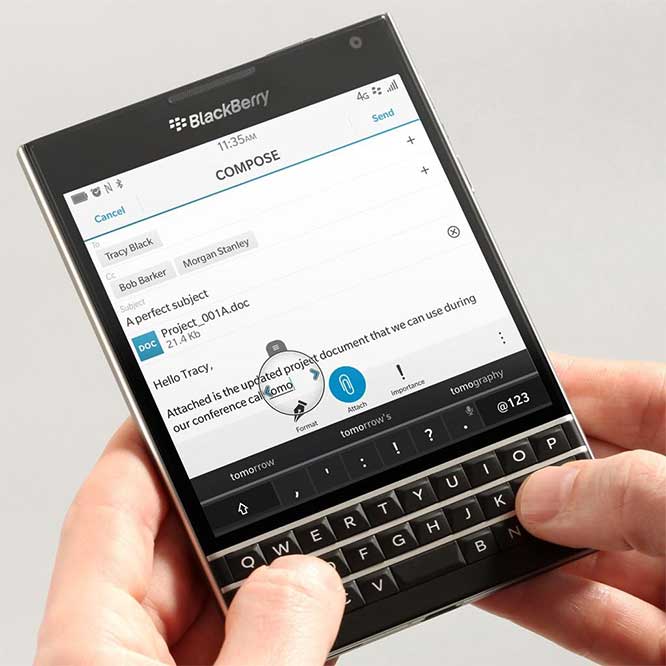 The Passport is an unlocked phone that can work on 2G, 3G, 4G, LTE, and GSM networks. Because of the GSM specification, carriers are somewhat limited. It can work with carriers including AT&T, T-Mobile, H20, Straight Talk, and some pre-paid carriers. However, it will not work on carriers, including Verizon, Boost, or Virgin Mobile. While it is limited, it's much more compatible when compared to the Titan and the Titan Slim.
This phone from BlackBerry differs from some of the others, as it's powered by the BlackBerry operating system. This isn't a bad thing, but it will take some getting used to if you're an iOS or Android user currently. There's an included storage amount of 32 GB, but it can be expanded up to 128 GB with additional storage. The back of the phone has a 13-megapixel camera to capture pictures and videos. While the keyboard is great, most of the functionality of this phone will be done through the 4.5-inch touchscreen. The entire device is powered by a 3450 mAh battery.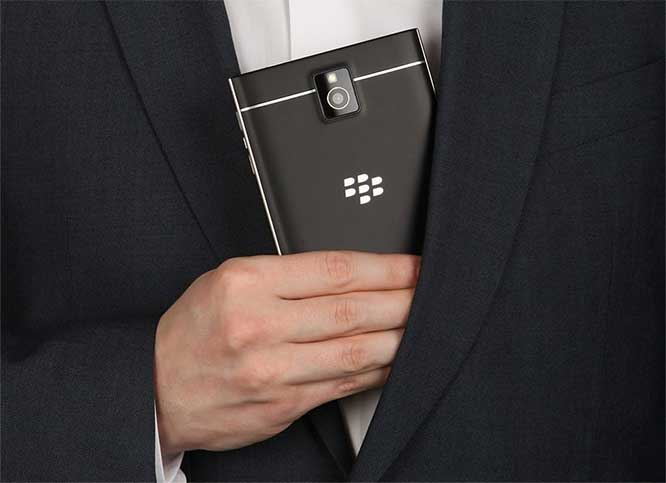 The BlackBerry Passport is a great blend of modern smartphones and physical keyboards. With the touch screen, you'll have access and capabilities to use all the modern apps that make our lives easy on a day-to-day basis. This is complimented well with the slim physical keyboard to make typing an easier and much more enjoyable experience. All of this at the budget price point makes it a good phone to check out.
Pros:
The lowest cost on the list
Slim keyboard design
Great functioning touchscreen
Expandable storage up to 128 GB
Works with a bunch of carriers
2G, 3G, 4G, and LTE compatible
Cons:
BlackBerry OS may take some getting used to