Having a good keyboard is essential for those looking for the ultimate gaming or working setup. However, it isn't quite as simple as just buying one. You have to figure out what you'll primarily be using it for, how much space you have to work with at your setup, and what size is best for you. One of the most versatile and popular options on the market today is a 60% keyboard.
What is a 60% keyboard?
A 60% keyboard is built to be more compact than a standard layout. Standard keyboards have around 104 keys on average. In comparison, 60% keyboards have about 68 keys on average. This cuts out some of the less frequently used keys and leaves you with most of the essentials.
Why should you use a 60% keyboard?
The main reason to use a 60% keyboard is because they save space. Standard keyboards have a ton of keys, but not everyone uses every key very often, if ever. 60% keyboards have letters, numbers, and a few other different keys to improve functionality. If that's all you need, then you can likely go with one in your setup.
How customizable are 60% keyboards?
60% keyboards are typically extremely customizable. Whether you want to build your own from scratch or buy a pre-built one, you can find different things to customize. The most common are keys and keycaps. As long as the board is hot-swappable, you can change the keys. For keycaps, you'll just need to match the set to the kind of keys you're using. Additionally, some keyboards are programmable, so you can customize the functionality of the various keys used.
Is a 60% keyboard good for office work?
The answer really depends. If you're just typing all day and a few light functions, then yeah, they can be great. However, for those who work with spreadsheets and custom programs all day, you'll likely miss the functionality larger keyboards bring with their included keys. Keep in mind, however, the 60% keyboards that we are introducing today are ideal for gaming.
Best Overall: SteelSeries Apex Pro Mini Mechanical Gaming Keyboard

Key Features:
61 Keys
Aircraft Grade Aluminum Alloy Construction
World's Fastest Keyboard
The best overall 60% keyboard on the market is the SteelSeries Apex Pro Mini. This mechanical gaming keyboard has 61 total keys. The keys themselves are custom-made OmniPoint 2.0, which has 2-in-1 action while in use. You can press them lightly to do one action, then press all the way to perform a different task. As for keycaps, the ones included are durable PBT constructed.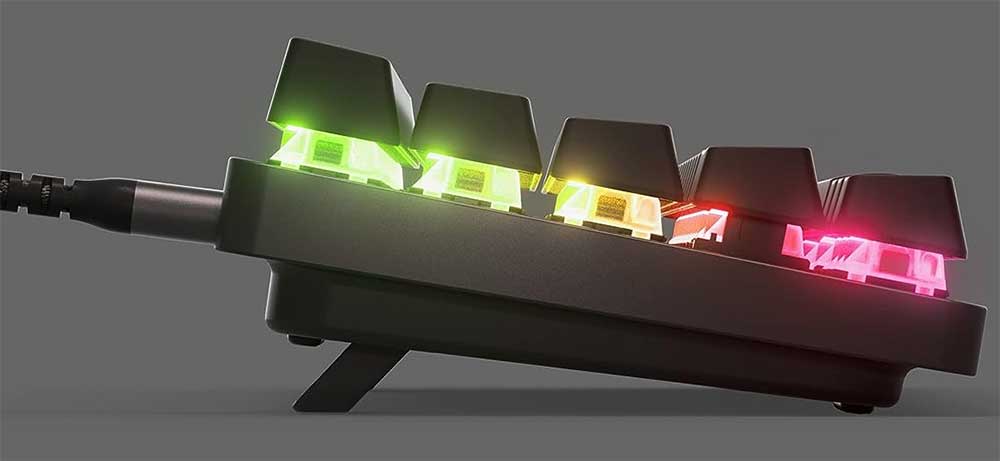 The body of this keyboard is extremely high quality, as it's made from aircraft-grade aluminum alloy. This gives an extremely premium look and feel to the keyboard. Every material used, in addition to the aluminum on this keyboard, helps to further improve durability and build quality.
As for looks, this keyboard is available in a black colorway. It has full RGB backlighting as well. Each keycap has a translucent legend so that the lighting can easily shine through.
The best extra feature of this speed of it. It's marketed as the fastest mechanical keyboard in the world. This is due to the OmniPoint 2.0 switches. They respond 11X faster with 10X swifter actuation compared to other options available.
Pros:
The fastest keyboard on the market
61 keys to maintain a compact size
Full RGB
Premium material construction
Cons:
No sound-dampening foam inside
Best Runner-Up: Corsair K65 RGB MINI 60% Mechanical Gaming Keyboard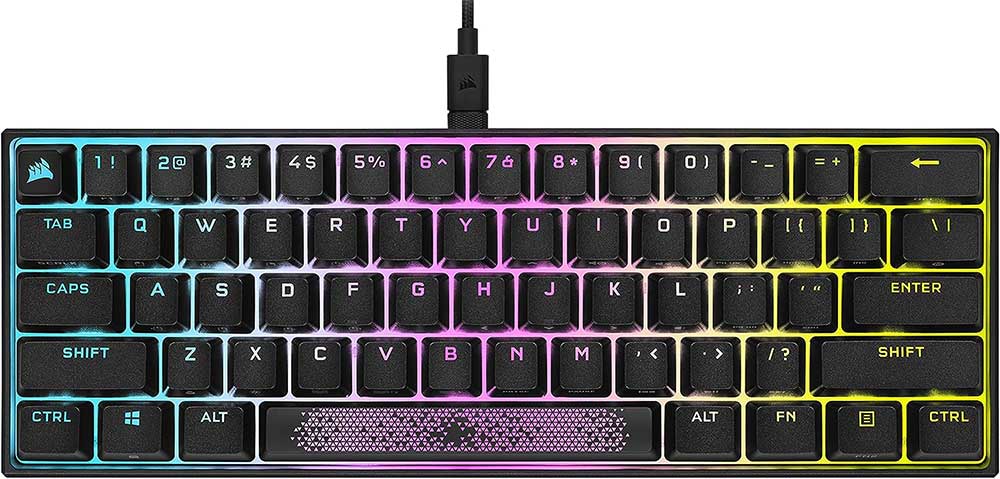 Key Features:
62 Keys
High-Quality Construction
Customizable Per-Key RGB Backlighting
The best runner-up 60% keyboard on the market is the Corsair K65 RGB Mini. This keyboard looks and functions great. You can choose between either Cherry MX Speed switches or Cherry MX Red switches. Both have their pros and cons and will ultimately come down to preference on sound and type feel. As for keycaps, this keyboard uses a 1.5mm thick PBT doubleshot material. This increases durability for long gaming sessions.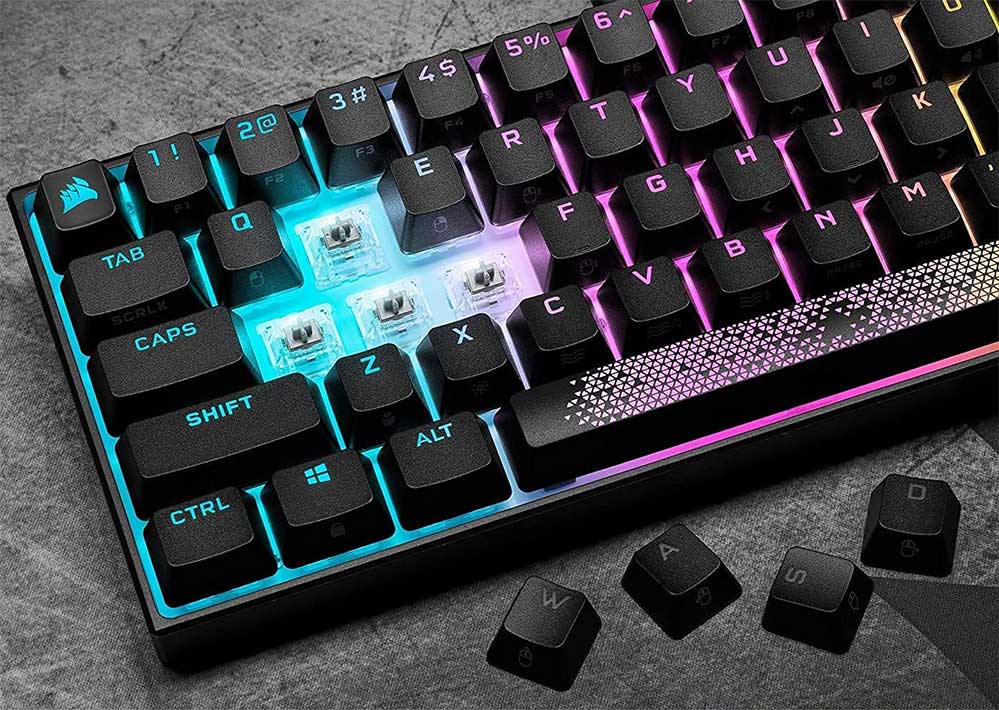 The overall build quality on this keyboard is great. It has a high-quality body with great keycaps. It connects to your computer via USB-C, and the cord it comes with is great to use right out of the box. Overall, we don't have any complaints about the construction of this keyboard.
As for looks, there's a lot to like about the K65 RGB Mini. It has full RBG backlighting, with complete customization on a per-key basis. This lets you take full control and make it look exactly like you want it to. The board itself is black, and all included keycaps are black as well. The legend on each keycap is translucent to allow light to shine through. Best of all, the space bar has a ton of translucent space, which lets more light through than you'd find on other options.

Best of all, its performance is powered by Corsair AXON. This is a hyper-processing technology that allows for hyper-fast input times. Many keyboards on the market have a response time of 8ms, high response keyboards are about 4ms, and this keyboard is .25ms. This sets it apart from almost all of the competition.
Pros:
Powered by Corsair AXON
Per-key RGB backlighting
1.5mm thick PBT keycaps
Super translucent space bar
Cons:
Extremely sensitive, so it can be hard to type on daily
Best Alternative: Razer Huntsman Mini 60% Gaming Keyboard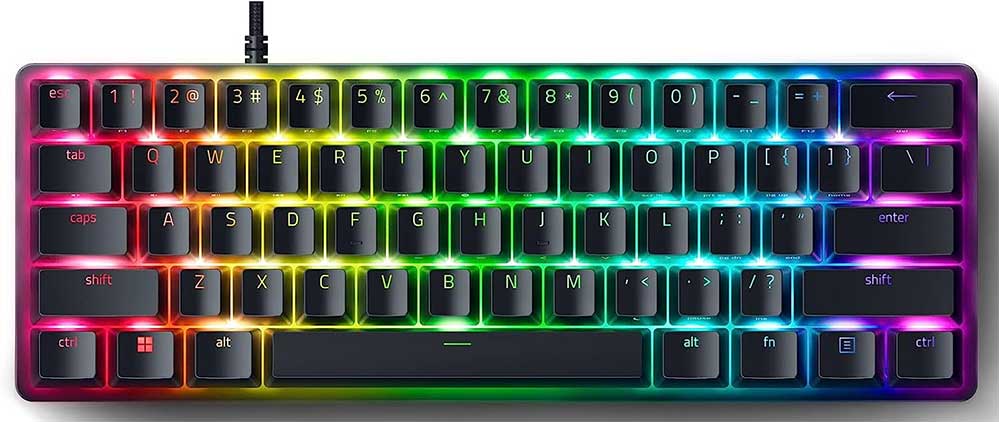 Key Features:
61 Total Keys
Aluminum Body Construction
Chroma RGB Lighting
The best alternative option on the market for a 60% keyboard is the Razer Huntsman Mini. This keyboard is fantastic to use for both working and gaming. It has a total of 61 keys to use, with three different choices for switches. You can get this keyboard with either Analog Optical Switches, Clicky Optical Switches, or Linear Optical Switches. This gives you plenty of variety to choose from based on your preferences on the key type.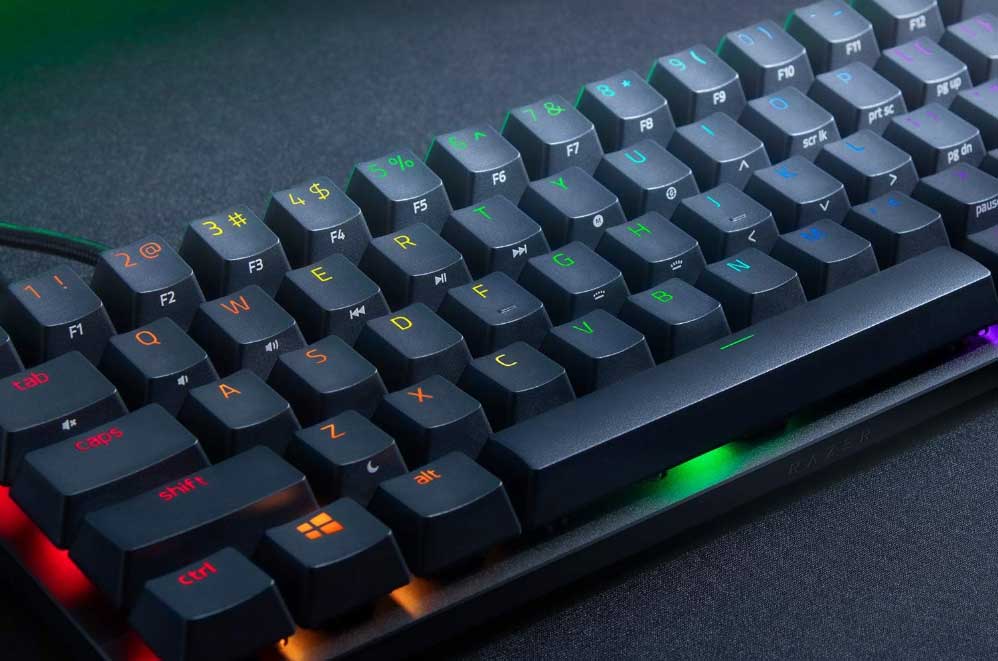 The top frame body of this keyboard is made out of durable aluminum material. To further enhance its strength, it's coated with a matte finish. As for the keycaps, they are all made from durable doubleshot PBT material. They are textured and oil resistant, so there is a lower chance of grime building up on them after long periods of time.
As for looks, there are two different color options with the Huntsman Mini. You can choose between a black body with black keycaps or a white body with white keycaps. If you opt for white, you'll have a more limited selection of switch types. The best part of the aesthetics, however, is the RGB Chroma lighting. This has full RGB backlighting that completely syncs with different programs, games, and more. You can completely customize the look of the lighting on each individual key with 16.8 million colors to choose from.

The Huntsman Mini is extremely easy to use and even has onboard memory. This allows you to easily switch lighting profiles without the use of software. It can also have multiple functions per key with its additional function button. With a high build quality and premium type feel, this is a great choice for a 60% keyboard.
Pros:
16.8 million colors to choose from
Oil-resistant doubleshot PBT keycaps
Three switch choices
Two color options for the board body and keycaps
Cons:
The white keyboard doesn't have every switch type available
Best 2nd Alternative: Glorious Custom 60% Gaming Keyboard GMMK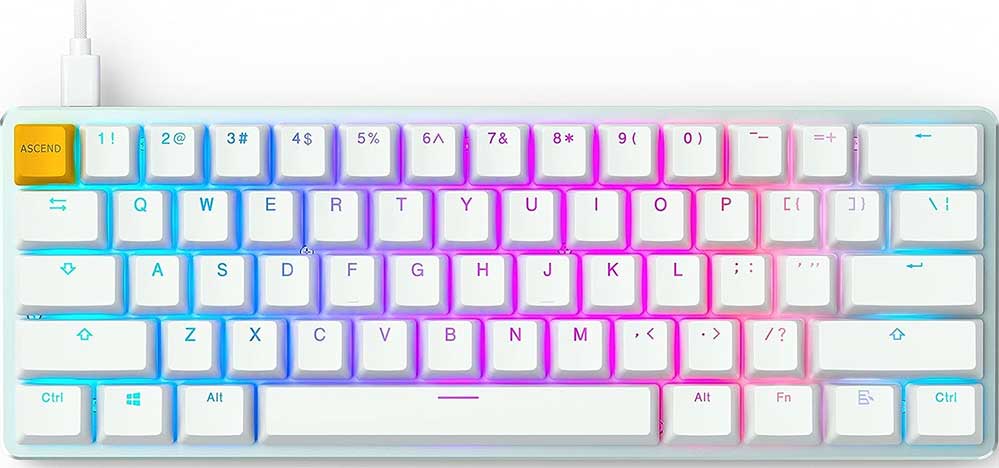 Key Features:
Number of keys: 61 Total Keys
Solid Metal Body
Modular Design
Another great alternative keyboard for the 60% size range is the Glorious Custom Gaming Keyboard GMMK. This is a great board that comes with pre-installed gateron brown tactile mechanical switches. They are not extremely loud but still have the satisfying feel of a mechanical switch. Additionally, the keycaps included are OEM sculpted to improve comfort while in use.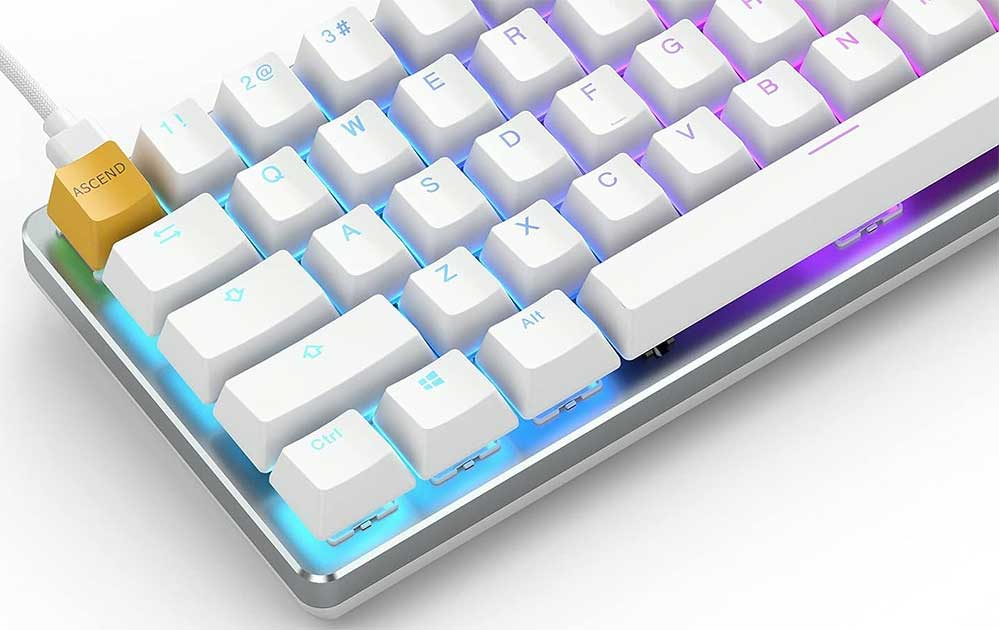 This is an extremely well-built keyboard, with only the highest quality materials used. It has a metal body with durable plastic keycaps on top. It's also powered and connected to your computer via an included USB-C cable.
As for looks, the Glorious has two different color choices. You can go with a white keyboard with a silver metal body or a black keyboard with a black metal body. Both also come with fully customizable RGB backlighting. This can be customized on a per-key basis, and it has 16.8 million colors to choose from.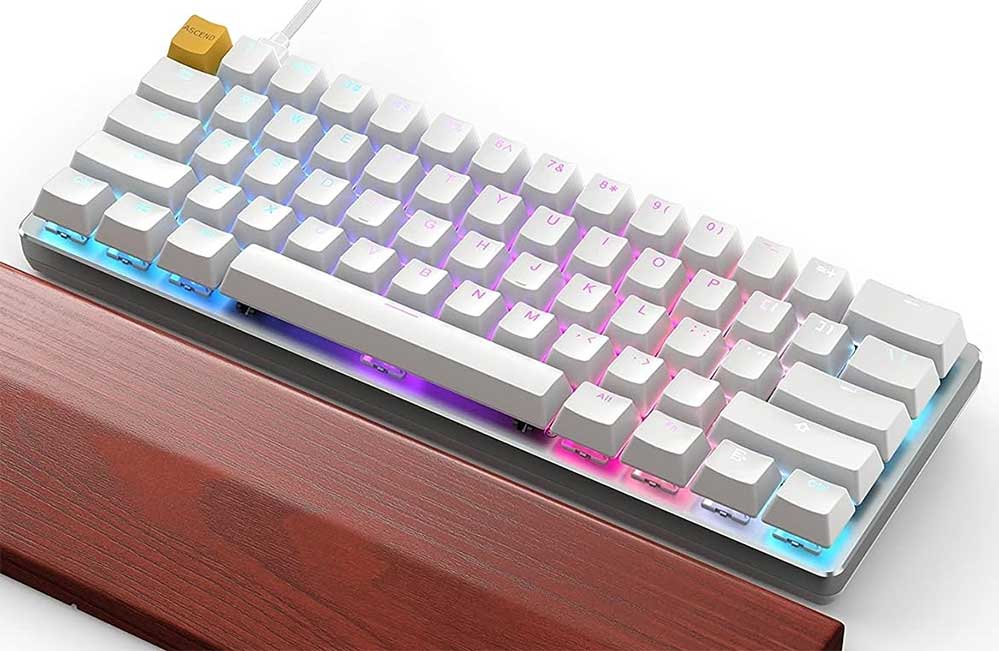 The entire board has been designed to be completely modular. Each key is hot-swappable, so you can easily switch a single key out in less than five seconds. The included switches are designed to be used with an extremely wide variety of keycaps, so you can likely replace them with whatever your favorite option is. This is a solid option for keyboard enthusiasts to customize to their heart's content.
Pros:
Fully modular build
Complete RGB customization
Two color choices
Cons:
Some users note issues with the space bar not working properly
Best Budget: ROCCAT Magma Mini 60% RGB Gaming Keyboard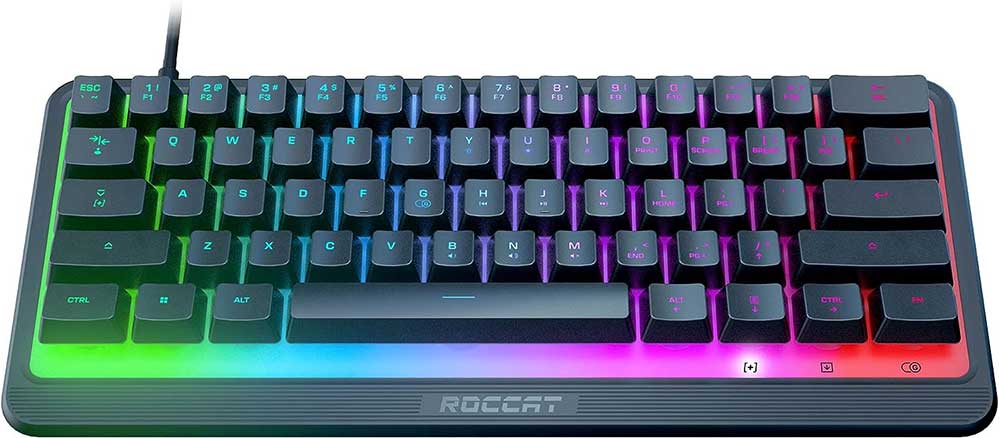 Key Features:
61 Total Keys
IP33 Spill-Resistant
Membrane Keyboard
For those out there looking for a 60% keyboard on a budget, the best choice, in our opinion, is the ROCCAT Magma Mini. This is a really great budget board for anyone looking to try out this size. Where most of the 60% boards on the market opt towards mechanical switches, this board goes to a membrane style instead. This can be good or bad, depending on your preferences. There's also a secondary function layer that is easily activated with easy-shift technology.

Even though it's a budget board, the build quality isn't lacking. It's made from durable materials to ensure it can hold up to consistent use. Best of all, it's IP33 spill-resistant. This keeps it safe from water spills and dust build-up, which are both possible and even likely while gaming. The keycaps are nothing particularly special. However, with them being on membrane keys, you can expect an almost silent typing experience.
As for looks, this keyboard is great. It's available in a black colorway that blends in nicely with most computer setups. Additionally, there are 5 individual lighting zones for RGB to shine through. These zones are programmable, so you can take control of the lighting effects in a decent amount. There's also a translucent plastic area below and surrounding the keycaps, which lets light shine through with a really cool effect.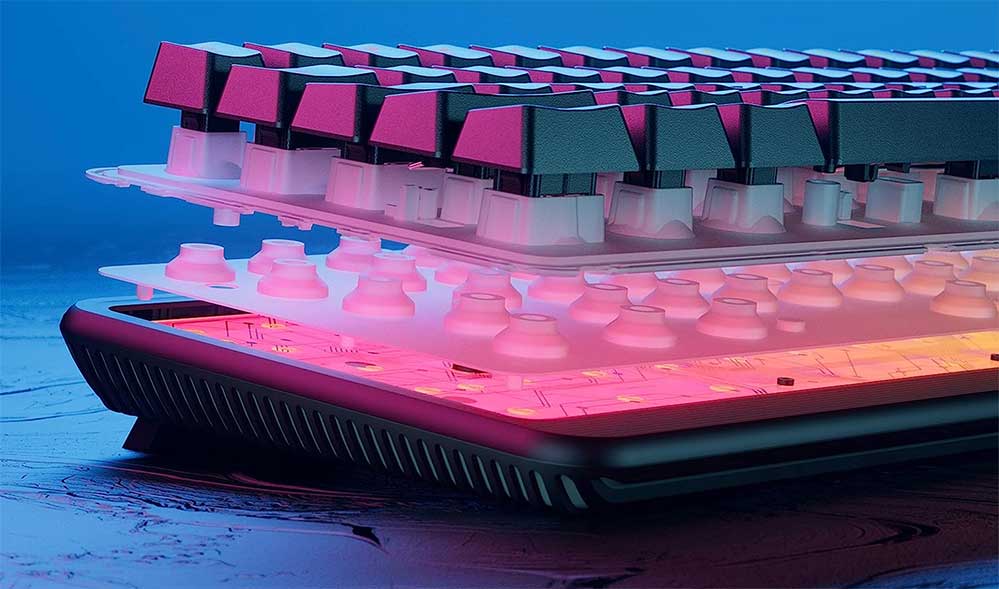 The most notable extra feature on this board is its membrane key set. Membrane keys are much different than mechanical keys. They generally have a quiet yet almost spongey type feel. The keys used on this board are still extremely fast, however, so you can game on them with no issues. Overall, for a budget board, there's a lot to like about the ROCCAT Magma Mini.
Pros:
5 programmable RGB zones
Membrane key switches
IP33 Spill Resistant for increased durability
Secondary function layer
Cons:
Some reviewers note the space bar can stick eventually
Best Budget Alternative: MageGee MK-Box 60% Mechanical Gaming Keyboard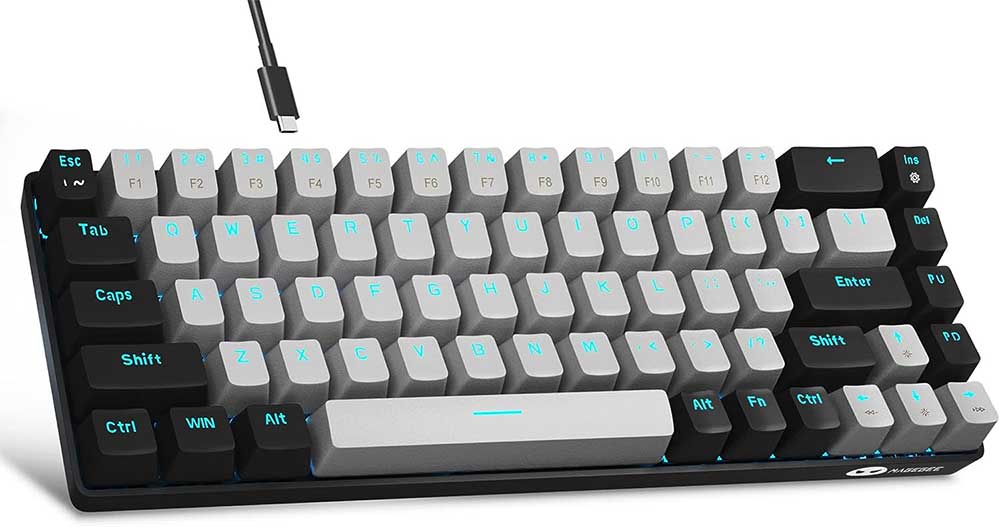 Key Features:
68 Total Keys
Durable Plastic Construction
Six Colors To Choose From
Another great choice for a budget keyboard is the MageGee MK-Box 60% Mechanical Gaming Keyboard. This board has two choices for switches, including either Blue or Red. Each has its own distinct type feel. The keycaps are made of plastic and are translucent.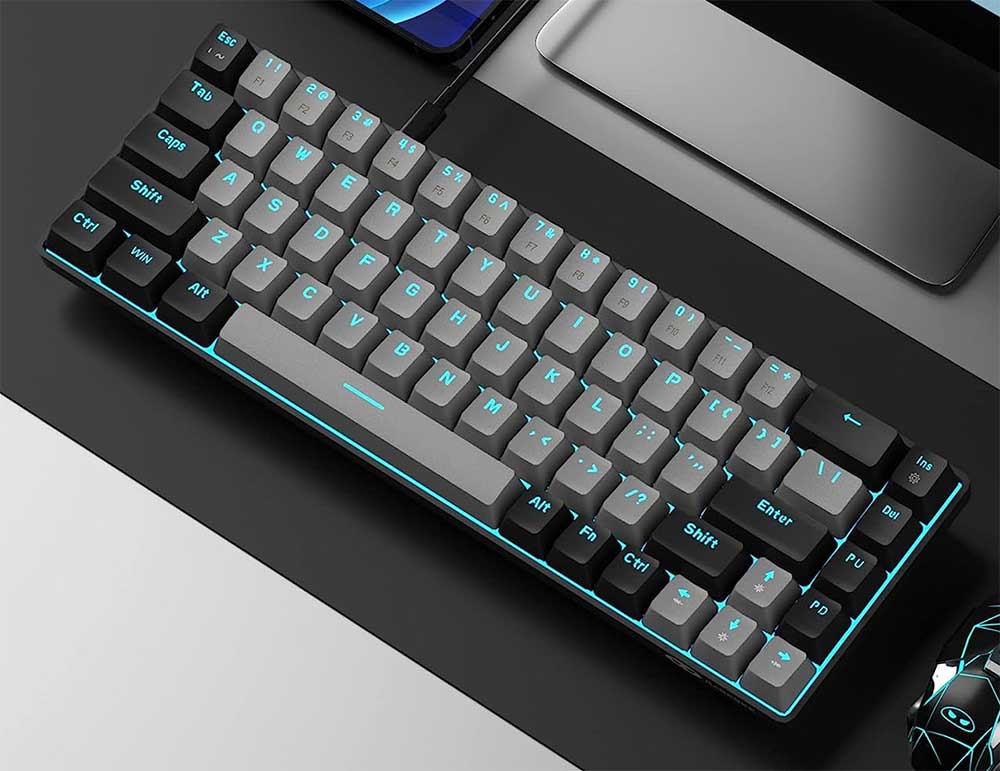 The keyboard itself is extremely compact and is made from a durable plastic material. Portability is a key feature of the board, so it's definitely durable enough to take with you on the go if you travel a lot for work or gaming. It's also designed with full anti-ghosting, so you won't have any issues pressing multiple keys at the same time.
The aesthetics are what really set this budget keyboard apart. It has six different color choices to pick from. They include:
Black, White, and Orange
Black and Dark Grey
White and Blue
White, Dark Grey, Light Grey, and Yellow
Mostly Dark Grey With Black
All White
Each color choice is available with a different amount of options for switches. Additionally, there are solid blue LED backlights that shine through the keycaps. There are 15 different lighting effects that you can cycle through right on the keyboard without software.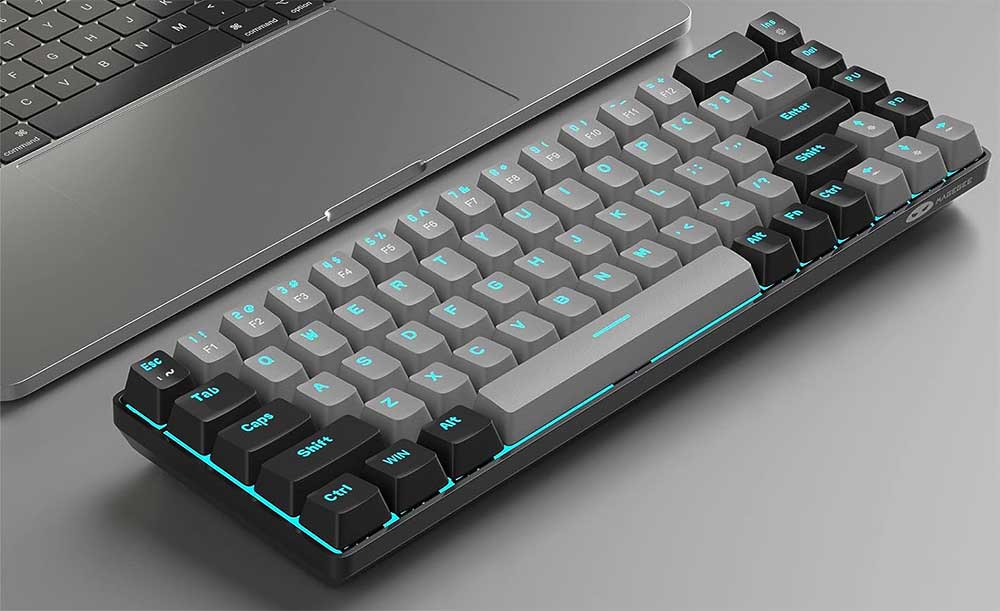 This is one of the only keyboards on our list that features a full set of 68 keys. This allows the keyboard to maintain its status as a 60% board while also adding additional functionality without the use of further function buttons. However, it does have extra function layers, so you can use them if you'd like to.
Pros:
6 color options
Fully mechanical with two switch choices
Durable plastic construction
Full set of 68 keys
Cons: